Shredded Beef Enchiladas are the perfect thing to serve for dinner. This is the best beef enchilada recipe I've ever had! They're filled with the most flavorful shredded beef, and topped with sour cream, cheese, tomatoes, and more. Make this amazing beef enchiladas recipe right away!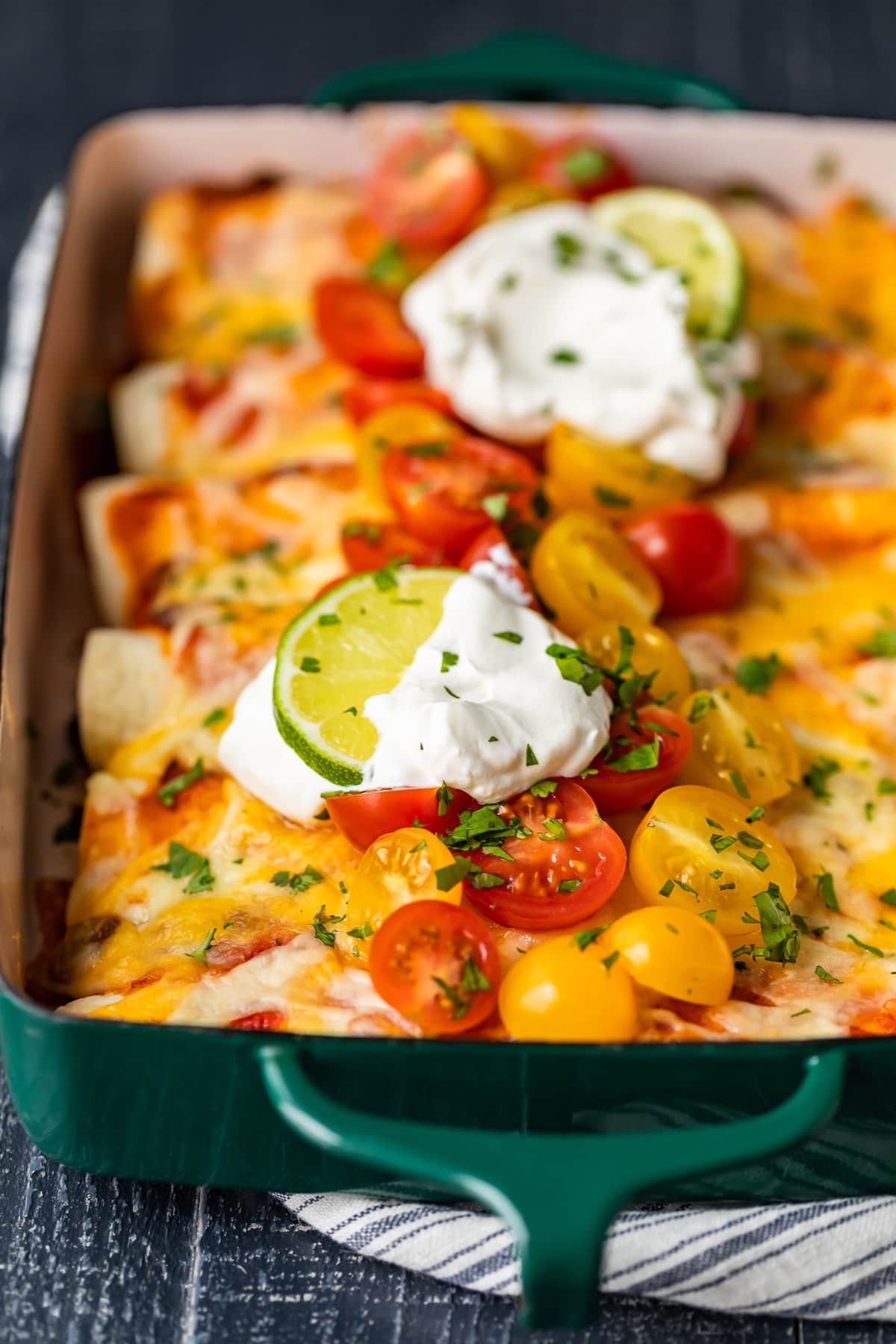 Shredded Beef Enchiladas Recipe
Add this shredded beef enchiladas recipe into your weeknight dinner rotation. You won't want to skip over these delicious and easy beef enchiladas!
If you're new around here, you'll quickly learn that Mexican food is one of my favorite cuisines. I especially LOVE enchiladas, and I have tons of easy enchilada recipes here…but most of them are chicken enchiladas! So it's about time I share the best beef enchilada recipe ever.
This Shredded Beef Enchiladas recipe is SO perfect. It starts with making moist, flavorful beef to shred into the enchiladas, and then you top them off with all the best ingredients (cheese, tomatoes, sour cream, etc.) to make some amazing beef enchiladas supreme.
Learning how to make beef enchiladas with the best shredded beef is super simple. You'll want to be serving these for dinner as often as possible, because they really are just that good! And these would be so good for Cinco de Mayo too!
Make these delicious Shredded Beef Enchiladas Supreme for your next weeknight dinner. All the best ingredients in the best beef enchilada recipe!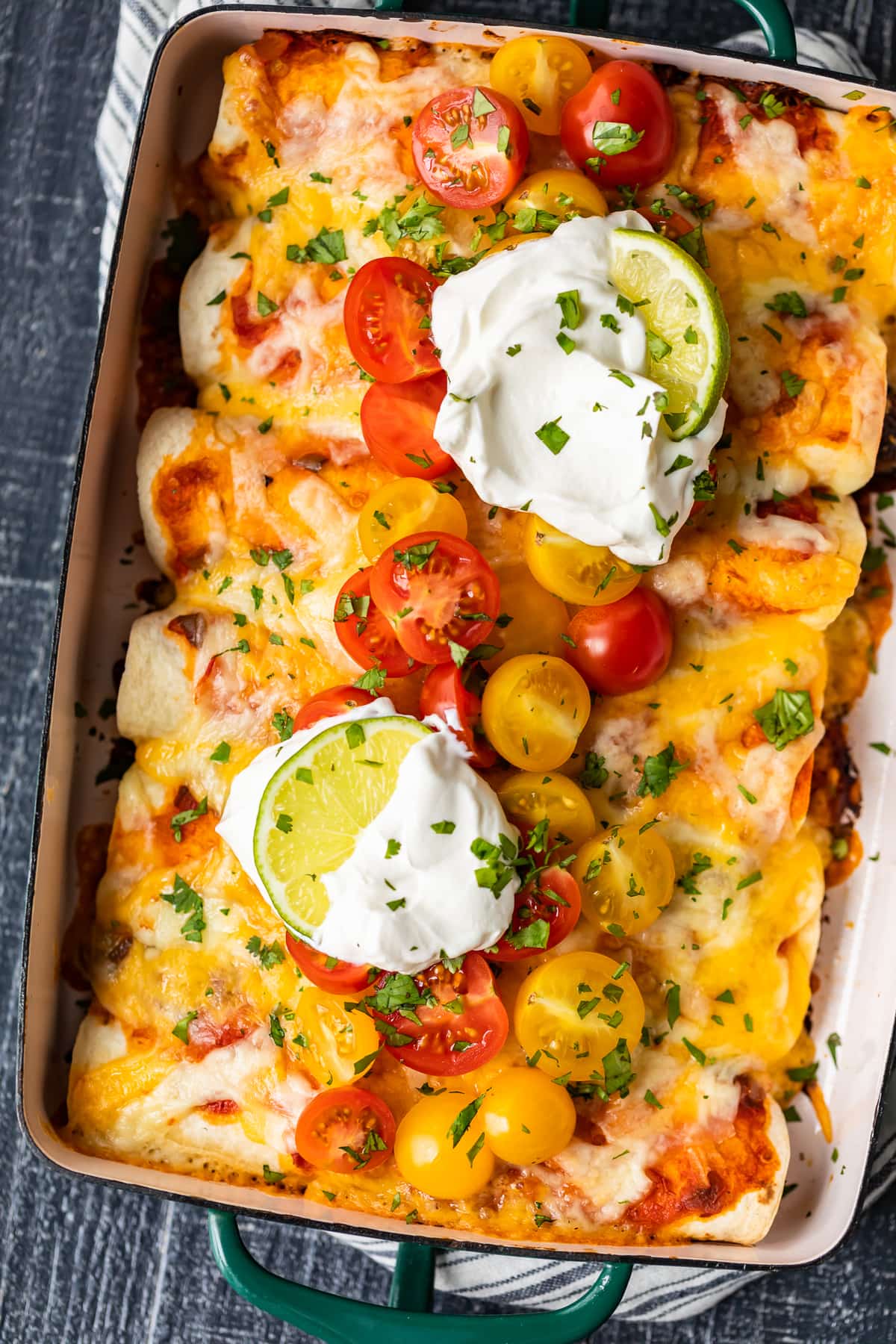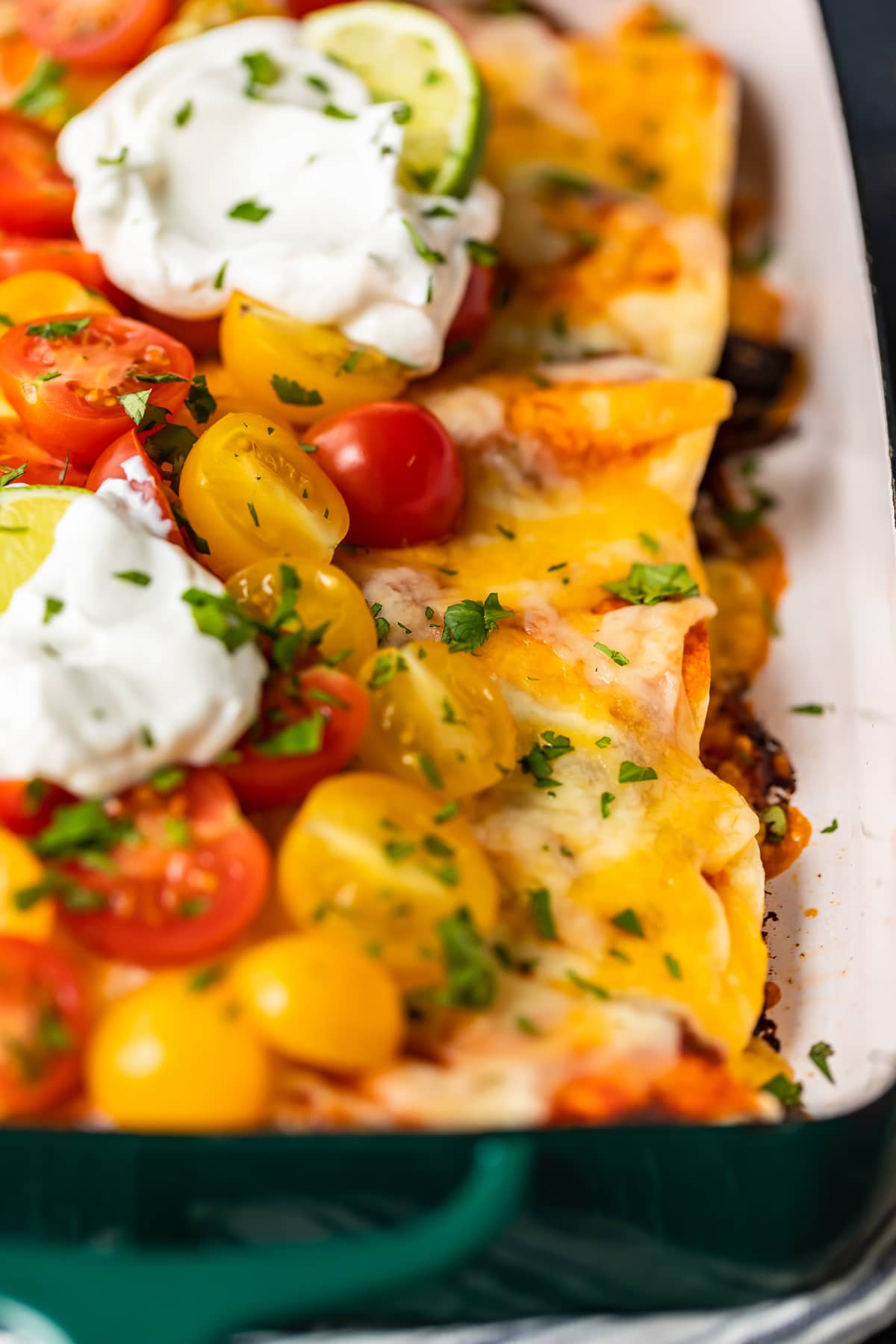 Best Beef Enchilada Recipe
I don't use the word "best" lightly here. I'm typically more of a chicken enchiladas kind of girl, but these truly are the BEST beef enchilada recipe. So I'll make an exception for these (and eat them all happily). Shredded Beef Enchiladas Supreme start with the beef, seared to perfection, and flavored with taco seasoning, chili powder, and beer. Shred it up into the most delicious shredded beef and add that into your beef enchiladas.
Ingredients:
Shredded Beef Enchiladas Supreme
What makes these shredded beef enchiladas SUPREME? All of the amazing toppings of course. You got your cheese, shredded beef, and tortillas of course, but then there are all the classic Tex-Mex toppings to add on top. You can use whatever you like, but in my world, the more toppings, the better! Here's what I like to put on mine.
Toppings: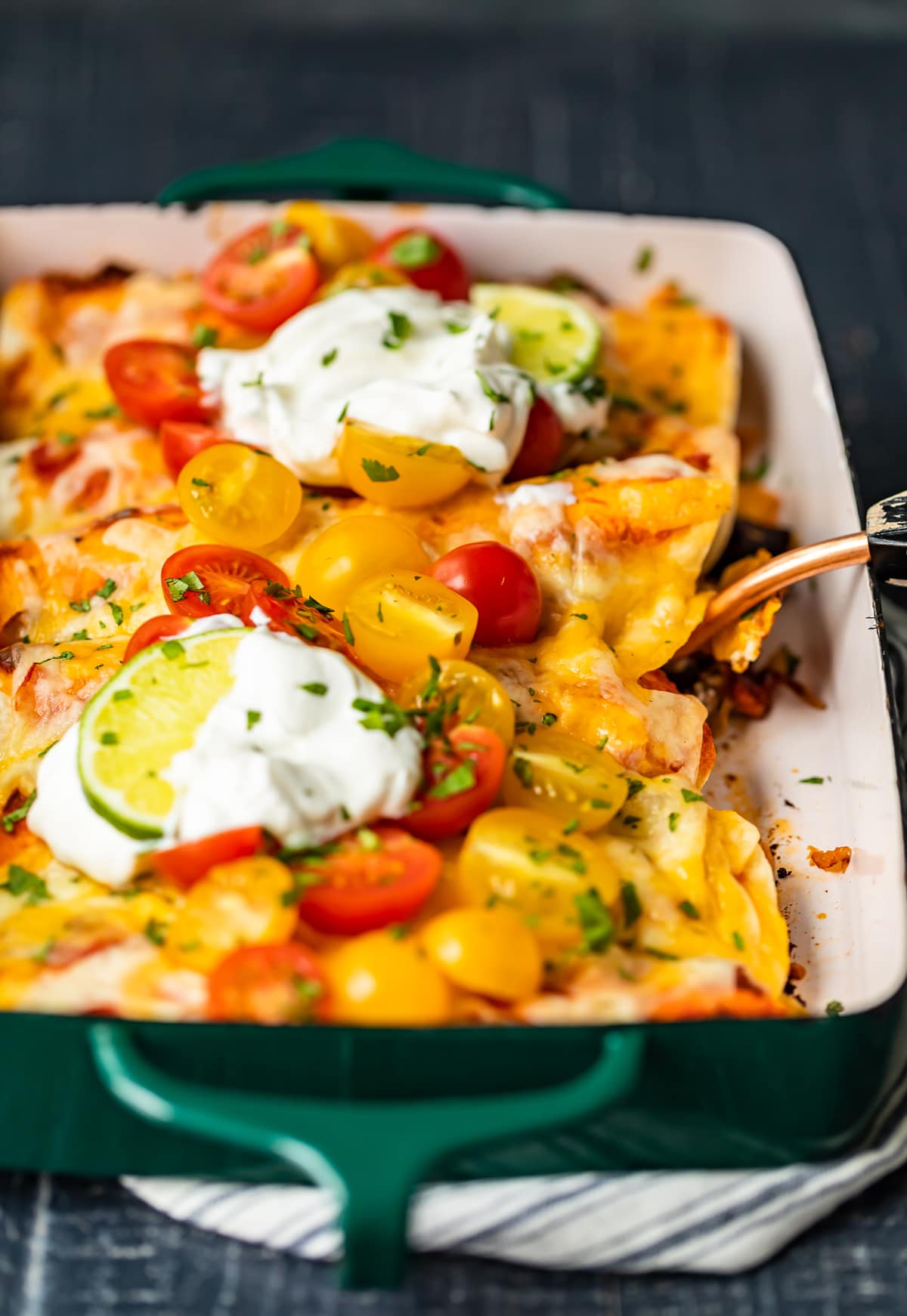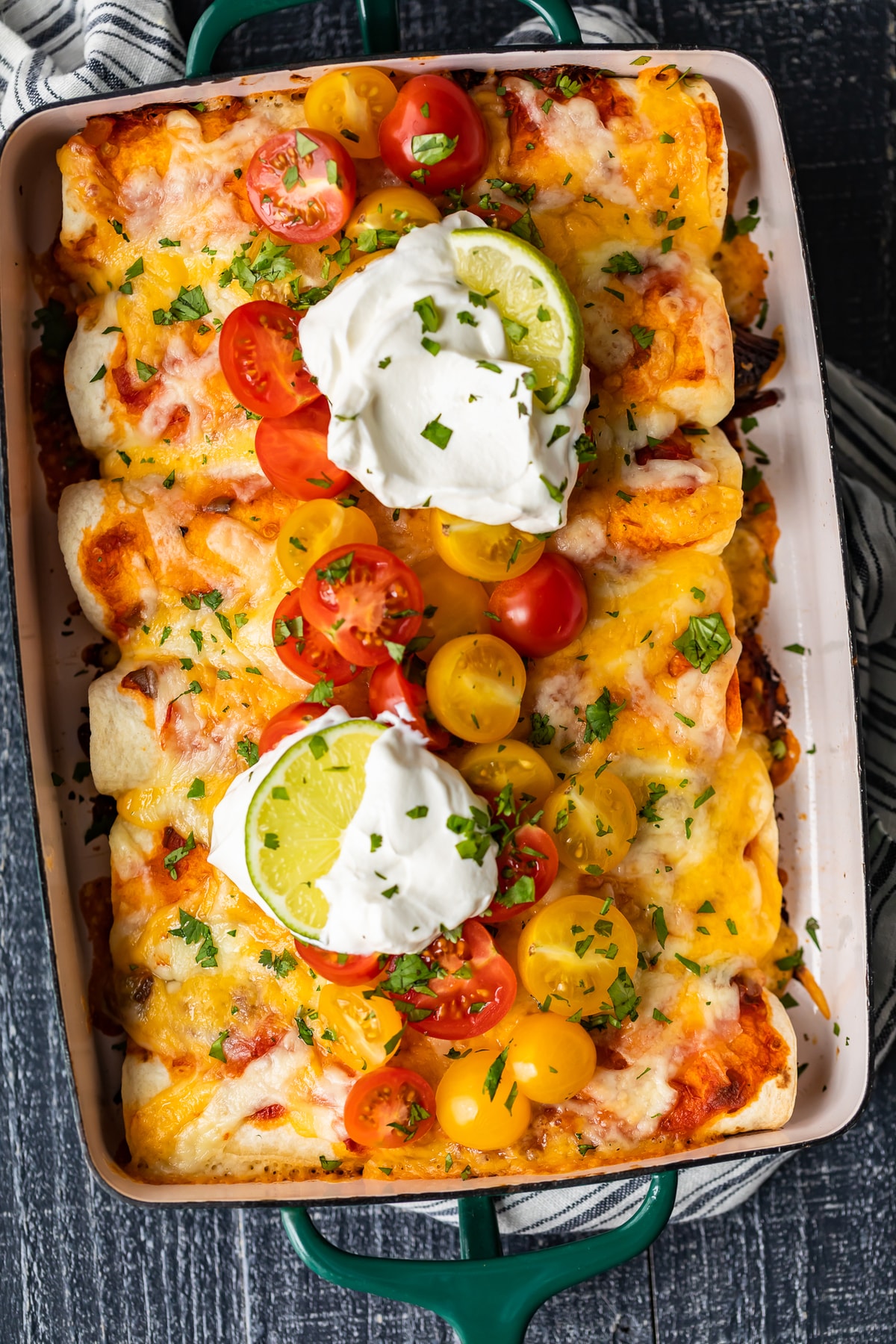 How to Make Beef Enchiladas
This easy beef enchiladas recipe is so much simpler than you might think! It does take some time to cook the beef, but it's well worth it in the end. Cook the beef, make the enchiladas, bake, and done!
Season the roast with salt & pepper, then set it aside.
Heat oil in a dutch oven, then add in the onion and saute for 4-5 minutes. Add in the garlic and cook another 30 seconds, then transfer the mixture to a plate.
Now cook the beef in the same dutch oven. Sear the roast for about 4-5 minutes on each side. Then sprinkle it with taco seasoning, chili powder, and cumin, and pour the beer in the pot around the beef. Cover it with a lid and roast it in the oven at 300°F for 3-4 hours.
When the beef is done cooking, shred it up using two forks.
Now set the oven to 350°F and prepare your casserole dishes.
Spread 1/2 cup of the picante sauce over the bottom of the casserole dish.
Assemble the beef enchiladas by filling each tortilla with shredded beef, sour cream, picante sauce, sauteed onion, garlic, and shredded cheese. Roll them up tightly and place them into the casserole dish.
Spread the rest of the sauce over the enchiladas, cover the dish with foil, and bake 15 minutes.
Remove the foil, sprinkle them with cheese, and then bake another 10-15 minutes.
When they're done cooking, top them with all your favorite ingredients (tomatoes, guacamole, more sour cream, etc) and serve hot.
To help speed up the process, you can prepare the shredded beef up to a couple of days ahead of time. Cook the roast according to instructions, shred, and store it in the refrigerator until you're ready to make the shredded beef enchiladas.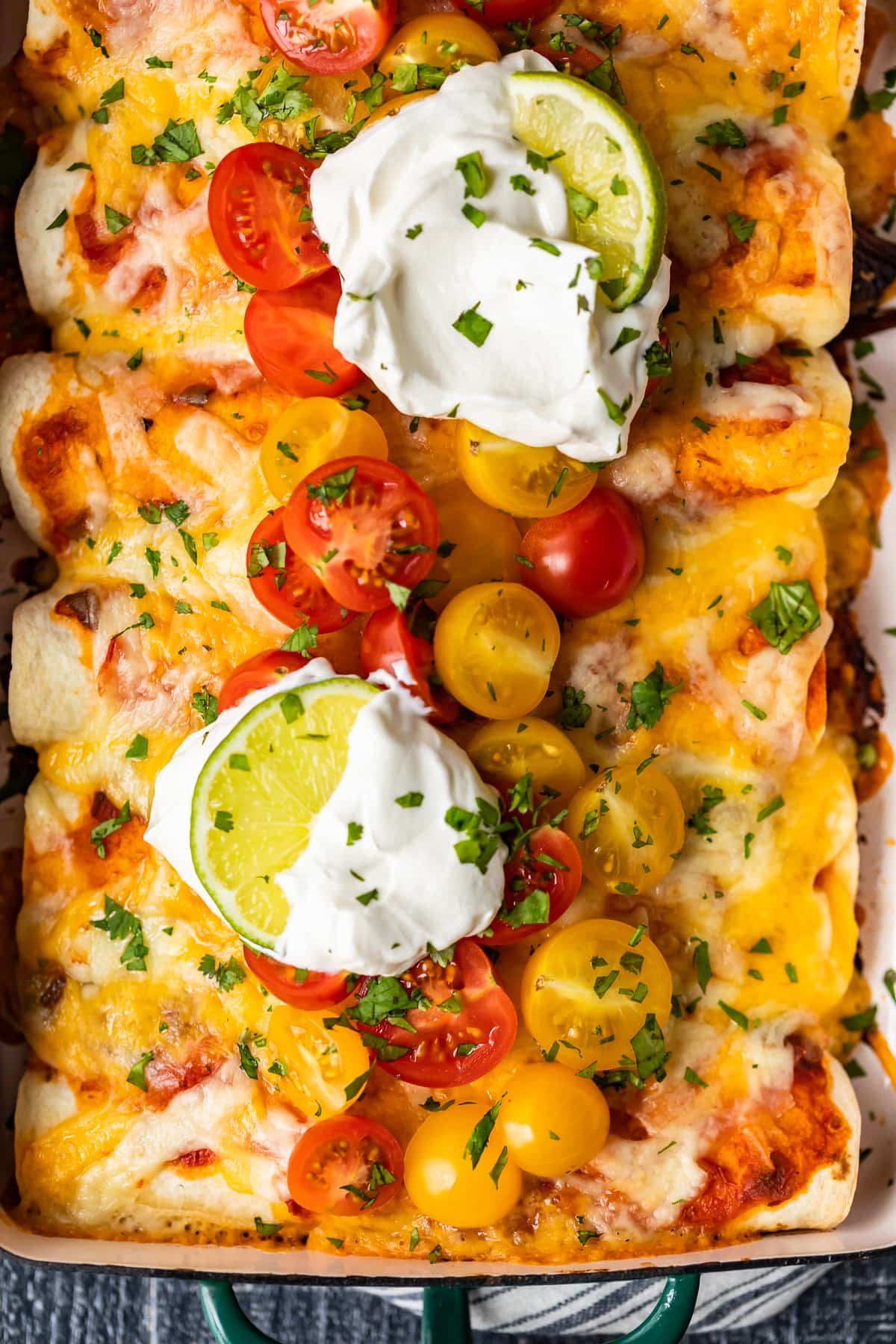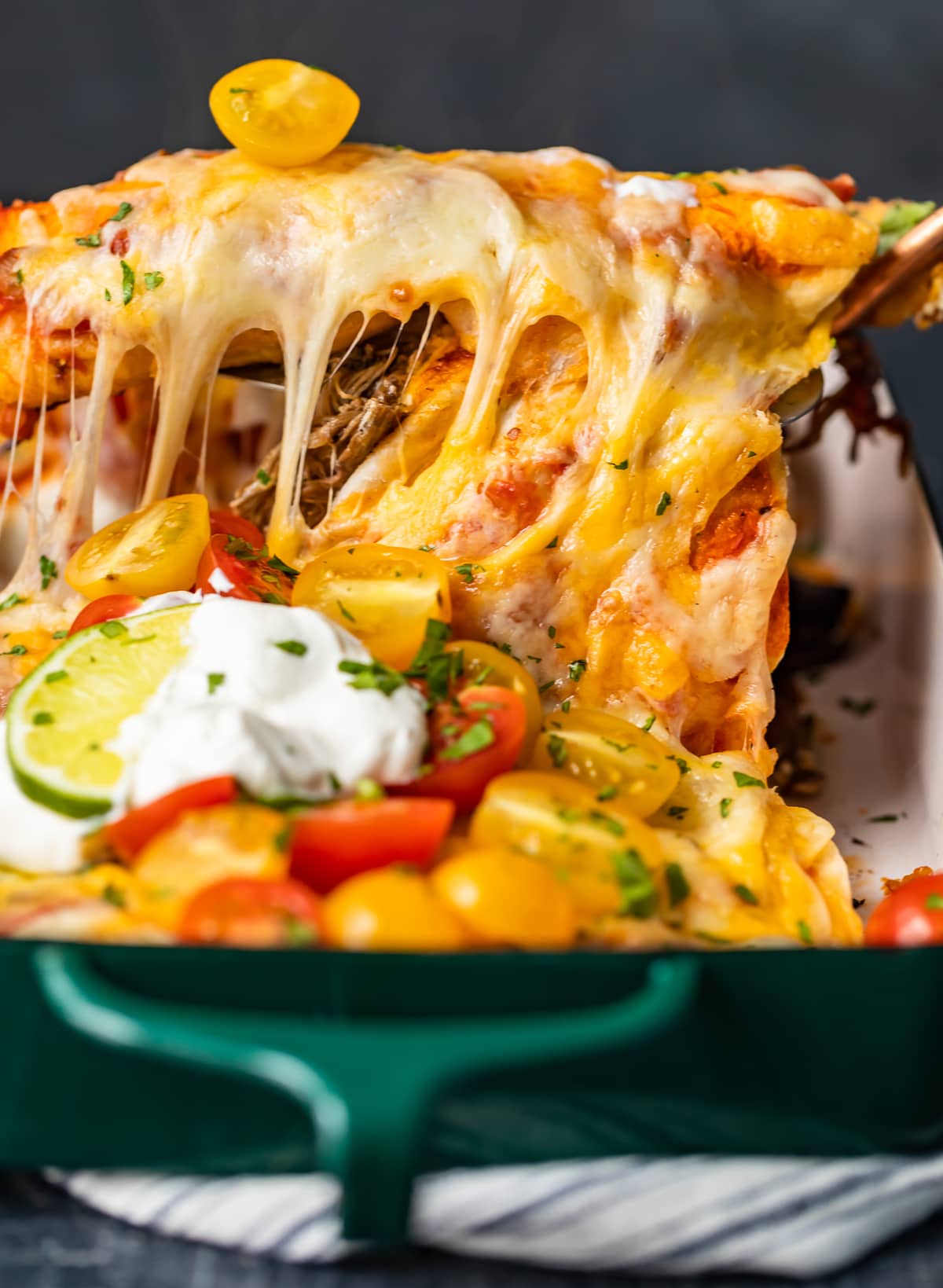 Best Enchiladas Recipes
I don't think I'll ever get tired of eating enchiladas. They are just SO GOOD, and they're plenty filling. Maybe add a side of rice or beans, but overall, they can be their own meal. I just can't get enough of the cheesy goodness. Tortillas filled with all my favorite things and baked to perfection? Yup! That's a meal I can get behind.
Besides these shredded beef enchiladas, here are some of the best enchiladas recipes to try: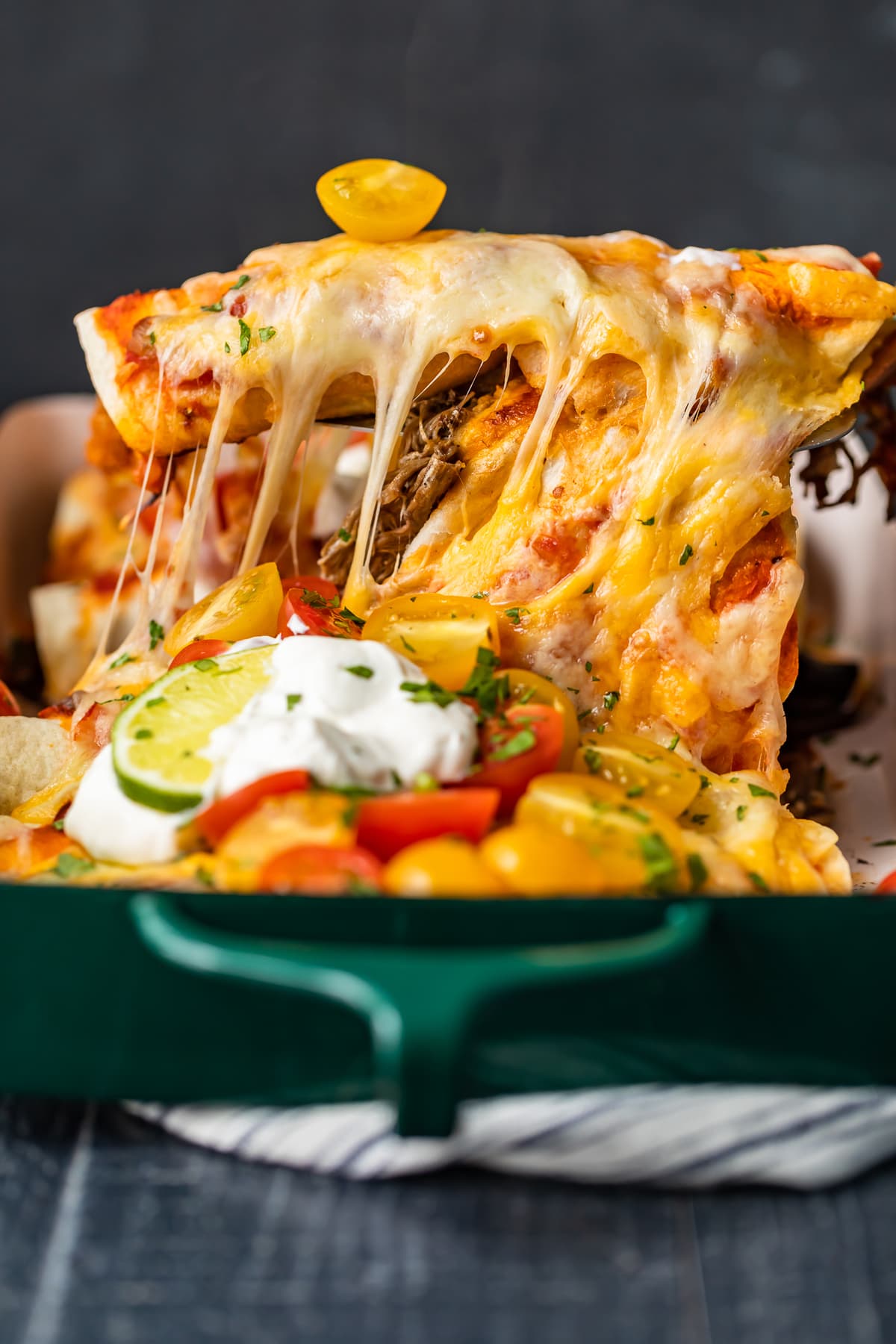 I just know you are going to love this Shredded Beef Enchiladas Recipe as much as I do! Dig in and enjoy!
See the recipe card below for details on how to make Shredded Beef Enchiladas. Enjoy!
If you like this enchiladas recipe, try our other favorite Mexican dishes: