These Chicken Ranch Wraps are the best of both worlds: the satisfying flavor of a burrito in the form of a healthy chicken wrap recipe! Broccoli, cheese, ranch, rice, and chicken are wrapped in whole wheat tortillas for an easy and delicious lunch.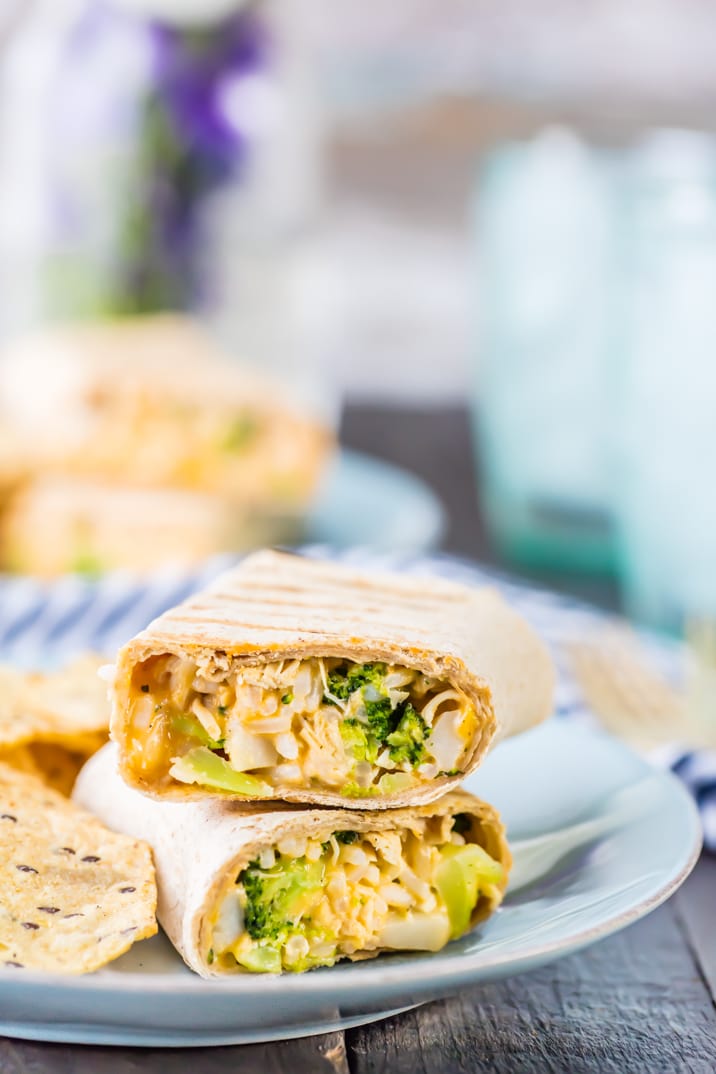 Chicken Ranch Wrap (with Rice, Cheese, & Broccoli)
These cheesy chicken ranch wraps are the perfect balance of tasty and healthy. They make for an easy lunch that is fully satisfying!
Finding healthy food that is also comforting and delicious can be a struggle. It's probably why I can never keep to a diet for very long. I just crave all the cheesy, flavor-filled stuff!
Luckily these Cheesy Broccoli Ranch Chicken Wraps came into the picture. Chicken, broccoli, and rice make a nice enough meal, but wrap them in a tortilla and now you've got a healthy burrito! Of course I added cheese and ranch for flavor (this is called balance, right?), but you can skip the cheese to save some more calories.
I just love these broccoli and chicken wraps for quick and easy lunches at home, or something fun to bring to work. The best part is you can easily make these ahead of time, freeze them, then grab them to reheat when you're in a rush. It's like your own homemade frozen burritos!
You'll love having these chicken wraps on hand for busy days at home or at the office, and they make a healthy dinner for kids too!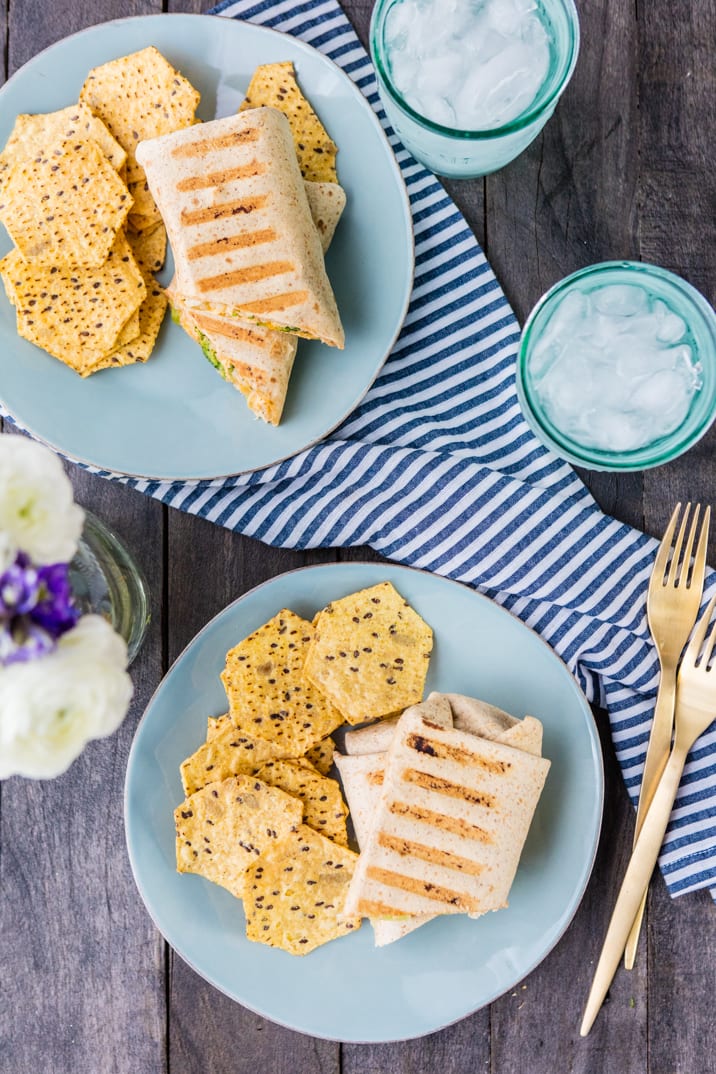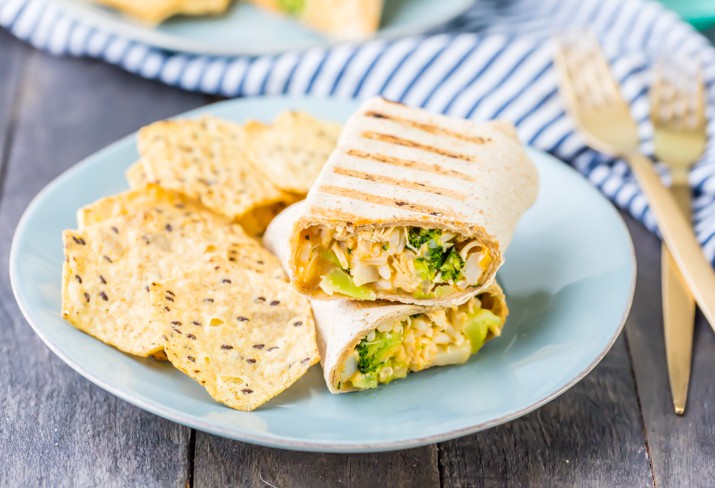 Healthy Chicken Wraps
When I lived in Jacksonville, there was a little restaurant down the street that had creative grilled burritos. The Chicken Caesar was my favorite for the days where calorie counts didn't matter, and the Broccoli Chicken Burrito was my favorite for days involving swimsuits! The crunch, the cheese, the flavor; I was hooked!
I decided I could take some inspiration and turn it into a healthy chicken wrap recipe, because calling it a wrap instead of a burrito automatically makes it healthier, right?
It's got all of the ingredients I loved about the burrito, wrapped up and grilled to perfection.
Here's what's in this Broccoli Chicken Ranch Wrap:
Rotisserie Chicken (easiest way to get delicious chicken)
Broccoli
White Rice (you could use brown rice too, or even try substituting quinoa)
Water Chestnuts (these add that perfect crunch)
Cheddar Cheese
Whole Wheat Tortillas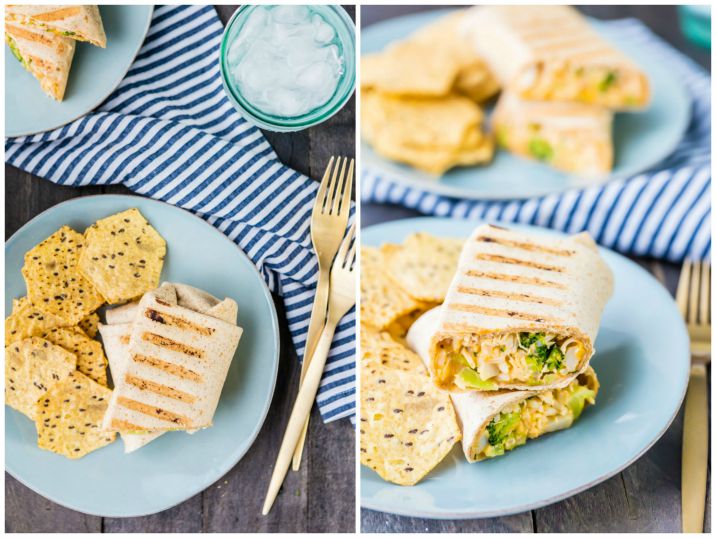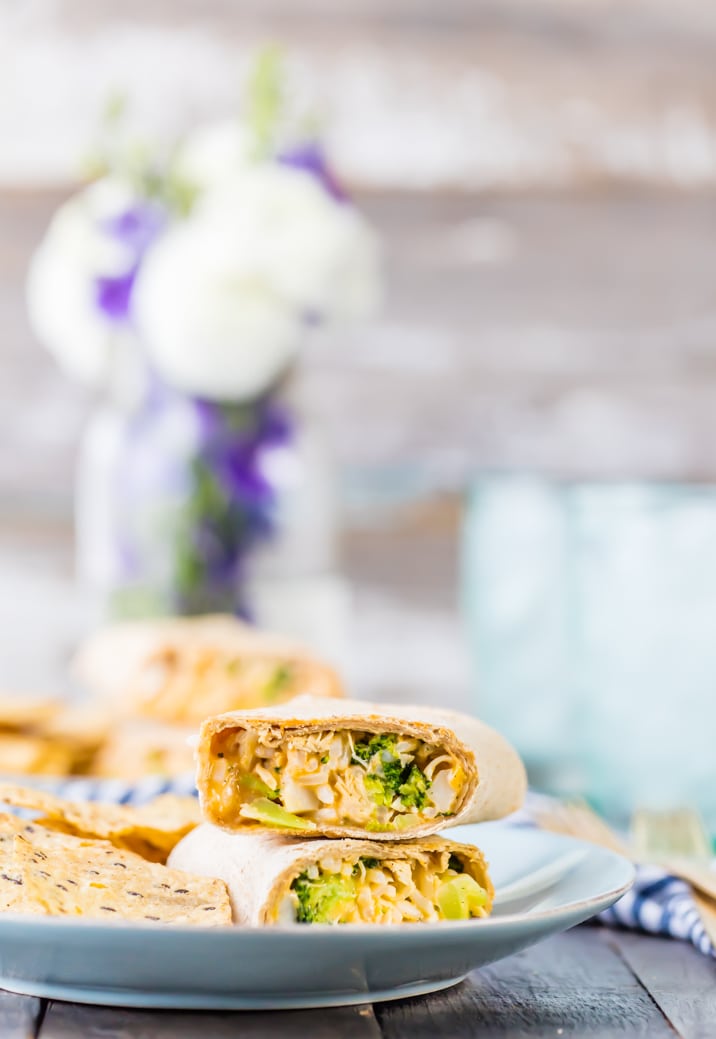 Cheesy Rice Broccoli and Chicken
Cheese, rice, broccoli, and chicken is a classic combo that never fails to please. This chicken ranch wrap is basically like this Chicken and Rice Casserole wrapped up into burrito form! Plus you've got your Classic Green Rice Casserole and then there's my Slow Cooker Velveeta Broccoli Casserole…
What I'm saying is, any combination of these ingredients will taste amazing, so why not make it into a healthy wrap you can eat for lunch? It's perfect!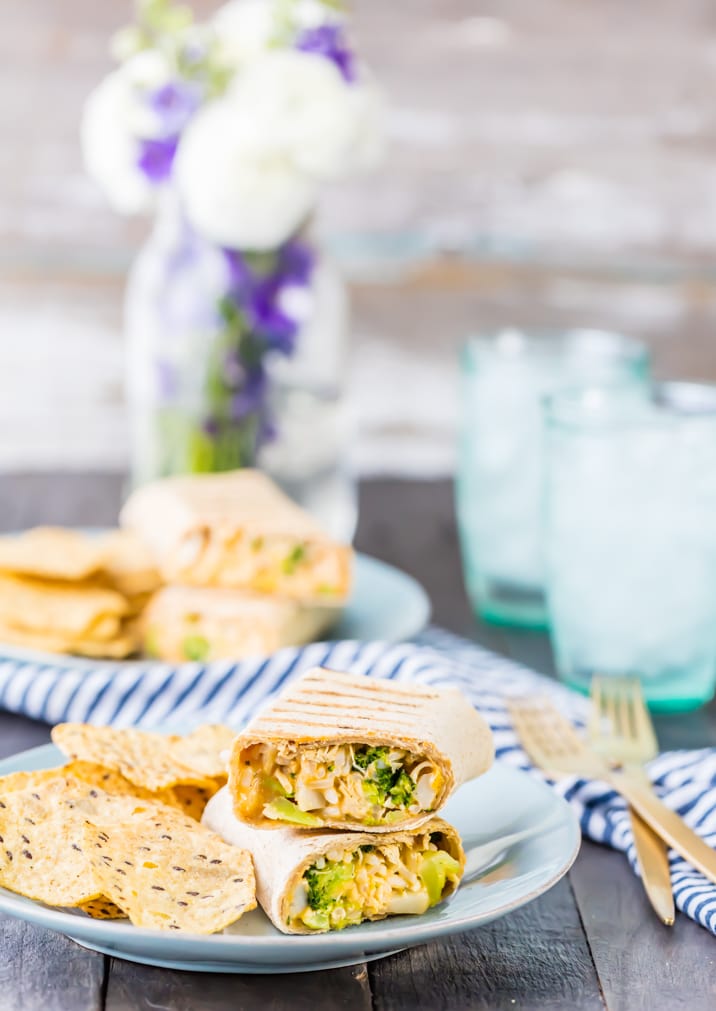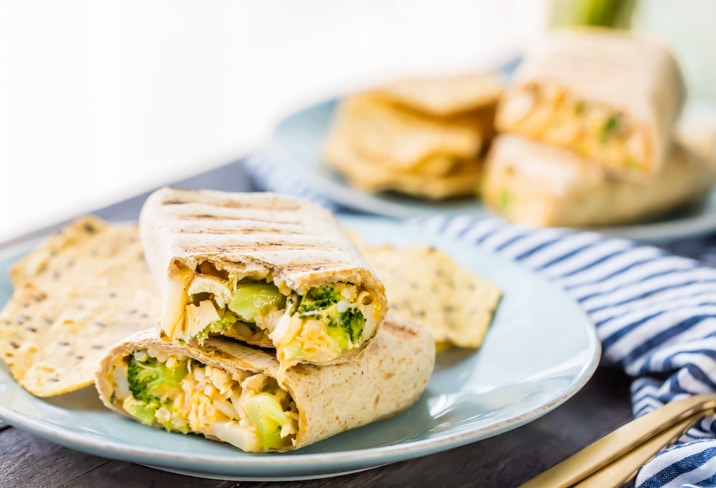 How to Make Chicken Wraps
This chicken wrap recipe is so easy to make. I like buying rotisserie chicken so I can save some cooking stress, then just cook up the rice and broccoli before assembling everything. The bulk of this recipe is just putting everything together. Simple!
How to Make Cheesy Broccoli Chicken Ranch Wraps:
Prep all of your ingredients so they're ready to use (cook the rice and broccoli, chop up or shred the chicken).
Once everything is ready, combine rice, broccoli, chicken, ranch seasoning, water chestnuts, and cheese into one mixture.
Sprinkle cheese into the middle of each wrap, then place the rice mixture into each.
Tuck everything in to make a nice clean wrap, then grill them for 4 minutes on each side (you can use a grill, cook on the stove top, or use a Foreman grill).
And that's all there is to it! This is the perfect easy lunch or dinner for those busy days.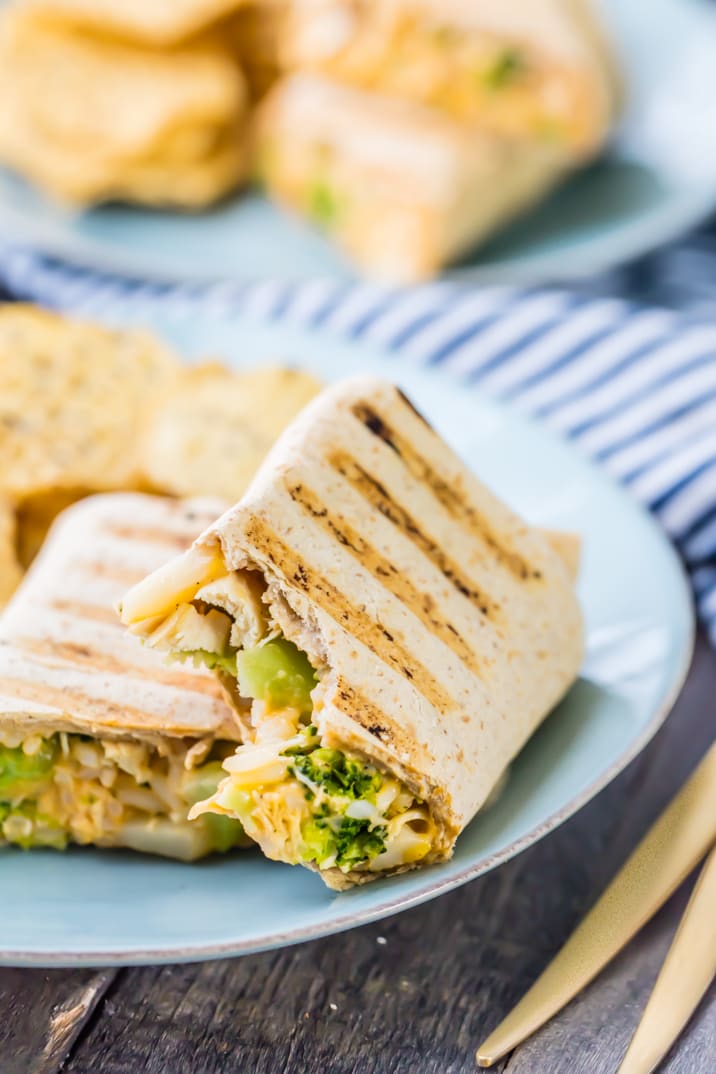 How to Freeze Chicken Wraps
If you want to freeze these for later, it's really simple. You could use this recipe as meal prep, make all four at once, freeze them, and have lunch ready for the week.
Just follow the directions in the recipe card, wrap each one in foil and place them in the freezer. When you're ready to cook them, remove the foil and microwave them for a couple of minutes. Homemade frozen burritos!
See the recipe card for details on how to make this Cheesy Broccoli Chicken Ranch Wrap recipe. Enjoy!
Try these other simple lunch ideas: