This Skinny(er) Chicken Mexican Lasagna Bake is relatively guilt-free and SO delicious! Perfect for a weeknight meal with the entire family. You can have all the flavors with less calories…feeling great about what you're serving your family while still enjoying comfort food. Win win!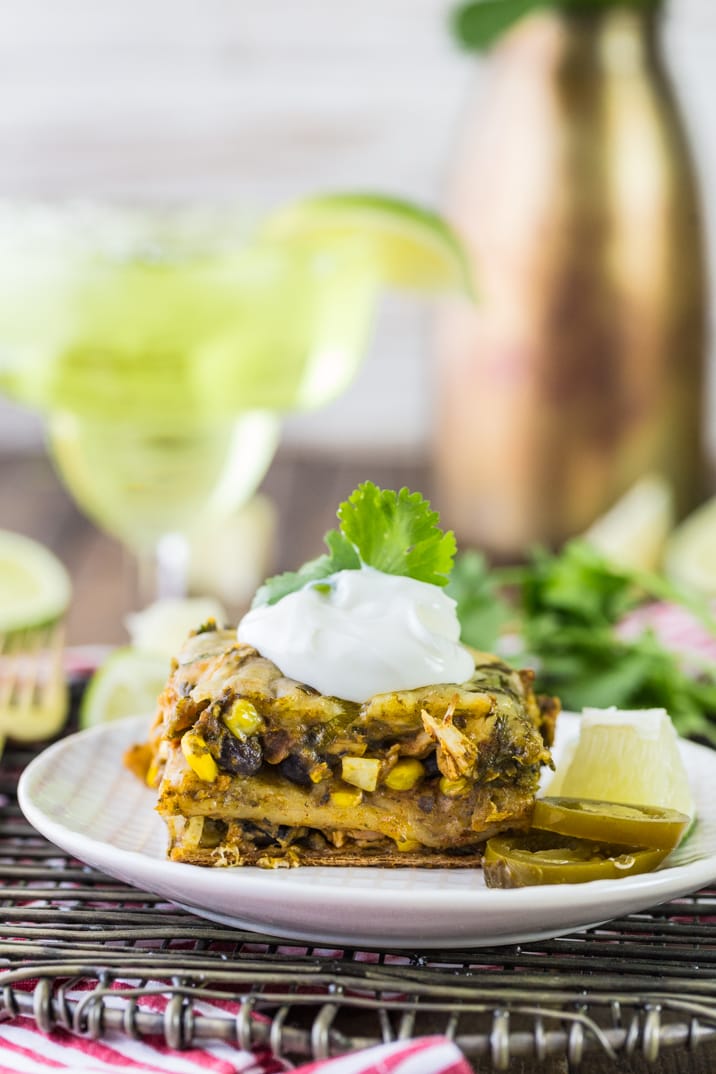 Easy Mexican Lasagna
Mexican food is my ultimate weakness, so you guys are in for a treat!
This chicken Mexican lasagna bake is a great healthier dinner option. It's even got a secret ingredient in there to make you strong (SHH — IT'S SPINACH!).
I topped it all with some plain greek yogurt, a great substitute when trying to make Mexican food a bit less calorific. You'll never miss the sour cream!
I have a feeling this easy meal will be made quite often at our house. It's the perfect quick and easy weeknight meal, and also a great option for making the night before and just heating up when you're ready to chow down. And believe me, you'll chow down.
Be sure to try my Lasagna Soup and Creamy White Chicken Lasagna too!
Why you will love this recipe!
Quick to prep: This Mexican lasagna bake only requires about 15 minutes of prep before it's baked in the oven.
Perfect for the whole family: This is a great hearty family meal you can feel great about serving up. It's been a firm favorite in our house!
Make ahead: Delicious straight out of the oven, but this is also a great option for your weekly meal prep.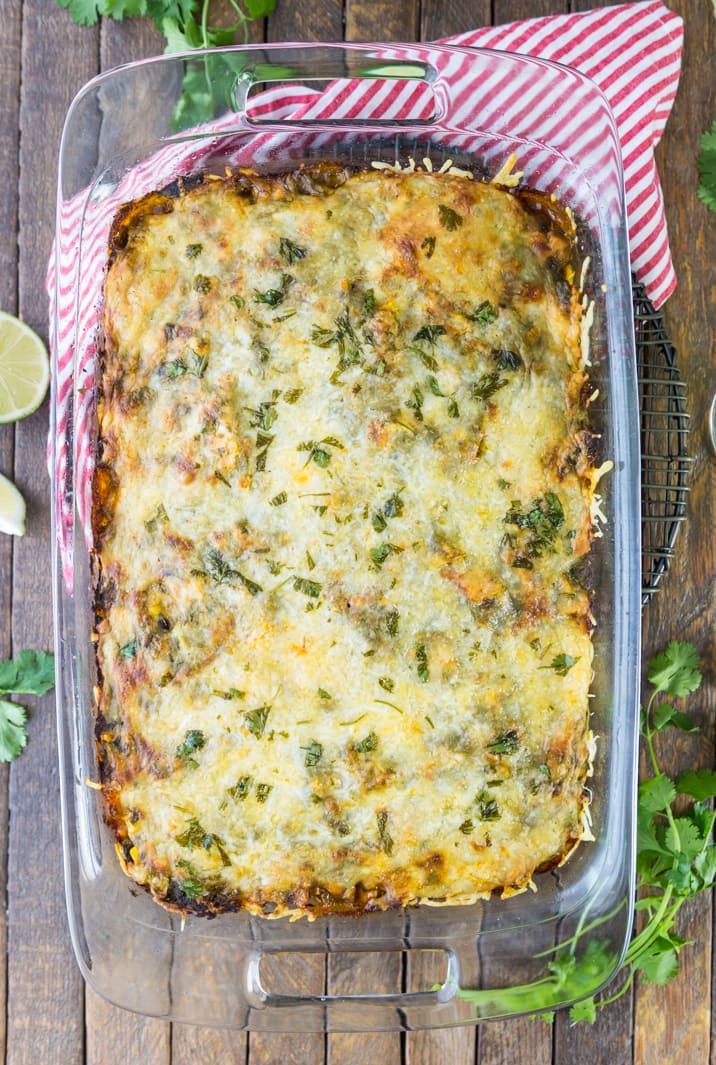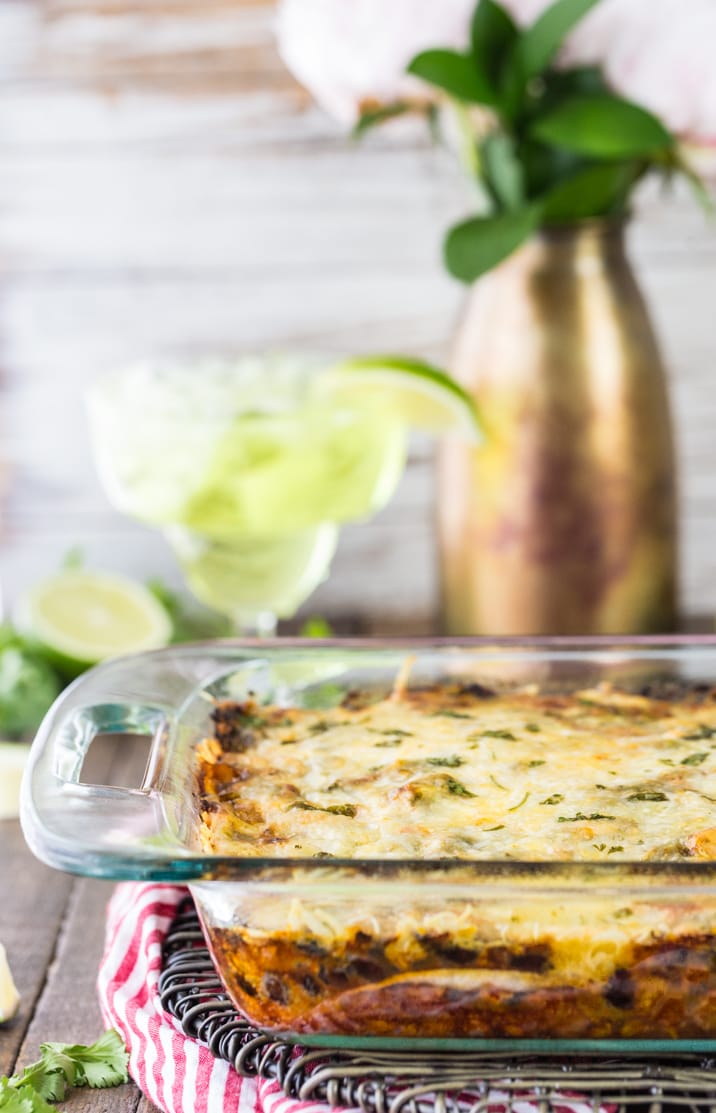 How to make a chicken Mexican lasagna bake
Be sure to scroll down for the full recipe!
Combine the chicken with the taco seasoning.
Blend together the spinach, cilantro and salsa.
Place tortillas in the bottom of a casserole dish,
Cover with cheese, and half the beans, corn, chicken and the spinach mix.
Repeat the layer and top with cheese.
Bake until cooked through and browned.
Serve topped with jalapenos, Greek yogurt and cilantro.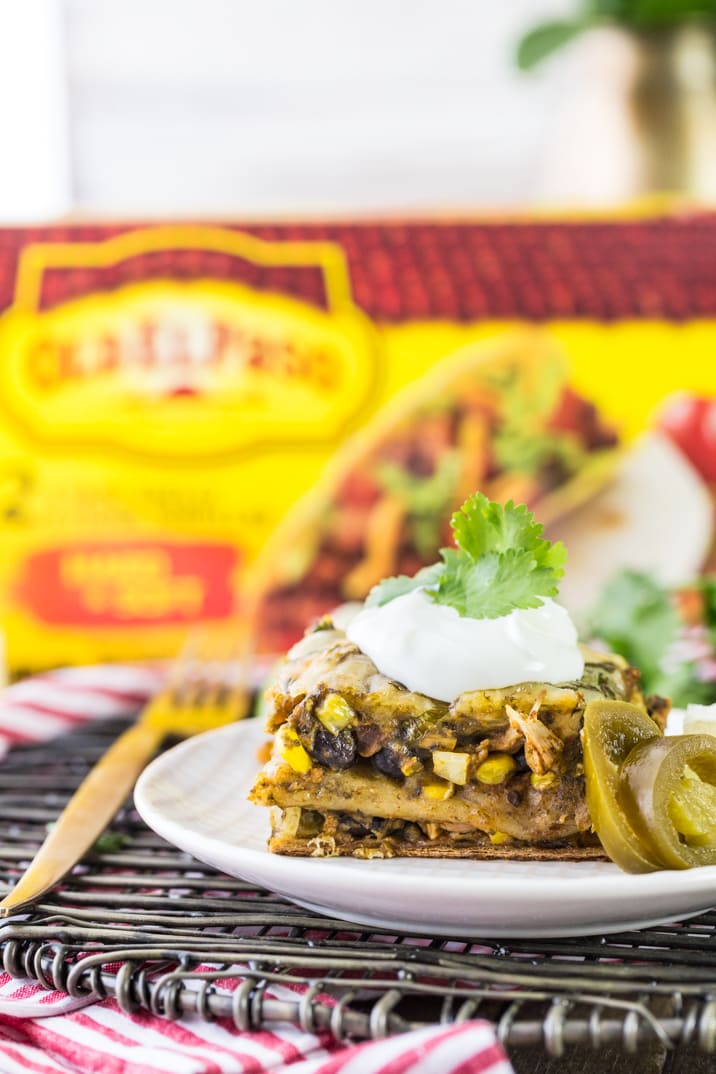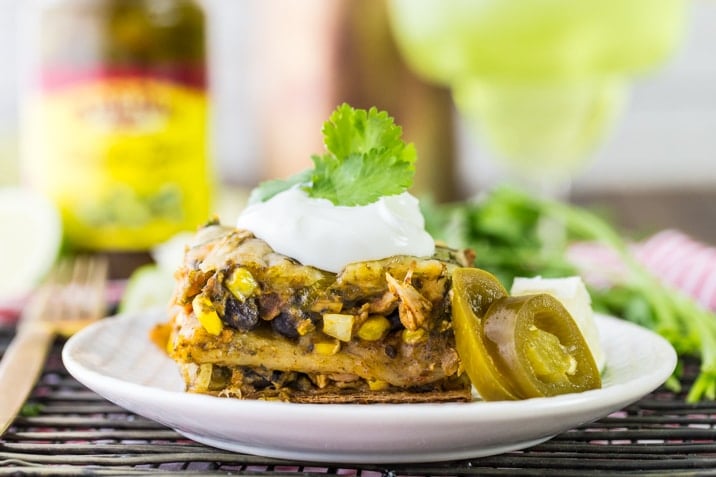 Can you make it ahead of time?
This Mexican lasagna bake is a great make ahead dish that is easily reheated. Bake it as per the recipe, then let it cool completely. It will keep covered in the fridge for up to 4 days. Reheat it in the oven at 350F for 15 to 20 minutes til heated through.
Can you freeze it?
Yes! If you are looking for a freezer meal, then this is a great option. You can freeze it before baking then thaw in the fridge overnight before cooking as per the instructions.
You can also freeze this cooked and then defrost in the fridge before reheating.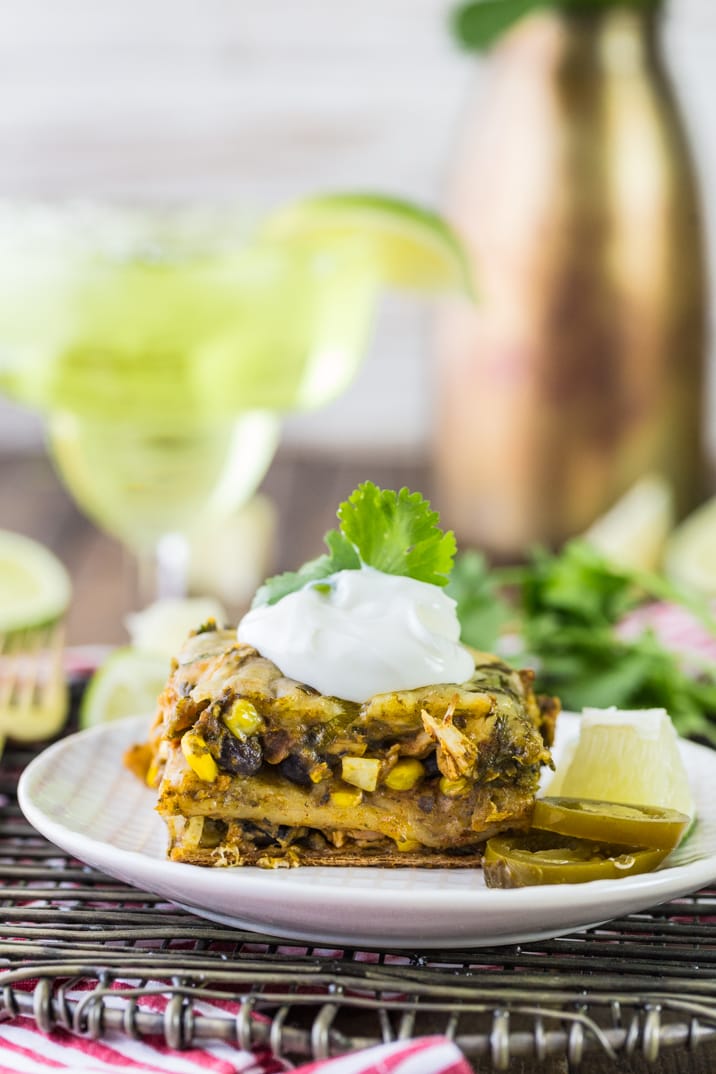 What do you serve it with?
This is delicious and hearty enough to serve by itself, but it's great to serve with rice, vegetable and salad side dishes. Try it with: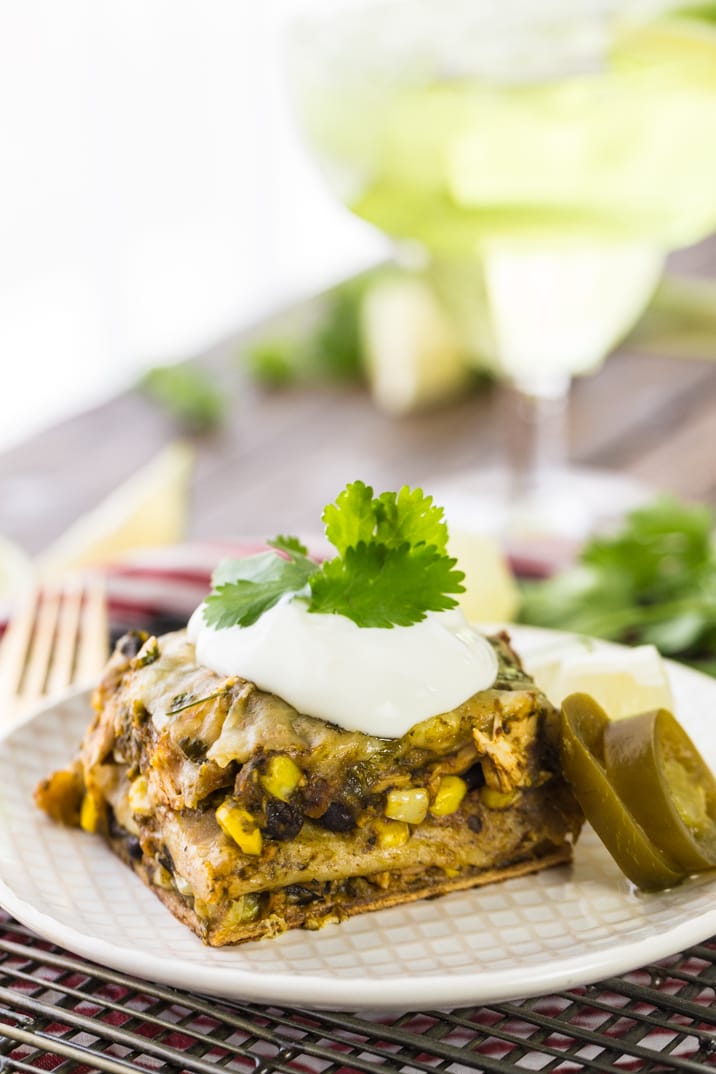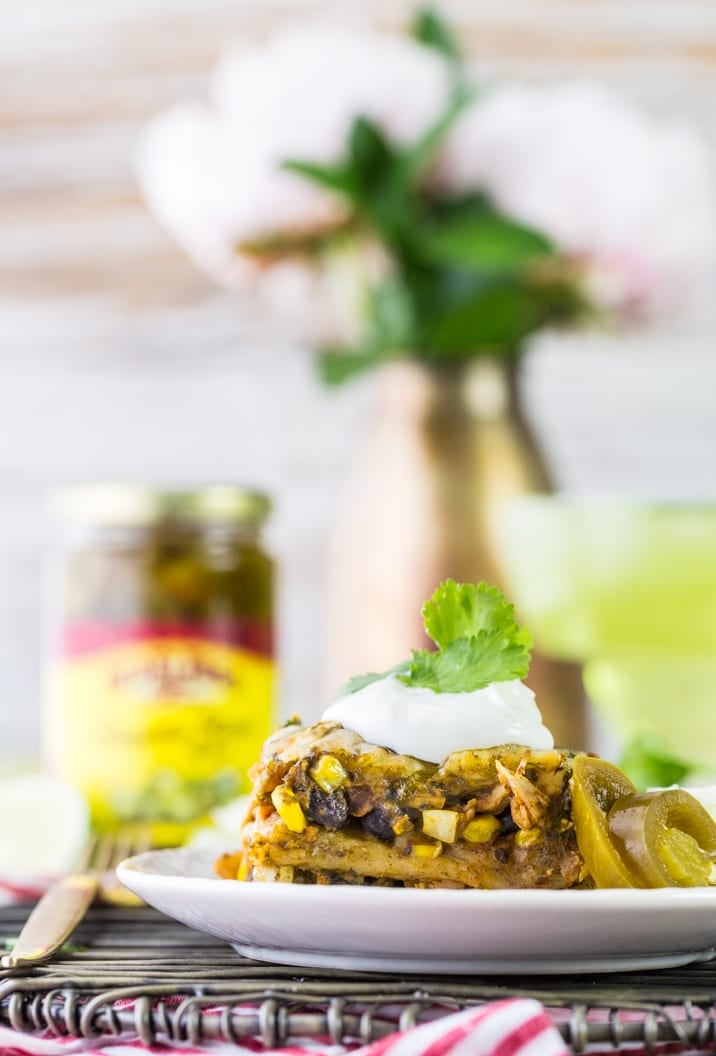 Recipe Notes and Tips
I like to use small soft flour tortillas for this recipe, but you can use corn if you prefer.
Make sure the tortillas overlap in the bottom of your dish.
I love this with chicken, but you can also make it with cooked ground beef.
I like to use black beans, but kidney will also work great.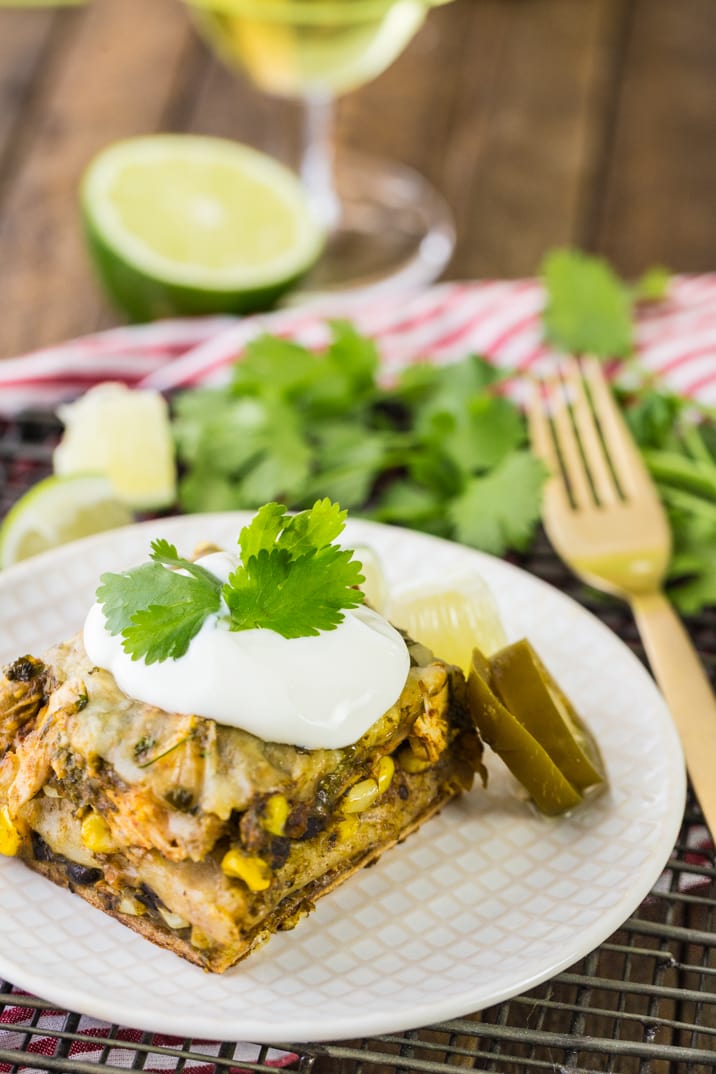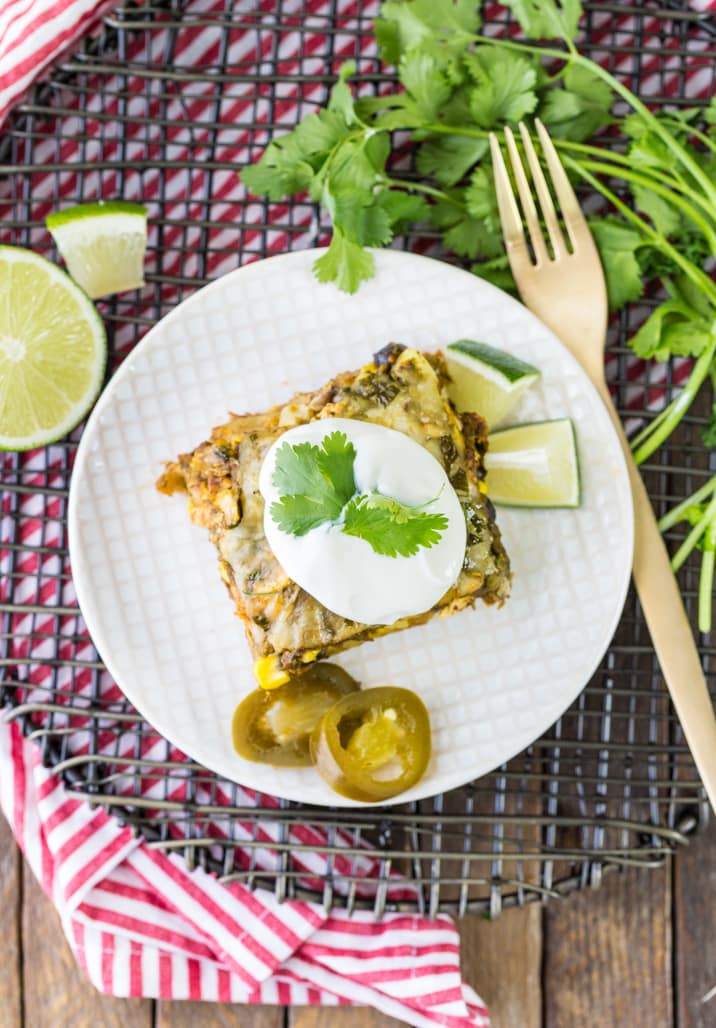 This Mexican lasagna bake is so wonderful fresh and vibrant and loaded with yummy flavors. This one is a keeper for sure!
More Mexican Recipes