Mexican Lasagna is like eating tacos in a casserole! This easy Mexican chicken lasagna with tortillas is relatively guilt-free and SO delicious. It's perfect for a weeknight meal with the entire family. It's easy to make, filled with delicious ingredients, and can even be made ahead of time!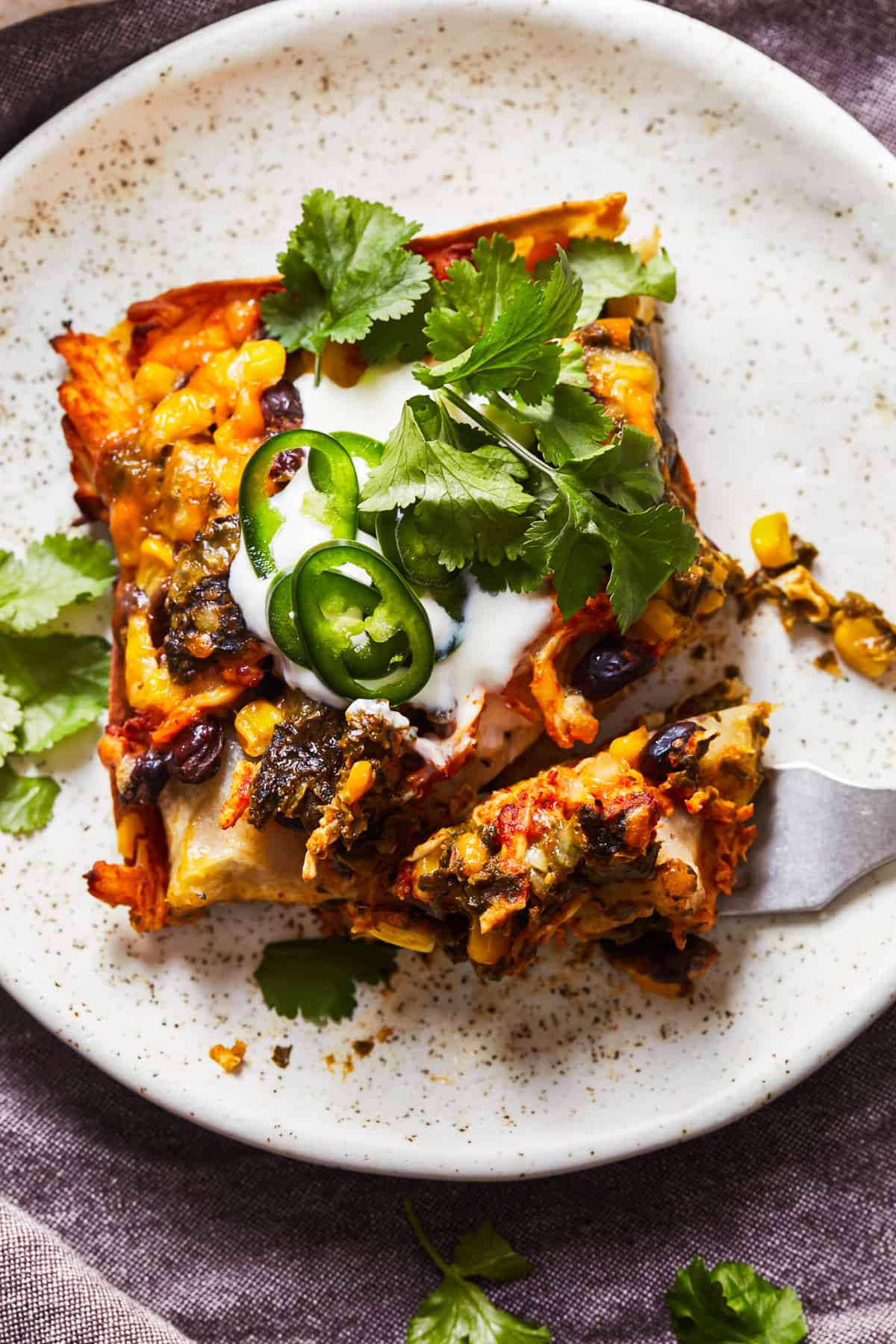 Mexican Chicken Lasagna
This easy Mexican lasagna with tortillas is a great healthier dinner option. It's even got a secret ingredient in there to make you strong (it's spinach).
This recipe is basically layers of your favorite tacos baked into a lasagna-like casserole. It's so good! Tortillas, chicken, salsa, cheese, beans, and more are always delicious.
I topped off this Mexican chicken lasagna recipe with some plain greek yogurt, a great substitute when trying to make Mexican food a bit less calorie-filled. You'll never miss the sour cream!
This is the perfect quick and easy weeknight meal, and also a great option for making the night before to heat up when you're ready to chow down. And believe me, you'll whole fmaily will love it!
Why You'll Love this Mexican Lasagna Recipe:
QUICK PREP: This Mexican lasagna bake only requires about 15 minutes of prep before it's baked in the oven.
FAMILY DINNER: This is a great hearty family meal you can feel great about serving up. It's been a firm favorite in our house!
MAKE AHEAD: It's delicious straight out of the oven, but this is also a great option for your weekly meal prep.
Be sure to try my Lasagna Soup and Creamy White Chicken Lasagna too!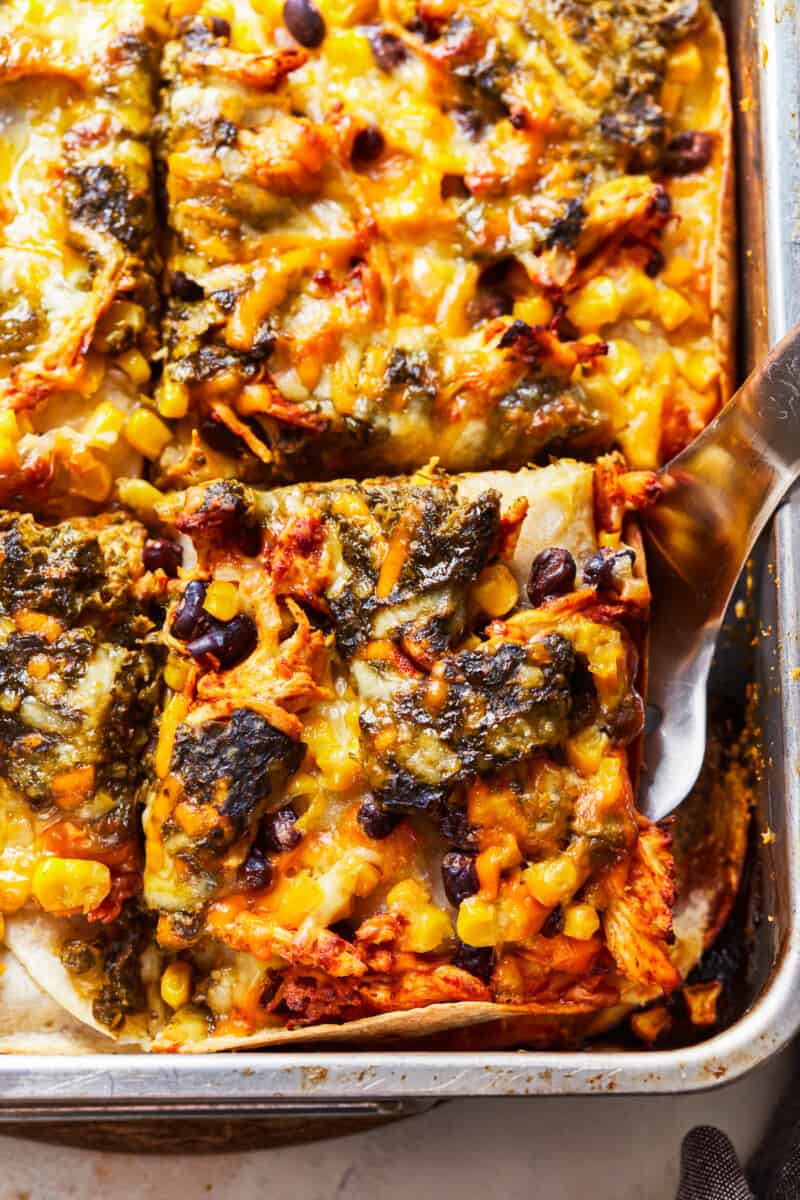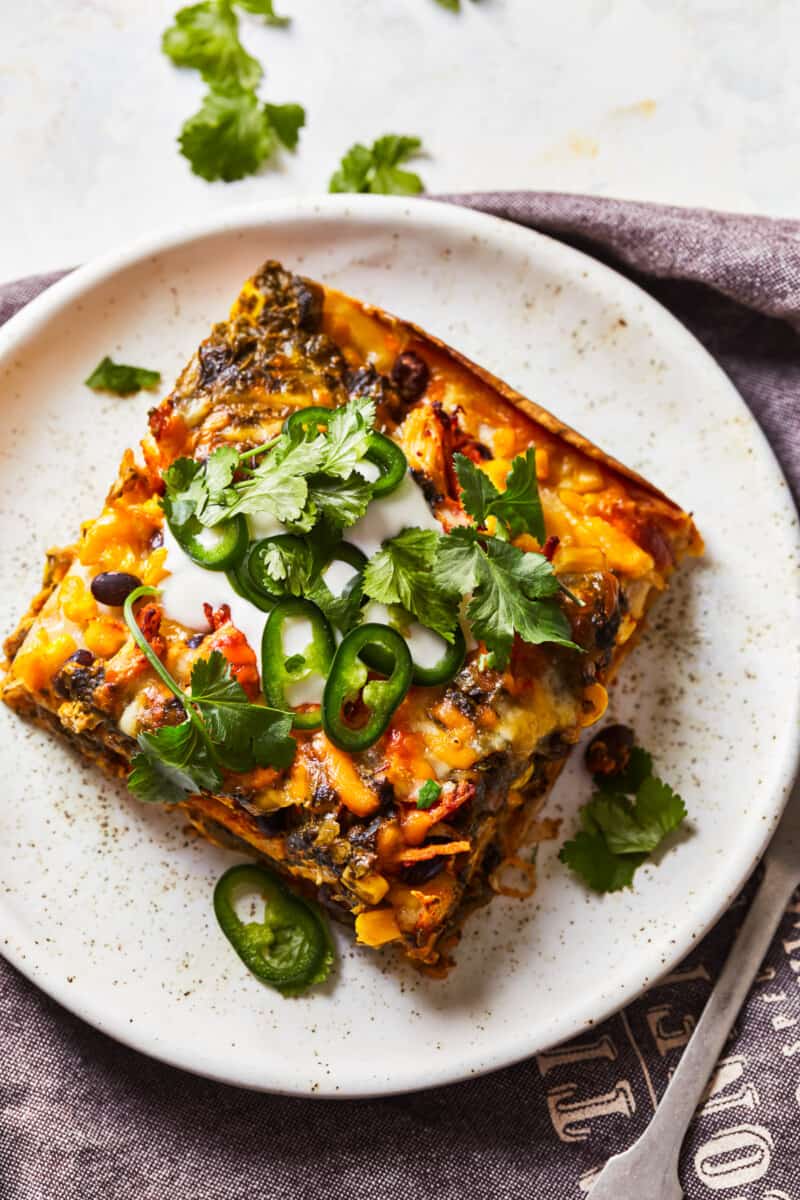 Ingredients
Chicken: I like shredded chicken for this Mexican lasagna. You can use a pre-cooked rotisserie chicken, or make your own shredded chicken. You can also use ground chicken.
Tortillas: I recommend flour tortillas, but corn tortillas work too.
Black Beans
Corn
Salsa: Try this blender salsa, or use any salsa you love!
Spinach
Cilantro
Cheese: Shredded Mexican blend cheese works great. Or add Colby Jack or pepper jack.
How to Make Mexican Chicken Lasagna
Be sure to see the recipe card below for full ingredients & instructions!
Combine the chicken with the taco seasoning.
Blend together the spinach, cilantro and salsa.
Place tortillas in the bottom of a casserole dish.
Cover with cheese, and half the beans, corn, chicken and the spinach mix.
Repeat the layer and top with cheese.
Bake lasagna until cooked through and browned.
Serve topped with jalapenos, Greek yogurt and cilantro.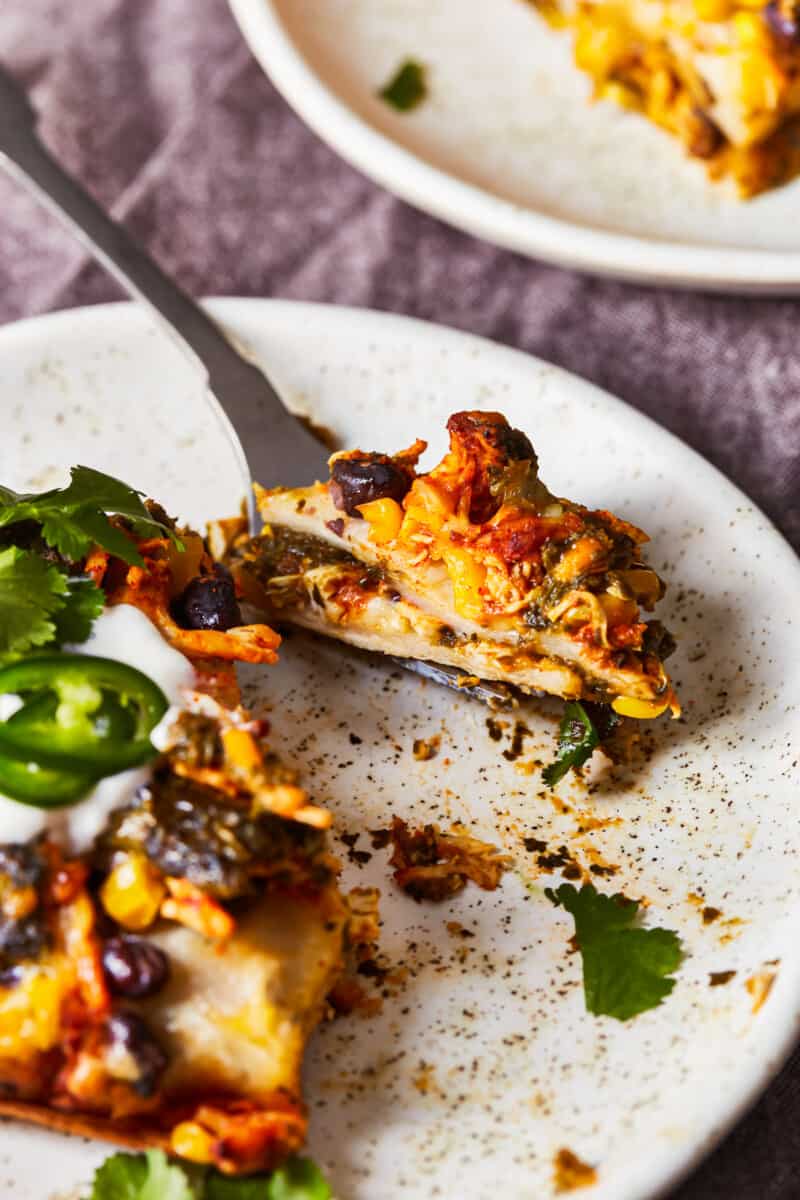 Can I make this recipe without chicken?
If you prefer, you can make Mexican lasagna with ground beef, ground turkey, or sausage instead. You can also make a vegetarian version without meat!
Is Mexican lasagna healthy?
Overall, the ingredients here are quite good for you. The chicken makes it leaner (compared to beef), and the spinach we snuck in adds more greens! You can skip the cheese if desired, or add in more veggies.
What toppings can I add to taco lasagna?
I recommend finishing this off with jalapenos, Greek yogurt or low-fat sour cream, and cilantro. You could also add black olives, guacamole, or any of your favorite taco toppings!
Serving Suggestions
This baked Mexican lasagna is delicious and hearty enough to serve by itself. That's what I love about casseroles! But it's also great to serve with rice, veggies, and salad side dishes. Try it with: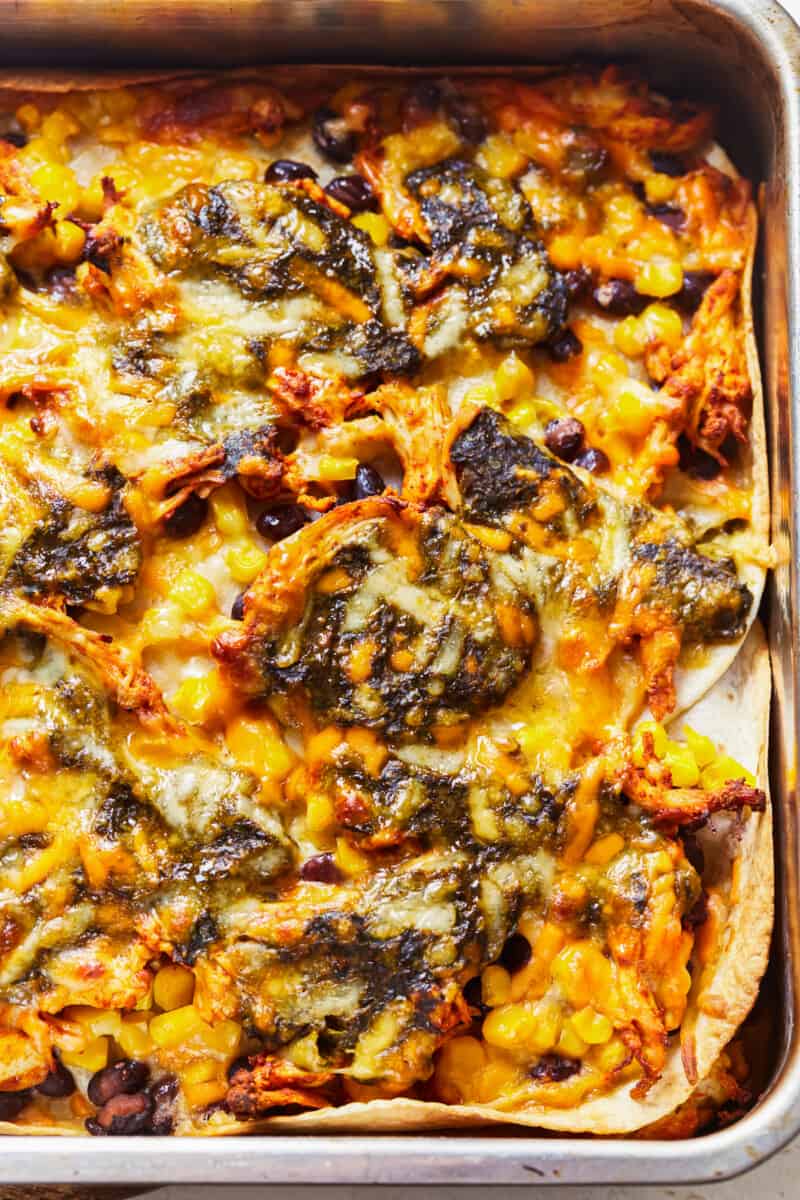 Tips!
Layer the tortillas in the bottom of your baking dish, making sure they overlap. You don't want any open spaces for the ingredients to fall out on the bottom.
I love this dish with chicken, but you can also make it with cooked ground beef.
Make sure your chicken is fully cooked before adding it into the lasagna bake.
I like to use black beans, but kidney beans or refried beans will also work great.
Cover the casserole with foil for the first part of baking, to protect the top from browning too quickly.
What kind of tortillas should I use for Mexican lasagna?
I recommend soft flour tortillas for this recipe. I like how they bake up into a nice texture that melds well with all of the other ingredients. But you can use any tortillas you like! Corn tortillas will get a little crunchier, which you might prefer.
Can you make Mexican chicken lasagna ahead of time?
Like any casserole, this Mexican lasagna bake is a great make ahead dish that is easily reheated. Bake it as per the recipe, then let it cool completely. It will keep covered in the fridge for up to 4 days. Reheat it in the oven at 350F for 15 to 20 minutes until heated through.
Can you freeze this casserole?
Yes! If you are looking for a freezer meal, then this is a great option. You can freeze it before baking then thaw in the fridge overnight before cooking according to the instructions.
You can also freeze this cooked and then defrost in the fridge before reheating.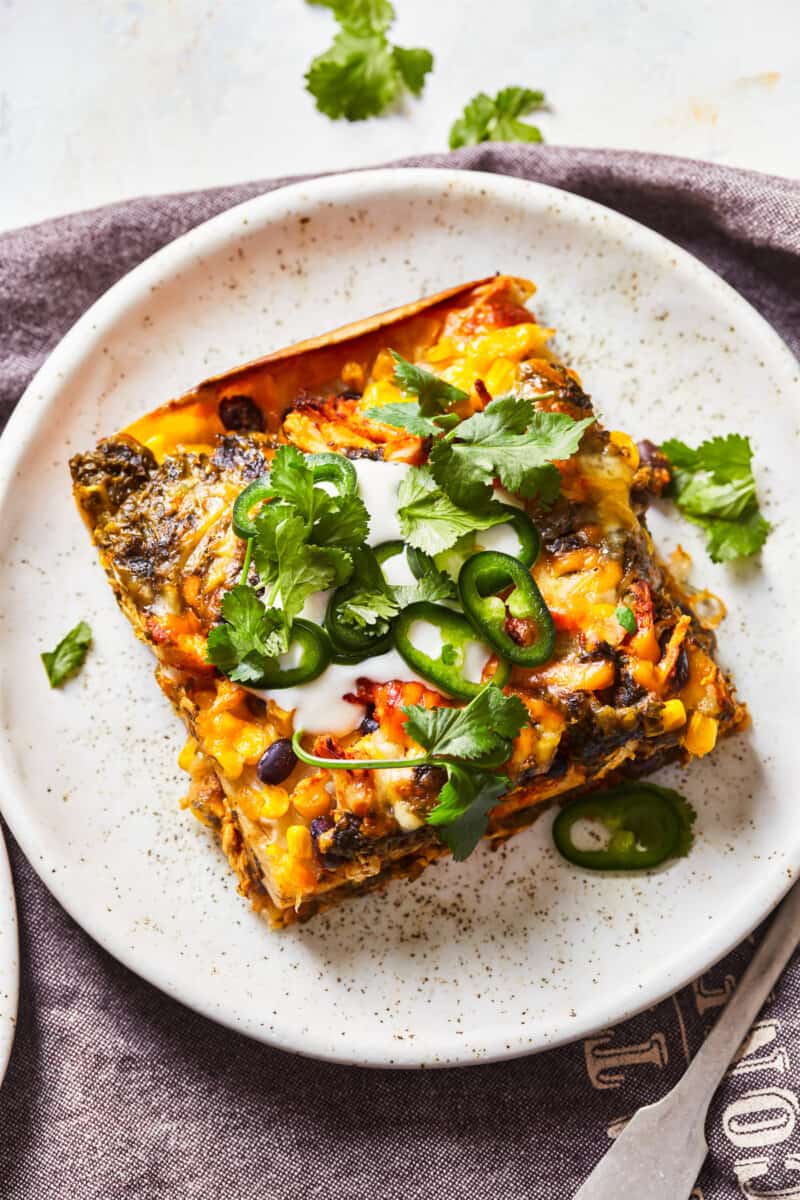 This Mexican chicken lasagna recipe is so delicious! Like your favorite taco dinner, all baked into a casserole. The whole family will love this dish!
If you make this recipe be sure to upload a photo in the comment section below or leave a rating. Enjoy!