Sangria isn't just for summer! My fall sangria recipe is made with honey bourbon and flavors of ginger, cloves and cinnamon for a refreshing and cosy drink. Made with moscato wine, this is the perfect easy drink to serve during Thanksgiving.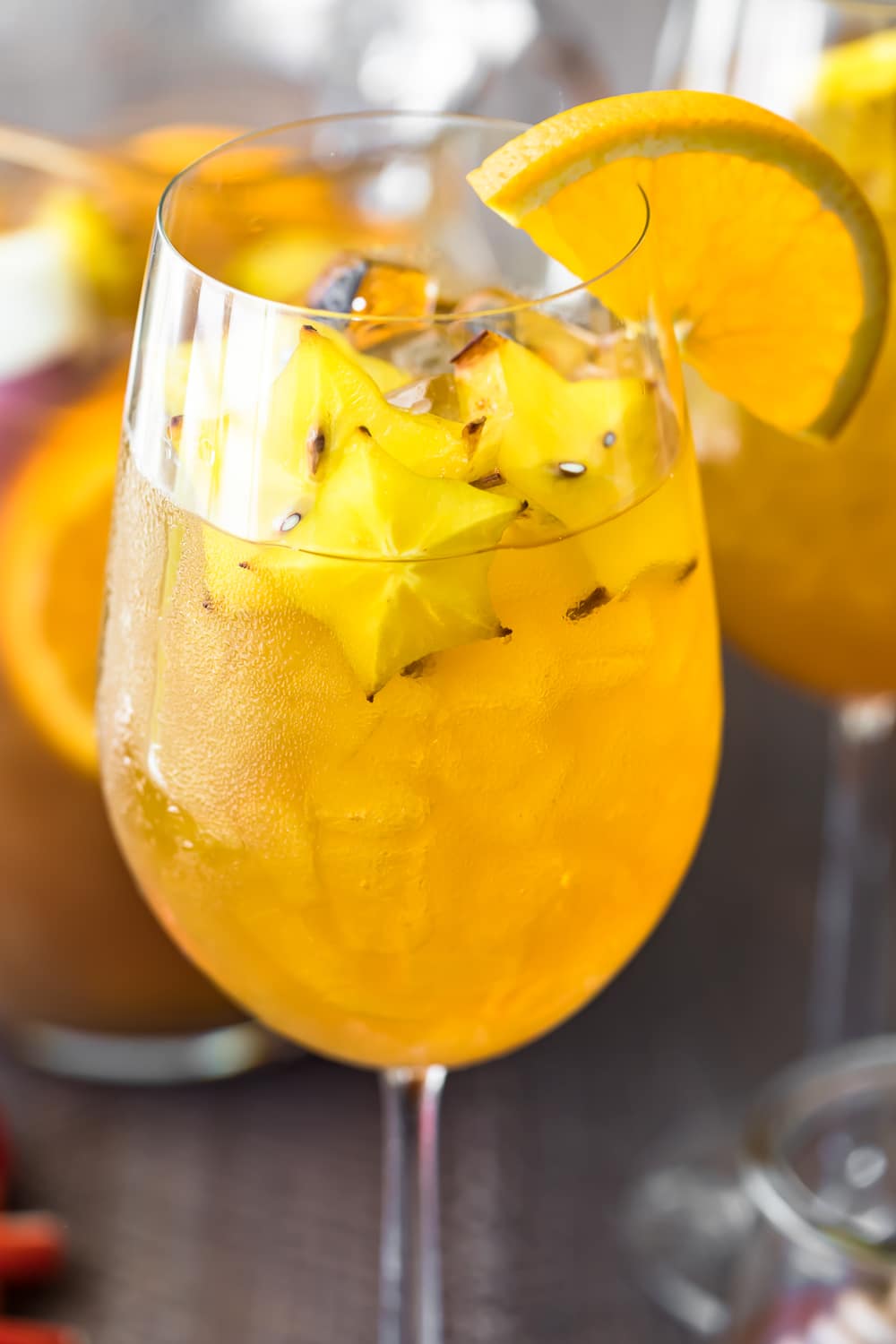 If you're looking for drinks to serve for your Thanksgiving, then this fall sangria may just be for you! It's so easy to make a big pitcher of this wine cocktail ahead of time for easy entertaining! Be sure to check out my Orange Cranberry Sangria and Sweet Tea Sangria too!
How to Make This Fall Sangria Recipe
Place the orange and lemon zest into a saucepan and heat on the stovetop with the water, sugar, teabags and spices. Simmer for 5 minutes then let cool to room temperature.
Sieve the mixture into a large pitcher, add the orange juice, bourbon, moscato, bitters, fruit and cinnamon sticks. Stir well and refrigerate.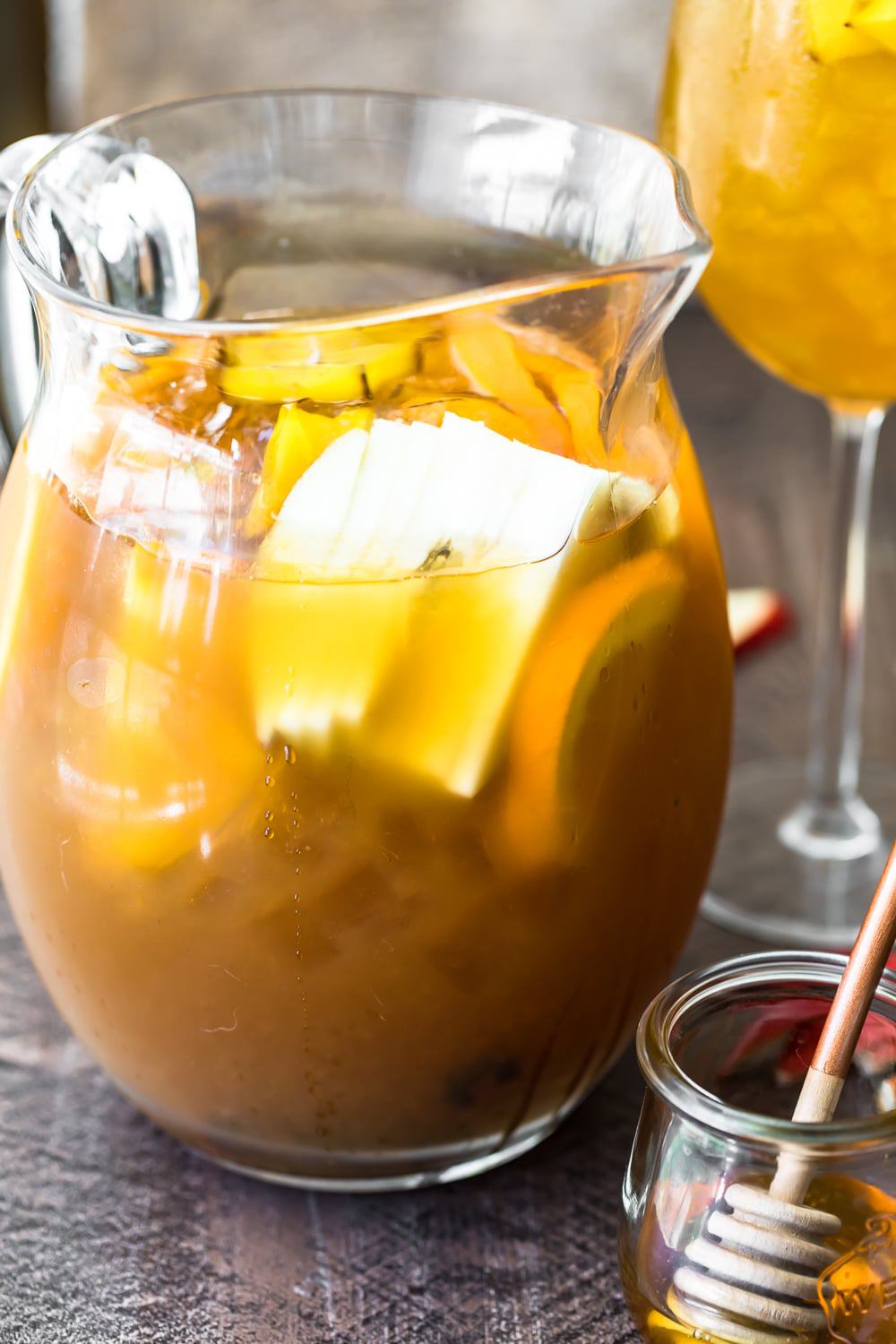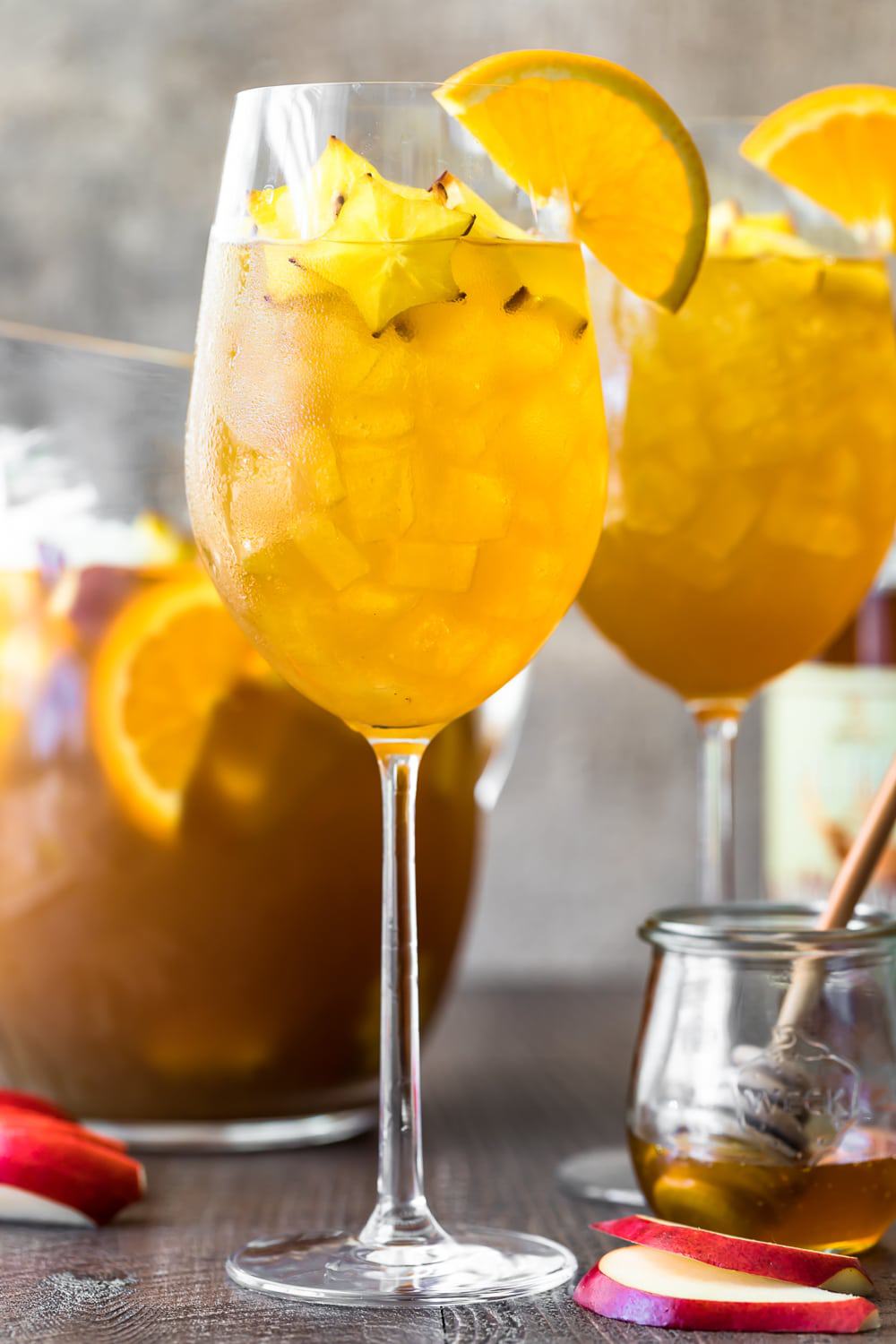 Fall sangria with bourbon and cinnamon
This drink is somewhere between a red and white sangria. It's still has a lightness to it but the spices add a wonderful earthy tone. The main flavors in this sangria are:
Orange and lemon
Ginger
Chai
Cloves
Cardamom
Cinnamon
How far ahead can you make sangria?
Sangria recipes are the perfect make ahead cocktail, and you really want to give it time to let all of those flavors meld together. Refrigerate the whole pitcher for at least 4 hours and up to 24. You can just grab and serve it and keep in the fridge between pours.
This recipe serves 10 and it's easily doubled if you are expecting more.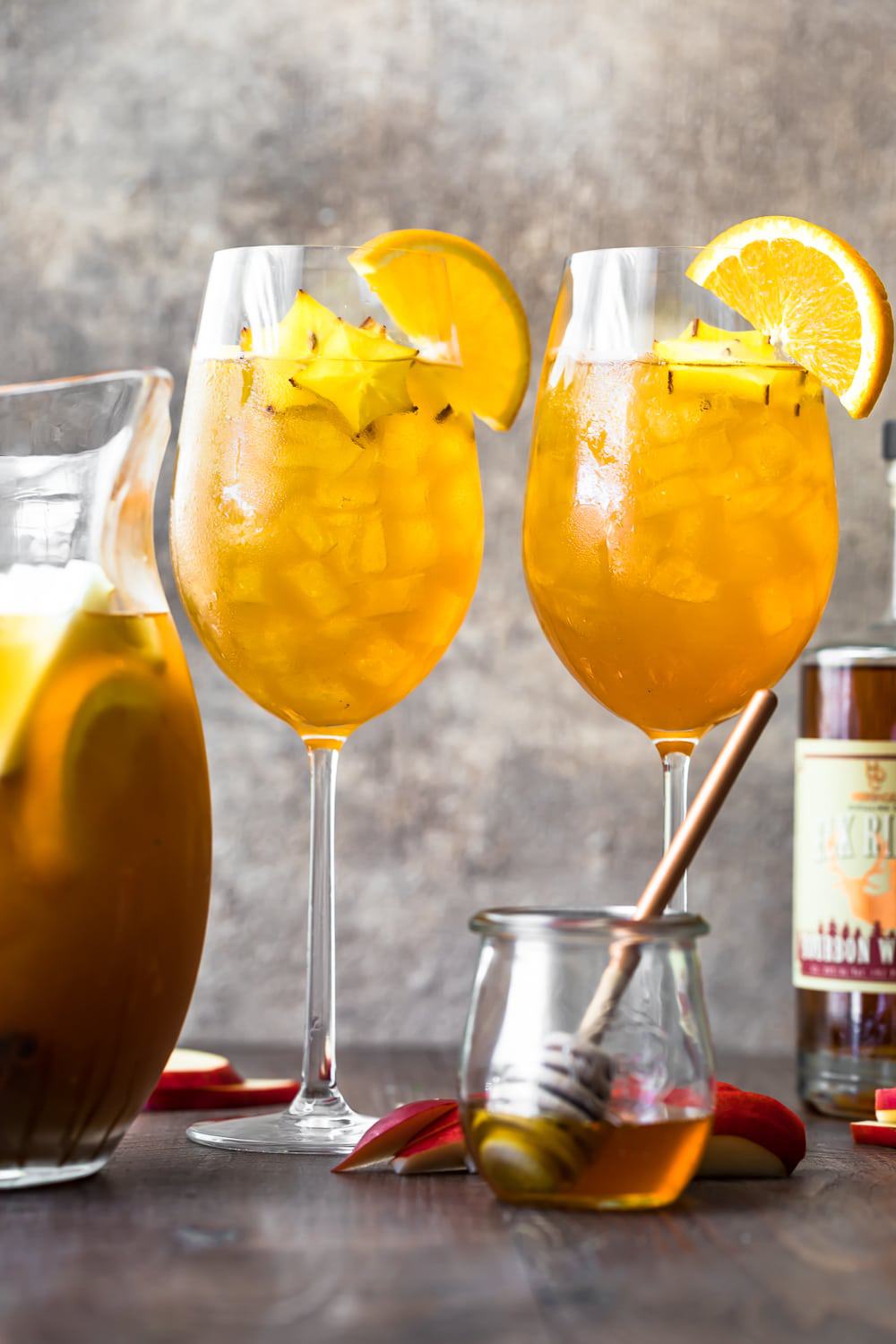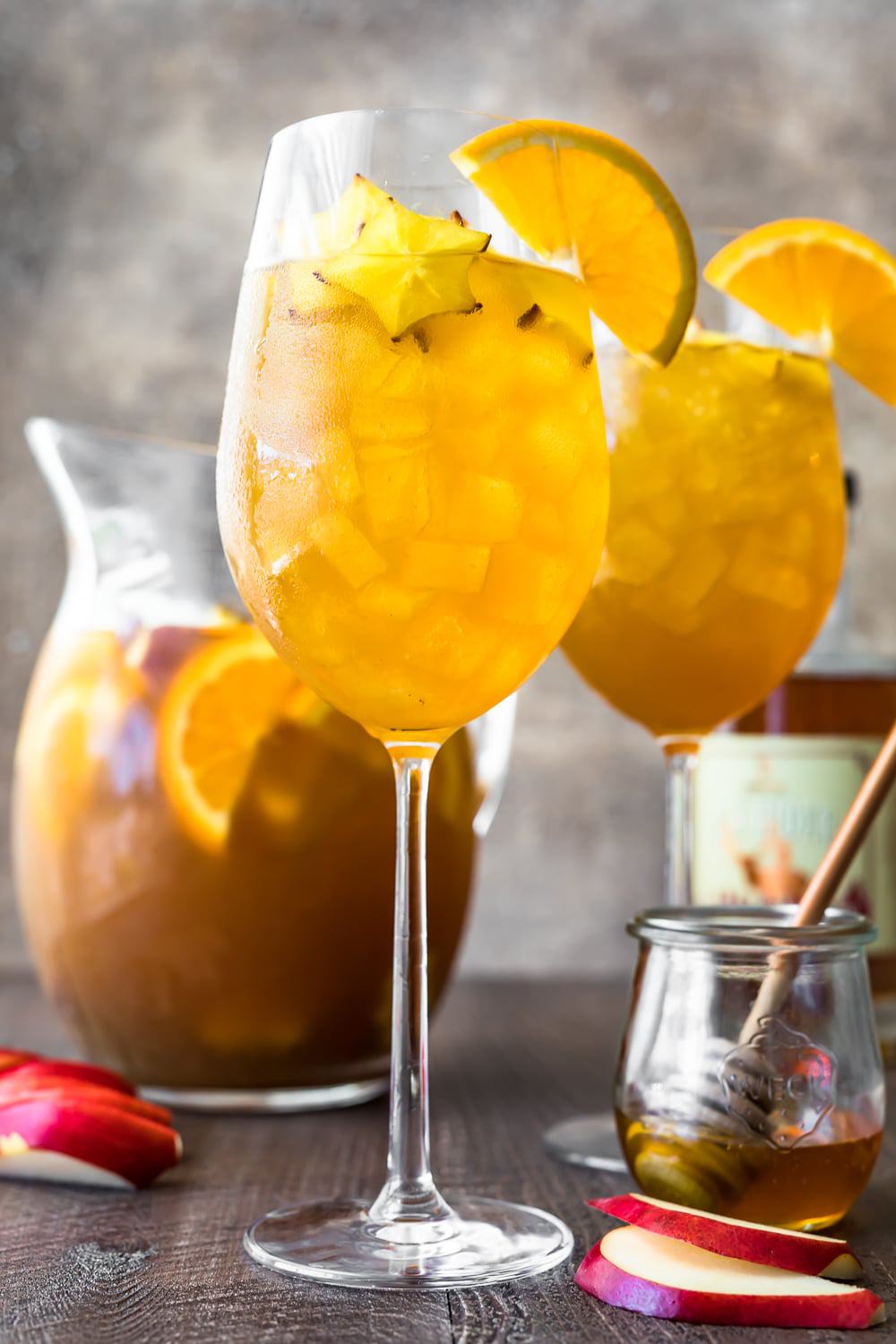 What is the best wine to use for this sangria recipe?
This is a white wine sangria, and I used Mirassou moscato. I recommend a moscato for this recipe as it's sweetness works really well with those spices, it's floral and airy and not overpowering. Moscato is also low in alcohol and easy to drink, so you can easily have a second glass!
Top tips for making fall sangria
Don't add ice to the sangria pitcher as this will dilute the drink when it melts. Add the ice directly into the glasses as you serve.
Stir the sangria well before serving.
Garnish your glasses with fresh fruit and a cinnamon stick.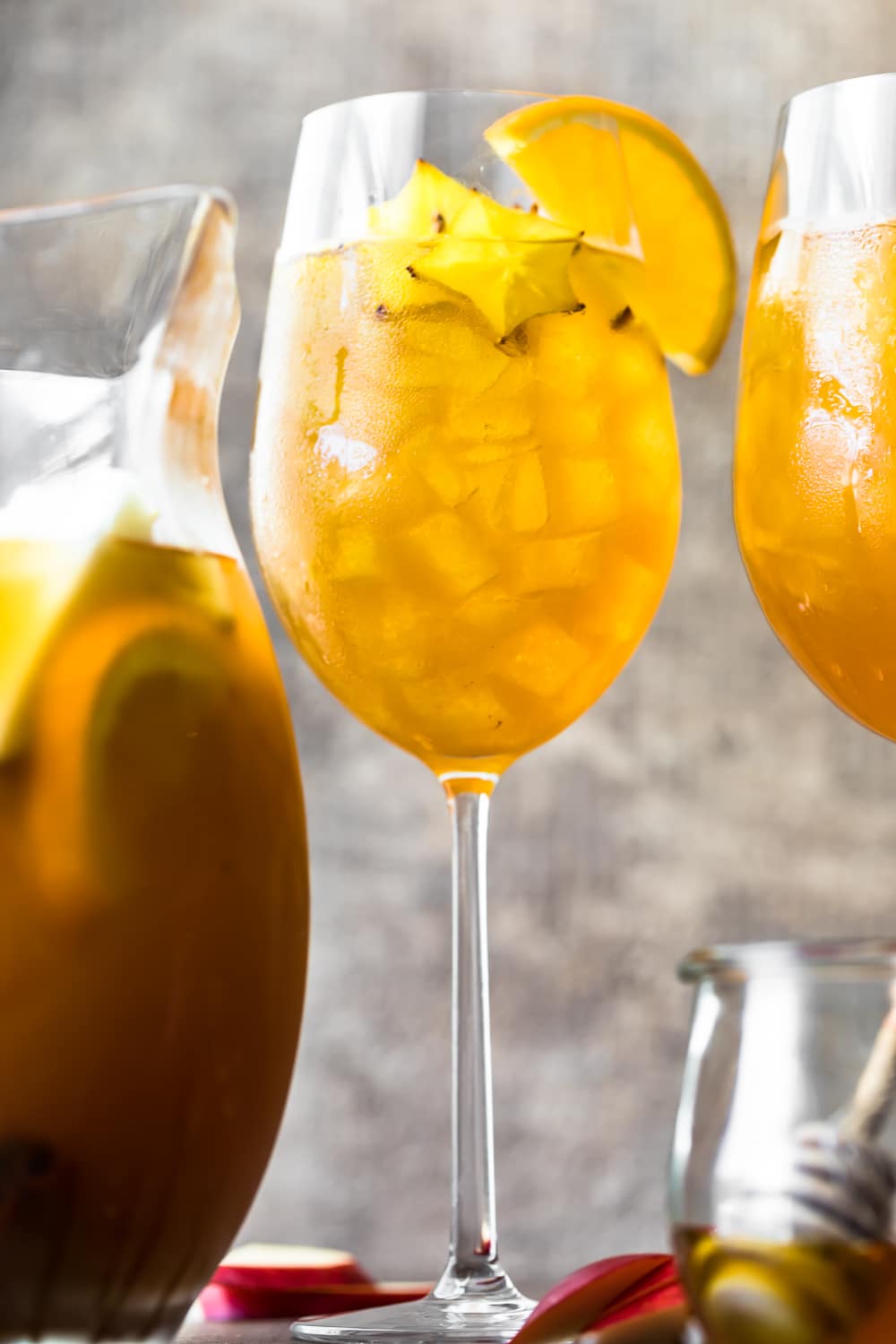 If you make this recipe be sure to upload a photo in the comment section below or leave a rating. Enjoy!