This Poison Apple Sangria recipe makes the perfect Halloween Sangria for spooky parties! Making this warm-spiced, sour apple cocktail is so easy–all you have to do is combine the ingredients and chill. The best part is the dry ice finish, to create a smokey effect that will wow guests!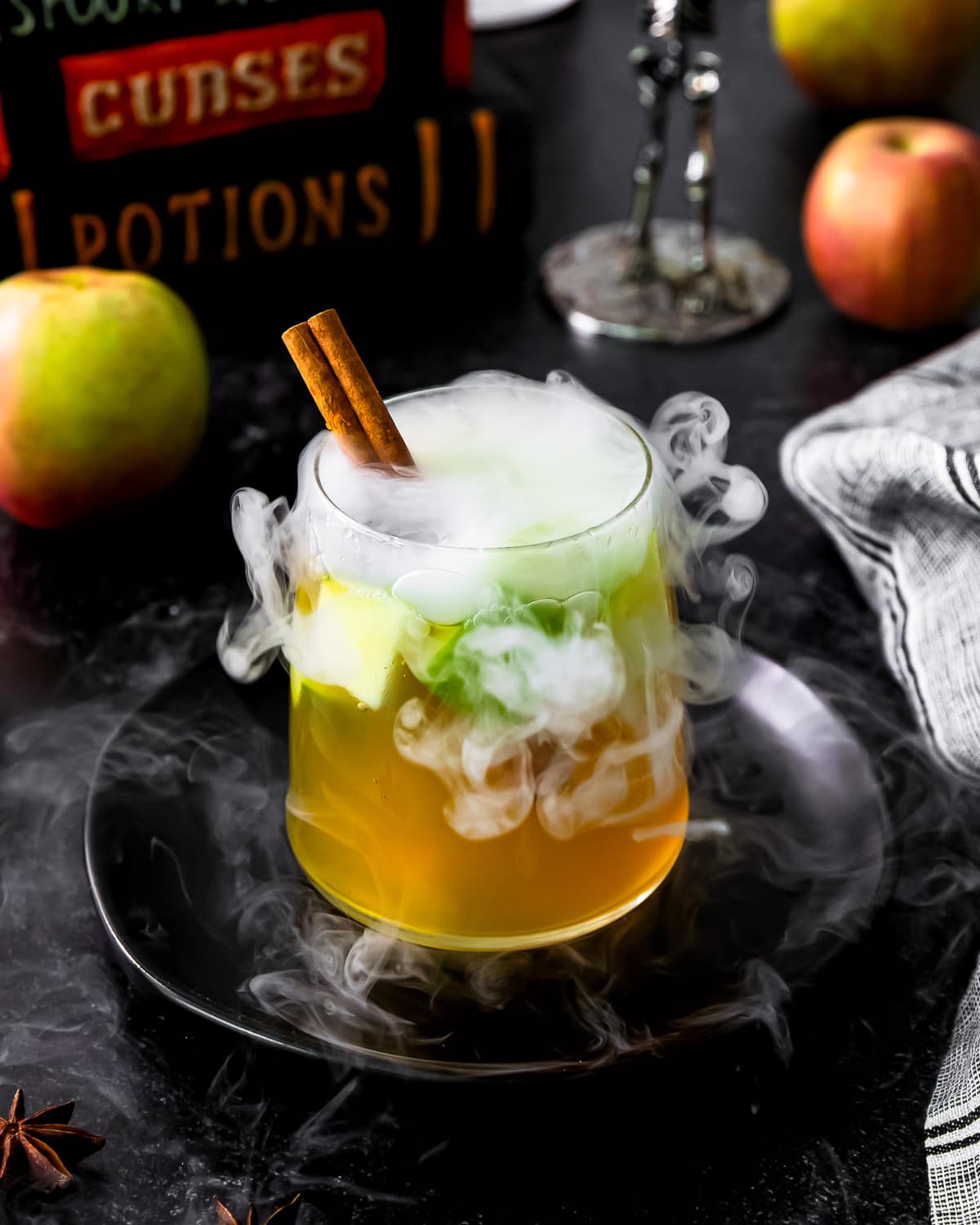 What's in this Halloween Sangria Recipe?
Citrusy white wine, warming apple cider, and tart sour apple schnapps create a balanced and delicious "Poison Apple" sangria that'll wow guests with both its flavor and presentation.
White Wine: The base of our sangria. I recommend something dry with citrus and fruit notes. Avoid anything too sweet or too buttery. A Vinho Verde, Sauvignon Blanc, or Pinot Grigio would all be good options.
Apple Cider: Adds a bit of apple flavor along with warmth, spice, and a bit of sweetness. I highly recommend using apple cider, not apple juice.
Sour Apple Schnapps: Adds the tart apple flavor and bright green color to our sangria.
Apple: We're adding green apple to the sangria to really enhance the poison apple theme!
Cinnamon + Star Anise: Help infuse the sangria with even more warmth and spice notes that pair deliciously with the apple cider.
Pro Tip: Make sure you're using apple cider, not apple cider vinegar!
Variations on Spooky Halloween Sangria
This poison apple sangria is easy to change up to suit your personal tastes. If you're more of a red wine person, try using a fruity red like pinot noir in place of the white wine; raspberry liqueur in place of the sour apple schnapps; and a red apple in place of the green!
If you're looking for another spooky cocktail, try this Poison Apple Martini too!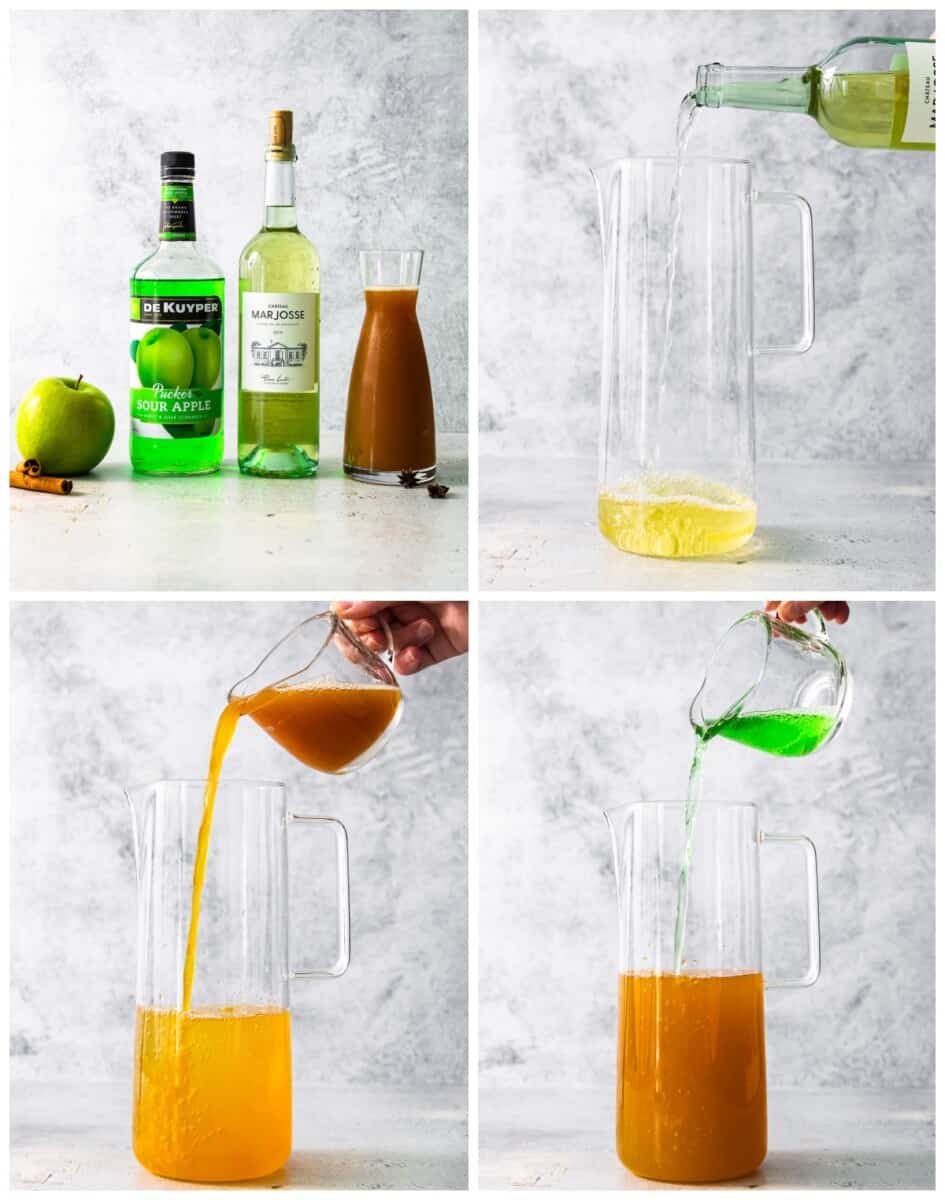 What is the main alcohol in sangria?
The main alcohol in sangria is wine! In this recipe, we used white wine.
Should I make sangria the night before?
I like to make this sangria at least a few hours ahead of time to allow the flavors to meld together.
Should you eat the fruit in sangria?
You can absolutely eat the apples in this sangria. It will soak up the delicious flavors and alcohol, making for a boozy snack!
Should you put ice in sangria?
There's no need to add ice to this sangria as long as it has been adequately chilled. However, you certainly can add some if you like!
How do you keep sangria cold at a party?
You can use a pitcher with an ice core, or make your own DIY ice core by freezing a water bottle (with the label removed) and sticking it into the sangria.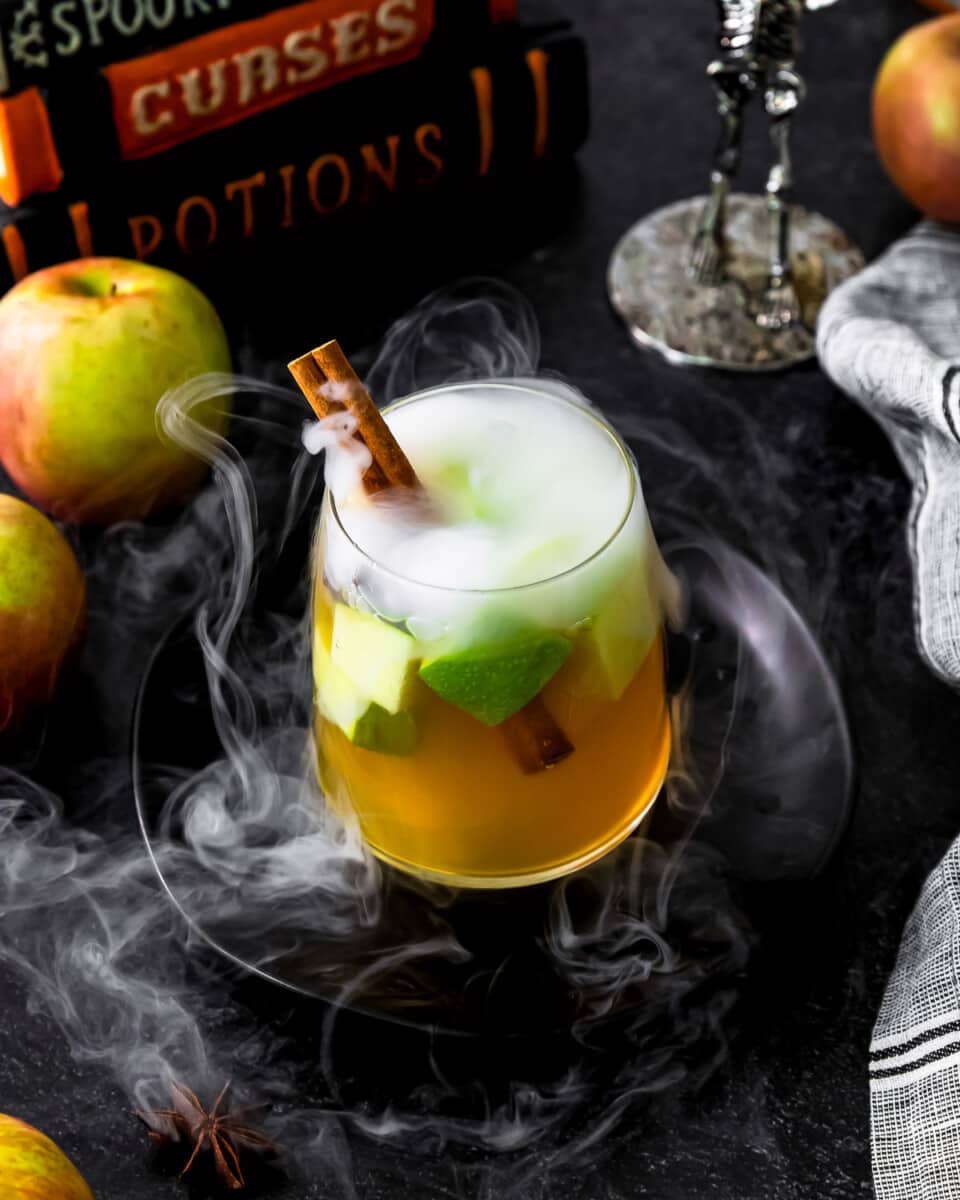 How to Store
Store leftover Halloween sangria in a pitcher in the refrigerator for up to 3 days. Add dry ice (if desired) just before serving.
Serving Suggestions
Serve this spooky Poison Apple sangria with Halloween favorites, like caramel apples, Halloween Chex mix, graveyard cupcakes, apple crisp, or oatmeal pumpkin bread with apple cider sauce.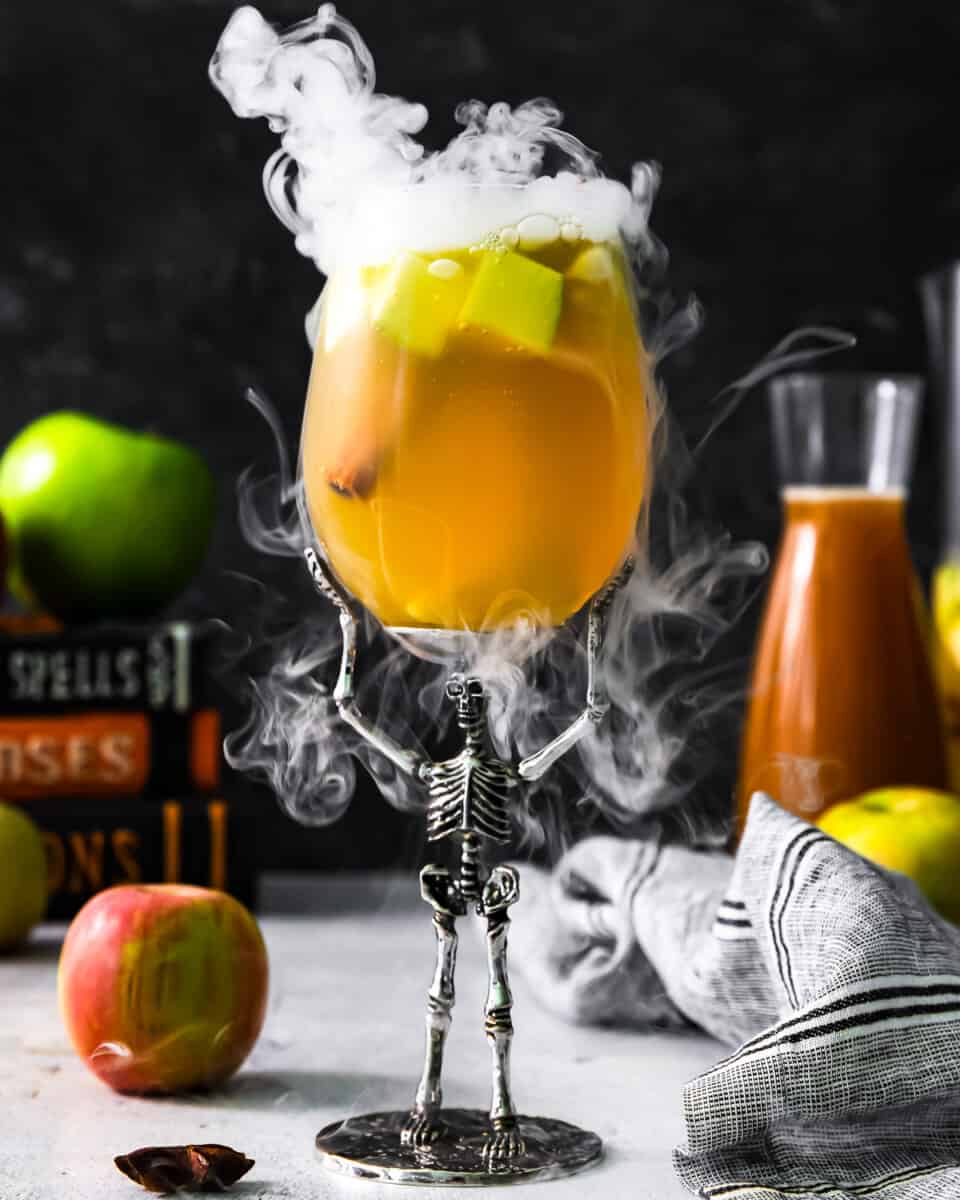 More Sangria Recipes We Love