Cowboy Burgers loaded with avocado, onion rings, bacon, and cheese? YUM! It doesn't get better than this Loaded BBQ Burger recipe with Spicy Mayo. BBQ dreams do come true!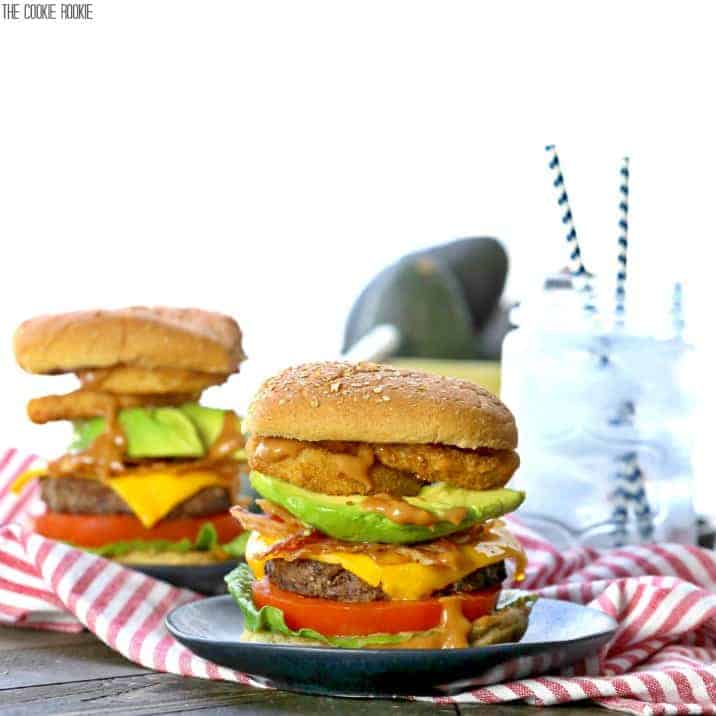 Cowboy Burgers
Why have a plain ole' burger when you could have a burger loaded up with delicious ingredients, like this Cowboy Burger?
You guys…these burgers…I'm in love! I'm almost speechless because these grilled Cowboy Burgers are SO tasty. They are loaded up with flavor and absolutely perfect for BBQs.
I basically took all of my favorite ingredients (BBQ, cheese, avocado, spicy mayo, onion rings!) and threw them together to create this Loaded BBQ Burger recipe. It's the best burger ever, exactly what we need to celebrate summer.
Everyone will thank you for cooking these incredible burgers, and (more importantly) your taste buds will thank you. Get to grillin' so you can get to eatin'!
These BBQ Cowboy Burgers are loaded with all of the best ingredients for one drool-worthy burger recipe!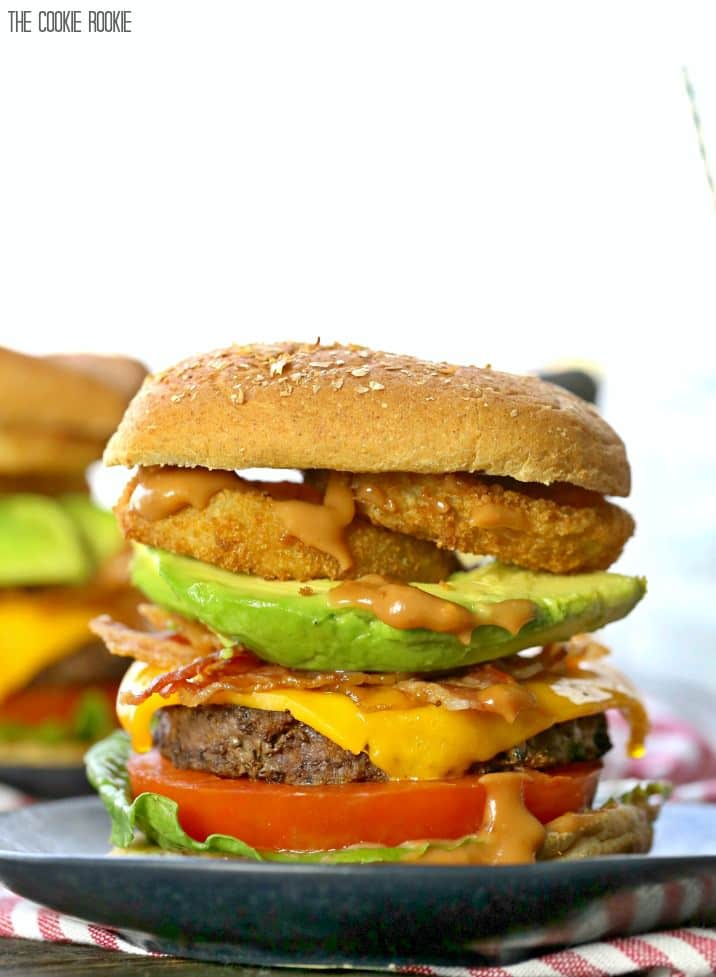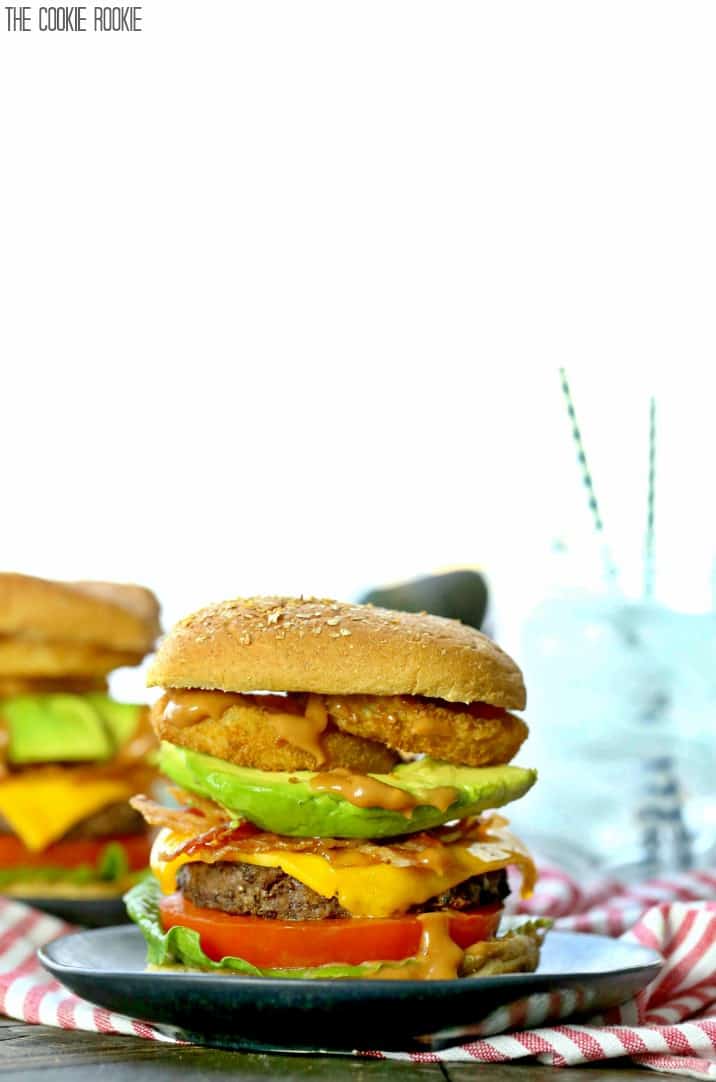 Loaded BBQ Burger
I'm not joking about the "loaded" part of this Loaded BBQ Burger.
Onion ring? Check!
Bacon? Check!
Fresh avocado, tomato, and cheese? Check, check, and check!
Spicy BBQ Mayo to top it all off? Oh yes!
This Cowboy Burger is SO worth the calorie splurge! It's one of my favorite burgers to make when I really just want to dig in and eat something unbelievably delicious. This is not for health-conscious days. This burger is for major pig out occasions, like game day and BBQs. Eat, get a little messy, and enjoy the flavors!
Spicy Mayo
One of my favorite parts of this loaded cowboy burger is the deliciously spicy mayo! It's the perfect condiment for this BBQ burger. Regular mayonnaise, ketchup, mustard…no, those aren't enough. We needed something with some extra amazing flavor to finish off this burger.
What's in our spicy mayo?
Mayonnaise
BBQ Sauce
Red Pepper Flakes
That's it! Just three simple ingredients to make it, and all you have to do is mix everything together. It's so good, you'll want to start eating it on everything. Every burger, every sandwich, go crazy!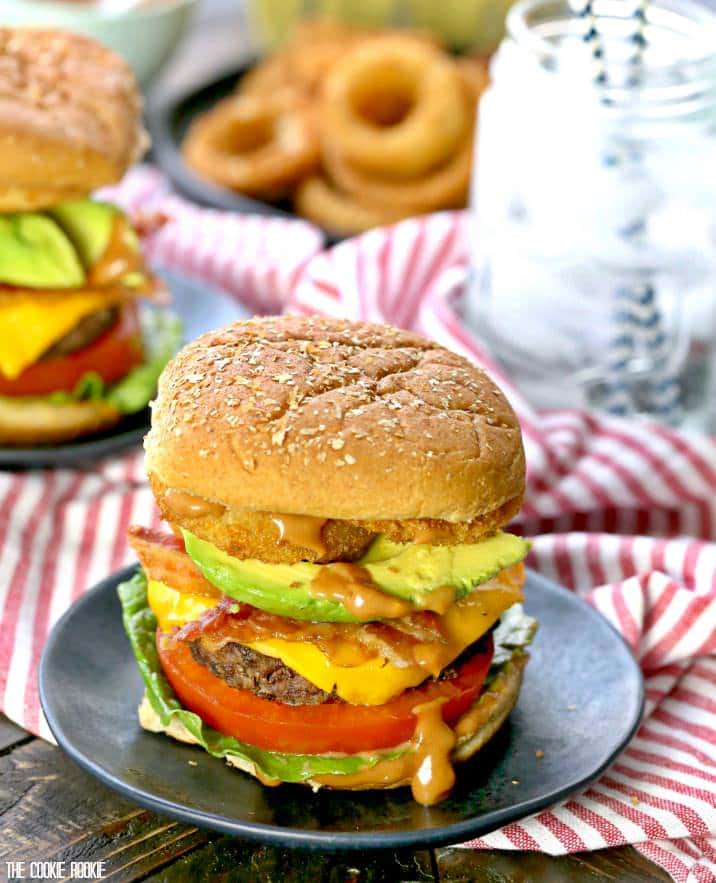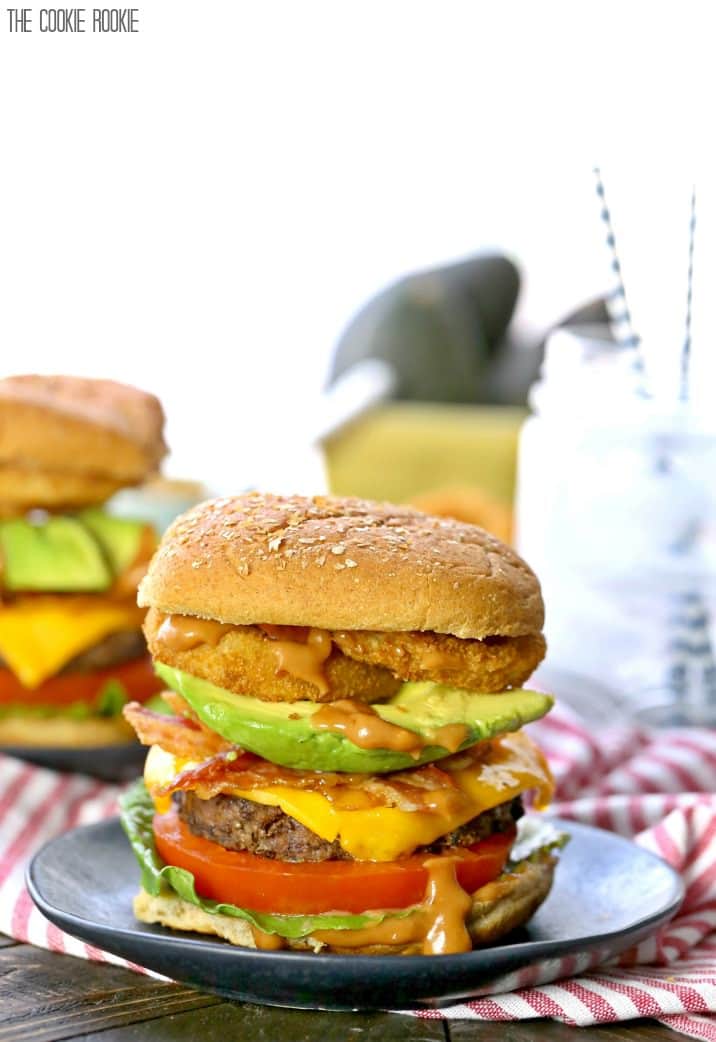 How to Make Cowboy Burgers with Spicy Mayo
These grilled Cowboy Burgers are super easy to make. You're looking at maybe a half hour tops to get them ready to eat. That's good news for days when you're SUPER hungry and the patience for intricate cooking is nowhere to be found.
How to make Loaded BBQ Burgers:
Start by making that spicy mayo (combine mayo, BBQ sauce, & red pepper flakes) and setting it aside until you need it.
Place the burger patties on a hot grill, and cook for 3-4 minutes on each side. Check here for tips on making the best grilled burgers.
Add a slice of cheese to each burger about 1 minute before taking them off the grill and let it melt.
Now it's time to assemble the burgers! Spread the spicy mayo over the burger buns, then layer up lettuce, tomato, burger patty, 2 slices of bacon, 2 slices of avocado, 2 onion rings, and finish it off with more BBQ mayo.
Yuuuum. Are you drooling yet? These are some of the best burgers ever, filled with so much flavor and LOADED with amazing ingredients. I know you're going to love them!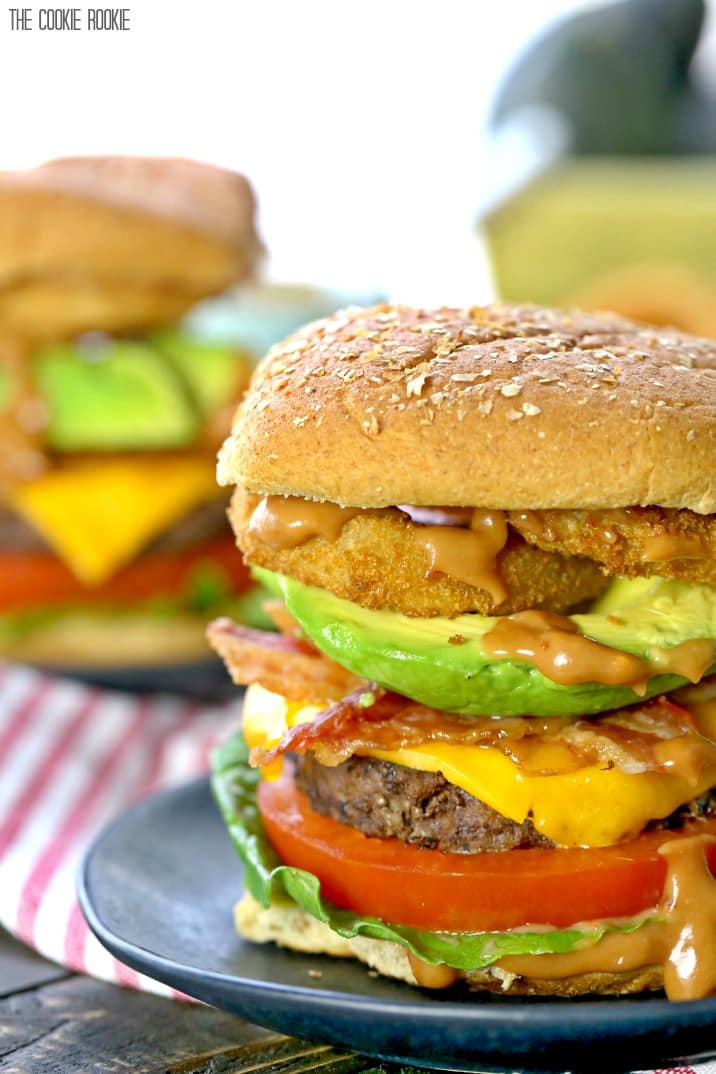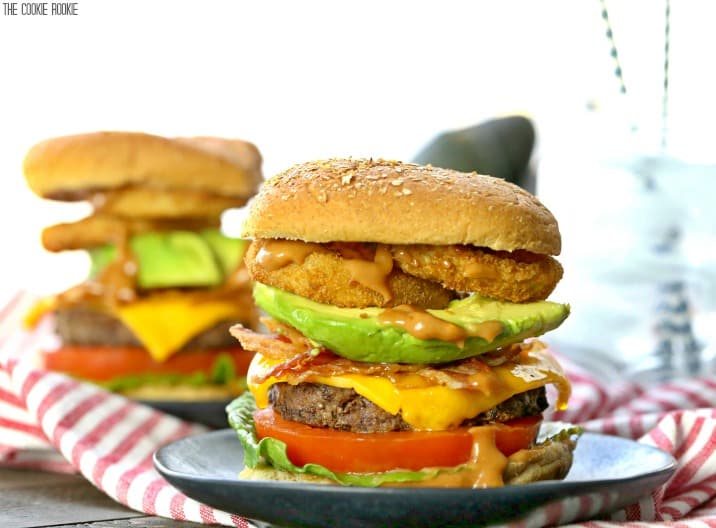 Best Burger Recipes
These grilled Cowboy Burgers are almost too good to be true! That spicy mayo mixed with the onion ring on top? So. Good. This is definitely one of my all-time favorite burger recipes, but we've got plenty more ideas if you want to switch things up. I mean, try this recipe first because you'll fall in love, but it's nice to have other options too.
Check out our full Burger Guide for recipes, ideas, and tips to make the best burgers!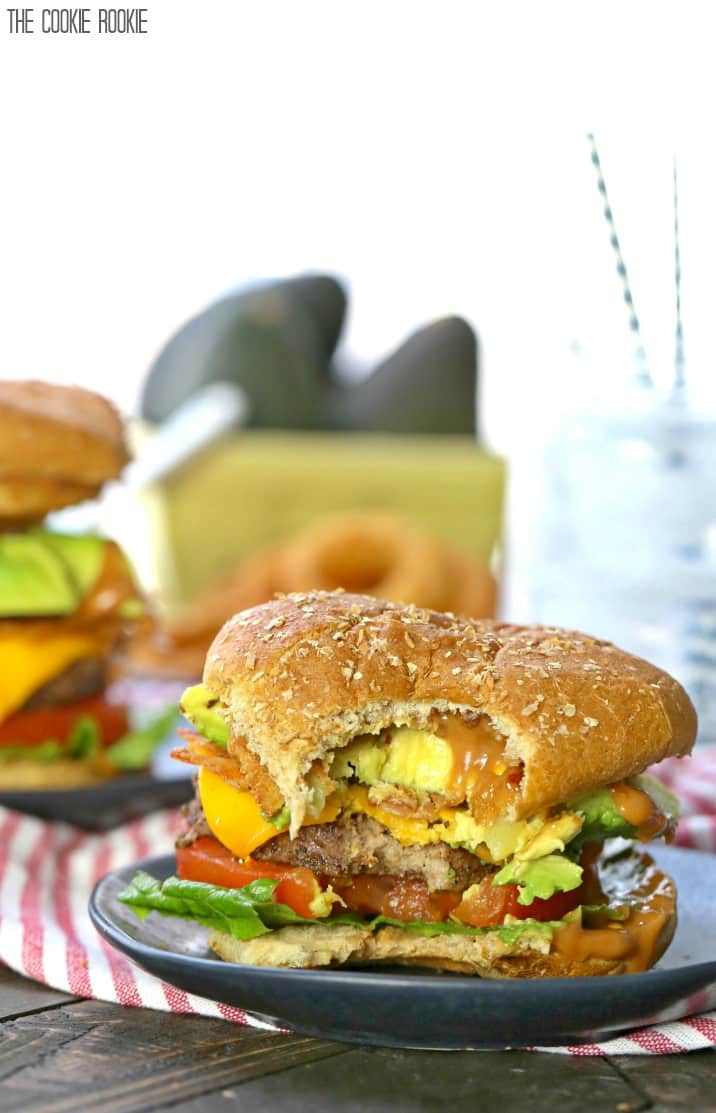 If you're looking for the PERFECT burger to throw together for your best BBQs this summer, look no further. These Loaded BBQ Burgers with Spicy BBQ Mayo have it all! Don't forget the sweet potato chips or bacon cheese fries for the perfect side.
See the recipe card below for details on how to make Loaded Cowboy Burgers with Spicy Mayo. Enjoy!
Want more burger recipes to try?