If you're looking for the ultimate game day or game night snack, look no further than a plate of crispy and delicious Fried Chicken Wings. The secret to these wings lies in the tangy buttermilk marinade, which infuses the meat with flavor and tenderness, and the well-seasoned flour coating, which creates a satisfyingly crunchy texture.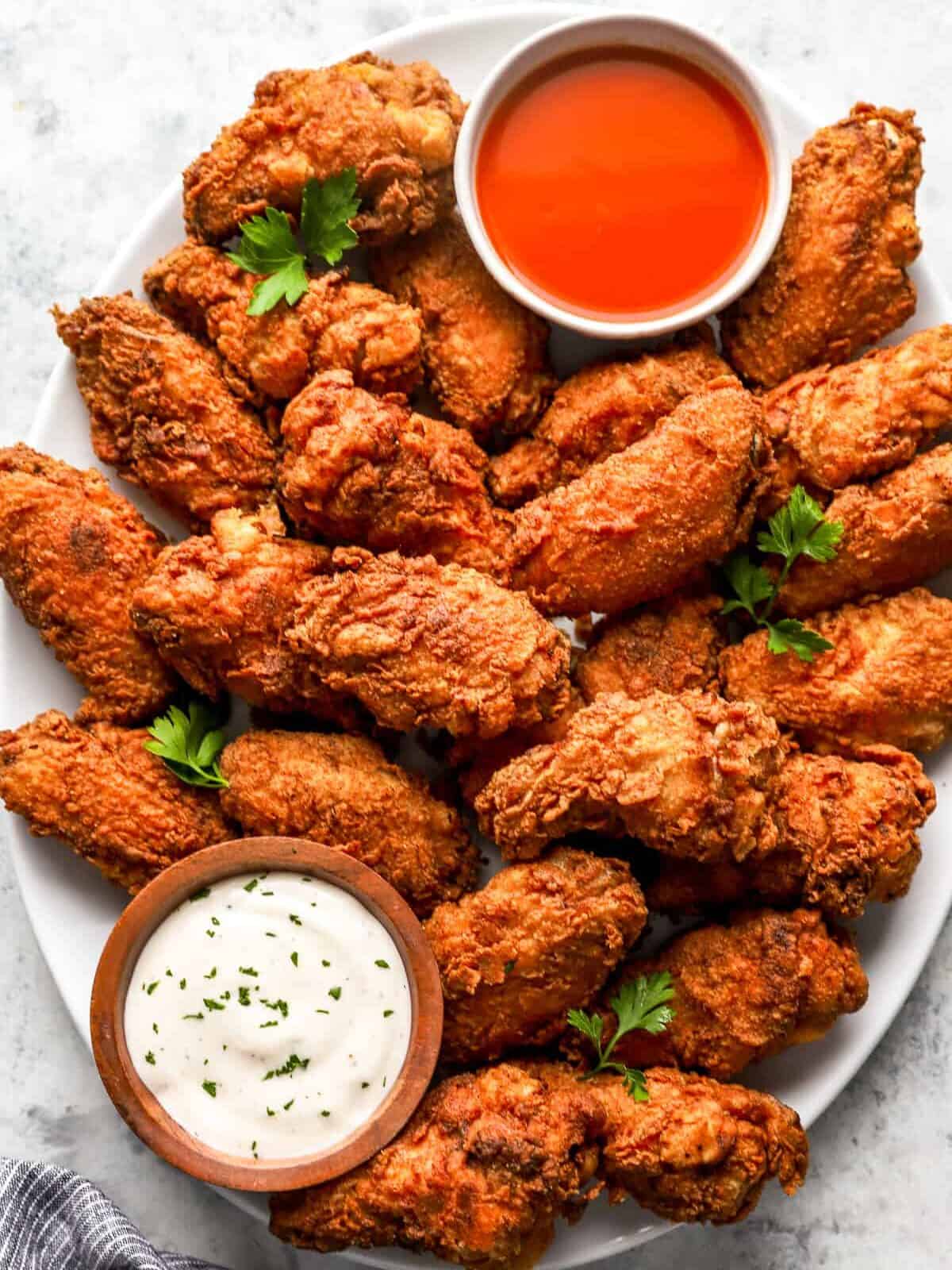 What's in Deep Fried Chicken Wings?
One of the best things about this classic fried chicken recipe is its simplicity. With just a few ingredients and some basic cooking techniques, you can whip up a plate of wings that will be a hit with everyone.
Buttermilk: Buttermilk is the tangy, slightly sour, and low-fat liquid that remains after butter is churned from cream. It's a versatile dairy ingredient I keep on hand for pancakes, biscuits, and all my best fried chicken recipes.
Chicken Wings: Chicken wings are economical, easy to prepare, and a crowd-pleaser for any occasion, even if it's just celebrating the end of the work week!
Flour: Use all-purpose flour for the coating mixture.
Spices: Garlic, onion, and paprika, along with salt, are all the basic spices this simple flour coating needs to add savory flavor to the chicken.
Oil: While there are several good options for frying chicken, peanut oil and canola oil are two of the most popular and widely used due to their high smoke point and neutral flavor.
Variations on Fried Wings
There are so many ways to customize these wings. For spicy fried wings, add a few dashes of hot sauce to the buttermilk and/or add a pinch of cayenne pepper in with the flour. You could also toss the fried wings in Buffalo sauce!
Drizzle honey or hot honey over the freshly fried wings for a sweet kick. For Korean fried wings, toss them with gochujang sauce, or for barbecue wings, toss them with barbecue sauce.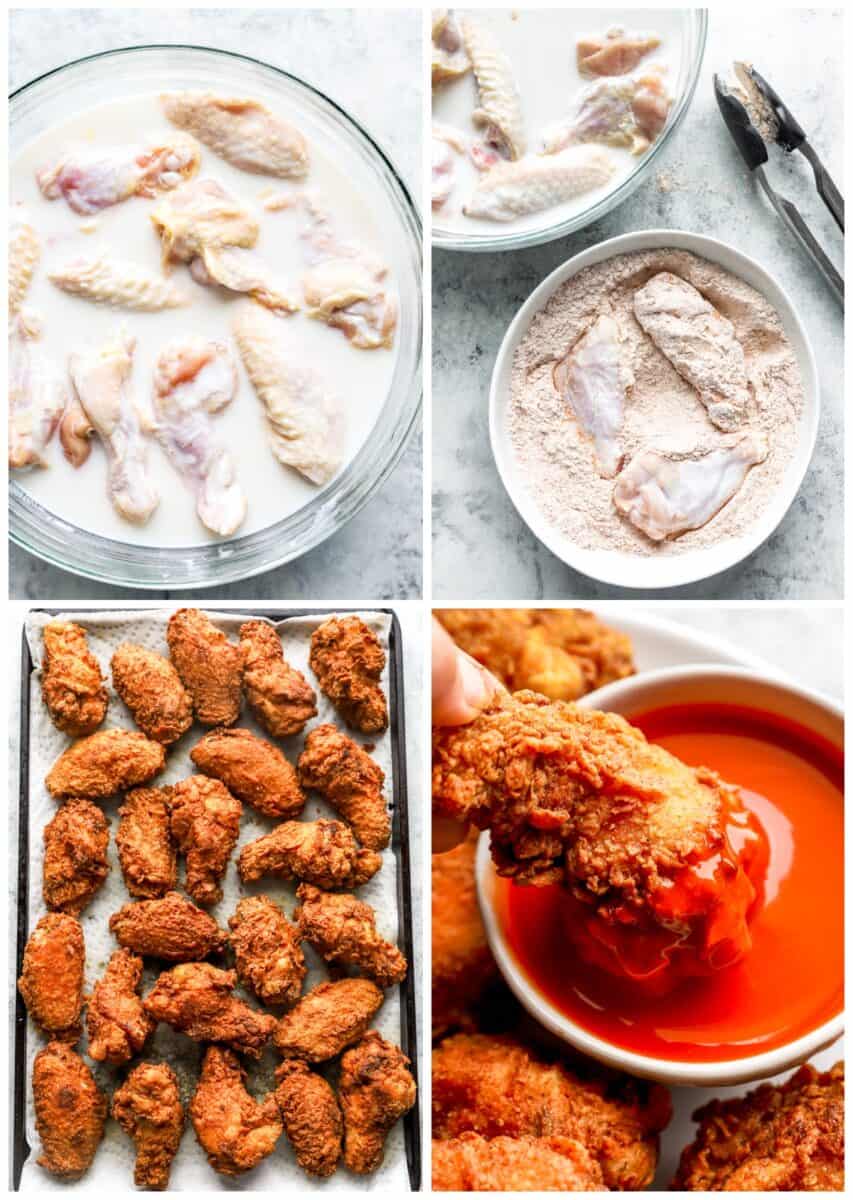 How long should you marinate chicken wings for?
These wings can be marinated in the buttermilk for as little as 1 hour or as long as 24 hours. The longer they marinate, the more tender they will be.
What kind of oil is best for frying chicken wings?
When frying, it's best to use a neutral oil with a high smoke point. I like vegetable oil, but you could also use canola oil, peanut oil, or avocado oil. I never recommend deep frying anything in olive oil, as it will burn!
How hot should the oil be when frying chicken wings?
Heat your oil to 350°F and try to maintain that temperature throughout the process. Do not overcrowd the fryer/Dutch oven; otherwise, the temperature may drop dramatically, leading to greasy chicken wings.
Can you fry frozen chicken wings?
While you can fry chicken wings from frozen, I don't recommend it. The extra water in the wings will cause them to sputter and spray oil everywhere once dumped into the fryer. Plus, the marinade will not penetrate frozen wings, and the flour will not stick as well. If you have frozen wings, I recommend letting them thaw in the refrigerator overnight before marinating them.
How long does it take to fry chicken wings?
It should take about 5-7 minutes to fry each batch of chicken wings. Chicken wings are properly cooked when they reach an internal temperature of 165°F.
What's the secret to crispy chicken wings?
There isn't really a secret to crispy chicken wings. It's all in following the instructions. Make sure to pat the chicken wings dry before dredging them, and do not overcrowd the fryer/Dutch oven. It's super important for the temperature to stay consistent throughout the process!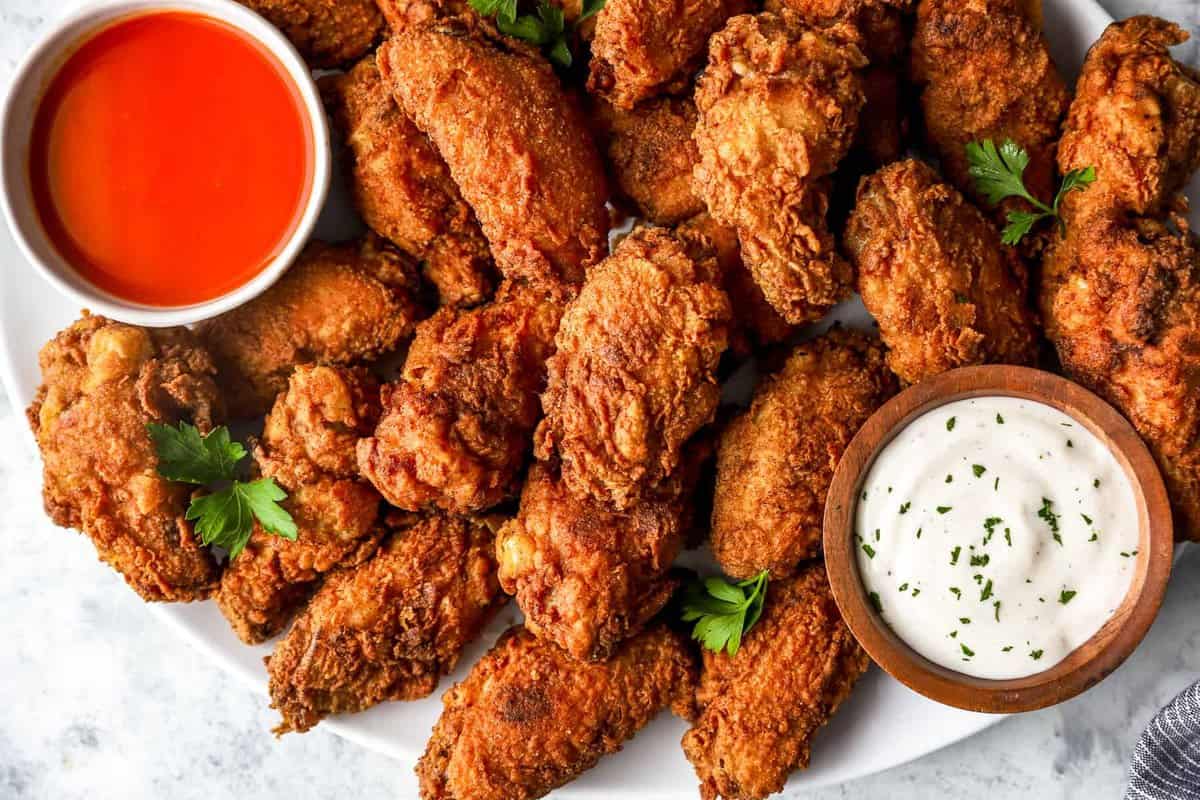 How to Store and Reheat Crispy Fried Chicken Wings
Store leftover fried chicken wings in an airtight container in the refrigerator for up to 3 days. Reheat in a 350°F oven on a wire rack set in a baking sheet for 15 minutes, or until heated through.
How to Freeze Deep Fried Wings
Freeze fried chicken wings in an airtight container for up to 3 months. Let thaw overnight in the refrigerator before reheating.
What to Serve with Fried Crispy Chicken Wings
And, of course, no plate of wings would be complete without your favorite dipping sauces to add even more flavor and fun to the experience. Try with my homemade BBQ sauce, homemade honey mustard, or homemade ranch dressing.
If you want to turn the wings into a meal or use this same recipe with chicken breasts or chicken thighs, you can easily serve them with Crockpot Mashed Potatoes, Green Beans and Bacon Recipe (Pennsylvania Dutch Beans), and a Corn Casserole.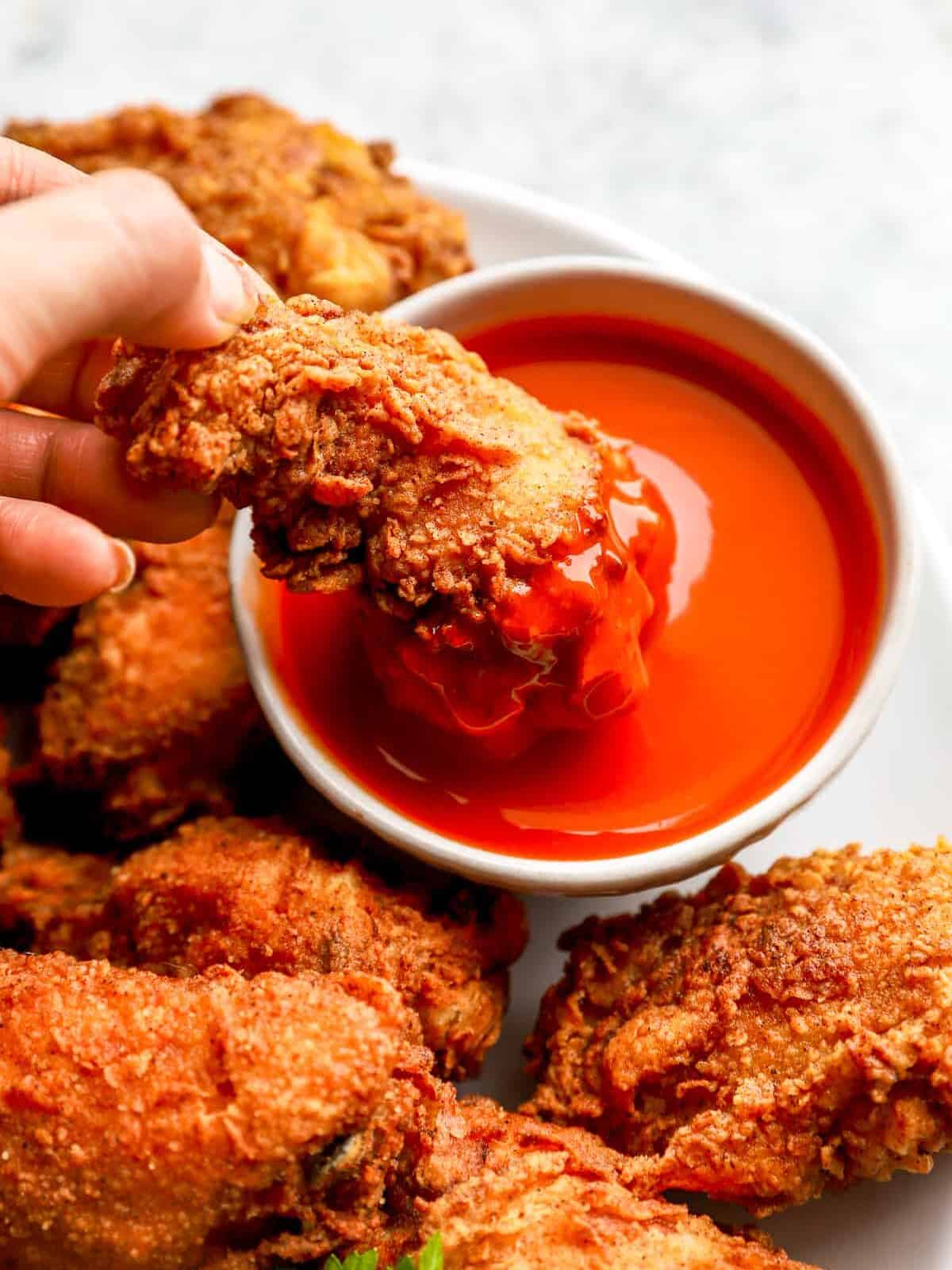 More Chicken Wing Recipes We Love