A Southern-inspired appetizer that always impresses the crowd, Smoked Chicken Wings is always a big winner when it comes to taste, flavor, and popularity. These BBQ smoked wings, cooked slowly in a smoker box on the grill before hitting the grill directly, develop a deep smoky flavor and crispy char that perfectly complements the juicy and tender meat.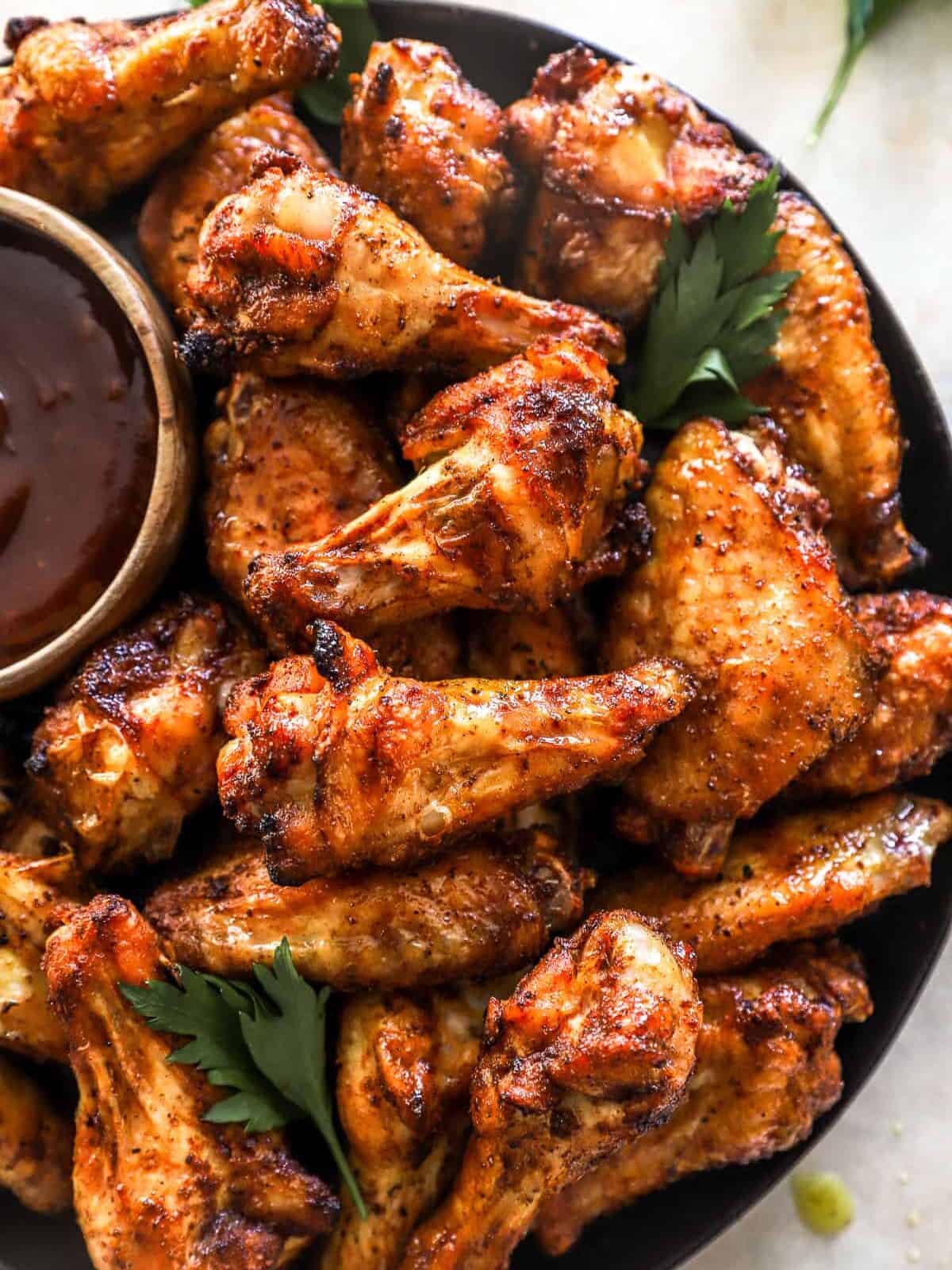 What's in Smoked Wings?
While it may take a bit of extra time to smoke chicken wings, the tasty results are always worth it. Plus, you'll get the satisfaction of feeling like a true pit master as you serve up these mouthwatering wings to your happy family and friends.
Chicken Wings: One of the great things about chicken wings is their relatively low cost, which makes them an affordable choice for feeding a crowd or stretching your food budget.
Oil: For this chicken wing recipe, heart-healthy and flavorful olive oil is the best choice.
Spices: Chili powder, garlic, onion, and paprika, along with salt, are all the basic spices you need for the perfect flavor on your smoked chicken, but feel free to get creative and use your favorite pantry spices.
Barbecue Sauce: Everyone has their favorite BBQ sauce, but feel free to try my "Homemade" BBQ Sauce Recipe (Best Brisket Sauce) for brushing over the wings while grilling.
If you have not yet invested in a smoker box to place on your grill, I highly recommend it. They are easy to find on Amazon and are a fraction of the cost of a real Southern barrel smoker.
Variations on Crispy Smoked Chicken Wings
There are so many ways to customize these smoked chicken wings! An easy way to change up the flavor is to swap the spices for a seasoning blend, like taco seasoning, chicken seasoning, Italian seasoning, Creole seasoning, or blackened seasoning.
You could also change up the type of sauce you toss them in. Try Buffalo sauce, sweet and sour sauce, balsamic glaze, or even apple cider sauce.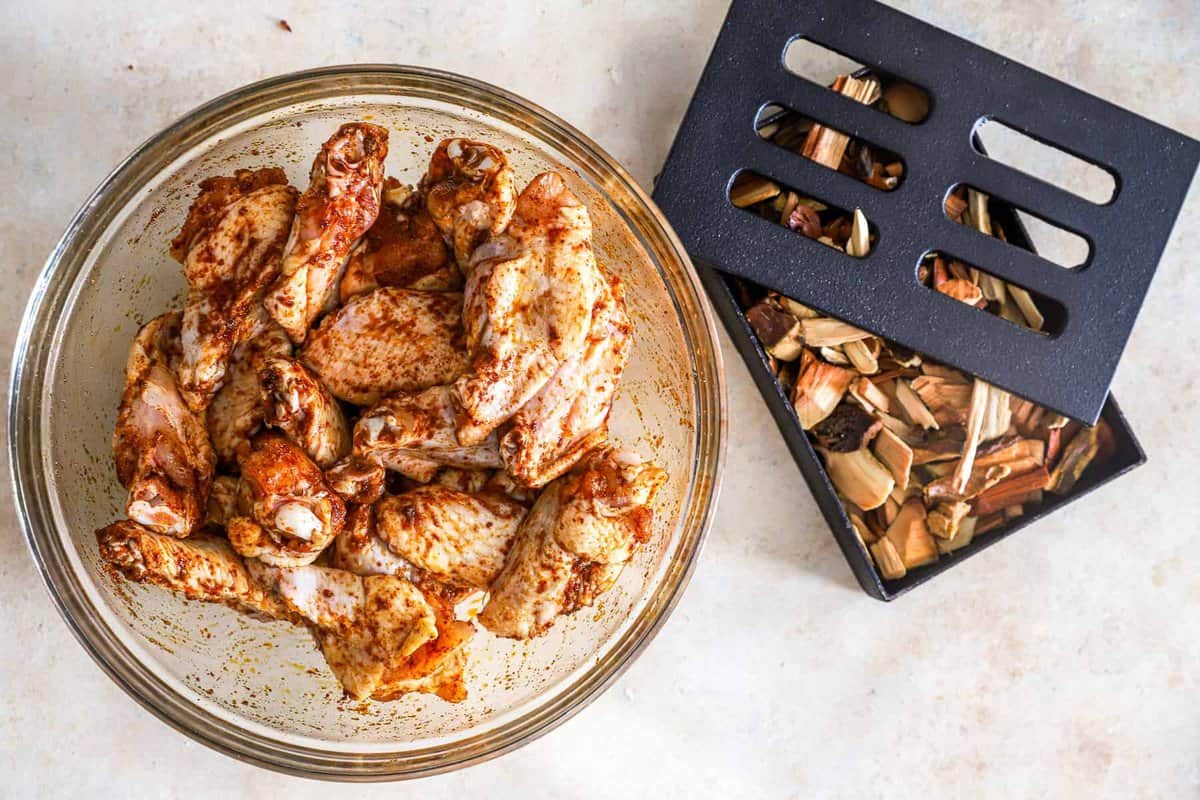 What type of wood is best for smoking chicken wings?
I typically recommend using apple, cherry, pecan, or maple wood for their subtle and sweet flavors. Hickory also works, but it will impart a much more intense smoky flavor. If you choose to use hickory, you may want to cut down on the smoking time!
Do I need a grill to smoke wings?
Nope! I used a gas grill, but you can smoke wings in a charcoal grill, electric smoker, or pellet smoker. You'll just need to follow the manufacturer's instructions for an electric or pellet smoker.
Are smoked chicken wings healthy?
Smoked wings are healthier than fried wings because they are not cooked in high amounts of oil. They are lower in overall fat and calories!
Can I smoke chicken wings from frozen?
Nope! If the chicken wings are not properly thawed, the smoke will not be able to penetrate them, so they will not absorb all of that wonderful smoky flavor. I always recommend thawing the wings overnight in the refrigerator before cooking them!
How do you get crispy skin on smoked wings?
Once you've smoked the wings, it's important to increase the heat in order to crisp up the skin. That's why we turn the grill up to 400°F in step 7!
How long should I smoke my wings?
You should smoke your wings until they reach an internal temperature of 165°F, which should take about 90 minutes.
Why are my smoked wings rubbery?
Chicken wings can become rubbery if the heat is too low or if they are overcooked. Make sure your grill temperature is at least 225°F, but preferably 250°F, throughout the smoking time. Start checking the internal temperature of the wings at around 1 hour, and only continue cooking them if they have not yet reached 165°F.
How to Store and Reheat the Best Smoked Chicken Wings
Store leftover smoked chicken wings in an airtight container in the refrigerator for up to 3 days. Reheat in a 350°F oven on a wire rack set in a baking sheet for 15 minutes, or until heated through.
How to Freeze Crispy Smoked Wings
Freeze smoked chicken wings in an airtight container for up to 3 months. Let thaw overnight in the refrigerator before reheating.
What to Serve with BBQ Smoked Wings
No plate of wings, whether smoked or fried, is complete without fun dipping sauces. Serve with more of my homemade BBQ sauce, Homemade Honey Mustard Dipping Sauce or Dressing, or Homemade Ranch Dressing Recipe.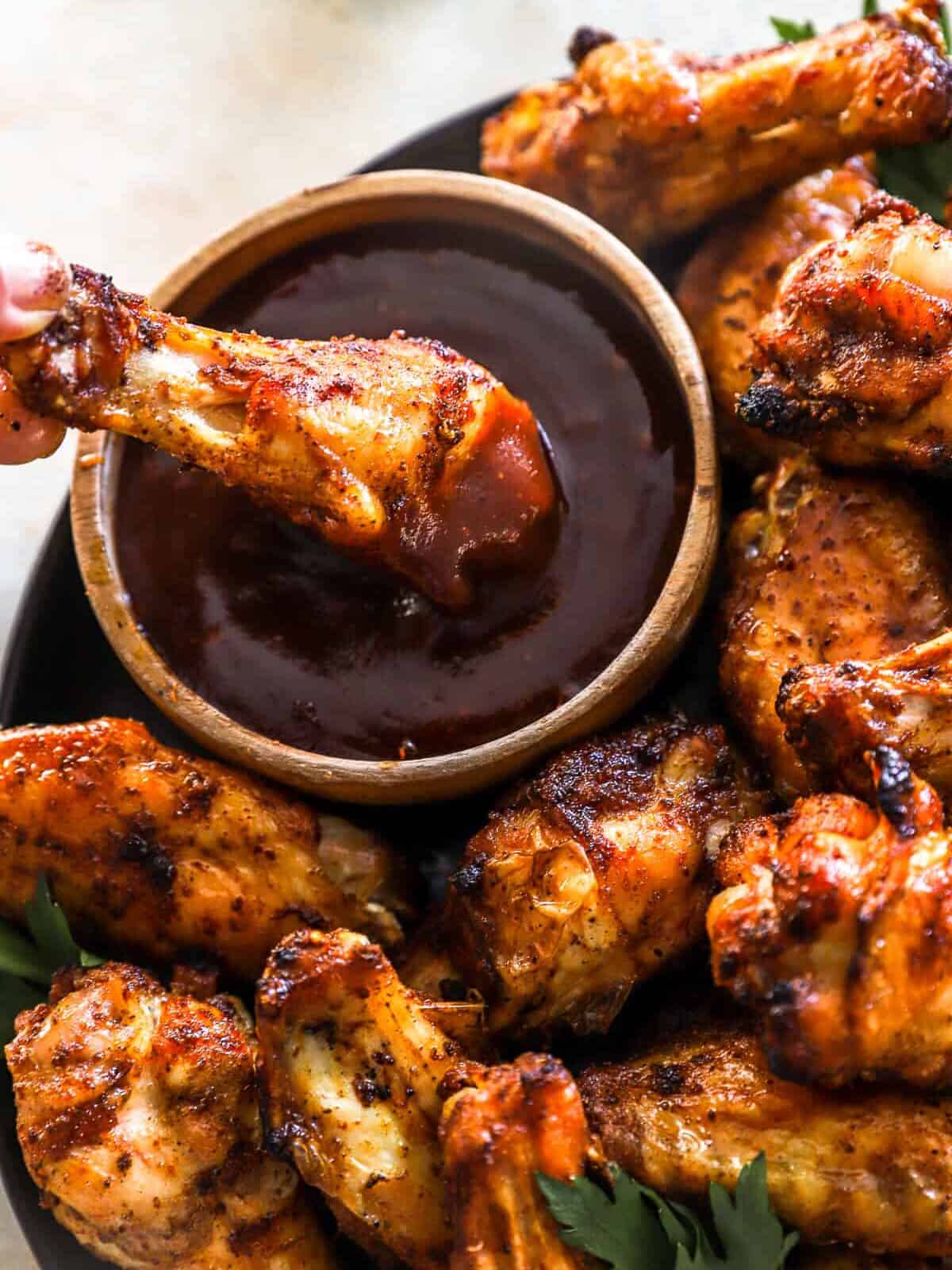 More Chicken Wing Recipes We Love