This Layered Taco Dip is the perfect appetizer for serving up at game day, barbecues or just when you have a crowd to feed. You can guarantee that everyone will love this crowd-pleasing dip so much so that you'll probably need a double batch!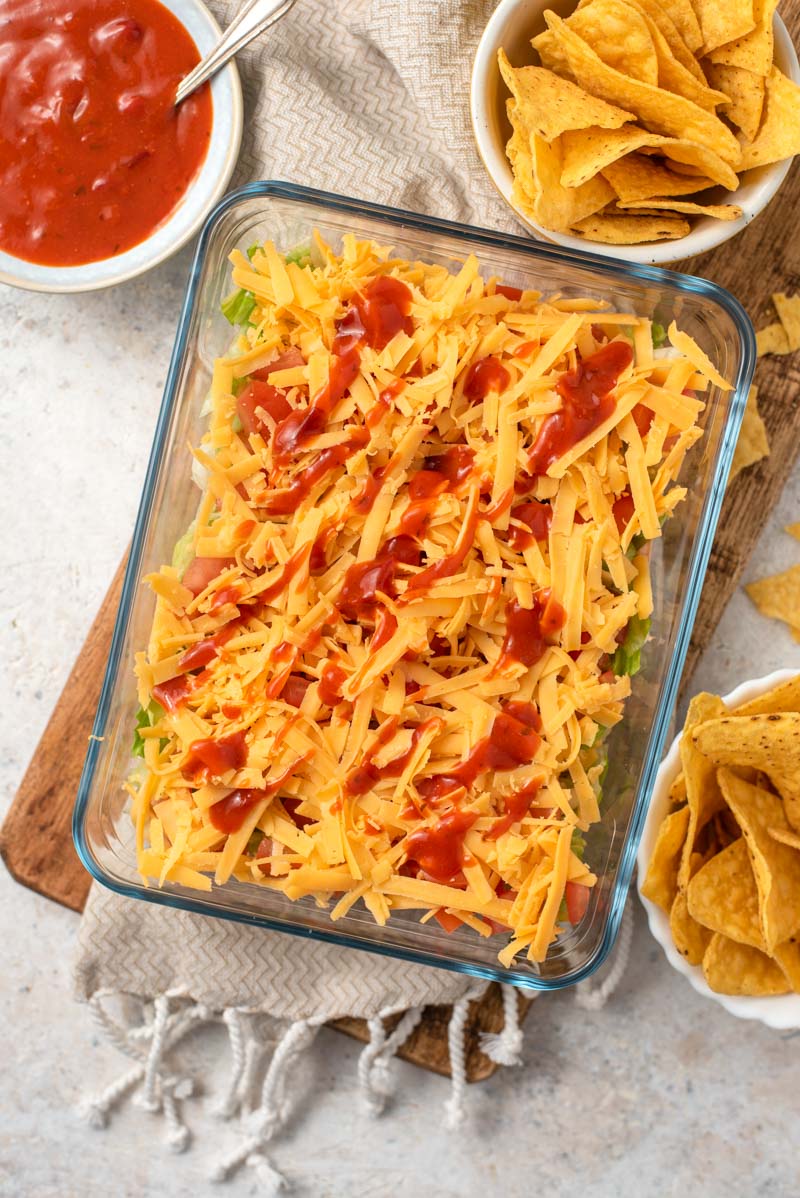 This layered taco dip is such a simple and easy recipe but is full of flavor and such a favorite. My mom used to make it every game day and it always went down a storm. You will not disappoint your party-goers with this great recipe and you only need 5 ingredients to make it!
Tip: Top with taco sauce or hot sauce if you'd like a spicy kick to your dip
How to Make Layered Taco Dip
Using a mixer, mix the Cream Cheese and Salsa until well combined.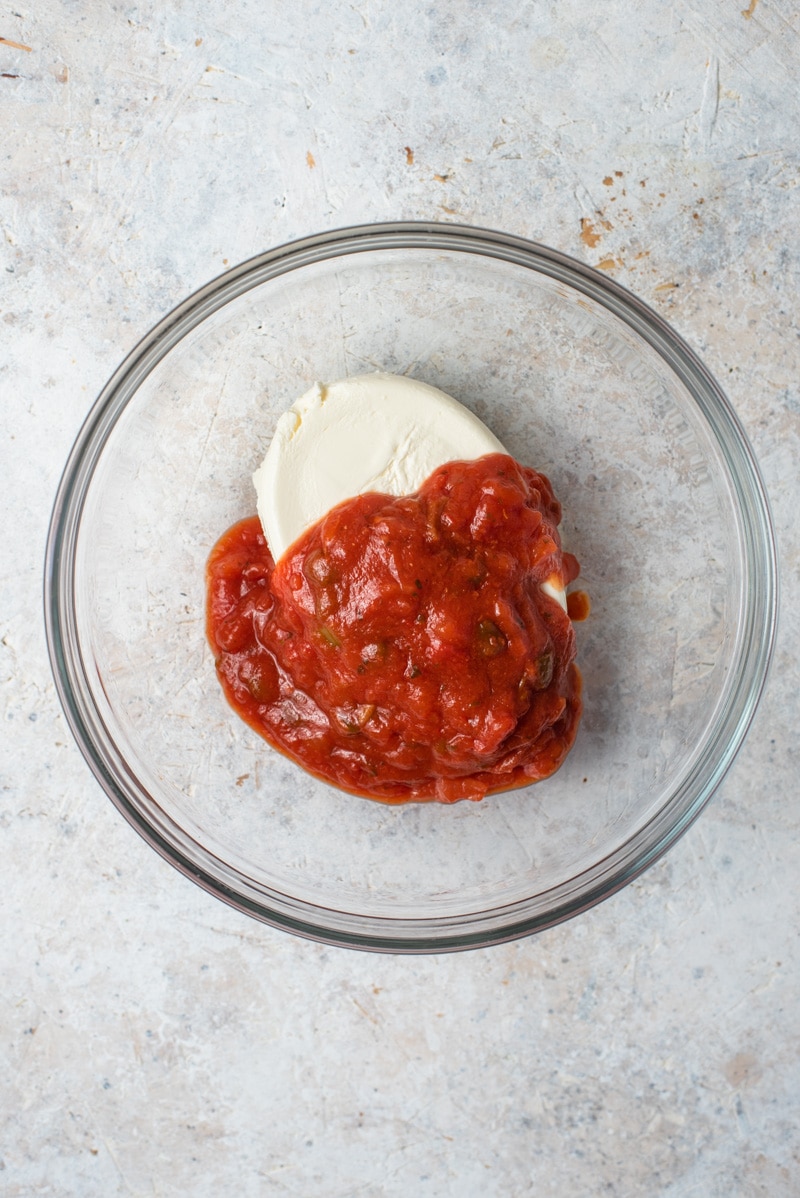 Spread the Cream Cheese mixture over the bottom of a small casserole dish.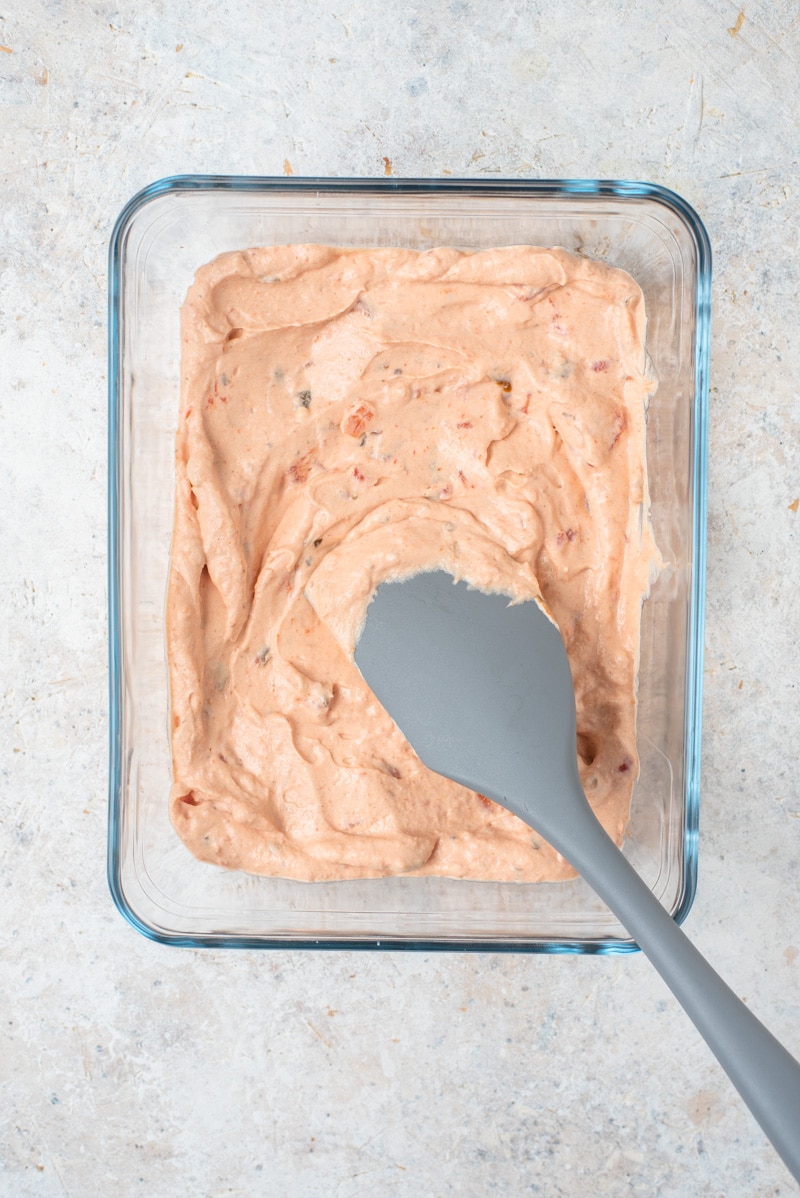 Layer with Lettuce, Cheese, Tomatoes Top with a little Taco sauce. Serve with chips or your favorite crackers!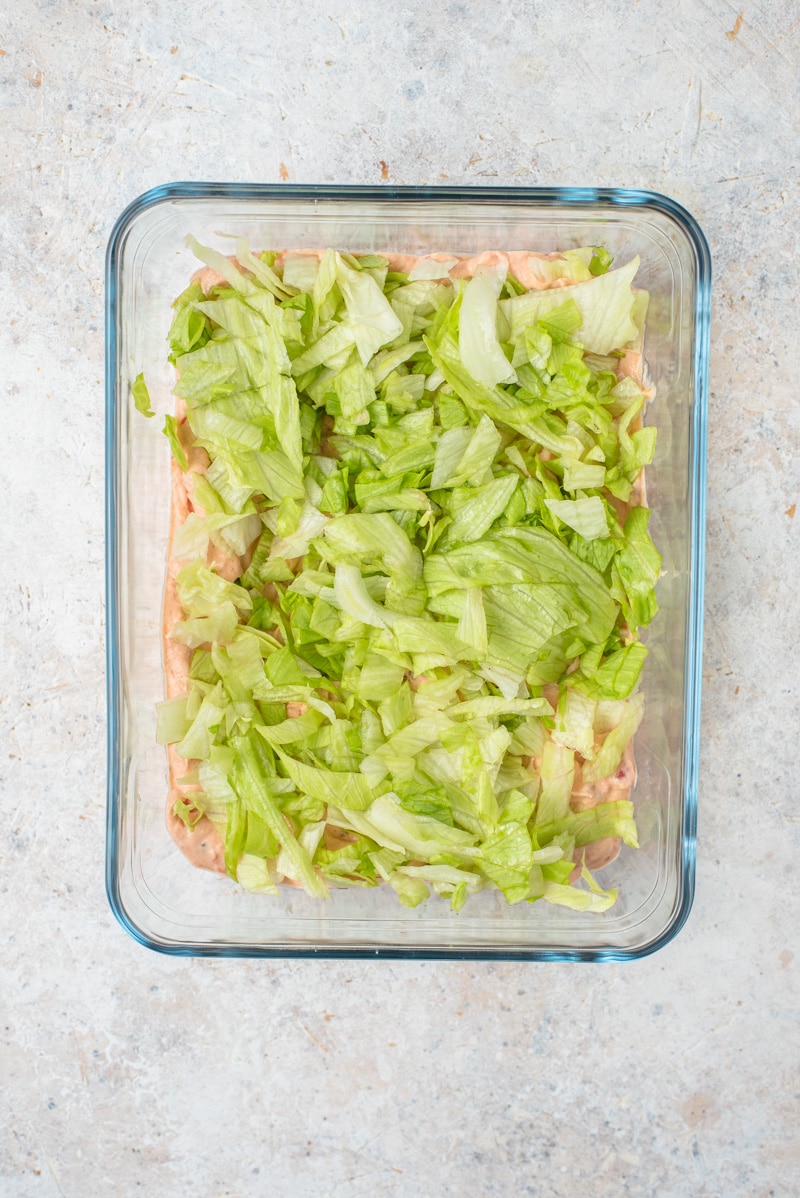 Extra Toppings You Can Add to a Layered Taco Dip
Some good ideas of things to add would be black olives, cilantro, sour cream, avocado, bell peppers, fresh chili peppers, jalapenos, other cheeses such as Mexican blend, Monetary Jack (there are too many to list). Have fun with this recipe and make it your own!
Can You Heat it Up?
It really depends on your preference, I like to serve this layered taco dip cold because I like the textures from the fresh tomatoes and crunch from the lettuce but if you'd like melted cheese you could pop it in the oven (350F) for 5-10 minutes or under the broiler to melt the top layer.
Also if you'd like to go all out you can add leftover chili as one of the layers. If you do you'll probably want to serve it hot so heat it in the oven until piping hot all the way through then add the lettuce and tomatoes on top to keep the delicious textures!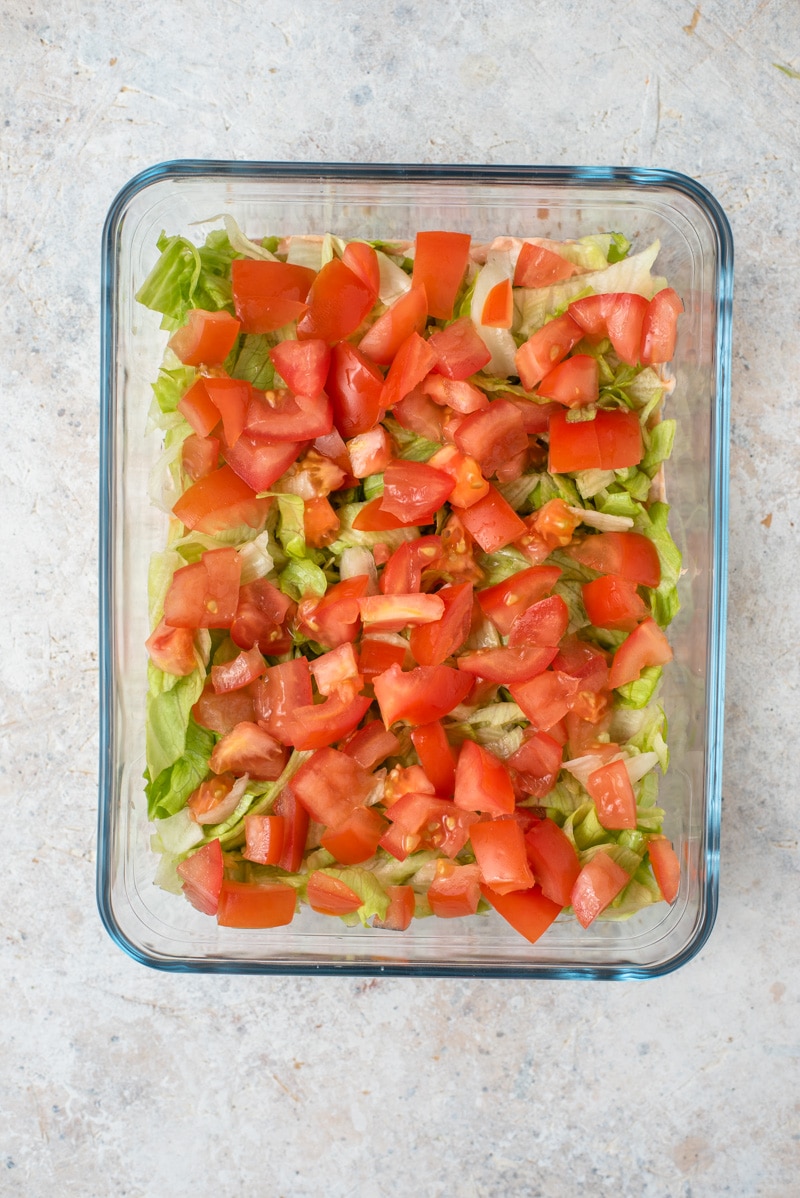 What to Serve with Layered Taco Dip
I love to serve this layered taco dip with tortilla chips but you can use any kind of chip you prefer. You can also serve it with crackers or every some veggie sticks such as sliced carrots, celery or bell peppers.
Tip: When I'm serving this for guests I like to put out different veggies and chips in bowls so people can choose their favorites!
Top Tips for Making the Best Taco Dip
You can easily make this taco dip in advance and store it in the fridge for up to 1 day in advance before serving.
I don't recommend freezing this dip.
Serve with whatever chips and veggies you like.
Feel free to add extra layers with your favorite dips, veggies, avocado etc.
Leftovers will store well in the fridge for 2-3 days.
If you're feeding a large crowd I recommend doubling the recipe!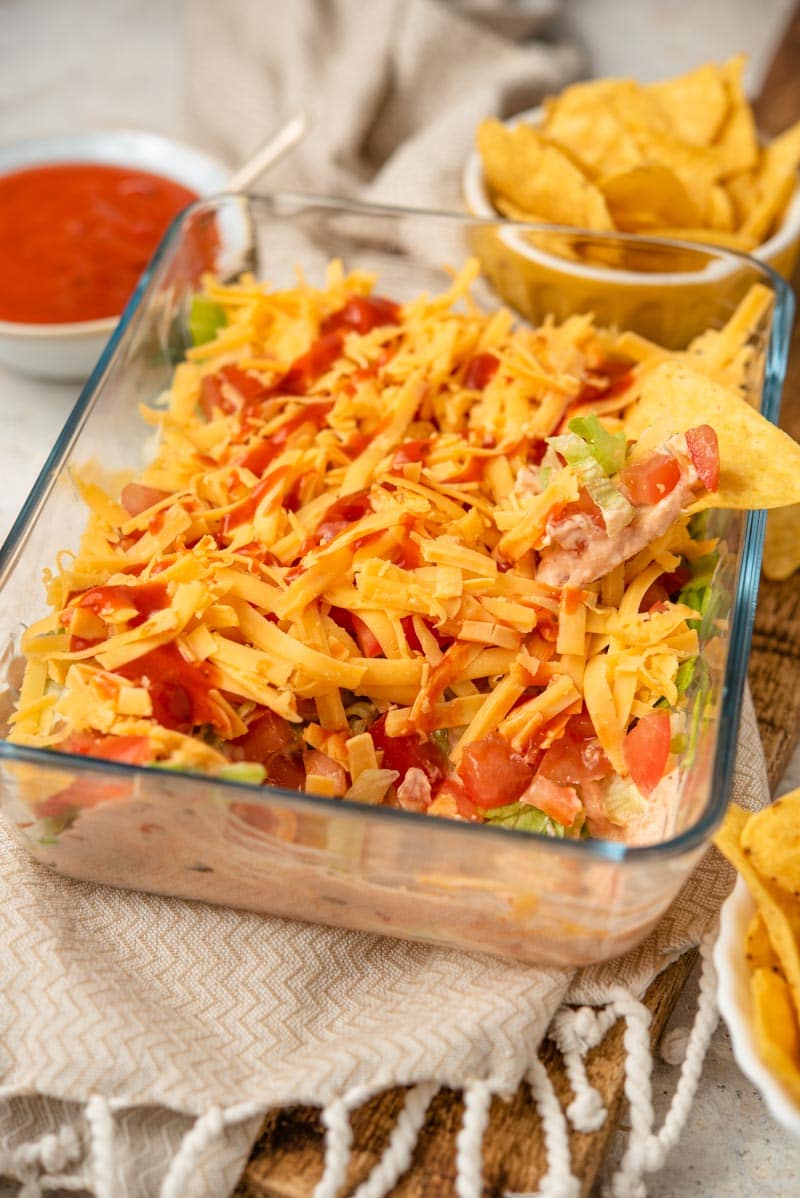 More Fun Appetizers You Might Like: