This Layered Taco Dip is the perfect appetizer for serving up at game day, barbecues, or any time you have a crowd to feed. You can guarantee that everyone will love this crowd-pleasing Easy Taco Dip dip so much so that you'll probably need a double batch!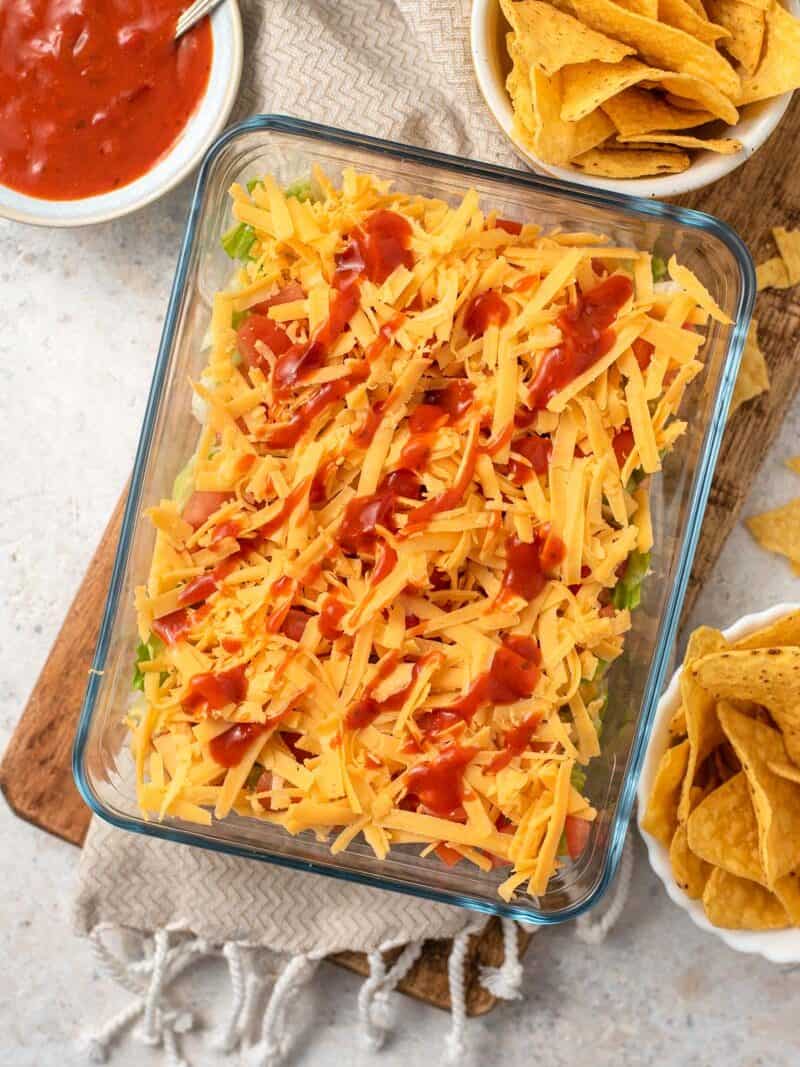 What's in this Taco Dip Recipe?
Layered Taco Dip is such a quick and easy recipe that's full of flavor and is always a crowd favorite. You will not disappoint your party guests with this cheesy dip recipe and you only need five ingredients to make it!
Cream Cheese: Forms the base of our dip. It's rich, creamy, and tangy!
Salsa: Mixes with the cream cheese to create a creamy, Mexican-inspired dip.
Lettuce: Adds crunch to the dip. I recommend iceberg lettuce because it stays crunchy for the longest.
Cheese: Makes the dip salty and cheesy. I used cheddar cheese, but Mexican blend or Monterey jack would also work.
Tomatoes: Add a pop of freshness.
Pro Tip: Top with taco sauce or hot sauce if you'd like to add a spicy kick to your dip.
Variations on Layered Taco Dip
The easiest way to change up this dip is to add an extra layer between the cream cheese and the toppings. Some favorites include guacamole, refried beans, and ground beef, chicken, or turkey.
If you'd like to go all out you can add leftover chili as one of the layers. If you do that, you'll probably want to serve it hot, so heat it in the oven until piping hot all the way through then add the lettuce and tomatoes on top to keep the delicious textures!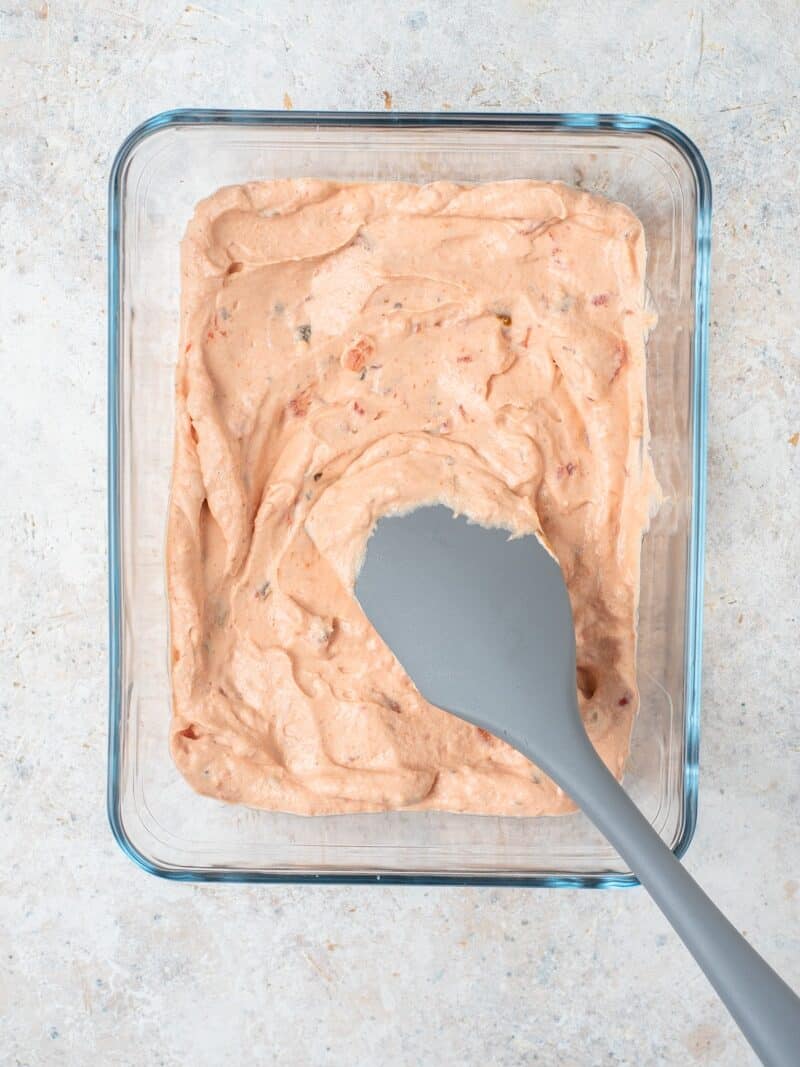 Can I make it ahead of time?
Yes, you can assemble this dip up to 1 day in advance and store it in the refrigerator until ready to serve.
What extra toppings can I add?
You can include anything that you like on tacos and fajitas. Try adding black olives, cilantro, sour cream, avocado, bell peppers, fresh chili peppers, jalapenos, and other cheeses such as Mexican blend or Monterrey jack (there are too many to list). Have fun with this recipe and make it your own!
Can I add meat?
Yes, cooked ground beef, chicken, or turkey are great additions.
Can I serve it hot?
I like to serve Layered Taco Dip cold because I like the textures from the fresh tomatoes and crunch from the lettuce. I think this dip is best served cold. If you'd like melted cheese you could pop it in the oven (350°F) for 5-10 minutes or under the broiler to melt the top layer and then add lettuce and tomatoes when it's done.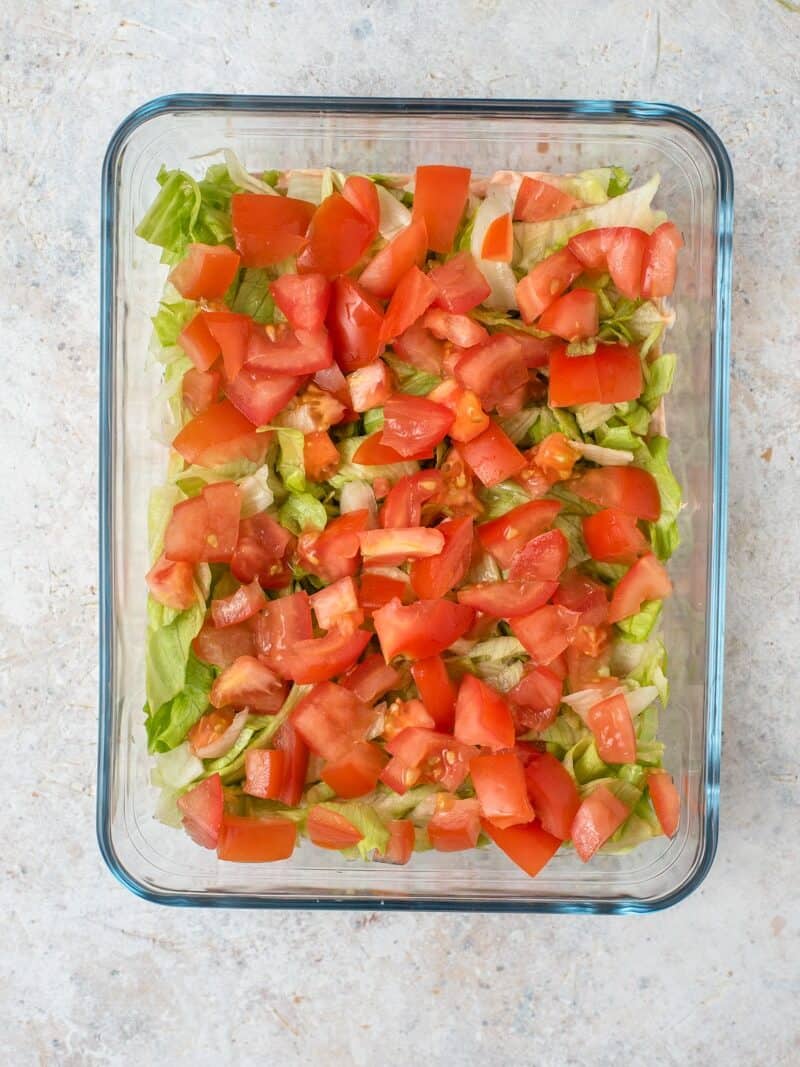 How to Store
Store leftover taco dip in an airtight container for up to 1 day fully assembled. You can store the cream cheese mixture separately from the toppings for up to 3 days. Assemble just before serving. I do not recommend freezing this dip.
Serving Suggestions
I love to serve this dip with tortilla chips, but you can use any kind of chip you prefer. You can also serve it with crackers or some veggie sticks such as sliced carrots, celery, and bell peppers.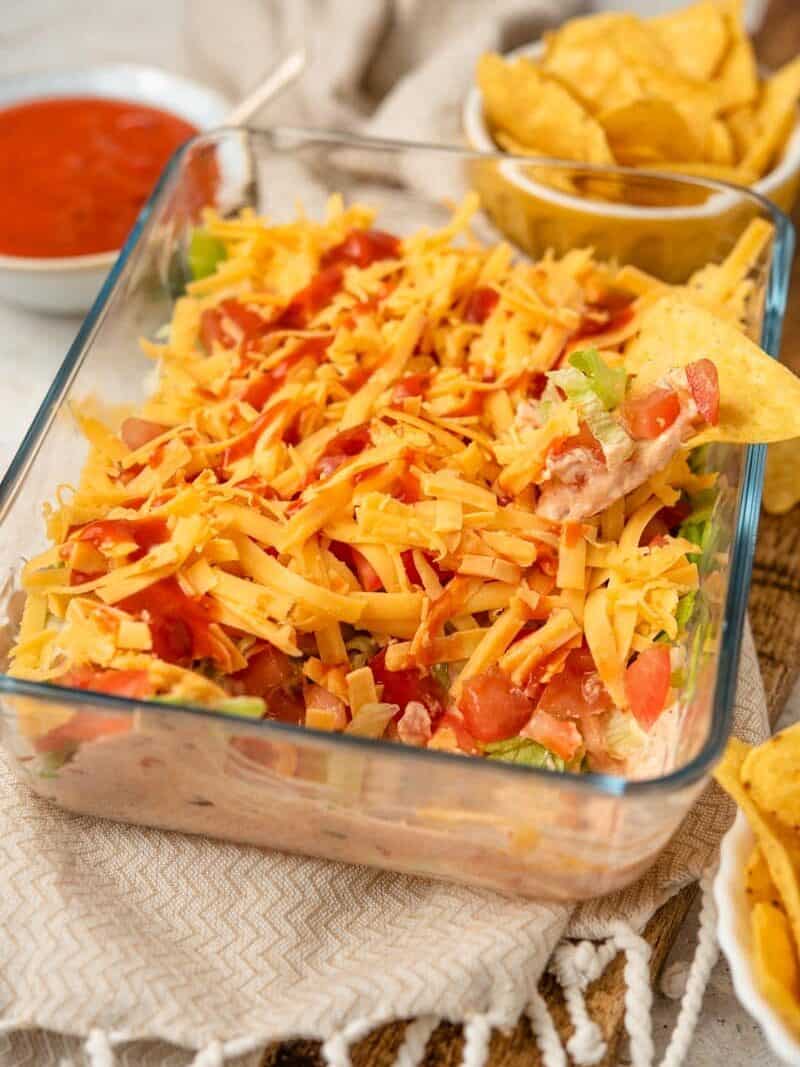 More Layered Dip Recipes We Love