Walnut Brownie Protein Balls are the perfect pop-able breakfast, after workout snack, or simple sweet treat to fuel you throughout the day. This grab and go chocolate energy bite recipe is so fast and easy, you'll want to make a batch every week. Stuffed with nutritious ingredients such as walnuts, unsweetened cocoa powder, chia seeds, walnut butter, and more…these nutty, chocolate energy bites taste like brownie batter but are packed with good ingredients!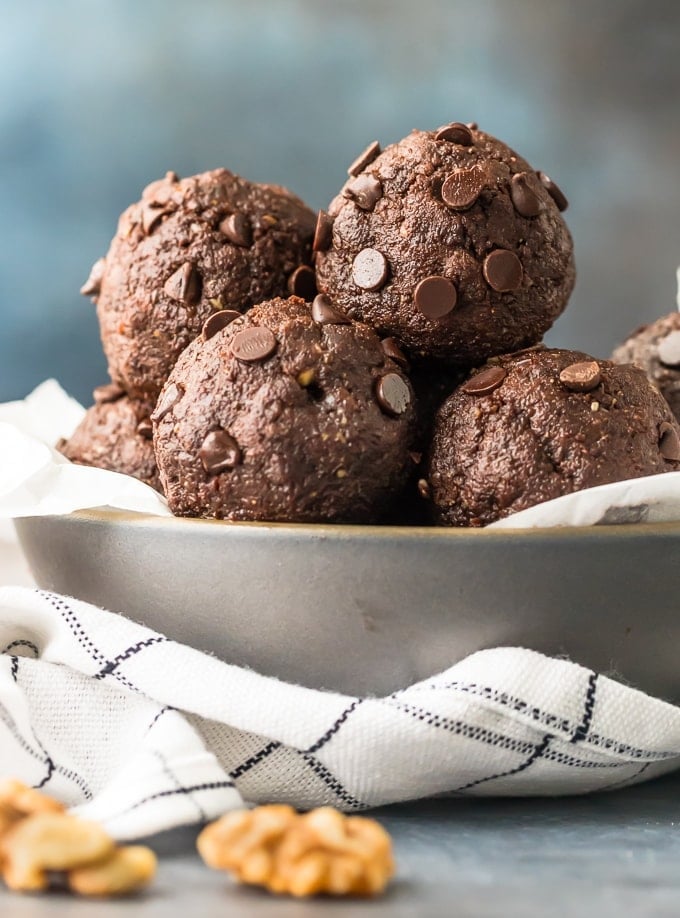 Walnut Brownie Protein Balls (Chocolate Energy Bites Recipe)
Walnut Brownie Protein Balls take everything we love about fudgy brownie batter and makes it healthy! These energy bites are the only sweet treat you need to feel great today!
I have a major sweet tooth. My husband has one too, so natural Henry has been plagued as well. We crave chocolate and caramel and all things sweet. Great for the taste buds but not great for the waist line! I've found the perfect solution with these Walnut Brownie Protein Balls for satisfying our sweet tooth while keeping with a fit lifestyle. These little bites are loaded with nutritious ingredients.
I love to pop one of these Walnut Brownie Protein Balls first thing in the morning before waking up Henry, have another when the afternoon is making me want a nap, and maybe have a third as a midnight snack. Pat loves them for after workouts and Henry cannot get enough as a little feel-good dessert at night. We are a family obsessed with Protein Bites!
Protein Bites are what got me through breastfeeding when Henry was itty-bitty. A glorious friend brought over a batch and I was hooked from the get-go. When I would be up at all times in the night, it was so comforting to know I could pop a Protein Bite as a reward!
Is there anything better than Walnut Brownie Protein Balls? They taste like brownie batter but are filled with nutritious ingredients. Gimme one! (or 3)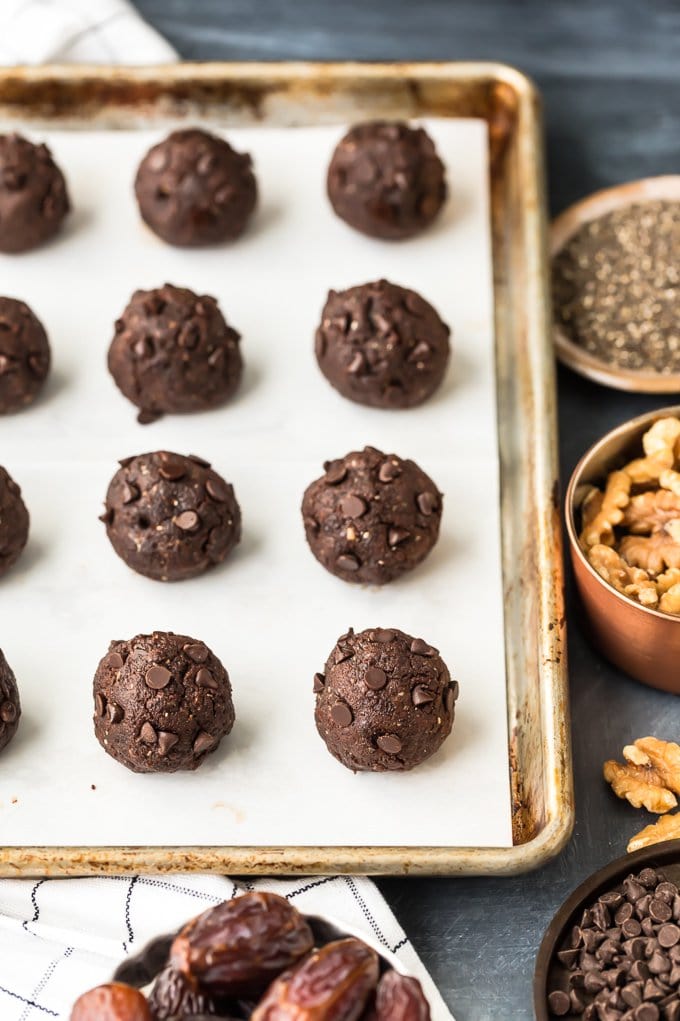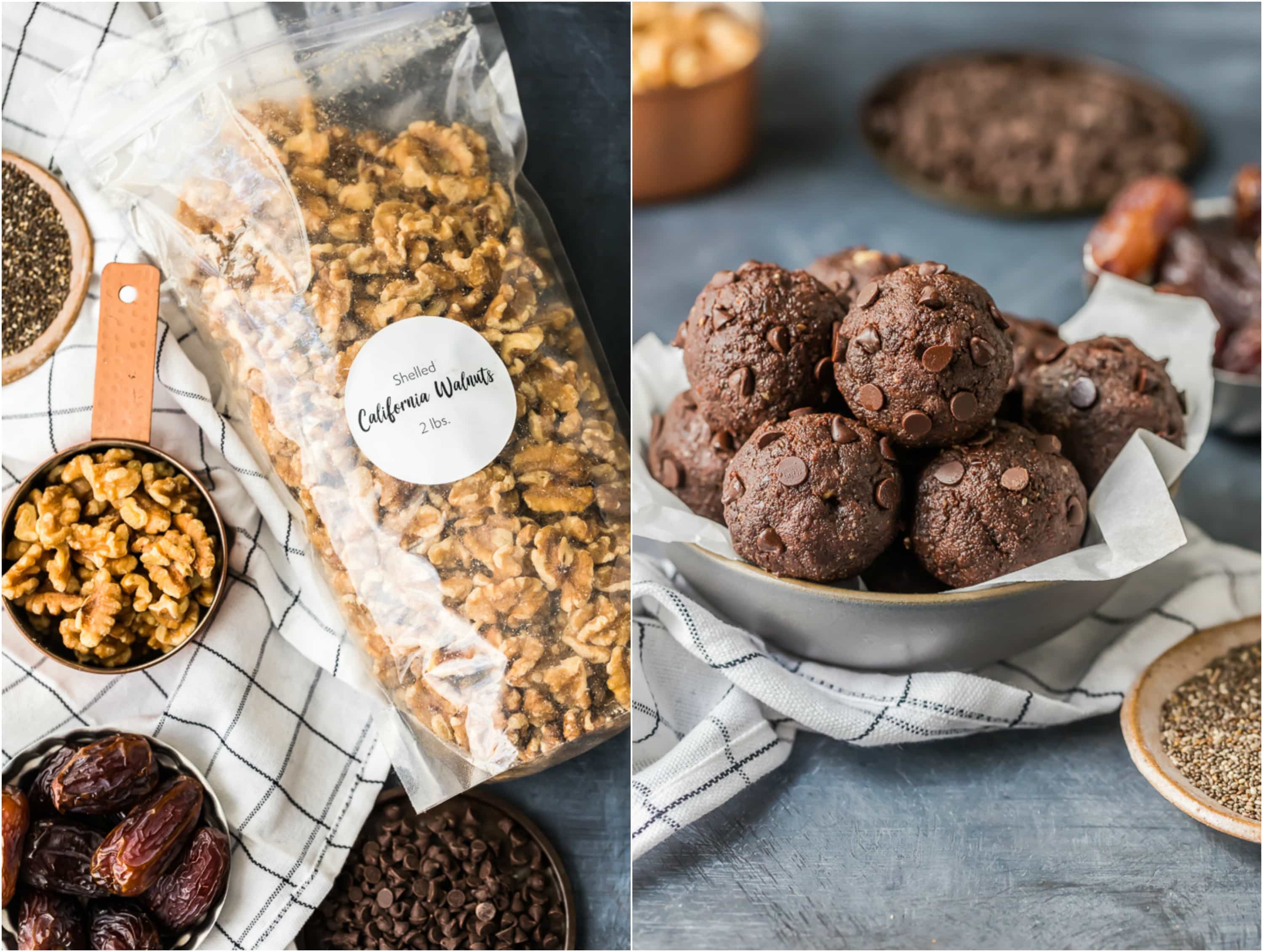 Walnut Brownie Protein Balls are made with wholesome ingredients
These little protein bites pack a crazy powerful punch! Here are some of the ingredients that we are proud to serve our family in these Walnut Brownie Protein Balls:
Walnuts: Source of good fats – one ounce serving of walnuts has 2.5g of monounsaturated fat, 13g of polyunsaturated fat, including 2.5g omega-3 ALA, as well as 4g of protein.
Dates: Ditch the refined sugar and use this natural sweetener.
Chia Seeds: Rich in fiber, these little seeds provide about 10g of fiber per ounce.
Coconut Oil: Includes medium-chain fatty acids, which are generally easily digested by the body!
Honey: An excellent binder of all ingredients, that adds sweetness too.
Optional Add-ins include protein powder, flaxseed meal, or old fashioned oats!
Are you getting excited to try these Walnut Brownie Protein Bites yet? The best news is they taste AMAZING and just like brownie batter. They'll keep you coming back for more every day!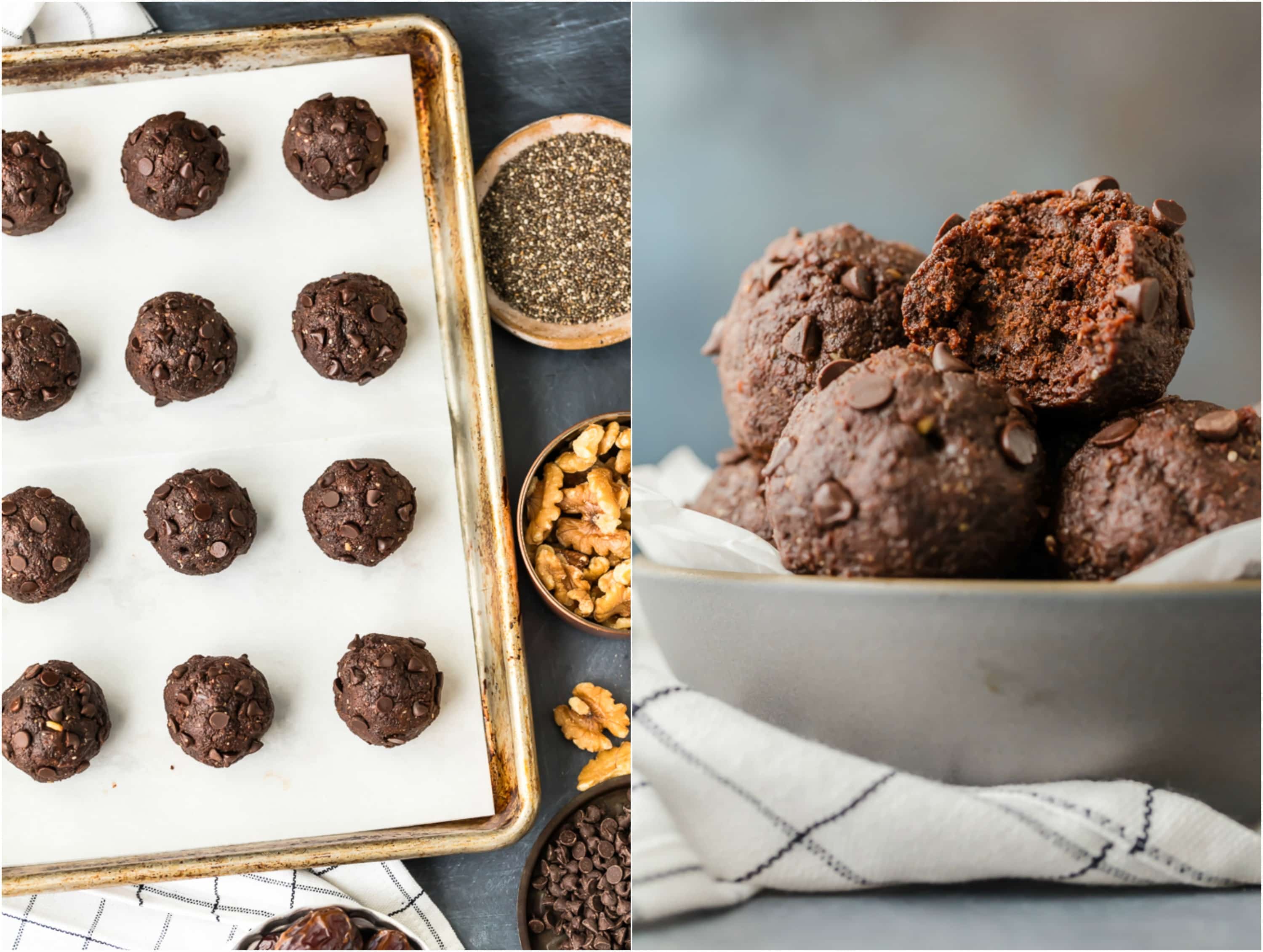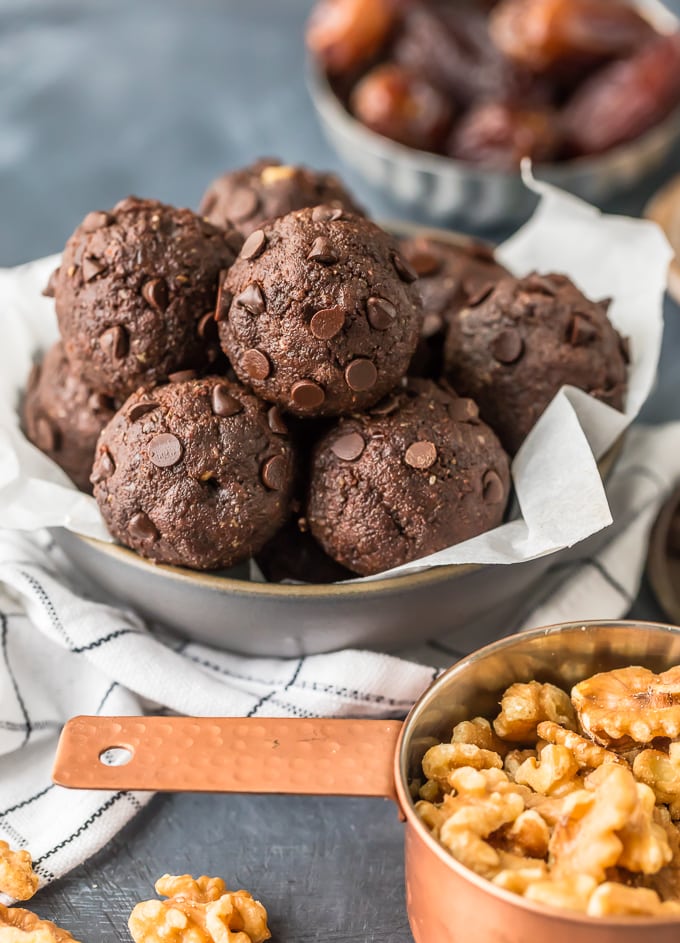 Benefits of Walnuts in cooking:
Did you know just 1 ounce of walnuts has 4 grams of protein, 2 grams of fiber, and 2.5 grams of plant-based omega-3 alpha-linolenic acid (Walnuts are the only nut that contain significant amounts of this beneficial nutrient!).
I love tossing walnuts into recipes I make to add extra flavor and nutrients. Some of my favorite recipes using walnuts include: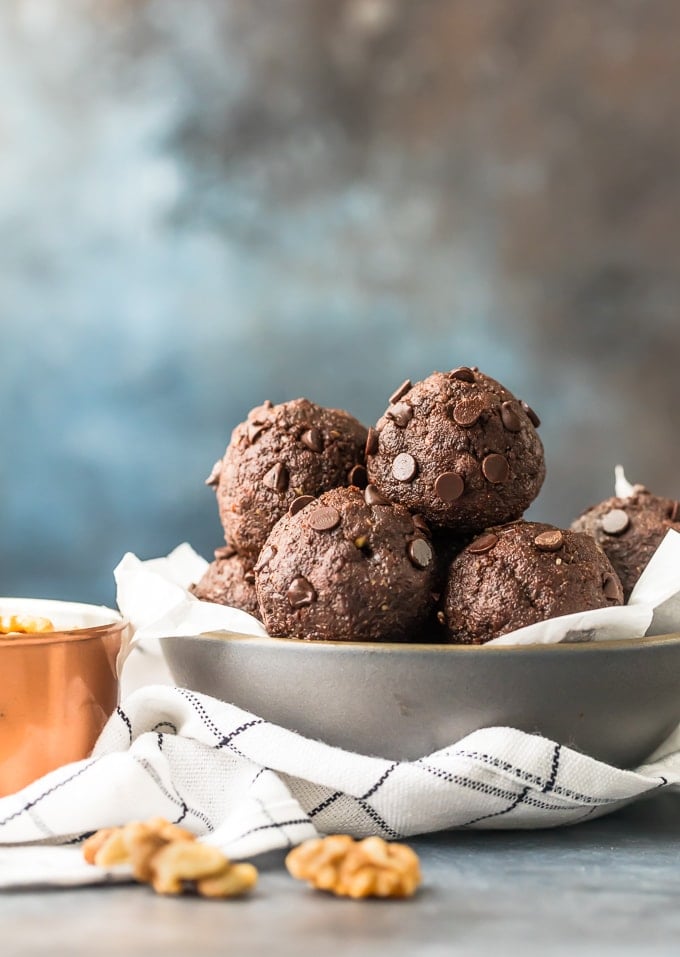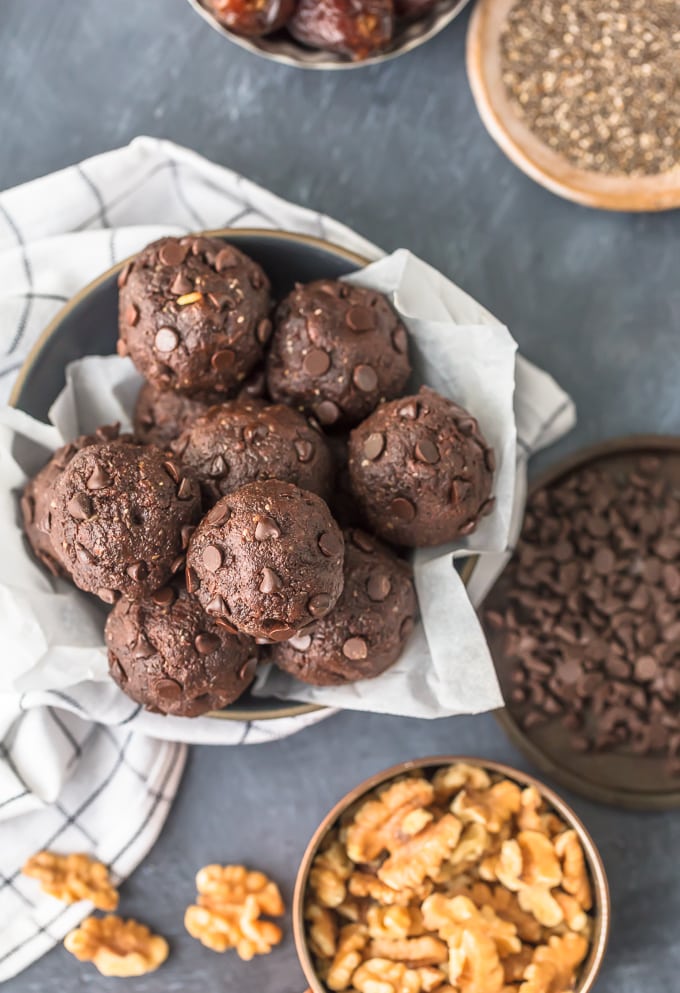 FAQ for Brownie Protein Bites
What to substitute for Walnut Butter in these Protein Balls
If you have an allergy, you can substitute for Sunflower Butter! I love that this recipe has options and is perfect for each family's individual needs.
Can you freeze Energy Bites?
Yes! Make the Chocolate Protein Balls according to the instructions below, then seal in 2 freezer safe ziplock bags (double bag). Freeze for up to three months. Allow to defrost in the fridge for 6-8 hours before serving. BOOM! So easy!
How to make Brownie Energy Bites:
Be sure to check the recipe card below for full instructions, but here are the steps for making these Protein Balls:
Place chopped dates, walnuts, walnut butter, chia seeds, honey, coconut oil, and cocoa powder in a food processor or powerful blender.
Blend until fully combined and smooth.
If adding in mini chocolate chips, stir those in after blending.
Store in a bowl in the fridge for 1 hour until firm.
Roll into 1 inch balls and place on a parchment lined baking sheet.
Store in the fridge, covered, until ready to eat or freeze according to instructions above.
Enjoy!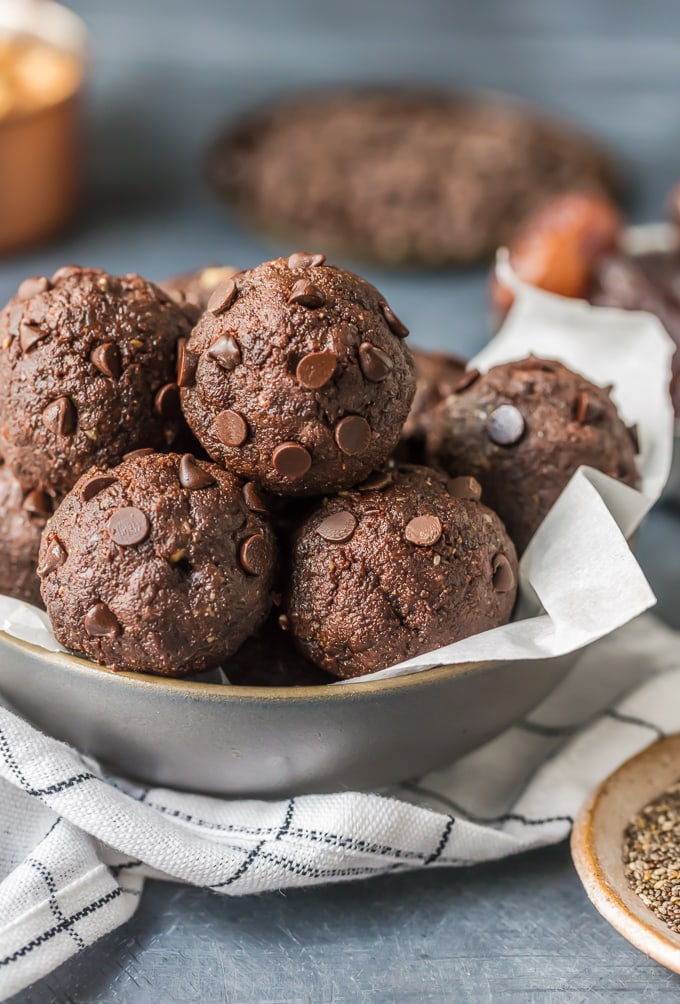 I cannot wait for you and your family to try these sweet and filling Walnut Brownie Protein Balls. I think they're the perfect bite of goodness that you need to have a good day and stay fueled for everything you need to get done! I know we love them. (BONUS: These protein balls make an amazing homemade gift for new moms! When I was breastfeeding these were my go-to middle of the night snack!) Let me know how you like them!
See the recipe card below for full details on How to Make Brownie Protein Balls. Enjoy!
Want more grab-and-go goodies! These easy snack recipes give us all the heart eyes: