Make this Instant Pot pulled pork recipe for sliders in a fraction of the usual time! Cooked quickly with brown sugar and spices before being tossed in a sweet and tangy barbecue sauce, this shredded BBQ pork is wonderfully tender and juicy. It makes for great sandwiches and sliders!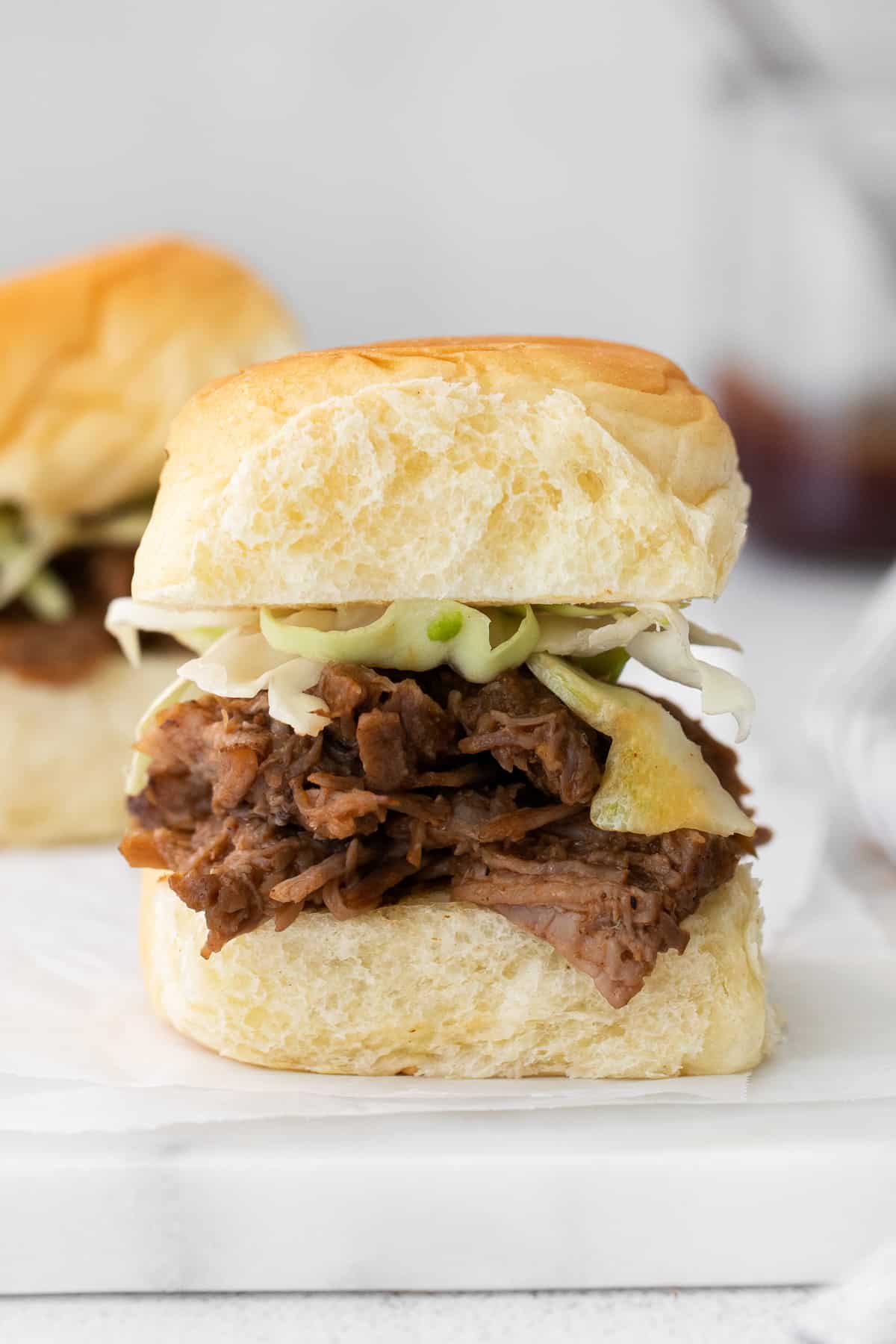 What's in this BBQ Pulled Pork Recipe
Making shredded pork in an Instant Pot only requires a few ingredients and a few minutes of prep. And cook time is relatively short compared to other cooking methods (like smoked pulled pork) for this BBQ favorite.
Pork Shoulder: Pork shoulder is best for pulled pork because it has a high-fat content, so it turns out really juicy and tender, and it's easy to shred. I used a 5 pound boneless shoulder for this recipe.
Brown Sugar: Brown sugar adds a rich sweet flavor to the dry rub that complements pork and balances out the savory herbs and spices.
Chicken Stock: Chicken stock prevents the pork from burning on the bottom. Instead of chicken stock, use water or beer.
Herbs & Spices: Use a mix of garlic powder, onion powder, dried thyme, and salt & pepper.
BBQ Sauce: Use your favorite barbecue sauce, sweet, smoky, or tangy. You can also try this homemade BBQ sauce if you'd like.
If you want make pulled pork sliders, serve them on these homemade dinner rolls, Hawaiian Rolls, or any bread that you love.
Make this Instant Pot Pulled Pork Spicy
For spicy pulled pork, add 1 teaspoon of cayenne pepper to the spice rub. You can also choose a spicier BBQ sauce, or mix in some hot sauce.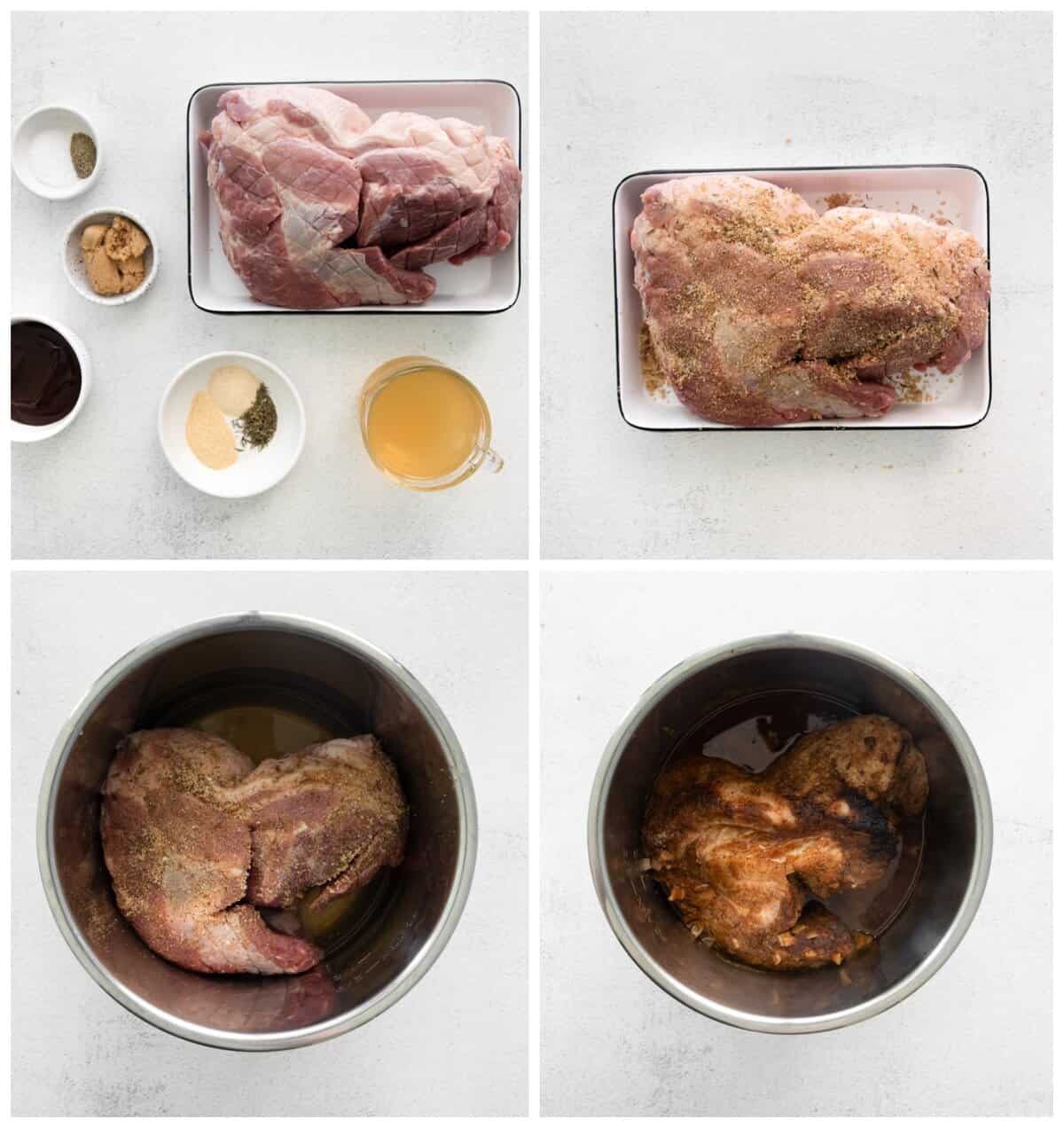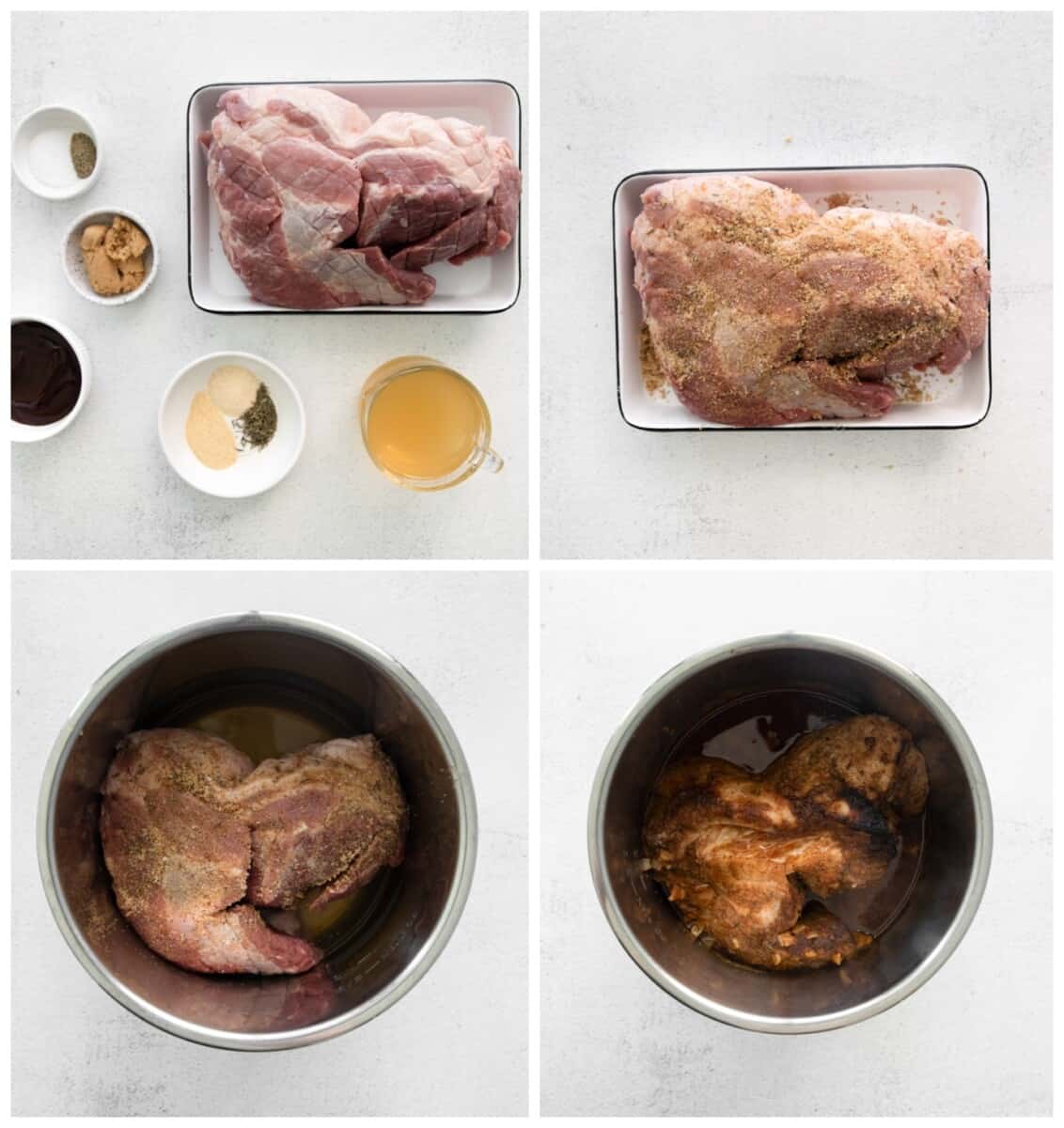 Can I use bone-in pork shoulder?
Yes. If using bone-in pork shoulder, add 5 minutes to the cook time.
Can I use a pre-made spice rub?
Absolutely! Instead of following this recipe to make your own spice rub, use 4 tablespoons of your favorite spice rub in step 3.
What size Instant Pot should I use?
I used a 6-quart Instant Pot for this pulled pork recipe. Use a similarly sized pot for best results.
Can I use a slow cooker instead?
To make pulled pork in a slow cooker, follow this recipe for crockpot BBQ pork.
What can I do with pulled pork?
Homemade pulled pork is so versatile! Some of my favorite ways to enjoy pulled pork are as sliders, sandwiches, tacos, on salad, with rice, or with scrambled eggs.
How do I know when the pulled pork is done cooking?
The most reliable way to determine if pulled pork is cooked through is to use an instant-read thermometer to check the internal temperature of the meat. The temperature should reach at least 195°F (90°C) for the pork to be fully cooked and tender enough to pull apart easily. When the pork is fully cooked, the meat should be very tender and easy to shred with a fork or tongs. If the pork meat is tough or not easily shredding, it needs to cook for a bit longer.
What is the best seasoning for pulled pork?
Dry rub is a classic and easy choice for seasoning pulled pork. Alternatively, you can marinate the pork overnight before cooking. Alternatively, you can marinate the pork overnight before cooking. A simple marinade can be made with apple cider vinegar, brown sugar, Worcestershire sauce, and garlic. Make sure to cover the pork completely with the marinade and allow it to sit for at least 8 hours or overnight.
How to Store and Reheat
Store leftover pulled pork in an airtight container in the refrigerator for up to 3 days.
To reheat, place pork in the oven at 250F until fully heated through. You can also warm it up in a slow cooker for about 2-3 hours.
How to Freeze Instant Pot Pulled Pork
After cooking in the pressure cooker, let the shredded pork cool to room temperature. Place it into freezer-safe resealable bags, and remove as much air as possible while sealing it. Lay the bags flat in the freezer until frozen, then you can rearrange them as needed.
Freeze up to 6 months. Thaw overnight in the refrigerator before reheating.
What to Serve with BBQ Pulled Pork
Whether you serve this Instant Pot pulled pork as sliders, or plated up to eat with a fork, you'll want to load up on some classic BBQ side dishes. Make corn on the cob, Instant Pot Mac and cheese, German potato salad, pickled beets, and cornbread. Other classic side dishes which pair well with pulled pork include Coleslaw, Roasted vegetables and Baked beans.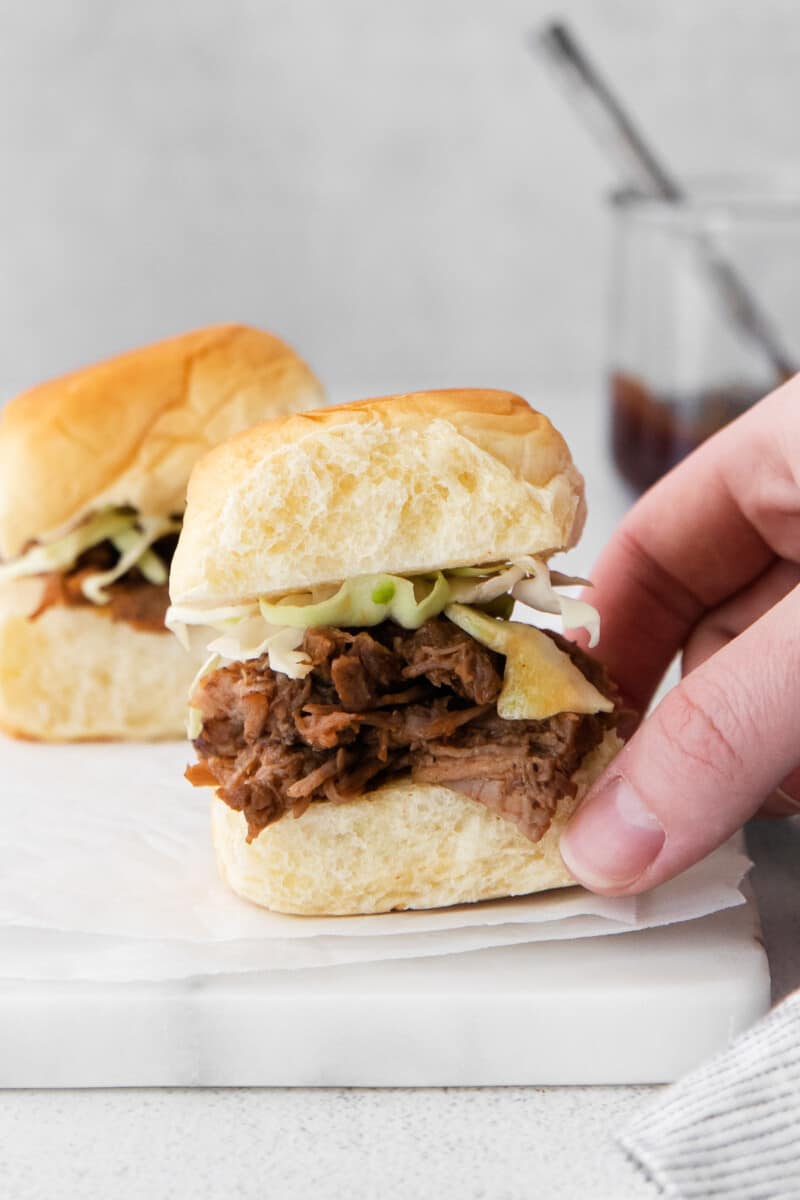 If you make this recipe be sure to upload a photo in the comment section below or leave a rating. Enjoy! You can also jump to recipe.
More Delicious Pork Recipes to Try: