Baked chicken thighs are so juicy, crispy, delicious, and easy to make. They're great for weeknight dinners, and the simplicity can't be beat. This oven baked boneless chicken thighs recipe is perfectly seasoned, and it will certainly be a new family favorite!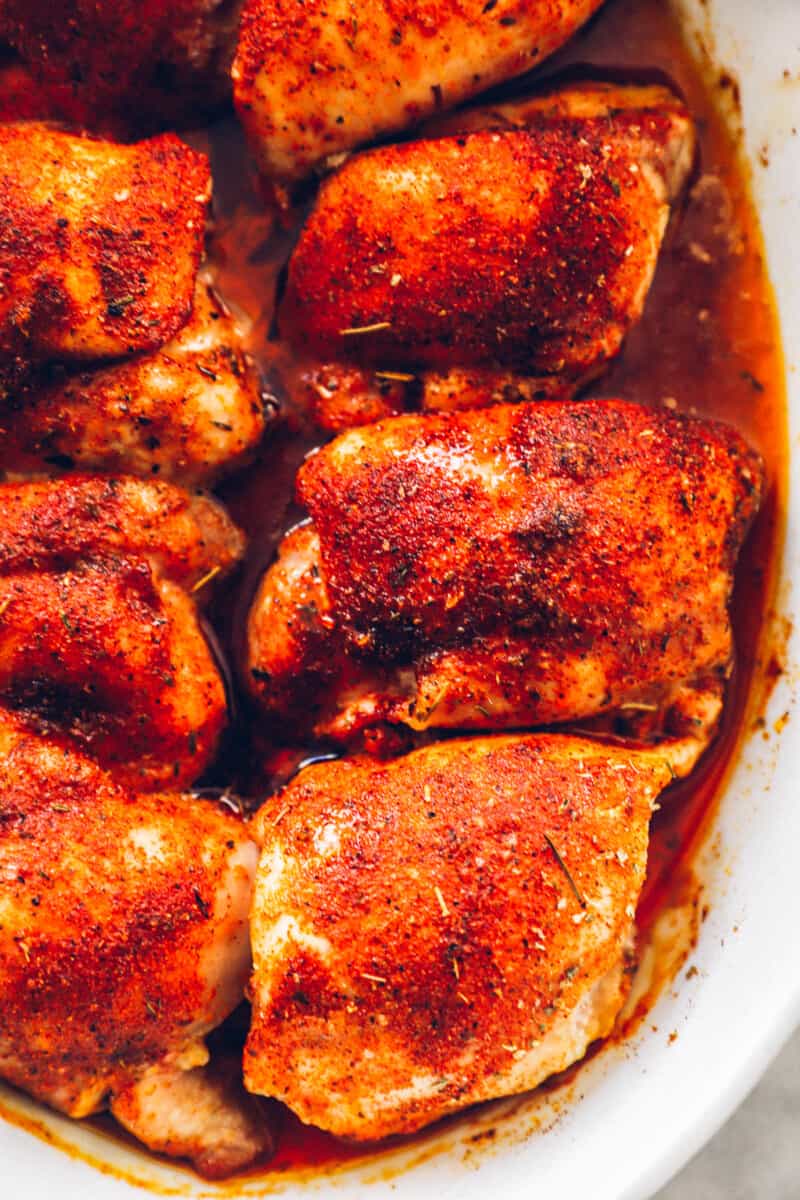 Oven Baked Chicken Thighs
These easy baked chicken thighs are so simple, you'll be serving them for dinner time and time again! It's a super easy recipe, the chicken is perfectly seasoned, and it goes with everything.
This oven baked chicken thighs recipe comes out juicy, crispy, and flavorful. Use boneless chicken thighs, add some seasonings, bake, and it's done in only 35 minutes!
Why You'll Love this Baked Chicken Recipe:
EASY: Baking chicken thighs in the oven couldn't be easier. Prep time is quick, and they'll be ready in no time!
CRISPY BAKED CHICKEN: Oven baking creates a deliciously crispy texture, no frying necessary!
FAMILY FAVORITE: Everyone in the family will surely love this simple chicken thighs recipe. It's so delicious, you'll want to serve it for dinner week after week.
These boneless baked chicken thighs can be served any time. I love making them for an easy dinner, and they're perfect for feeding hungry people on game day too.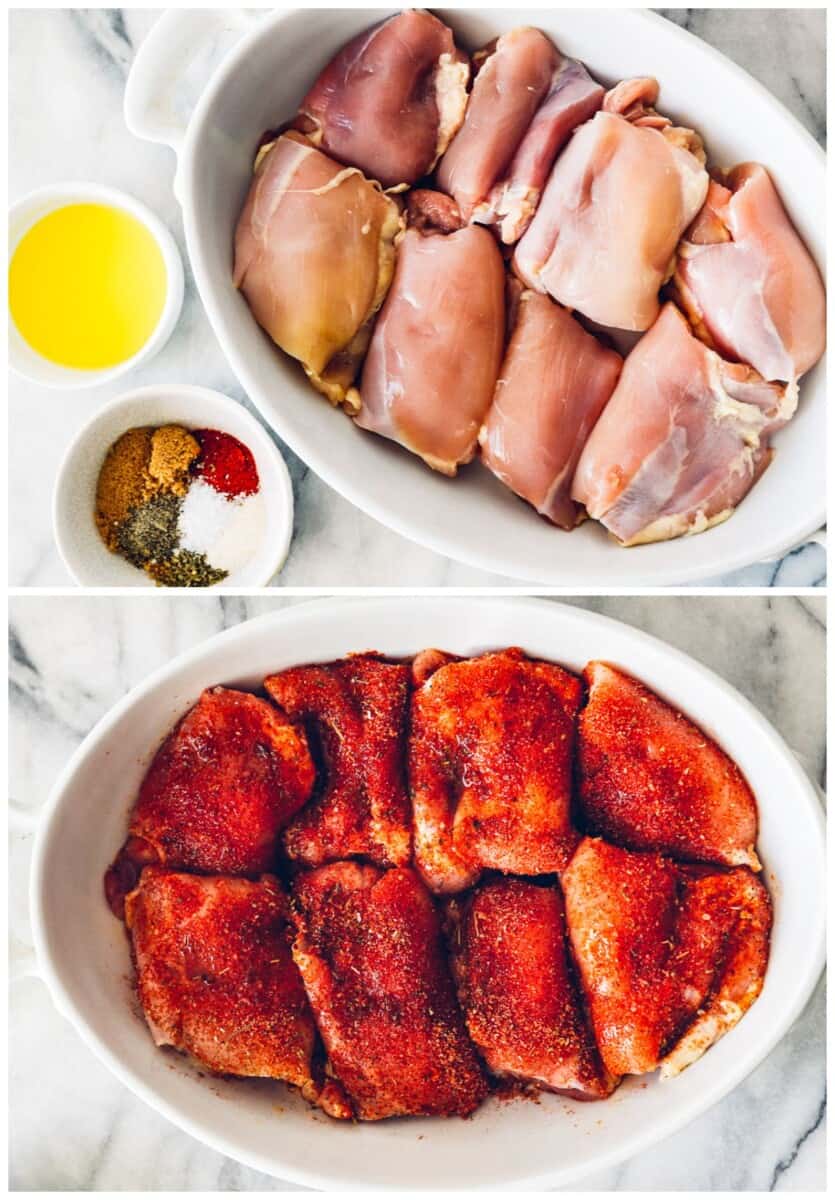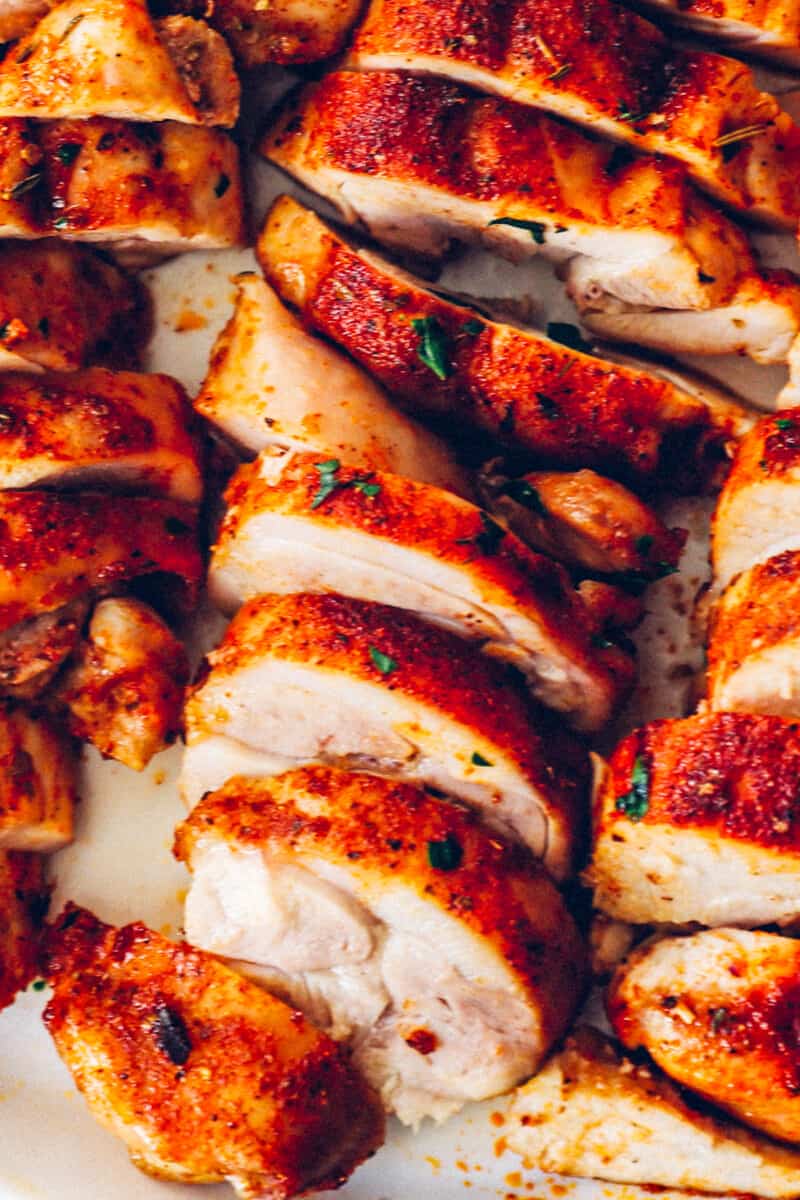 How to Make Baked Chicken Thighs
You can jump to the recipe card for full ingredients & instructions!
Preheat oven and prepare casserole dish with no-stick spray or olive oil.
Place thighs in a bowl and drizzle olive oil over them.
Combine seasonings to make a dry rub mix, and rub evenly over the chicken thighs.
Place them in the casserole dish and bake.
Serve and enjoy!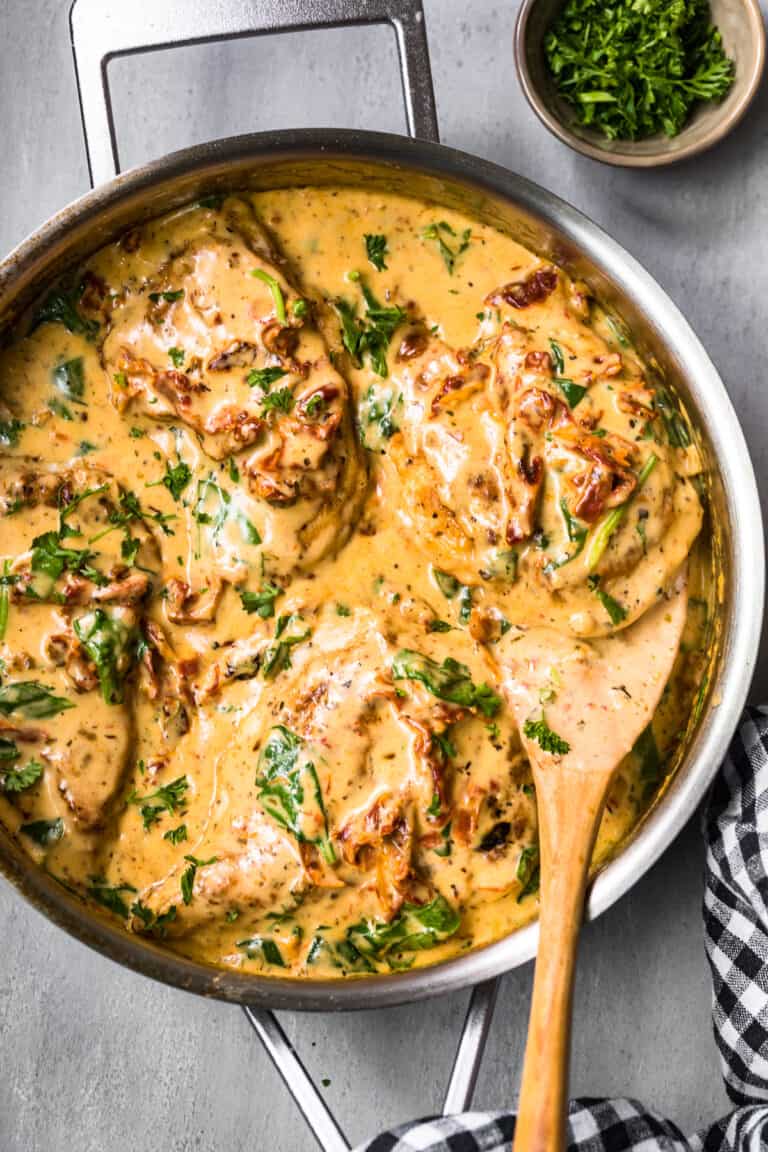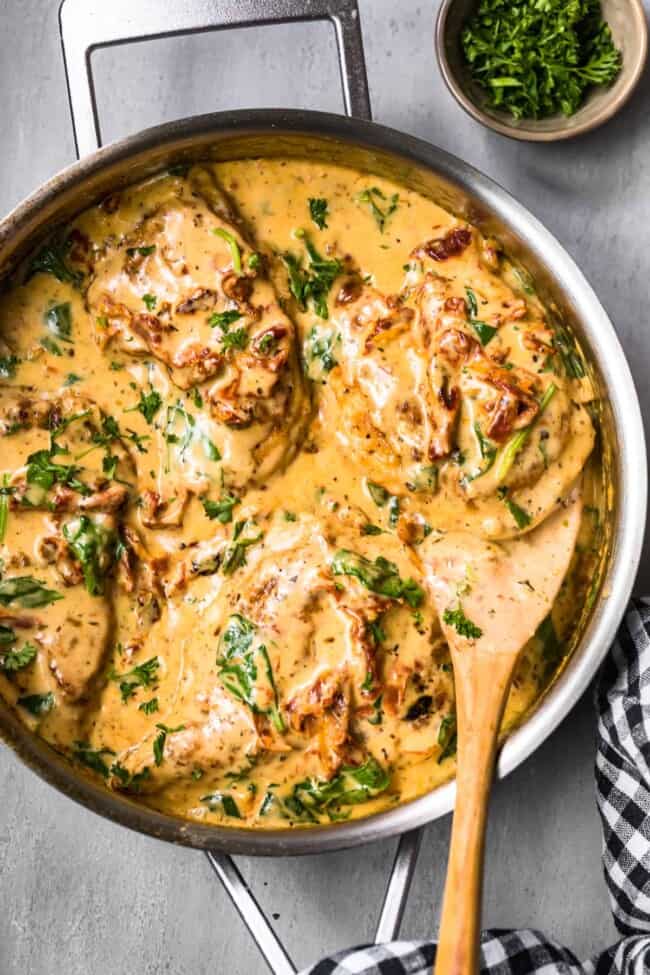 Winner Winner Chicken Dinner
72+ Chicken Dinner Recipes
See our Chicken Guide for all the best chicken recipes plus tips and tricks for juicy chicken every time.
Chicken Dinner Recipes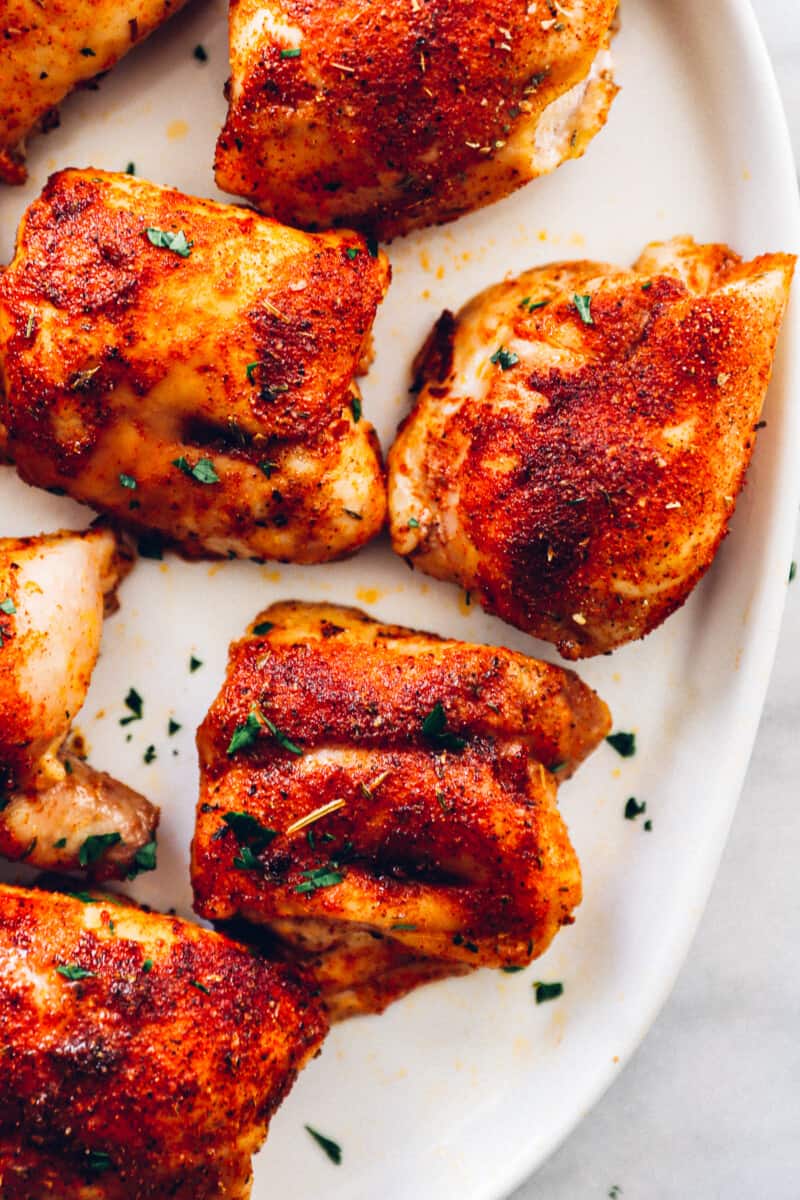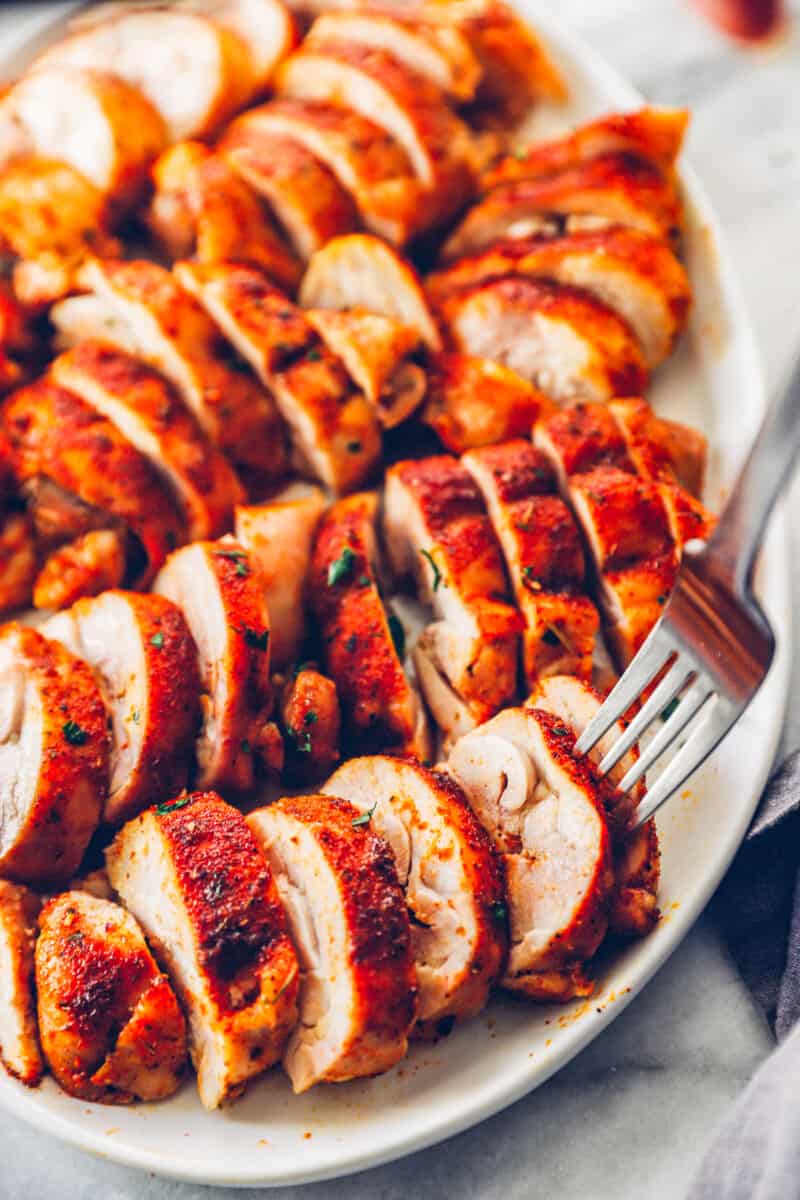 What seasonings are good on chicken thighs?
Here we are using a mix of brown sugar, paprika, Italian seasoning, garlic and onion powder, and salt and pepper. You can change this up, leave some out, or add other favorite spices.
Should I use boneless or bone-in chicken thighs?
Either! If using bone-in chicken thighs, bake for 35-45 minutes or until the internal temperature of the chicken reaches 165°F.
Should I use skinless or skin-on chicken thighs?
You can use either skinless or skin-on thighs, it just depends on your preference. Skinless will reduce the calories a bit, but skin-on will be extra crispy. Both taste amazing when baked in the oven!
What size casserole dish should I use?
Use a 9×13 inch casserole or baking dish for this recipe.
Is it better to bake chicken thighs at 350 or 400 in the oven?
In this recipe, we're baking at 400F. Baking chicken at a higher temperature will help it cook slightly faster, and shorter cooking time equals less time to dry out. So overall, I recommend 400F to keep thighs crispy and juicy!
Serving Suggestions
These easy oven baked chicken thighs are so simple, which makes them really versatile. You can serve them for dinner again and again, and no one will complain!
They taste great with all your favorite side dishes, so it's easy to create a new meal every time, with the same chicken at the center of the table.
Try serving these crispy baked chicken thighs with a delicious sauce on top or on the side to change up the flavor. I recommend this mustard cream sauce, Peruvian green sauce, or a BBQ sauce.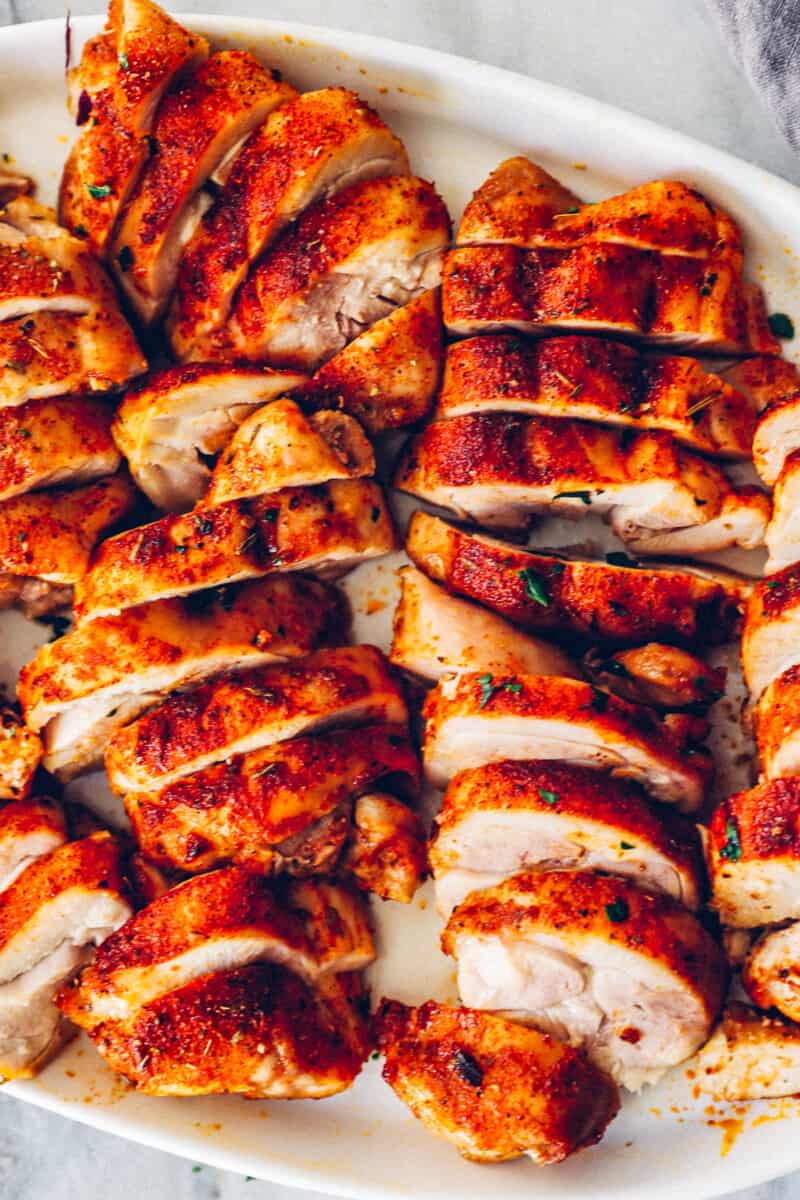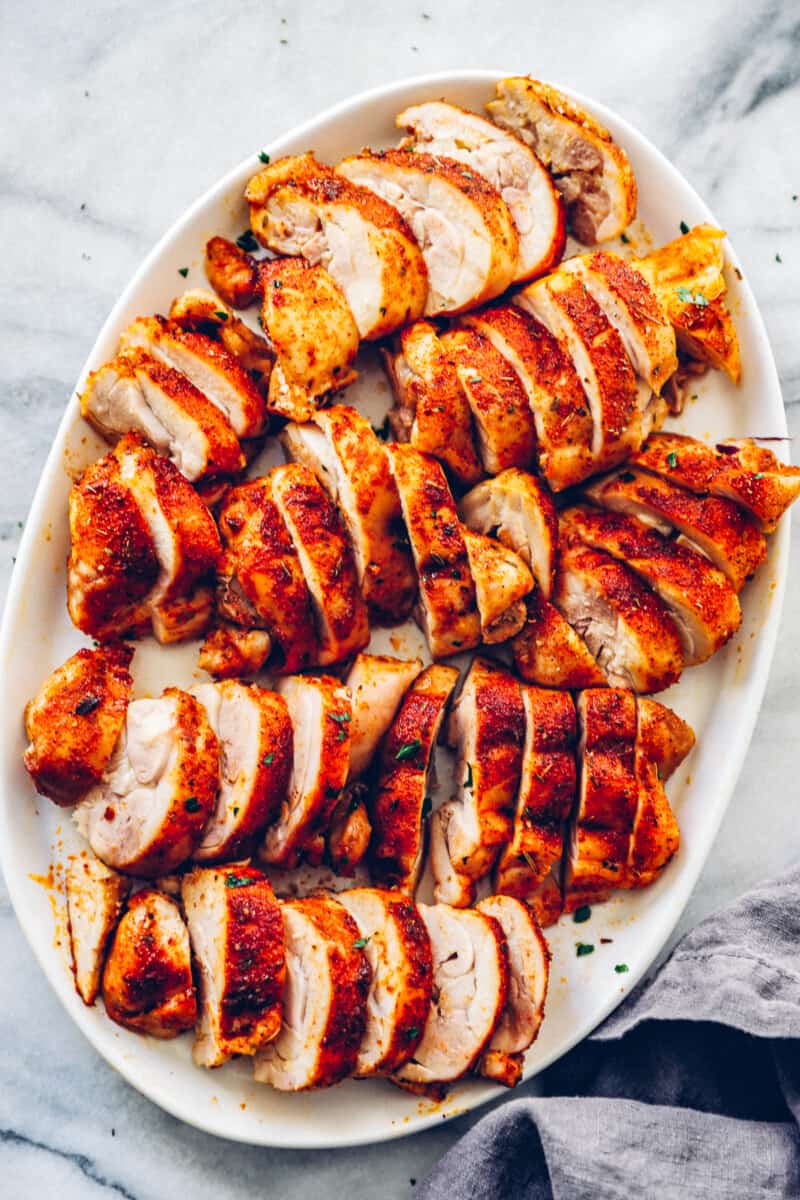 Tips!
Chicken should reach an internal temperature of 165F before eating.
Make sure you fully preheat the oven for best results.
Bake chicken thighs in the oven uncovered.
This recipe is for boneless chicken thighs. If using bone-in thighs, you will need to cook them slightly longer.
Keep leftover chicken in an airtight container, and store in the refrigerator for 3-4 days.
How long do you bake chicken thighs in the oven?
Baking at 400F, boneless chicken thighs will take about 30-35 minutes to cook in the oven.
If you are using bone-in chicken thighs, add 10 minutes to the cooking time, for about 40-45 minutes total.
Are these chicken thighs crispy?
Baking is a great way to create crispy chicken! Covering thighs with olive oil, as we do in this recipe, also encourages a crispier, more browned texture.
If you really want to amp up the crispiness, broil for the last 1-2 minutes of cook time. And of course, skin-on thighs will turn out much crispier than skinless.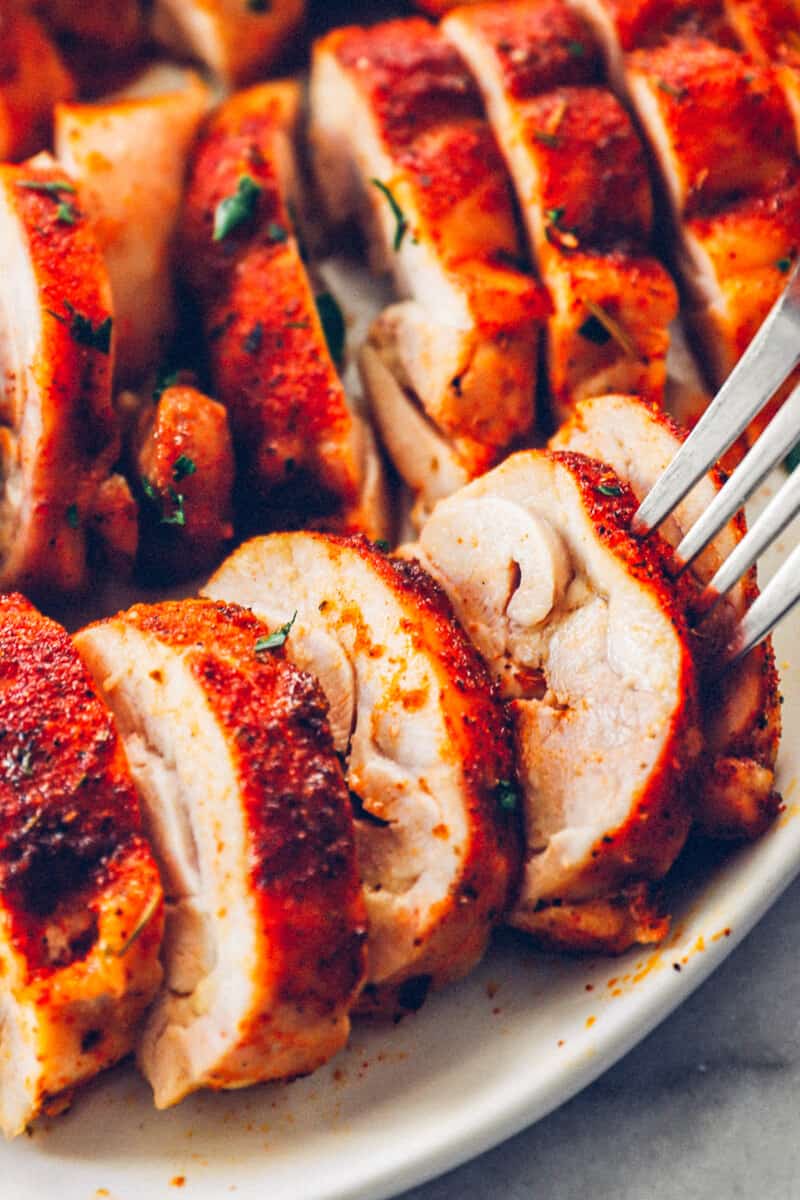 Make this oven baked chicken thighs recipe for weeknight dinners, summer cook-outs, game day, or any time you have guests over. Everyone will love them, no matter the occasion!
If you make this recipe be sure to upload a photo in the comment section below or leave a rating. Enjoy! You can also jump to recipe.