If you own a grill, it's so important to master the BEST Grilled Chicken Breast! Seasoned to flavor-packed perfection and juicy as can be, this is an entree that always satisfies. Serve it with your favorite side dish and call it dinner – it's an easy to make masterpiece!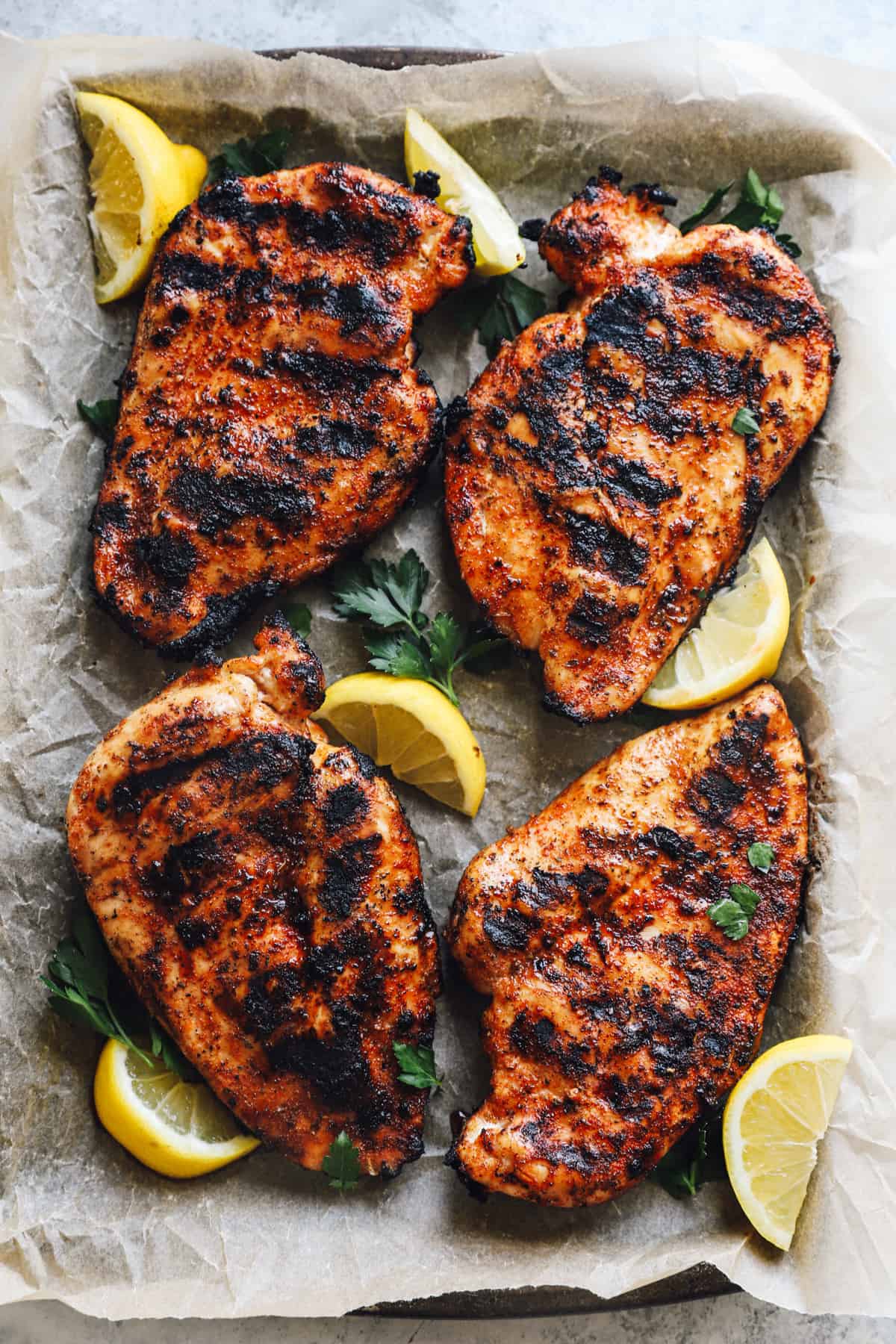 Juicy Grilled Chicken Breast
You just can't beat a simple Grilled Chicken Breast, especially when it's made just right. When I grill chicken, it's first rubbed with a homemade blend of seasonings that make it savory, a little sweet, and completely delicious!
Besides being flavorful as can be, the chicken also gets sliced or pounded (if desired) so it cooks evenly all the way through. You can totally skip this step if preferred, but it's worth taking the time to do so! And don't worry, even if you forget to slice the chicken or just choose not to, it'll still turn out pretty perfect.
Once the grill is fired up and ready to go, the real magic happens! In just about 10 minutes, you'll end up with juicy chicken that's ready to be served with any side dish you'd like. While it's flavorful, it's also neutral enough to pair with a wide array of side dishes.
Why You'll Love this Grilled Chicken Breast Recipe:
SO EASY TO MAKE: This Grilled Chicken Breast goes from the countertop, to the grill, and is on the table in just about 10 minutes. It's such a quick and easy entree!
PICKY EATER APPROVED: There's nothing spicy in this recipe that'll make your picky eater turn up their nose. However, you can always add a little cayenne to heat things up if you'd like.
VERSATILE: You can easily change up the spices that make this chicken so delicious. Plus, you can serve it with virtually any side dish you can think of!
Are these Grilled Chicken Breasts worth firing up the grill for? Yes, they sure are! If you're going to break a sweat over the grill, it should be for an entree that's this delicious (and oh so easy).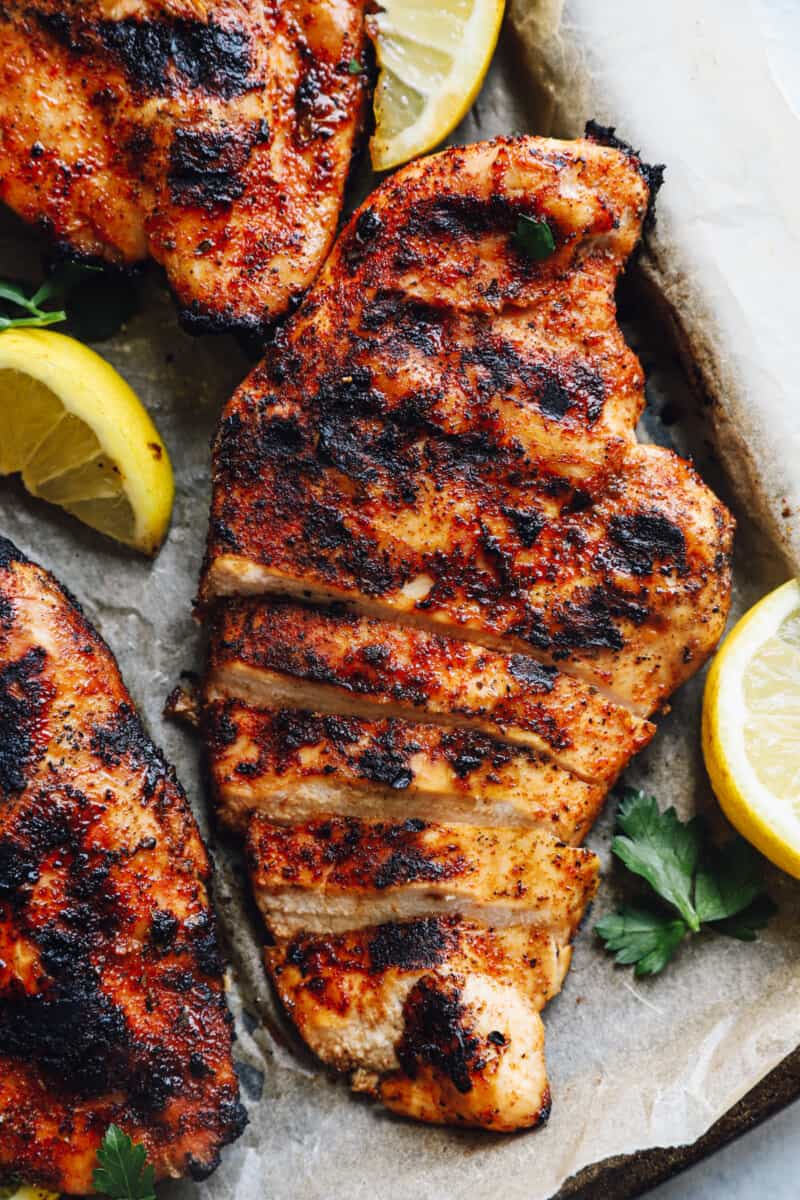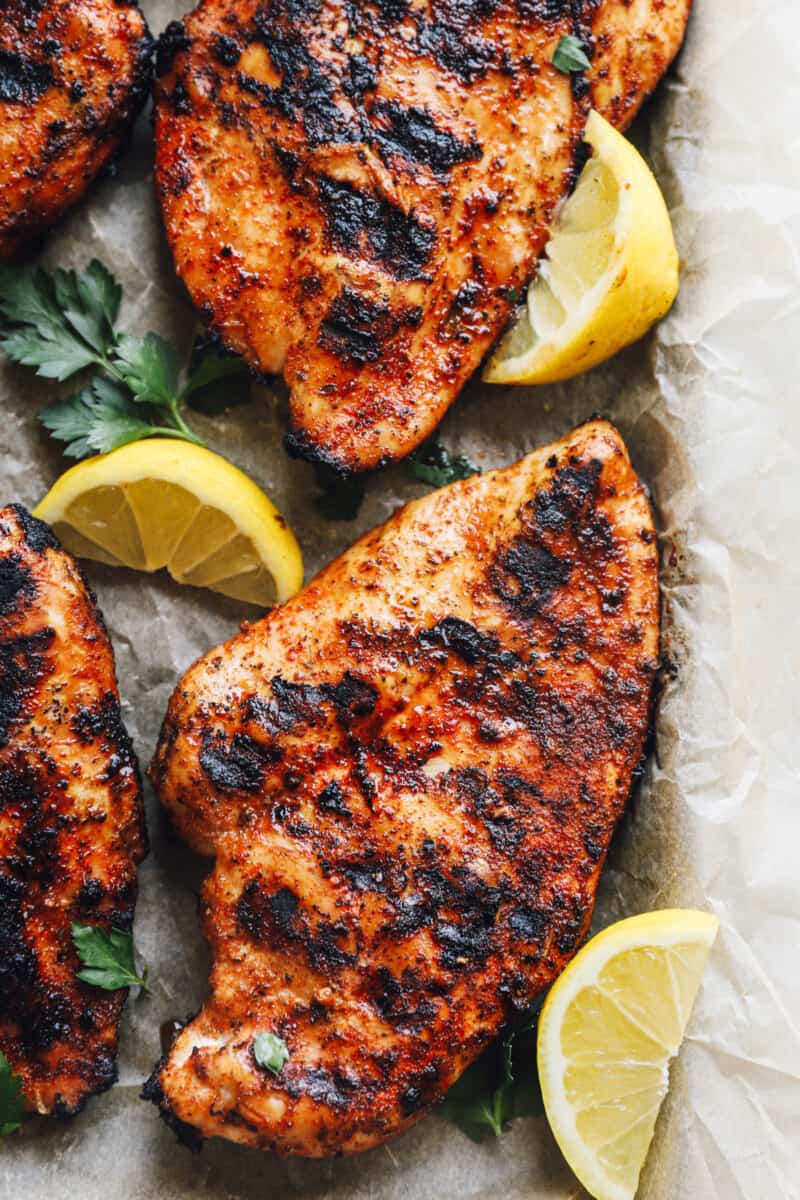 How to Make Grilled Chicken Breast
Be sure to see the recipe card below for full ingredients & instructions!
Tenderize and thin out your chicken breast if needed.
Combine the seasonings in a dish, then combine them with olive oil to coat the chicken.
Grill the chicken for 10 minutes, flipping halfway through.
Serve and enjoy!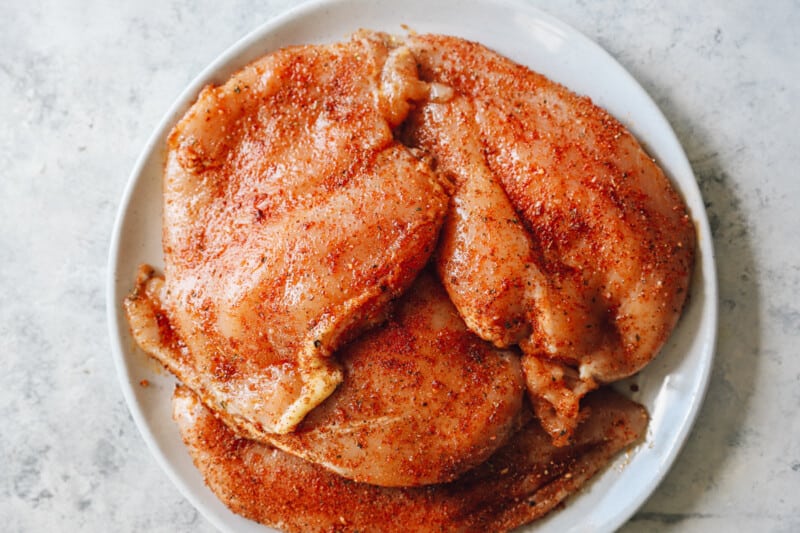 How do I grill chicken breasts without drying them out?
The key to juicy grilled chicken is high heat. This cooks the chicken quickly without drying out the inside.
Can I grill chicken thighs instead of breasts?
Yes, you can! Use boneless, skinless thighs, and keep in mind that they may take a few extra minutes to cook.
Should I pound chicken breasts before grilling them?
That's up to personal preference. I recommend it because pounded chicken breasts will cook more evenly.
What temperature should my grill be to cook grilled chicken breasts?
Your grill should be 450-500°F.
How do I prevent chicken breasts from sticking to the grill?
To prevent chicken breasts from sticking to the grill, spray your grill grates with nonstick spray.
Can I make grilled chicken breasts on the stovetop?
Yes, if you have a grill pan, you can make grilled chicken on the stovetop. Heat your grill pan over medium-high heat, then sear the chicken for 5-8 minutes per side, or until 165°F internally.
Serving Suggestions
Your grill's already hot, right? Take advantage of that with these grilled side dishes!
One thing I love the most about Grilled Chicken Breast is that it always turns out so juicy! Dry chicken's not too tasty, so avoid that by cooking the chicken just until it's done and letting it rest before slicing.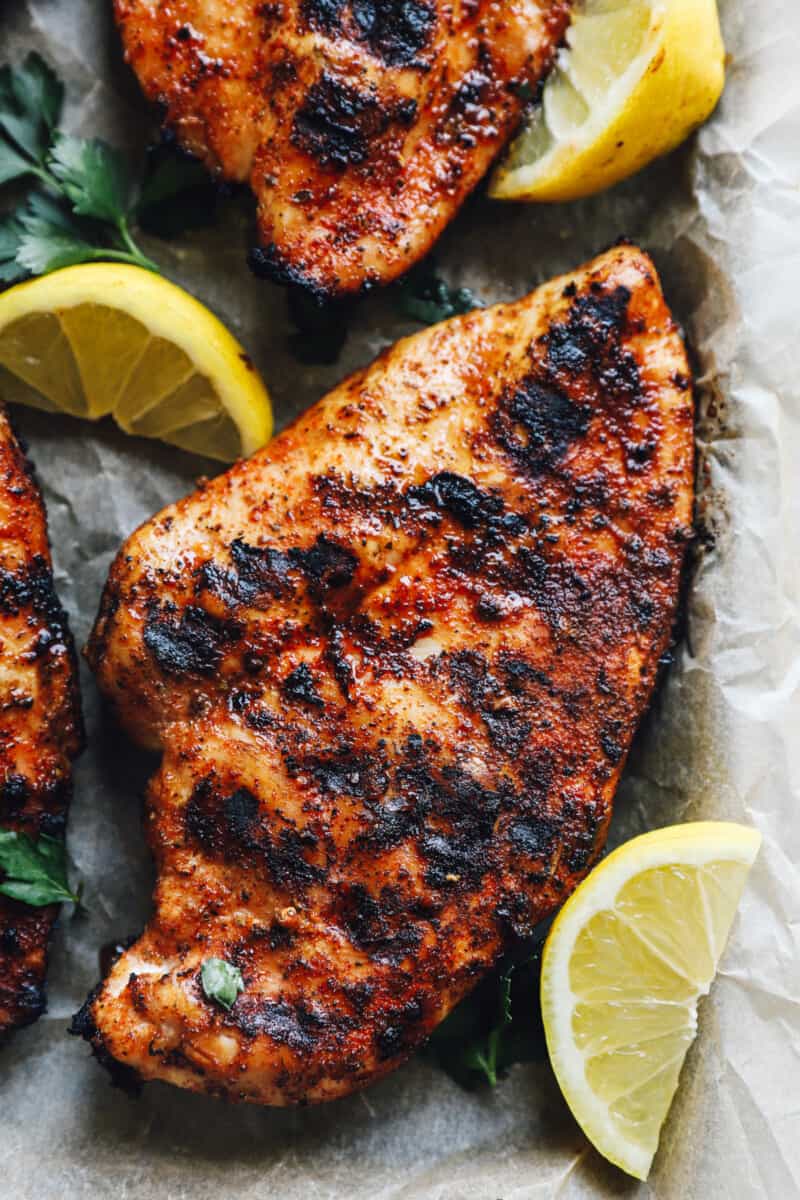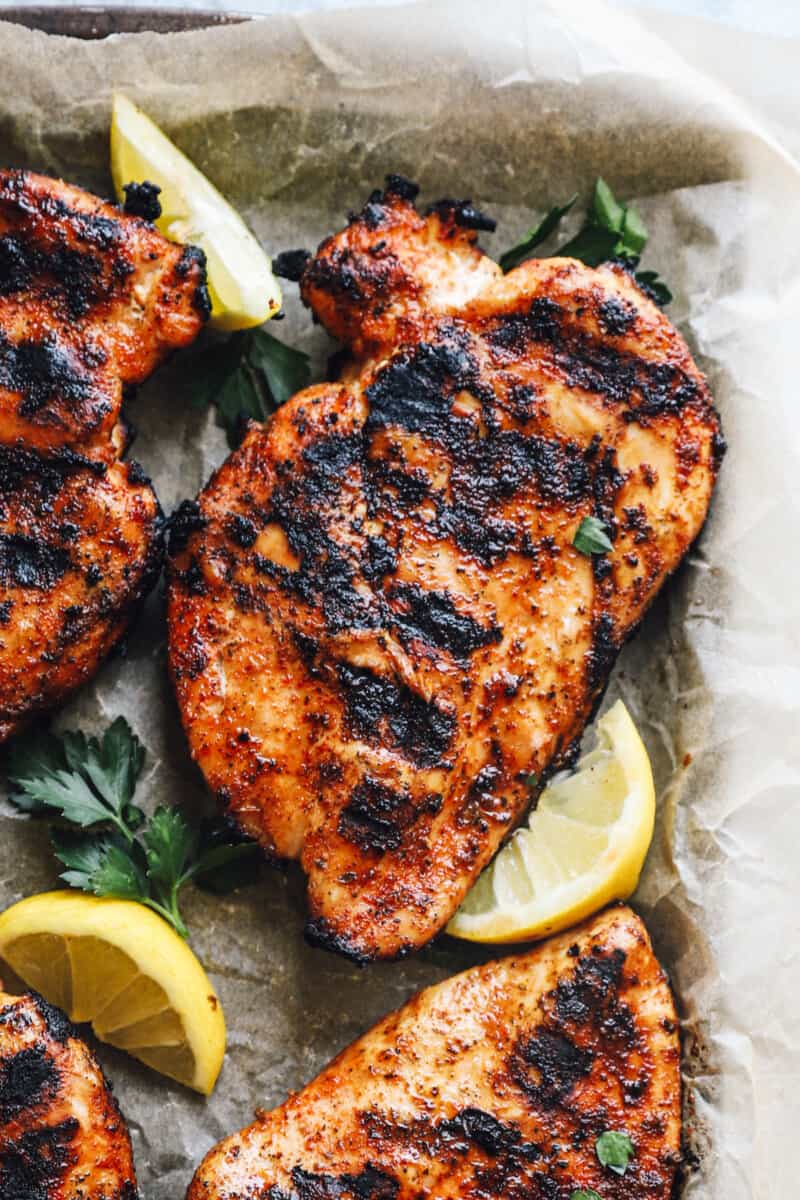 Make Ahead Instructions
You can make grilled chicken breasts up to 1 day in advance of when you plan to serve them. Store in an airtight container in the refrigerator until ready to reheat.
Storage Instructions
Store leftover grilled chicken breasts in an airtight container in the refrigerator for up to 3 days. Reheat on the grill or in a 300°F oven for 8-10 minutes, until 165°F internally.
Freezing Instructions
Freeze grilled chicken breasts in an airtight container or Ziplock bag for up to 3 months. Let thaw overnight in the refrigerator before reheating.
Make It A Meal
Tips for the Best Grilled Chicken Breast
Note that all grills are different, so cooking times are approximate. I recommend having an instant-read thermometer on hand for the best results.
Your chicken breasts will continue to cook for a few minutes after you take them off the grill, so you can remove them when they reach 160°F internally.
Let the chicken rest for 5-10 minutes before cutting into it. This will seal in the juices.
Slice grilled chicken against the grain. This keeps the meat tender.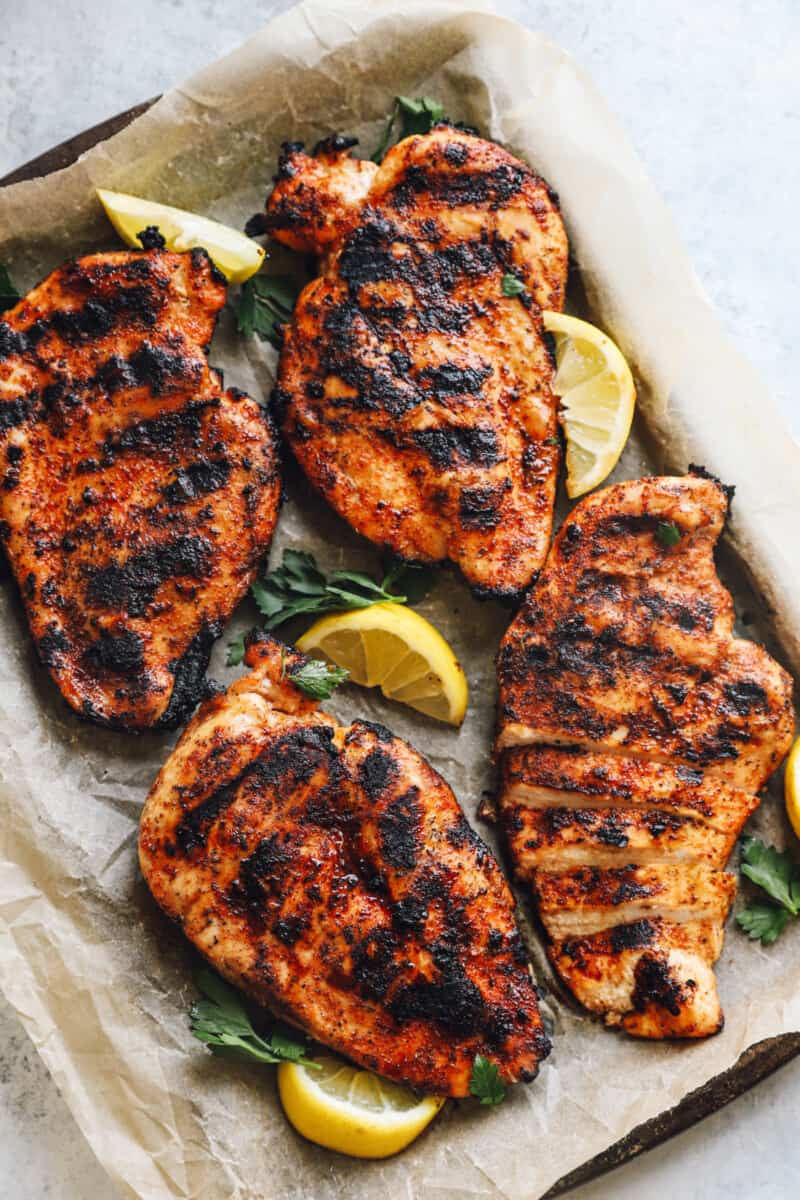 Keep things simple, easy, and delicious with this easy Grilled Chicken Breast recipe! Pair it with the side dish of your choice for a classic weeknight dinner that always hits the spot.
If you make this recipe be sure to upload a photo in the comment section below or leave a rating. Enjoy!