Carnitas are a juicy and flavorful Mexican pulled pork that's perfect for serving on tacos with your favorite toppings. Pork shoulder is rubbed with a simple seasoning mix, seared, covered with a citrus-y juice and beer mixture, then cooked on the stove until incredibly tender. This pork carnita meat will melt in your mouth!
What's in this Carnitas Recipe?
Classic Mexican seasonings meld with acidic lime juice and orange juice, savory chicken broth, and mild beer to create an irresistible-tasting pulled pork that's perfect for tacos, burritos, and more!
Pork Shoulder: The best cut of pork for making carnitas is pork shoulder. The fat helps to keep the meat moist while it cooks, and it also adds flavor. You can also use pork butt.
Spices: Chili powder, cumin, kosher salt, oregano, onion powder, and ground black pepper meld together to create a delicious spice rub for the pork.
Garlic: Adds an earthy flavor.
Lime Juice: Adds an acidic zing!
Chicken Broth: Forms the base of the braising liquid. You can use vegetable or beef broth instead if you prefer.
Orange Juice: Adds a bright, citrusy flavor and helps to tenderize the pork. The sugars in the orange juice also help caramelize the pork under the broiler.
Beer: Use a light or medium-bodied lager or pilsner. These types of beers have a mild, slightly sweet flavor that complements the pork without overpowering it.
Vegetable Oil: Helps the pork brown without burning.
Onion: Adds a subtle sweetness.
Pro Tip: You can use a pre-made seasoning blend, like Sazón Goya, in place of the spices.
What's the best cut of pork for carnitas meat?
While pork shoulder (or butt) is the traditional cut for carnitas meat, you can experiment with other cuts, such as pork loin or pork tenderloin. Just keep in mind that leaner cuts may not turn out as tender or juicy.
I recommend adding an extra 2-4 tablespoons of fat to your pork and an extra cup of liquid (broth, beer, or water) to help compensate.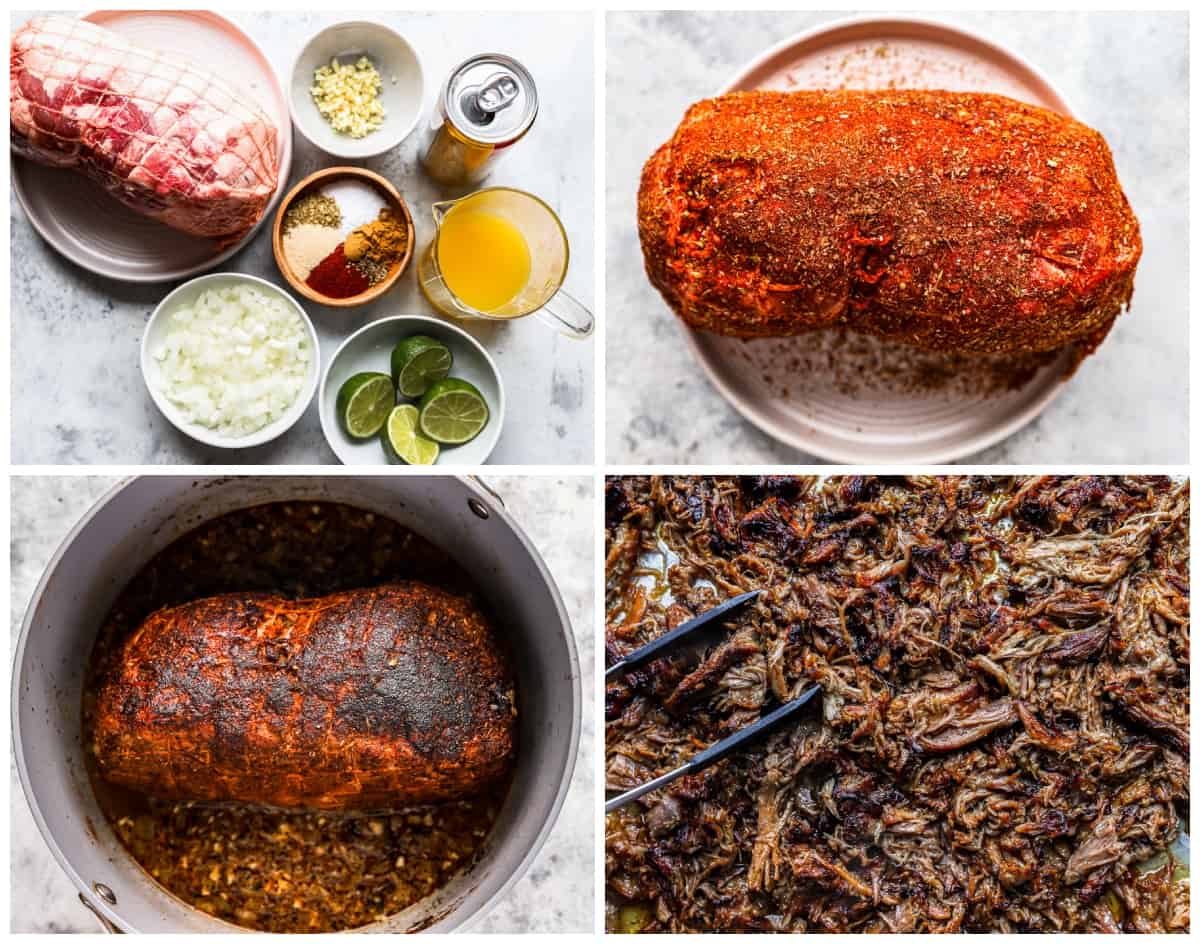 What is carnitas?
Carnitas is a Mexican dish that consists of slow-cooked pork that has been seasoned with various herbs and spices. The pork is typically cooked until it is tender and falls apart easily, and it is traditionally served in small pieces, either as a filling for tacos, burritos, or as a main dish with rice and beans.
Is carnitas pork?
Yes, carnitas is a dish made with pork. The word "carnitas" literally translates to "little meats" in Spanish, and it typically refers to slow-cooked, shredded or chopped pork that has been seasoned with various herbs and spices.
What is carnitas vs barbacoa?
While both dishes are slow-cooked and seasoned with herbs and spices, the main difference between carnitas and barbacoa is the type of meat used. Carnitas is made with pork, while barbacoa is traditionally made with beef, lamb, or goat.
Is carnitas spicy?
That depends! The spice blend used in this recipe gives this dish just a bit of heat, but you can make it spicier by adding cayenne pepper, jalapeños, or serranos.
How do I crisp up the edges of my carnitas?
To crisp up the edges of the carnitas, we spread them out onto a baking sheet and broil them in the oven!
Can I freeze leftover carnitas?
Yes, carnitas freezes well for up to 2 months!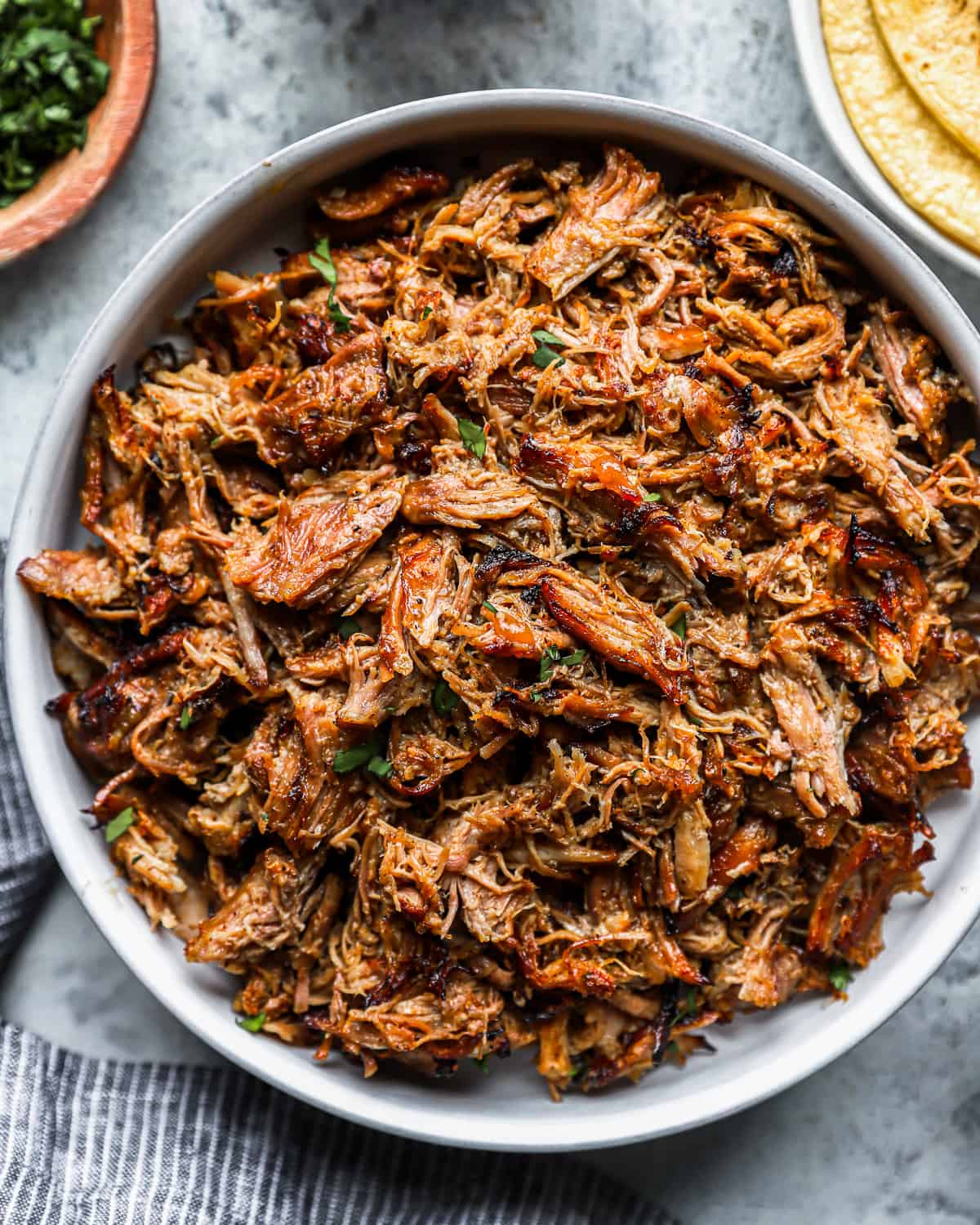 How to Store and Reheat
Store leftover carnitas in an airtight container in the refrigerator for up to 3 days. Reheat in 30-second increments in the microwave until hot.
How to Freeze
Freeze carnitas meat in an airtight container or Ziplock bag for up to 2 months. Let thaw overnight in the refrigerator before reheating.
Serving Suggestions
This pork carnitas is perfect for tacos, burritos, or taquitos. Enjoy it on top of a taco salad or burrito bowl, or even make Mexican pulled pork sandwiches with it. Add some salsa or pico de gallo and sour cream on top!
Serve with a side of cilantro rice, refried beans, or Mexican corn on the cob for a complete meal.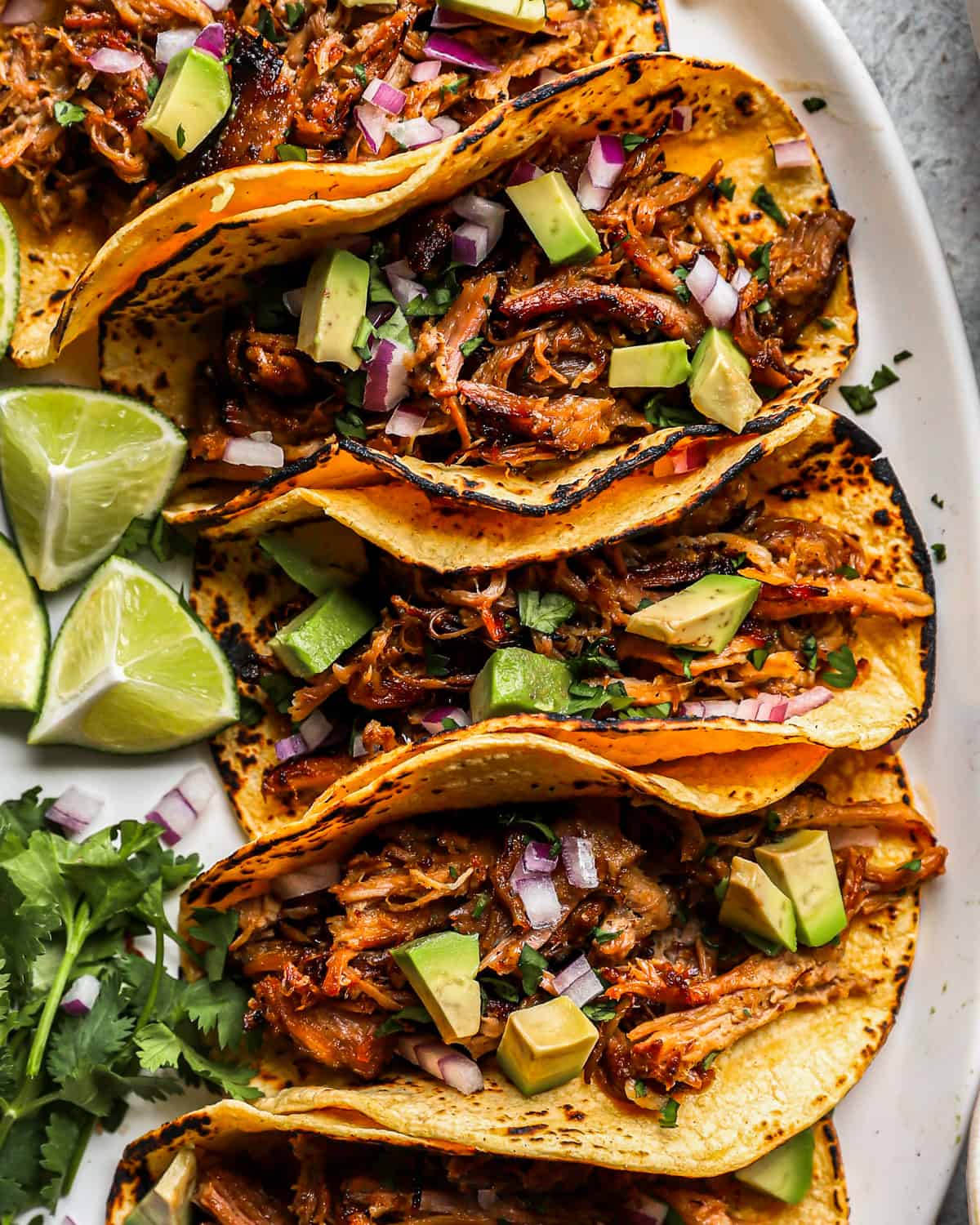 More Carnitas Recipes We Love