This Apple Pie Bread Pudding recipe is the perfect holiday dessert! We love bread pudding around here, so we added this Caramel Apple Bread Pudding to our recipe collection. It's good for dessert, or even for Christmas morning breakfast!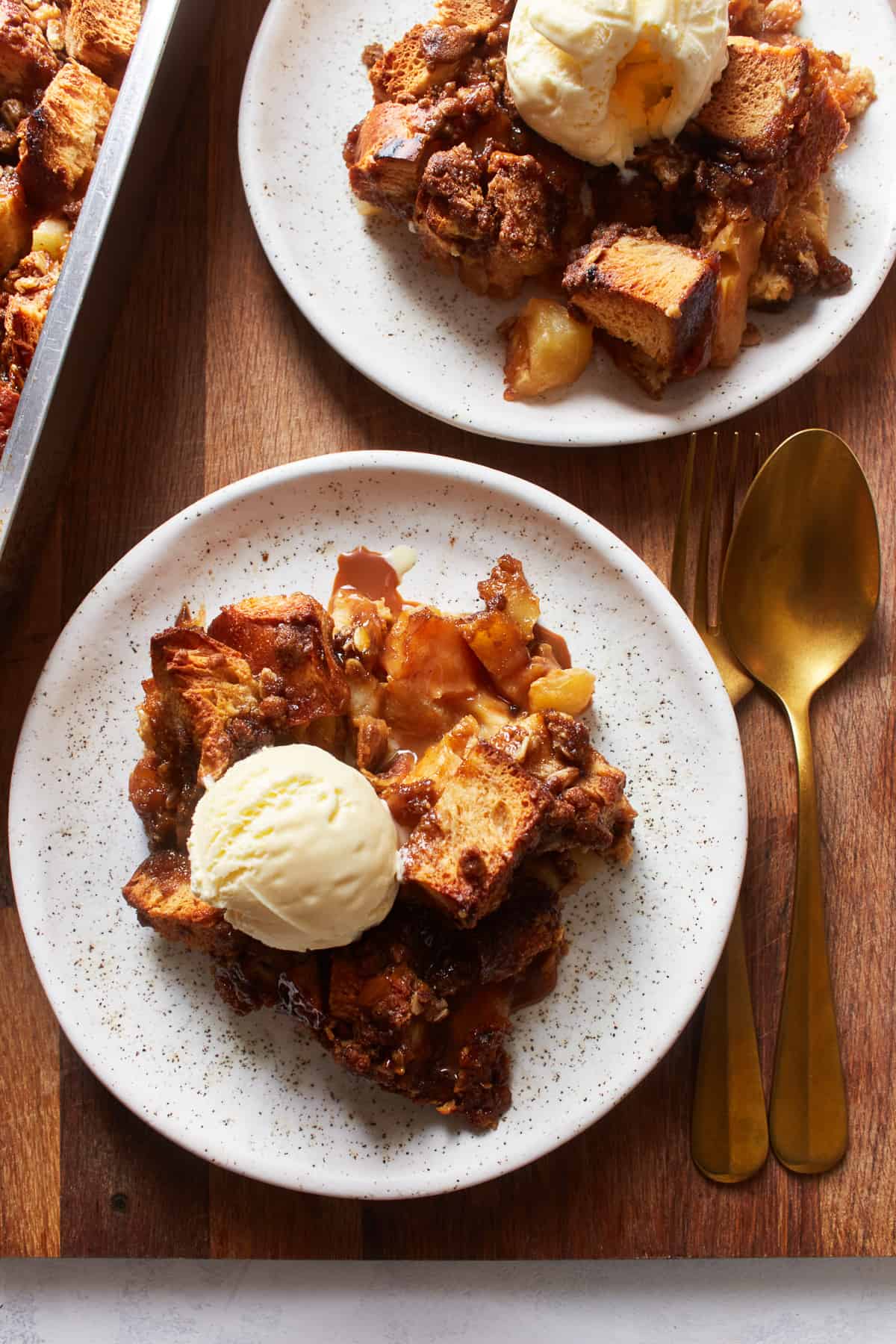 Apple Pie Bread Pudding
Caramel Apple Pie Bread Pudding brings together two desserts we love: classic bread pudding and apple pie flavors.
I'm so excited about this Apple Pie Bread Pudding recipe! I'm married to a huge bread pudding lover. Every time we go out to eat, this guy wants to order bread pudding. It doesn't matter what flavor, he's going to get it. So I've been working hard to come up with some fun recipes of my own to make at home!
You might remember my recipe last week for Hot Chocolate Bread Pudding, or my Irish Bread Pudding with Caramel Whiskey Sauce. I have a recipe for Pineapple Bread Pudding too. That's just not enough though. Today I bring you CARAMEL APPLE BREAD PUDDING! It's ooey, gooey, comforting, and delicious. Apple Pie is the perfect flavor for the fall season.
This Apple Pie Bread Pudding is so good all on its own, but adding a scoop of vanilla ice cream on top just brings it to the next level. It's one seriously delicious holiday dessert. I have a happy husband with this one!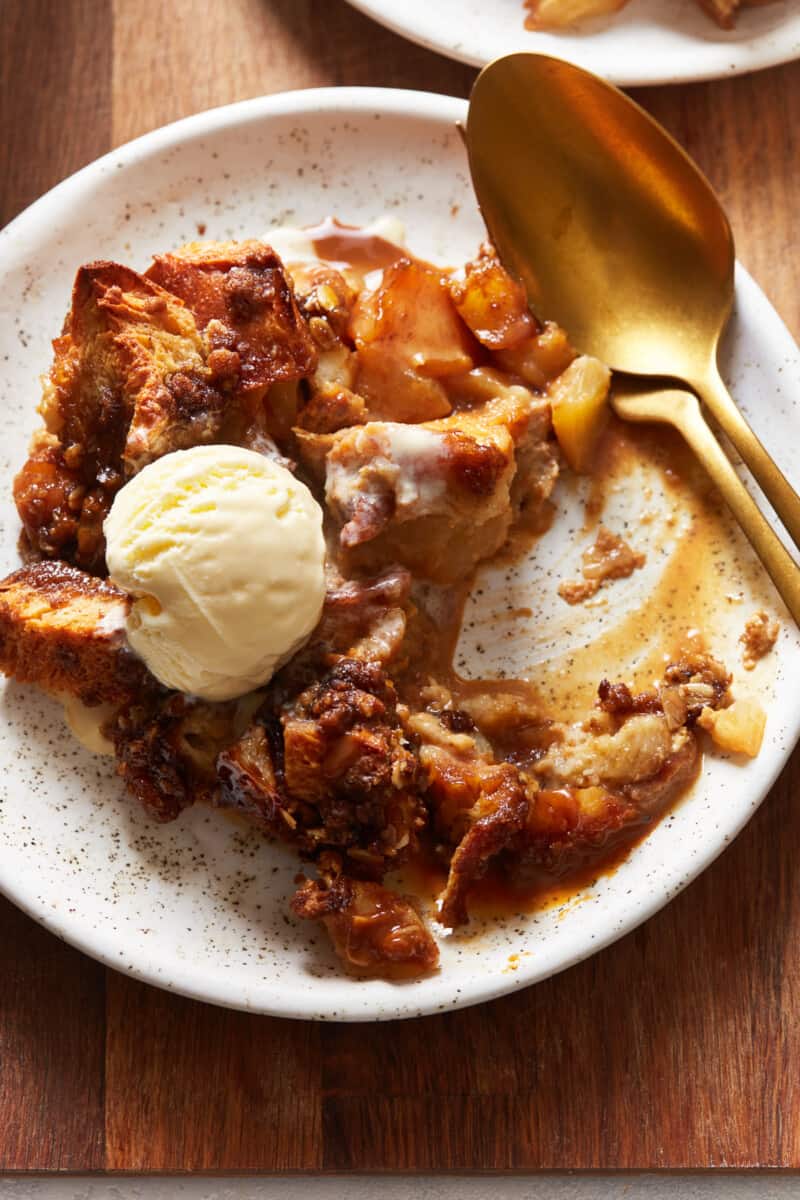 Caramel Apple Bread Pudding
If you've never had bread pudding before, start with this recipe. Not only is it easy, but it's incredibly delicious. I just love the caramel apple flavor. It's exactly what I want to be eating during the fall season! The flavors soak into the bread and it becomes so gooey and delicious…yum! Talking about this apple pie bread pudding just makes me hungry. Is it time for dessert yet?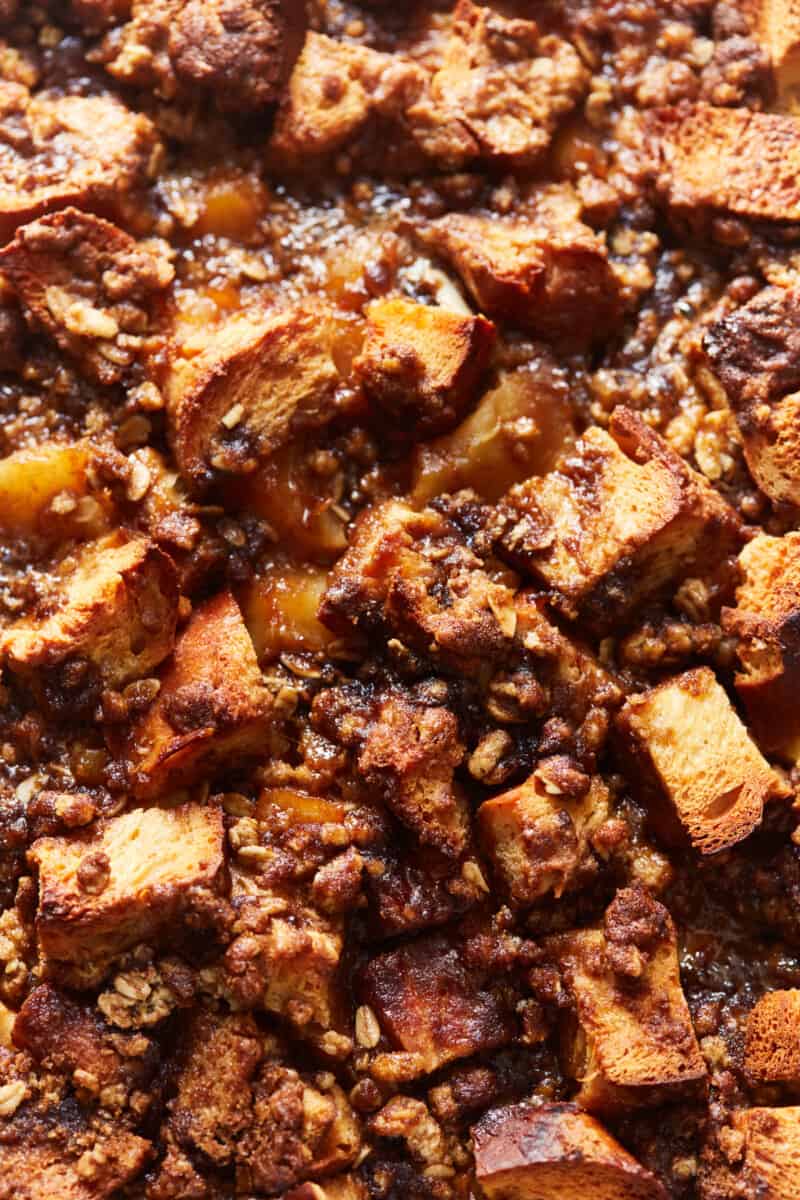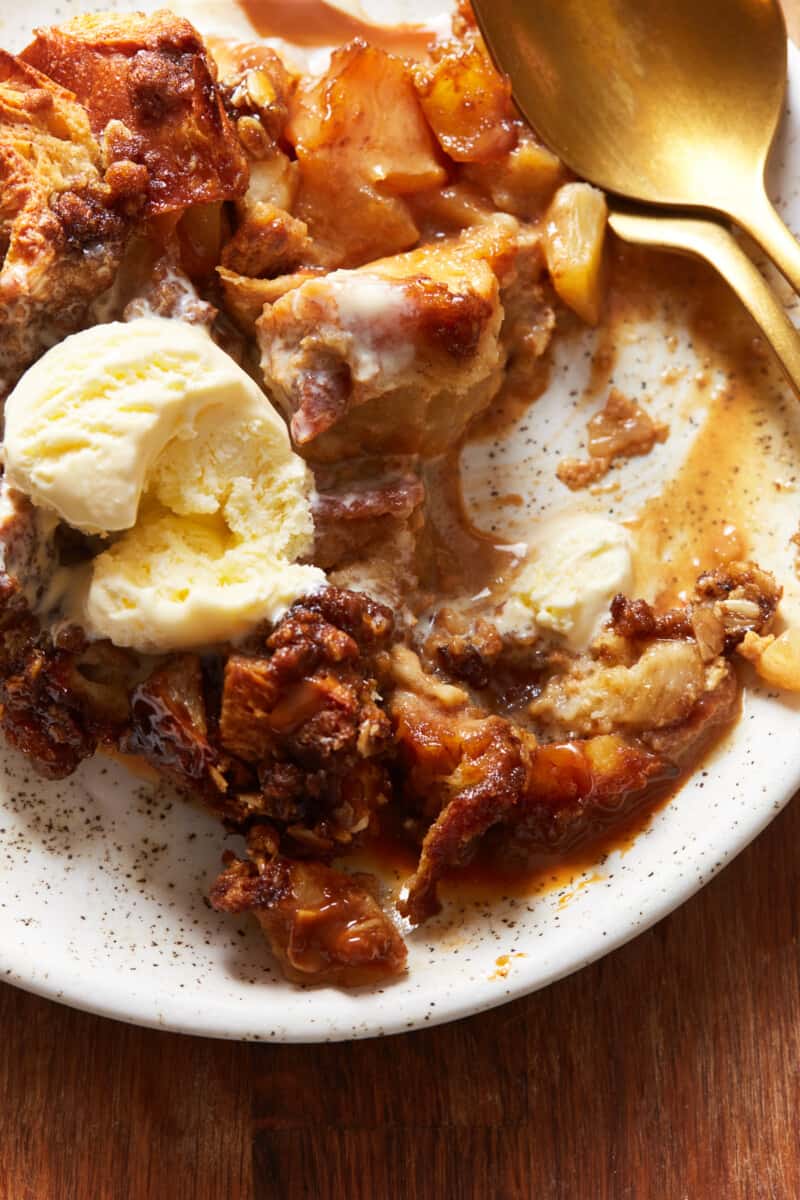 Bread pudding is one of those easy desserts you can prep ahead of time, and then finish off when you're almost ready to serve. So on the holidays, you can make it the day before, let it sit in the fridge overnight, and then just bake it before serving!
How to Make Apple Pie Bread Pudding
Be sure to see the recipe card below for full ingredients & instructions!
Cut bread into cubes, then line the bottom of your baking dish with a layer of bread.
Cut up the apple pie filling while it's still in the can, then spoon it over the layer of bread cubes.
Pack on another layer of bread cubes.
Whisk together eggs, cream, apple cider, vanilla extract, caramel, and cinnamon in a mixing bowl, then pour the mixture over the bread pudding.
Cover the dish with foil and let it sit in the refrigerator for at least 2 hours, or overnight.
When ready to bake, take the bread pudding out of the refrigerator and let it sit out while the oven preheats to 350°F.
Combine melted butter, brown sugar, and granola in a bowl and then spread it on top of the apple pie bread pudding.
Bake 40-50 minutes.
You can serve it alone or with some ice cream on the side, then drizzle with homemade caramel sauce. I love it hot and fresh out of the oven, but honestly, it tastes pretty amazing cold too. So keep those leftovers! Check the recipe card below for full instructions.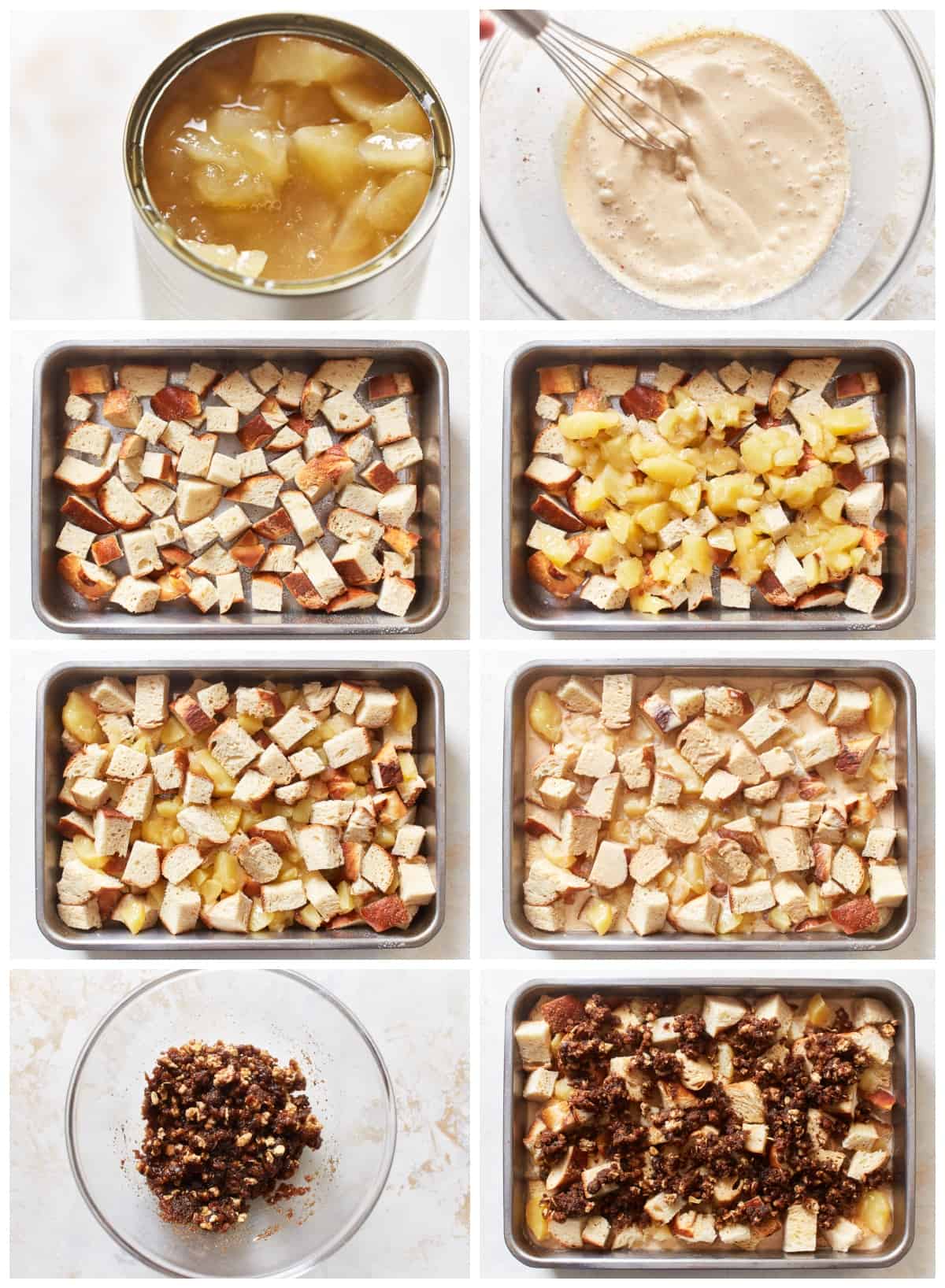 Christmas Breakfast Recipes
I made this as a bread pudding, but it can also pass for a french toast casserole. SO…let me give you permission now to eat this as breakfast. You'll thank me later. I love making fun breakfasts for Christmas morning, because I think everyone deserves to indulge. So this caramel apple bread pudding is perfect! Especially since you can make it the night before, then just bake it when you wake up.
Here are some other easy breakfast recipes for Christmas morning: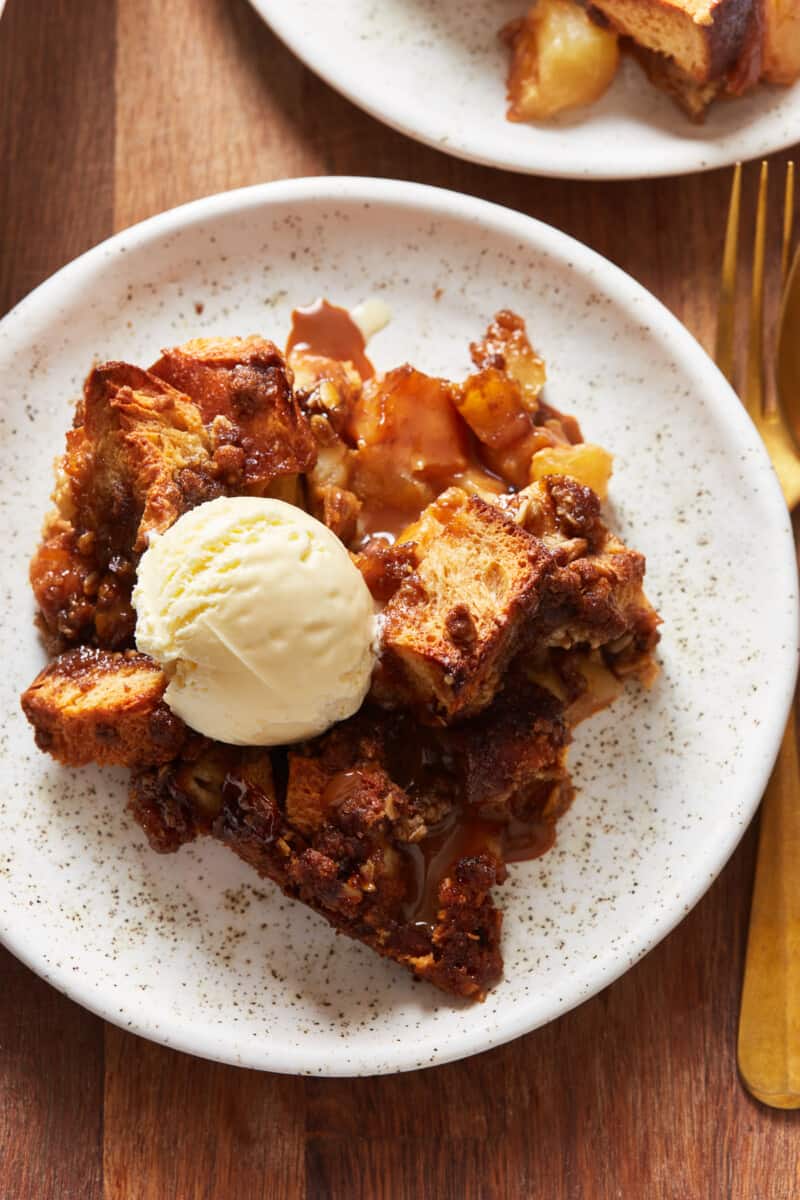 So whether you eat this for breakfast, brunch, or after dinner dessert, I hope you enjoy! It's perfect for the holidays and perfect for a crowd. Merry Christmas!
If you like this recipe, you'll love these other apple pie flavored recipes too:
If you make this recipe be sure to upload a photo in the comment section below or leave a rating. Enjoy!