CARAMEL APPLE PIE BREAD PUDDING! Perfect for dessert, or even breakfast!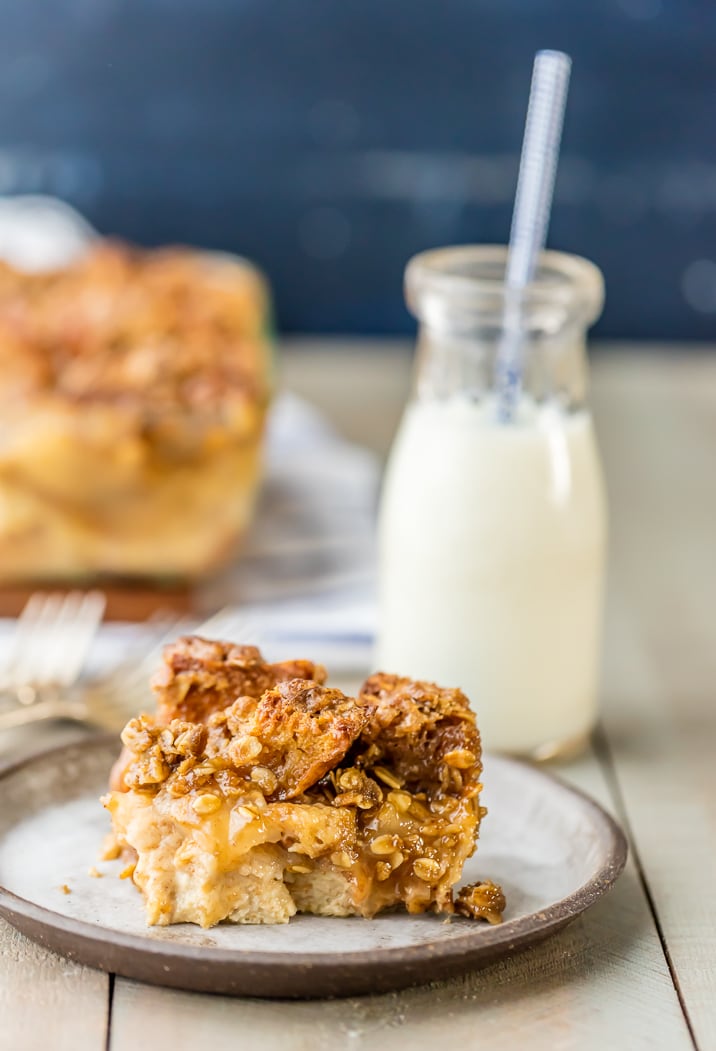 I'm married to a huge bread pudding lover. Every time we go out to eat, this guy wants to order bread pudding. It doesn't matter what flavor, he's going to get it. So I've been working hard to come up with some fun recipes of my own to make at home! You might remember my recipe last week for Hot Chocolate Bread Pudding (!!!!), and today I bring you CARAMEL APPLE PIE BREAD PUDDING! It's ooey, gooey, comforting, and delicious. Perfect on it's own or topped with vanilla ice cream. I have a happy husband!
I made this as a bread pudding, but it can also pass for a french toast casserole. SO…let me give you permission now to eat this as breakfast. You'll thank me later.
So much goodness in there. Can you just taste it?!
So whether you eat this for breakfast, brunch, or after dinner dessert, I hope you enjoy! It's perfect for the holidays and perfect for a crowd.
Merry Christmas!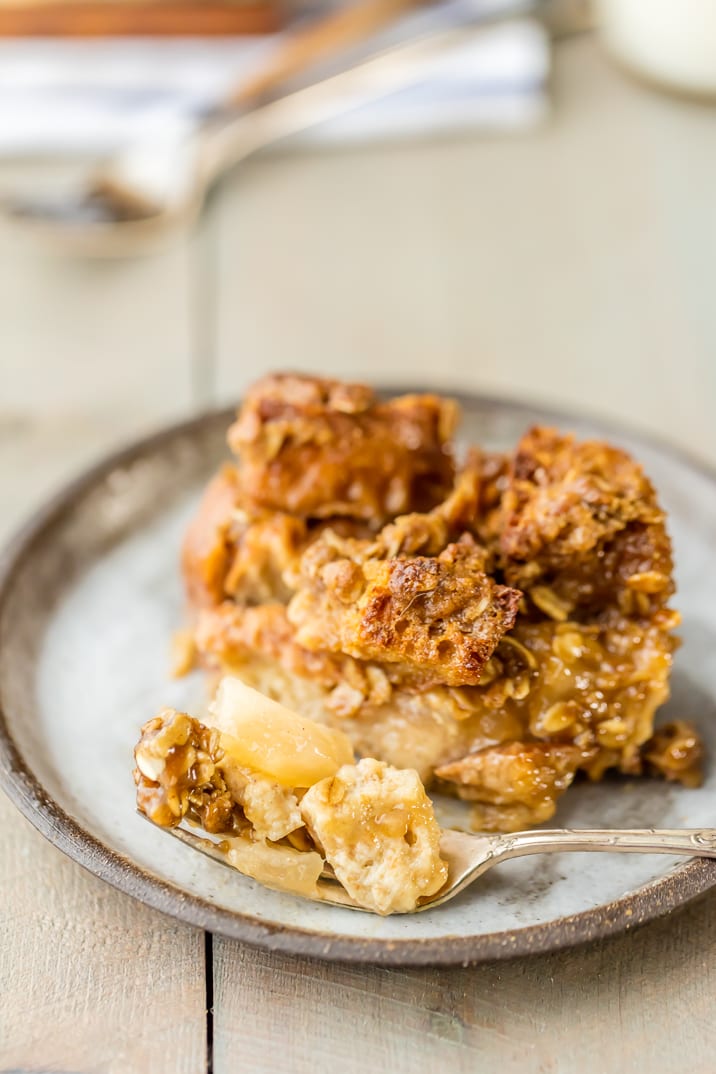 Caramel Apple Pie Bread Pudding
45 minCook Time
45 minTotal Time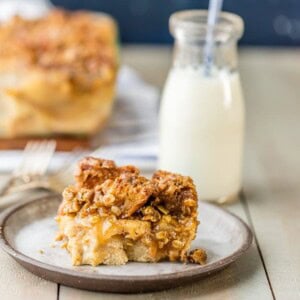 5 based on 1 review(s)
Ingredients
10 cups cubed french bread (or use cinnamon swirl bread!!)
1 can (14 oz) apple pie filling
4 eggs
1 cup heavy cream
1 cup apple cider
3 tablespoons caramel ice cream topping
2 tsps vanilla
1 tsp cinnamon
1/2 cup granola or oats
1 cup brown sugar
1/2 cup butter, melted
Instructions
Spray a 9x13 inch baking dish with nonstick spray.
Line your dish with one layer of bread cubes.
Take a knife and cup up the apple pie filling, while still in the can. Spoon the apple pie filling onto the bread layer. It doesn't have to be perfect, Just spread the apples about.
Top the apple with another layer of bread and pack tightly.
In a separate bowl, whisk together the eggs, cream, cider, caramel, vanilla, and cinnamon. Whisk until well combined.
Pour mixture over the bread.
Cover with foil and let chill in the fridge for at least 2 hours or overnight.
When ready to prepare, take bread out of the fridge and let rest on the counter while you preheat oven.
Preheat oven to 350F.
Mix together melted butter, brown sugar, and granola. Spread over the top of the bread. Again, doesn't have to be perfect.
Bake for 40-50 minutes, or until bread is fully toasted and eggs are set.
Serve warm with ice cream if so inclined. Enjoy!
7.6.7
1927
https://www.thecookierookie.com/apple-pie-bread-pudding/
 Looking for other bread pudding recipes? Give this one a try: