Meatball Subs made with real homemade meatballs just can't be beat! Marinara sauce, mozzarella cheese and flavor-packed meatballs are all served in a warm and toasty sub. Perfect for both gameday and fun family dinners at home!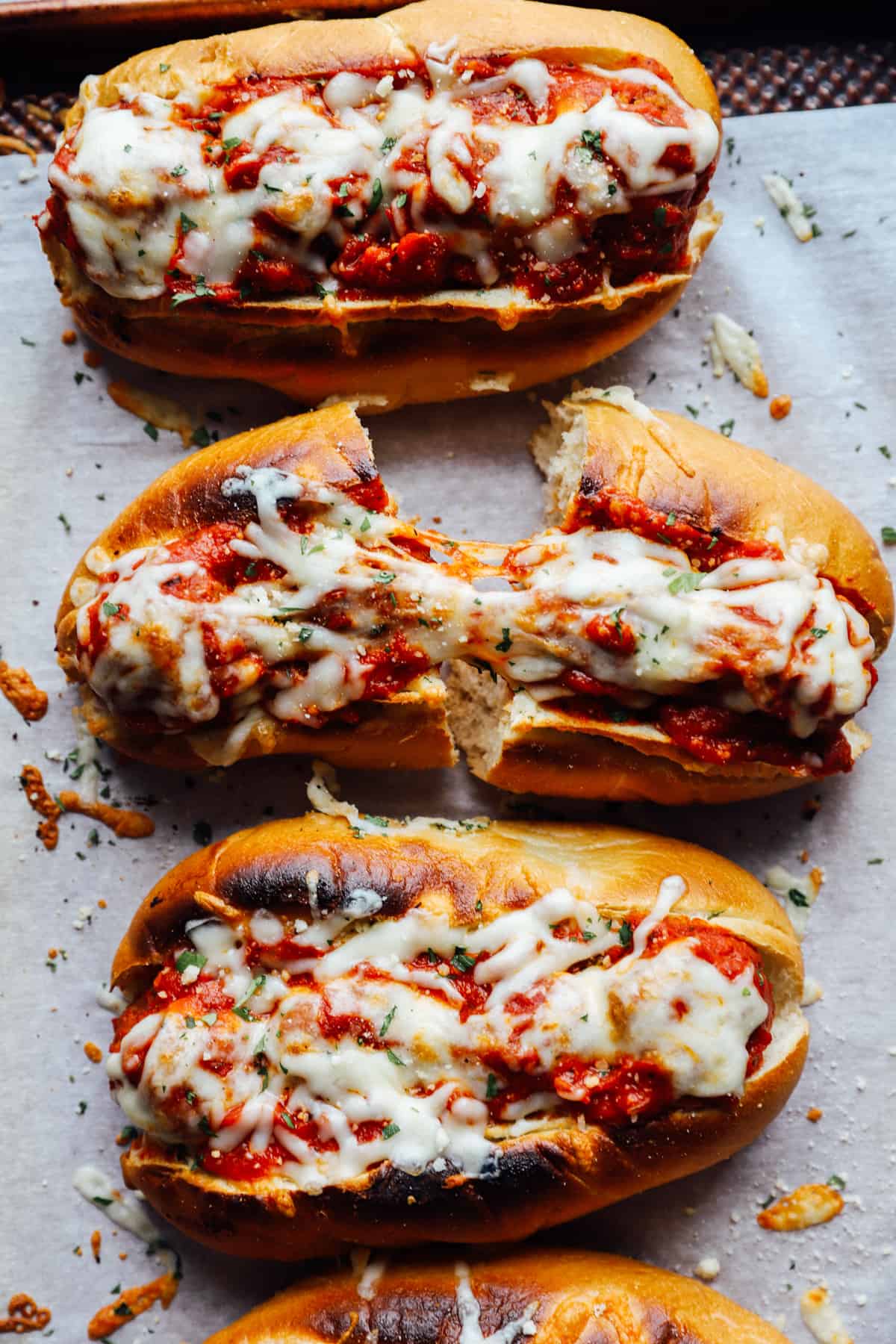 What's in a Meatball Sub?
The magic of these easy-to-make sub sandwiches lies within the homemade meatballs. The herbs, seasonings, and consistency all work together to create the best bite every time! When paired with bold marinara sauce and mozzarella cheese on a toasted hoagie bun, every bite of these easy meatball subs becomes pretty irresistible.
Ground Beef: I like to use 85% lean ground beef, but you could opt for leaner beef if you prefer. You could also use turkey or chicken for a healthier take.
Onion: Adds delicious flavor and bite to the meatballs.
Parsley: Fresh parsley brightens up the flavor of the meatballs.
Salt: Kosher salt enhances the natural flavor of the beef. If using a finer salt, like sea salt or table salt, reduce the amount by half.
Breadcrumbs: Breadcrumbs help to absorb the juices from the meat as the meatballs cook, locking in moisture and ensuring the meatballs aren't too dense. I used Panko breadcrumbs, but Italian or plain breadcrumbs also work well.
Cheese: Parmesan cheese adds a salty, umami flavor to the meatballs, while freshly shredded mozzarella cheese melts to gooey perfection on top of the subs. Feel free to use Parmesan or provolone cheese in place of the mozzarella if you prefer.
Seasonings: Onion powder, garlic powder, and Italian seasoning give these meatballs a classic Italian flavor.
Egg: A beaten egg helps to bind the meatballs together so that they don't crumble apart in the oven.
Sauce: Homemade marinara sauce is the best way to top these meatballs, but you could also use your favorite store-bought sauce to save time.
Rolls: Hoagie rolls are the perfect size for these homemade meatball subs, but you could use sub rolls or even hotdog buns instead.
Basil: Fresh basil adds a fresh herbal note to these subs. It's the perfect topping!
Pro Tip: This recipe works well with frozen meatballs as well. Cook them according to the package, then continue the recipe starting from step 5!
Variations on Homemade Meatball Subs
There are so many fun ways to change up these meatball subs. My favorite way is to add toppings. Try pickles, frizzled onions, sautéed bell peppers, or banana peppers. You could also switch up the sauce for pesto or alfredo sauce. The possibilities are endless!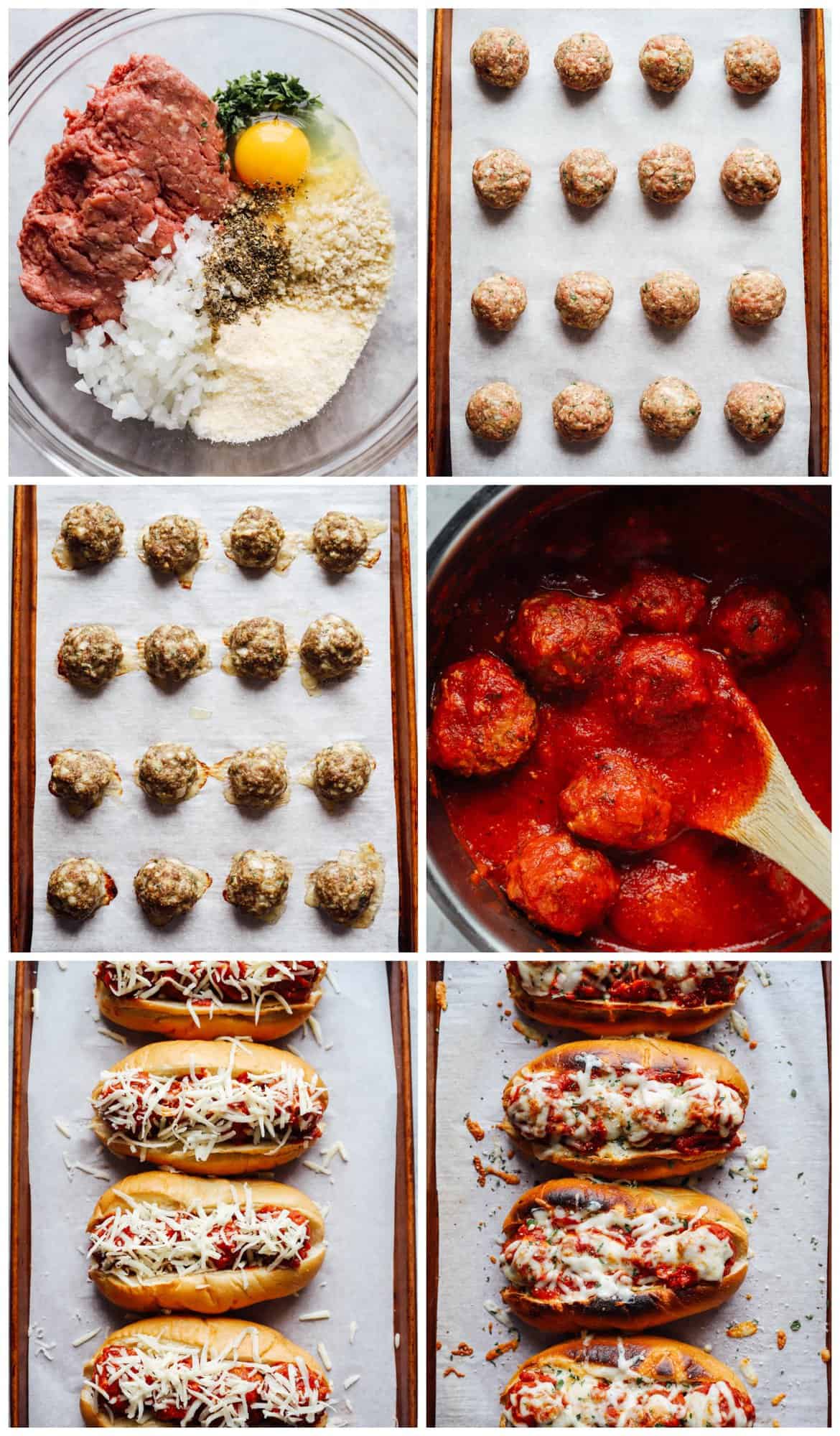 What's the best bread for meatball subs?
The best bread for meatball subs is a long roll, like a submarine sandwich bun or a hoagie roll. In a pinch, a hotdog bun will work if you halve or quarter the meatballs.
How many calories in a meatball sub?
Each meatball sub contains 729 calories. The total calorie count will vary based on the type of sauce and rolls you choose.
What cheese goes on meatball subs?
I like a mix of mozzarella and Parmesan, but you can also use provolone!
What sauce do you use for meatball subs?
The classic sauce for a meatball sub is marinara sauce. To save time, you can use your favorite store-bought sauce, or if you have some time, try my homemade marinara sauce recipe!
Can I make meatball subs with frozen meatballs?
You sure can! Bake the meatballs according to the instructions on the package, then follow the recipe from step 5!
How do you keep meatball subs from getting soggy?
Meatball subs are saucy! I always recommend assembling them just before serving to prevent sogginess. You can also baste the interior of the rolls with butter or garlic butter and toast them before adding the meatballs to help prevent sogginess.
What goes with meatball subs?
Meatball subs are great with a wide variety of sides! Salad, soup, fries, and coleslaw are all great options!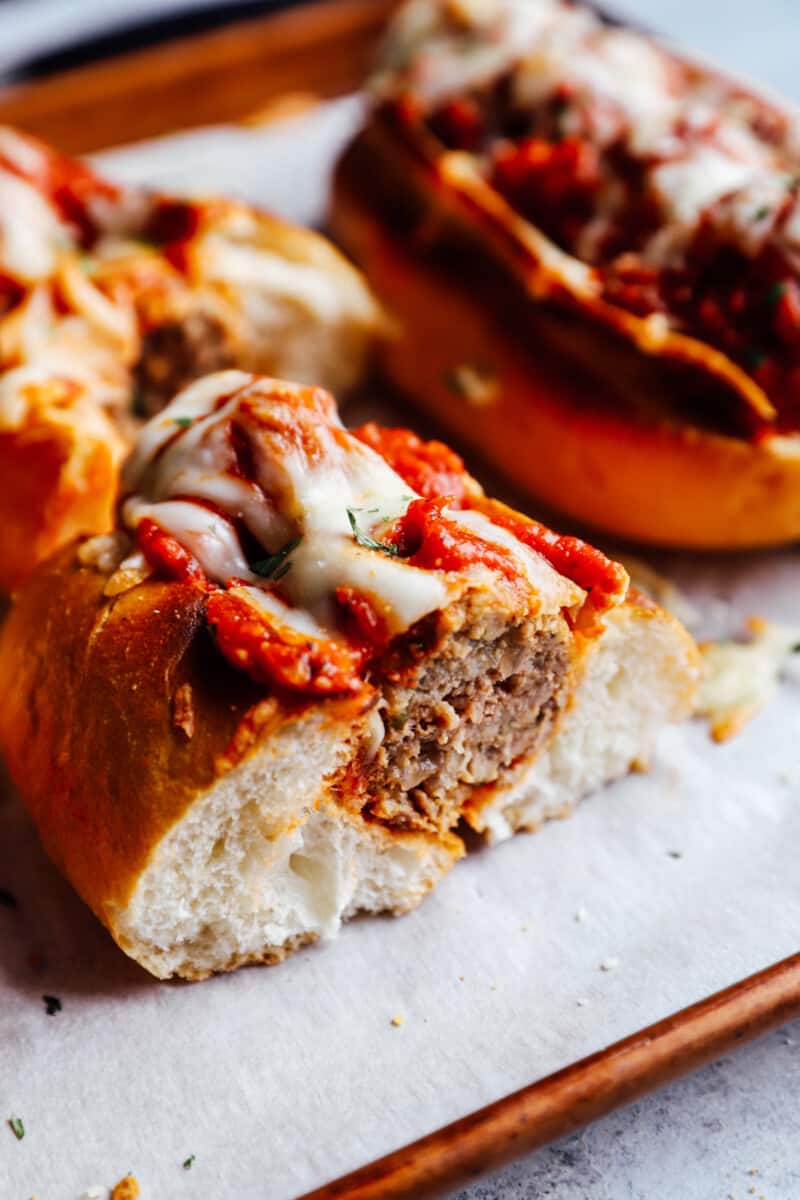 How to Make Ahead and Store Easy Meatball Subs
The meatballs can be cooked up to 1 day in advance and stored in an airtight container in the refrigerator until ready to reheat and serve.
Store leftover meatballs and marinara sauce in an airtight container in the refrigerator for up to 4 days.
How to Freeze and Reheat a Meatball Marinara Sub
Freeze cooked meatballs in a single layer on a lined baking sheet until solid, about 1-2 hours. Transfer to an airtight container or Ziplock bag to store for up to 3 months. Let thaw overnight in the refrigerator before reheating in a saucepan set over medium-low heat until warmed through. Assemble the subs just before serving.
Sides for Meatball Subs
These meatball subs are so hearty and filling. They're great on their own or served with light sides, like copycat Olive Garden salad, kale Caesar salad, Italian pasta salad, coleslaw, garlic Parmesan fries, or lemon Parmesan roasted broccoli. Or try them served with a soup, like Zuppa Toscana, tomato soup, or sausage lentil soup.
More Meatball Recipes We Love