This Dill Pickle Pasta Salad recipe will be the star of potluck season thanks to a creamy dressing packed with a briny, tangy bite. This is the perfect side dish for hot dogs and hamburgers, from a summer picnic to a graduation cookout.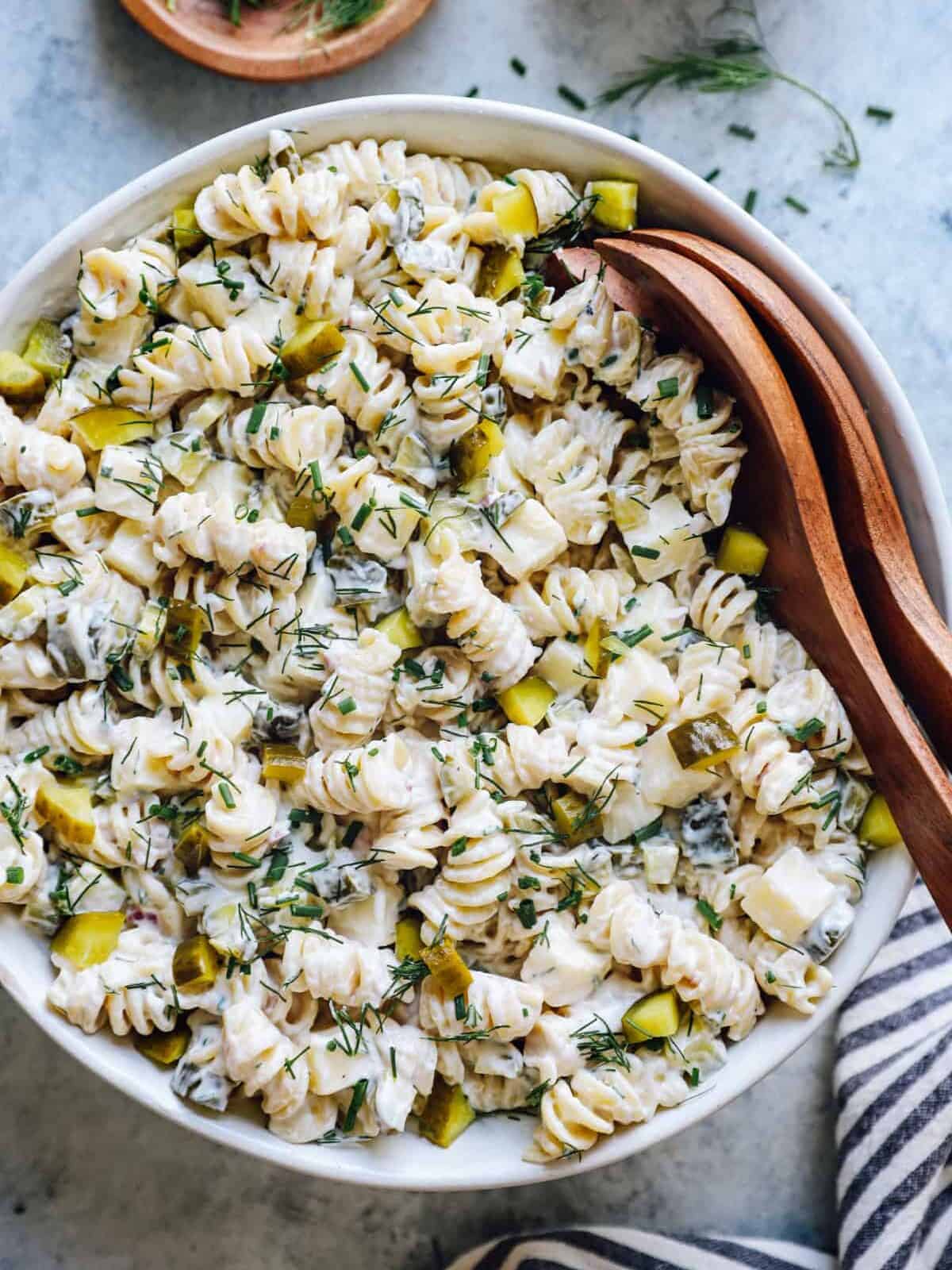 What's in Pickle Pasta Salad?
This pasta salad is filled with plenty of crunchy dill pickles, of course! Plus a creamy mayo dressing, fresh herbs, white onion, and your favorite type of pasta.
Rotini: The ridges hold all the dressing and ingredients in place for a tangy bite. You can use any short pasta you like, including macaroni or penne.
Dill Pickles: Juicy, tangy dill pickles are the way to go! Chop into bite-sized pieces. Try using homemade pickles for even more flavor.
Cheddar Cheese: Cubes of white cheddar cheese add a delicious bite.
Fresh Dill: A little boost of fresh dill intensifies the flavor.
Fresh Chives: For a mild touch.
Mayonnaise: This is the base of the creamy pasta salad dressing. I recommend real mayonnaise for this recipe.
Sour Cream: This adds extra creaminess.
Pickle Juice: There's no such thing as too much dill flavor in this cold salad.
Onion: Use finely diced white onion.
Garlic: 2 cloves is plenty here.
Salt + Black Pepper: As always, to taste.
Pro Tip: If you're worried about raw onions having too much bite, soak them in ice water for 10 minutes before adding to the dressing!
Variations on Creamy Dill Pasta Salad
This dill pickle pasta salad is so easy to modify to your liking!
Go ahead and switch up the cheese to change the flavor profile slightly. I like pepper jack, provolone, Swiss, or Colby Jack cheese too.
Try adding some fresh veggies, like cherry tomatoes, celery, carrot, bell pepper, or red onion, to stretch this salad further. They add a pop of color too!
To make it more filling, try adding a protein, like shredded chicken, canned tuna, or bacon crumbles.
The possibilities are endless!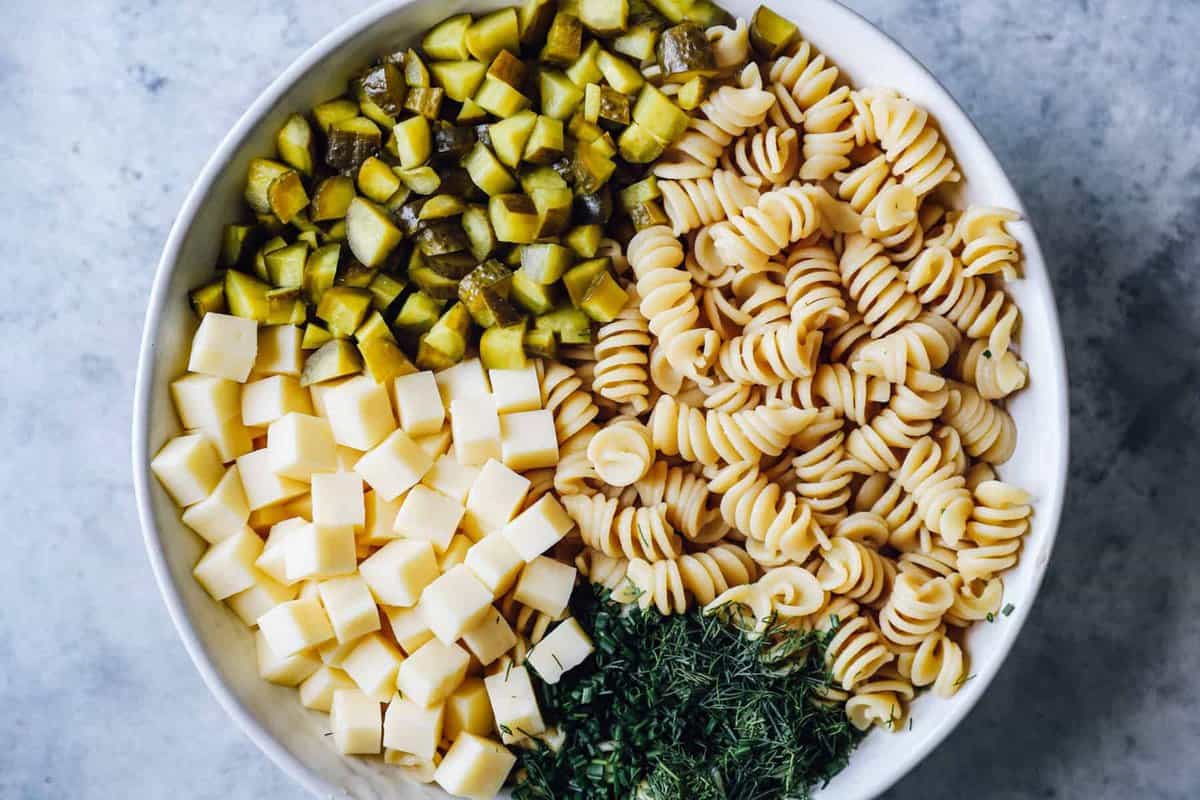 What kind of pasta is best for pasta salad?
Any short-shaped pasta will work here! I like rotini because it really holds the dressing, but macaroni, cavatappi, penne, or bowtie pasta would also work!

Should I rinse the pasta after I cook it?
I recommend rinsing pasta after cooking it if you plan to use it in pasta salad. This helps rinse off any excess starch, and it helps to stop the pasta from overcooking, allowing it to cool much faster.
Can I make dill pickle pasta salad ahead of time?
Absolutely! This pasta salad requires at least 1 hour to chill to the best temperature for eating, but you can leave it overnight to allow the flavors to develop! I think it tastes best the next day.
Can I freeze pasta salad?
I do not recommend freezing this pasta salad, as the texture of the mayonnaise dressing will not be pleasant once thawed.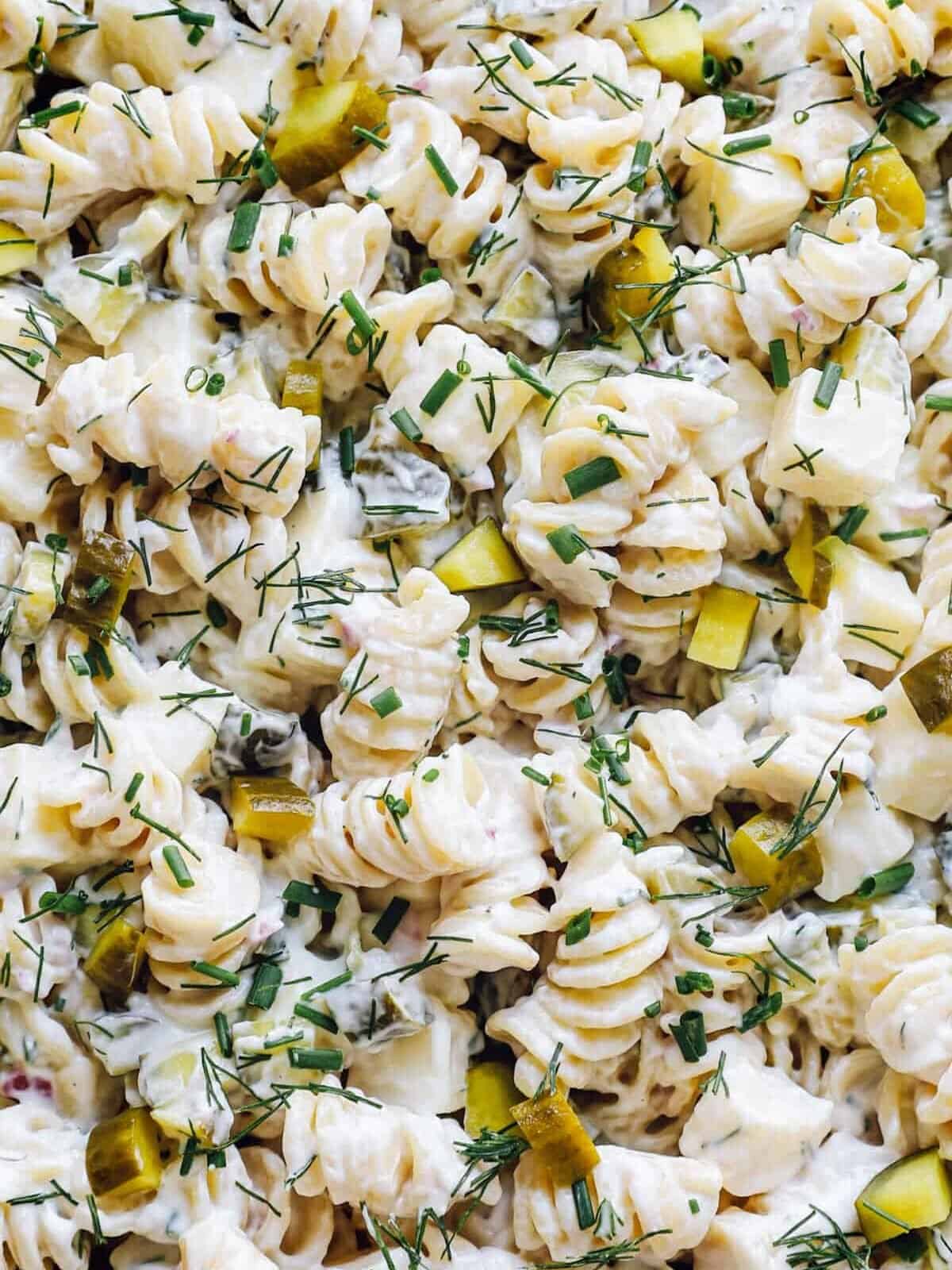 How to Store Pasta Salad with Dill Pickles
Store leftover dill pickle pasta salad in an airtight container in the refrigerator for up to 3 days. Serve chilled for the best taste.
What to Serve with Dill Pickle Macaroni Salad
Surprise everyone with this tangy twist on a classic pasta salad, aka my favorite summer potluck recipe! If you want to go the extra mile, we recommend bringing this Mind Blowing Grilled Corn Salad or a juicy Grilled Peach Salad too. I also love bringing this Lavender Lemonade for the kids and a Summer Wine Slush for the adults!
This dish is also perfect to serve with your favorite burger recipes, hot dogs, or BBQ.
More Pasta Salad Recipes We Love