This Chinese Pepper Steak recipe is a quick and easy stir fry dish that's packed with flavor! Thin strips of tender beef are cooked with onion and bell peppers, then coated in a savory sauce made with soy sauce, ginger, garlic, and more. Serve up your pepper steak in a bowl of rice with green onions, sesame seeds, or your favorite garnishes.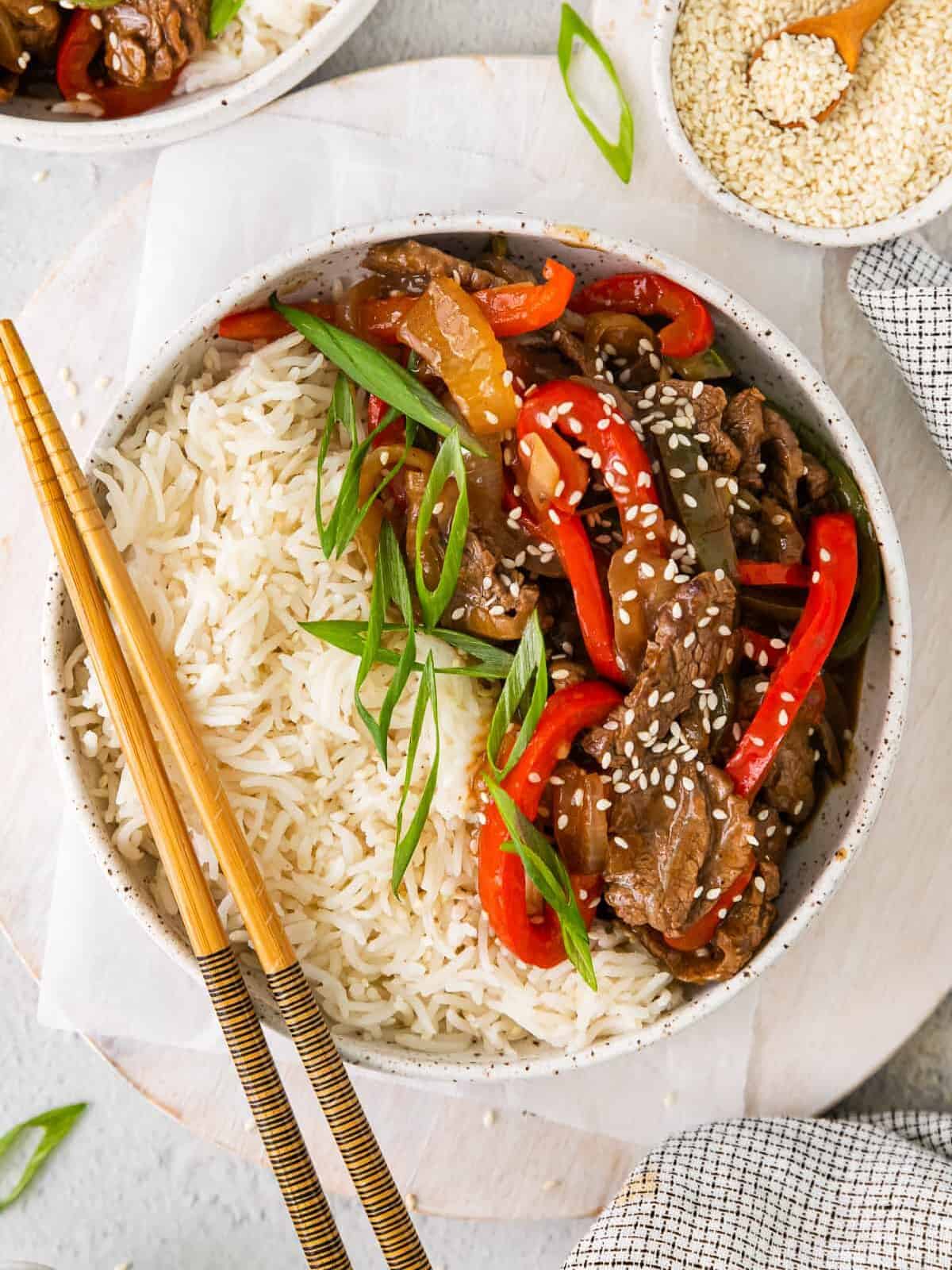 What's in this Pepper Steak Recipe?
Thin strips of steak are cooked in a savory sauce with bell peppers and sweet onions!
Beef Broth: Helps add a rich meaty flavor to our sauce. Vegetable or chicken broth would also work but they don't have as much rich, beefy flavor.
Soy Sauce: Adds a salty umami flavor to the sauce.
Rice Vinegar: Adds acidity to help balance out the richness and saltiness of the sauce.
Sesame Oil: Adds a rich nutty flavor to the sauce.
Cornstarch: Helps thicken the sauce so it turns into a glaze.
Ginger and Garlic: Classic aromatics that add great flavor to the steak.
Steak: I'm using flank steak but you can use a ribeye or New York strip if you prefer.
Olive Oil: Used to sauté the steak and vegetables–feel free to use your favorite neutral cooking oil.
Onion: Adds an earthy bite to the stir fry.
Peppers: I'm using red and green bell peppers but any color will work!
Pro Tip: For a gluten-free version, swap out the soy sauce for tamari or coconut aminos.
Variations on Beef Pepper Steak and Onions
This Chinese pepper steak is super adaptable to any protein. Try making yours with chicken, shrimp, tofu, or mushrooms. Add some chili flakes for a spicier version, pineapple chunks for a pop of sweetness, or coconut milk for a creamy dish!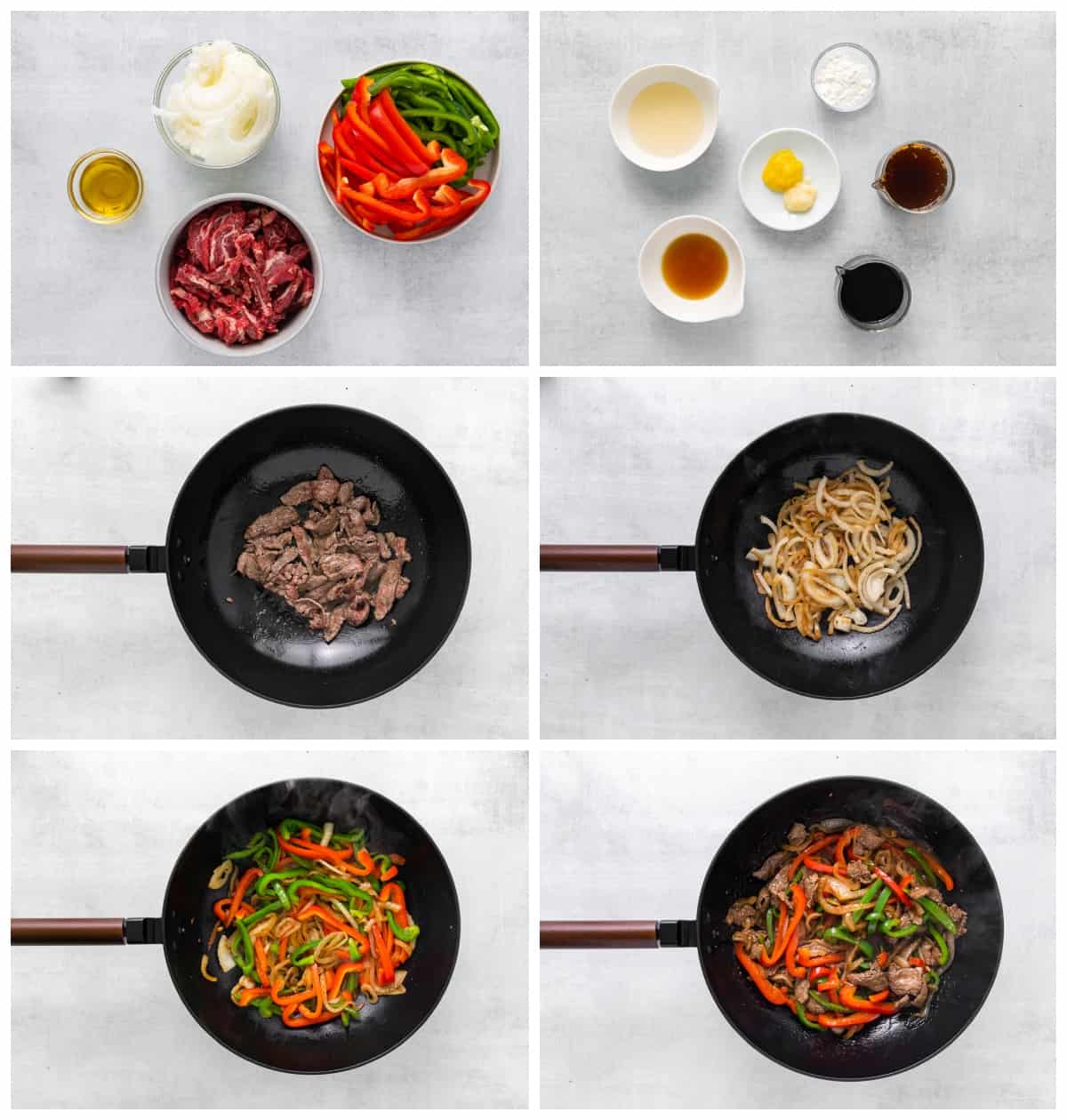 Why is it called pepper steak?
This dish was named for it's two main ingredients: bell peppers and steak!
What cut of steak is pepper steak?
This flavorful steak dish can be made with flank steak, sirloin, ribeye, New York strip, or round steak.
Is this steak a lean meat?
Yes, the cuts of steak used in this dish are lean!
What nationality is pepper steak?
This dish originated in China in the Fujian province.
What is pepper steak sauce made of?
The sauce is made from a flavorful combination of beef broth, soy sauce, rice vinegar, sesame oil, cornstarch, ginger, and garlic.
Why is my steak so tough?
Often, steak turns out tough if the meat is low quality, so make sure to choose a high-quality cut of steak!
Is pepper steak good for you?
This dish is high in protein, potassium, vitamin A, vitamin C, and iron. However, it is also high in saturated fats, cholesterol, and sodium. Enjoy this dish in moderation as part of a balanced diet.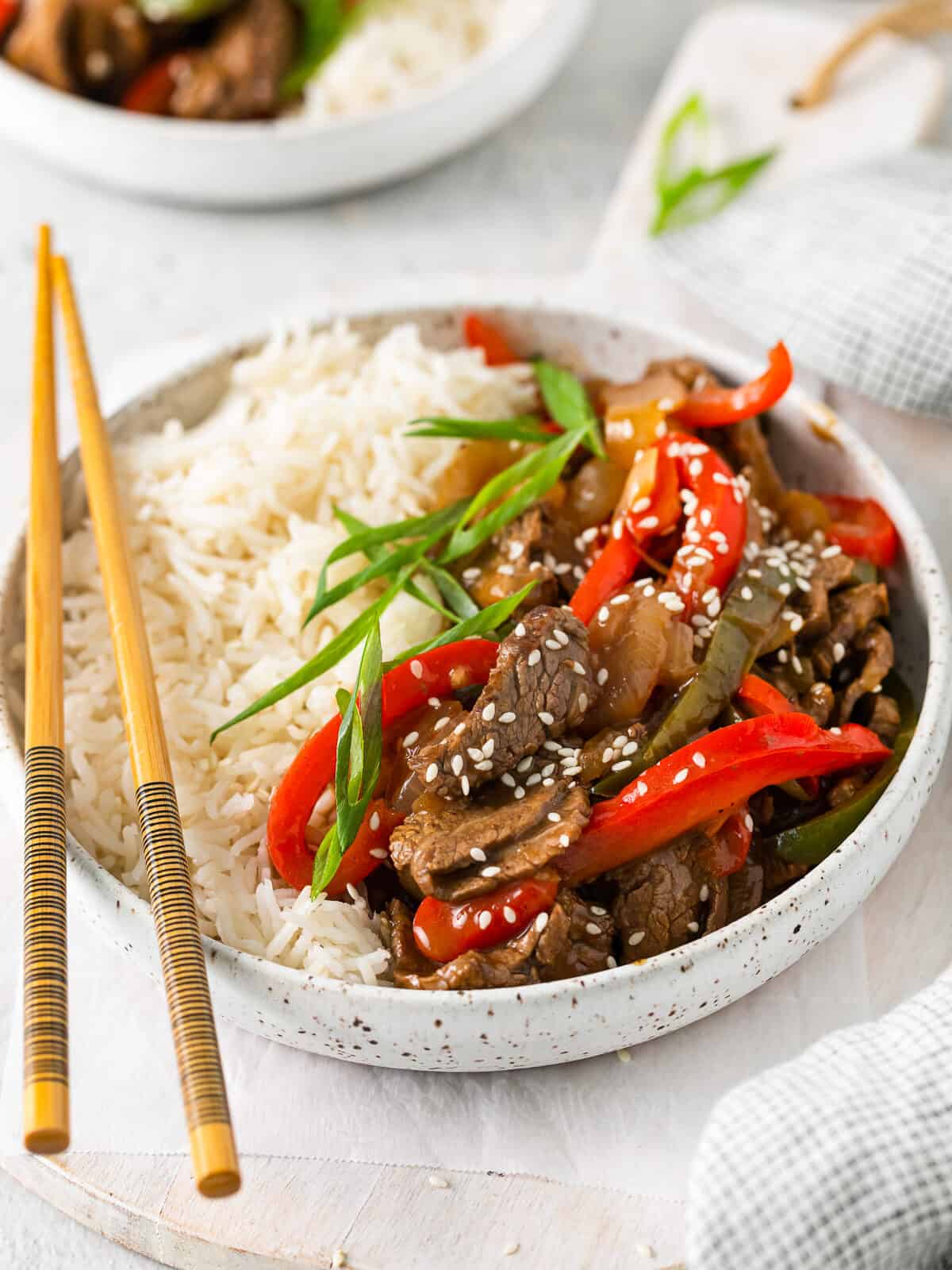 How to Store and Reheat
Store leftover pepper steak in an airtight container in the refrigerator for up to 4 days. Reheat in the microwave in 30-second increments until warmed through.
How to Freeze
Freeze this stir fry in an airtight container or Ziplock bag for up to 3 months. Let thaw overnight in the refrigerator before reheating.
Serving Suggestions
This easy pepper steak recipe is great served with cooked white rice and topped with sesame seeds and sliced green onion. You can also serve it with ham fried rice, vegetable lo mein, or an Asian cucumber salad.
Start your meal off with a warm bowl of egg drop soup and some crab rangoon or egg rolls for a true takeout experience.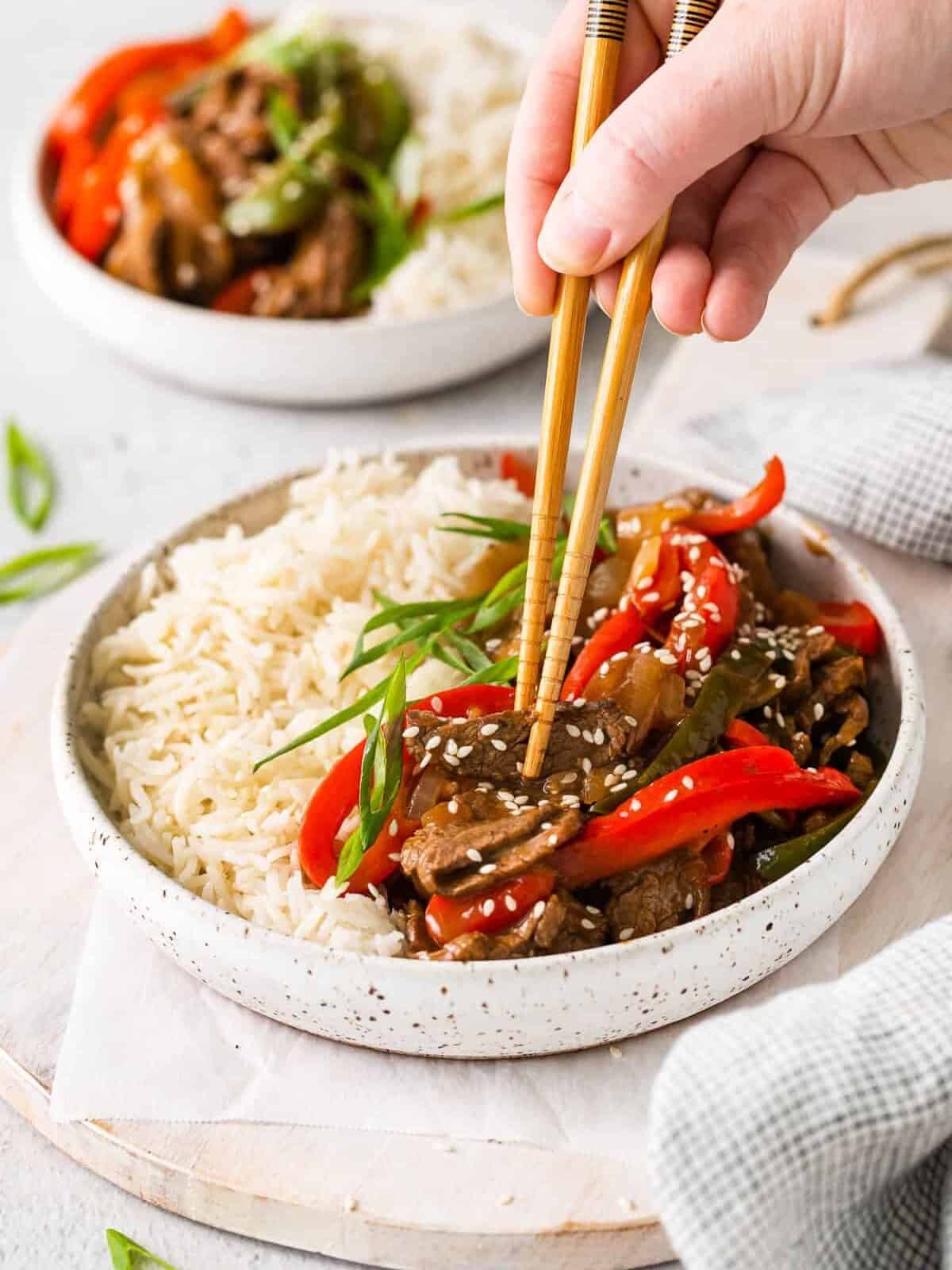 More Beef Stir Fry Recipes We Love