Baked Pumpkin Bacon Mac and Cheese is the ULTIMATE comfort food for Fall! Autumn in a casserole dish. Loaded with cheese, bacon, pumpkin, sage, and more cheese. BEST MACARONI AND CHEESE EVER!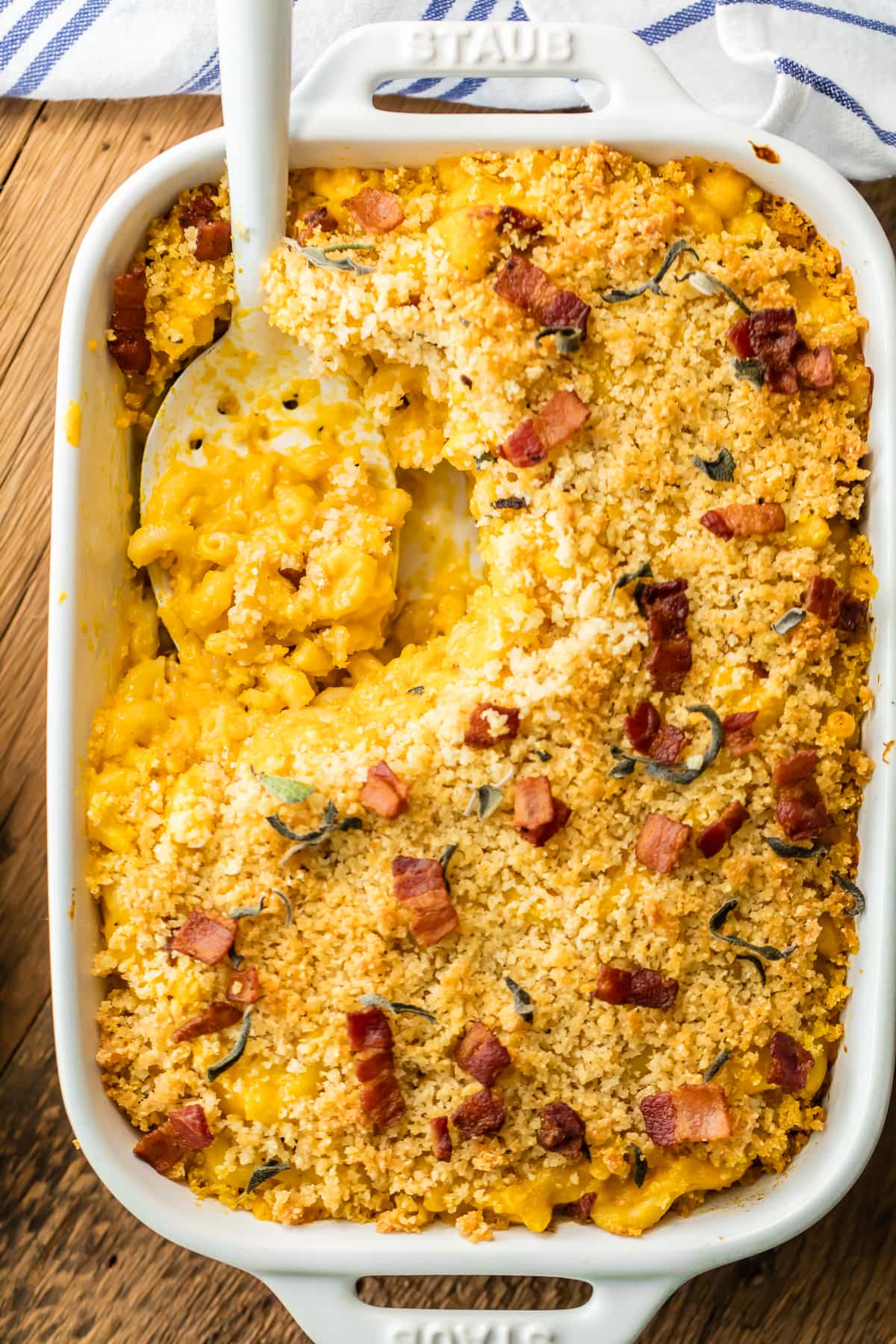 This post is sponsored by Real® Seal. As always, all opinions are 100% mine. Thanks SO much for supporting the brands that help support The Cookie Rookie!
FALL IS HERE! I've been waiting patiently for STL to dip below the 80 degree mark and we are finally finally there. THANK YOU AUTUMN! With my pale skin and red hair, Summer is not kind to me. I'm more of a scarf and boot kind of chick. To celebrate my favorite time of year, I made this AMAAAAZING Baked Pumpkin Bacon Mac and Cheese! Don't be scared of the pumpkin, this doesn't taste like dessert. It's all kinds of savory and total perfection. It even won over Pat, which is not an easy feat. He was skeptical to say the least when I asked him to open the pumpkin and dump it in. The end result is an ultra creamy mac and cheese full of all the flavors of Fall. Autumn in a casserole dish!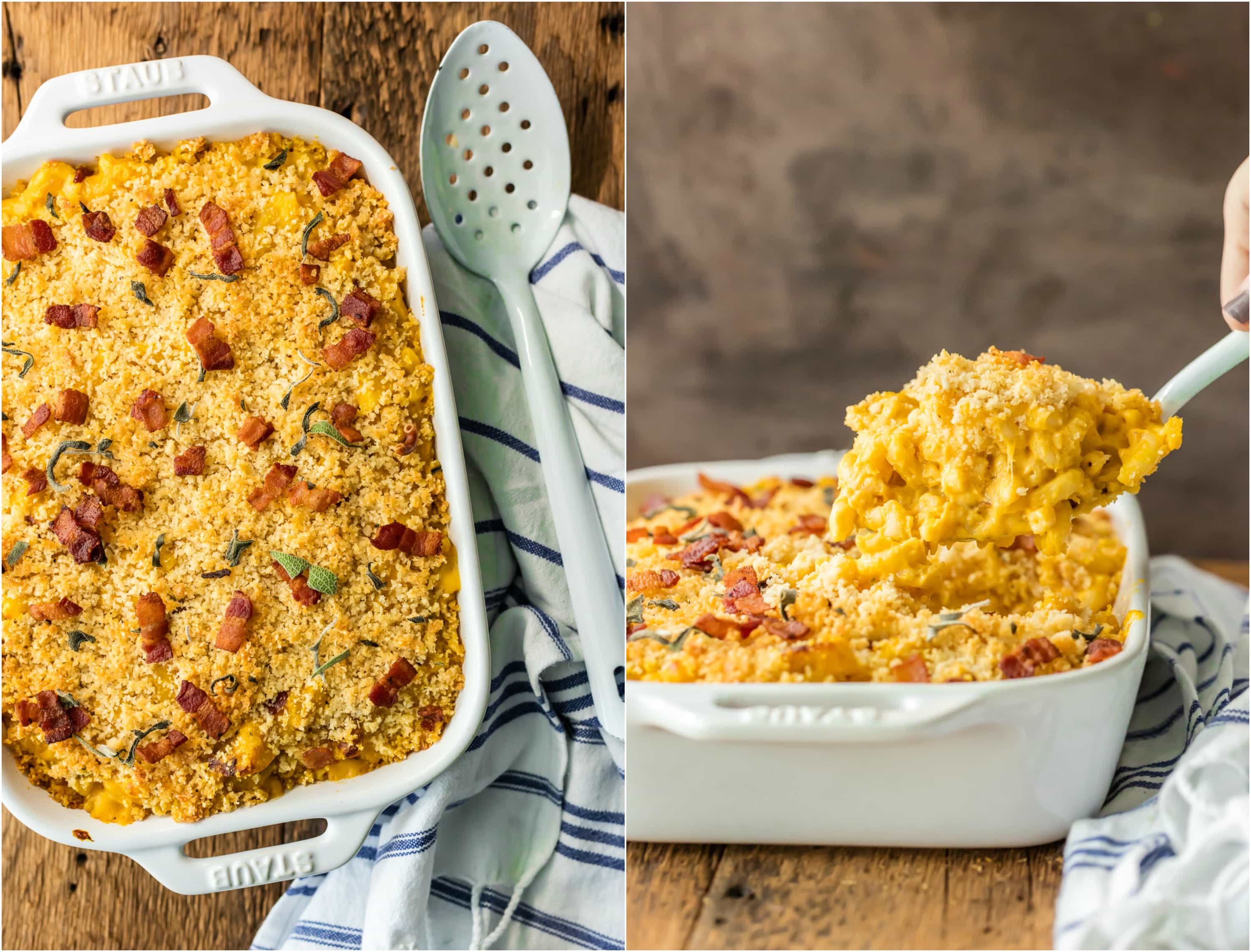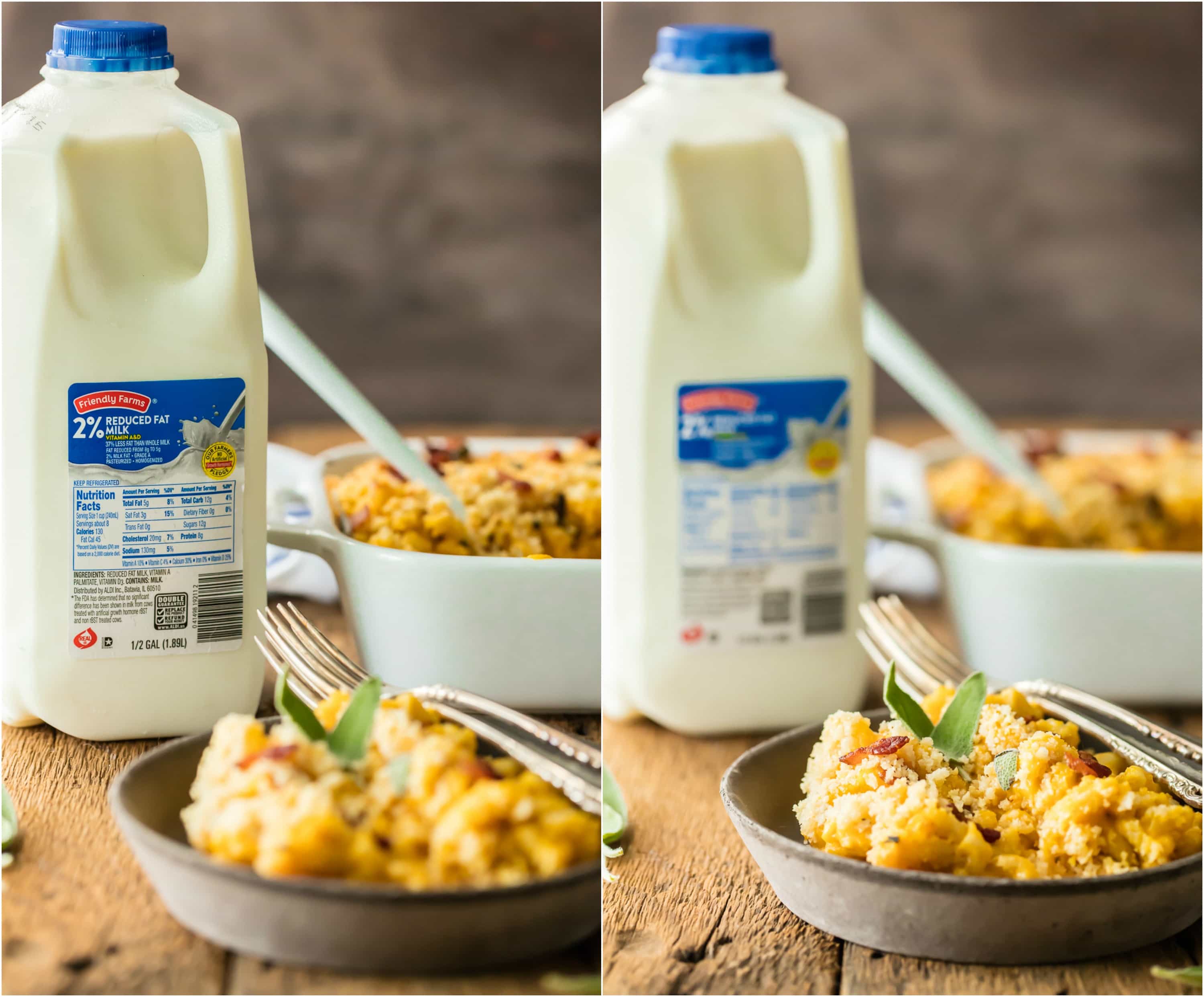 This Pumpkin Bacon Mac and Cheese wouldn't be as creamy and dreamy without MILK! I've partnered with REAL® Seal to encourage cooking with dairy and getting the word out about all its many nutritional benefits. Milk is such a great source of calcium, potassium, and vitamin D, not to mention protein and tons of other vitamins. Real® Seal makes it easy to identify products made from US-only cows milk. Can't be replicated! My favorite milk brand is Friendly Farms, found at Aldi. It's Real® Seal and Hardin family approved! Since Halloween is just around the corner, I thought this Fall themed twist on a classic would be right up everyone's alleys. Serve up a big dish of this, get your costume on, and enjoy this nice weather!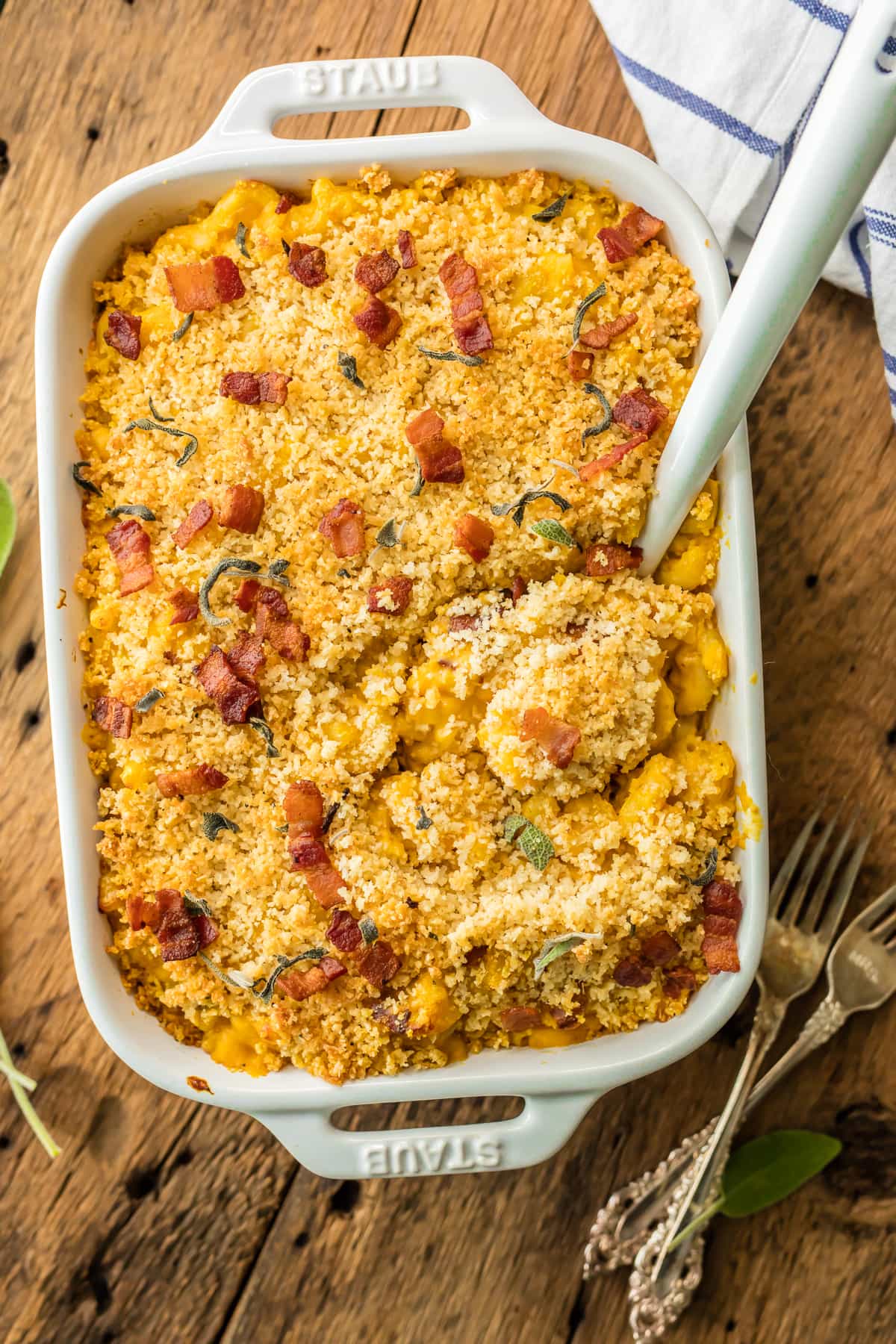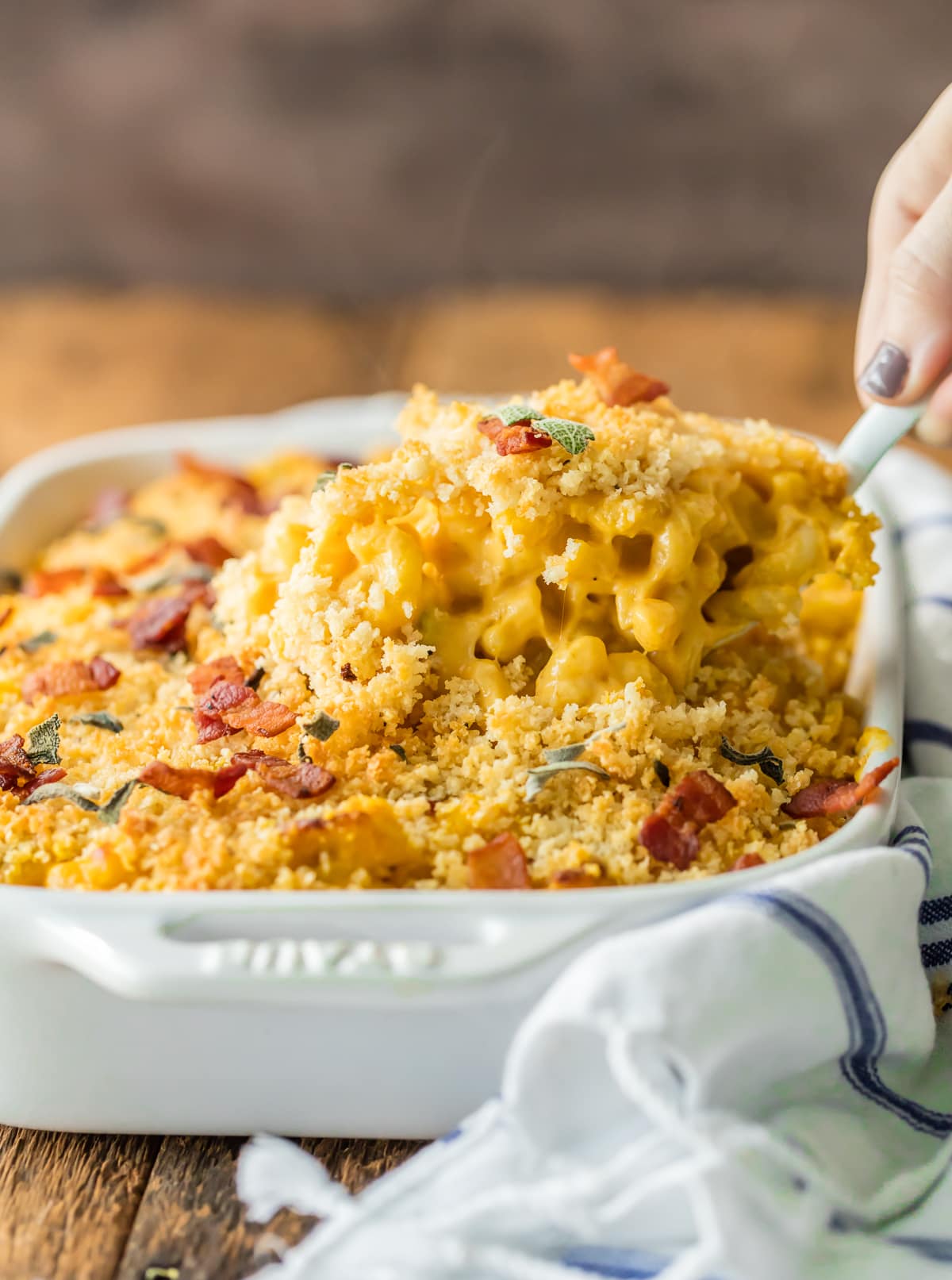 You won't believe how much creaminess and spunk the pumpkin adds to this family favorite. Just the right touch of something extra to take a recipe from great to amazing. You guys know I love my cheese, but now I love pumpkin and cheese together! Win win!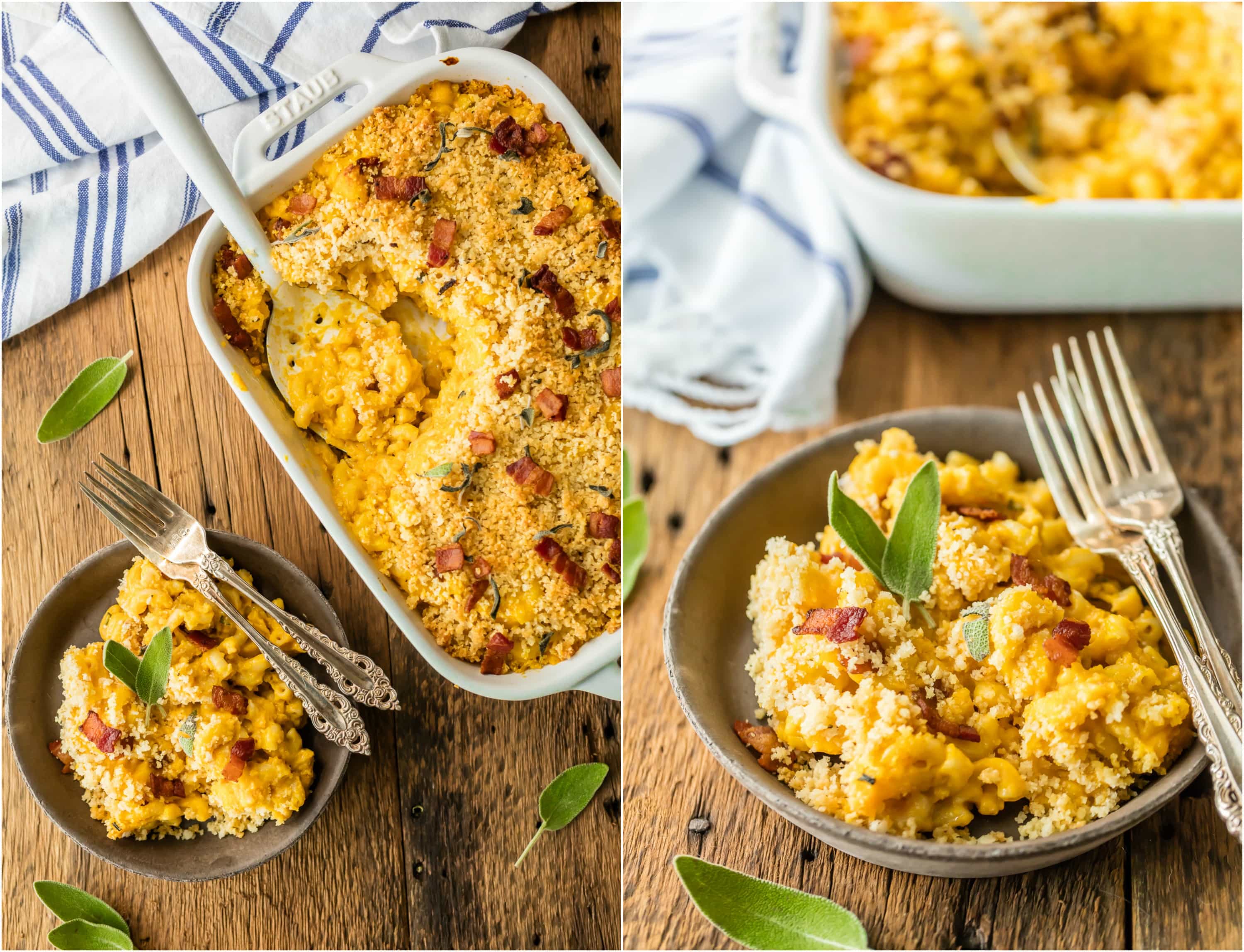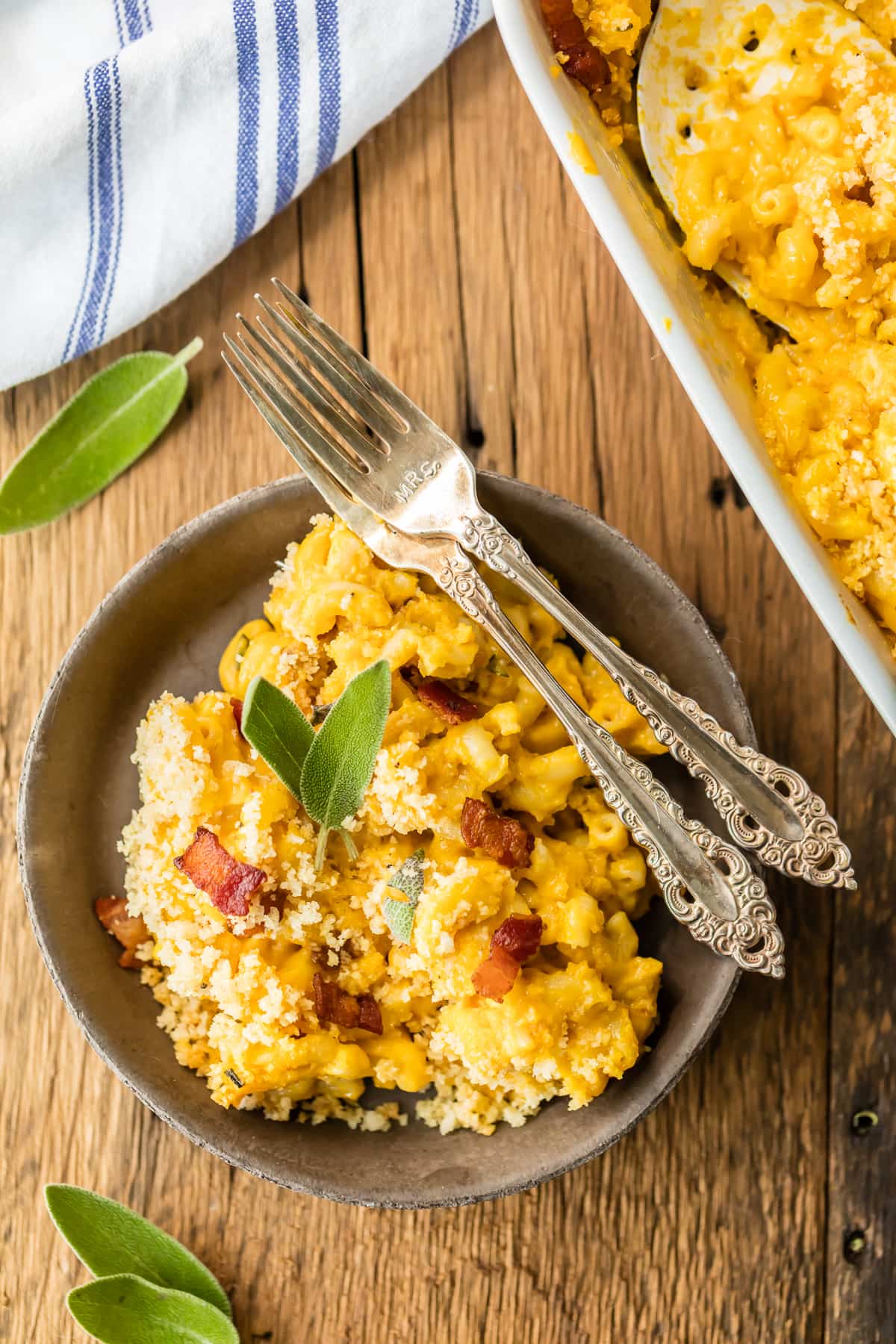 Be sure to follow along with Real® Seal via Pinterest, Facebook, and their website for more info and recipes! And check out my Instagram page where I'm helping to give away $50 to one lucky reader! Easy peasy!
Enjoy!
Baked Pumpkin Bacon Mac and Cheese
10 minPrep Time
30 minCook Time
40 minTotal Time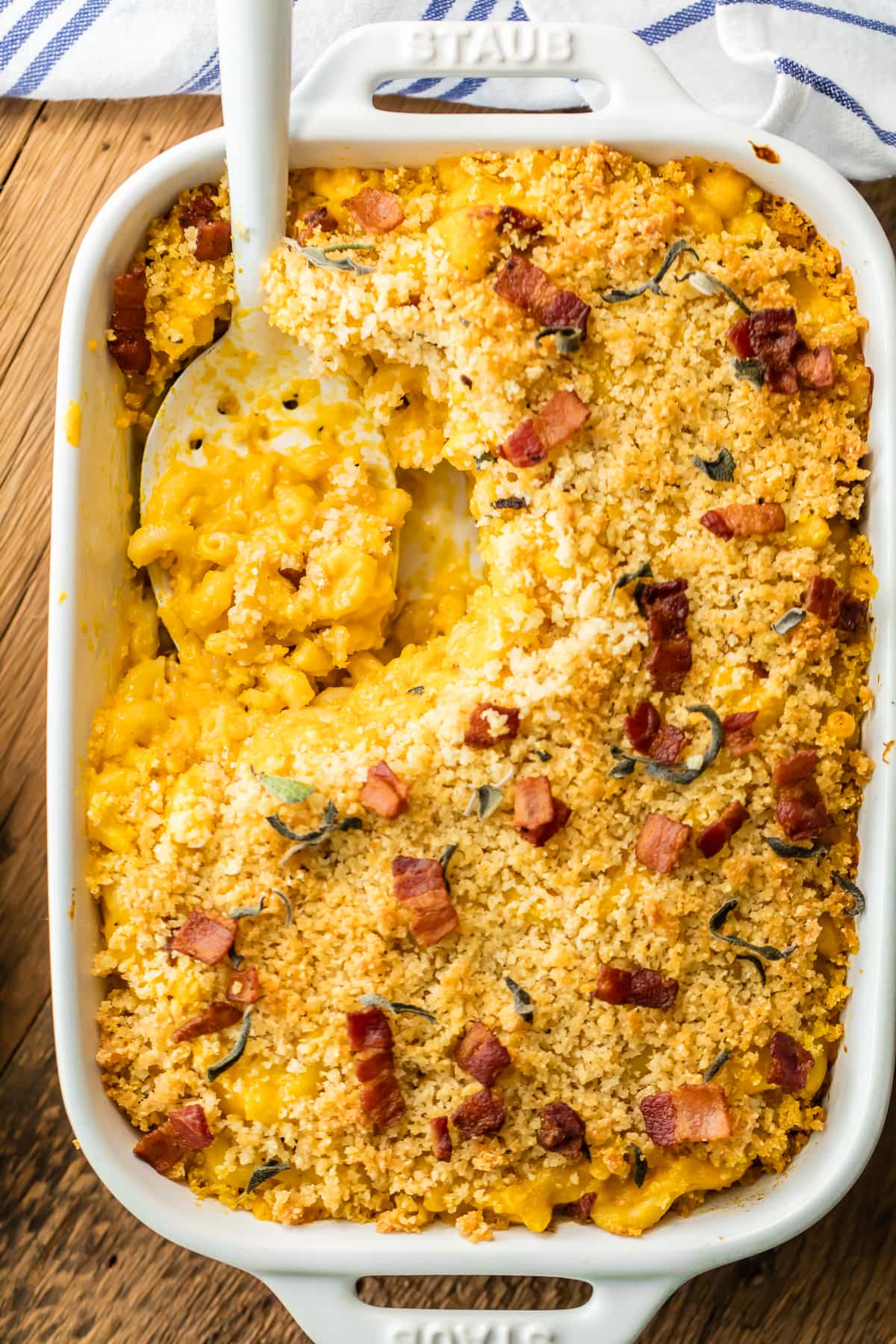 5 based on 1 review(s)
Ingredients
8 slices bacon
4 cups elbow macaroni, cooked according to package instructions
4 tablespoons butter
4 tablespoons all purpose flour
1 tablespoon salt
1 tablespoon pepper
1 teaspoon garlic powder
1 1/2 cups 2% Milk (I love Friendly Farms Brand)
1 1/2 cups heavy cream
2 cups shredded fontina cheese
1 (15 ounce) can pumpkin
2 tablespoons fresh sage, chopped. (plus more for garnish)
1 cup panko bread crumbs
1 cup grated parmesan cheese
1 1/2 tablespoons olive oil
Instructions
Preheat oven to 400F. Place bacon on a foil lined baking sheet and bake for 15-20 minutes or until very crispy. Allow to drain on a paper towel and then crumble into small pieces. Set aside.
When done with the bacon, switch the oven to 350F.
In a medium/large saucepan heat the butter over medium heat. Once fully melted, add the flour, salt, pepper, and garlic powder and stir (constantly) to combine.
Pour in the milk and cream slowly, whisking constantly while you add. Allow to thicken, continuing to stir, until bubbly.
Add in the cheese one cup at a time, stirring to melt before adding the second cup. Stir in the pumpkin and sage.
Remove from the heat and pour over the cooked pasta, stirring to combine. Stir in the bacon crumbles, reserving some for garnish if desired.
In a separate small bowl, combine panko, parmesan, and olive oil.
Pour the macaroni into a large baking dish, pressing down slightly with your spoon to make the top level.
Pour the panko mixture over the noodles, covering the entire top. Sprinkle with extra sage if desired.
Bake for 30 minutes, or until everything is hot and bubbly and the bread crumbs are golden and toasted.
Remove from the oven and allow to cool for 10 minutes before serving. Sprinkle with extra bacon if you're feeling sassy.
Enjoy!
7.6.7
2306
https://www.thecookierookie.com/pumpkin-bacon-mac-cheese/