Make a delicious homemade pizza in a fraction of the time thanks to our trusty air fryer. Easy to customize with all of your favorite toppings, this will be your go to method for that Friday night pizza! So much tastier than a frozen pizza!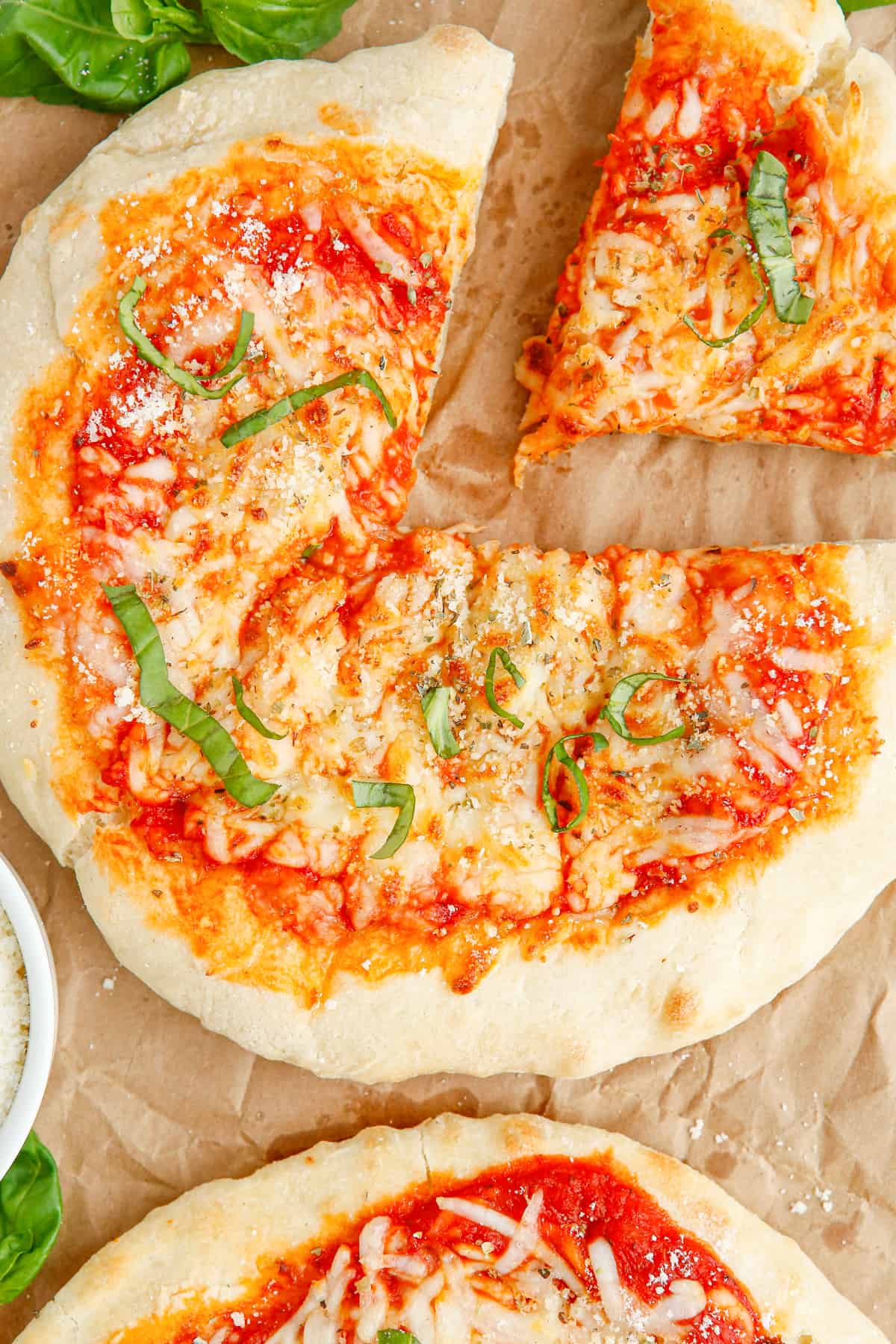 Easy Homemade Pizza
It is never, I repeat, never, a bad idea to have a pizza night, and trust me, this air fryer pizza recipe is about to rock your world!
Made with a pre made pizza dough, and topped with all of your favorite toppings, these pizzas are quick to prep and cooked to perfection in the air fryer.
Whether you are serving these up for game day or a kid friendly dinner, there's no bad time for these beauties!
Be sure to try my Air Fryer Meatloaf and Air Fryer Stuffed Peppers too!
Why You'll love this Quick Pizza Recipe:
QUICK: Ready to serve in less than 30 minutes, making and cooking these pizzas is quicker than waiting for takeout!
EASY TO MAKE YOUR OWN: Please everyone by adding favorite toppings or keep it simple, your choice!
SIMPLE INGREDIENTS: You don't need a long list of complicated ingredients to make a delicious homemade pizza!
These homemade pizzas come out so good in the air fryer, I promise that you'll make them more than once!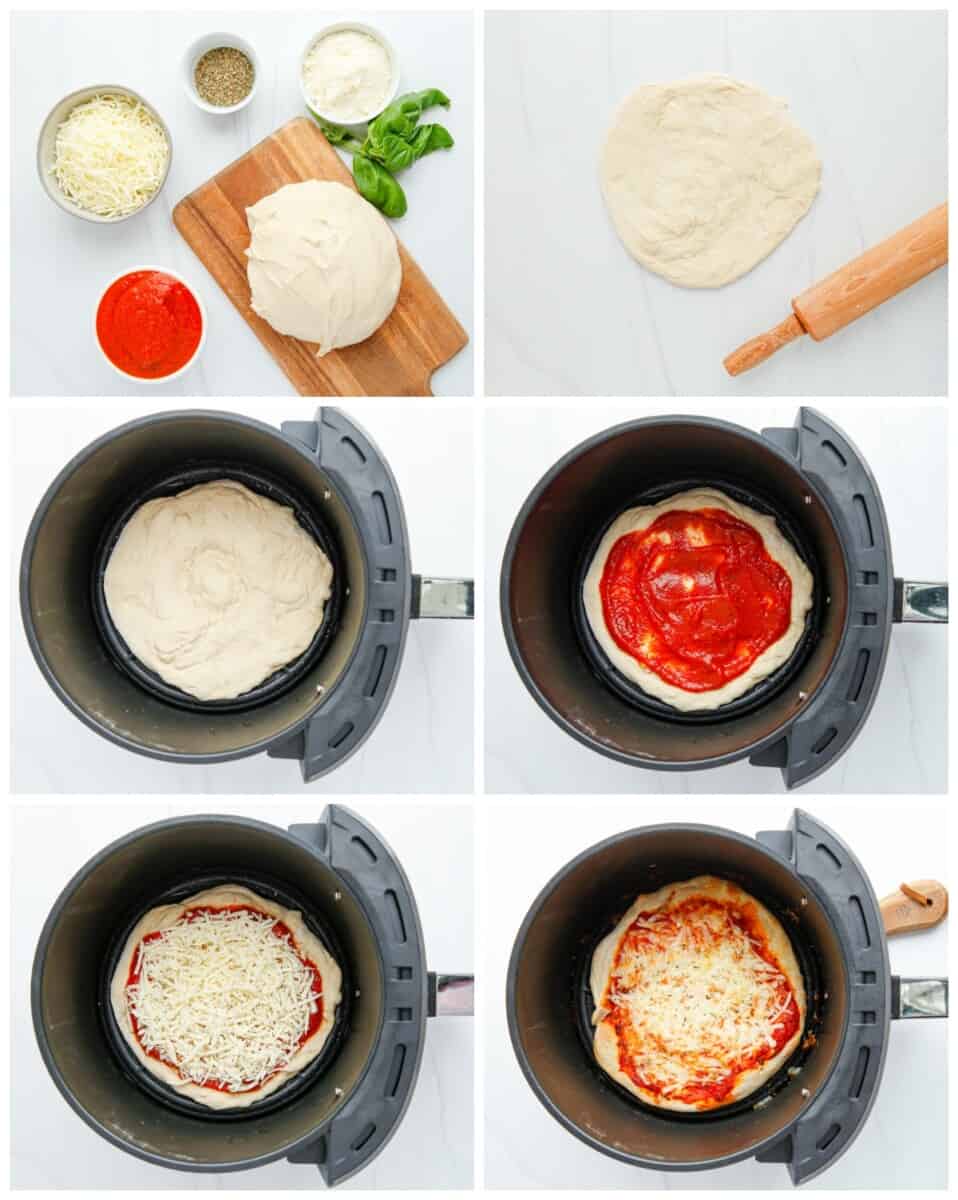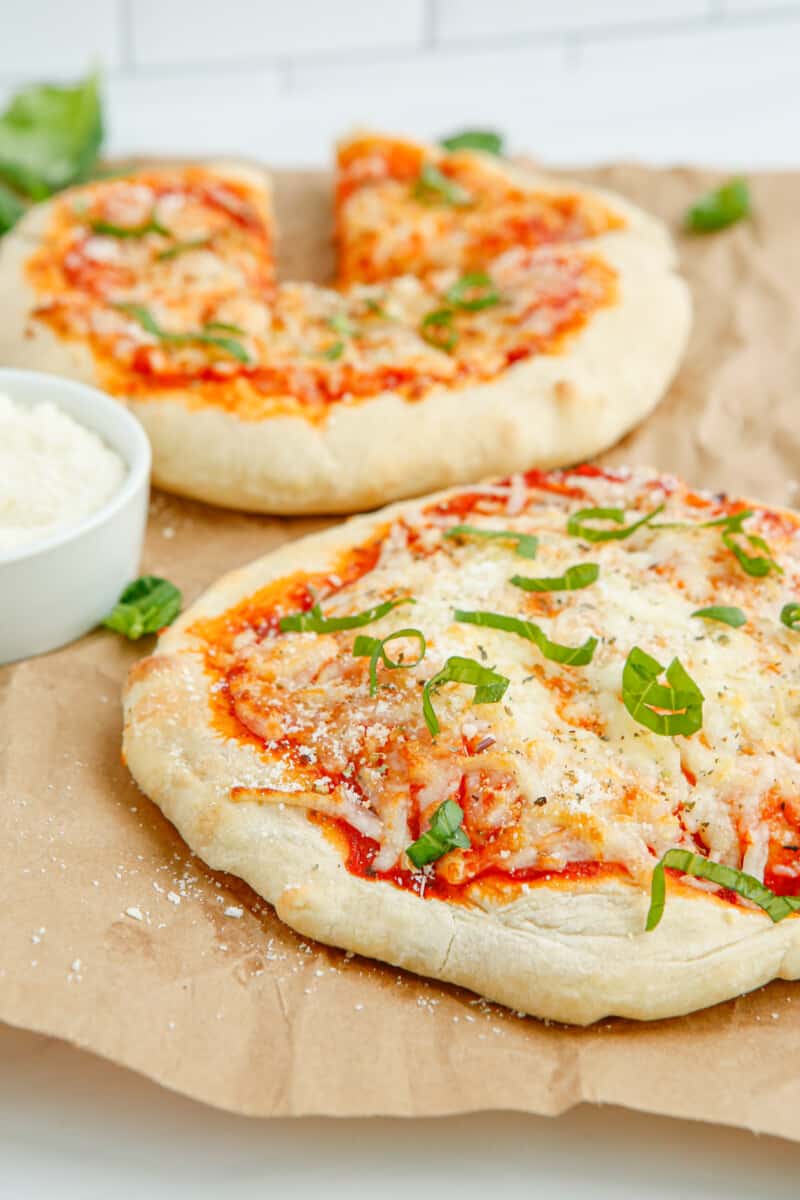 How to Make Air Fryer Pizza
You can jump to the recipe card for full ingredients & instructions!
Divide the pizza dough in half and roll into flat circles.
Place one of the dough circles into an oiled air fryer basket and sray with oil.
Pre cook the dough.
Spread the sauce on the dough and add the toppings.
Cook again til the dough is cooked through and the cheese has melted.
Repeat with the remaining dough.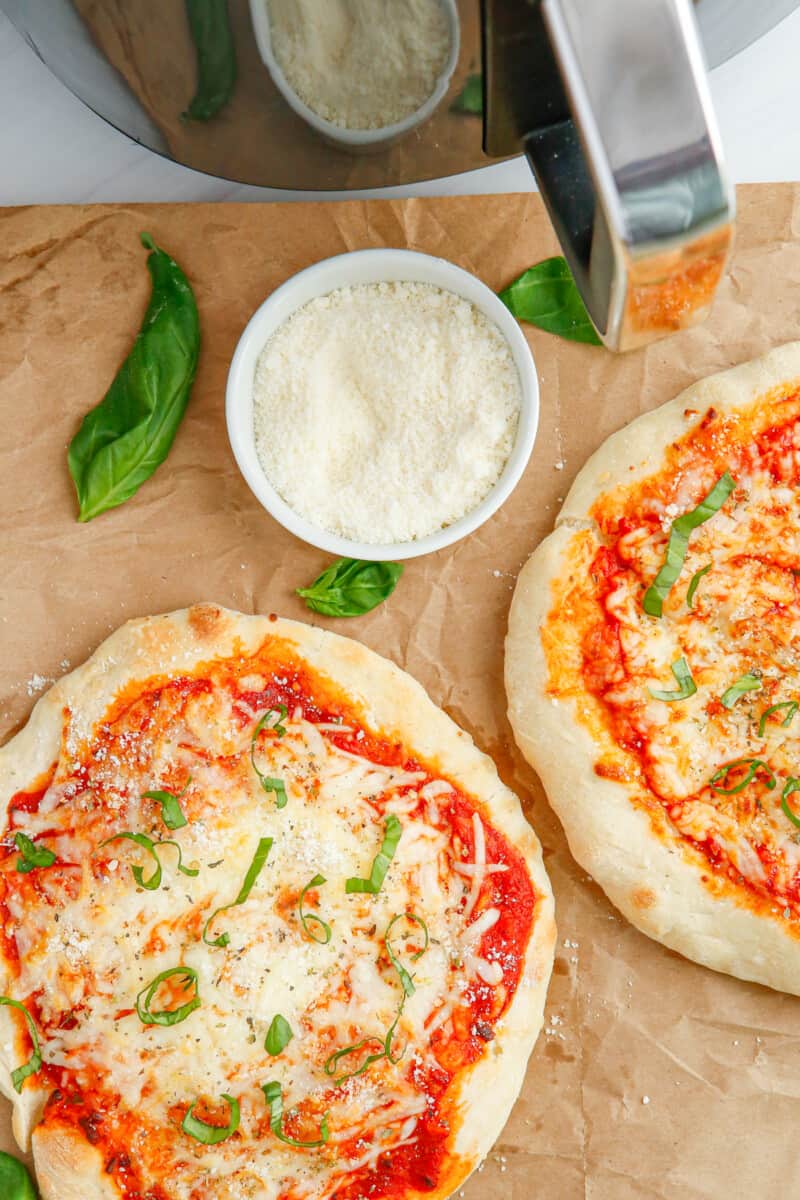 Where can I buy pre-made pizza dough?
You can find pre-made pizza dough in the refrigerated section of most grocery stores, or stop by your local pizza restaurant and buy some of their pre-made dough (most restaurants offer their dough for purchase).
Can I use homemade pizza sauce?
Absolutely! Use ½ cup of your favorite homemade sauce per pizza.
Can I skip pre-cooking the pizza crust?
I don't recommend it. Without partially cooking the dough before adding the toppings, the crust will be undercooked.
What other toppings can I use?
This is a wonderful base air fryer pizza recipe! Get creative and have fun adding your favorite sauces and toppings to these pizzas. Use up to ½ cup of pizza sauce and about ½ cup of cheese per pizza. Try pesto or olive oil on the crust, your favorite cheese (shredded or sliced), and toppings like pepperoni, cooked sausage, peppers, onions, pineapple, mushrooms, broccoli, etc.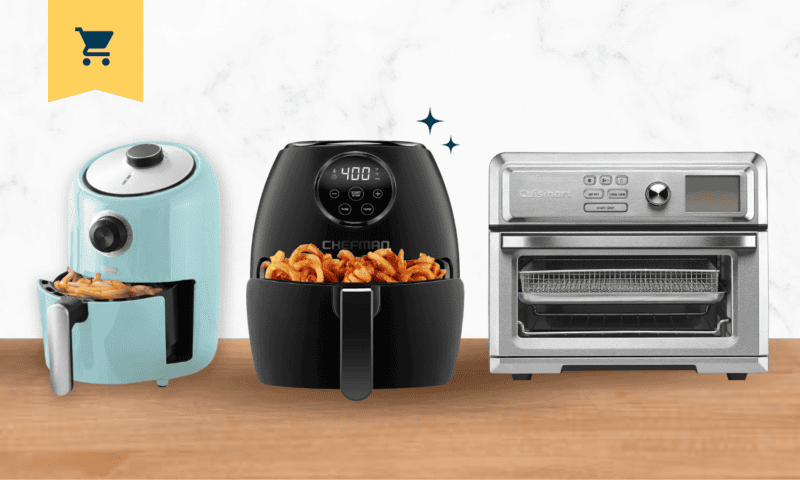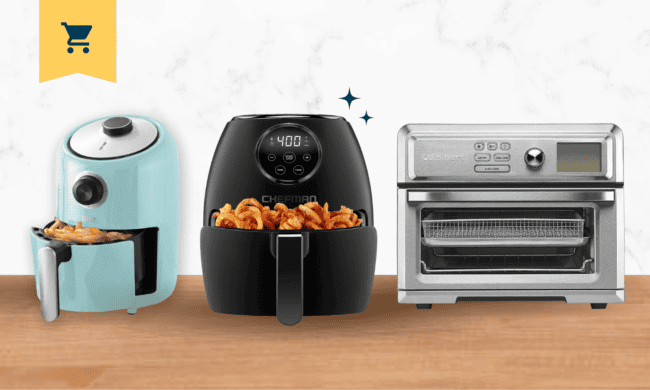 Best Small Air Fryers
We have reviewed our top 6 Small Air Fryers! Get reviews, pros, cons, and prices!
Top Small Air Fryers
Serving Suggestions
I can easily enjoy one of these pizzas by itself, but you can serve it up with these favorite sides for a real feast.
Let's face it, there's no wrong way to serve up a delicious homemade pizza!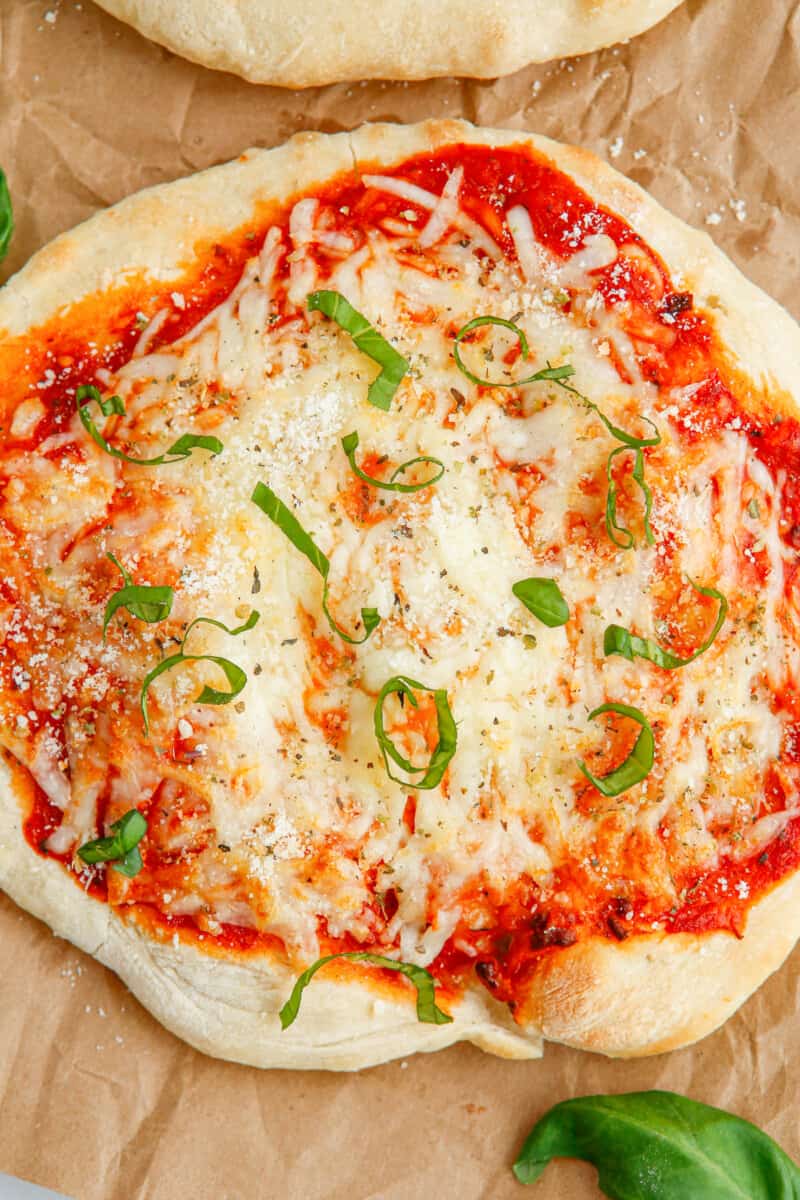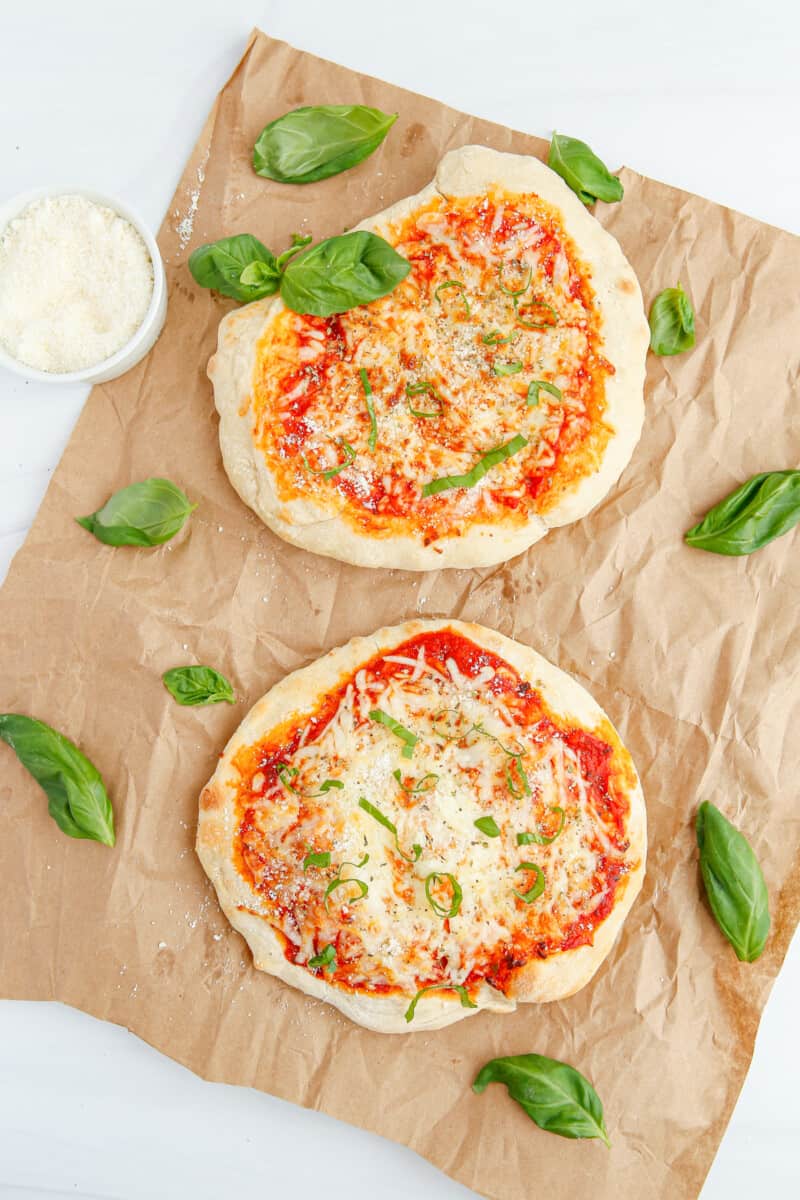 Tips!
Preheat the air fryer before adding the dough. If your air fryer doesn't have a preheat setting, just let it run at 375F for 5 minutes.
Use a non-stick spray or oil in your air fryer before adding the dough so that it doesn't stick. Don't use an aerosol spray as this can damage the coating on the basket.
Air fryer models can run slightly differently, so timings for the final cook may vary.
This has quickly become my favorite way for cooking up homemade pizzas. So quick and easy, and everyone loves them!
What size air fryer should I use?
I made these pizzas using a 4-quart air fryer.
Can I reheat pizza in the air fryer?
Yes! Using an air fryer to reheat pizza keeps it crispy. Preheat the air fryer to 350°F and cook for 3-5 minutes, or until warmed through.
How long does it take to cook?
One pizza will only take about 8 minutes to cook in your air fryer, so much quicker than other methods!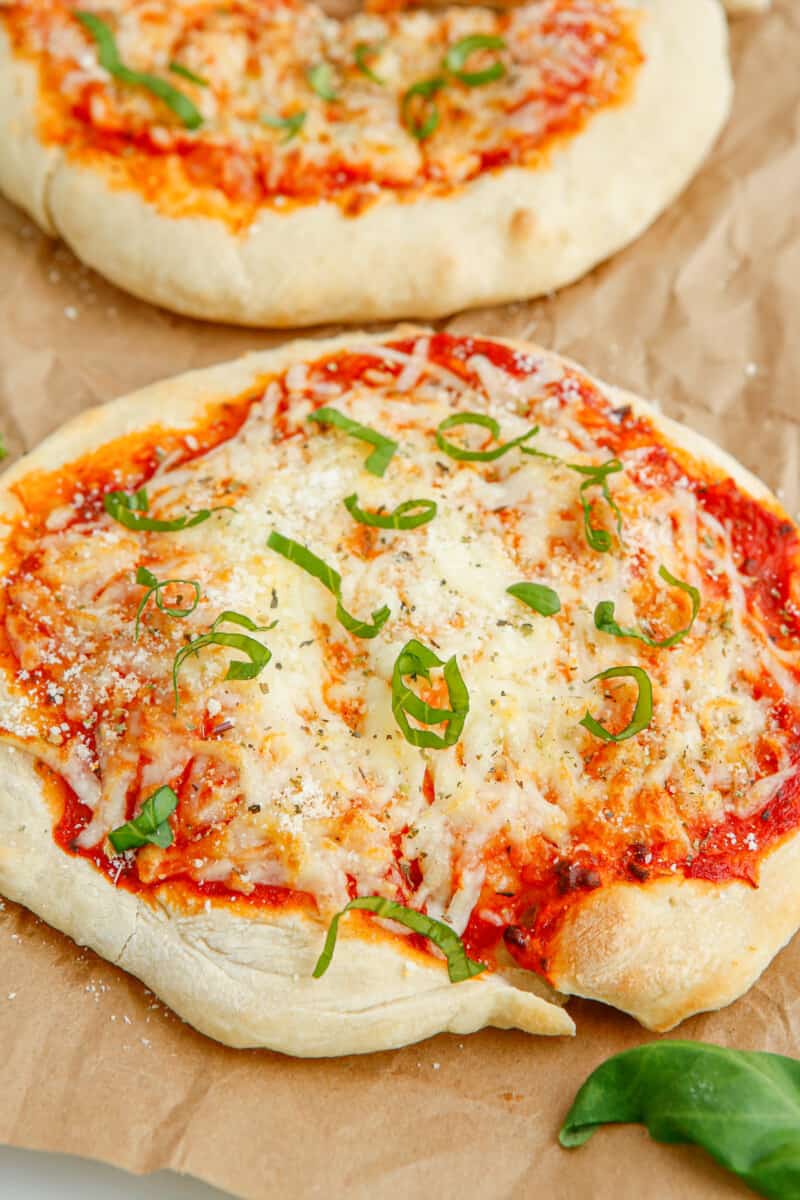 This air fryer pizza recipe turns out so good you guys! I love getting the whole family involved so that they pick out their favorite toppings, then everyone is super happy when dinner is served!
If you make this recipe be sure to upload a photo in the comment section below or leave a rating. Enjoy! You can also jump to recipe.