Sautéed leeks with parmesan is an easy side dish that's perfect for Thanksgiving, the holidays and any large family meal. Made with just a handful of ingredients this simple leeks are a great addition to any meal.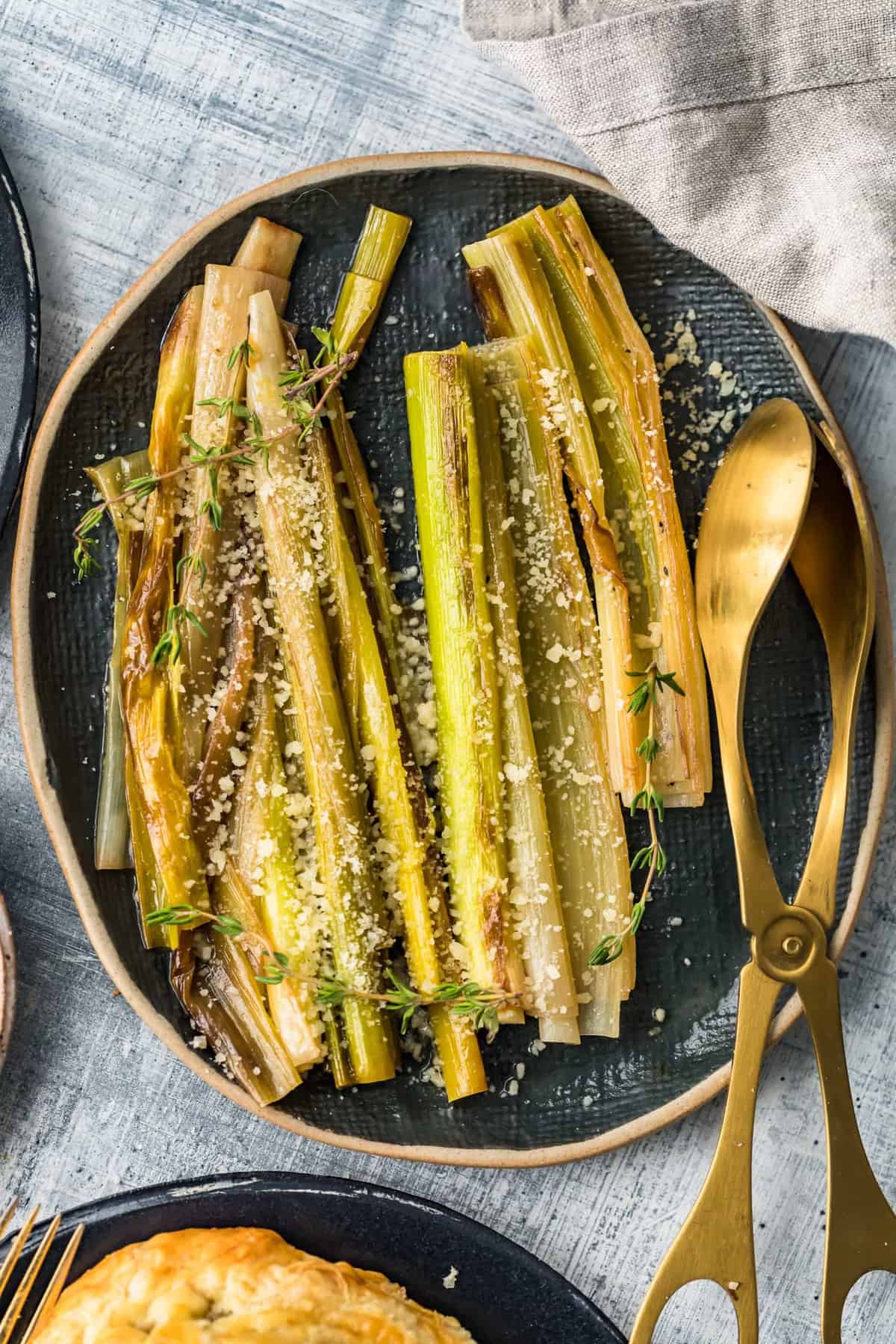 This year for Thanksgiving and Christmas I wanted to mix up my side dishes a little, carrots and potatoes are a must but I wanted to add something new in and these sauteed leeks really hit the spot!
How to Make Sauteed Leeks with Parmesan
To prepare the leeks, cut off the ends and the dark green leaves. Halve the leeks lengthwise. Place in a large bowl of cold water for 10 minutes. Hold the leeks under the faucet to wash off any sand or dirt that may be between layers. Discard the thick outer layers.

Heat a large, heavy-bottomed skillet over medium heat and add the oil.

After the oil heats, place the leeks, cut-side down, in one layer.

Move the leeks around with tongs until lightly browned, about 3-4 minutes. Carefully, turn the leeks over and cook another 3-4 minutes or until lightly browned.

Season with salt and pepper and flip the leeks to cut-side down.

Remove the outer, papery layers (if any) as they won't soften.

Add wine and stir to deglaze the pan. Add enough chicken stock to be level to the tops of the leeks.

Bring to a boil, reduce the heat to low, and simmer, uncovered about 15-20 minutes or until leeks are tender. Most of the liquid will have evaporated.

Add the butter and stir gently. Leave the pan on low and cook just long enough for any liquid to evaporate, about 1 minute. If the liquid hasn't evaporated by the time the leeks have softened, pour off the excess liquid and keep refrigerated (up to 1 week) for another use.

Flip the leeks over to cut-side up and sprinkle with cheese.

If desired, set the oven to broil and make sure your pan is broiler-safe. Place the sauteed leeks under the broiler just long enough to brown.

Alternately, the leeks are just as delicious served without broiling – just give the cheese long enough to melt and serve.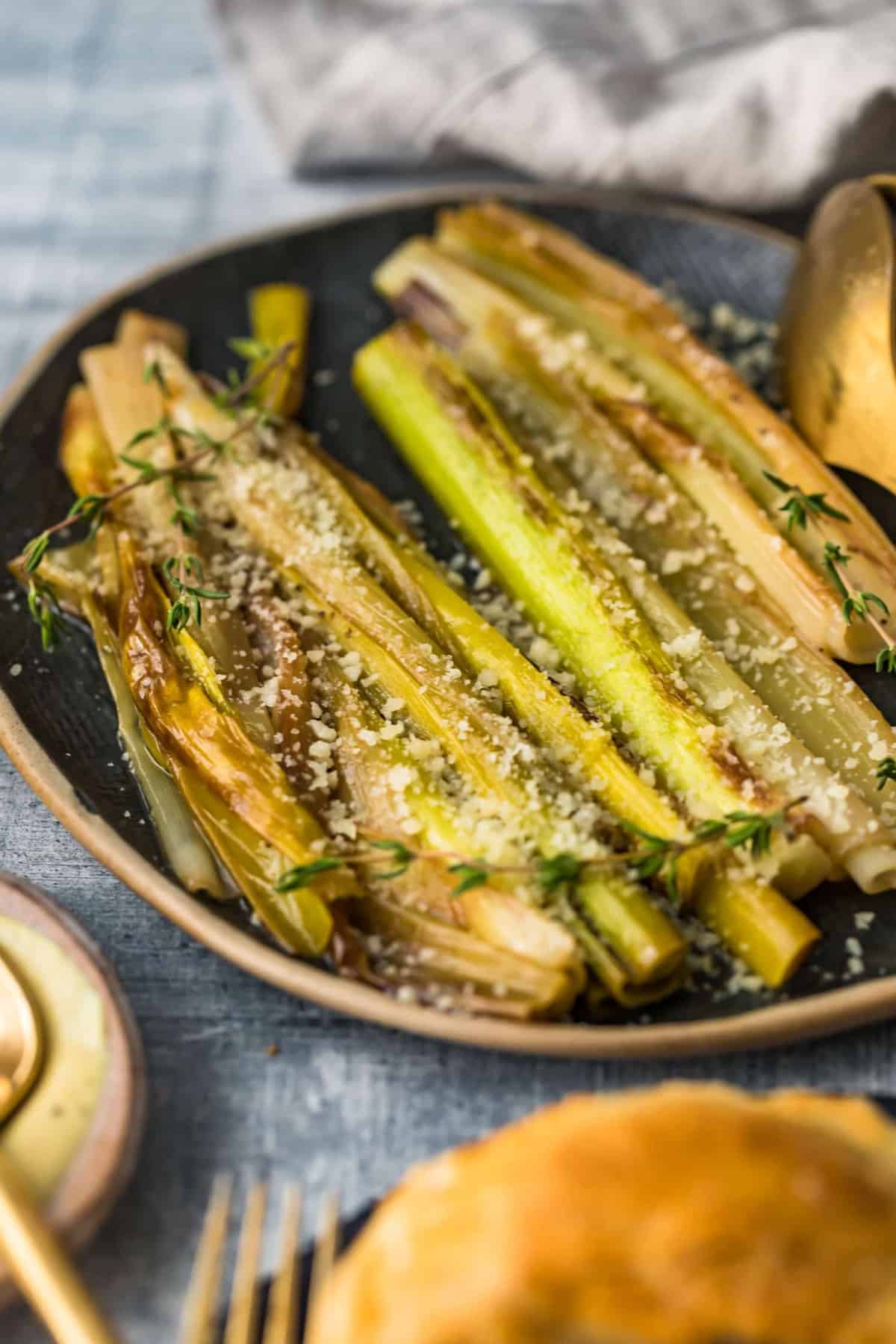 How do you cut and prepare leeks?
Leeks are, unsurprisingly, grown in soil, and that soil can easily get in between the layers of the leeks, so it's really important you wash them well or they will taste gritty. Trim off the dark green tops and cut in half. Place the leek halves in cold water for 10 minutes and then run each one under the faucet to wash any of the dirt away.
The discarded dark green parts of the leeks can be kept and uses to make a vegetable stock if you wish.
What do you serve with sauteed leeks?
These leeks make and excellent side dish that will easily pair with most mains. They have a mild onion like flavor and will be at home on a holiday menu or as a side for an easy weeknight meal. Try them with: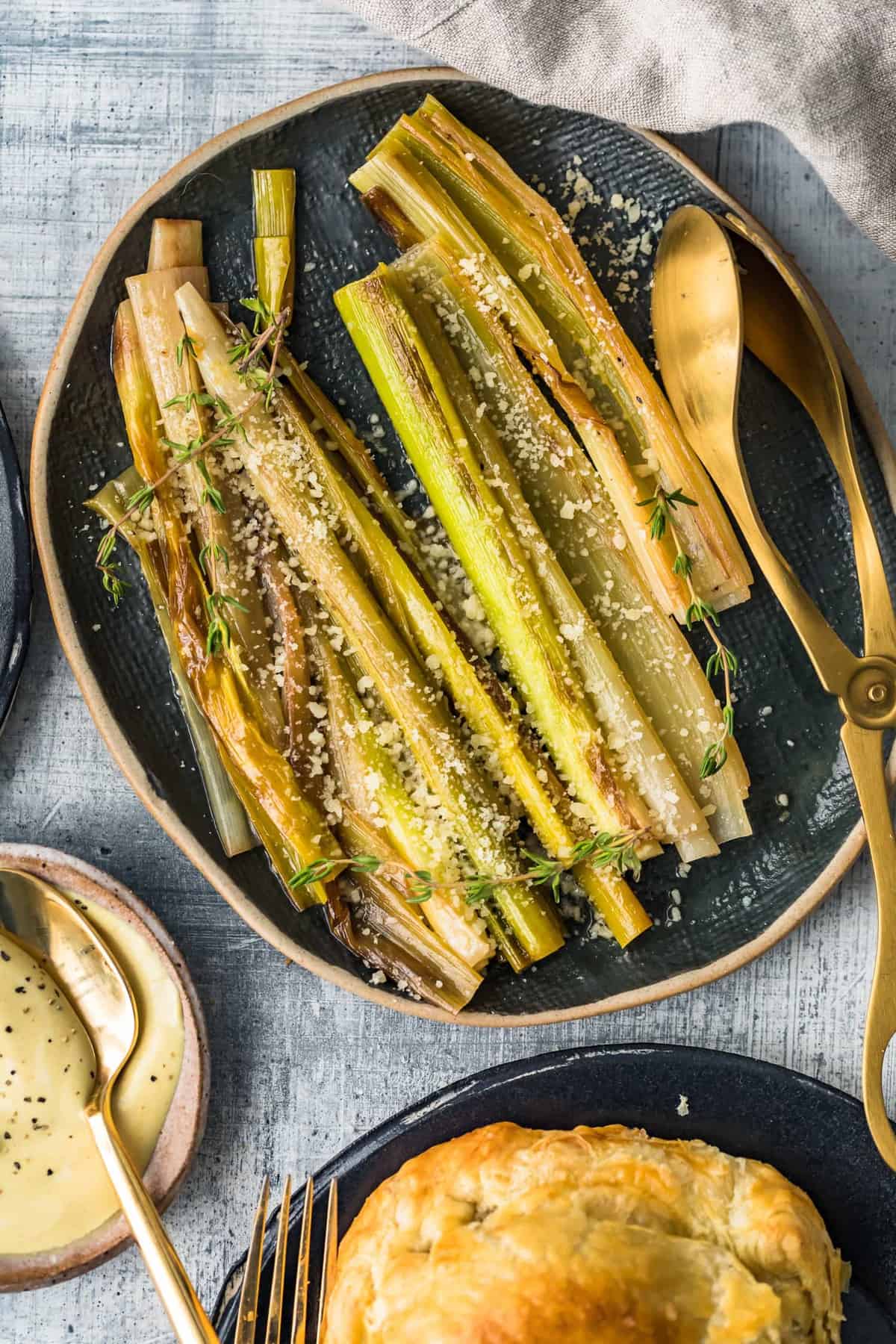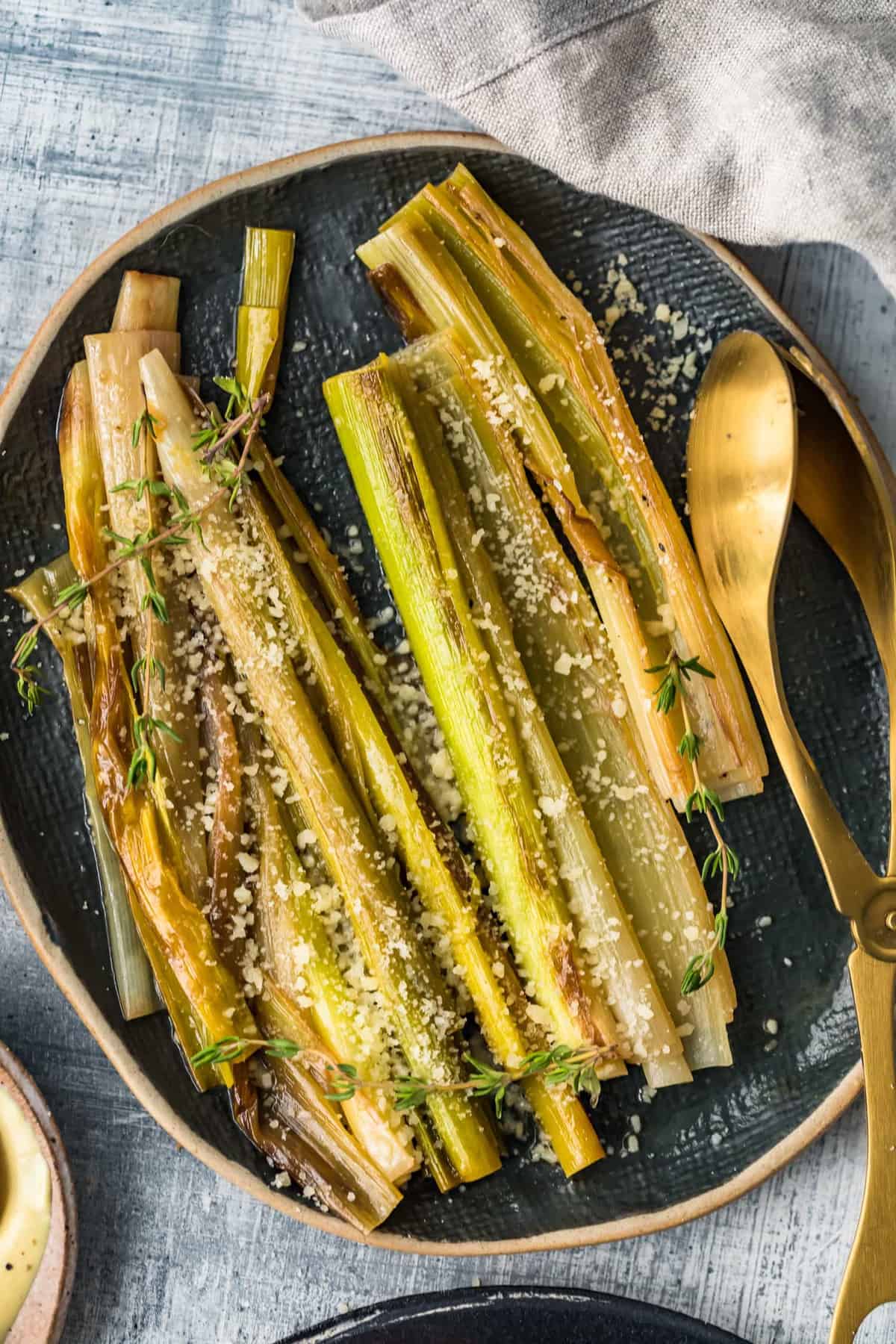 Are leeks good for you?
Leeks are a great vegetable to include into your diet. They are low in calories but high in nutrients like vitamins A, C and K and magnesium. Leeks are from the same family of onions, garlic and shallots and contain anti-inflammatories.
One serving of these sautéed leeks is around 130 calories. They are cooked in white wine, which really adds to their flavor, but if you prefer, you can substitute this for white grape juice or more chicken stock.
Top Tips to Make Sautéed Leeks with Parmesan
Use unsalted stock and butter. If you use salted you do not need to ad any extra salt to the dish.
Select similar sized leeks so that they cook evenly.
You can prep the leeks ahead of time, but cook them just before serving.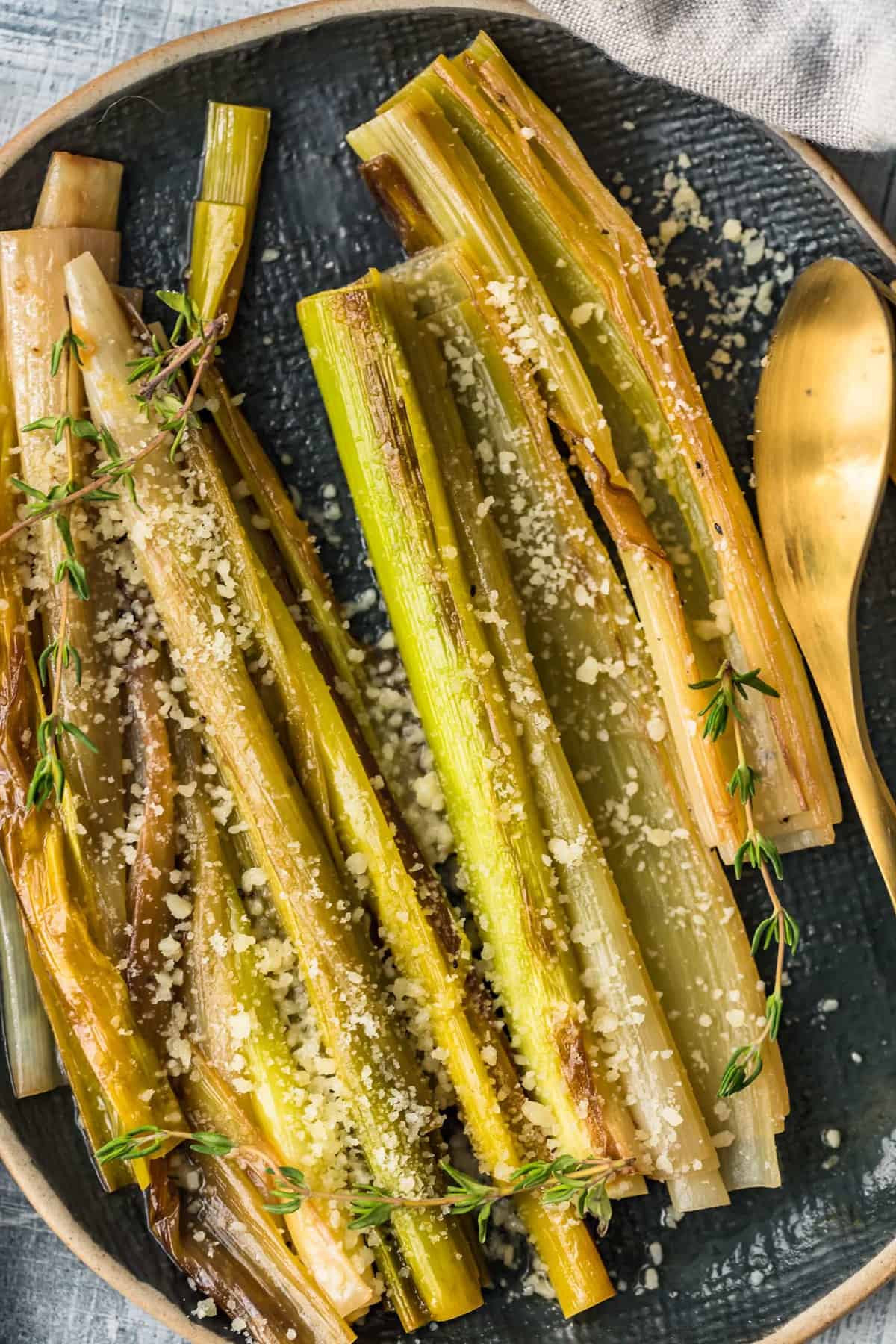 For more healthy side dishes: