This Easy Chicken Wings Recipe is a healthier and more flavorful way to cook your favorite appetizer recipe.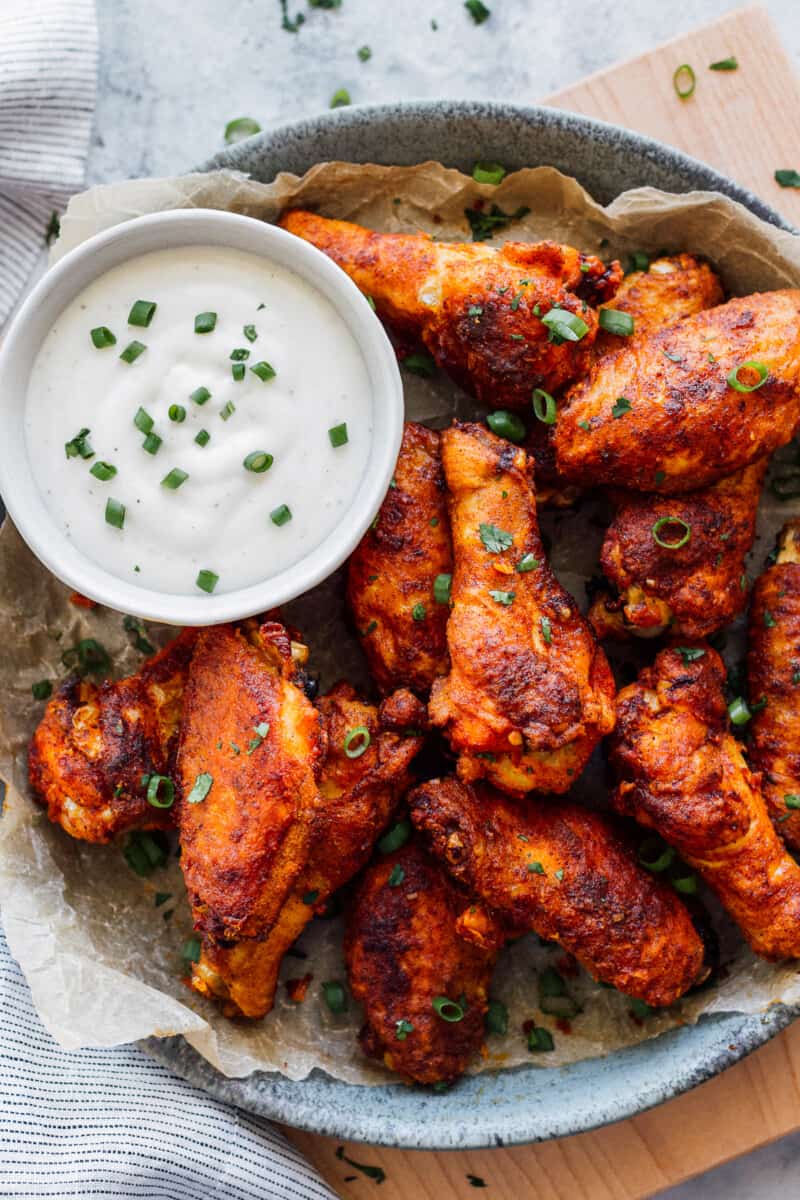 I've been experimenting with easy chicken recipes lately, and I think I've found a new favorite chicken recipe to add to the list. I love that this recipe is healthier than traditional fried wings because it's baked in the oven instead of fried.
The Best Chicken Wings Recipe
We already know we love Oven Fried Chicken, so I thought it would be perfect. This will make any wing-loving husband (or wife!) pretty darn happy on Valentine's Day. You're welcome, Pat!
And of course, these oven baked chicken wings are the perfect appetizer for game day, Super Bowl Sunday, or any occasion. They make great party food!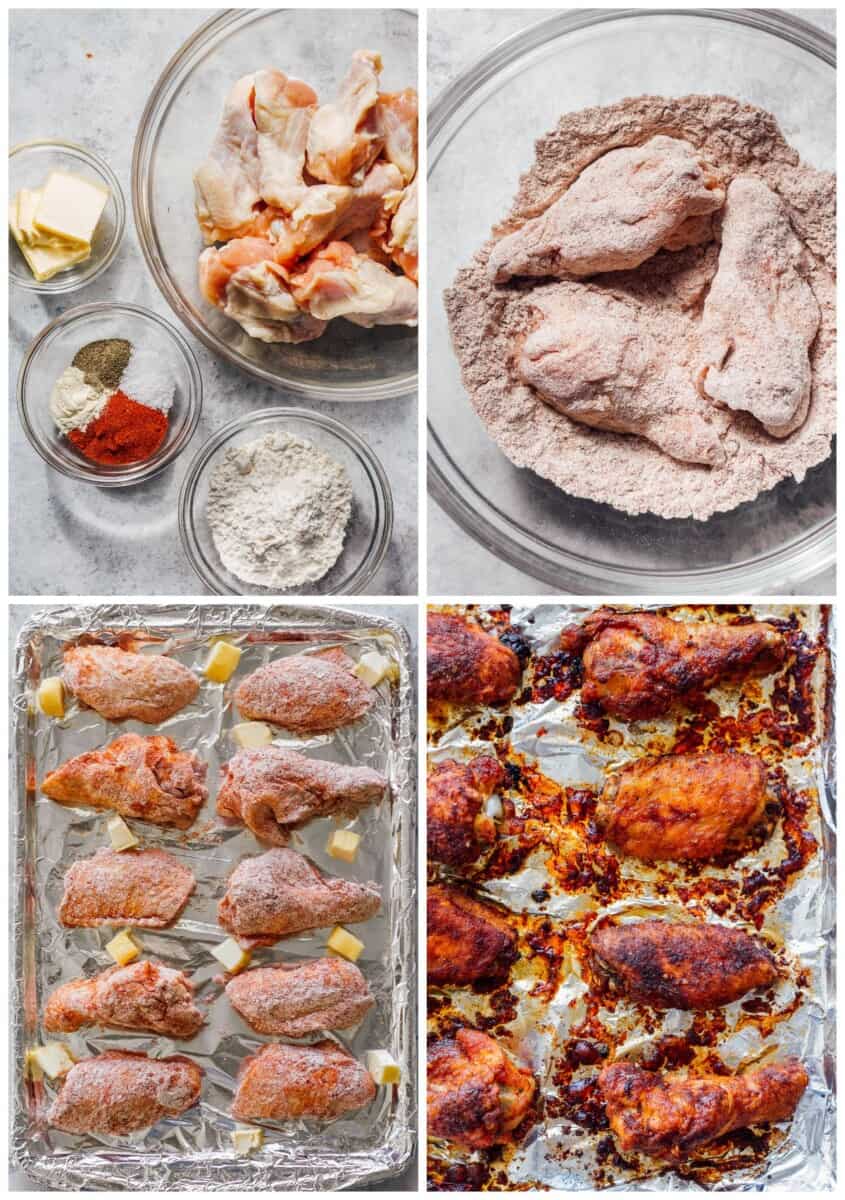 Baked Wings (Instead of Fried)
When someone says wings, your mind probably immediately goes to the fried kind you order at restaurants. Don't get me wrong, those are AMAZING.
I'll eat them any day and be perfectly happy. But what I love about this recipe is that they are baked instead of fried.
Baking chicken wings in the oven instead of deep-frying means they are that much healthier, and they're so much easier to make too. Less mess and cleanup! Win win.
Cover these babies in the most deliciously simple seasoning, bake, and serve!
Dry Rub Seasoning and Dipping Sauces
This Oven Baked Chicken Wings Recipe is a great base that goes with any type of dipping sauce.
That's really all they need. They come out of the oven crispy (YES, it's POSSIBLE!), delicious, and with just the right amount of spice. See the recipe card for all the tips and tricks.
Pair this with Dipping Sauces:
Even though I love to dip these, you don't need to. The simple seasoning blend we have used has SO much flavor, and it is so easy.
I love the simplicity of the chicken spice rub. The wings get a coating of just flour, paprika, garlic, and salt and pepper.
The flavor goes well with literally any type of dipping sauce. We love them with buffalo sauce, but they would be great with honey mustard, garlic parmesan, or anything else you are partial to!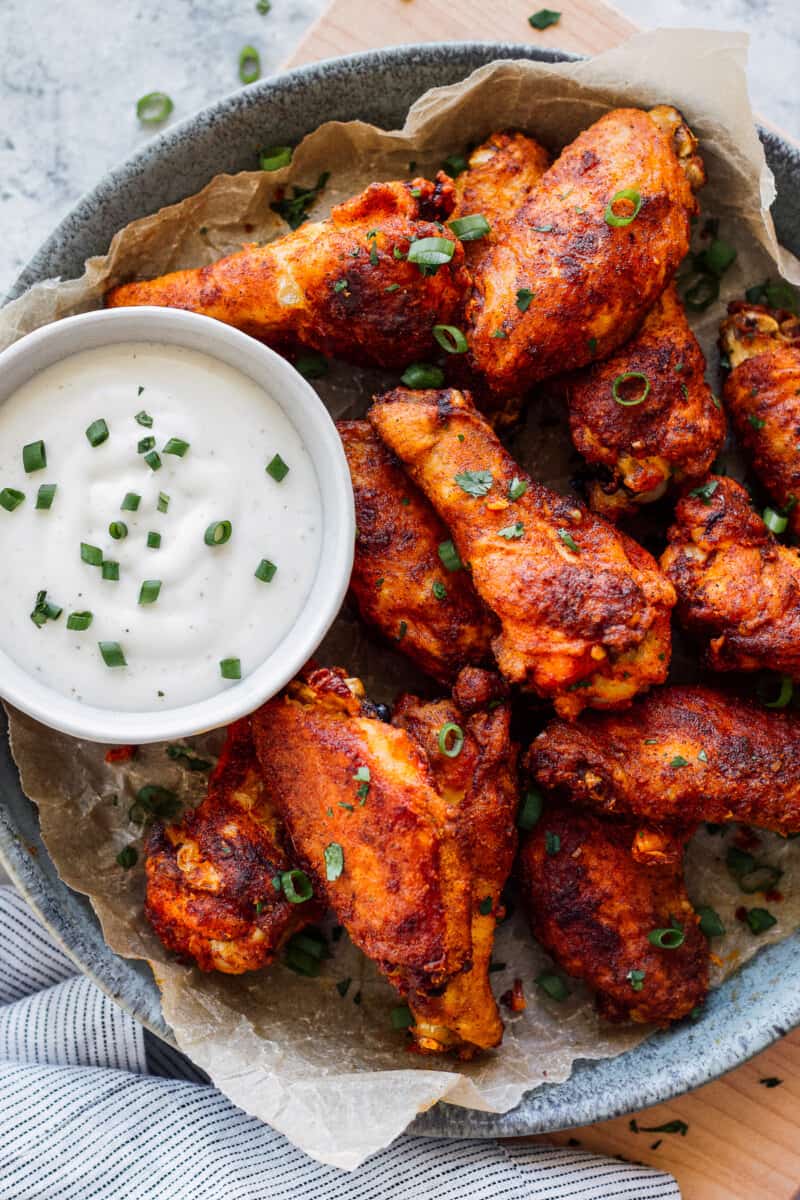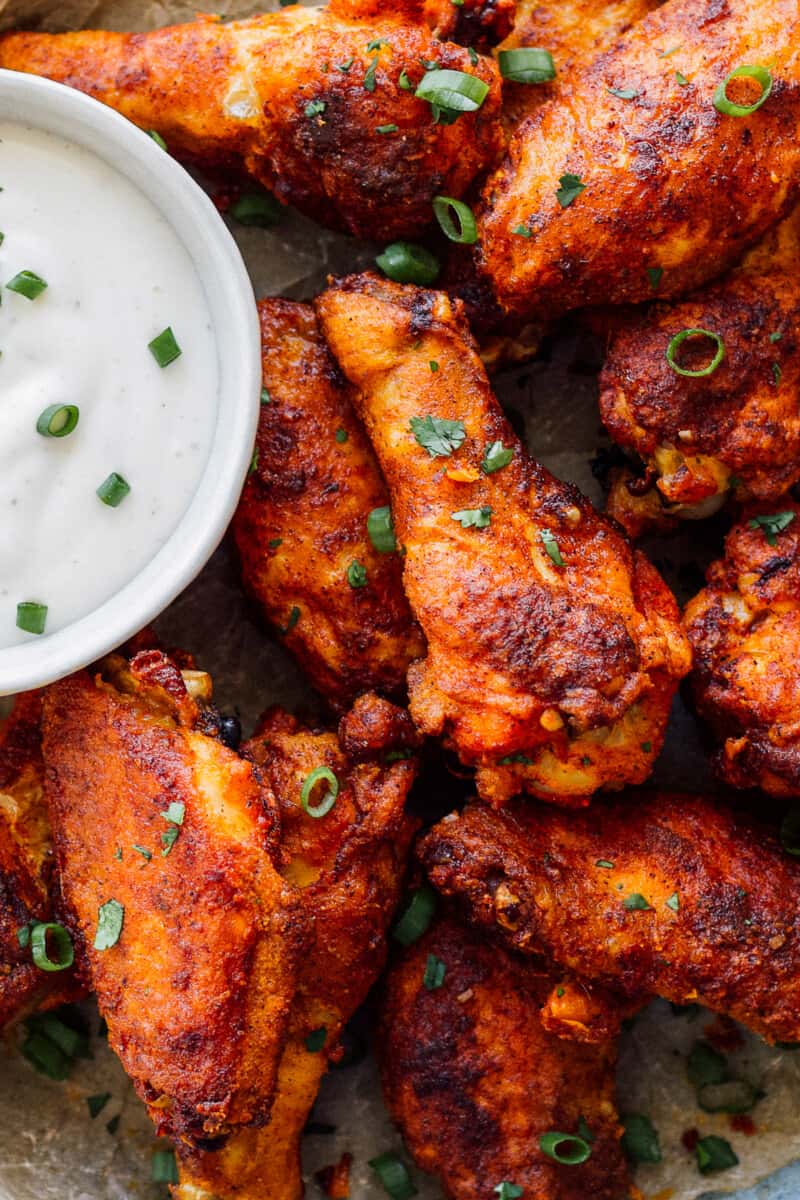 How to Bake Chicken Wings in the Oven – Step by Step
You can jump to the recipe card for full ingredients & instructions!
You don't need to deep fry anything to make wings! That's what I love about this recipe. Baking chicken wings in the oven is so much easier than frying them, and they are healthier too. This easy wings recipe is a lifesaver!
Line a baking sheet with foil and dot it with butter.
Combine flour, paprika, garlic powder, and salt & pepper in a mixing bowl.
Fully coat each wing with the seasoning mix and place it on the baking sheet.
Bake for 30 minutes at 425°F. Then turn the wings over and bake another 15 minutes.
That's all there is to it! And like I said, that wing seasoning is SO good, these wings come out full of flavor. Only a few ingredients to make these. Just serve with your favorite dips.
An appetizer for Any Occasion
Sure, desserts are fun on Valentine's Day. Everybody loves to show their affection with cookies, red velvet cupcakes, and an explosion of pink.
We have you covered for Valentine's Desserts Recipes, but if you're favorite person doesn't have a sweet tooth, you can still show your love through food! If they prefer savory foods, I definitely recommend this easy recipe.
Some people, like Pat, prefer finger foods. It's just a fact of life. I think they might be on to something. He's a simple guy, and these Simple Baked Wings are right up his alley.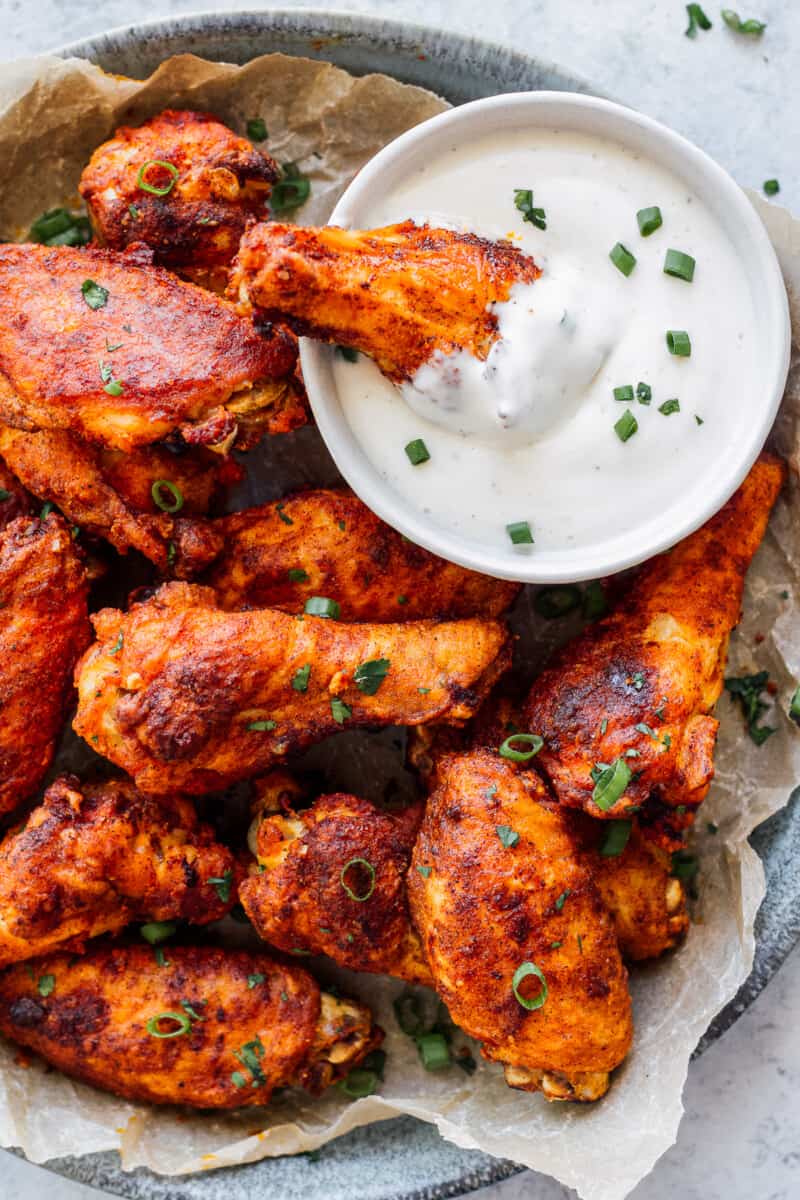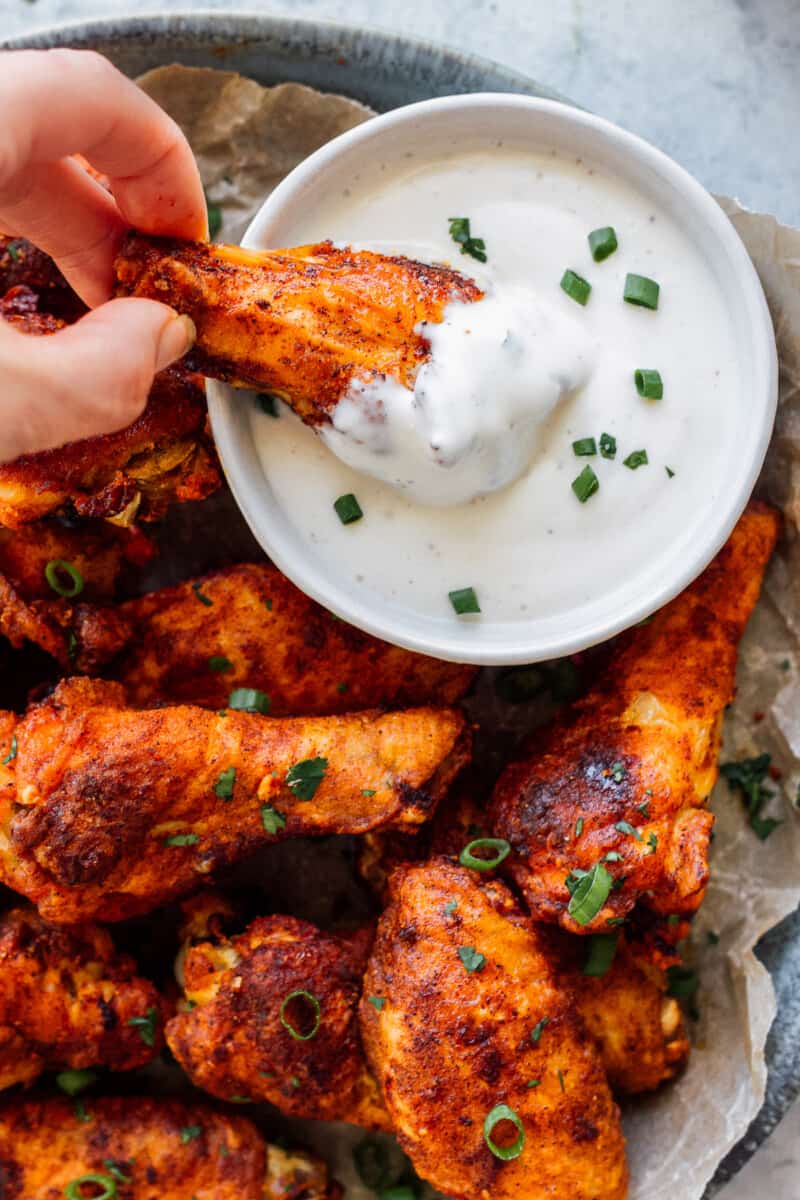 How long does it take to Bake Chicken Wings in the Oven?
Bake in a 425° F oven for 30 minutes, turn, and then bake another 10-15 minutes. The chicken should have an internal temperature of 190° F. Be sure to check out our Meat Temperature Chart for all you need to know about how to cook chicken, beef, pork, and more.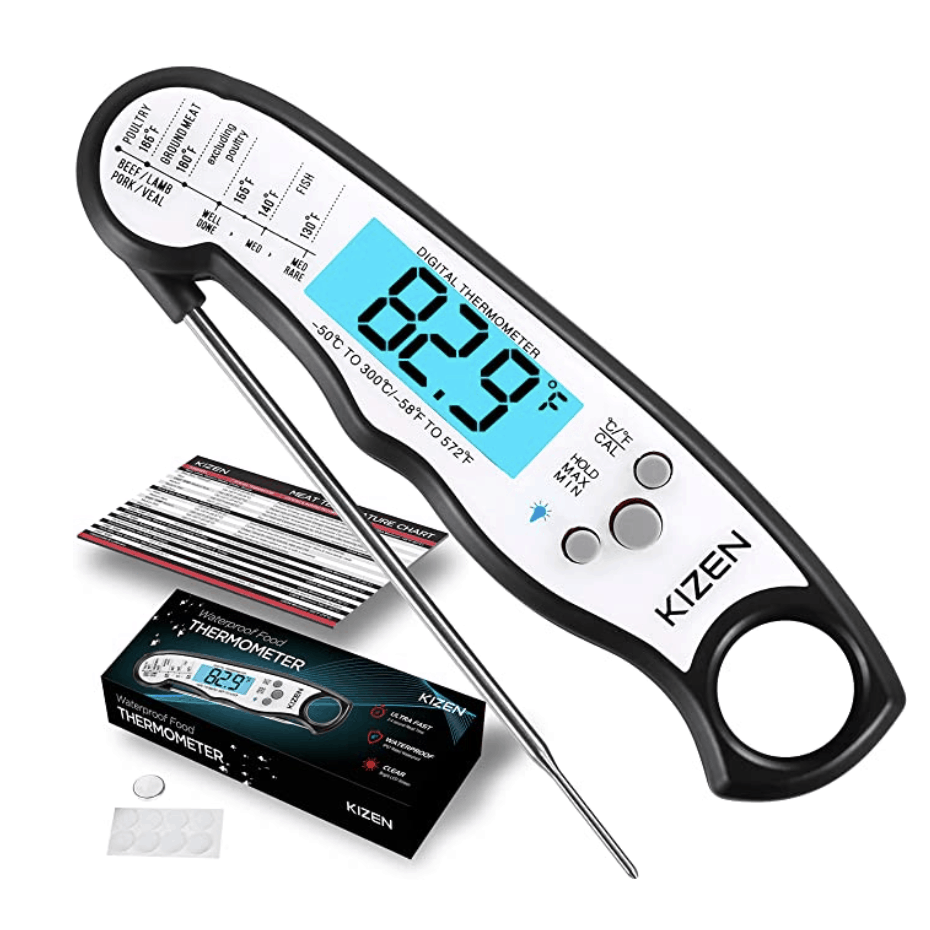 The Best meat thermometer!
I love using this meat thermometer for making sure the meat is at 165 degrees! Easy for beginners & totally worth the $10 cost!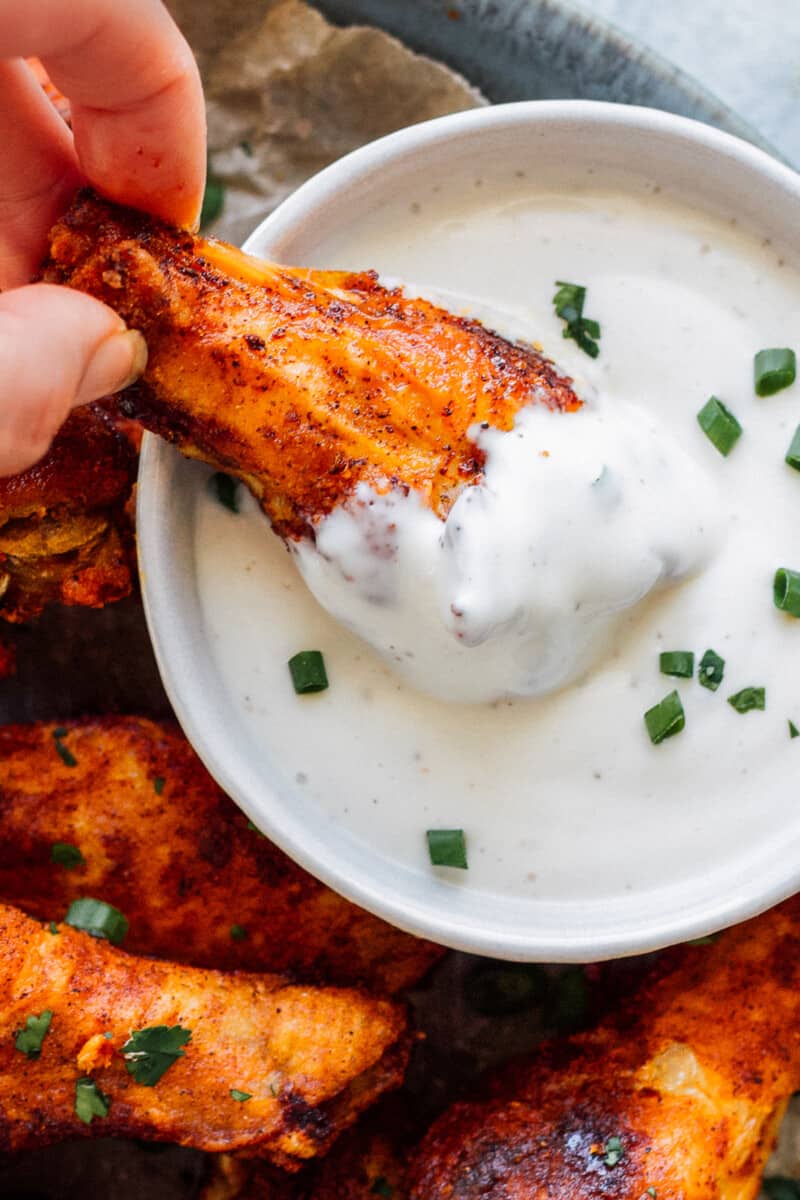 If you make this recipe be sure to upload a photo in the comment section below or leave a rating. Enjoy! You can also jump to recipe.