No party is complete without a big platter of 7-layer Bean Dip made with refried beans, guacamole, sour cream, salsa, cheese, olives, and green onions! Just thinking about all the delicious mouth-watering ingredients in one easy no-bake dish, I can't wait to dive in with my tortilla chips to taste the best bite. It's the ultimate party and game-day food with no cooking required!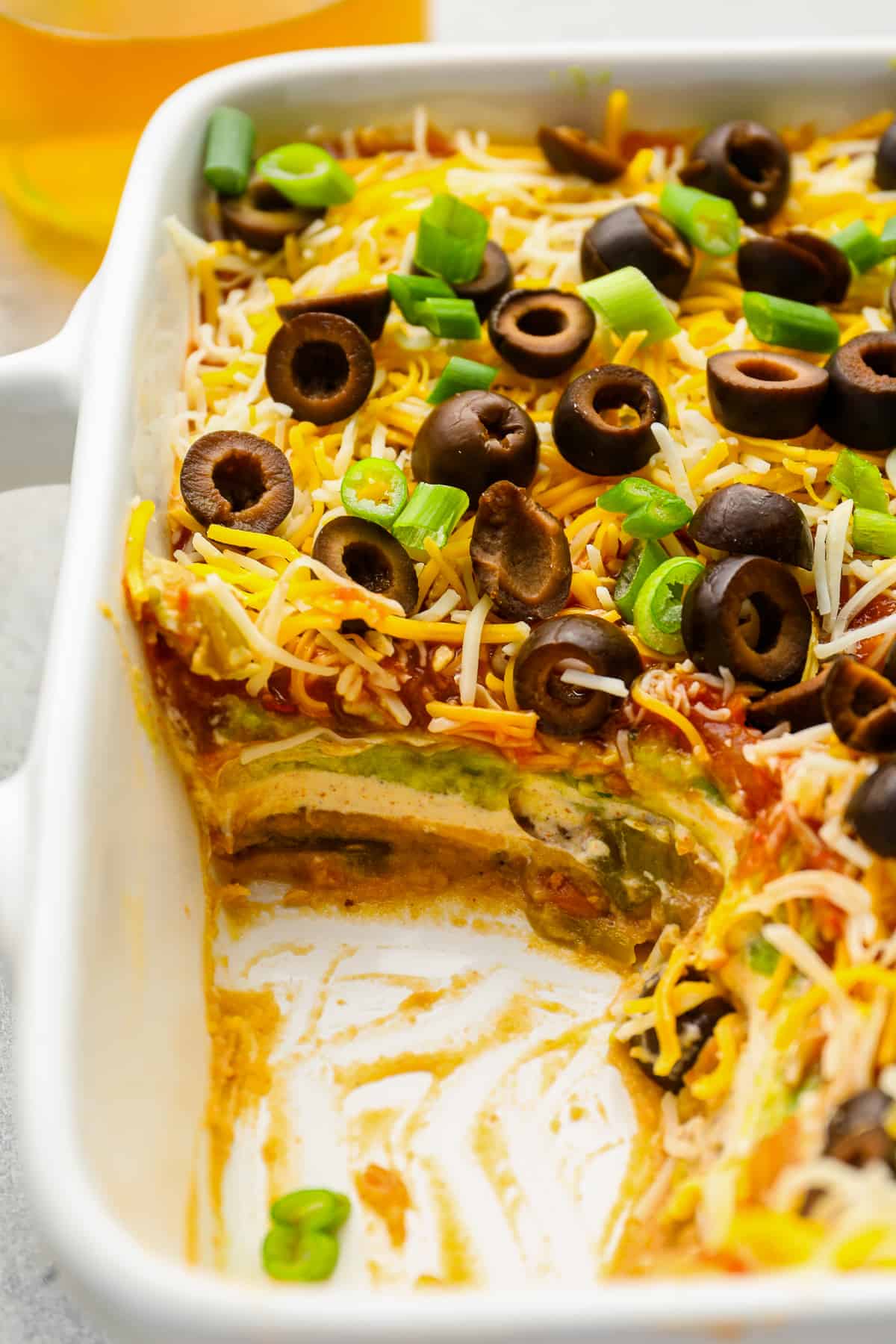 What's in Seven Layer Dip?
Pantry staples like refried beans, diced green chilis, and sliced olives are seasoned and layered with salsa, ripe avocados, cheese, and other yummy Mexican food ingredients to make this flavorful dip.
Refried Beans: Store-bought canned refried beans are an easy hack for this recipe, but you could also make your own refried beans if you prefer!
Diced Green Chiles: Milder than jalapeños, diced green chiles add a bright note to the refried beans. If you're not a fan of spice, you can reduce the amount or swap them for a diced green bell pepper.
Sour Cream: Sour cream makes this dip rich and creamy. For a thicker sour cream layer, swap half of the sour cream for brick-style cream cheese!
Taco Seasoning: This classic seasoning blend gives this dip a true Tex-Mex flavor. You can use a pre-mixed blend to save time. If you have gluten-free guests, make sure to check the ingredients or use my taco seasoning recipe!
Guacamole: Make your own guacamole by combining the avocados, cilantro, jalapeño, lime, and salt, or feel free to use 1½ cups of your favorite store-bought guacamole to save time!
Salsa: Use your favorite brand of salsa, or make your own. Both chunky and smooth work here, but make sure it's not too runny. If your favorite salsa is runny, drain off most of the liquid. You can also use diced tomatoes or pico de gallo instead!
Romaine Lettuce: Fresh lettuce adds freshness and crunch to this dip. You can use iceberg lettuce instead, but Romaine has more nutritional value!
Mexican Cheese: Mexican cheese blend is made up of Monterey jack, cheddar, queso quesadilla, and asadero cheeses. You can find it with the bagged shredded cheeses. You can also use a mixture of Monterey jack and cheddar cheese instead.
Olives: Black olives are classic in this dip, but you could use green or kalamata olives if you prefer.
Green Onions: Green onions add a bit of freshness and bite to this dip. You can use chives if you prefer.
Pro Tip: Add a tablespoon of ranch seasoning to the sour cream layer for even more flavor!
7 Layer Taco Dip
If you'd like to make this vegetarian 7 layer dip into 7 layer taco dip, try adding cooked ground beef as an extra layer between the refried bean and sour cream layers. Cook the ground beef with taco seasoning, and be sure to drain off any grease before adding it to the dip!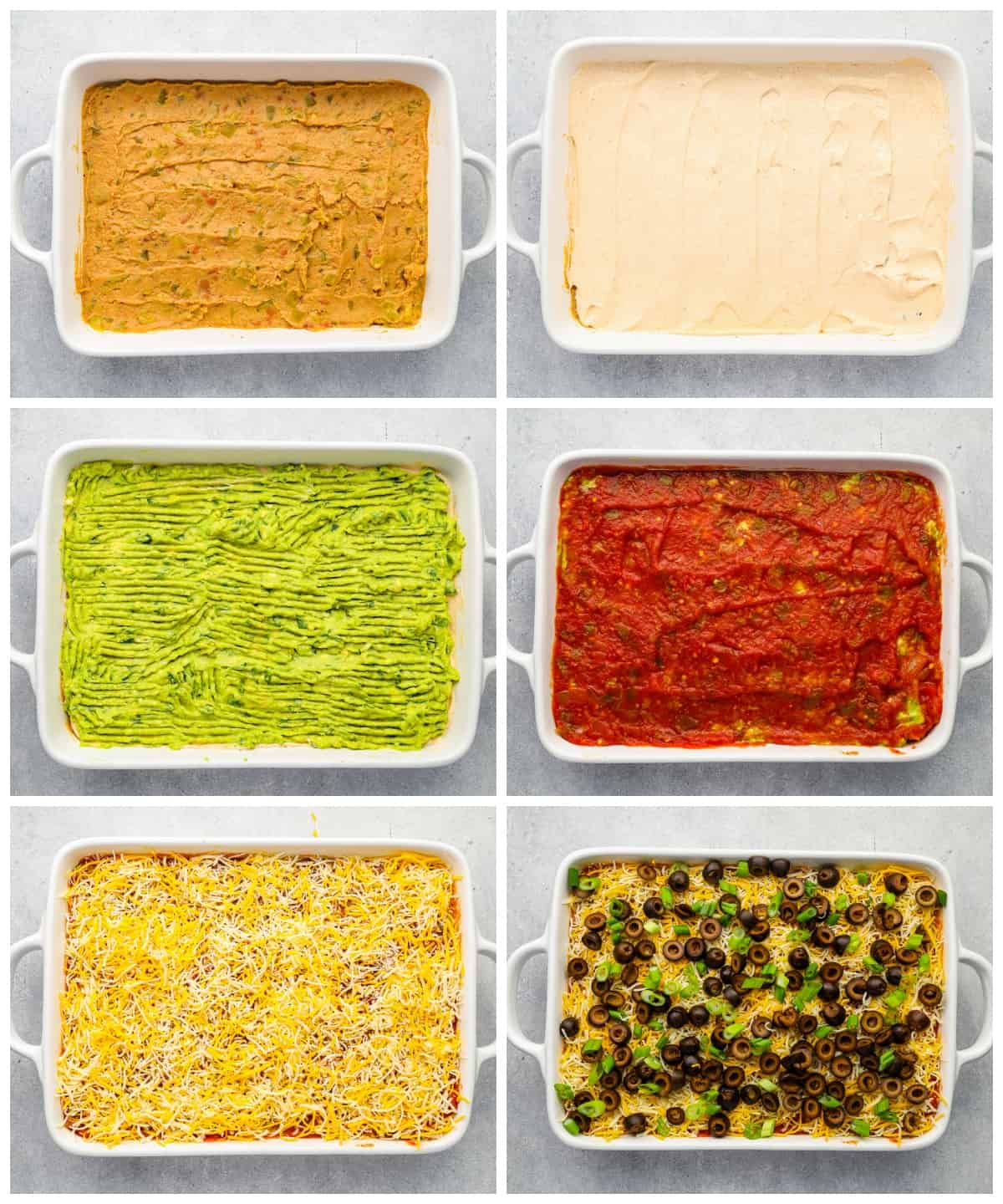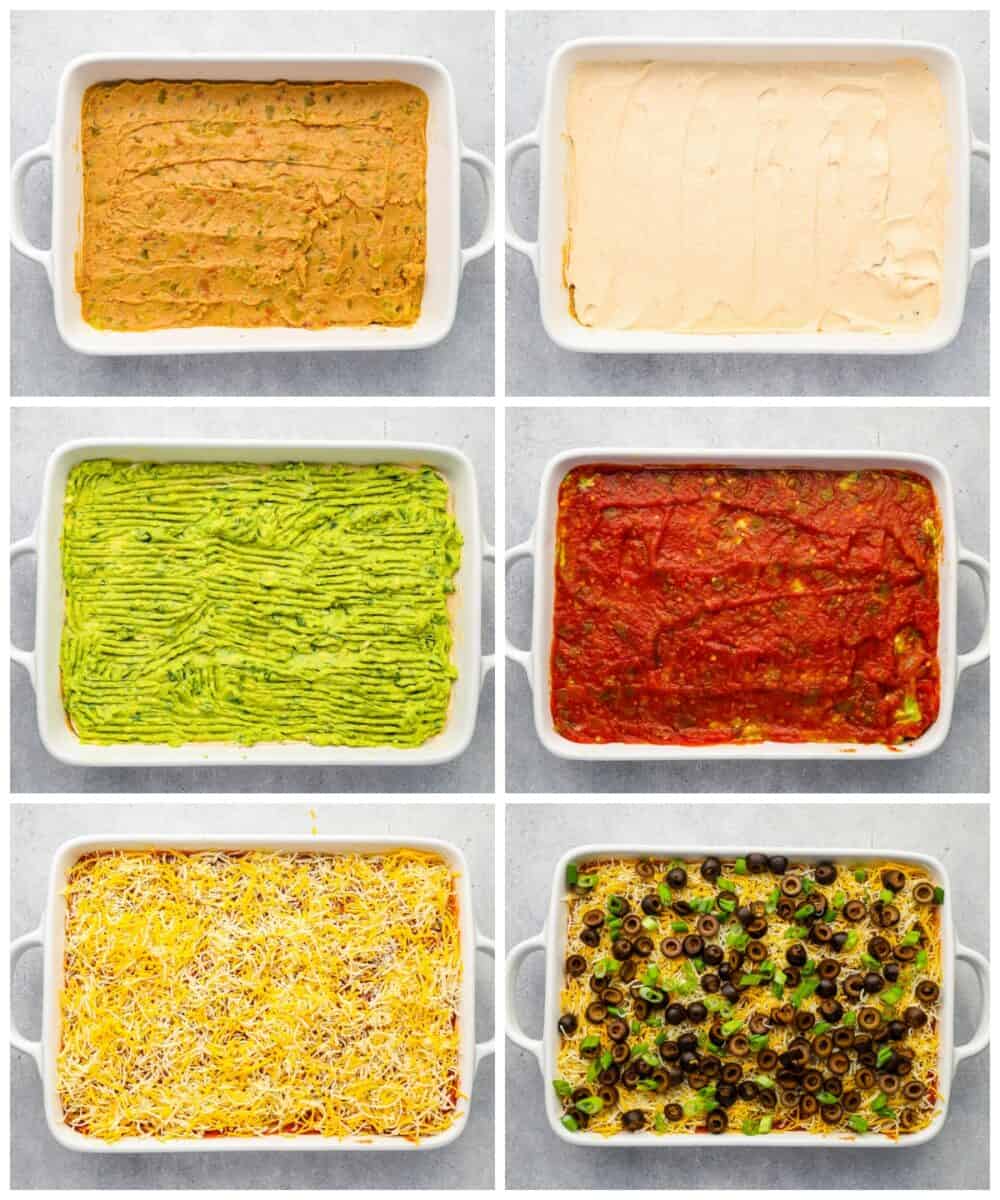 What's the best salsa for 7 layer dip?
The best salsa for 7 layer dip is your favorite brand of salsa! You can use chunky or smooth depending on your preference. Just make sure to drain off excess liquid if the salsa is runny. Or, if you're feeling fancy, try making your own salsa or pico de gallo!
Where can I buy diced green chilis?
Diced green chilis are usually found in the International aisle of the grocery store, near the jarred salsas!
Is 7 layer dip gluten-free?
Yes, this dip is naturally gluten-free! Simply be sure to check the ingredients in the taco seasoning if using store-bought.
Can you make 7 layer dip the night before?
Yes, you can make this dip ahead of time. Note that the guacamole layer may begin to brown if assembled too far ahead of time. I recommend assembling the bean and sour cream layers ahead and waiting to add the remaining layers until just before serving for the most visually appealing dip. Cover tightly with plastic wrap to preserve freshness.
Do you eat 7 layer dip hot or cold?
This dip is traditionally served cold to preserve the freshness of the guacamole, lettuce, and sour cream. If you're looking for a warm dip, try my hot 7 layer dip or crockpot corn dip!
Can you freeze 7 layer dip?
I do not recommend freezing this dip, as guacamole does not freeze well and the sour cream will begin to separate if frozen.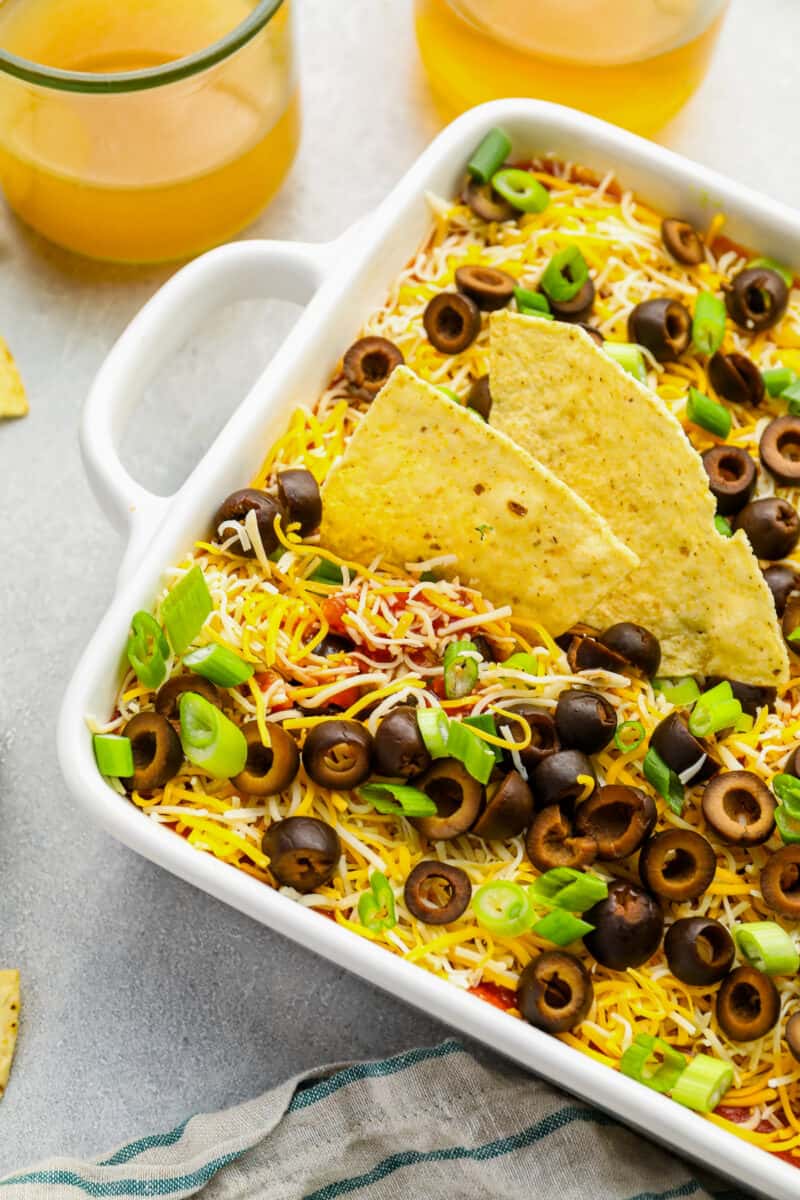 How to Store 7 Layer Bean Dip
Store leftover 7 layer dip tightly covered with plastic wrap in the refrigerator for up to 4 days. The dip may get a bit watery as it sits, but you can simply drain off any excess liquid before serving. Note that the guacamole layer may also begin to brown as it sits, but it is still perfectly safe to eat!
What to Serve with 7 Layer Mexican Dip
All you need to enjoy this 7 Layer Dip is a bag of your favorite tortilla chips. Make sure they are the perfect thickness to be crunchy and still hold all that yummy bean dip on the chip without falling apart. I often serve this dip before serving Grilled Flank Steak with Cilantro Lime Butter for dinner.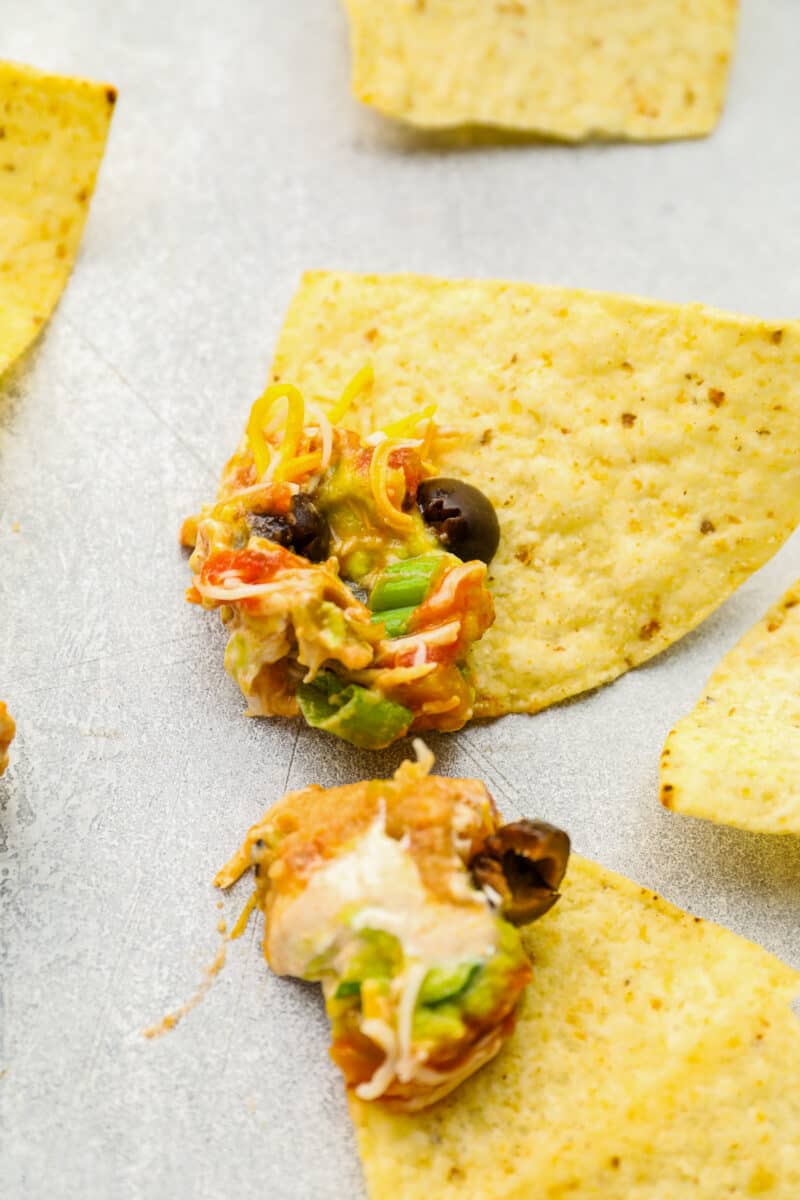 More Layered Dip Recipes We Love