7 Layer Dip doesn't have to be cold! This 7 layer Taco Dip recipe is filled with flavor, made in a skillet, and it's plenty hot. Perfect for dipping during tailgating or Cinco de Mayo. So addicting!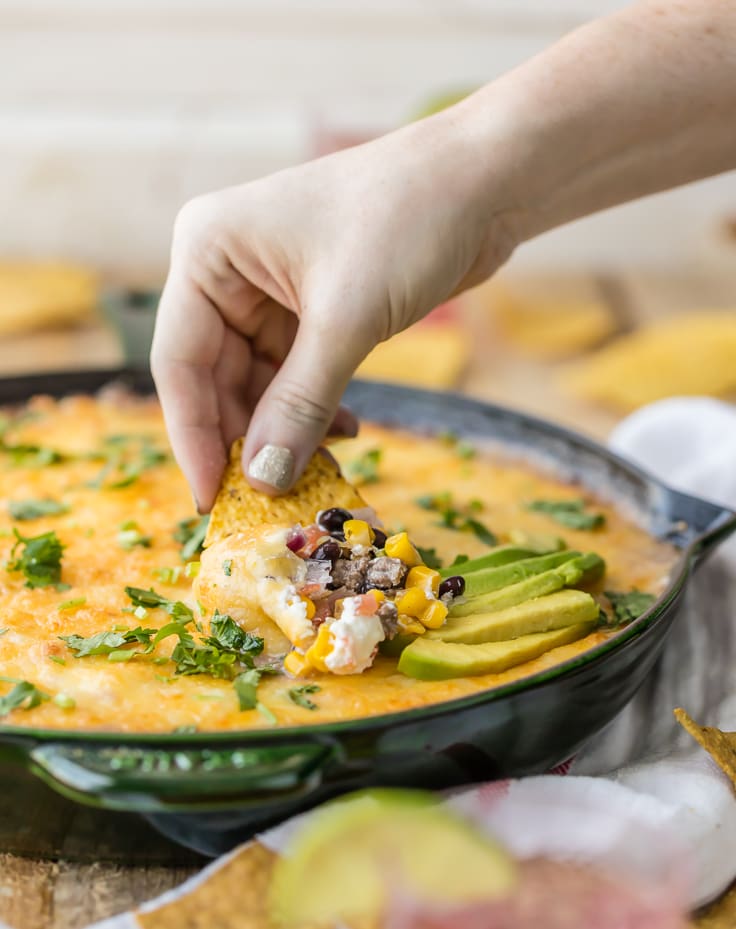 7 Layer Dip
This 7 Layer Dip recipe is a crowd favorite at every party. Forget the cold version you've seen at parties for years, this dip is baked so it's nice and HOT.
My favorite holiday (Cinco de Mayo) is quickly approaching and I'm just not ready. I haven't tested all the margarita recipes yet! I haven't decided on a menu of Mexican food that will do this holiday justice. So much to do!
Thank goodness I have the appetizers locked down. You can't go wrong with a hot cheesy dip, and this Hot 7 Layer Dip is a winner. It's just perfect for the occasion!
This dip literally has it all! Oooey gooey melted cheese, layers of veggies and spices, and spicy ground beef. If I don't figure out the right main course menu for Cinco de Mayo, I think I'll just serve about 8 skillets of this and call it a day. I could eat it with a spoon!
Who says 7 Layer Dip has to be cold? I certainly don't. Bring on the melty cheese, please!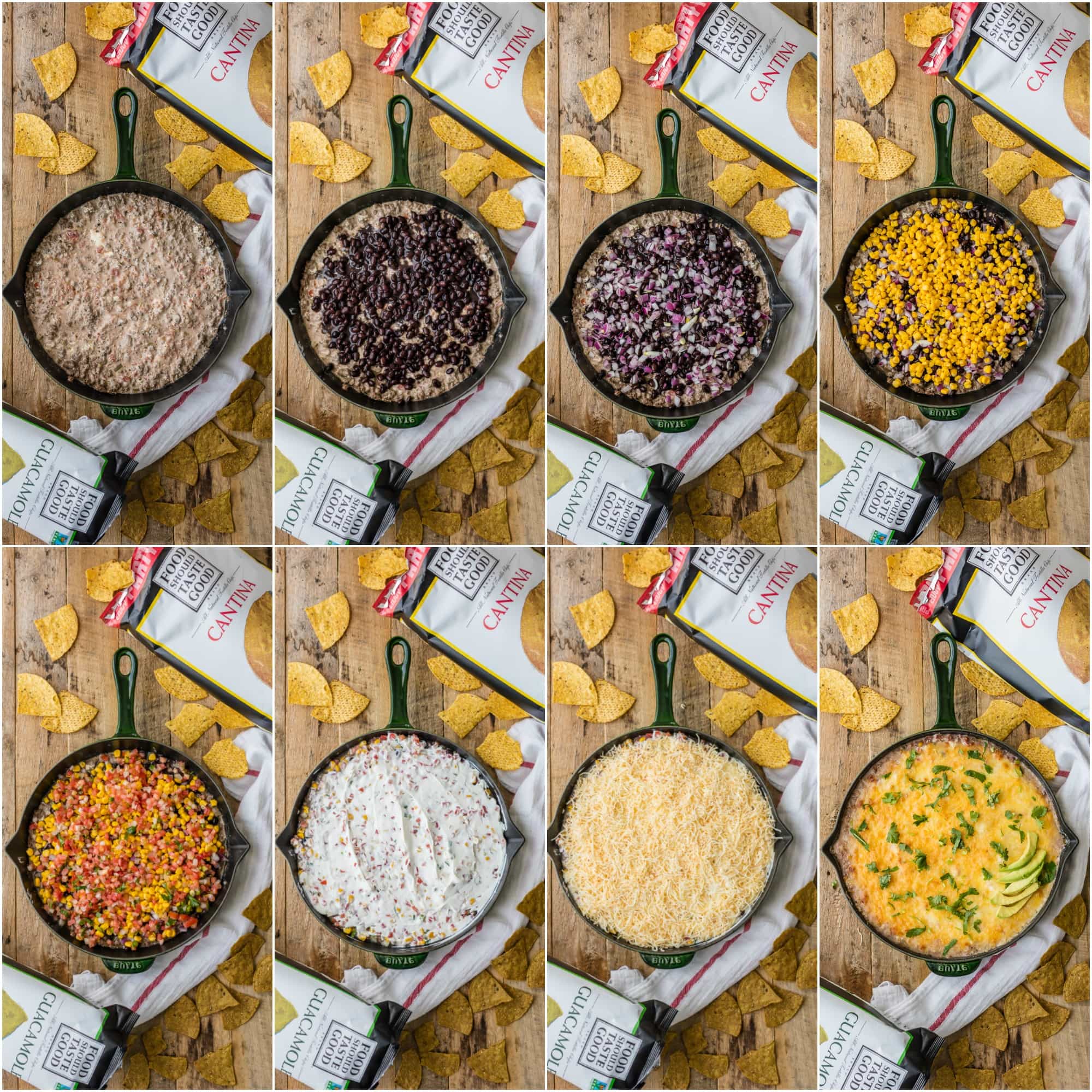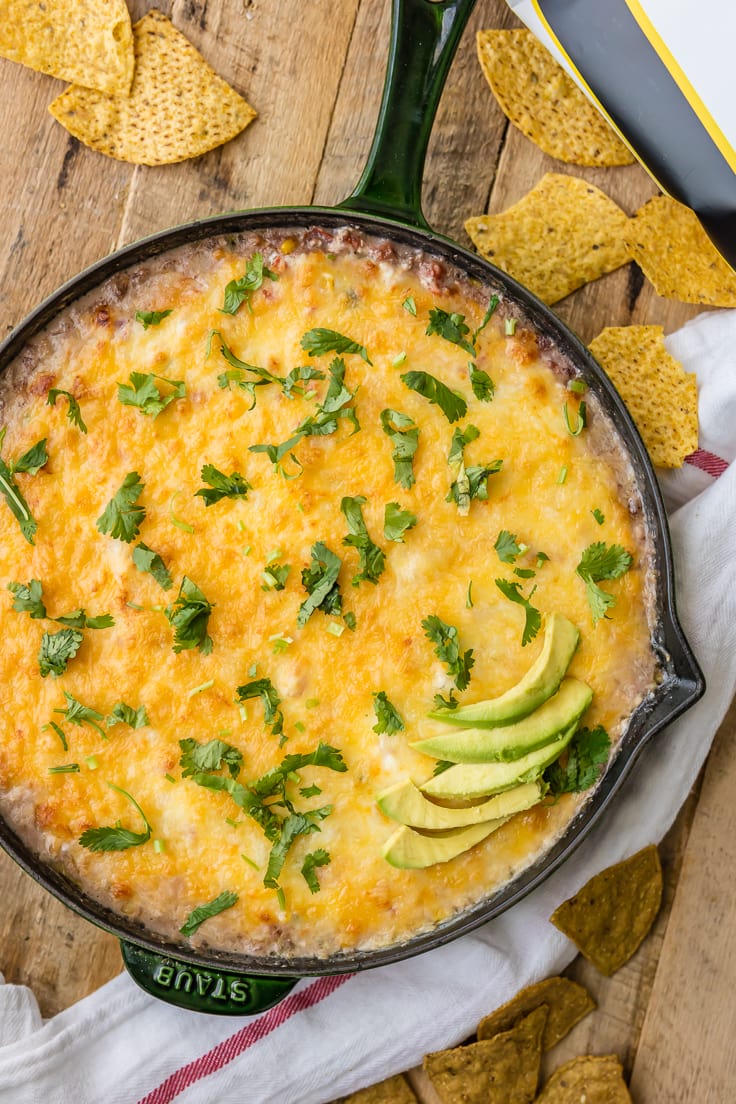 How to Make 7 Layer Dip in a Skillet
Baking this 7 layer dip really takes it above and beyond the classic party dip you know. Everything melts together into a warm delicious dip. Melted cheese is always better than unmelted cheese, right?
Preheat oven to 350°F

Heat large skillet (12 inch) over medium/high heat.

Add beef to the skillet and crumble as it browns. When crumbled, add the garlic, taco seasoning, and salt and pepper to taste and stir to combine. Continue stirring and crumbling until fully cooked.

Add in 8 ounces cream cheese and tomato paste and press down/stir until fully melted and incorporated into the beef mixture.

Turn off the stovetop heat.

Layer the beans, onion, corn, and tomato layers over the beef mixture. (as shown)

After softening the remaining 8 ounces cream cheese, spread over the top of the veggies. This step doesn't have to be perfect, its okay if some of the layers blend together.

Top with the shredded cheese, the more the better!

Bake for 20 minutes or until cheese is bubbly and fully melted.
Once it's done, feel free to top it off with cilantro, avocado slices, or a dollop of sour cream!
Check the recipe card below for the full recipe, ingredients, and a printable version.
How long does 7 layer dip last in the fridge?
If you can resist eating this entire dip at once, you can always save leftovers in the refrigerator for up to 3-4 days. It still tastes good cold, or you can reheat it by baking it at a low temperature until warmed through.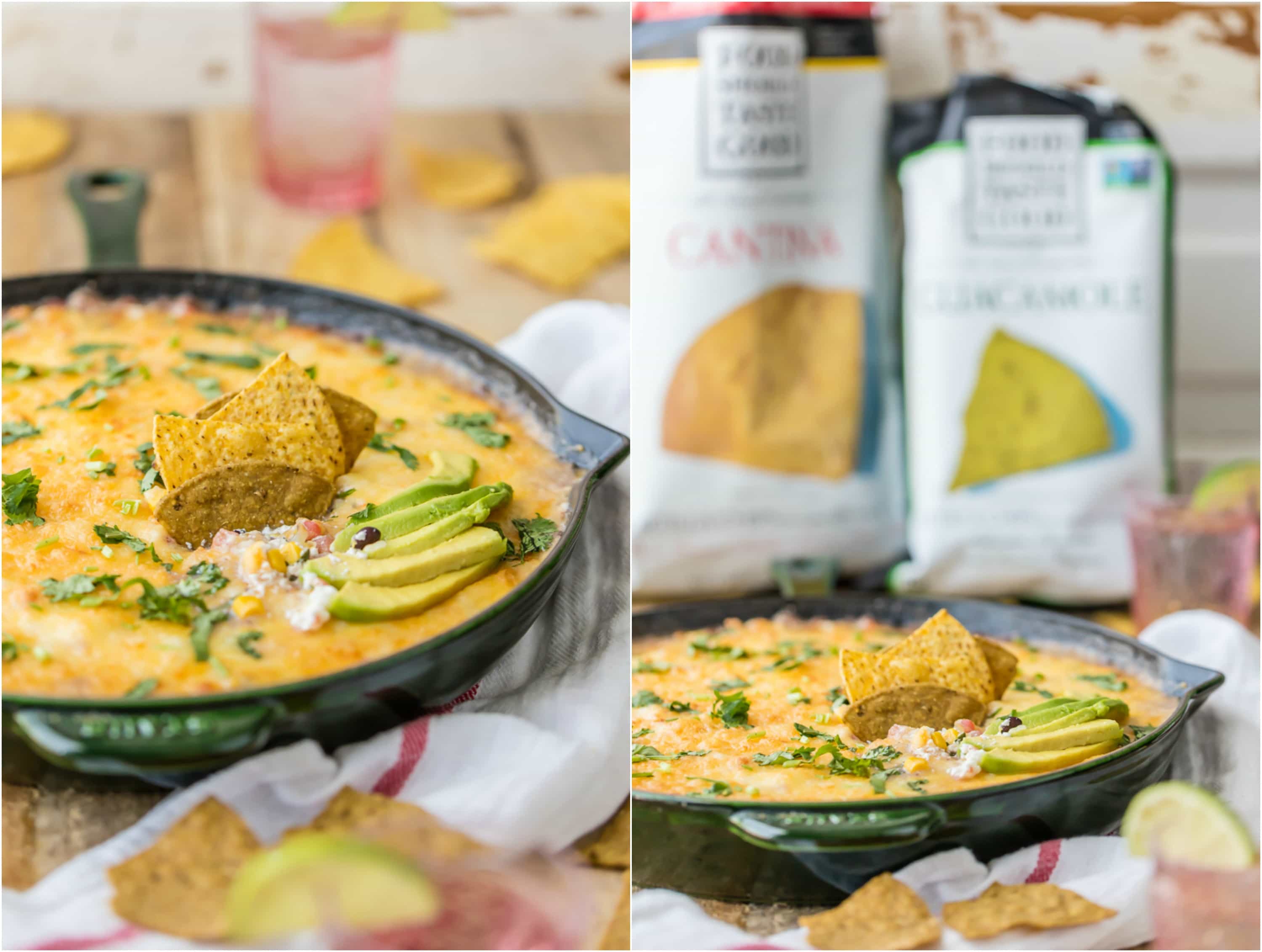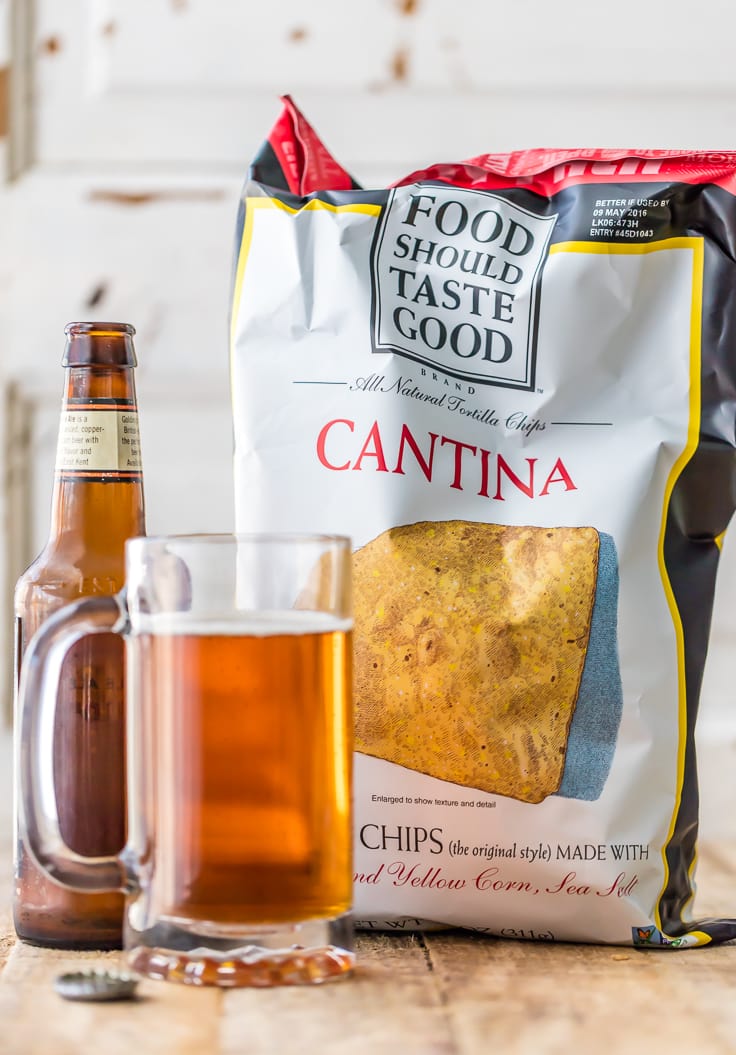 What do you use to dip in 7 layer dip?
When you've found a good go-to dip, you HAVE to have a GREAT go-to chip. For me it doesn't get better than Food Should Taste Good! Food Should Taste Good Tortilla Chips are HANDS DOWN my new favorite and they have a flavor for every style of dip. Their Cantina Tortilla Chips are my snacking favorite (SO CRISPY and perfect for hearty dips) and their Guacamole Tortilla Chips are so addicting you won't believe it. My dad literally hunts for them every time he comes to my house.
My dad is a chip connoisseur. He knows good chips. The Guacamole Tortilla Chips from Food Should Taste Good are his absolute favorite and for good reason! They're just perfect for Cinco de Mayo, especially delicious paired with some cold beer and this Hot 7 Layer Dip recipe!
Food Should Taste Good products are Gluten Free, Cholesterol Free, have zero grams trans fat, and never any GMOs. What's not to love??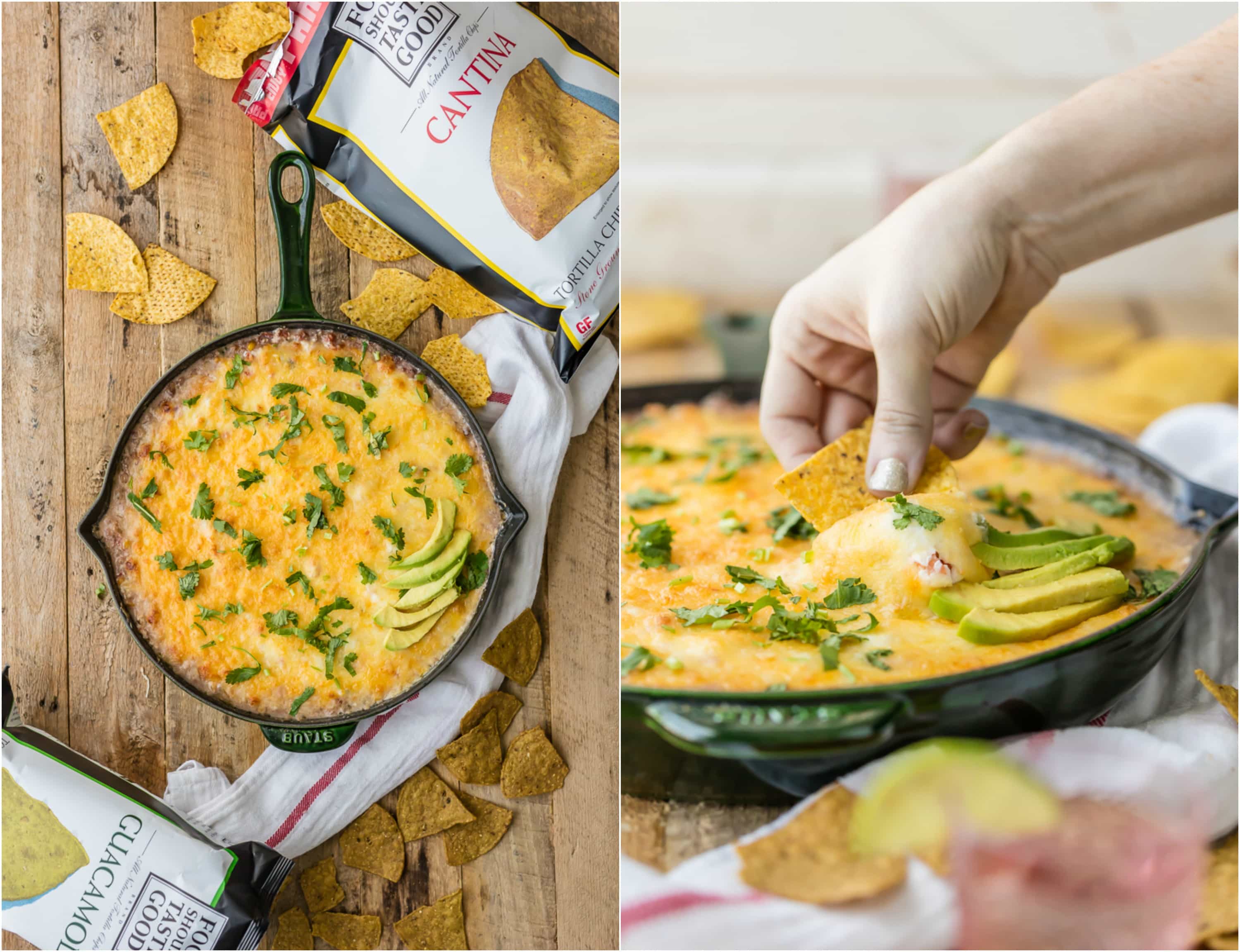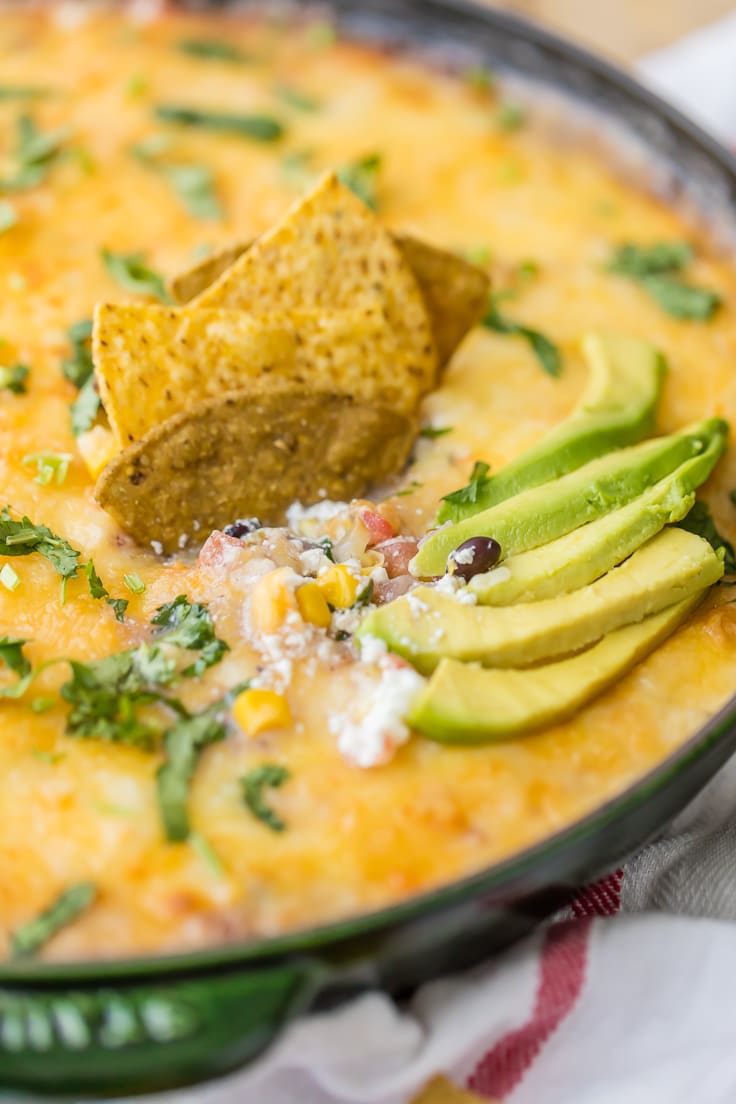 Best Hot Dips
So let's recap. This 7 layer dip is EVERYTHING, probably because it's filled with has everything! All the layers of everything that's good. Plus it's hot and melty and delicious. Make it for Cinco de Mayo and enjoy!
This is just one of our favorite hot dip recipes, but we have plenty more for you:
If you're looking for a cold dip to serve instead, you'll love this Layered Taco Dip or this Layered Bean Dip!