Cheesy baked chicken empanadas are absolutely delicious and surprisingly easy to make. These are the perfect party food, or a fun and easy dinner!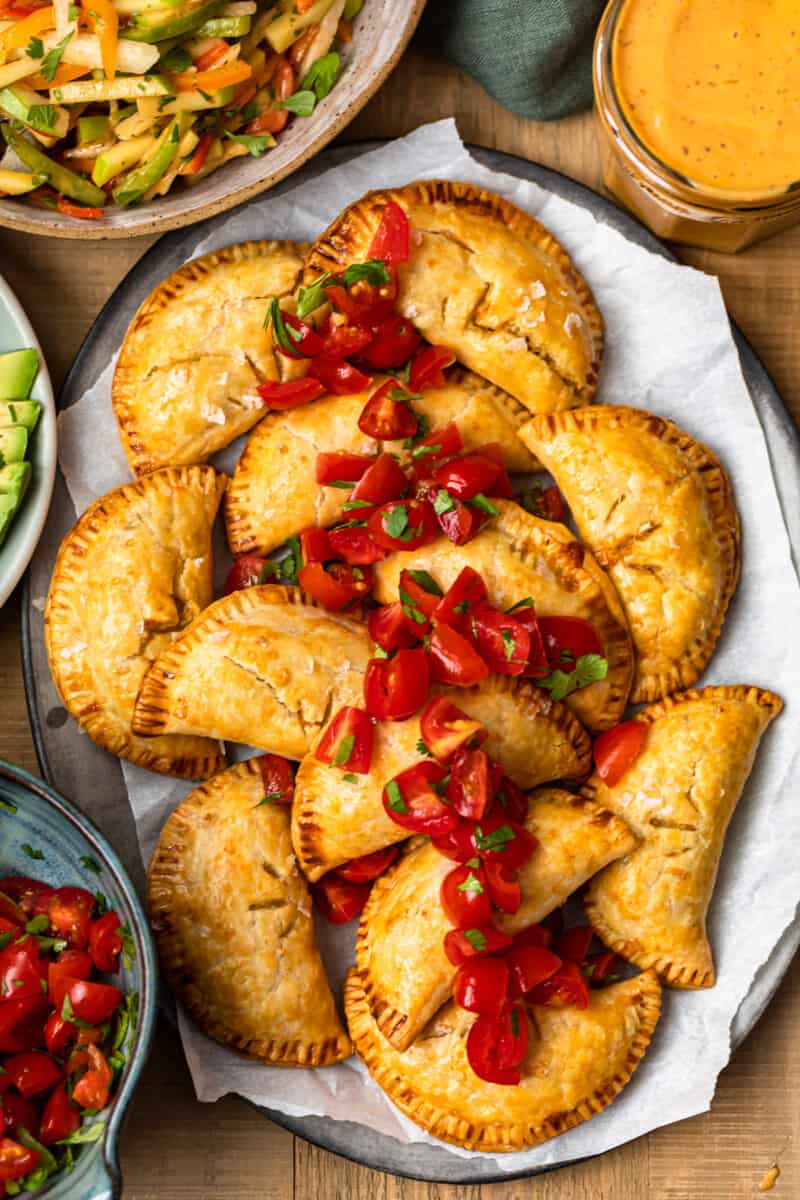 Cheesy Baked Chicken Empanadas Recipe
Chicken empanadas are the perfect handheld size for parties, appetizers, and quick meals.
These easy baked chicken empanadas are filled with lots of cheese, chicken, scallions, and some spices for an amazing flavor.
Whether you serve these for a quick dinner, a Cinco de Mayo party food, or on game day, you'll see them disappear in the blink of an eye!
Why you'll love this Easy Chicken Empanadas recipe:
PERFECT SIZE: These are easy to hold and eat on the go, which makes them a great party food.
BAKED NOT FRIED: Baked empanadas are a little bit lighter, and a lot easier to make in big batches.
EASY RECIPE: This recipe couldn't be simpler. The filling is easy to make, and pre-made dough means it's hassle-free.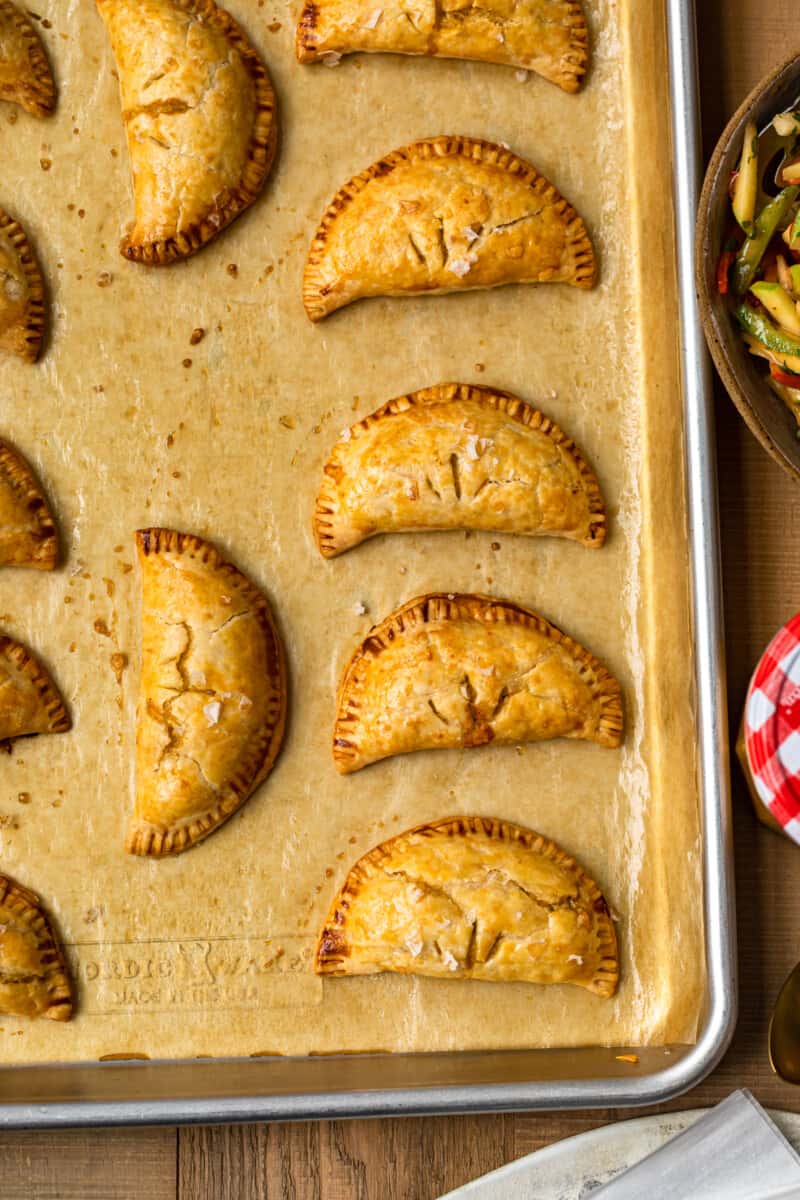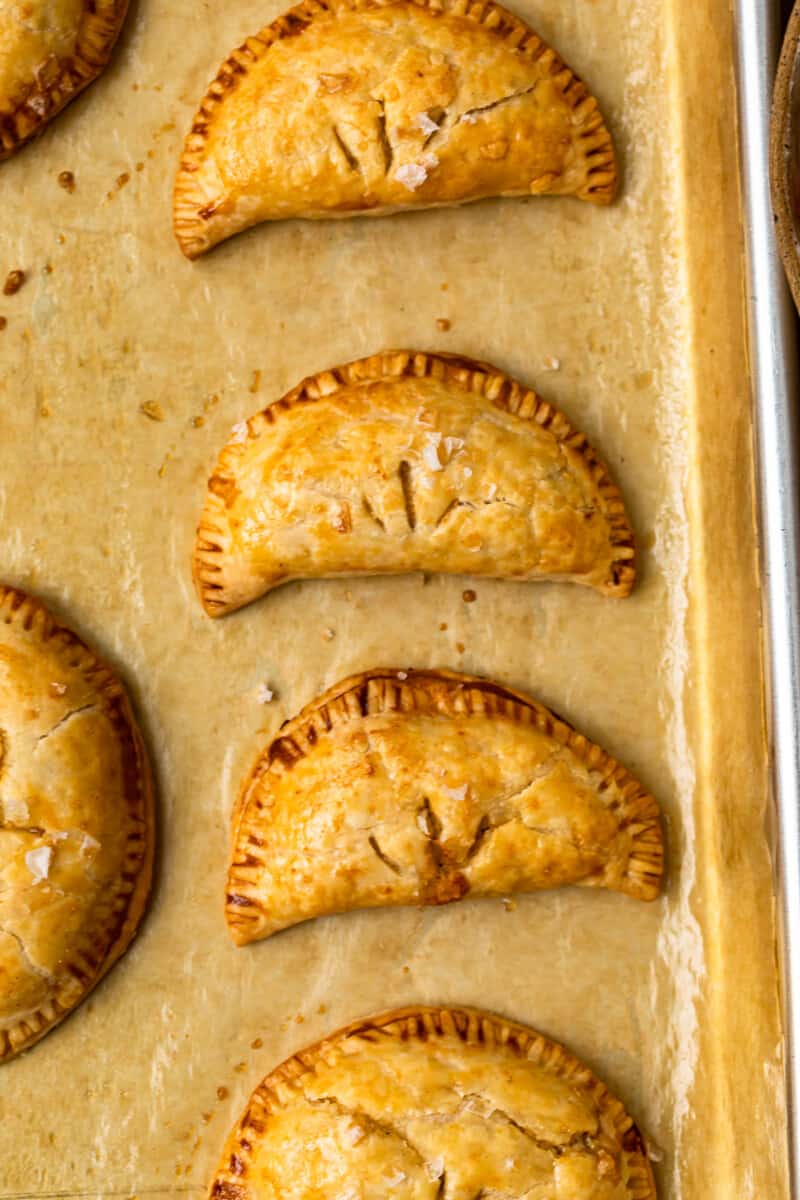 How to make Chicken Empanadas from Scratch
You can jump to the recipe card for full ingredients & instructions!
Preheat oven to 375F and prepare baking sheets. Set the dough out on the counter for 15 minutes before assembling the empanadas.
Make the chicken empanada filling by combining ingredients (cheese, scallions, and spices) in a large bowl. Then gently add in the chicken (shredded or cubed).
Roll out the dough and cut into a total of 14 pastry rounds.
Whisk together an egg with water to make the egg wash, then brush it over the edges of the dough.
Place 1 tablespoon of chicken filling in each pastry round, fold them over in half, and gently press the filling down to bring edges together.
Brush them with the egg wash, press edges together, and use a fork to crimp the edges.
Sprinkle them with sea salt, arrange them on the baking sheets, and make slits in each empanada.
Bake 20-22 minutes, switching tray placement halfway through.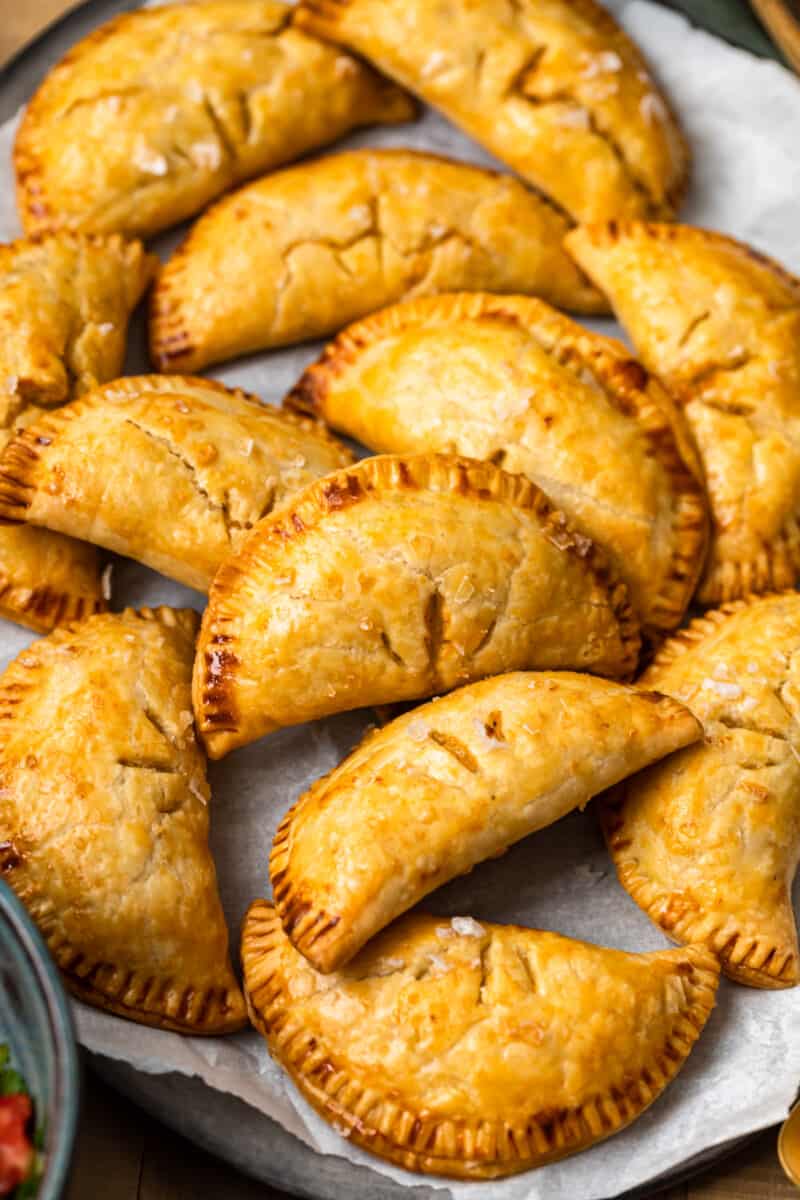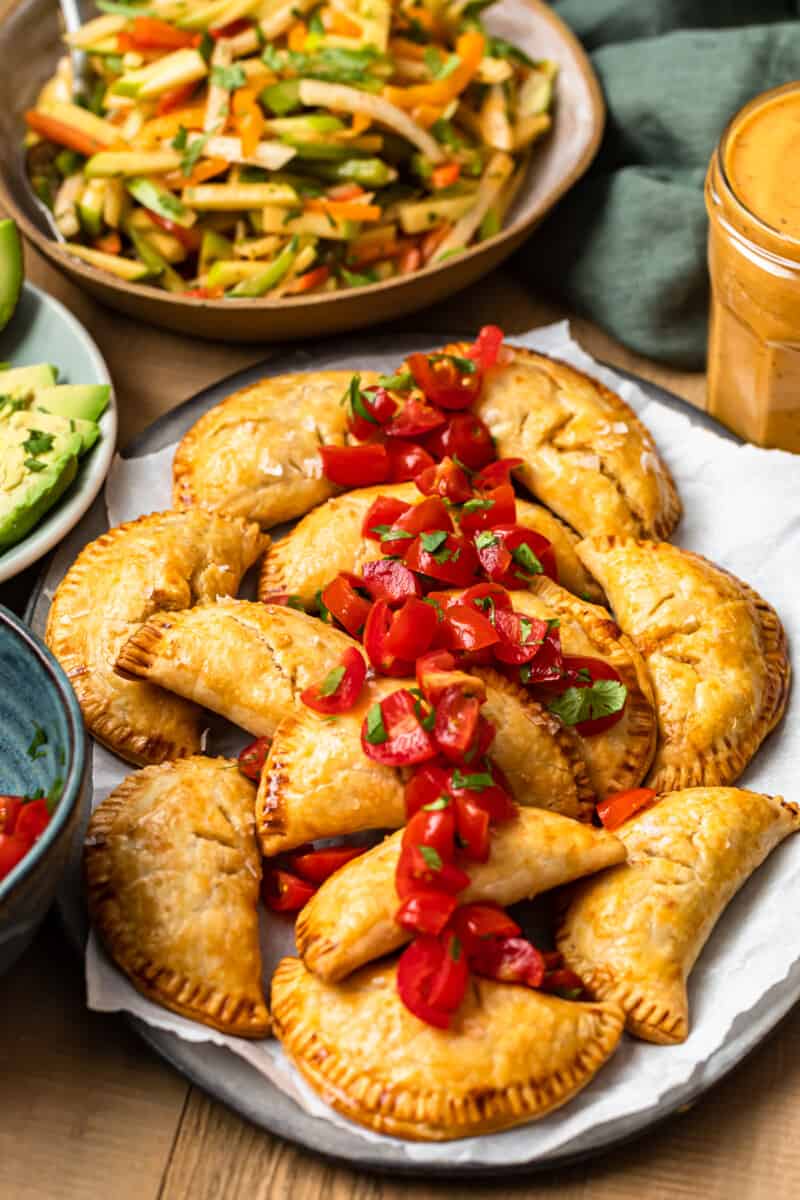 Is it better to bake or fry empanadas?
While fried empanadas will give you the crispiest results, I prefer baked empanadas. They're easier to make, especially in large batches.
They're also a little bit healthier without all the oil. And they end up just as delicious (and still pretty crispy)!
What goes with chicken empanadas for dinner?
If you want to serve these for dinner, add a few side dishes to bulk up the meal. I recommend making some rice, beans, and maybe a veggie or salad for something fresh.
Try this cilantro lime rice or Mexican rice, refried beans, and confetti corn salad or Peruvian chopped salad.
Can you make these ahead of time?
Yes, these can easily be made ahead of time. Follow the instructions right up until bake time, then cover them (uncooked) on the baking sheets with plastic wrap.
Refrigerate until ready to bake, up to 48 hours ahead of time. When ready to bake, just add 5-7 minutes to the listed cooking time.
If you want to partially prepare things, you can also cook the chicken, or even make the entire chicken mixture, ahead of time, and store it in the refrigerator up to 2 days.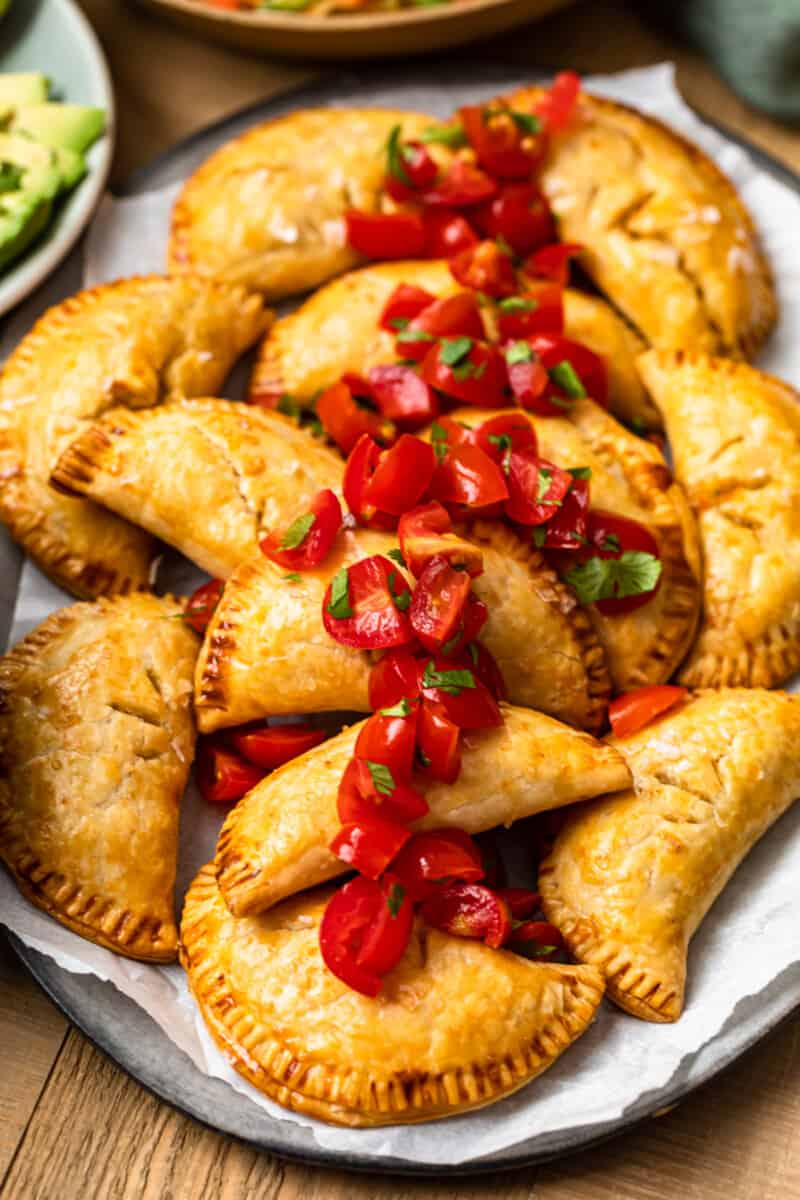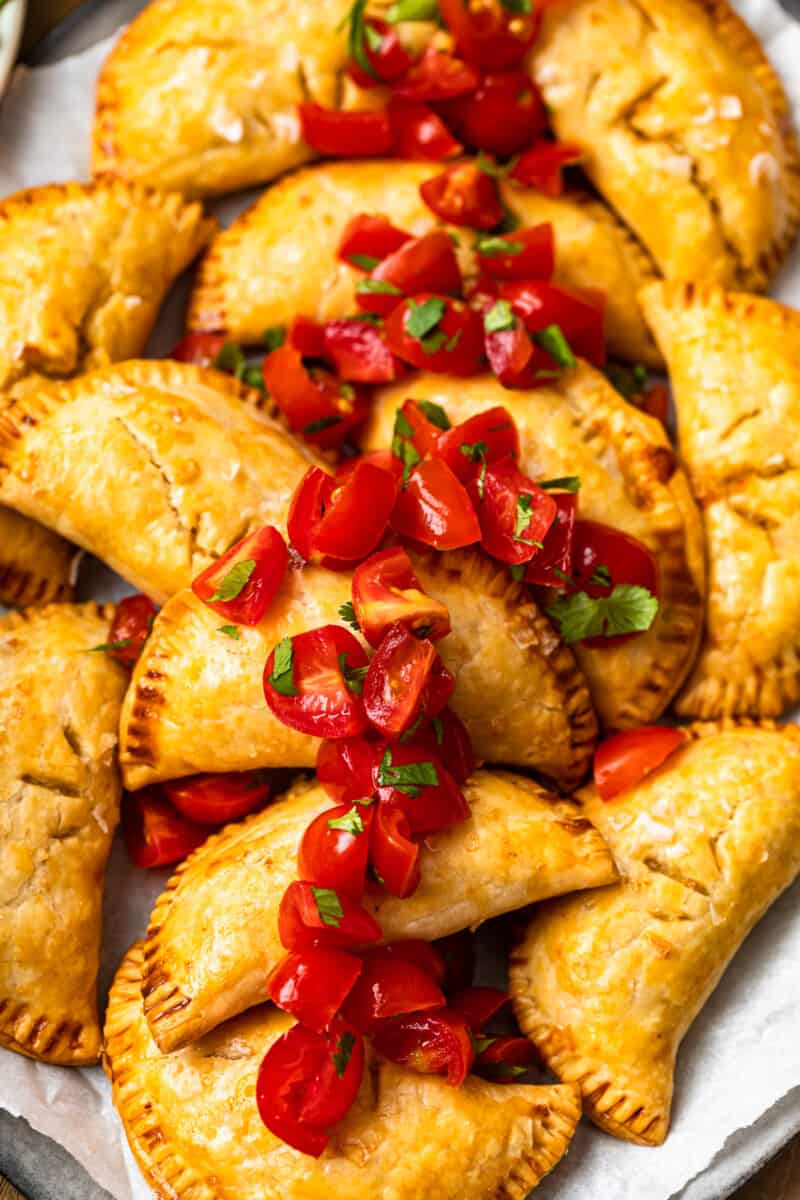 Tips!
You can make your own dough for this recipe if you want to make them fully from scratch, but using store-bought pastry dough really speeds things up.
Be sure to make small slits in the dough to allow steam to release while baking (otherwise you'll end up with messy, exploding empanadas).
The egg wash gives them a nice color, helps hold the dough together, and leaves you with a crispier finish. So don't skip it!
1 tablespoon of filling is the perfect amount for this size of dough. Don't overfill or the empanadas might leak filling.
To store leftovers: tightly wrap chicken empanadas in aluminum foil, or place them in resealable bags and remove as much air as you can. Keep them in the fridge up to 3 days.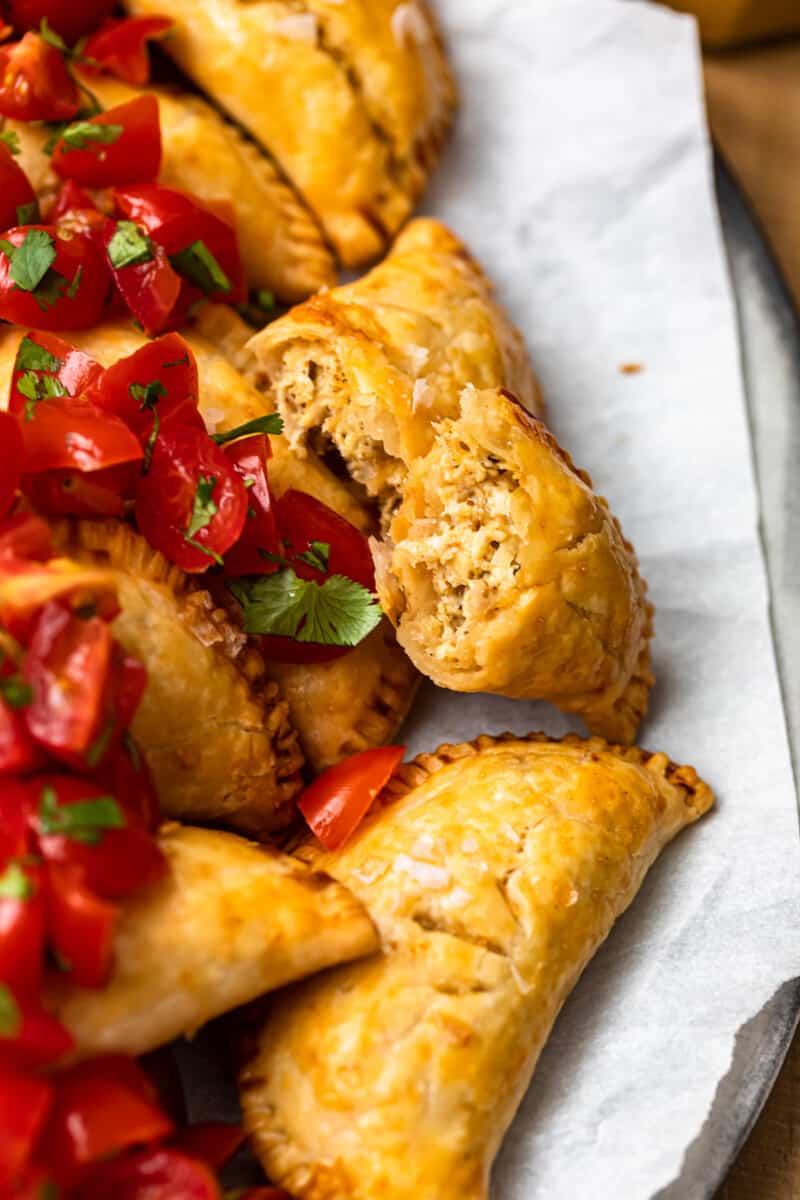 Make a batch of these cheesy baked chicken empanadas for your next quick dinner or party and be sure to serve them wit some delicious dipping options!
If you make this recipe be sure to upload a photo in the comment section below or leave a rating. Enjoy! You can also jump to recipe.