Tamales are a traditional Mexican dish you'll want to make at home for Cinco de Mayo or delicious weeknight dinners! All you need are corn husks, corn flour, and a couple of other basic ingredients, and your filling of choice (beef, chicken, pork, or beans). This homemade tamales recipe is so easy and unbelievably tasty!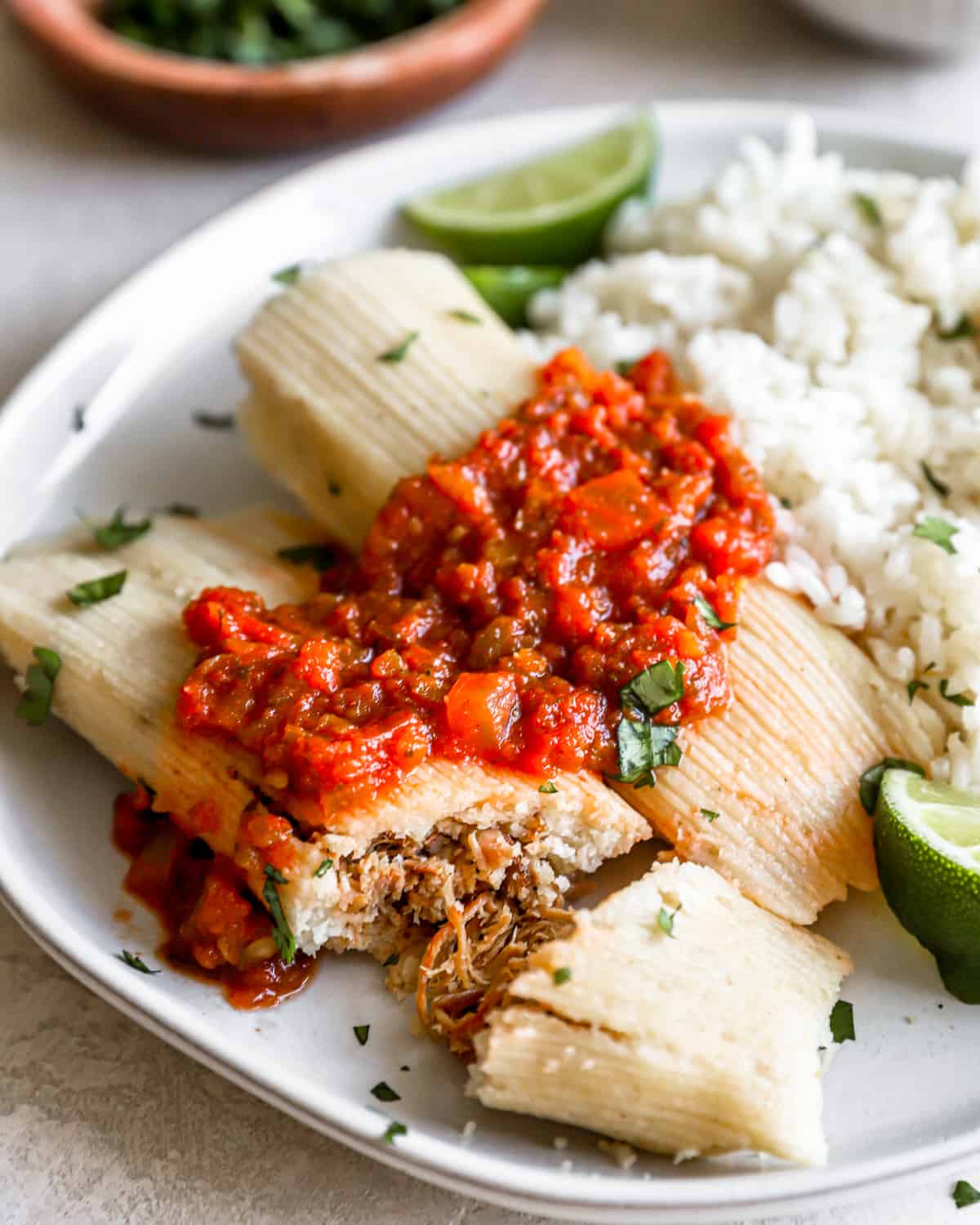 What's in this Tamales Recipe?
A thick corn-based dough is stuffed with your choice of Mexican-inspired fillings, wrapped up in a corn husk, and steamed to create hearty but healthy tamales that'll keep you coming back for seconds!
Corn Husks: The outside green leaves that protect a cob of corn. You can use fresh or dried, but I used dried in this recipe (hence the light color). You can find corn husks in the International aisle of the grocery store or on Amazon. I recommend Badia brand.
Masa Harina: Also known as corn flour. It is made from ground nixtamalized (alkalized) corn. Cornmeal will not work as a substitute, but you can find masa harina in the Internation aisle of the grocery store or from my favorite brand, Bob's Red Mill.
Baking Powder: Helps the dough rise a bit, giving it a light, fluffy texture.
Salt: Enhances the corn flavor.
Vegetable Oil: Adds fat, moisture, and flavor to the dough, helping it hold together.
Broth: You can use any kind of broth you like. To keep things vegetarian-friendly, use vegetable broth. If you're using chicken or pork, I like to use chicken broth. Or if you're using beef, I like to use beef broth.
Filling: You can fill your tamales with whatever you like! I used salsa chicken, but any meat will work.
Pro Tip: It's traditional to use lard in the dough instead of vegetable oil, but we wanted to keep it vegetarian-friendly! If you're not vegetarian, give the lard-based dough a try!
Variations on Homemade Tamales
There are so many different fillings you can use in your corn tamales. Some traditional ones include pork carnitas, refried beans, and barbacoa beef. Some other fillings I think would be delicious include shredded cheese, chili con carne, chile verde, vegetarian chili, Mexican shredded chicken, beef taco meat, sangria pork, or Mexican chicken salad.
You can also make sweet tamales by adding sugar to the masa harina mixture and filling with rehydrated raisins, pineapple, fruit preserves, or dulce de leche. I think they'd be so yummy filled with apple pie filling, sweet potato, or chocolate pudding!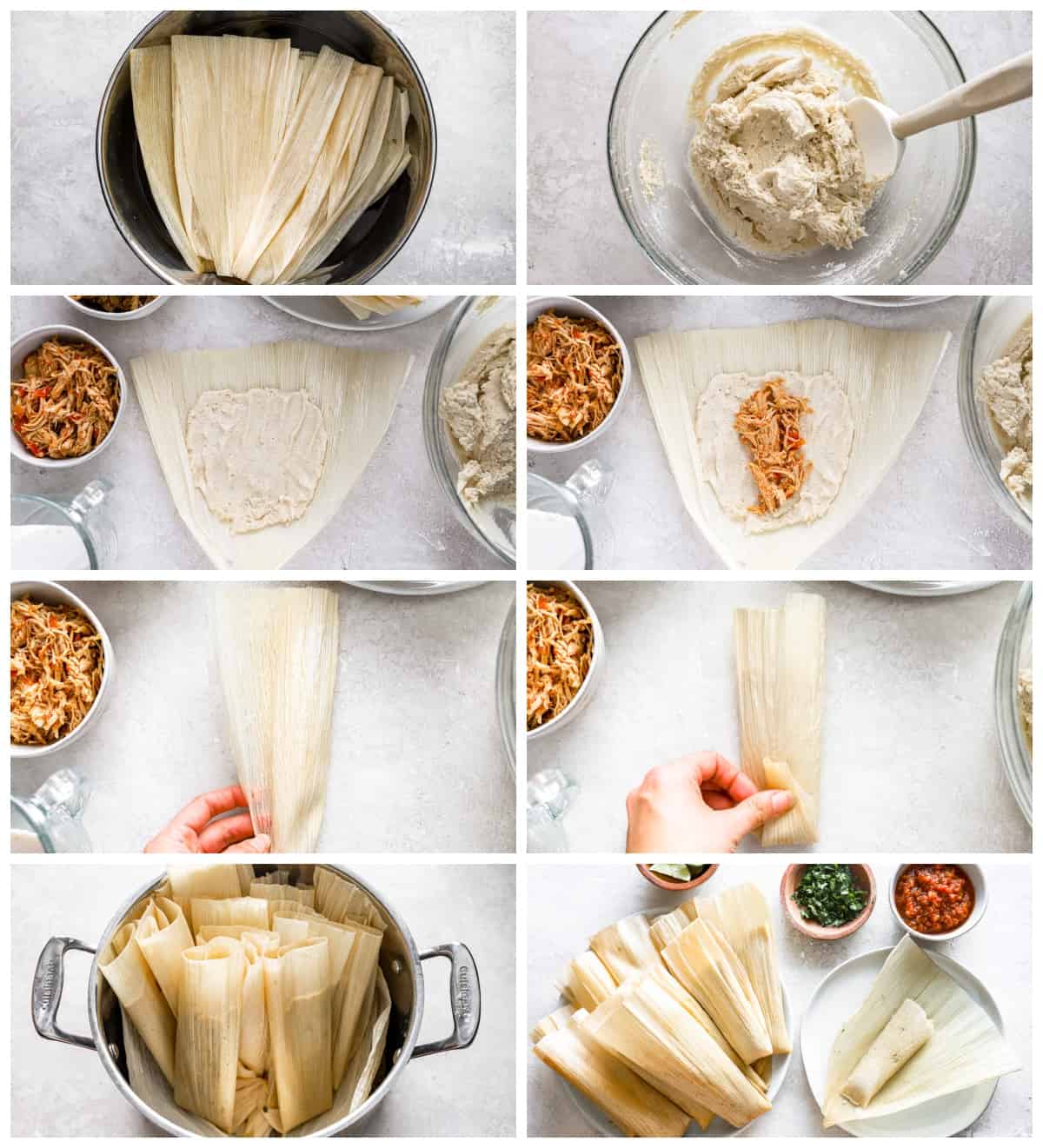 Are tamales healthy?
Yes! Tamales are a good source of resistant starch, which can help regulate blood sugar and cholesterol. They are a great addition to a healthy diet.
How many calories in a tamale?
One tamale made with chicken filling is 140 calories. Calories will vary based on ingredients used and fillings chosen.
Are tamales gluten free?
Usually! It's important to check your masa harina to ensure it is completely gluten free!
Where can I find corn husks and masa harina?
You can usually find these items in the International aisle of the grocery store or online.
How long do tamales take to cook?
Tamales take about 40 minutes to steam to perfection!
Can I cook tamales in an instant pot?
You sure can! Add 1 cup of water to the bottom of your instant pot, insert the strainer basket filled with tamales, and cook on high pressure for 20 minutes, or until the masa separates easily from the husks. Use quick release.
How do you eat a tamale?
Carefully unwrap the corn husk wrapper and eat the filling with your desired toppings!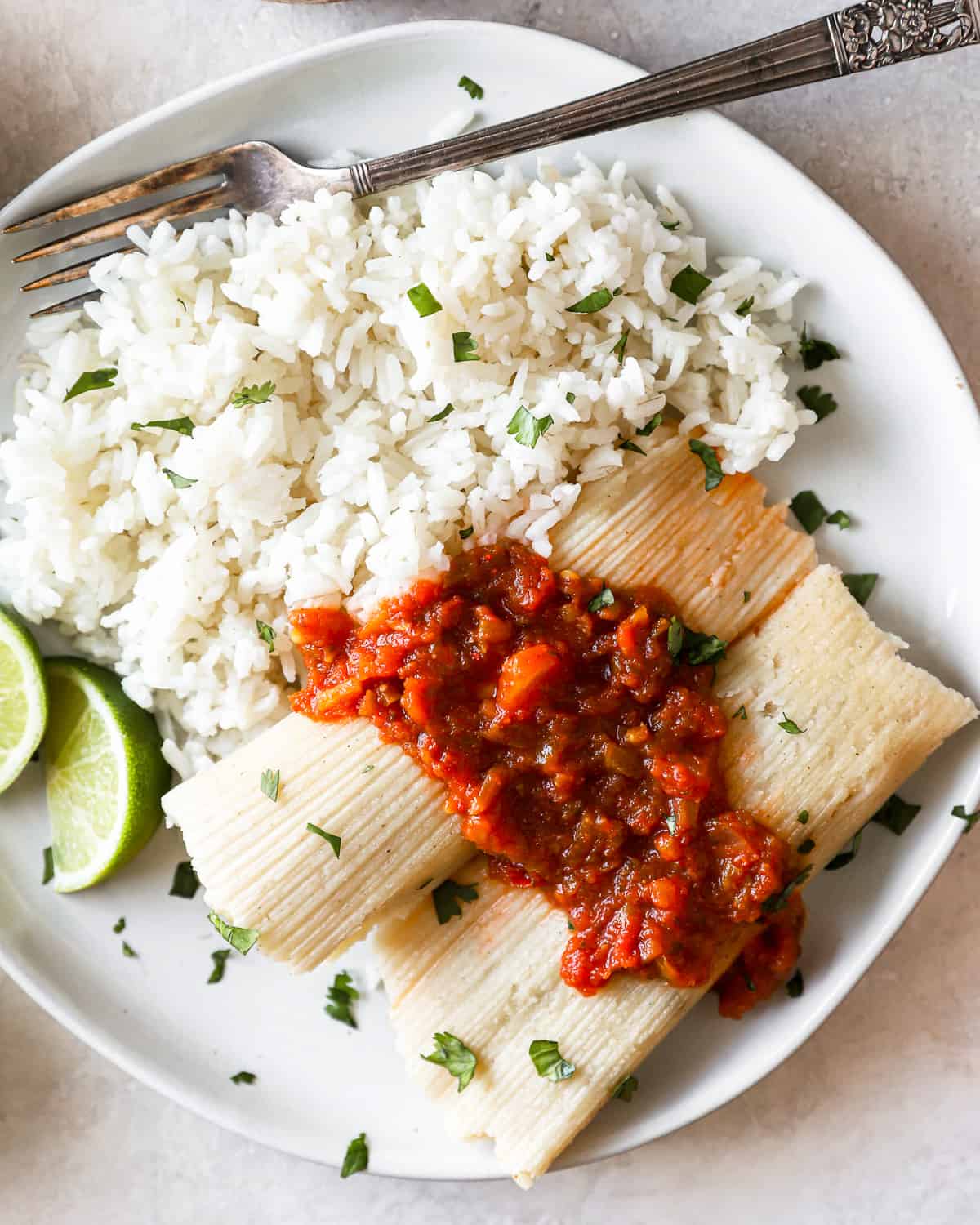 How to Store and Reheat
Store leftover tamales in an airtight container or Ziplock bag in the refrigerator for up to 3 days. Reheat by steaming for 15 minutes, wrapping in foil and baking in a 350°F oven for 15-20 minutes, or covering with a damp paper towel and microwaving on high for 1-2 minutes.
How to Freeze
Freeze tamales in a single layer on a lined baking sheet until solid, about 1-2 hours. Transfer to an airtight container or Ziplock bag to store for up to 3 months. Let thaw overnight in the refrigerator before reheating.
Serving Suggestions
Homemade tamales are so delicious served with a variety of condiments and toppings. I like mine with salsa, pico de gallo, or salsa verde! Guacamole and/or sour cream are also great pairings.
To make it a full meal, serve your tamales with cilantro lime rice, Mexican rice, street corn, or refried beans. A warming bowl of taco soup would also be delish!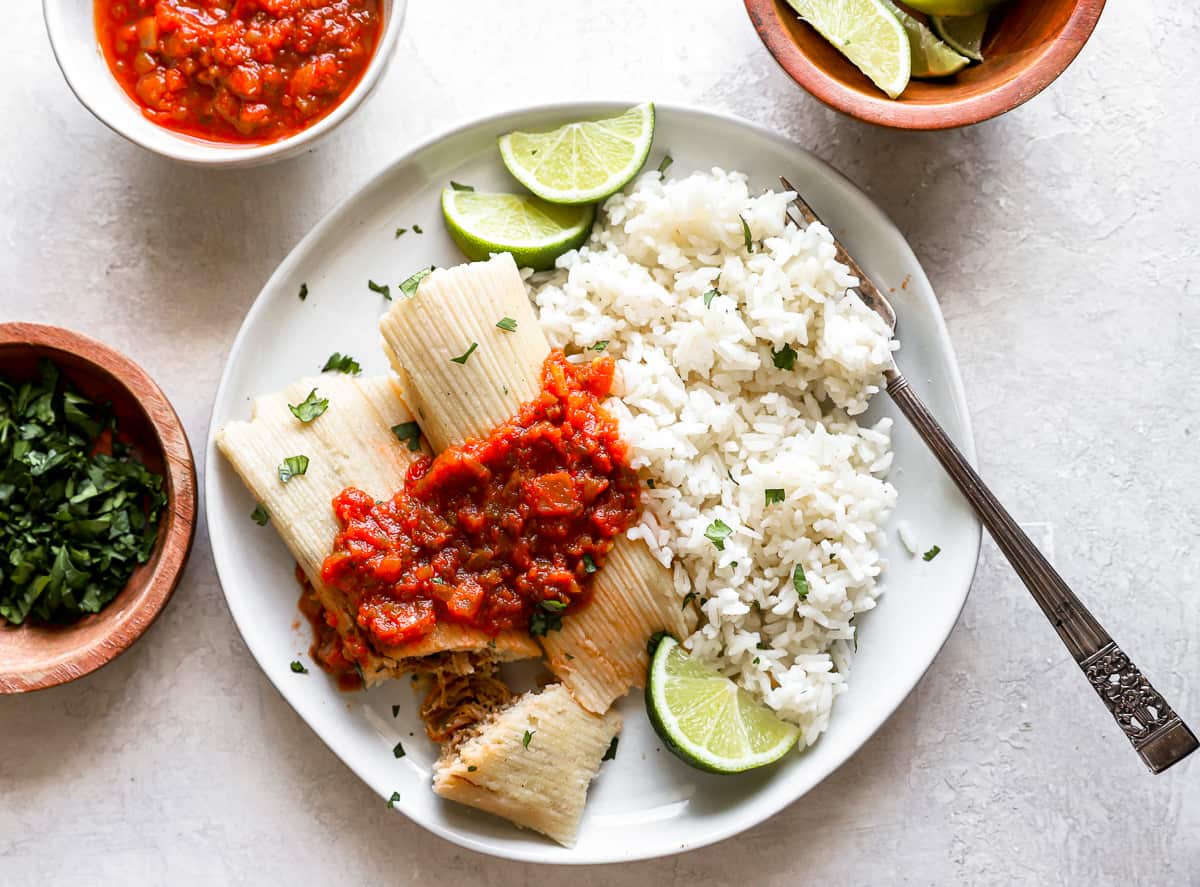 More Mexican Recipes We Love