Creamy, cheesy, and bursting with flavors, this Chicken Fajita Pasta makes a great addition to your weekly meal rotation. Easy to make, filling, and delicious!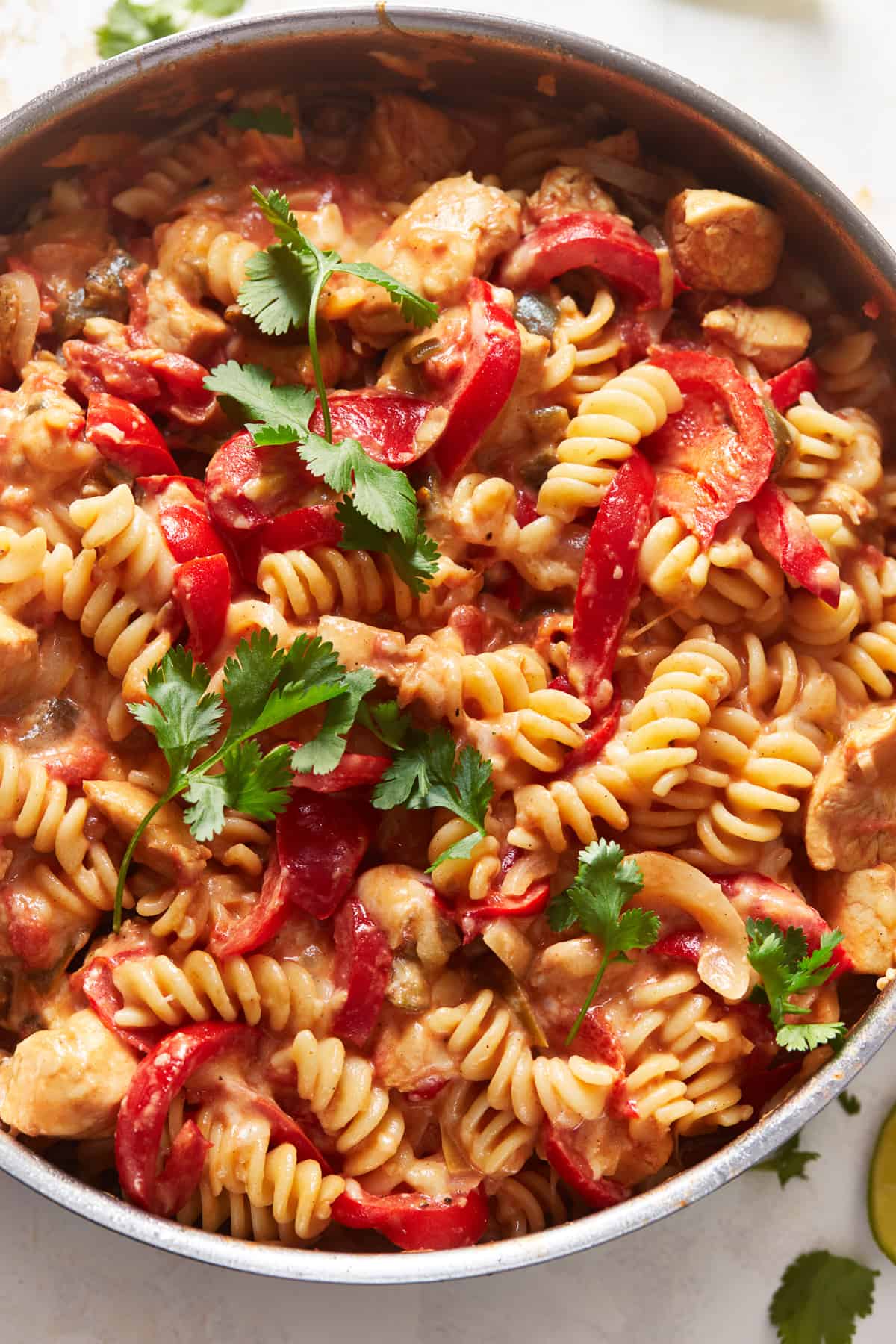 What's in this Chicken Fajita Pasta Recipe?
Packed with all your favorite chicken fajita ingredients, this dish fuses Italian and Mexican to create a super satisfying meal, with no fuss and minimal clean. It piles in loads of goodies, from colorful bell peppers to protein-packed chicken, all covered in a rich and creamy sauce – so good!
Pasta: I like rotini, but any short pasta shape will work.
Oil: Helps cook the chicken without burning. I like olive oil for the flavor it adds, but vegetable, canola, or avocado oil will also work.
Chicken: I like to use boneless, skinless chicken breasts, but you could use thighs if you prefer.
Fajita Seasoning: A rich blend of brown sugar, cumin, paprika, oregano, garlic powder, red pepper flakes, nutmeg, thyme, and rosemary. You can use store-bought or homemade fajita seasoning.
Salt and Pepper: Help enhance the flavor of the chicken.
Onion: A key ingredient in fajitas that adds sweetness and freshness.
Pepper: Sliced red bell pepper is another hallmark of a classic fajita. You can use any color bell peppers you like.
Garlic: Adds garlicky flavor.
Chicken Broth: Low-sodium chicken broth forms the base of the sauce. You could also use vegetable broth.
Diced Tomatoes: Canned diced tomatoes are an easy way to infuse this dish with tomato flavor. You could use diced fresh tomatoes if you prefer.
Diced Green Chiles: Canned diced green chiles add a bit of spice to this dish. Feel free to leave them out if you're not a fan.
Heavy Cream: Adds creaminess to the sauce.
Cheese: Pepper jack and cheddar cheese create the perfect balance of sharpness and spiciness. You could also use Mexican cheese blend.
Pro Tip: If you can't find fajita seasoning, try taco seasoning instead!
Variations on One Pot Chicken Fajita Pasta
It's super easy to customize this dish to your preferences. You can substitute the chicken for another meat, such as shrimp or beef, or you can leave the meat out altogether. Feel free to pile on more veggies, such as mushrooms, zucchini, broccoli, or sweet corn.
Make this dish spicier by adding crushed red chilies or cayenne pepper. And if you're gluten-free, it's easy to swap the rotini for gluten-free rotini!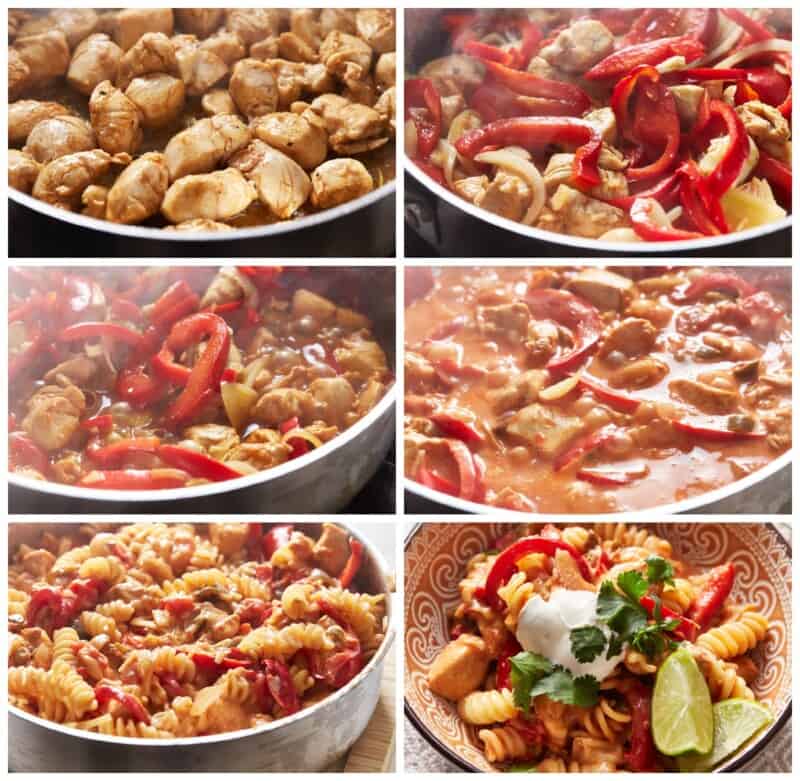 What cut of chicken should I use?
I prefer to use boneless, skinless chicken breasts but you could use boneless, skinless chicken thighs. Chicken thighs take a bit longer, so make sure they are cooked through.
What other kinds of pasta work well in this recipe?
You can use all different kinds of pasta. Shapes with lots of nooks and crannies are great, as they scoop up all that creamy sauce. You could go for shells, rigatoni, penne, elbow, or farfalle. Sky's the limit!
How spicy is this pasta?
This chicken fajita pasta is fairly mild. You can up the spice by adding some cayenne or crushed red chili flakes. Or decrease the amount of green chilies if you want it milder.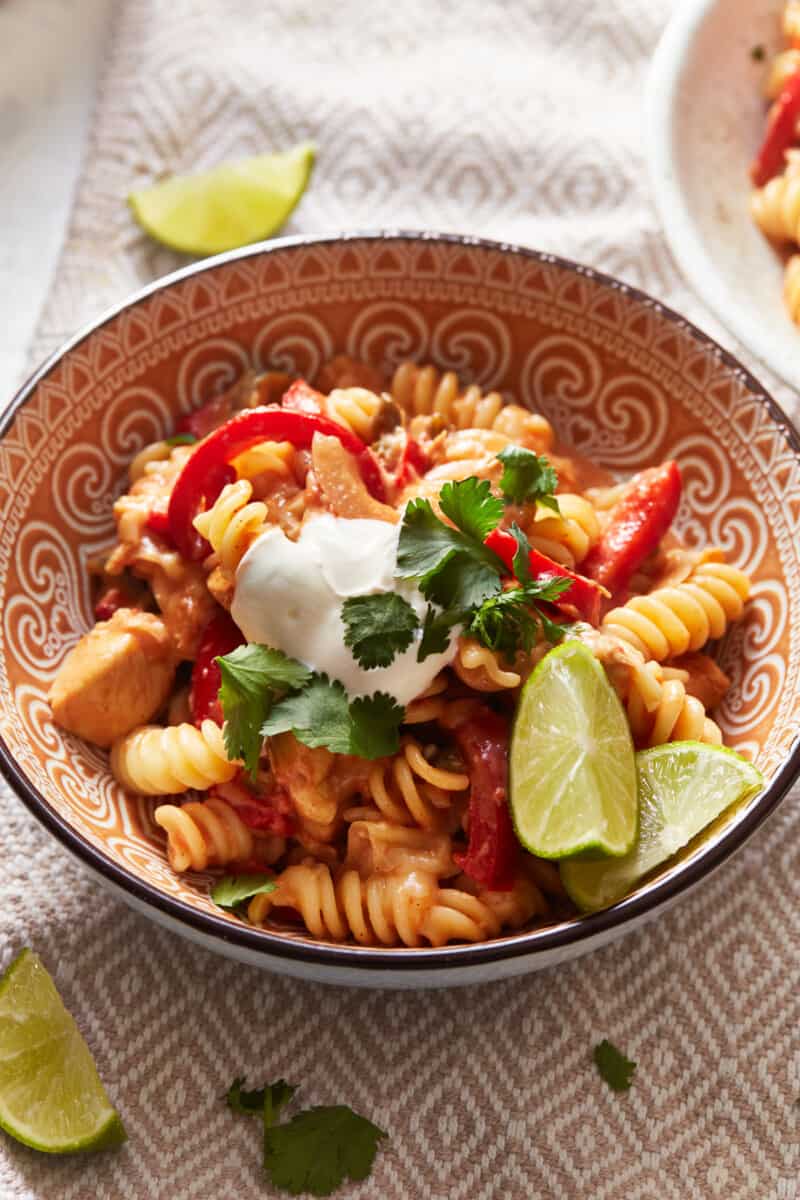 How to Store and Reheat Creamy Chicken Fajita Pasta
Store leftover pasta in an airtight container in the refrigerator for up to 3 days. Reheat in the microwave or in a skillet set over medium-low heat until warmed through.
What to Serve with Cheesy Chicken Fajita Pasta
This is a full meal on its own but you can totally amp it up with a salad or some fresh bread. It would be great with a cucumber tomato salad or taco salad and some homemade garlic bread or pull-apart cheese bread.
Salads are great for a lighter side, but some crusty bread is perfect for mopping up all that deliciously creamy sauce!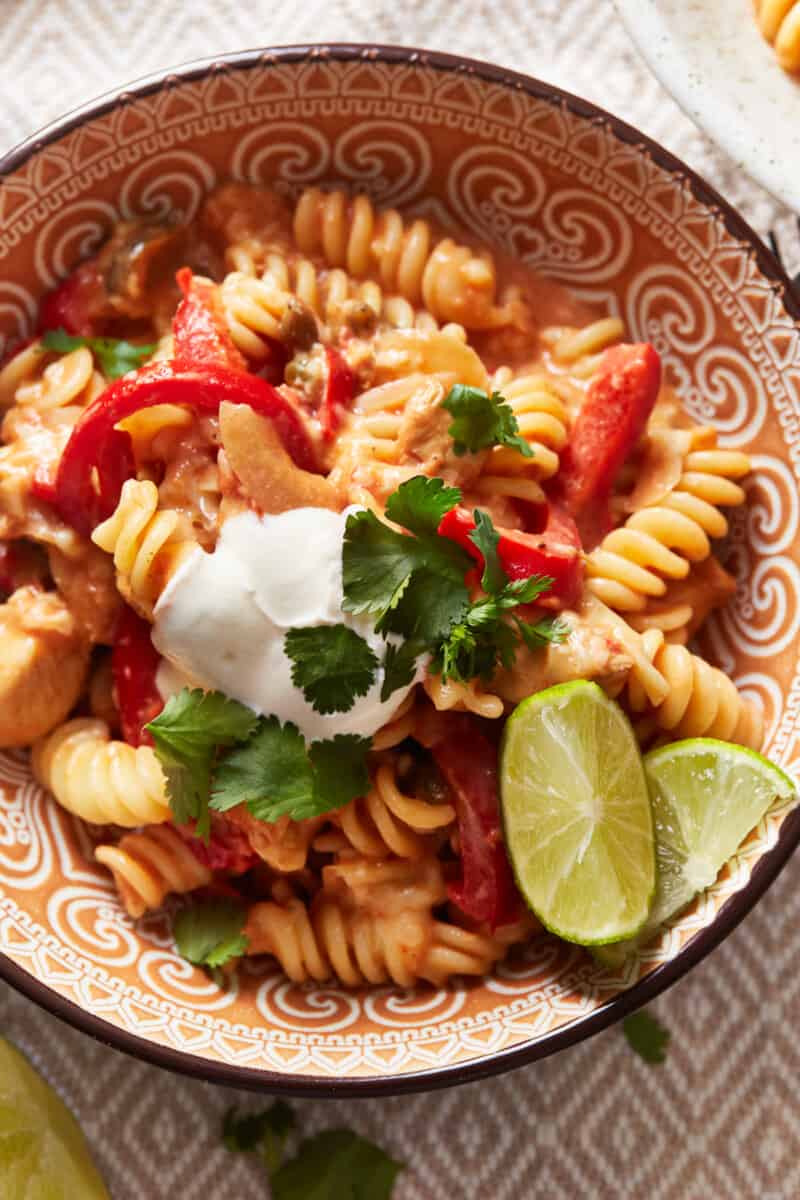 More Chicken Fajita Recipes We Love