Add this Cheesy Easy Chicken Pot Pie recipe to your weeknight dinner rota. Pot Pies make for a delicious and comforting meal during the fall and winter months. Rotisserie chicken, slathered in cheese and topped with buttery, flaky biscuit – your taste buds will thank you for this pot pie gem!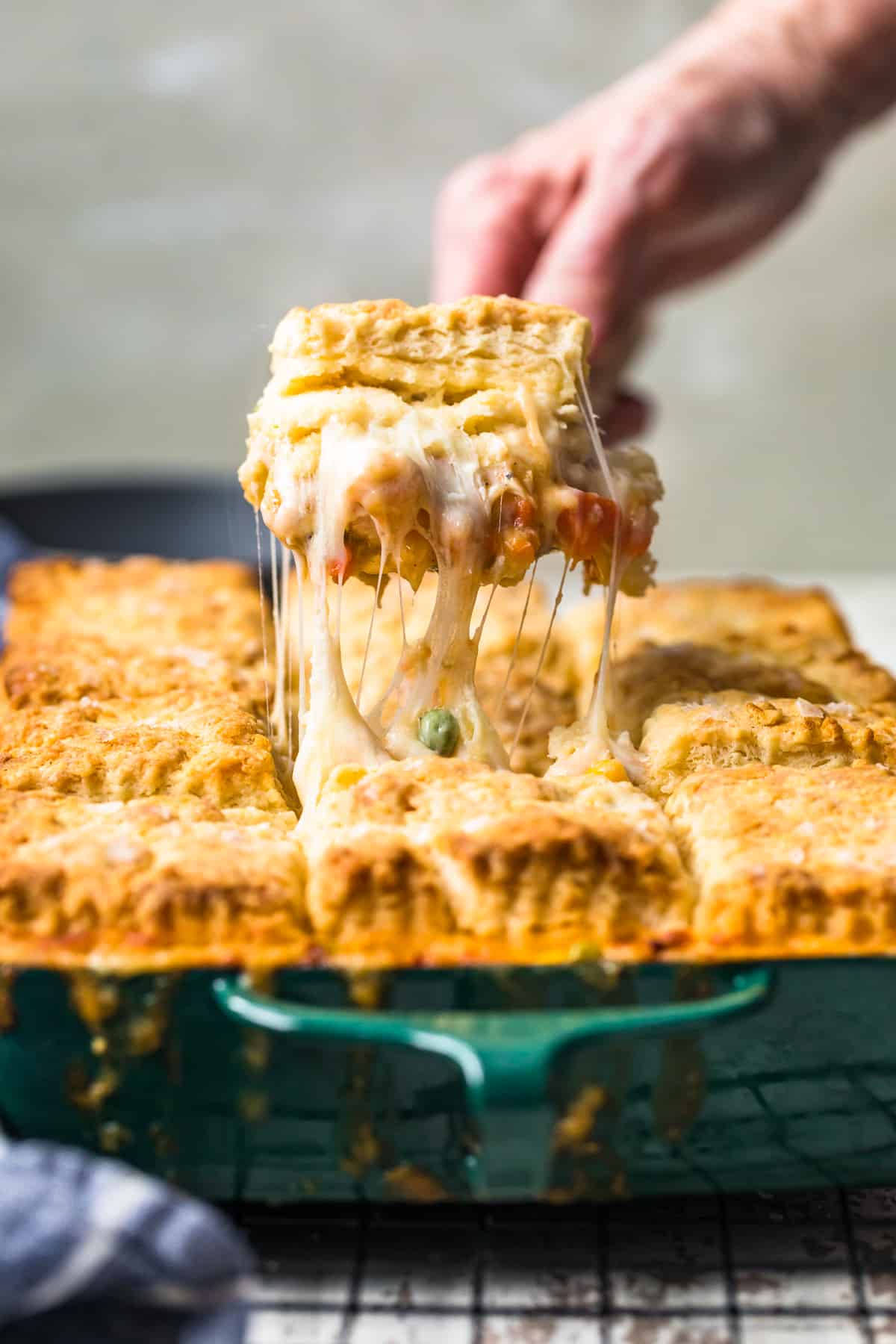 Chicken Pot Pie Casserole
This Easy Chicken Pot Pie recipe serves up chicken in a gravy mixture with carrots, peas, and corn. The store bought biscuits and rotisserie chicken speeds up the recipe, and keeps you from spending too much time in the kitchen.
This pot pie is perfect: quick, easy, and delicious. Oh, yes and it's loaded with cheese!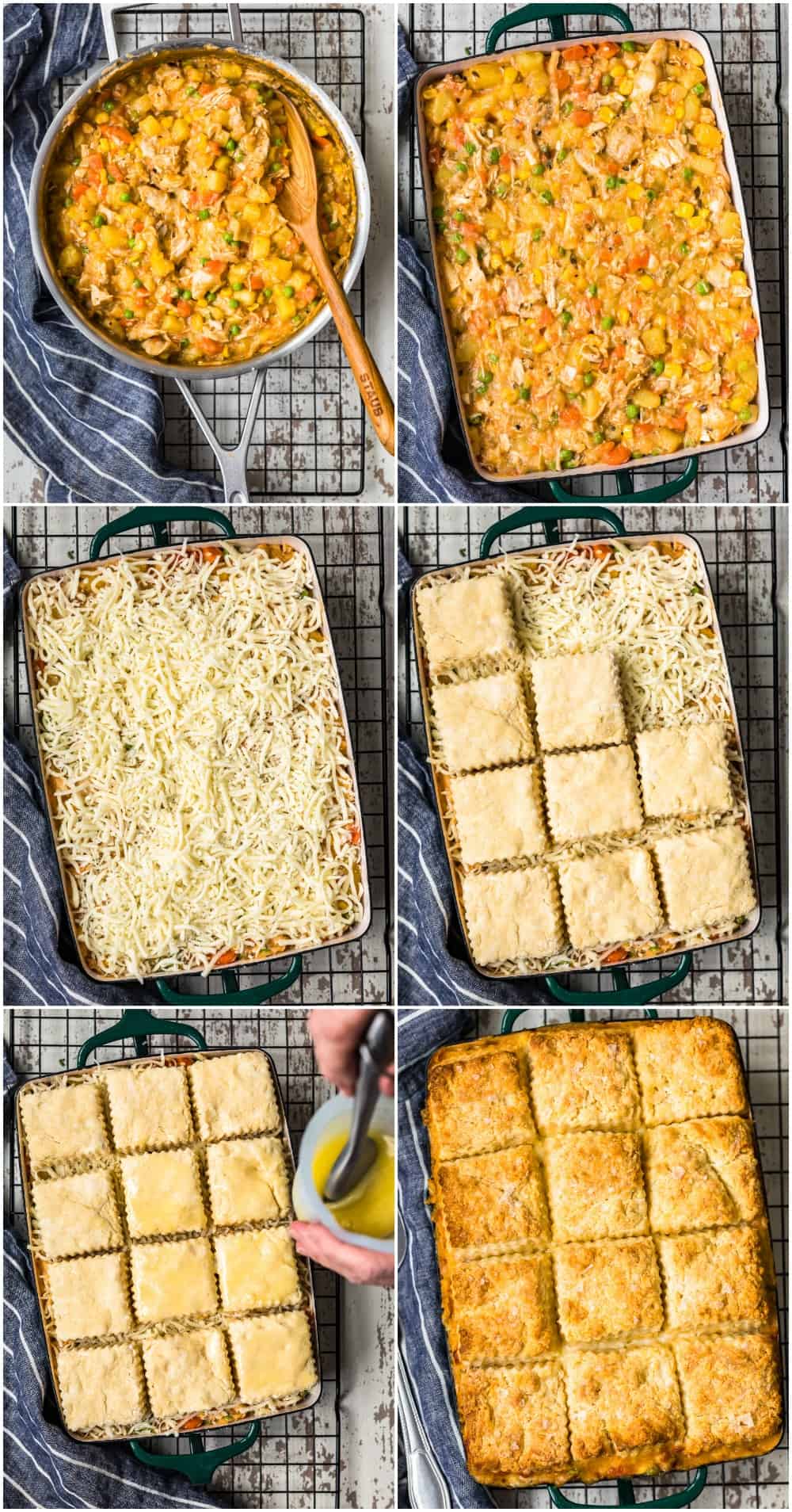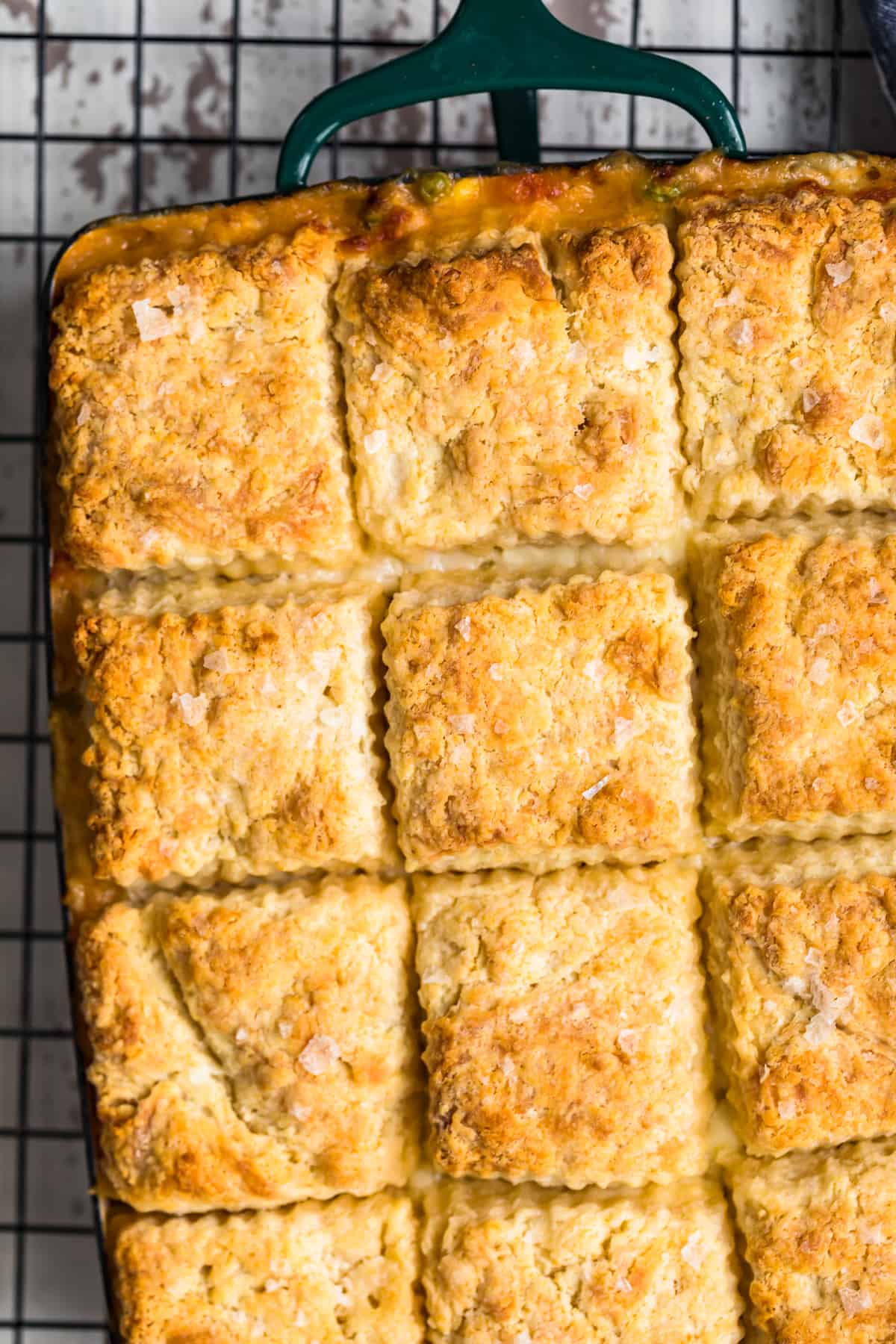 Recipe Variations
The options to switch up this chicken pot pie recipe are endless. It's a great meal if you have veggies and meat to use up. Leftover turkey from the upcoming holiday will work just as well, too. You can add mushrooms to pot pie.
The seasonings are also something you can play with– I used thyme, bay leaves, salt, and pepper But rosemary, or a pinch of celery seed works too.
Can you use chicken breast or thighs instead?
Any type of shredded chicken or chopped cooked chicken will work in this recipe. If your family prefers all white meat, feel free to use chopped or shredded chicken breasts. If your family prefers dark meat, chicken thighs would be a good alternative.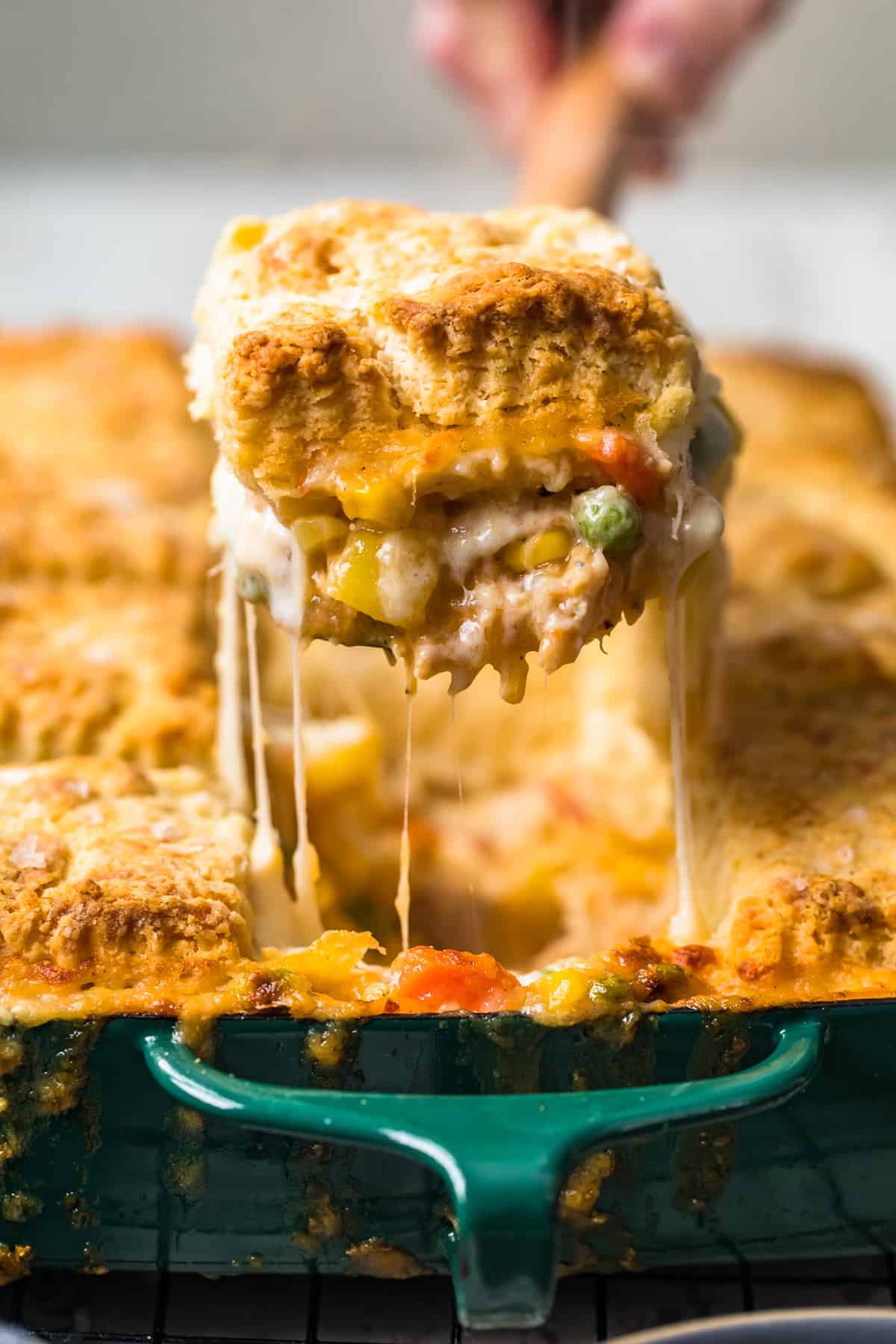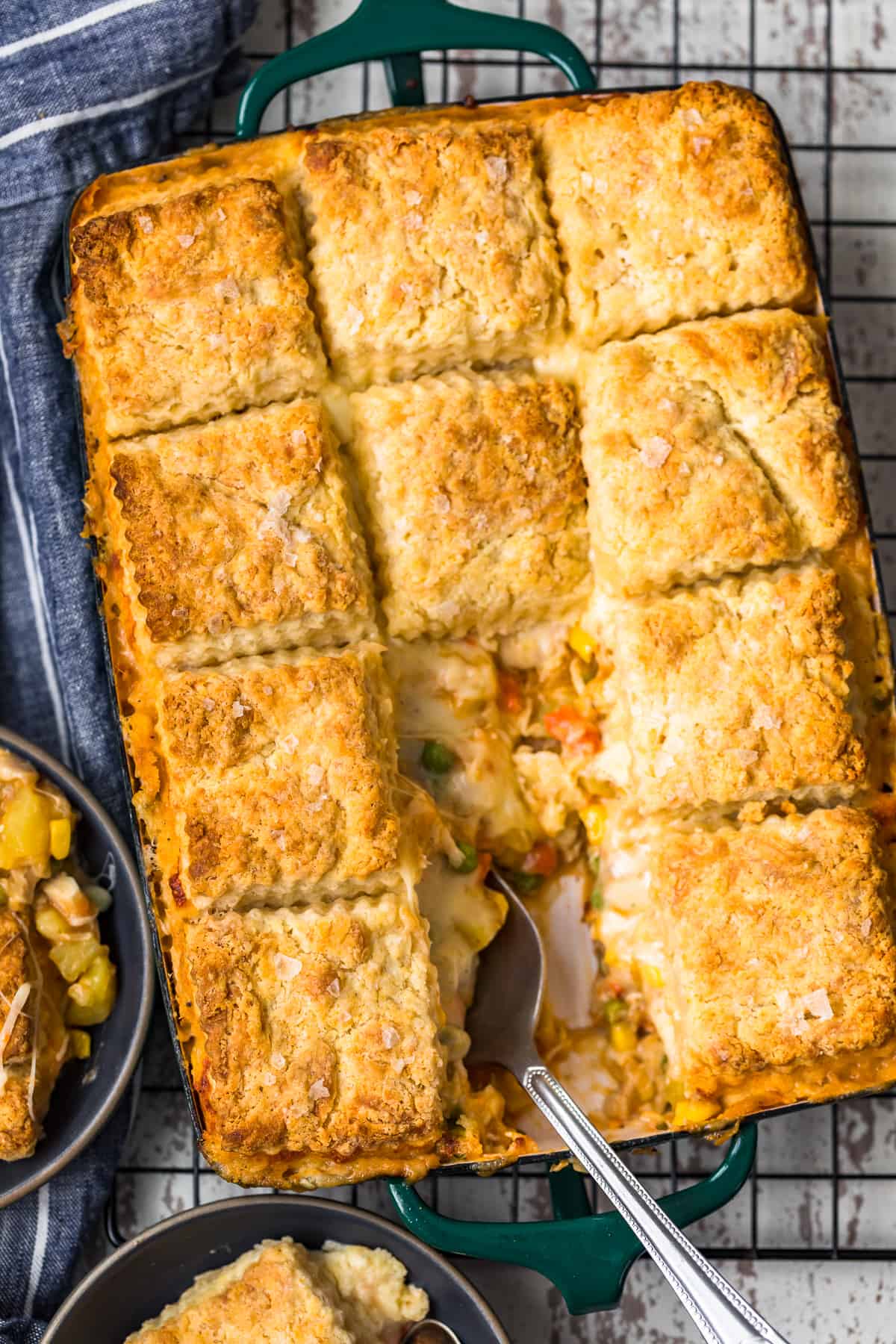 Can You Freeze This Pot Pie?
Yes! This easy pot pie recipe makes a great freezer meal, sure to make your future self very happy.
While you can freeze this either baked or unbaked, the unbaked dish promises more cooking success. Freezing a baked crust is likely to turn into a soggy crust once you reheat it because ice crystals leave moisture in the crust.
So if you are making this ahead of time to freeze and eat later on, just follow the instructions to prepare it, but cover it and place it in the freezer instead of cooking it.
When it's time to eat:
thaw the casserole in the fridge overnight,
then proceed to bake according to the recipe card.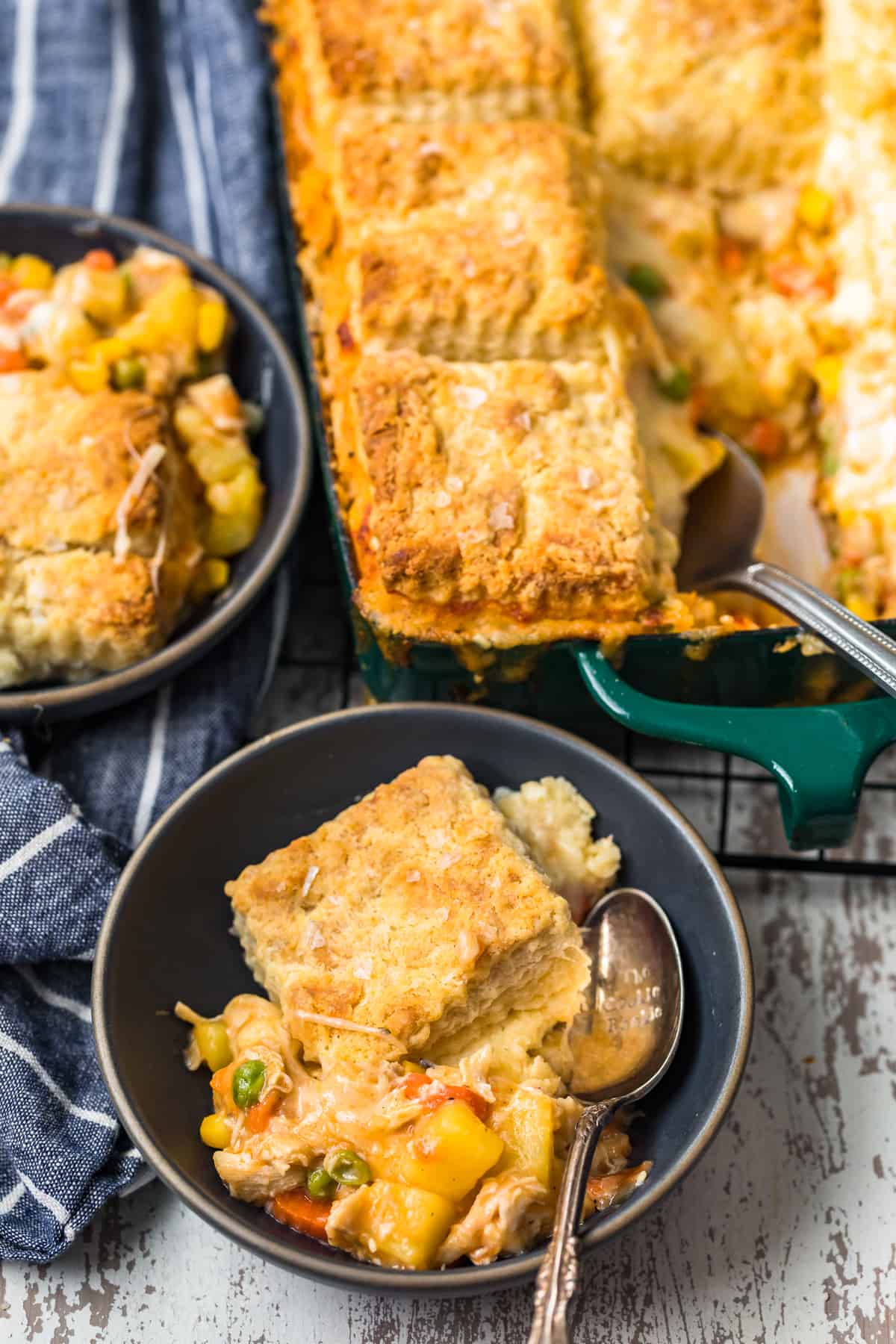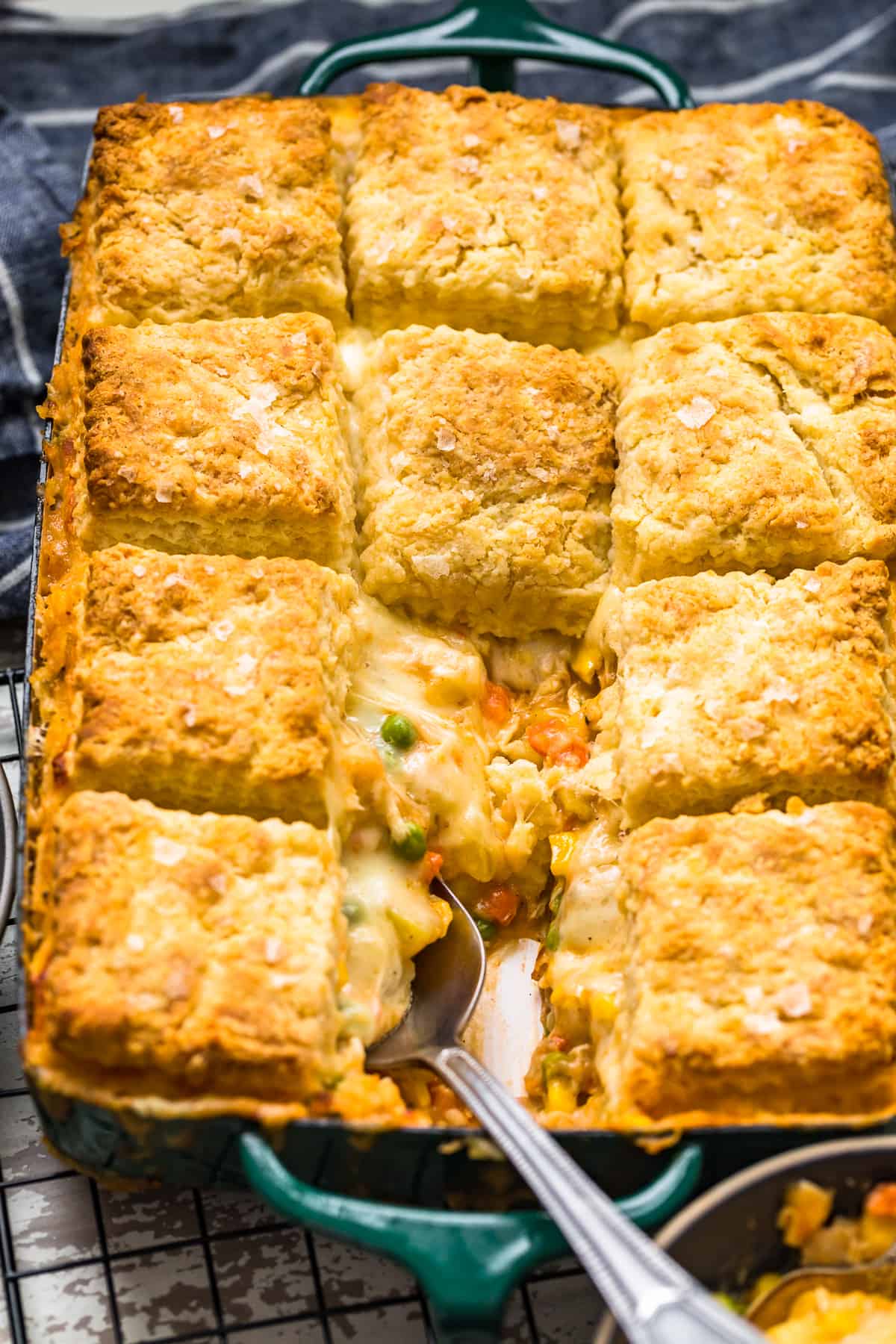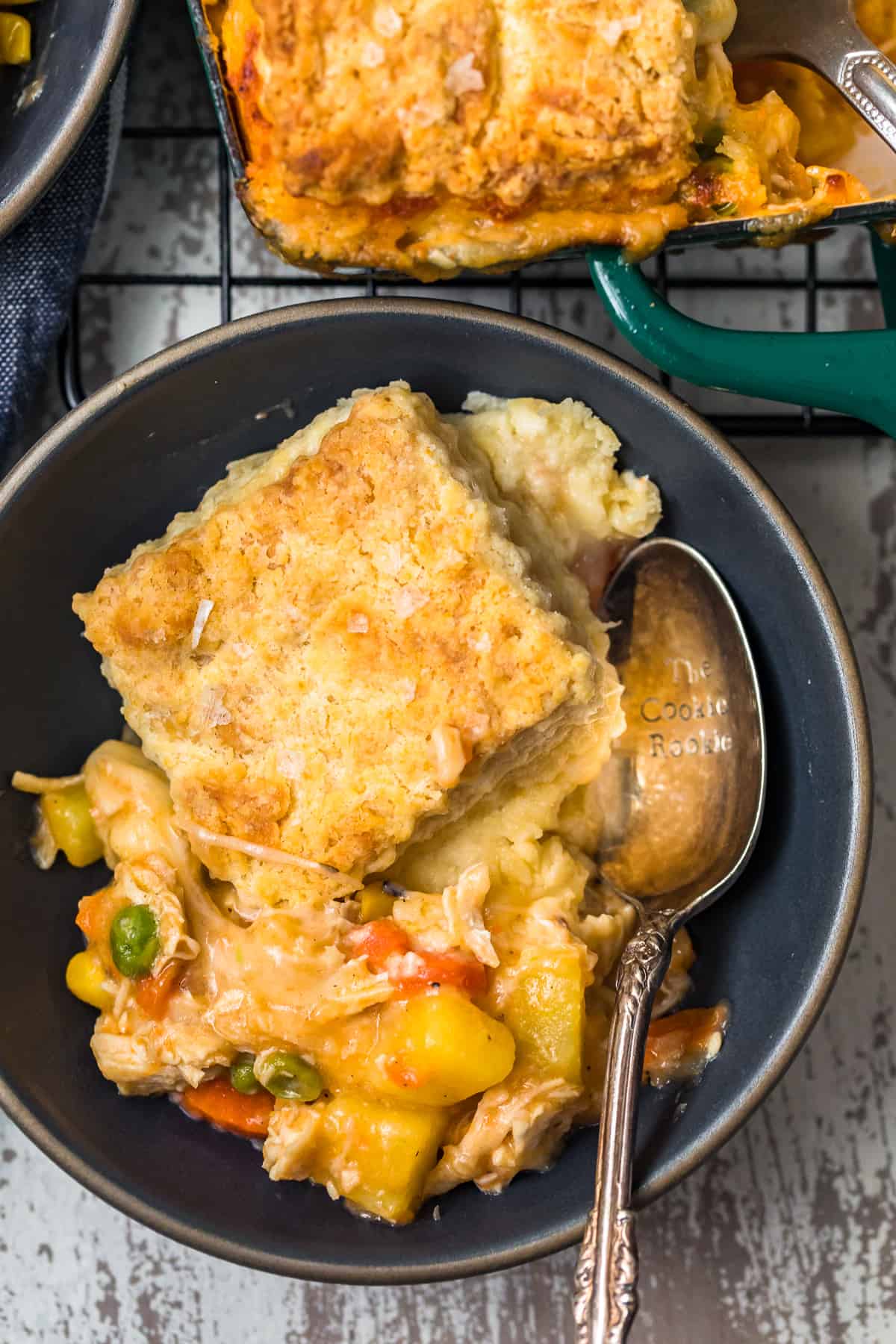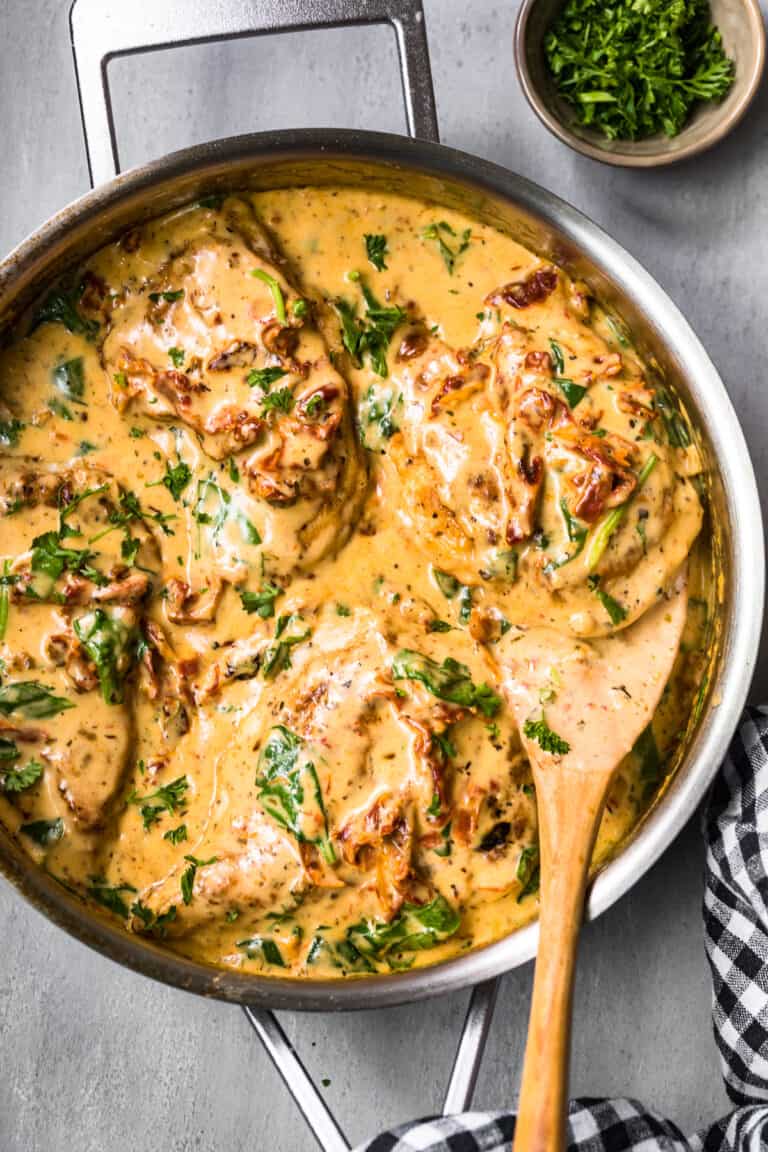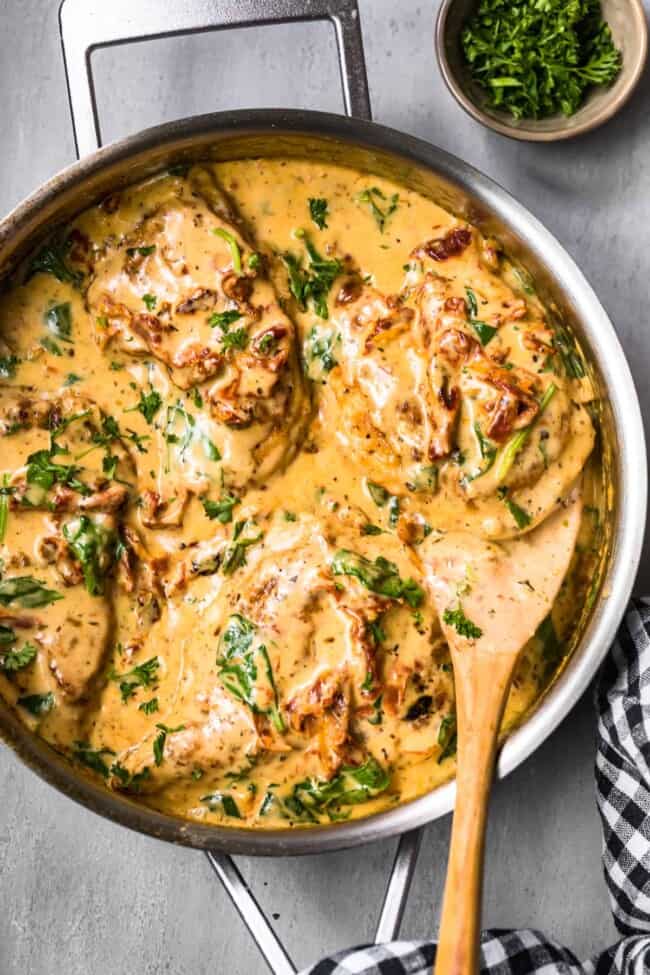 Winner Winner Chicken Dinner
72+ Easy Chicken Recipes
See our Chicken Guide for all the best chicken recipes plus tips and tricks for juicy chicken every time.
Easy Chicken Recipes
Tips!
You can use rotisserie chicken or any cooked shredded chicken.
Set your casserole dish on a baking tray, to avoid dripping onto the oven.
If you are planning to freeze, best option is to freeze the dish unbaked.
Play around with your favorite seasoning and veggies.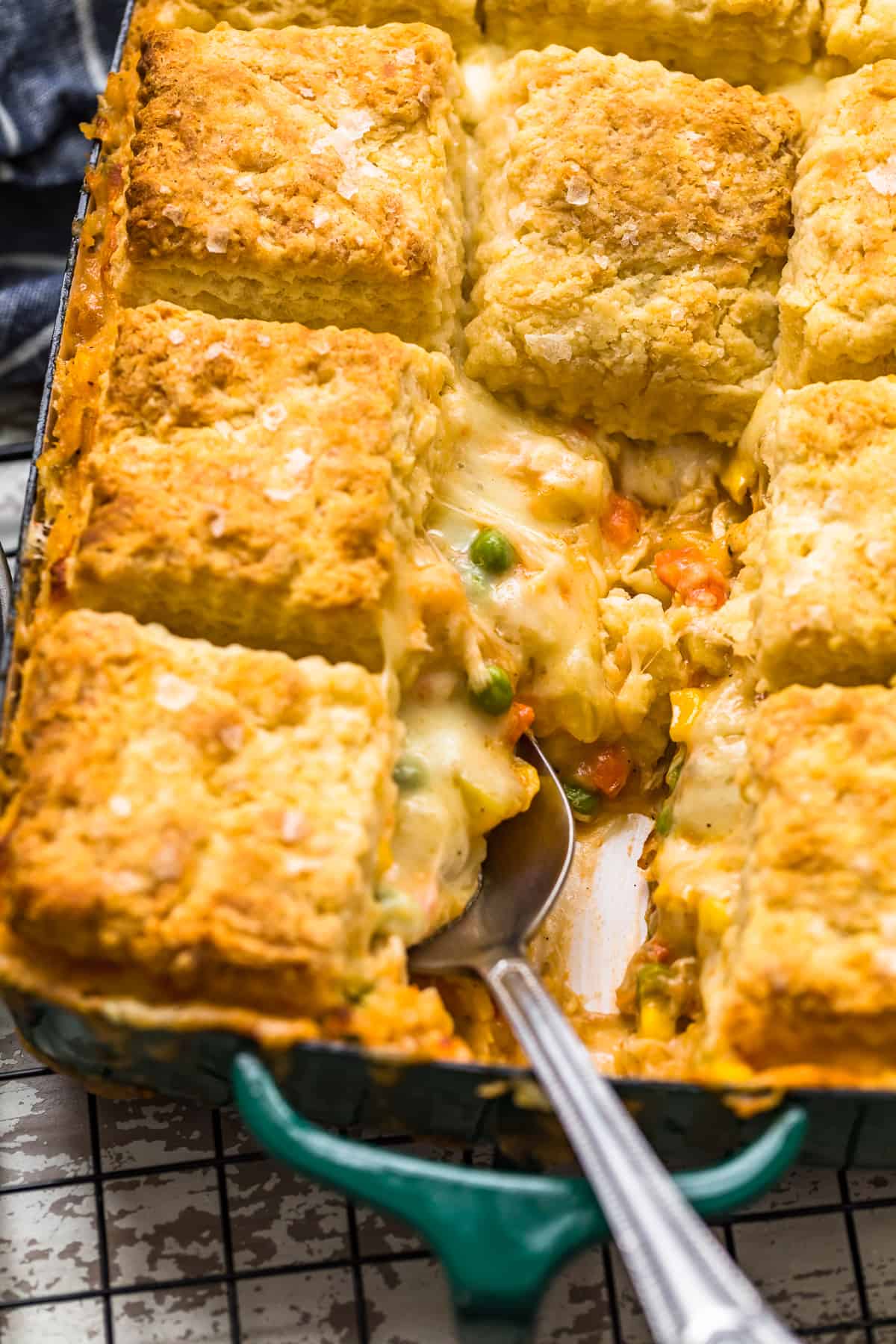 Have you tried this Cheesy Easy Chicken Pot Pie Recipe? Feel free to leave a star rating and I'd love to hear from you in the comments below!