Add this Cheesy Easy Chicken Pot Pie recipe to your weeknight dinner rota. Pot Pies make for a delicious and comforting meal during the fall and winter months. Rotisserie chicken, slathered in cheese and topped with buttery, flaky biscuit – your taste buds will thank you for this pot pie gem!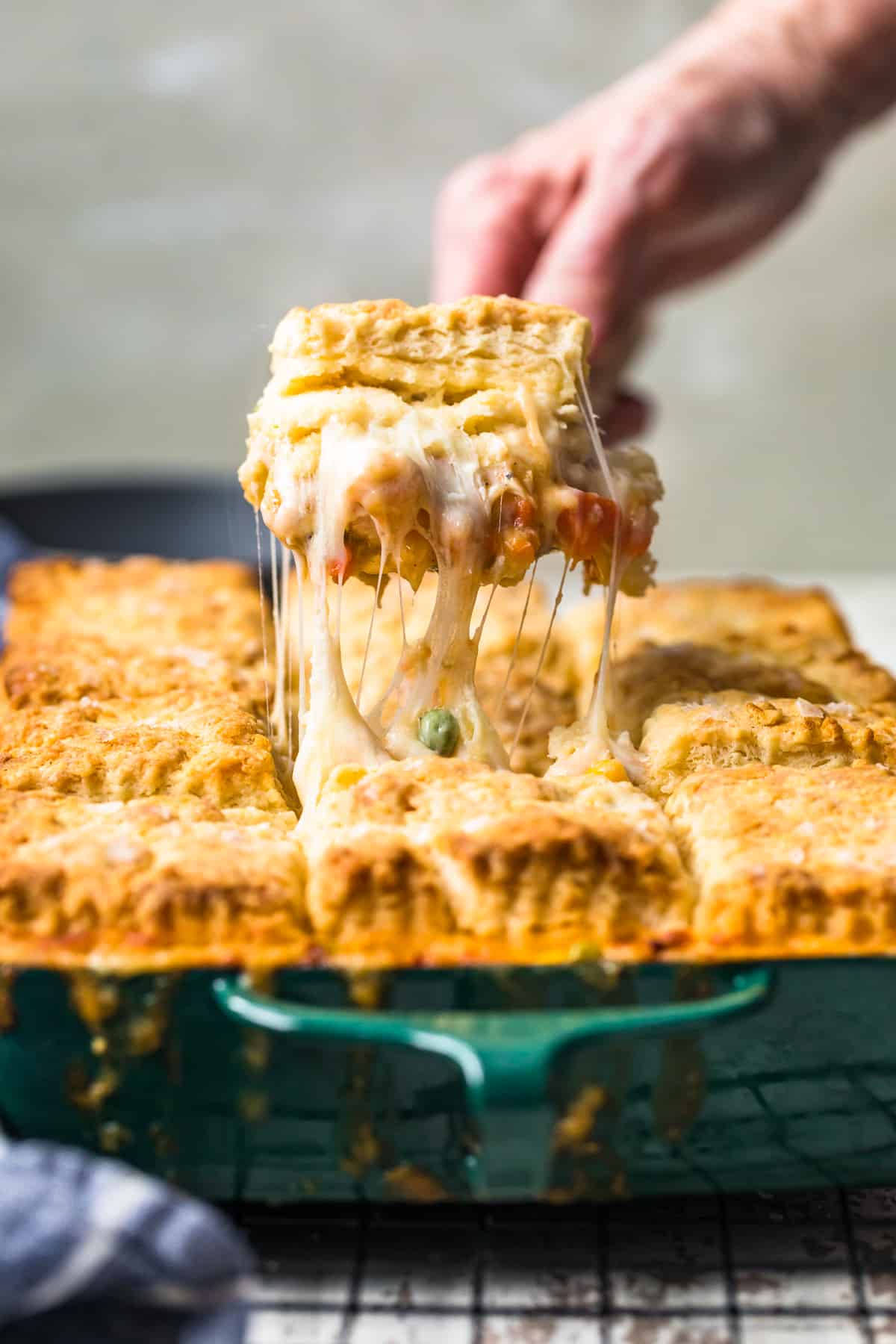 This Easy Chicken Pot Pie recipe serves up chicken in a gravy mixture with carrots, peas and corn. The store bought biscuits and rotisserie chicken keep you from spending too much time in the kitchen. This pot pie was perfect, quick, easy, and delicious. Oh, yes and it's loaded with cheese – win!
How To Make Chicken Pot Pie – Step by Step
Heat oven to 400°F and set oven rack to middle position, then spray a 9×13-inch casserole dish with nonstick spray.
Cover a large, rimmed baking sheet with foil and set the
casserole dish
in the baking sheet. (This will prevent any drippings spilling onto the bottom of the oven.
For The Buttermilk Biscuits
You can follow the directions on the link in the recipe card. If making homemade, freeze for at least 30 minutes once formed. You can also use store-bought.
For The Chicken Filling
Place oil, butter and onions in a large skillet set over medium heat. Cook 7-8 minutes or until onions have softened and are translucent. Sprinkle the onions with flour and add the garlic and thyme. Cook 1 minute, stirring often.
Slowly whisk in 2 cups broth and the wine, scraping up any flavorful, browned bits. Whisk quickly to smooth out any lumps. Whisk in the remaining 2 cups broth, then add the bay leaves, carrots and potatoes. Bring the mixture to a boil, reduce heat to low, cover and simmer about 12-15 minutes or until vegetables are just fork-tender.
Uncover, add chicken, stir and continue cooking about 5-10 minutes or until liquid has reduced by about 1/3rd and vegetables are tender, then add peas and corn; mix well.
Pour chicken filling into the prepared casserole dish and top with shredded cheese. Set the frozen biscuits on top with 1-inch between the biscuits and brush with melted butter and sprinkle with flake sea salt.
Bake at 400°F for 30-40 minutes or until biscuits are golden brown, cooked throughout and the chicken filling is bubbling in the middle.
Transfer the pot pie to a cooling rack and let rest for 10-15 minutes before serving.
Sprinkle with chopped fresh parsley and serve.
Enjoy!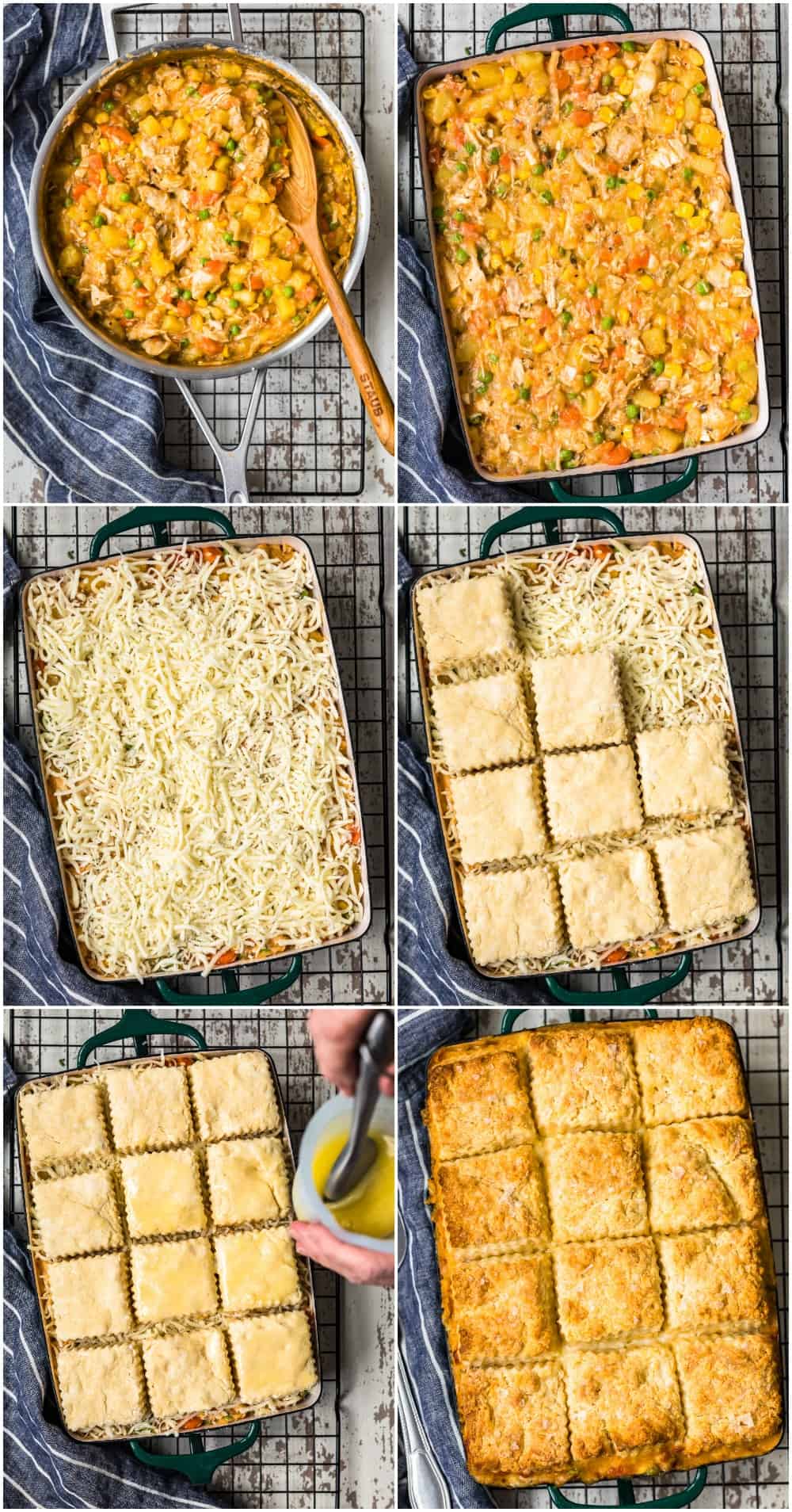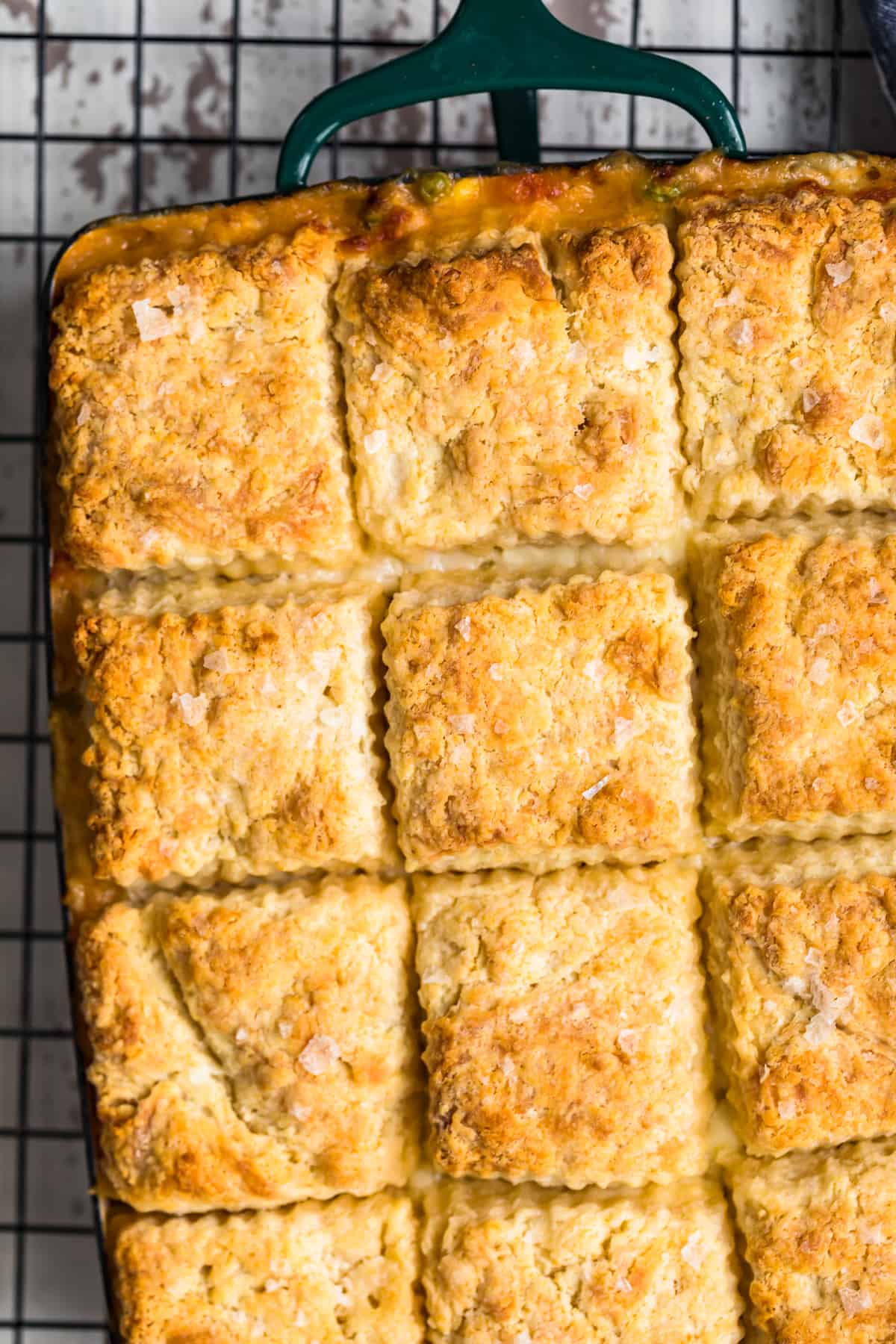 Recipe Variations
The options to switch up this chicken pot pie recipe are endless. It's a great meal if you have veggies and meat to use up. Leftover turkey from the upcoming holiday will work just as well, too. You can add mushrooms to pot pie.
The seasonings are also something you can play with– I used thyme, bay leaves, salt, and pepper But rosemary, or a pinch of celery seed works too.
Can You Use Chicken Breast Or Thighs In Place Of Rotisserie Chicken?
Any type of shredded or chopped cooked chicken will work in this recipe. If your family prefers all white meat, feel free to use chopped or shredded chicken breasts. If your family prefers dark meat, chicken thighs would be a good alternative.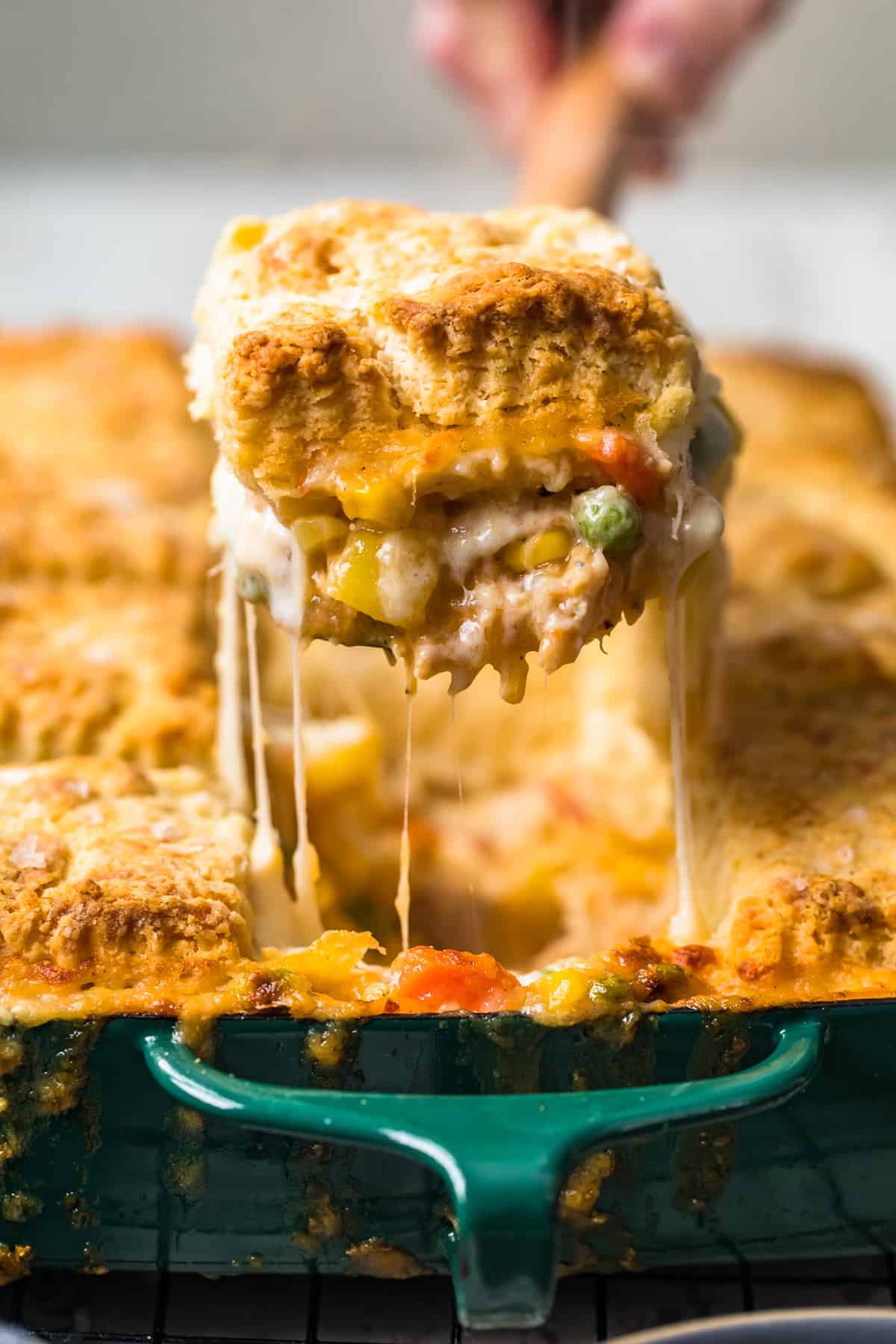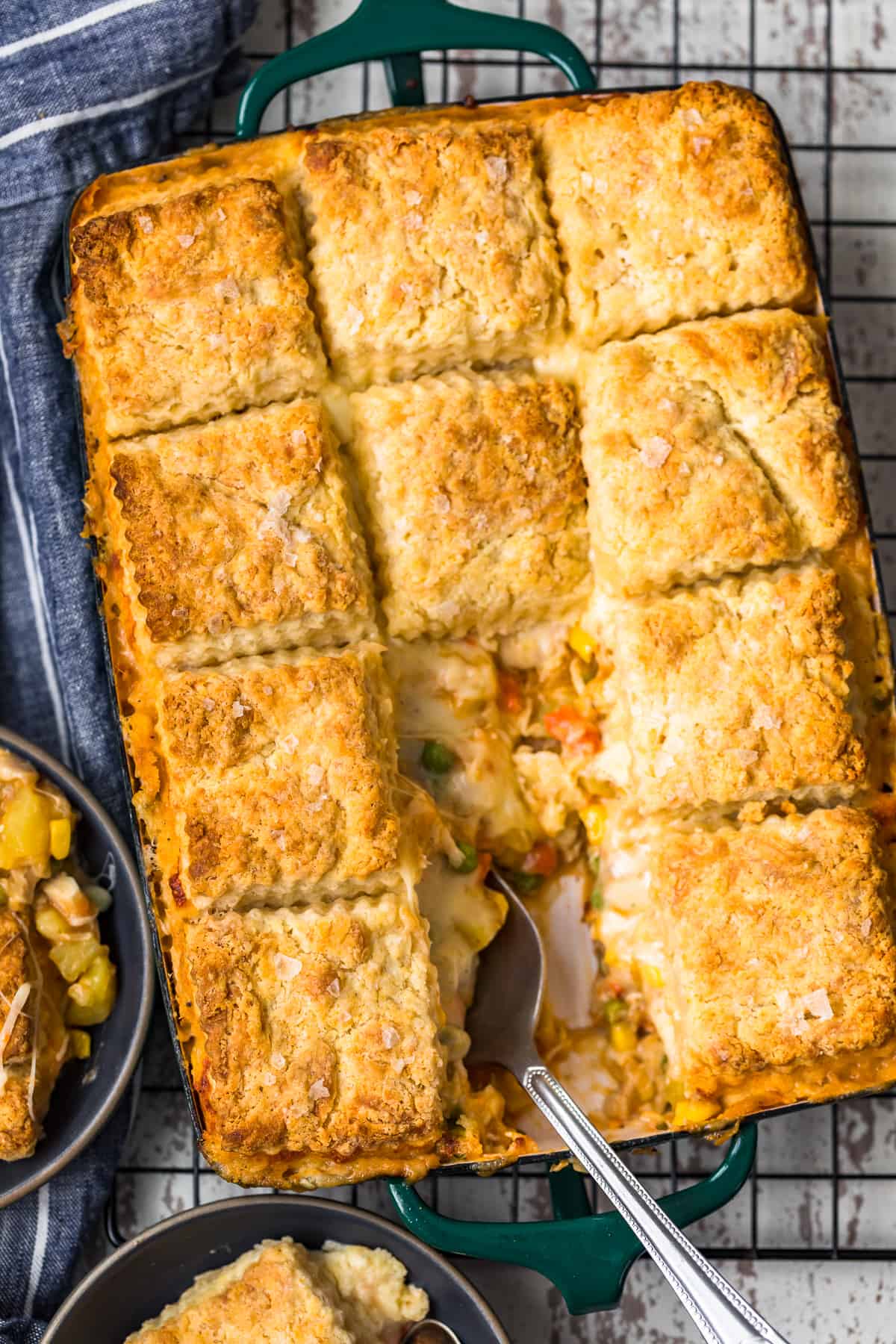 Can You Freeze This Pot Pie?
Yes! This easy pot pie recipe can be prepared and frozen in advance, sure to make your future self very happy.
While you can freeze this either baked or unbaked, the unbaked dish promises more cooking success. Freezing a baked crust is likely to turn into a soggy crust once you reheat it because ice crystals leave moisture in the crust.
So if you are making this ahead of time to freeze and eat later on, just follow the instructions to prepare it, but cover it and place it in the freezer instead of cooking it.
When it's time to eat:
thaw the casserole in the fridge overnight,
then proceed to baking according to the recipe card.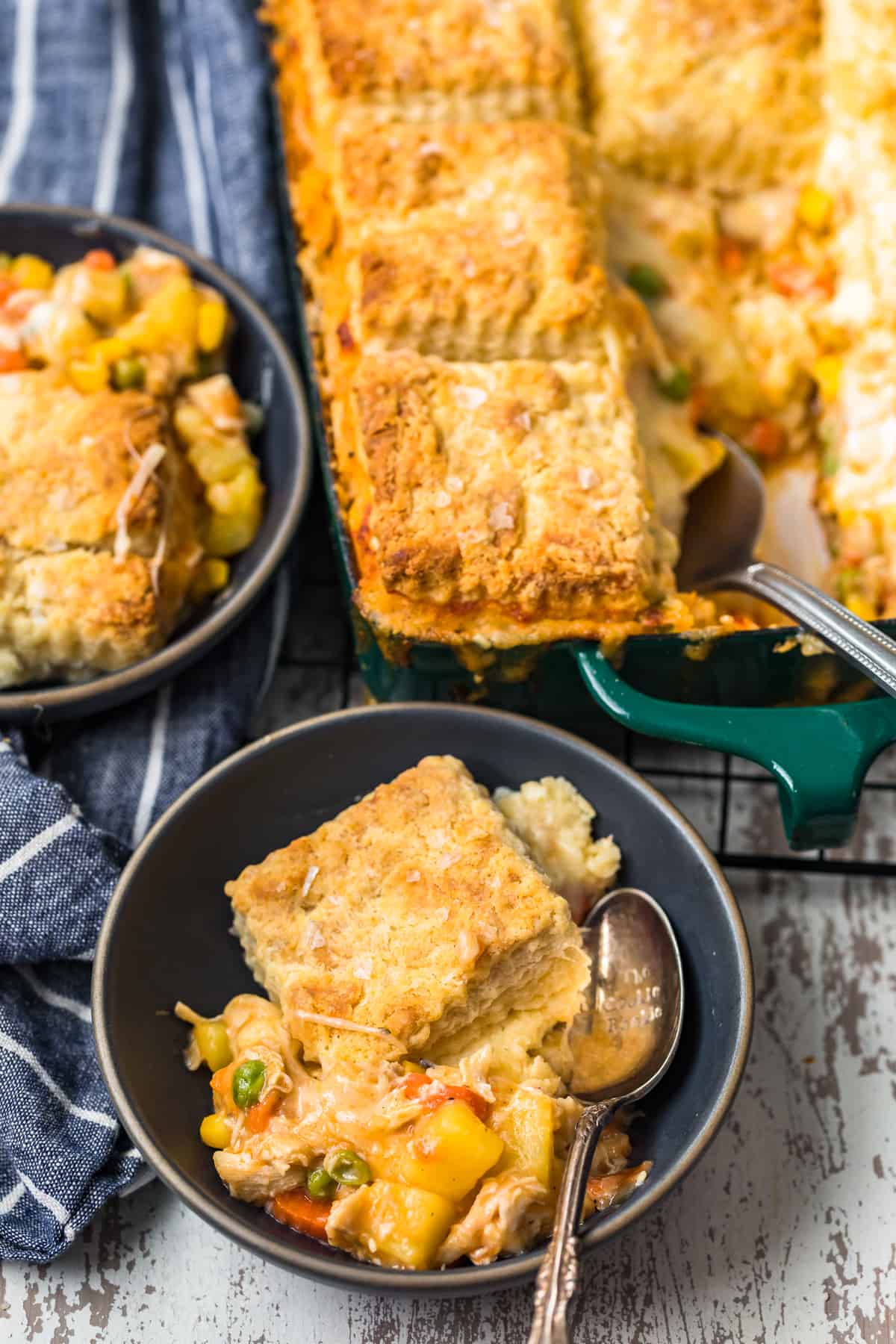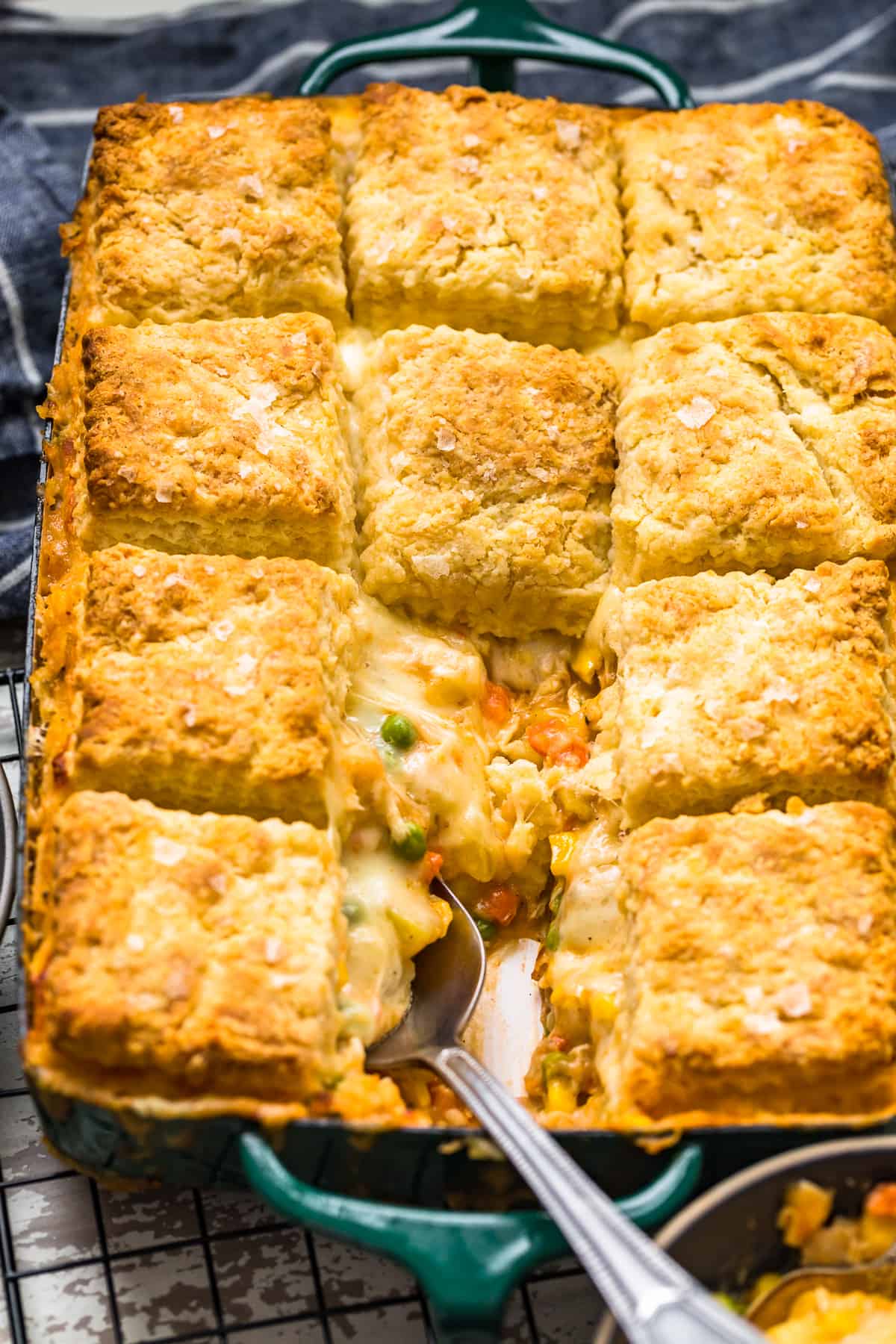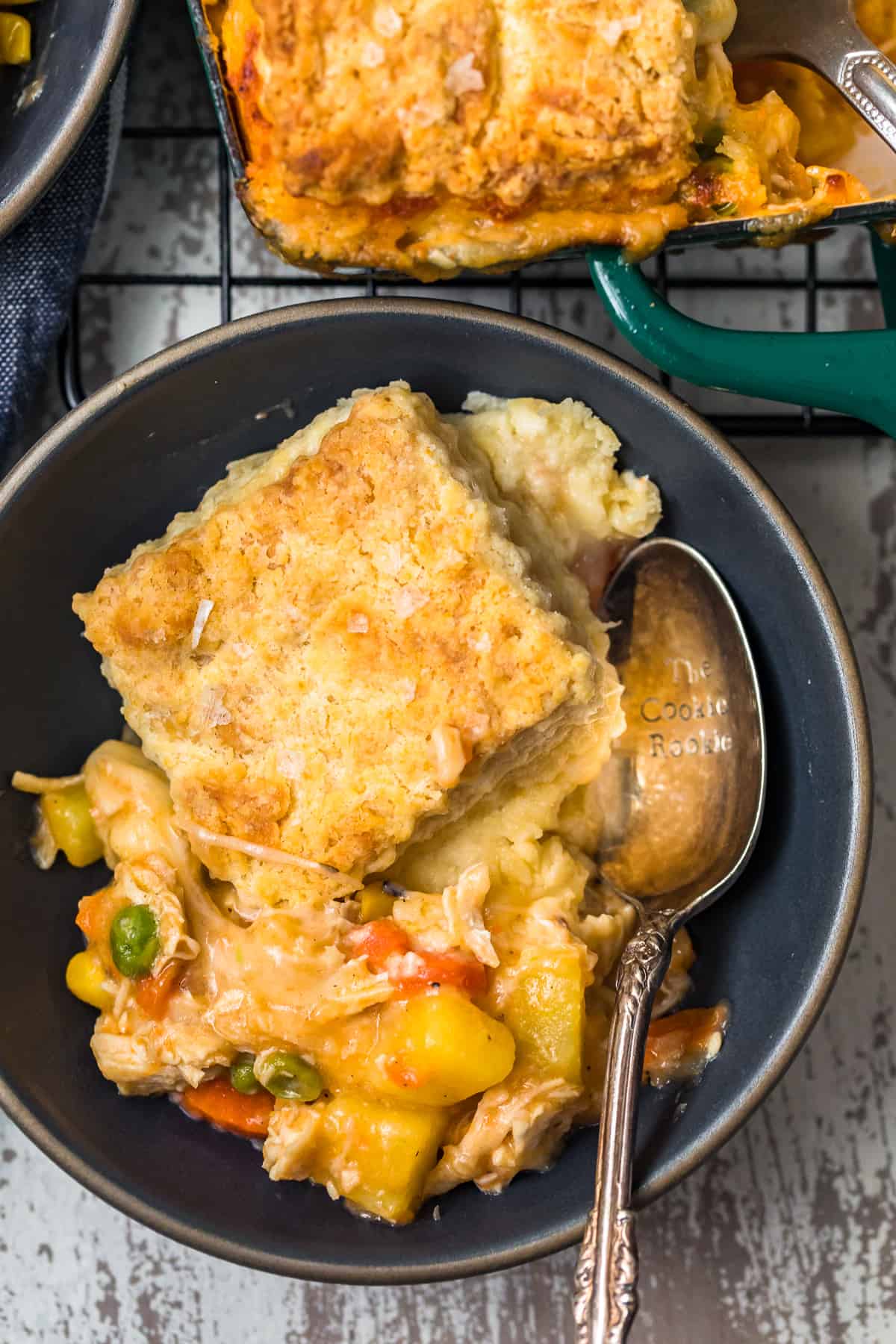 Easy Chicken Pot Pie Recipe Tips
You can use rotisserie chicken or any cooked shredded chicken.
Set your casserole dish on a baking tray, to avoid dripping onto the oven.
If you are planning to freeze, best option is to freeze the dish unbaked.
Play around with your favorite seasoning and veggies.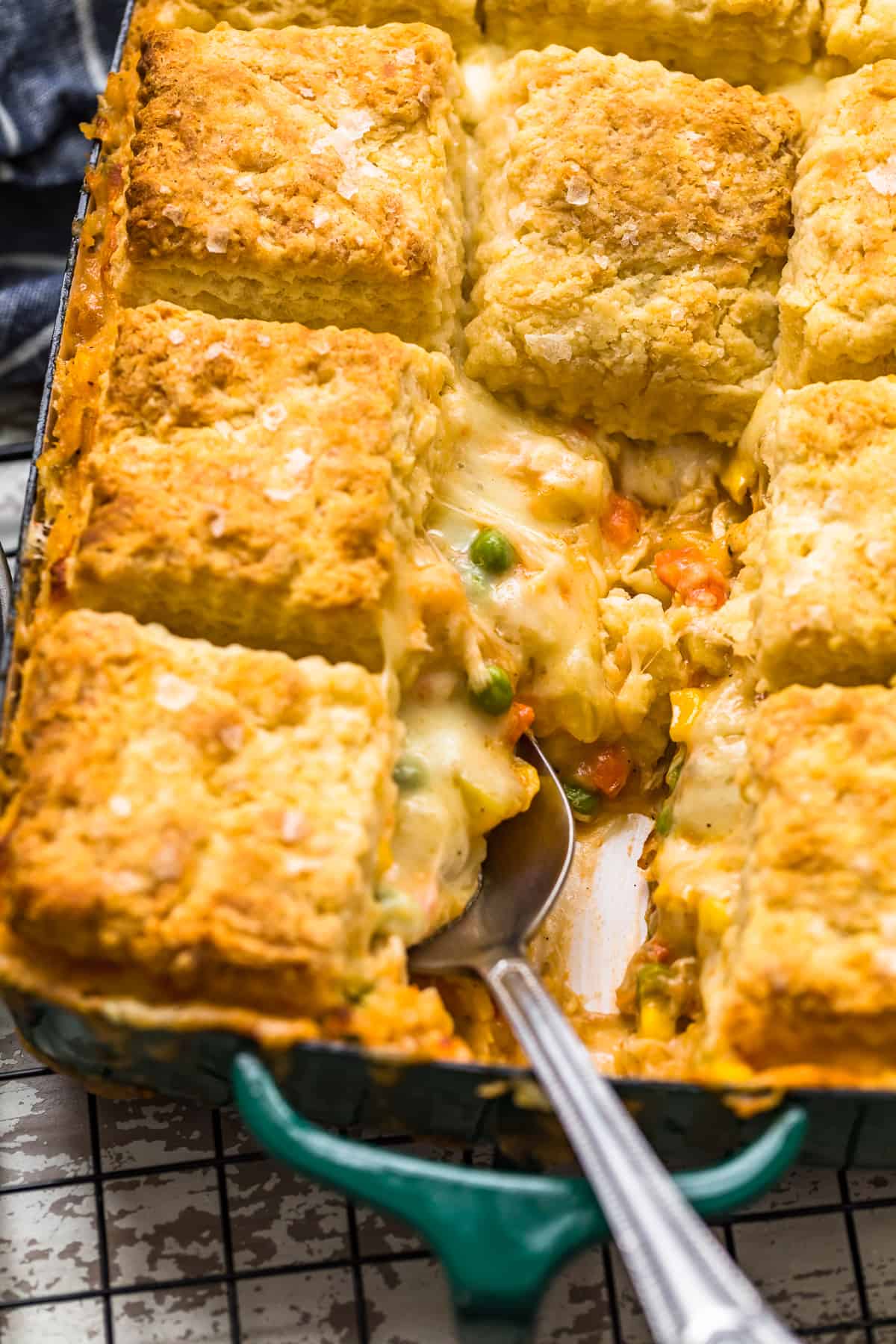 Check Out These Other Delicious Chicken Dishes
Have you tried this Cheesy Easy Chicken Pot Pie Recipe? Feel free to leave a star rating and I'd love to hear from you in the comments below!