This Brownie Batter Dip recipe will satisfy that urge to dip into a bowl of raw batter, and it's totally safe to eat! Brownie mix, pudding mix, cream cheese, and just a couple of other ingredients combine to make this creamy, chocolatey dessert dip–no baking required. Add other toppings and mix-ins, then dip cookies, fruit, and more for a brownie-flavored treat!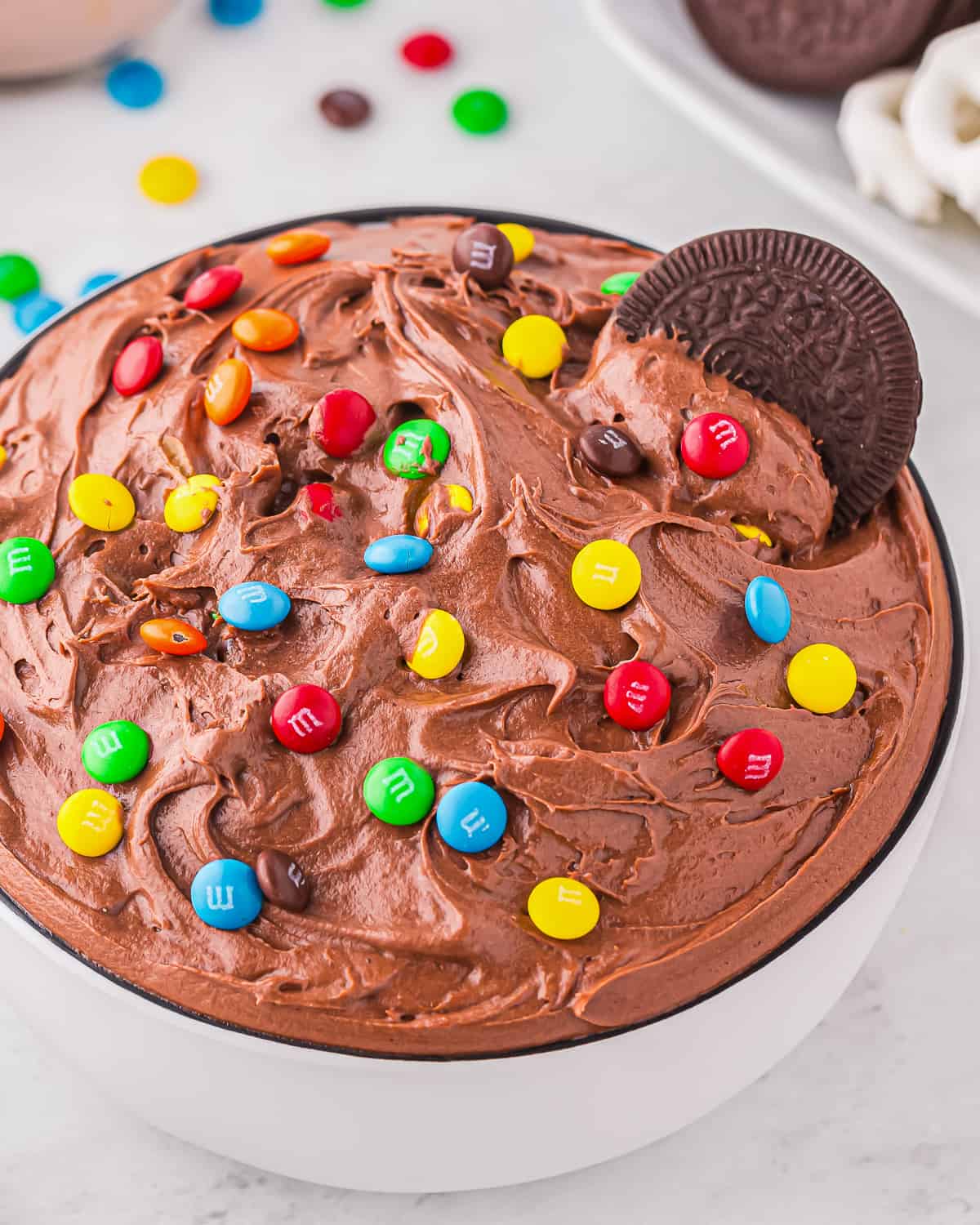 What's in this Brownie Batter Dip Recipe?
If you've ever wanted to lick the spoon while making brownies, this dip is for you! Get all that satisfying brownie flavor without the potential health risks.
Brownie Mix: Forms the base of the dip, adding that classic brownie flavor. We're heat-treating the mix to kill any bacteria that may be lurking in the raw flour.
Cream Cheese Spread: Helps make the dip rich, creamy, and tangy. You can use brick-style cream cheese instead, but make sure to fully soften it before using.
Whipped Topping: Lightens up the dip so it's not too dense. Be sure to thaw it first if frozen.
Instant Chocolate Pudding Mix: Enhances the chocolatey flavor of the dip and helps thicken it up. Vanilla pudding mix will also work in this recipe, and will only mildly change the flavor (there's plenty of other chocolate in the mix).
Chocolate Milk: Helps bring the dip to the right consistency without diluting the flavor. You can also use plain or whole milk, half and half, or heavy cream. Please be aware that using an alternative may affect the thickness of the dip. Adjust the amount as needed for a dippable texture.
Pro Tip: Add some mini chocolate chips or M&M's on top for a bit of crunch!
Variations on Brownie Dip
This brownie batter dip is endlessly customizable. Here, I added mini M&M's, but you could add in any mix-ins you love, such as mini chocolate chips (dark, milk, or white), cookie pieces (Oreos, Nutter Butters, Chips Ahoy, etc.), sprinkles (rainbow or chocolate), chopped candy bars (Twix, Milky Way, Reese's Cups, Snickers, etc.), chopped nuts (walnuts, pecans, pistachios, etc.), or mini marshmallows.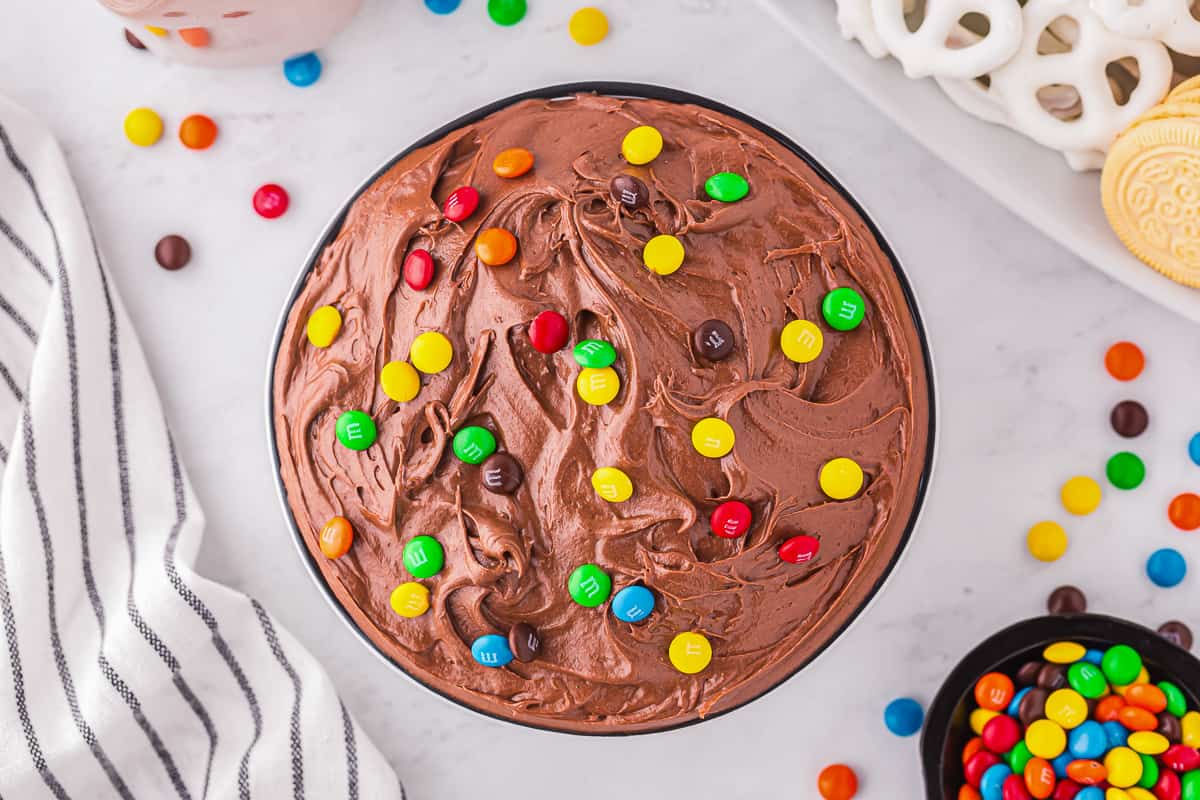 Is it OK to eat raw brownie batter?
No, it is not considered safe to eat raw brownie batter. Ingredients like eggs and raw flour can harbor bacteria that can make you sick! To make this batter safe to eat, we leave out the eggs and heat-treat the flour to kill any harmful bacteria.
What happens if I eat raw brownie batter?
I'm sure we've all licked the spoon once or twice despite the warnings. While you may not have noticed any consequences, it is actually a serious don't. Eating raw brownie batter (especially too much) can lead to food poisoning. You might end up with light symptoms, or it could be much worse. There's also a risk of E. coli and Salmonella. Read more about it in this article.
Can I bake this dip into brownies?
No! This recipe is designed to be eaten "raw" and would simply make brownie soup if you tried to bake it!
Why has my dip thickened so much in the fridge? What should I do?
It is normal for this dip to thicken up in the refrigerator, as ingredients such as cream cheese and whipped topping tend to firm up when cold. To restore a smoother and more dip-like consistency, allow it to sit out at room temperature for a few minutes, stir the dip vigorously for a few minutes, or gradually add a tablespoon or two of chocolate milk until the dip reaches the desired consistency.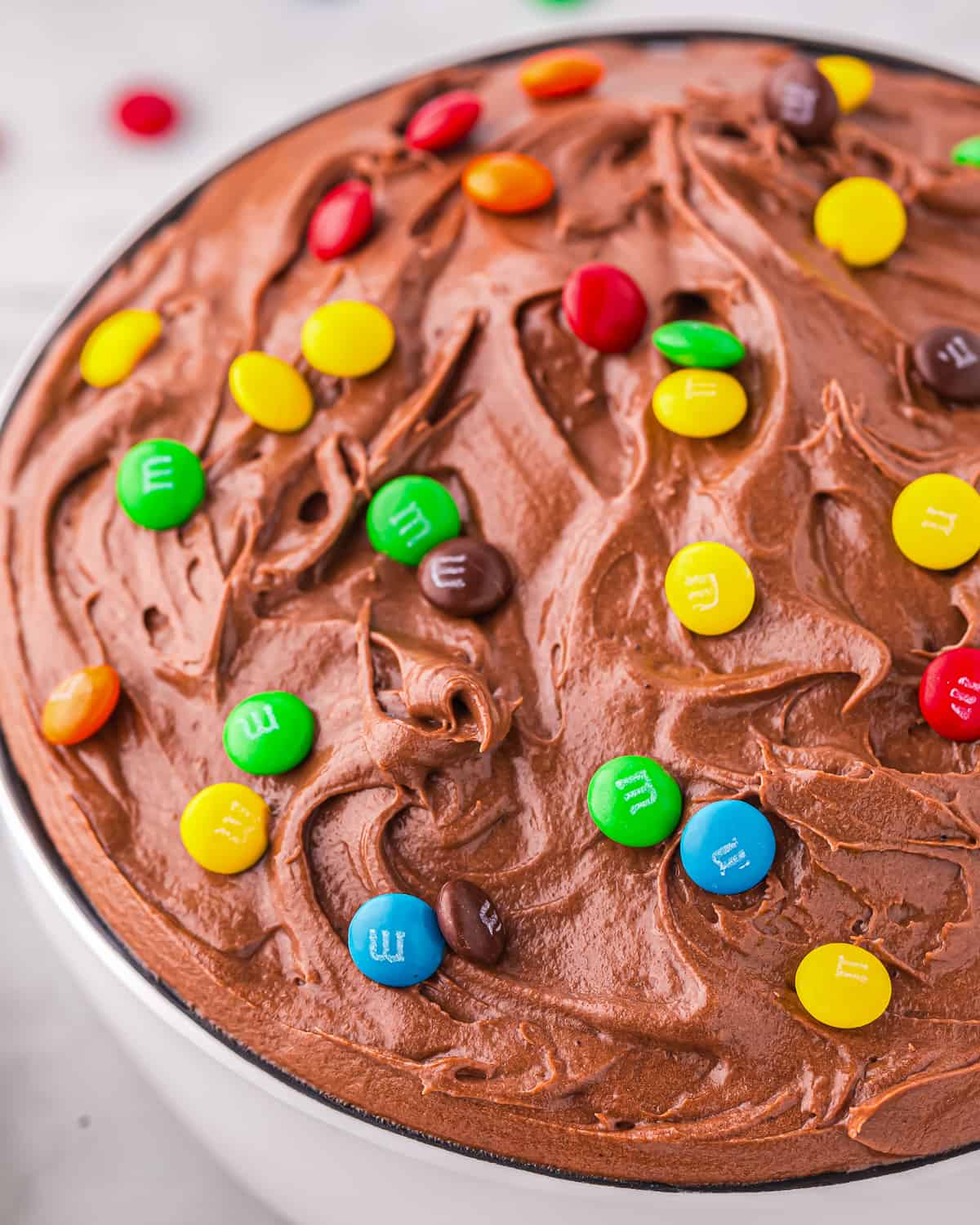 How to Store
Store leftover brownie batter dip in an airtight container in the refrigerator for up to 3 days. Stir well before serving chilled. You may need to add an additional tablespoon or two of milk to get it back to a dippable consistency.
How to Freeze
Freeze brownie batter dip in an airtight container or Ziplock bag for up to 2 months. I recommend rolling the batter into bite-sized balls before freezing so you can just enjoy one straight from the freezer!
Serving Suggestions
I love to serve this brownie batter dip with Oreos, graham crackers, pretzels, vanilla wafers, or strawberries. It's also delicious with cinnamon tortilla chips, shortbread cookies, or saltine cracker toffee.
If you make your own ice cream (I love this red velvet ice cream recipe!), you can roll pea-sized balls of dip and add them in during the last 5 minutes of churning. If you want to add it to store-bought ice cream, just crumble some on top!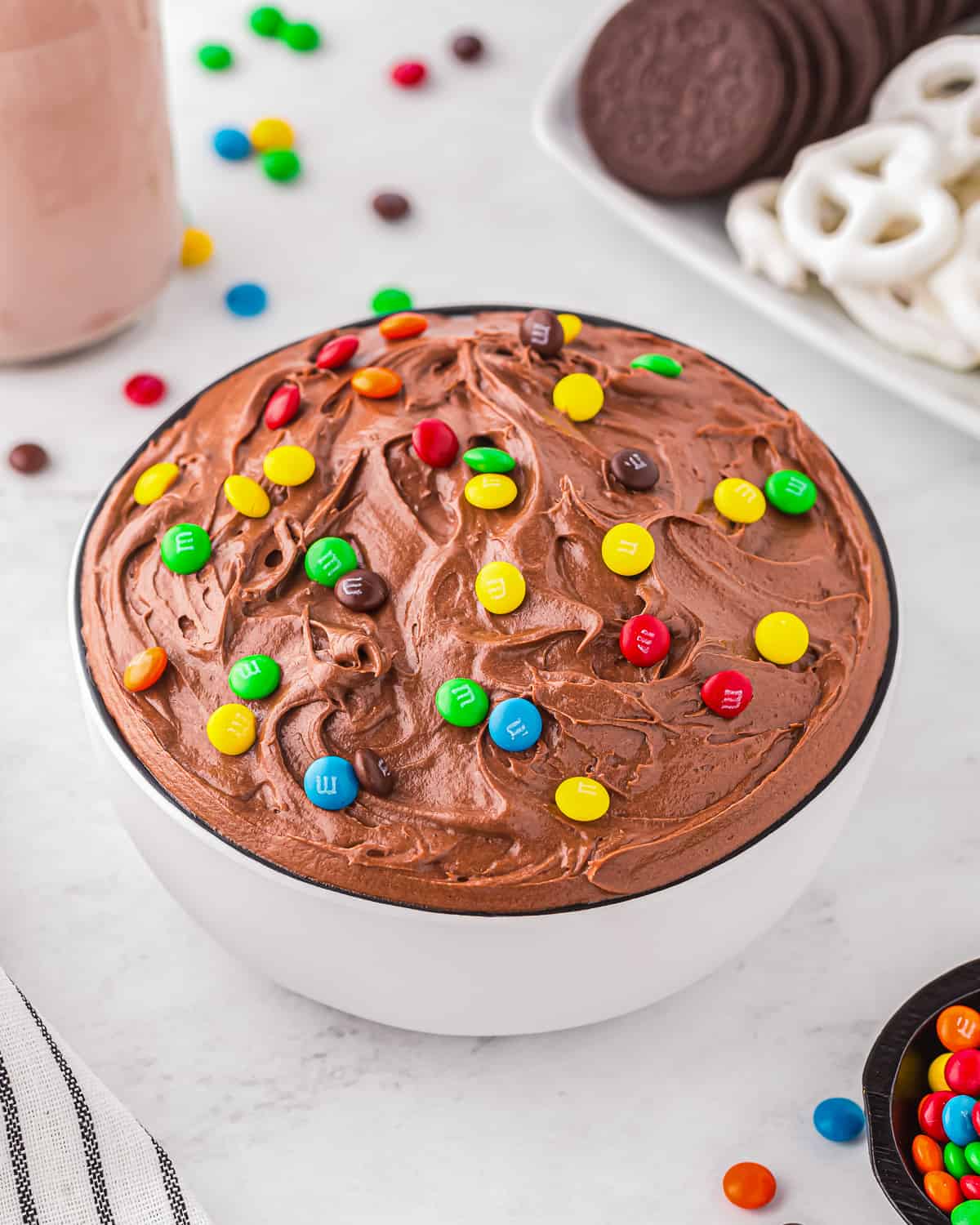 More Dessert Dip Recipes We Love