This Cajun Chicken Pasta recipe is deliciously creamy, perfectly spicy, and so easy to make. Chicken breast is cooked with Cajun seasoning, tomatoes, and bell peppers in a cream cheese sauce, and combined with pasta for an easy weeknight dinner. This 30 minute meal is sure to be a hit with the family!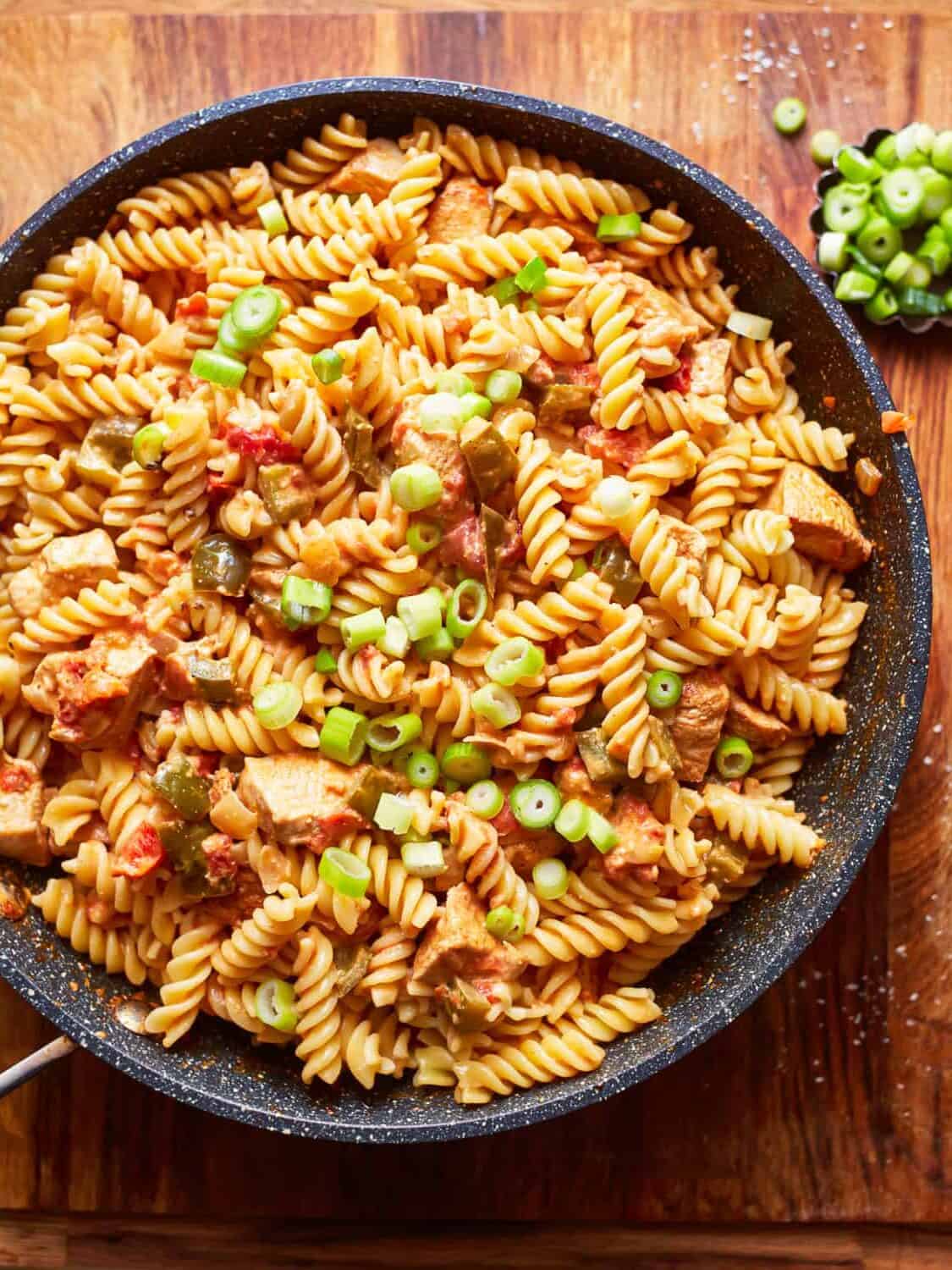 What's in Creamy Cajun Chicken Pasta
Juicy Cajun chicken and veggies are cooked in a super creamy sauce and tossed with pasta for a quick 30 minute meal!
Pasta: I like to use rotini pasta, because the nooks scoop up the sauce, but you can use any type of pasta you like. Penne, farfalle, and other short shapes work well. Cook the pasta al dente before adding it into the sauce.
Chicken: Use skinless, boneless chicken breasts, cut into bite-sized pieces. Boneless, skinless chicken thighs work too!
Cajun Seasoning: This seasoning blend adds a little bit of smokiness, a small amount of spice, and lots of flavor.
Chicken Broth: Broth adds a bit of liquid to help create the creamy sauce. I like to use a low-sodium broth.
Diced Tomatoes: A can of fire-roasted tomatoes adds delicious flavor and texture, and helps fill out the sauce. You can use plain tomatoes if you prefer.
Cream Cheese: Cubes of cream cheese melt into the sauce to create a super creamy and cheesy texture.
Heavy Cream: Heavy cream makes the sauce silky smooth. You can skip this if you like, but I think it perfects the sauce.
Veggies: A mix of bell peppers, onion, garlic, and green onions are sauteed and added to the mix for more texture and flavor.
Pro Tip: If you want a spicy Cajun pasta dish, mix in chili flakes or chili powder with the Cajun seasoning, and/or increase the amount of seasoning.
Cajun Veggie Pasta
For a veggie cajun pasta (with or without chicken), use any combination of your favorite diced or sliced vegetables, like zucchini, squash, mushrooms, carrots, or more bell peppers. Add veggies to the recipe in Step 2, and cook until they're softened before moving on to Step 3.
To make this vegetarian-friendly, skip the chicken, and swap out chicken broth for vegetable broth. You can add tofu if you like!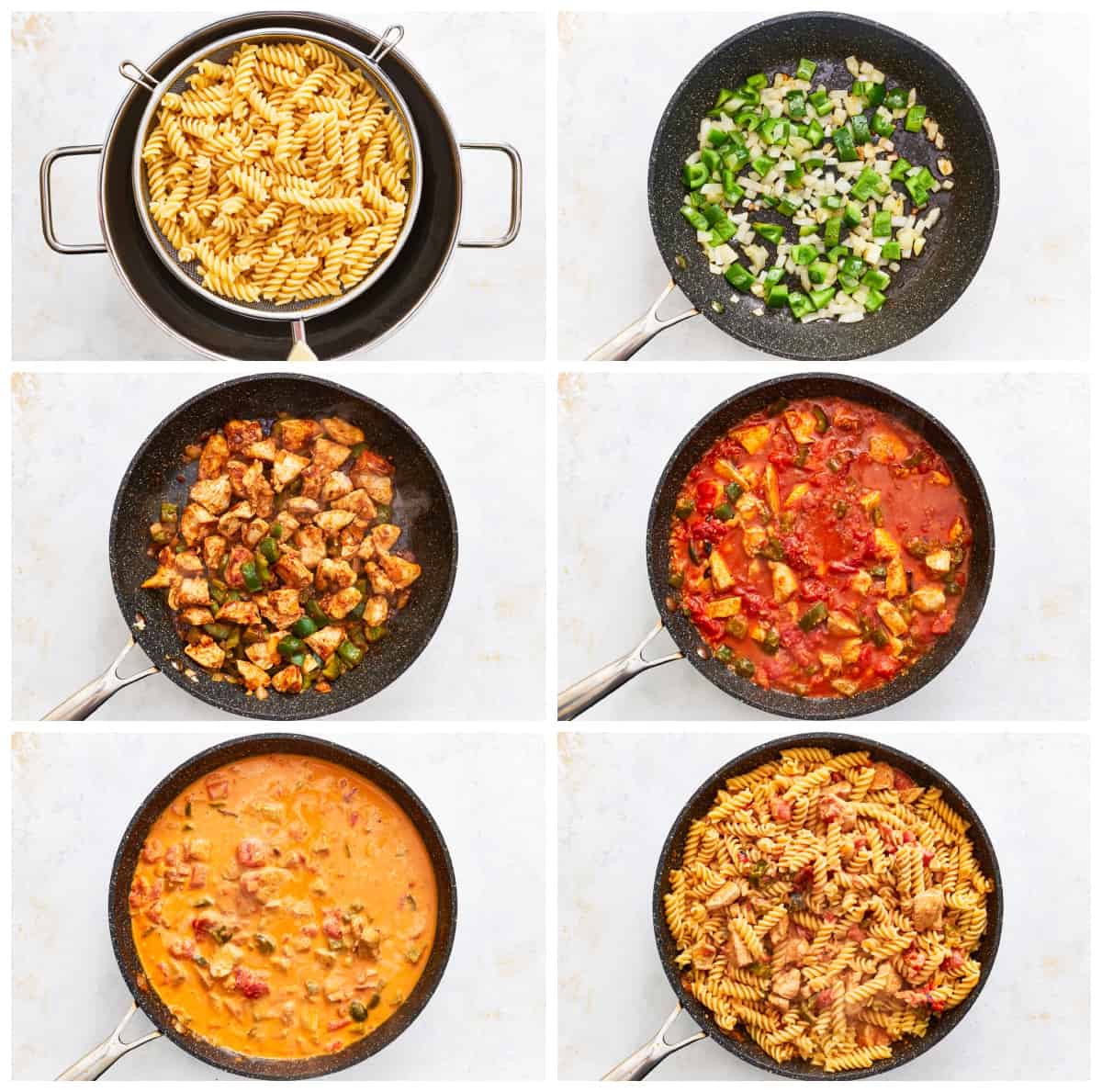 What is cajun seasoning?
Cajun seasonings are usually made with black pepper, white pepper, cayenne pepper, onion powder, garlic powder, and paprika.
What kind of chicken should I use?
I like to use boneless, skinless chicken breast. You can use boneless, skinless chicken thighs instead.
Can I use pre-cooked chicken?
Yes! Feel free to start with chicken that's already been cooked. You can use a rotisserie chicken, shredded chicken, or leftover chicken.
How do you cook pasta al dente?
Cooking pasta "al dente" means to cook it just until it starts to get soft, but still retains a bite. Any package of pasta should have instructions and a time estimate for how long it will take. I recommend cooking it al dente because it will continue to cook slightly once you add it into the sauce, and we don't want it to get too soft.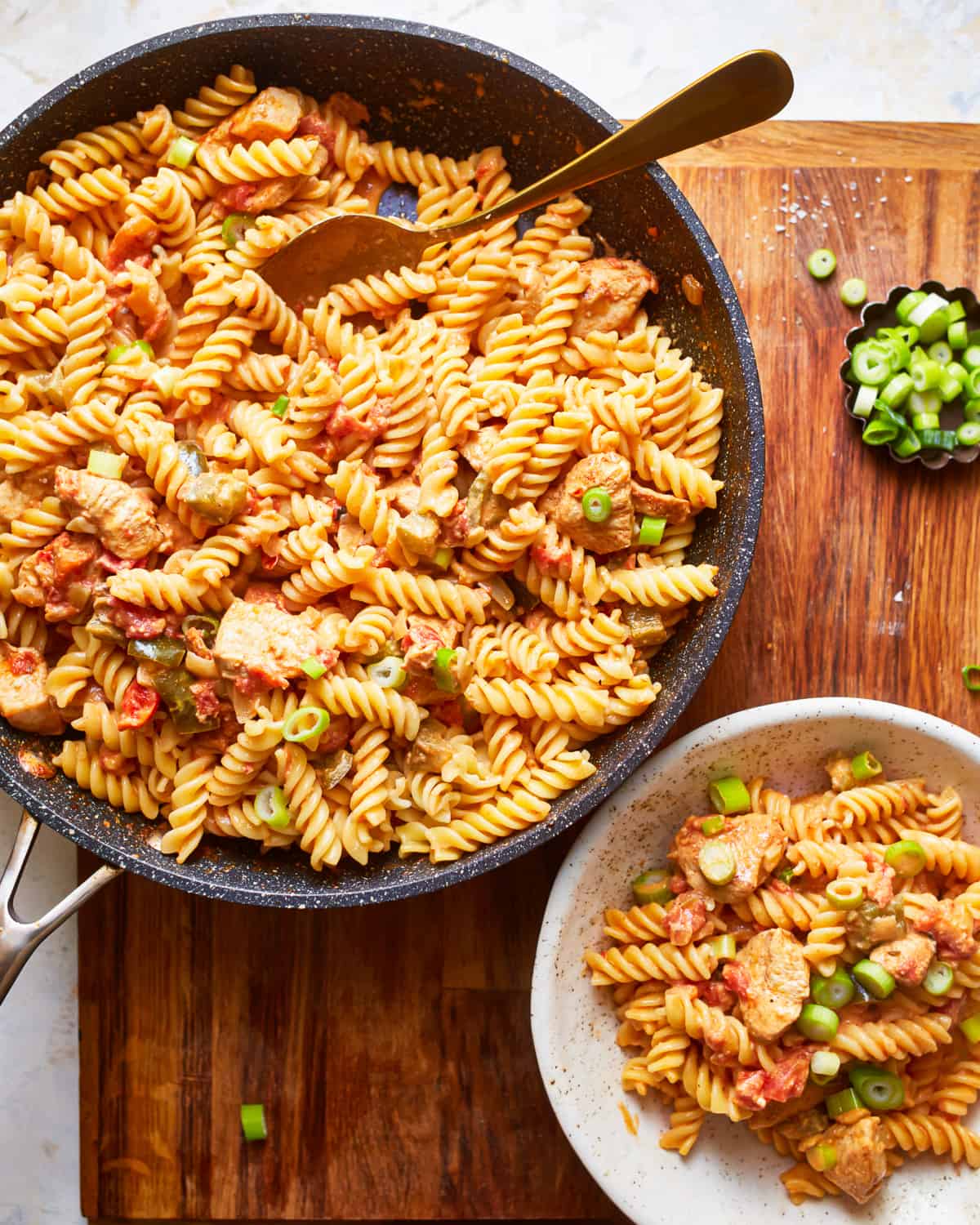 How to Store and Reheat
Store leftover cajun chicken pasta in an airtight container, and keep it in the refrigerator up to 3 days.
Reheat in a pot on the stovetop over medium heat, stirring until it's fully warmed through. I recommend adding in a dash more heavy cream to freshen up the texture of the sauce. You can also quickly reheat it in the microwave.
If you want to make this ahead of time, cook the cream sauce with the chicken and veggies, and store it in the fridge. Boil pasta fresh and mix it into the sauce as you reheat it, then serve.
I do not recommend freezing this dish, because the pasta and cream won't hold up well.
Serving Suggestions
This 30 minute creamy cajun chicken pasta tastes amazing with a bit of bread on the side. I like to serve it with Olive Garden style breadsticks, pull apart cheese bread, or cheesy focaccia.
If you want to add some vegetables on the side, try Air Fried mushrooms, roasted Brussels sprouts, or Parmesan roasted potatoes.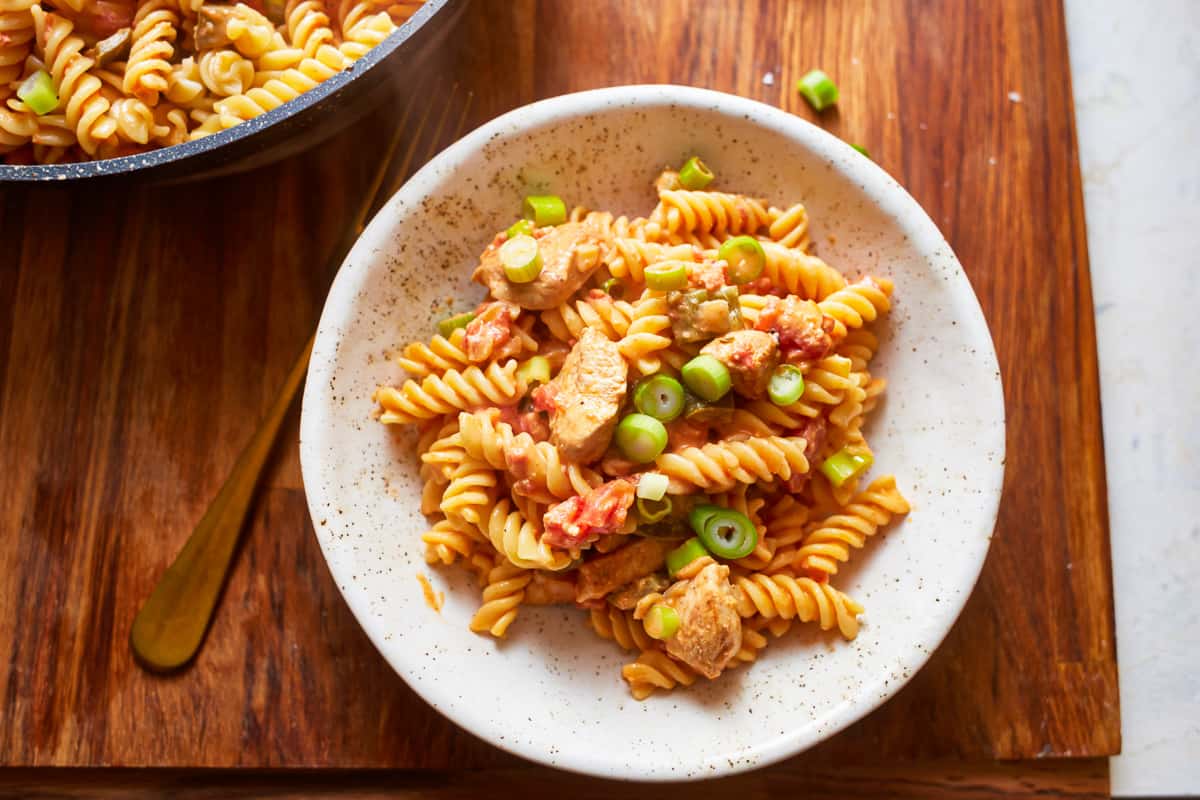 If you make this recipe be sure to upload a photo in the comment section below or leave a rating. Enjoy! You can also jump to recipe.
More Chicken Pasta Recipes We Love