Grilled Bruschetta Chicken is the perfect healthy chicken recipe for summer! This delicious bruschetta caprese chicken brings together all of our favorite flavors on the grill in one easy dish. Grilled Balsamic Chicken topped with fresh mozzarella and tomatoes for the ultimate grilled chicken caprese dinner!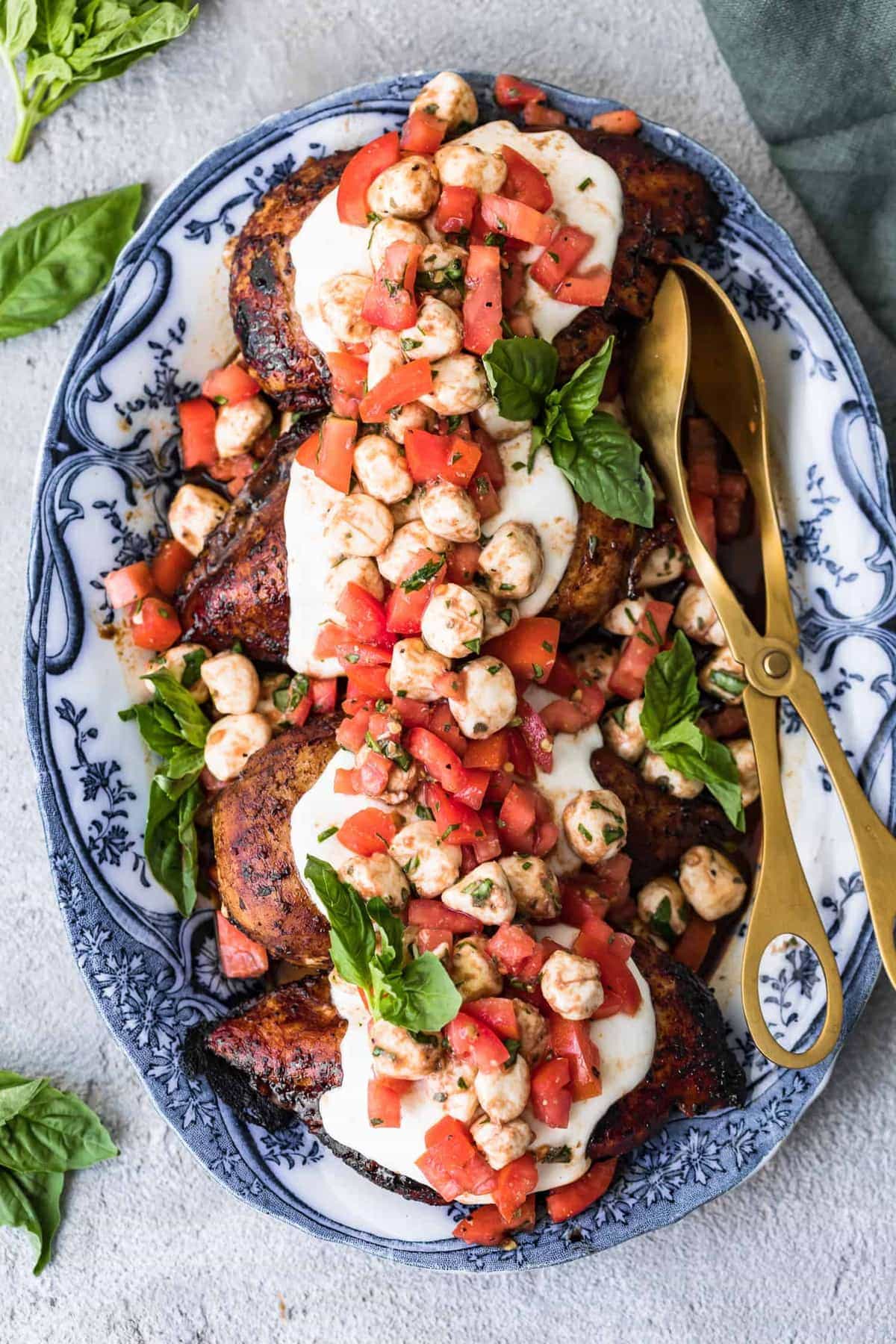 Grilled Bruschetta Chicken
This grilled bruschetta chicken recipe will be your go-to healthy dinner this summer. Grilled chicken topped with your favorite caprese flavor. Yum!
Summer is meant for grilling, especially on the 4th of July. It's just not the Fourth unless you've got your friends and family, a grill, and plenty of delicious food and drinks. If you're looking for a healthier option for the season, then you're going to love this Grilled Bruschetta Chicken recipe!
This grilled Chicken Caprese is healthy, amazingly delicious, and super easy. Why waste your time preparing a difficult meal when there's BBQs and fireworks to enjoy!
You'll love this chicken cooked in a balsamic reduction. So flavorful, and you'll feel good about eating it!
Make summertime healthy and delicious with this easy Grilled Chicken Caprese recipe!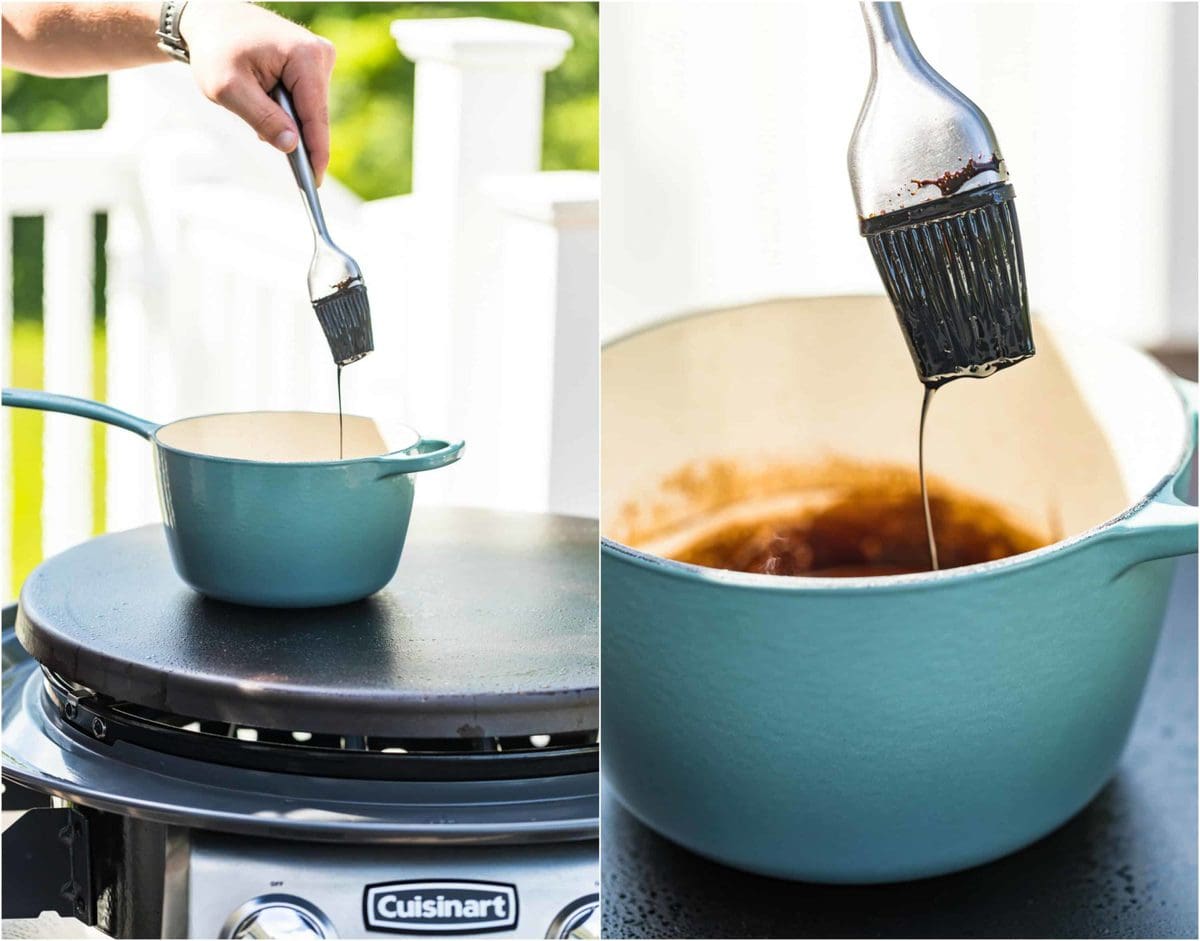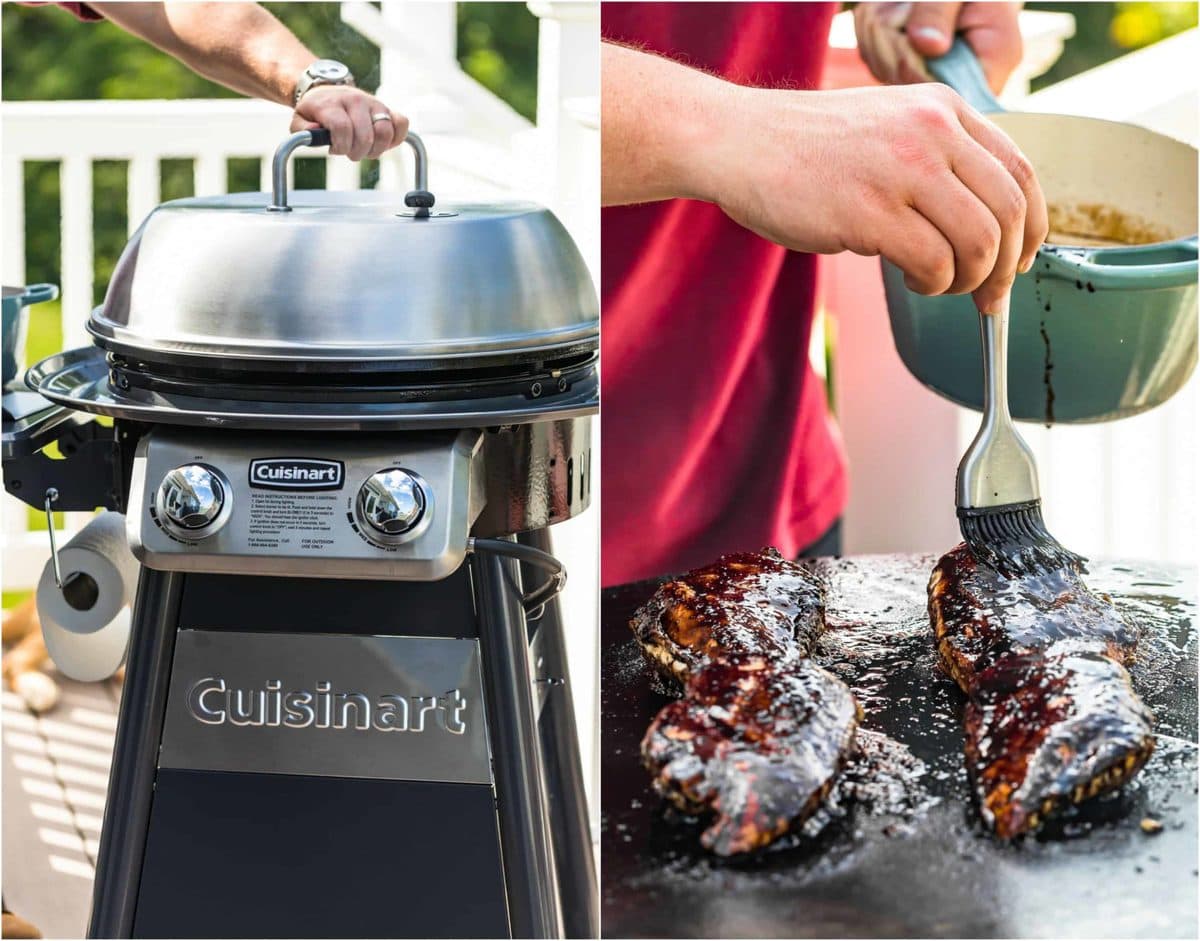 Outdoor Grilling made Easy
I'm so excited for this recipe because it was made SO easy by using our new grill, the Cuisinart 360° Griddle Cooking Center. During our marriage, we have had the privilege of having 5 different grills. Some were gas grills, some were pellet, one was charcoal. Each has been fun to cook on, but NONE have been as easy, efficient, or as beloved as this new Cuisinart 360° Griddle Cooking Center. I'M OBSESSED! I love so much about it, but here are some highlights.
It has a HUGE 22″ round diameter meaning you can fit so much food on it, and all your loved ones can stand around and help! Even though the cooking surface is big, the actual grill is pretty small and doesn't take up much space. It's the ultimate cooking machine!
It's nonstick surface makes for easy cooking and simple cleanup.
There's a cleanup tray around the outside, ensuring not a drop of grease or fat will hit your deck.
You can literally do IT ALL on this grill. You can steam, grill, bake, roast, warm, and more! You can even cook pancakes on the griddle top. It's amazing.
It's got a great price point, starting at just $174 (and you can get it at WALMART)!! Anyone getting married soon?? This is what I'm getting you!
The Cuisinart 360° Griddle Cooking Center is a dream come true for busy families. I can't wait for you to give a try, especially if making this Grilled Caprese Bruschetta Chicken. Not only did I grill the chicken on it, I also made the balsamic reduction!
Bruschetta Chicken Caprese
We absolutely LOVE Caprese anything around here. The combination of tomatoes, mozzarella, and basil is a classic flavor I'll never get tired of. This Grilled Bruschetta Chicken recipe fits right in with our other favorite dishes!
If we don't have anything in mind for dinner on a warm summer evening, my favorite thing to do is throw together a quick Caprese Salad and pass it back and forth. Meaning, we, just eat a whole lotta cheese and tomatoes for dinner, and I can't imagine anything better…
Except this grilled chicken caprese, because then it feels like an official meal. Tomatoes, basil, and mozzarella piled on top of juicy balsamic grilled chicken? The perfect combo!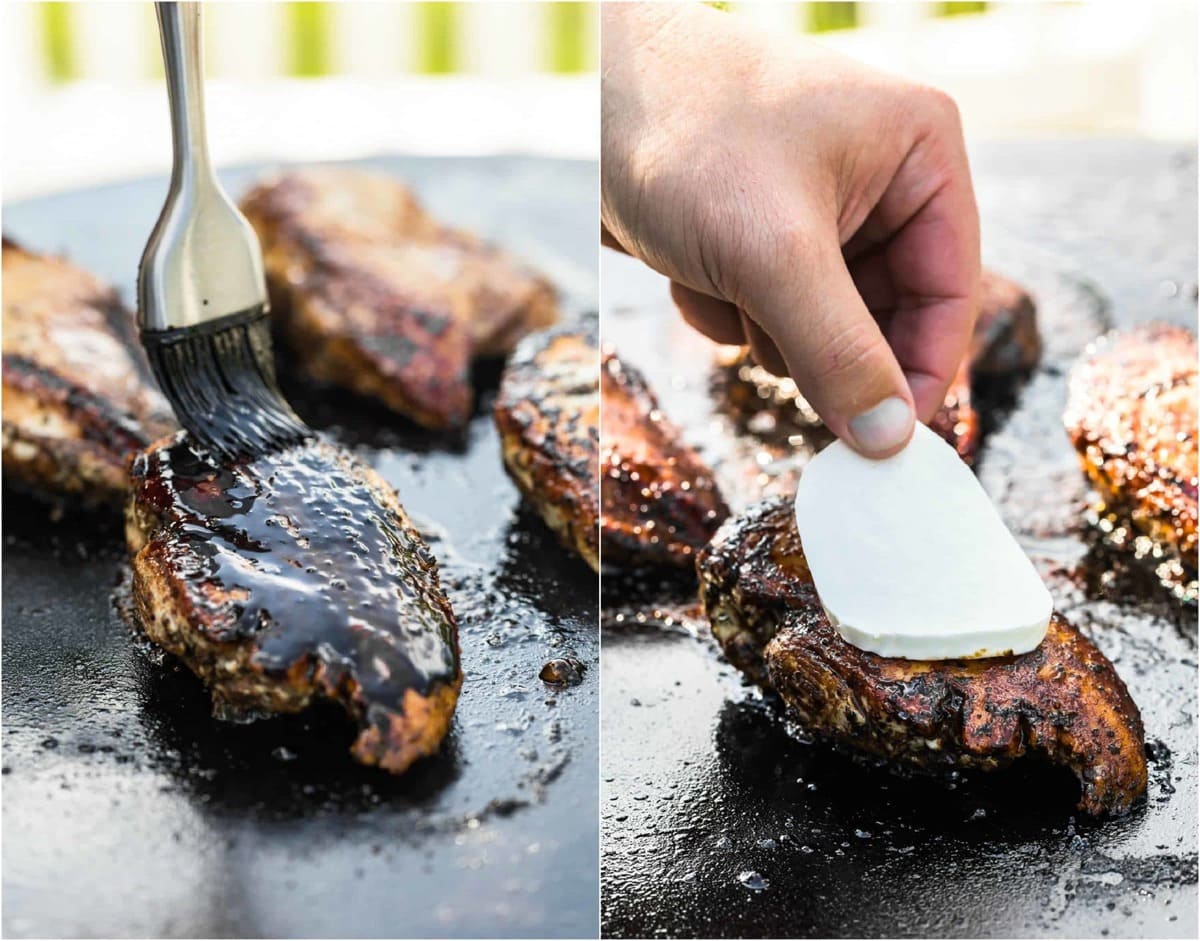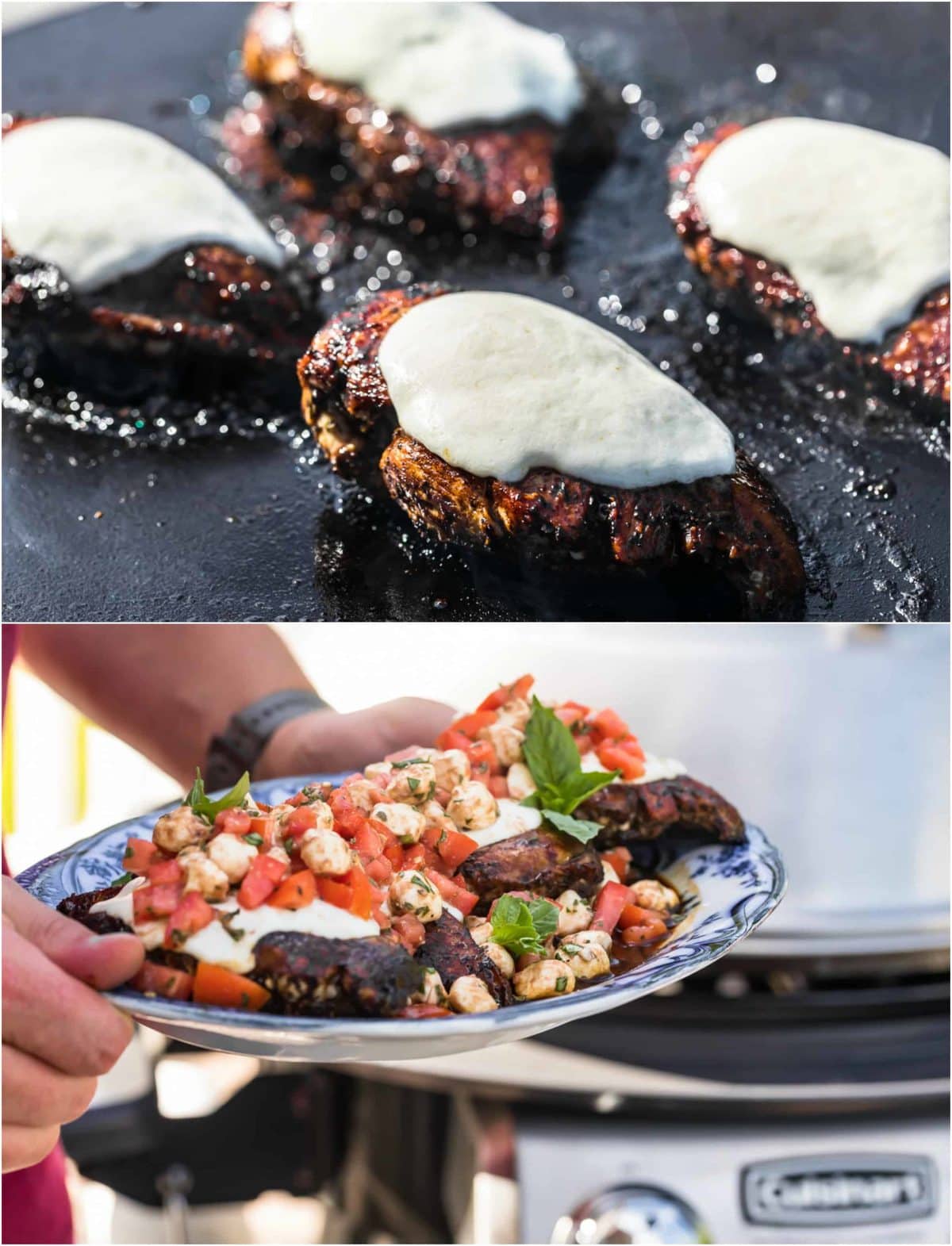 Grilled Chicken Caprese
We love grilling chicken in the summer time for light and tasty meals. This Grilled Bruschetta Caprese Chicken is always a hit!
Grilled chicken is one of the healthiest things I make, and luckily we don't have to sacrifice taste to get it. The balsamic reduction adds sooo much flavor, and a heaping spoonful (or two) of the caprese mixture makes it so fun to eat.
Recipes like this make me want to grill every single night, so I can be super healthy while still enjoying every last bite! I'm so lucky to have a husband and dog that love grilling too. There's really no better way to enjoy the summer!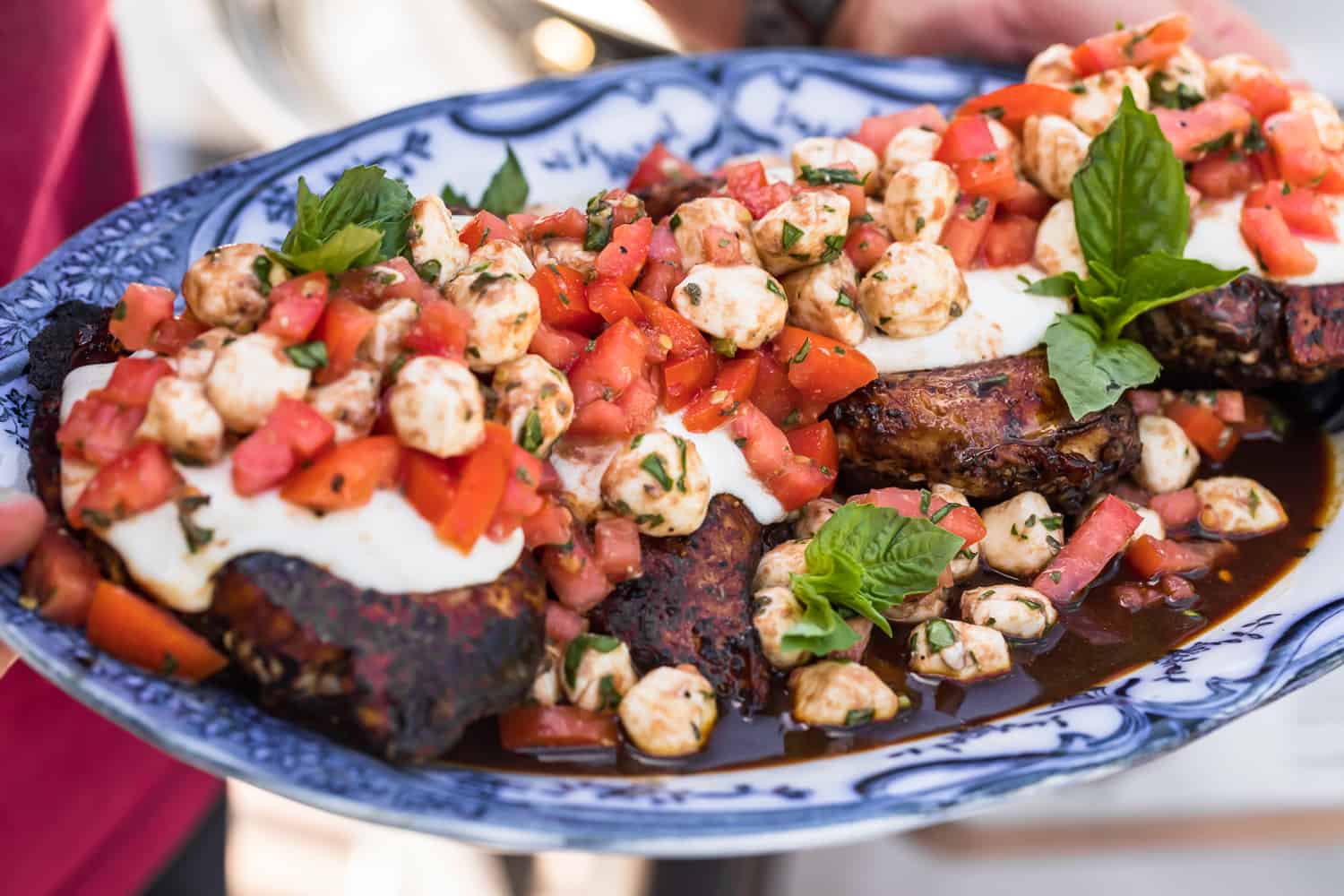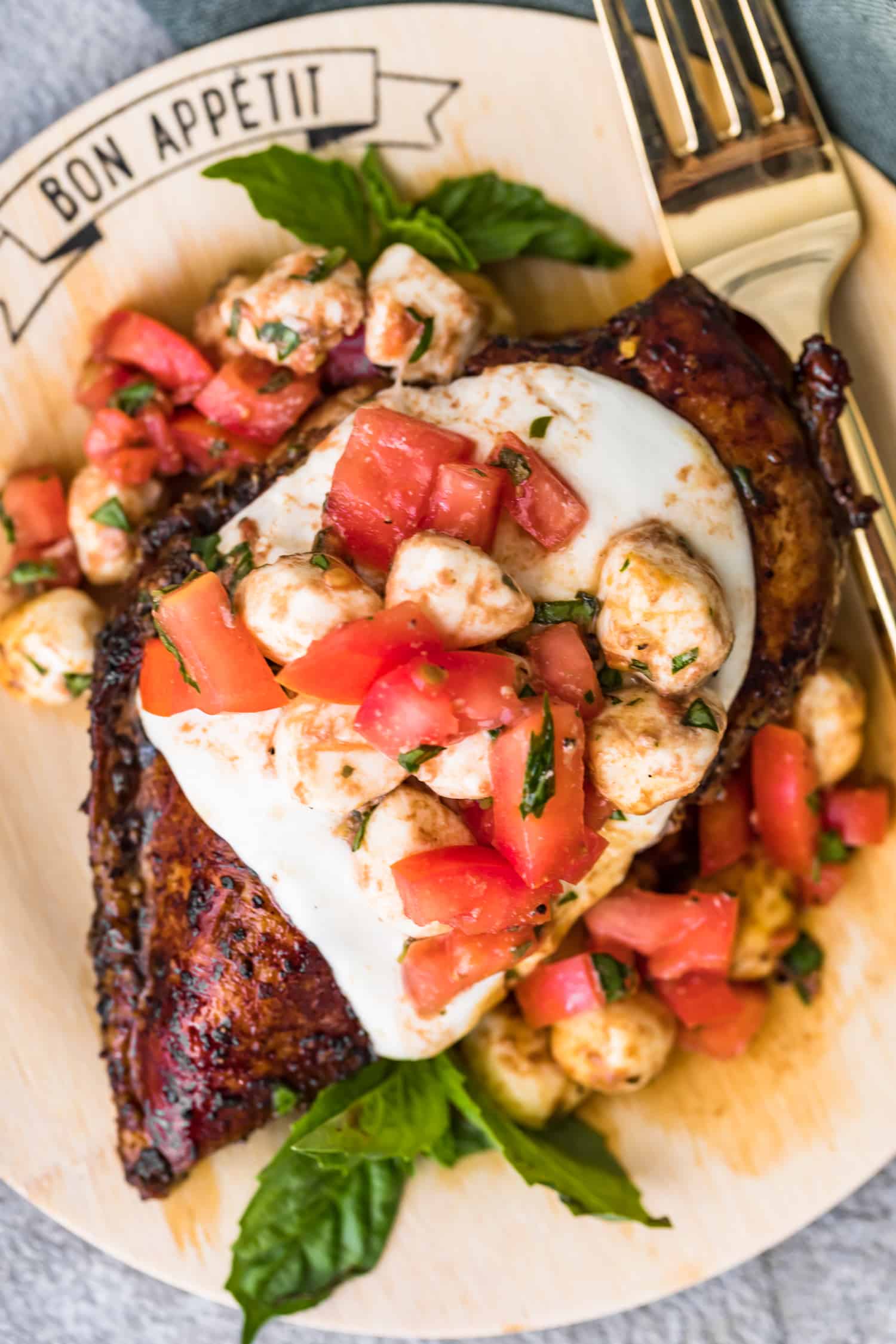 How to Make Grilled Bruschetta Chicken
You won't believe how easy this grilled bruschetta chicken recipe is. Other than some quick grilling, there's practically nothing to it. Grill chicken, top with delicious caprese salad, and done in no time!
Start by making the caprese mixture so it's ready when the chicken is hot and fresh off the grill.
Preheat your grill, then make your balsamic reduction. Grill chicken breasts about 6-8 minutes per each side. Brush with the balsamic reduction while cooking.
When the chicken is done, top each piece with cheese and allow to melt.
Spoon lots of the caprese bruschetta over the chicken and serve!
What to Serve with Bruschetta Caprese Chicken
I feel like I could just eat this grilled bruschetta chicken on its own (with a nice glass of wine) and be plenty satisfied. But to make it into a full meal, it's nice to add a couple of sides into the mix.
To keep it healthy, you could serve a bit of rice, a salad, and some grilled vegetables for good measure! Here are my fave sides for this grilled chicken recipe: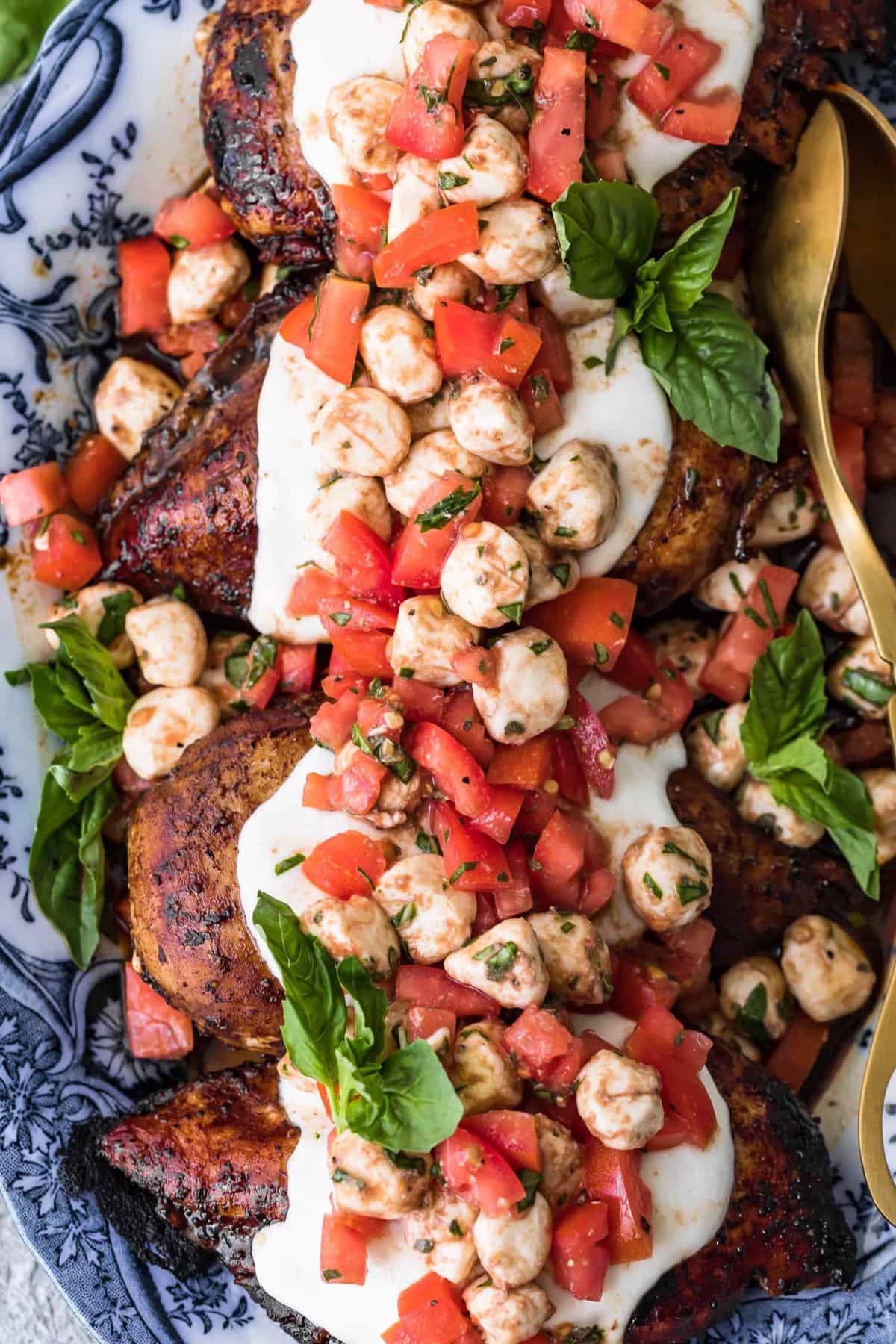 If you like this Grilled Bruschetta Chicken recipe, you'll love our Instant Pot Bruschetta Chicken and our Cheesy Bruschetta Chicken Bake too!
See the recipe card for details on how to make Grilled Chicken Bruschetta Caprese. Enjoy!
Try these other delicious Caprese recipes: