Easy dinner alert! This Chicken Enchilada Pie is made in a skillet in just 25 minutes. Talk about easy! It's a simple and delicious skillet meal perfect for busy nights.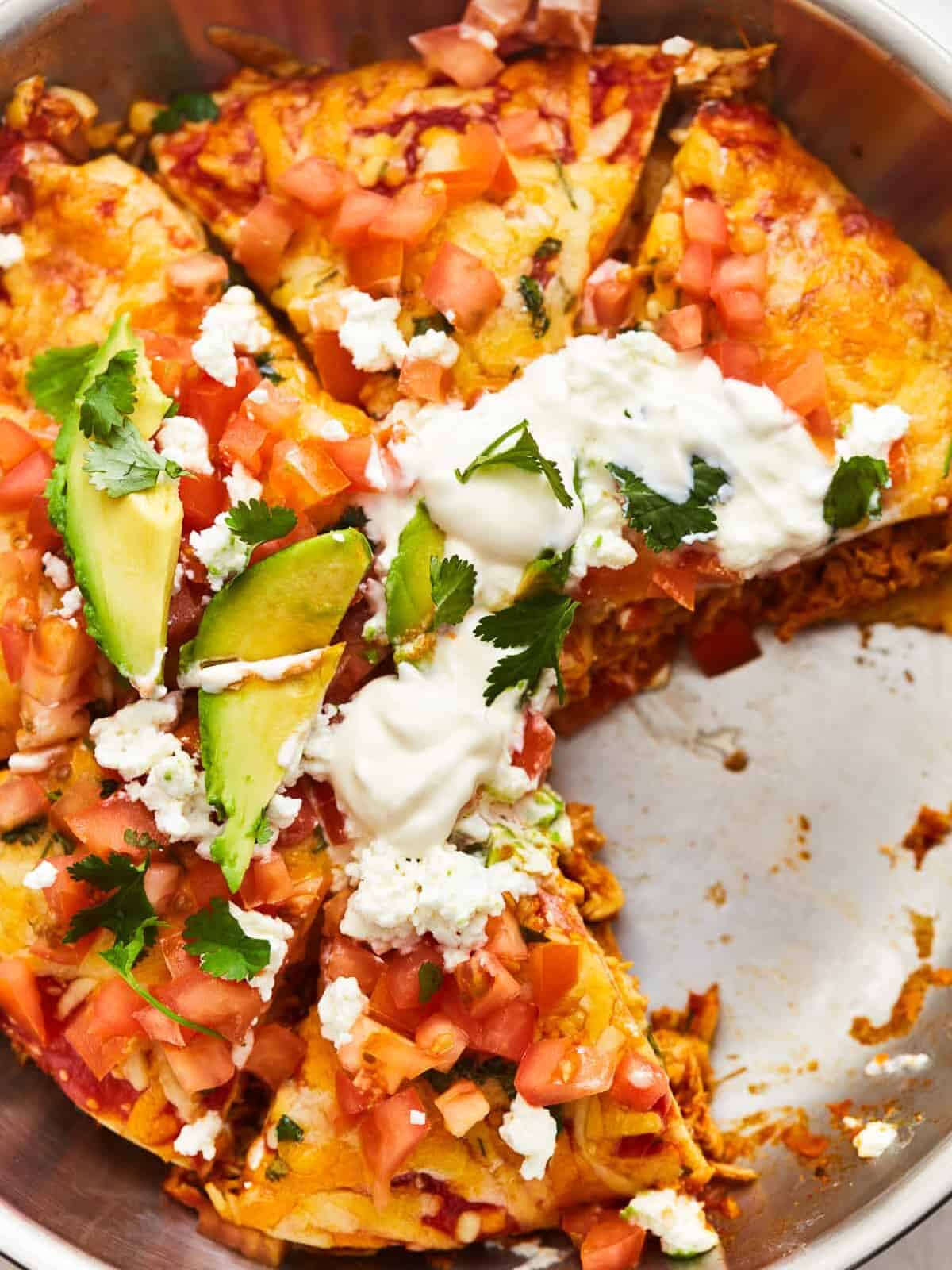 What's in Chicken Enchilada Pie?
What's cheesy, just a little bit spicy, easy, perfect for a crowd, cheesy, and even more cheesy? This Chicken Enchilada Skillet Pie!
Vegetable Oil: Helps keep the chicken from sticking to the pan. You can use olive, avocado, or canola oil instead if you prefer.
Shredded Chicken: Forms the base of our enchilada pie. You can use rotisserie chicken, or make your own shredded chicken in the crockpot or instant pot. For even more flavor, try my crockpot Mexican shredded chicken!
Red Enchilada Sauce: I like to use red enchilada sauce for a classic flavor, but green or white would also work.
Taco Seasoning: Helps add classic Mexican flavor to the dish. You can use store-bought or homemade.
Cilantro: Adds a fresh and vegetal flavor. If you're not a fan, swap it for parsley or leave it out.
Flour Tortillas: Make sure to get burrito-sized flour tortillas. They should be 10-inches in diameter!
Mexican Blend Cheese: Adds classic Mexican cheesy flavor. You can use Monterey jack, pepper jack, cheddar, or mozzarella instead if you prefer.
Diced Tomatoes: Add texture and flavor. I like to use fresh tomatoes, but you can also use canned tomatoes. Just make sure to drain them before adding so your pie doesn't end up soggy.
Cotija Cheese: A classic Mexican cheese. If you can't find it, feta also works.
Pro-Tip: Use a 10-inch cast iron skillet for the cleanest pie.
Variations on Enchilada Chicken Skillet
There are tons of ways to switch up this chicken enchilada pie. You can swap the shredded chicken for beef, pork, or turkey. To make it vegetarian, swap the chicken for beans or diced veggies. For a gluten-free pie, make sure to use gluten-free tortillas and enchilada sauce. You can also use corn or cassava tortillas for a different flavor. You can even swap the red enchilada sauce for green or white enchilada sauce. Make it your own!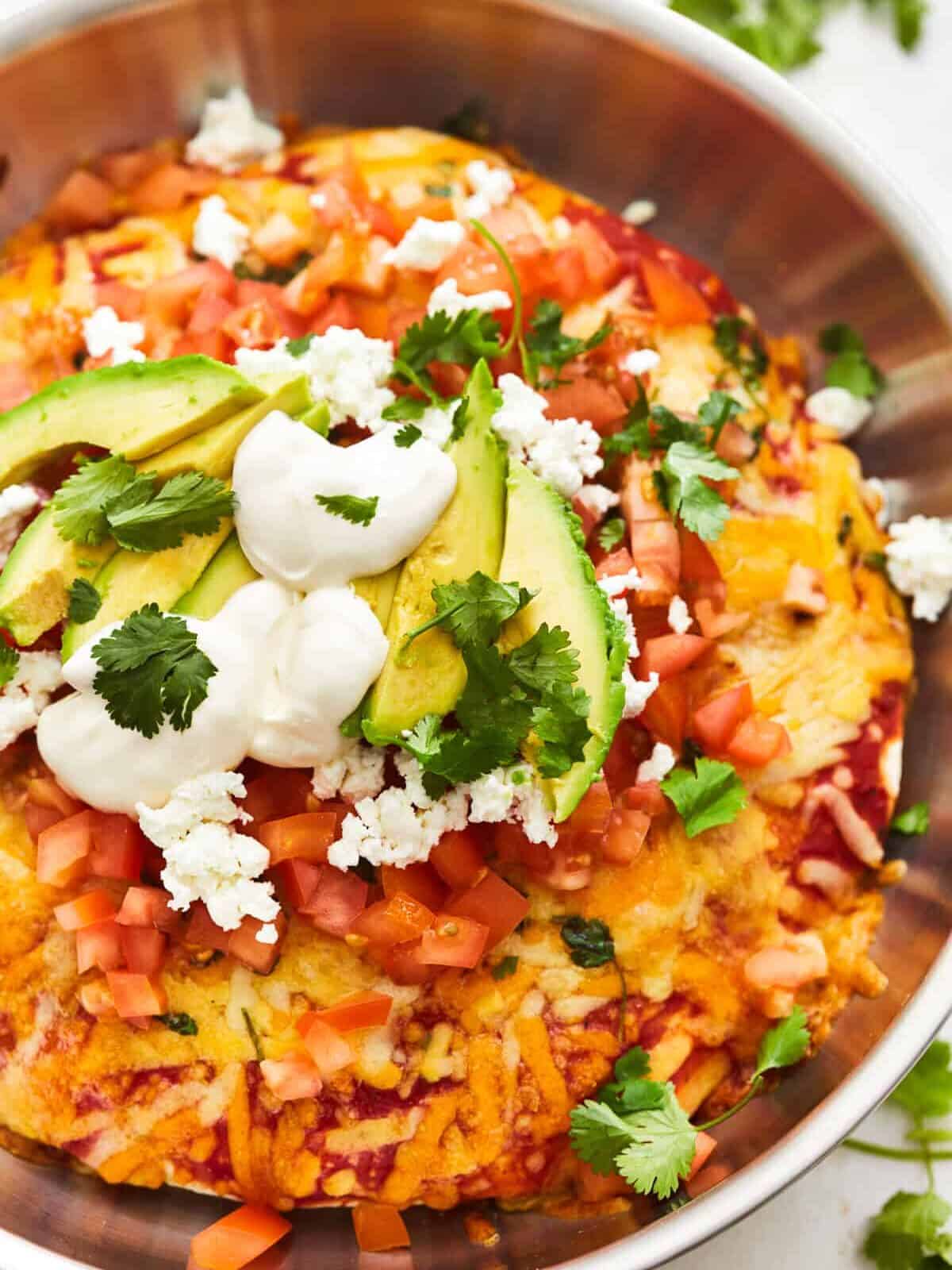 What do you put inside enchiladas?
This chicken enchilada pie is stuffed with saucy chicken and Mexican blend cheese!
What's the best chicken for enchilada pie?
You can use any leftover cooked chicken you like in these enchiladas. Simply shred the chicken before using it. I like to use rotisserie chicken in a pinch!
How do you keep enchilada pie from getting soggy?
I like my pie saucy and soft, but if you like yours crispier, you can briefly fry the tortillas in hot oil (about 10 seconds per side) before adding them to the skillet. This will create a barrier so that the tortillas don't soak up too much of the sauce.
Should I use corn or flour tortillas for chicken enchilada pie?
Traditional enchiladas are made with corn tortillas, but I prefer flour here, as they hold their shape better. Cassava flour tortillas also work well!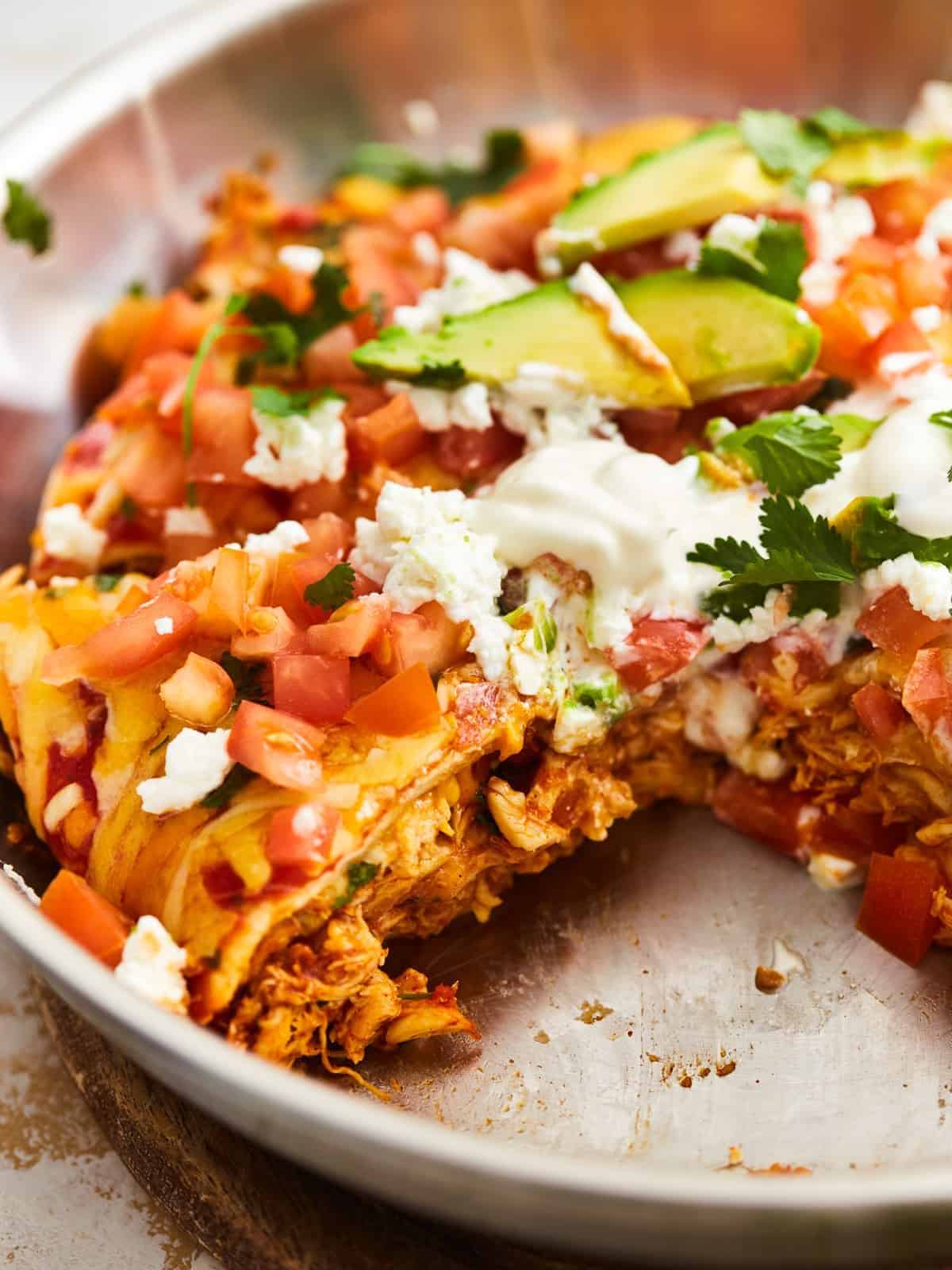 How to Store and Reheat
Store leftover chicken enchilada skillet in an airtight container in the refrigerator for up to 3 days. Reheat in the microwave or in a 350°F oven for 25-30 minutes, until heated through.
How to Freeze
Freeze chicken enchilada pie in an airtight container for up to 3 months. Let thaw overnight in the refrigerator before reheating.
What to Serve with Skillet Chicken Enchilada Casserole
Serve up a slice of chicken enchilada pie like they do at your favorite Mexican restaurant! Add some refried beans, this Mexican rice, and plenty of tortilla chips and salsa (I love tomatillo salsa).
You can also load up each plate with sour cream, guacamole, shredded lettuce, or more shredded cheese.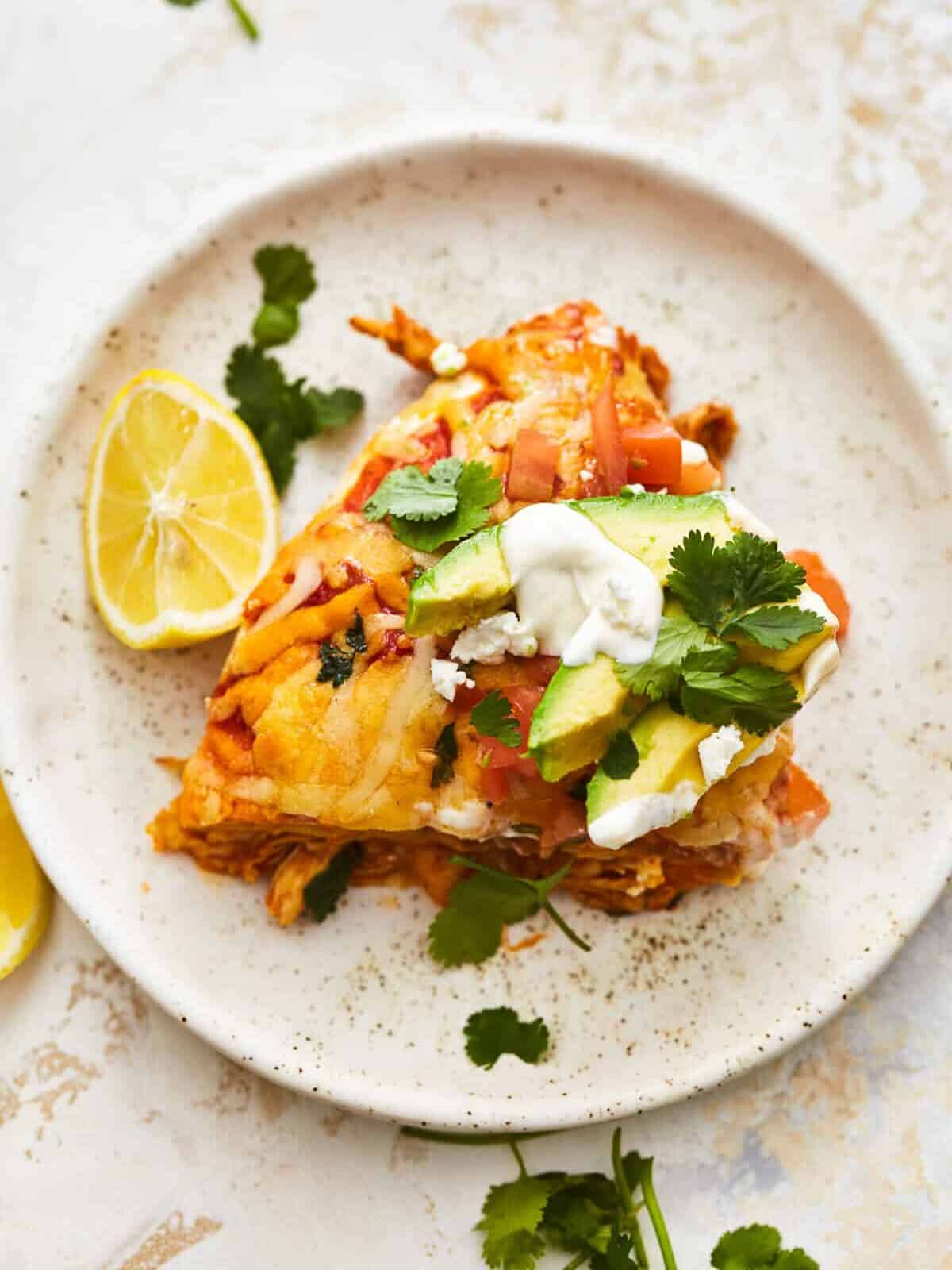 More Chicken Enchilada Recipes We Love