Chicken Enchilada Skillet Pie – EASY DINNER ALERT! This Chicken Enchilada Pie is made in a skillet in just 25 minutes. Talk about easy! It's a simple and delicious skillet meal perfect for busy nights.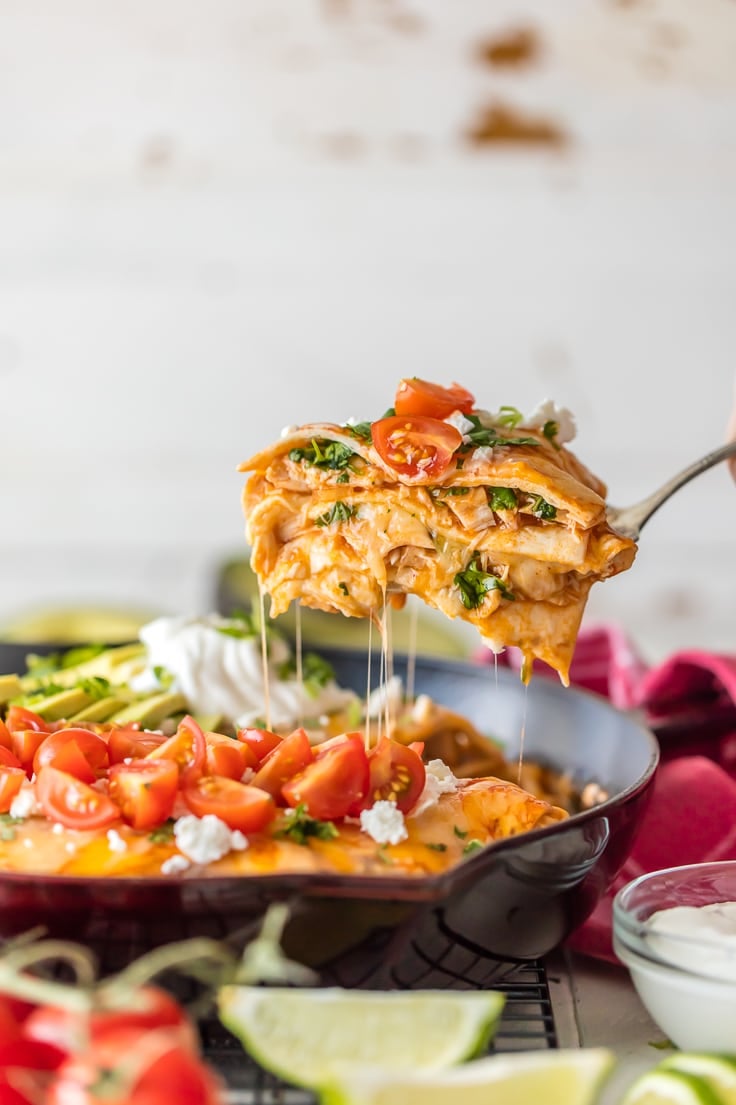 Chicken Enchilada Skillet
Make chicken enchiladas in a skillet for the easiest cheesiest dinner that your whole family will love!
What's cheesy, just a little bit spicy, EASY, perfect for a crowd, cheesy, and even more CHEESY? This Chicken Enchilada Skillet Pie!
This enchilada pie is my ULTIMATE simple weeknight meal. It just doesn't get better than a meal like this for a girl like me. It's virtually made in one pan (there is some chicken prep that can be done in its own skillet), so the cleanup is super easy and worth every minute.
Plus this skillet meal has SO MUCH FLAVOR! If you like enchiladas, you will LOVE this Chicken Enchilada Skillet Pie!
This recipe is the easiest form of enchiladas you'll ever make! Give it half an hour, and you'll have a tasty meal ready to go!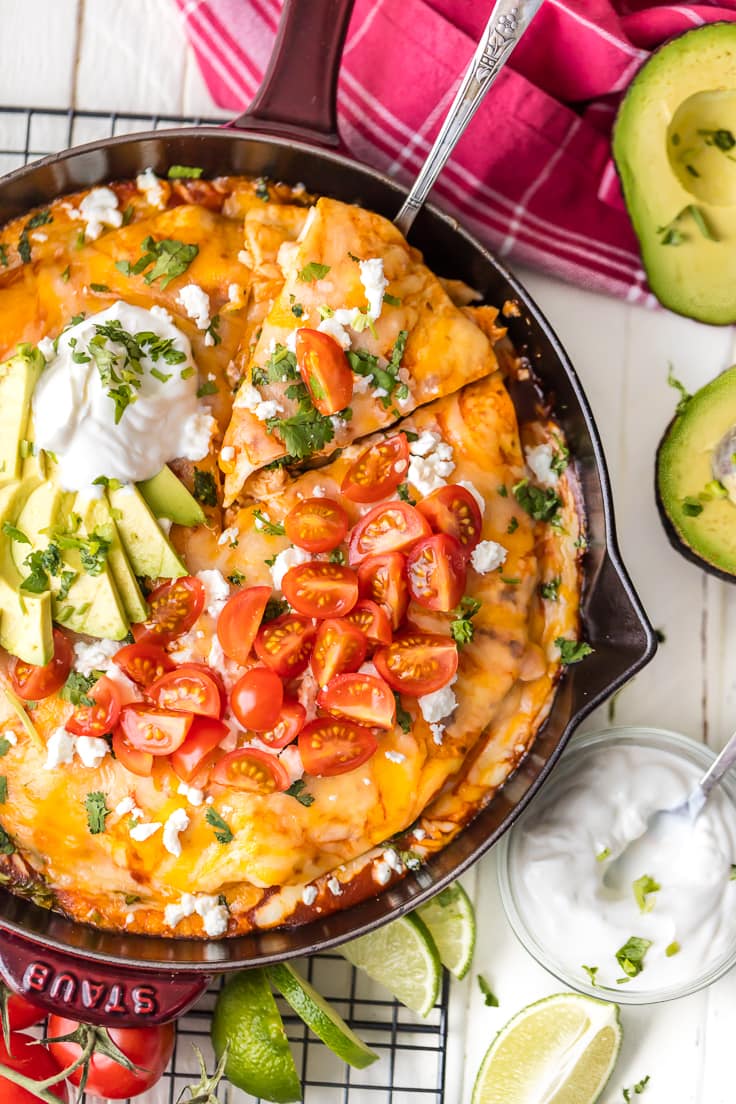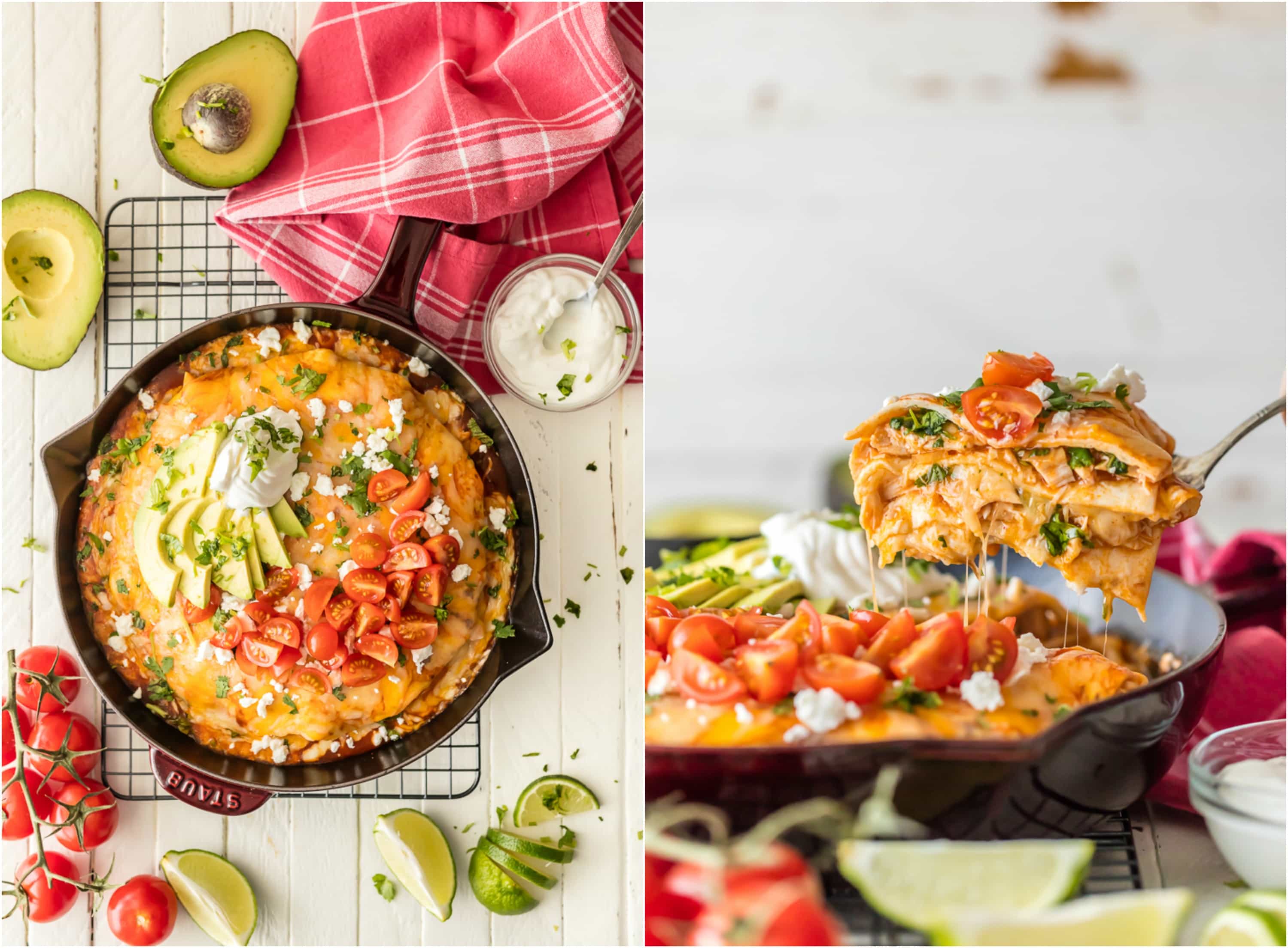 More Enchilada Recipes
If you haven't noticed, I've been on quite an enchilada kick lately.
Can you blame me? Addiction isn't a big enough word for what I feel for enchiladas. I just love the flavors, the ease, and of course the cheese! Enchiladas must have cheese, and that means I must love enchiladas. This Enchilada Skillet Pie is the perfect addition.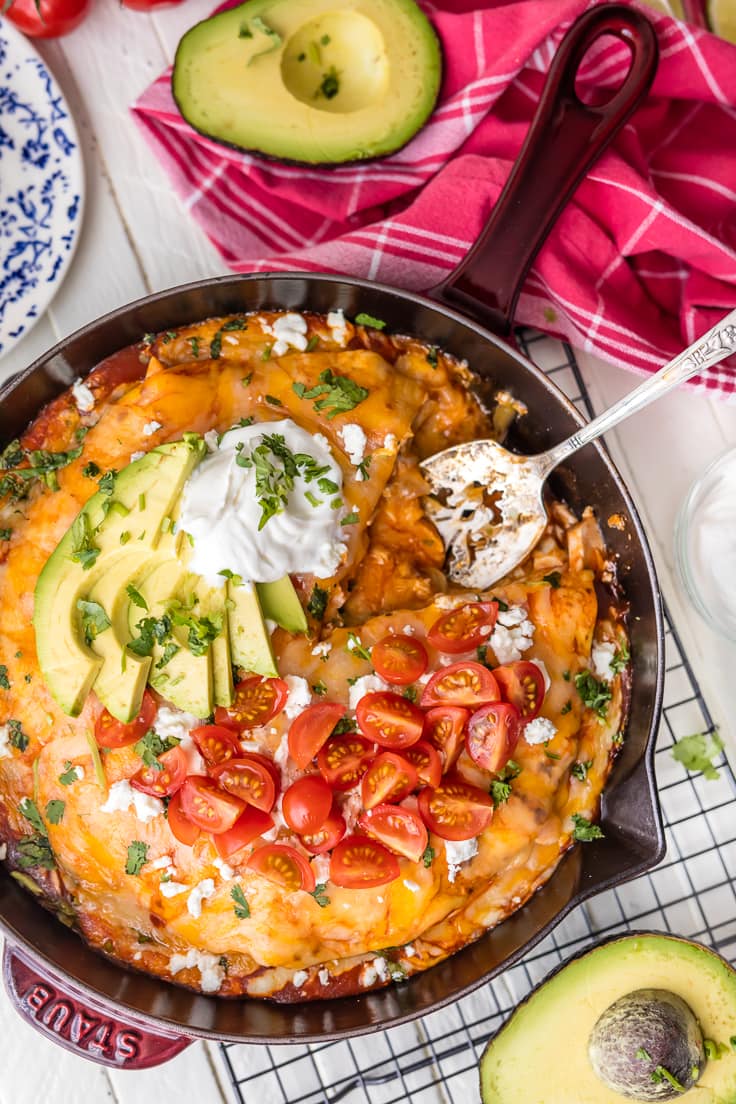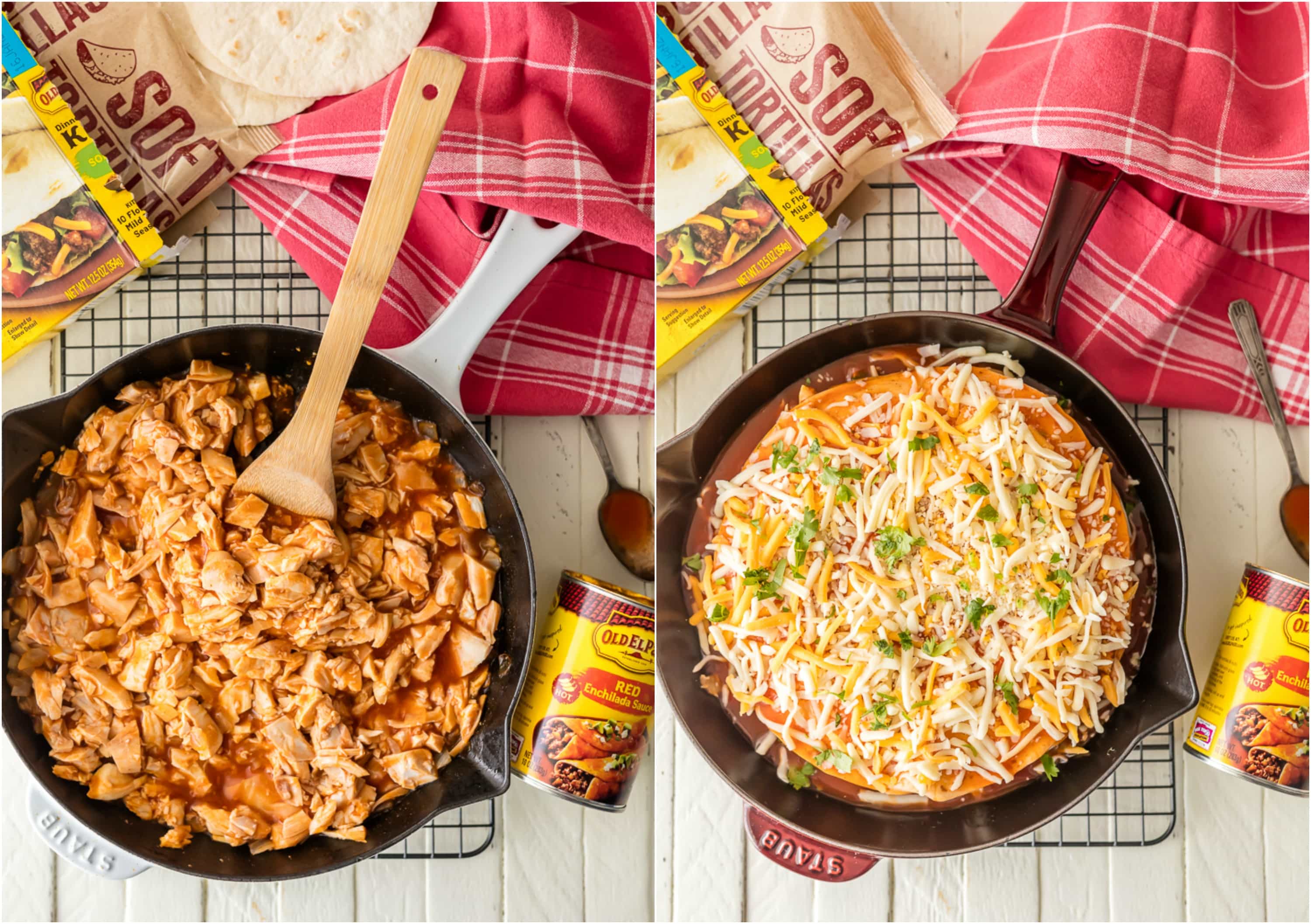 How to Make Chicken Enchilada Skillet Pie – Step by Step
I absolutely love meals that are THIS easy to make. It only takes about 30 minutes to make, you could make the entire meal in pan (less dish washing), and it's easy to save leftovers. Chicken Enchiladas Skillet is the perfect weeknight meal!
Preheat the oven to 350°F, and heat up some oil in a skillet (this helps crisp up the pre-cooked chicken).
Add the chicken, enchilada sauce, taco seasoning, and cilantro into the skillet and stir.
Reduce heat to a simmer and let everything cook together for about 2-3 minutes (again, this is for pre-cooked chicken; if you're using raw chicken, make sure to cook it before you get to this step, or heat until it's fully cooked).
Assemble the enchilada pie in another skillet. Place a tortilla (we're using the big burrito size tortillas) in the skillet, top with half of the chicken mixture, and then layer in the cheese.
Next, add another tortilla, the rest of the chicken, and more cheese.
Top it with the third tortilla, the enchilada sauce, and the rest of the cheese. Then add some cilantro.
Place the skillet pie in the oven and cook for 20 minutes at 350°F.
To serve, I like to top it off with cotija cheese, diced tomatoes, sour cream, and avocado. Yum!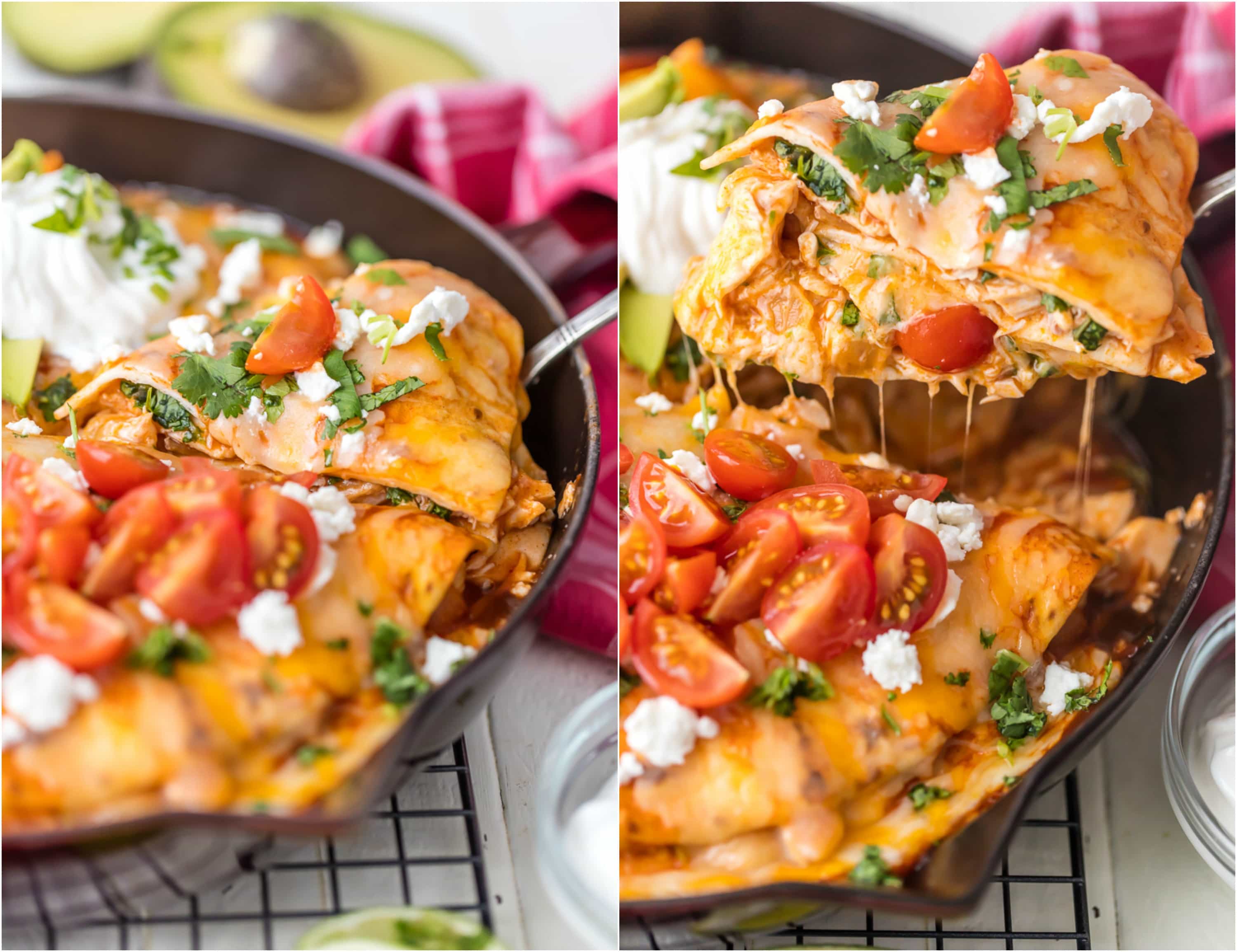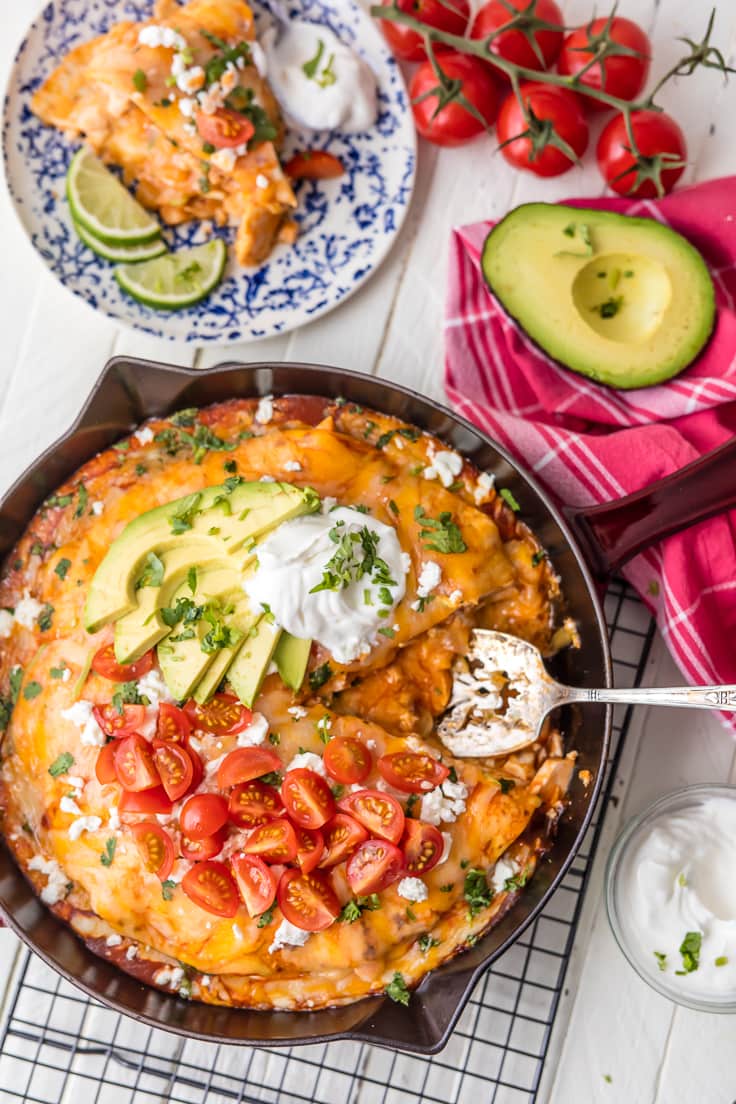 I hope you give this Chicken Enchilada Skillet Pie a try. It's just too easy and delicious not to at least sample!
Check the recipe card for the full step by step recipe. Enjoy!
And we have even more enchilada recipes for you to try: