This Cheesy Chicken Enchiladas Dip is spicy and full of flavor. It's possibly the BEST DIP EVER! This spicy chicken dip is exactly what you need for any party!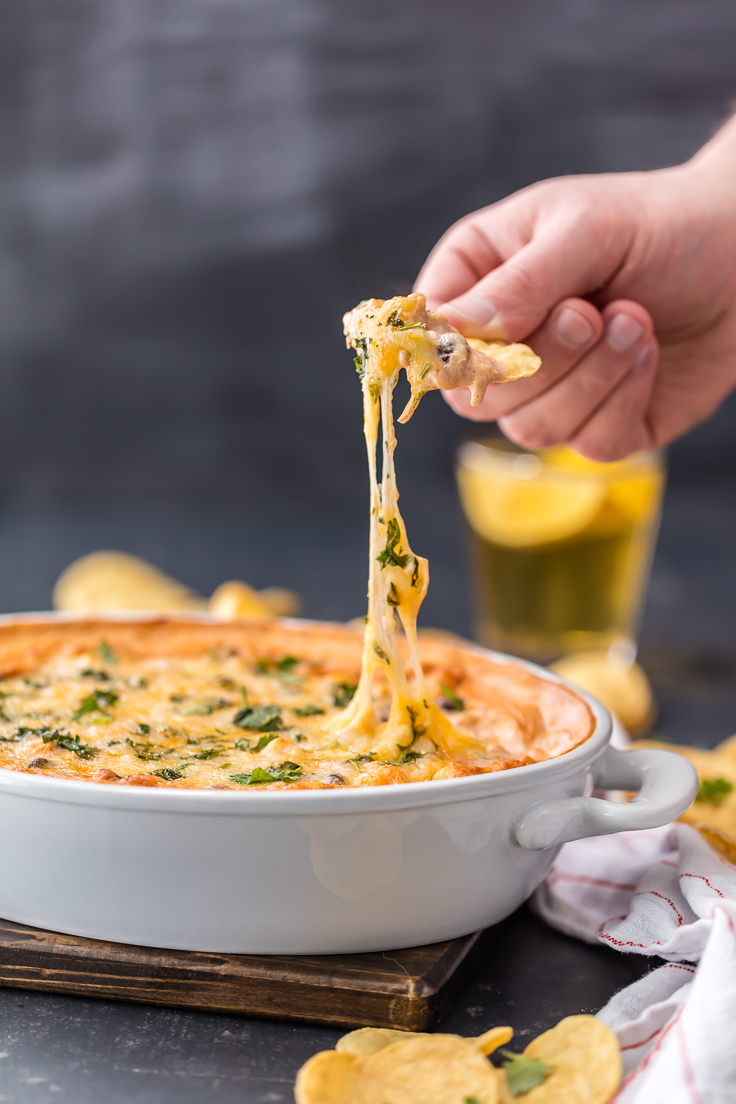 Cheesy Chicken Enchiladas Dip
This cheesy chicken enchiladas dip is the perfect SPICY chicken dip for any occasion. If you like enchiladas, this spicy chicken enchilada dip will surely be a favorite!
Chicken Enchiladas are one of my all-time favorite Mexican foods. I'll eat them in any form, but they're especially delicious in the form of a Spicy Chicken Enchilada Dip!
Nothing beats hot, cheesy, and spicy, and this cheesy chicken enchiladas dip is all three. It's made with cream cheese, rotel tomatoes, black beans, enchilada sauce, and MORE cheese. It's such an easy baked dip to make for parties, and I love serving it on Cinco de Mayo.
I've made Chicken Enchilada Dip before, and one with green chiles too, but now it's time for a SPICY and CHEESY Chicken Enchiladas Dip!
Serve this Spicy Chicken Enchilada Dip at your next party, and everyone will absolutely devour it!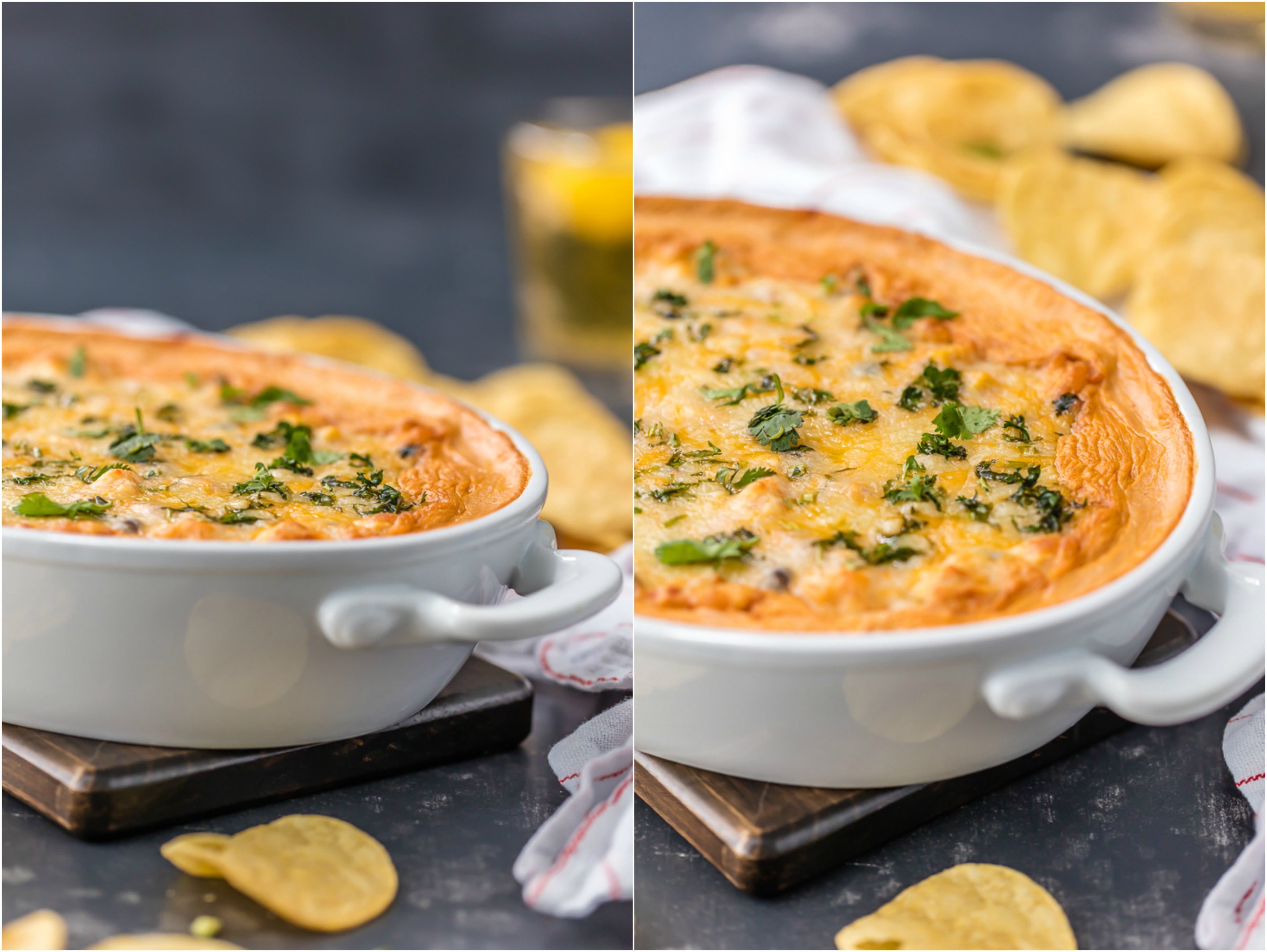 Spicy Chicken Enchiladas Dip
This is one of those easy hot dip recipes that Pat asks for over and over again. And I always give in because well, it's delicious! How could I say no to such a cheesy recipe?
This spicy cheesy chicken enchiladas dip is filled with so many amazing ingredients, and the result is hot cheesy goodness. There's just so much flavor here!
Spicy Chicken Dip Ingredients:
Chicken (I used Rotisserie Chicken for ease, but you could bake your own chicken to add in)
Low-Fat Cream Cheese
Black Beans
Mexi-Corn
Rotel Tomatoes
Hot Enchilada Sauce
Hot & Spicy Taco Seasoning (or use this Homemade Taco Seasoning for a little less spice)
Shredded Chihuahua Cheese
Shredded Mexican Blend Cheese
Cilantro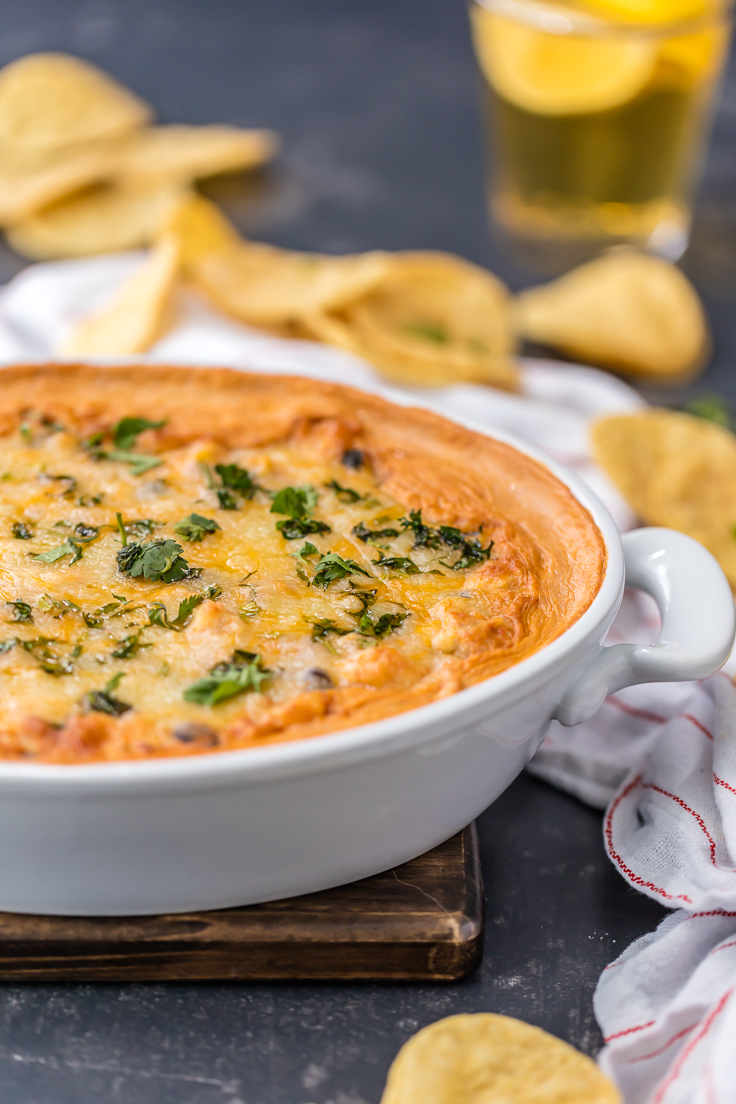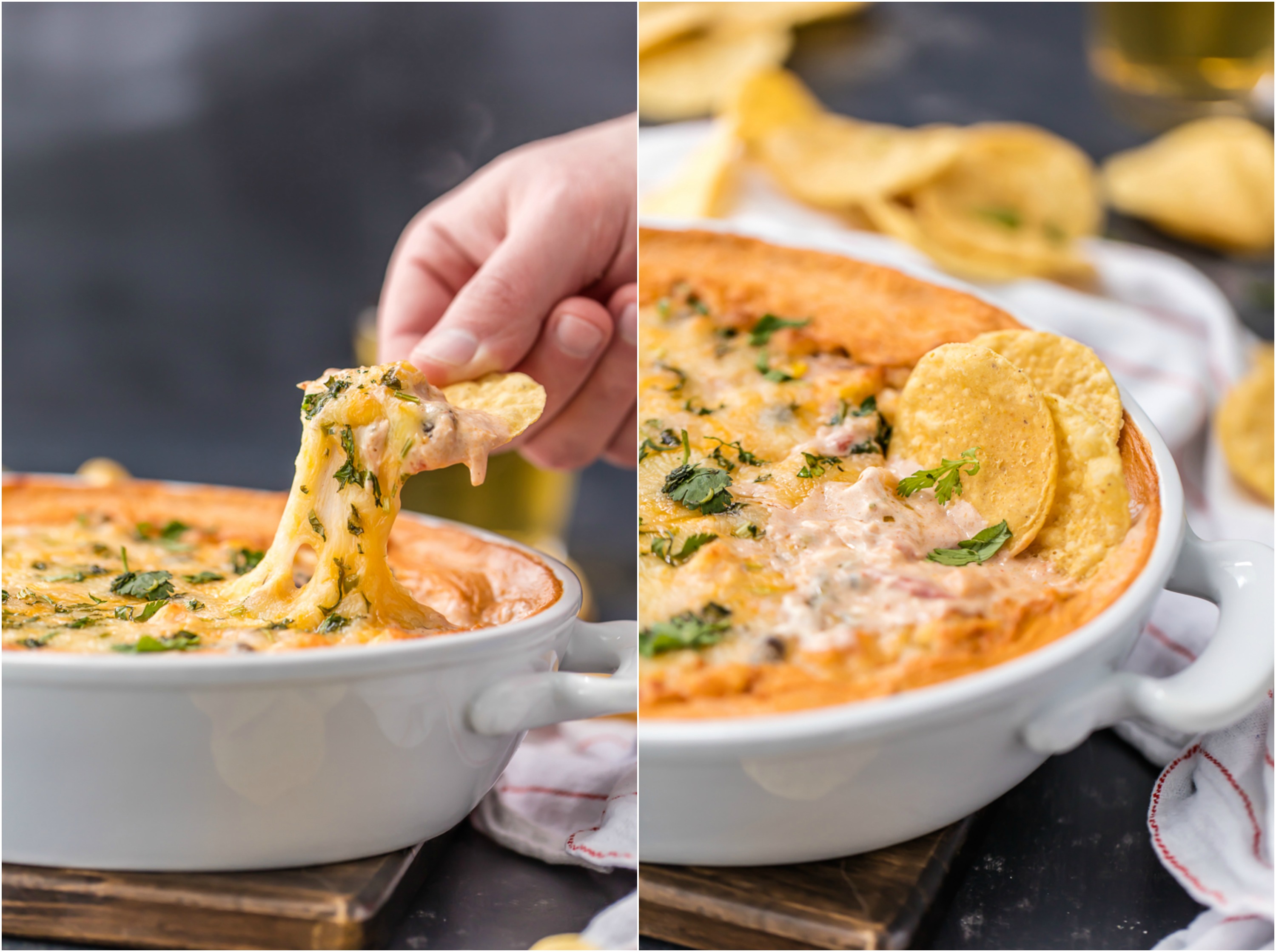 How to Make Spicy Chicken Enchilada Dip
Cheese, chicken, beans, corn, enchilada sauce, cilantro, MORE CHEESE; this quick dip recipe has it all! It's perfect for tailgating, potlucks, or just an appetizer at home (our fave). Best of all, it's easy to make, so you don't have to put too much effort in to get this delicious dip.
How to make spicy cheesy chicken enchiladas dip:
Combine cream cheese, black beans, corn, rotel, enchilada sauce, cheese, and taco seasoning in a mixing bowl. Then stir in the chicken.
Pour the dip mixture into a 9×9 baking dish, then top with the remaining cheese and cilantro.
Bake cheesy enchiladas dip for 25-30 minutes at 400°F.
It will be hot and bubbly when it comes out of the oven, so give it a couple of minutes to cool. Feel free to top it with more cilantro or add some sour cream. Serve with chips and dip away!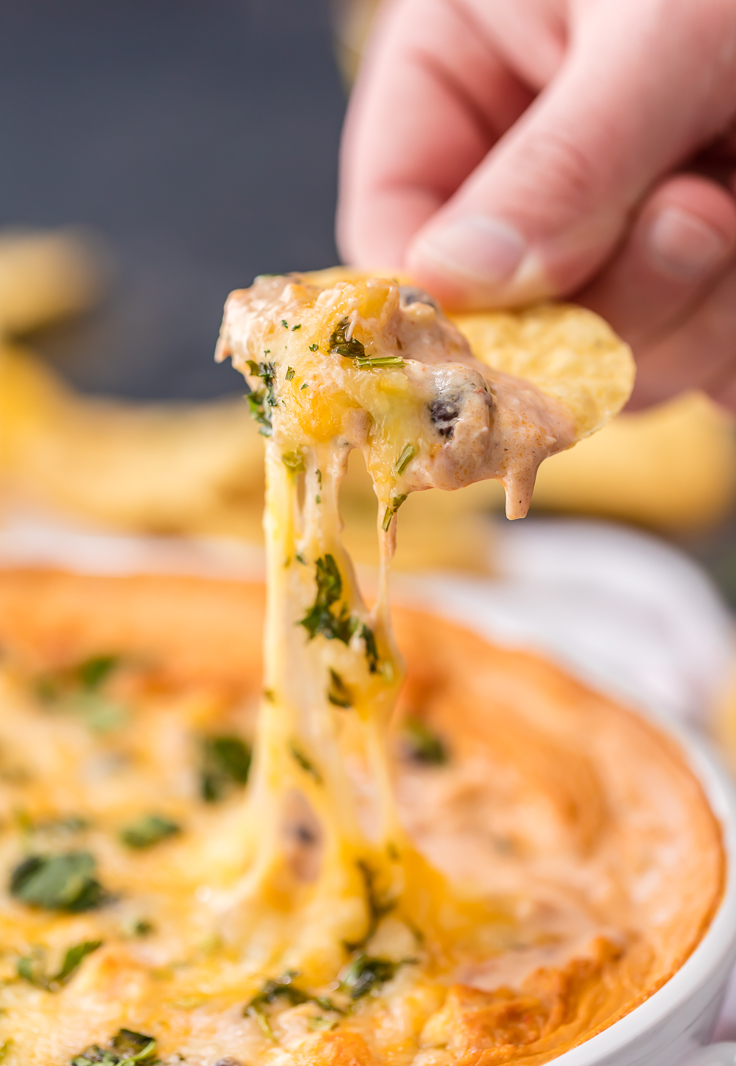 This Spicy Cheesy Chicken Enchilada Dip is perfect for Cinco de Mayo, game day, or any party. Nothing is better than a hot and cheesy dip, especially with a little spice thrown in for good measure. Yum!
See the recipe card below for details on how to make Spicy Cheesy Chicken Enchiladas Dip. Enjoy!
If you like this spicy chicken dip, try some of our other favorite hot and cheesy dips: