Juicy chicken smothered in barbecue sauce, this Crockpot BBQ Chicken is one of the easiest and most delicious recipes you can make! The BBQ flavor is amped up by adding brown sugar, garlic and cider vinegar, giving the sauce a deeper, richer flavor that'll keep you coming back for more. Serve as chicken breasts for an easy weeknight dinner, or as pulled chicken for a game day treat.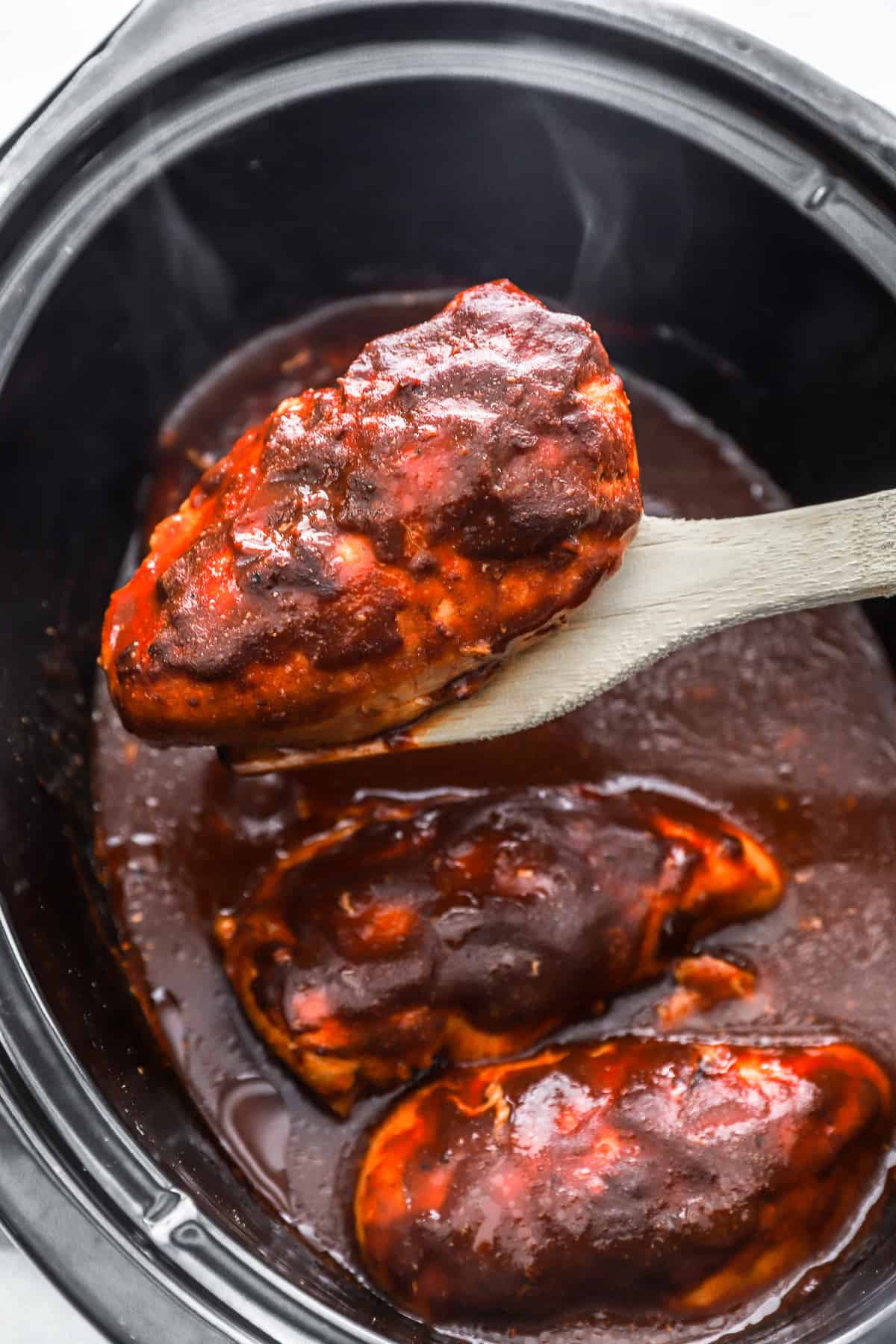 What's in BBQ Chicken Breasts?
You only need a handful of basic ingredients to make this easy BBQ chicken in the Crock pot. Set it and forget it, and you'll have juicy, melt in your mouth chicken breasts ready for dinner in no time.
Chicken Breast: Boneless, skinless chicken breasts work best. This recipe makes enough for 4 people, but if your slow cooker in big enough, you can add more chicken. Just make sure not to overcrowd it!
Barbecue Sauce: Use your favorite BBQ sauce to get the best flavor. Make it sweet, spicy, or tangy!
Apple Cider Vinegar: This adds a tanginess to the sauce, and smooths all the flavors out for the perfect balance.
Brown Sugar: The deep molasses adds a bit of sweetness.
Garlic: Minced garlic adds more savoriness–feel free to add more if you're a garlic lover.
Black Pepper: Just a bit of pepper adds a richer, deeper spice that blends in nicely.
Pro Tip: You can easily swap in chicken thighs if you prefer–boneless works best. Be sure to check the internal temperature to make sure they are fully cooked through.
Can I make shredded BBQ chicken in a crock pot?
Turn these barbecue chicken breasts into pulled or shredded chicken to use on sandwiches, sliders, or plate up in classic BBQ style.
Follow the recipe as is to cook the chicken, then use two forks to pull the chicken apart. The forks should be running parallel to each other, and pulled in opposite directions.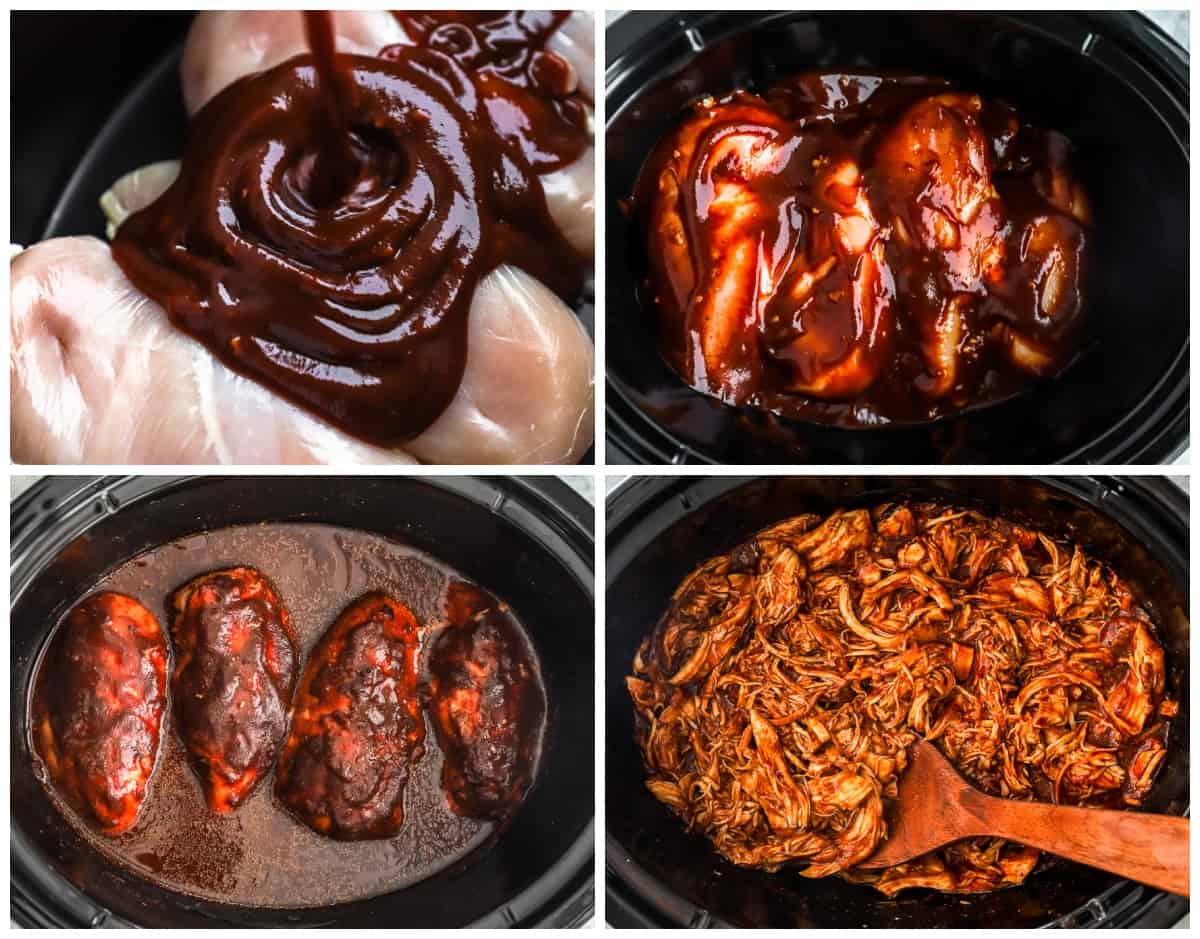 What's the best chicken to use for crockpot BBQ chicken?
This recipe calls for boneless, skinless chicken breasts, but you could also use boneless, skinless chicken thighs. The thighs will have a bit more fat and flavor, while the breasts are a leaner option.
Can you overcook chicken in a crockpot?
It is absolutely possible to overcook crockpot BBQ chicken. To avoid tough chicken, be sure to cook on high for 3-4 hours, and stop cooking when the breasts reach 165°F internally.
What's the best way to shred BBQ chicken?
There are many easy ways to shred crockpot chicken. I recommend using 2 forks to shred the chicken right in the crockpot. You could also use meat shredding claws or dump the contents of the crockpot into the bowl of a stand mixer and let the paddle attachment do the shredding for you.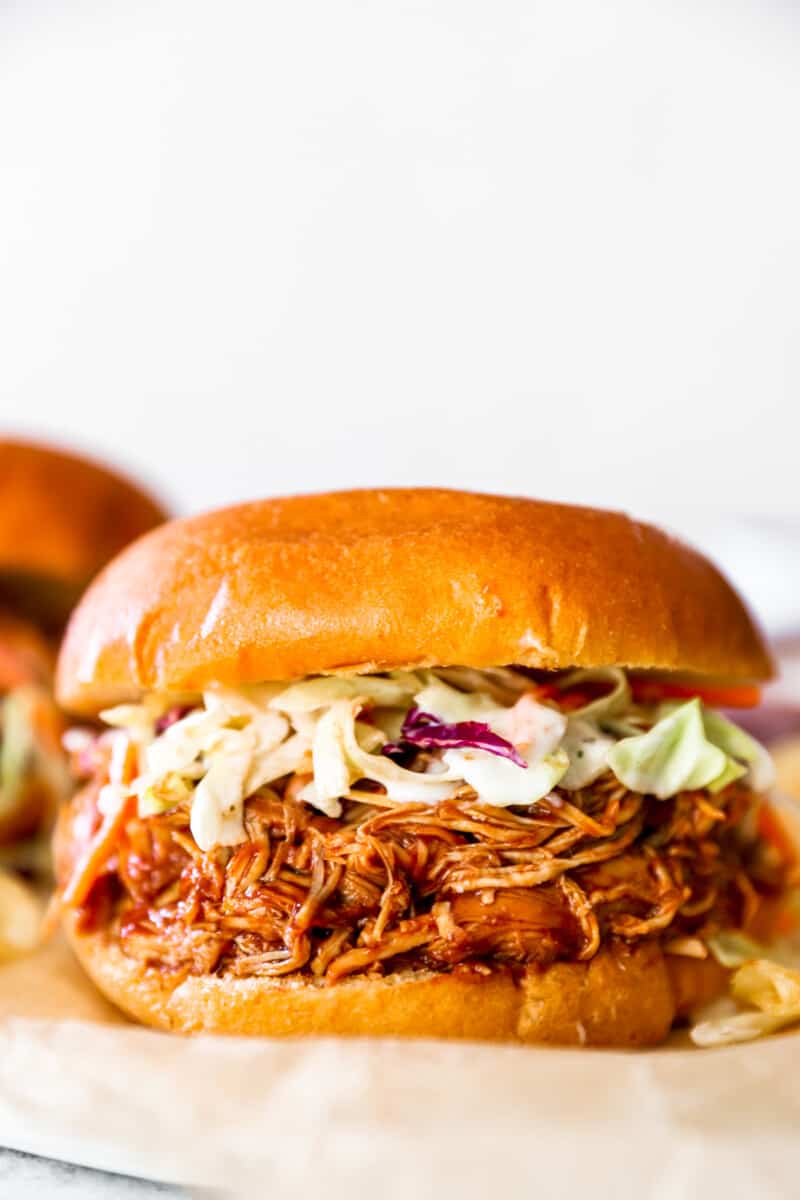 How to Store Slow Cooker Barbecue Chicken
Store leftover crockpot BBQ chicken in an airtight container in the refrigerator for up to 3 days.
How to Freeze Easy Barbecue Chicken Breasts
Freeze leftover BBQ chicken breasts in an airtight container or resealable bag for up to 3 months. Allow to thaw overnight in the refrigerator before reheating.
What to Serve with Crockpot BBQ Chicken
These chicken breasts make a delicious weeknight dinner along with Air Fried baked potatoes, crockpot glazed carrots, Air Fryer broccoli, and cornbread muffins. Or serve it with any of your favorite BBQ side dishes, like creamy coleslaw, potato salad, loaded mac and cheese, or corn on the cob.
If you use it as pulled chicken, serve it on sandwiches (use Hawaiian rolls for sliders) with extra barbecue sauce, pickles, and onions. It also makes a great filling for tacos or enchiladas.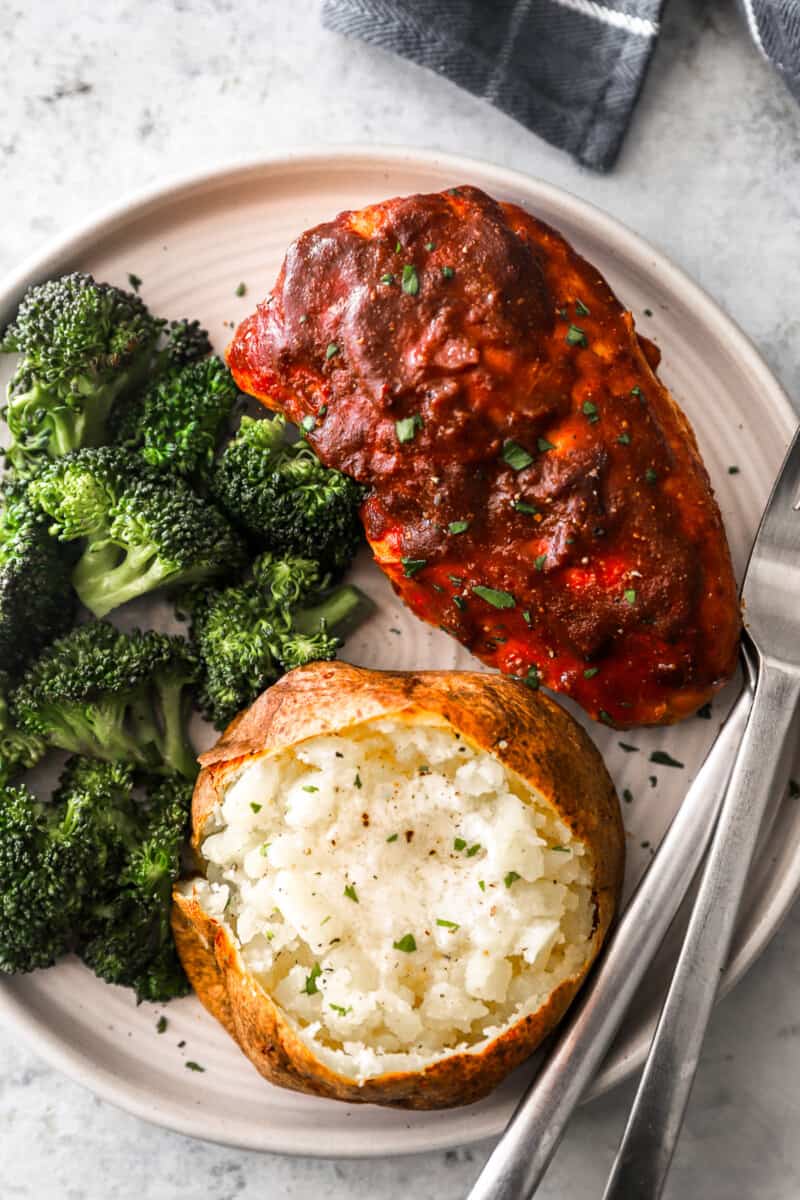 If you make this recipe be sure to upload a photo in the comment section below or leave a rating. Enjoy! You can also jump to recipe.
More BBQ Chicken Recipes We Love