Crockpot Chili Mac might just be the easiest comfort food recipe you'll ever make! Macaroni is all dressed up with kidney beans, green chilies, beef, cheese, and more. This kid-friendly dinner recipe is equal parts simple and comforting!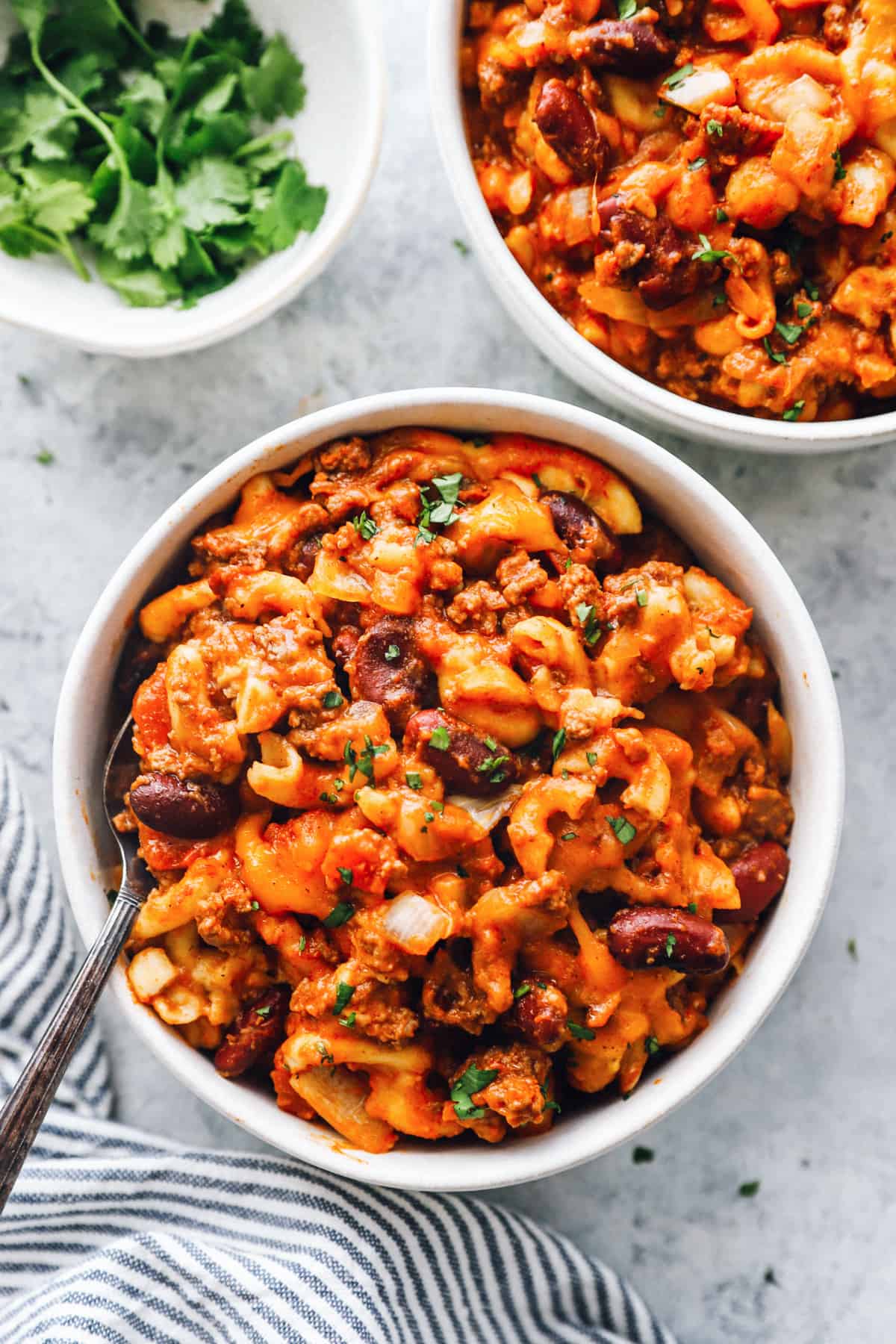 Chili Mac and Cheese
Is there anything better than a bowl of homemade Chili Mac? As it turns out, the only thing that makes it even better is cooking it in the Crockpot! The slow cooker essentially does all of the work for you and always yields tender, cheesy, and decadent results.
When it's cold outside and you just want a big hearty bowl of cold weather comfort food to hit the spot, this Crockpot Chili Mac recipe will do the job. It's loaded with plenty of beef and kidney beans to keep you full, and cheesy macaroni to make you smile. There's also an array of seasonings to make your taste buds happy!
Why You'll Love this Crockpot Recipe for Chili Mac:
KID-FRIENDLY: Your kids will love this easy dinner! It's essentially just mac and cheese but with an extra punch of flavor.
FILLING: Kidney beans and ground beef combined with mac and cheese? You know a heaping serving of this dinner will hit the spot!
SO EASY: Set it and forget it! Let the Crockpot make dinner for you tonight.
When I enjoy a bowl of this, I just have to have an extra sprinkle of cheddar cheese on top with a touch of cilantro. Otherwise, it's not complete!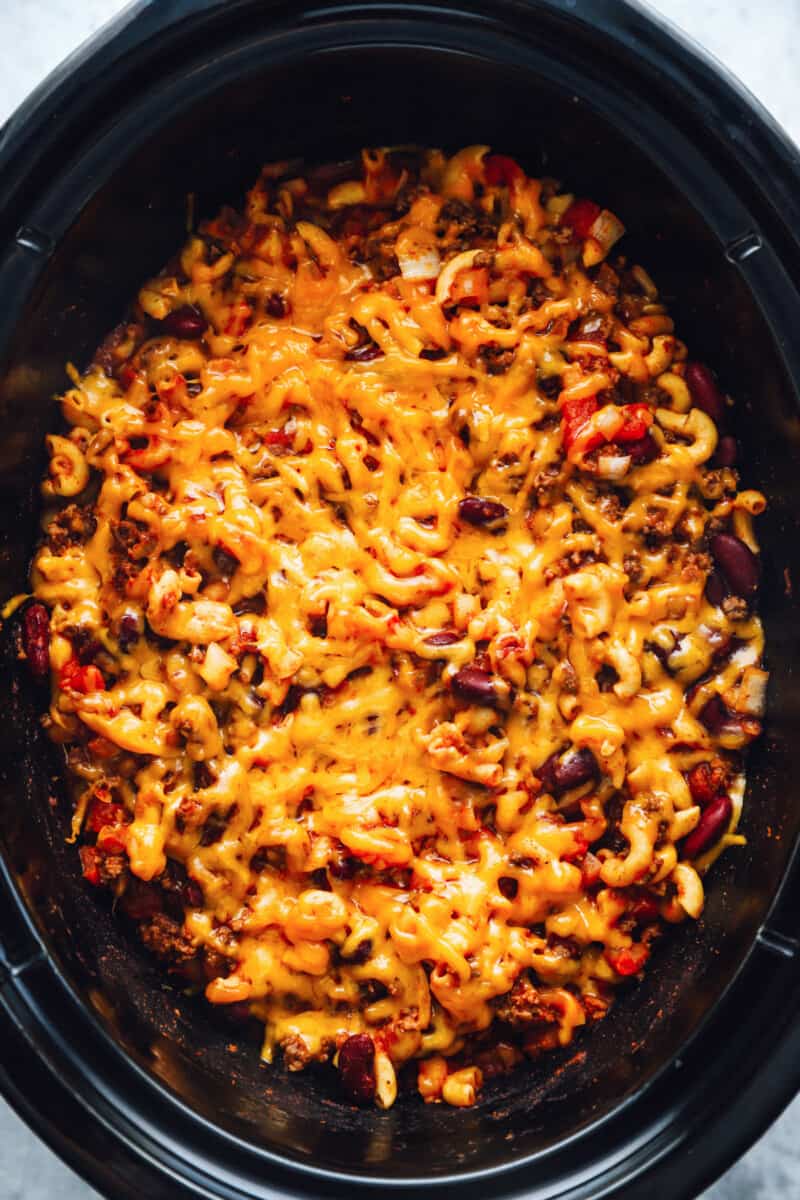 How to Make Crockpot Chili Mac
You can jump to the recipe card for full ingredients & instructions!
Toss everything except for the cheese and cilantro into the slow cooker.
Cover and cook on low for 1-2 hours.
Serve hot and enjoy!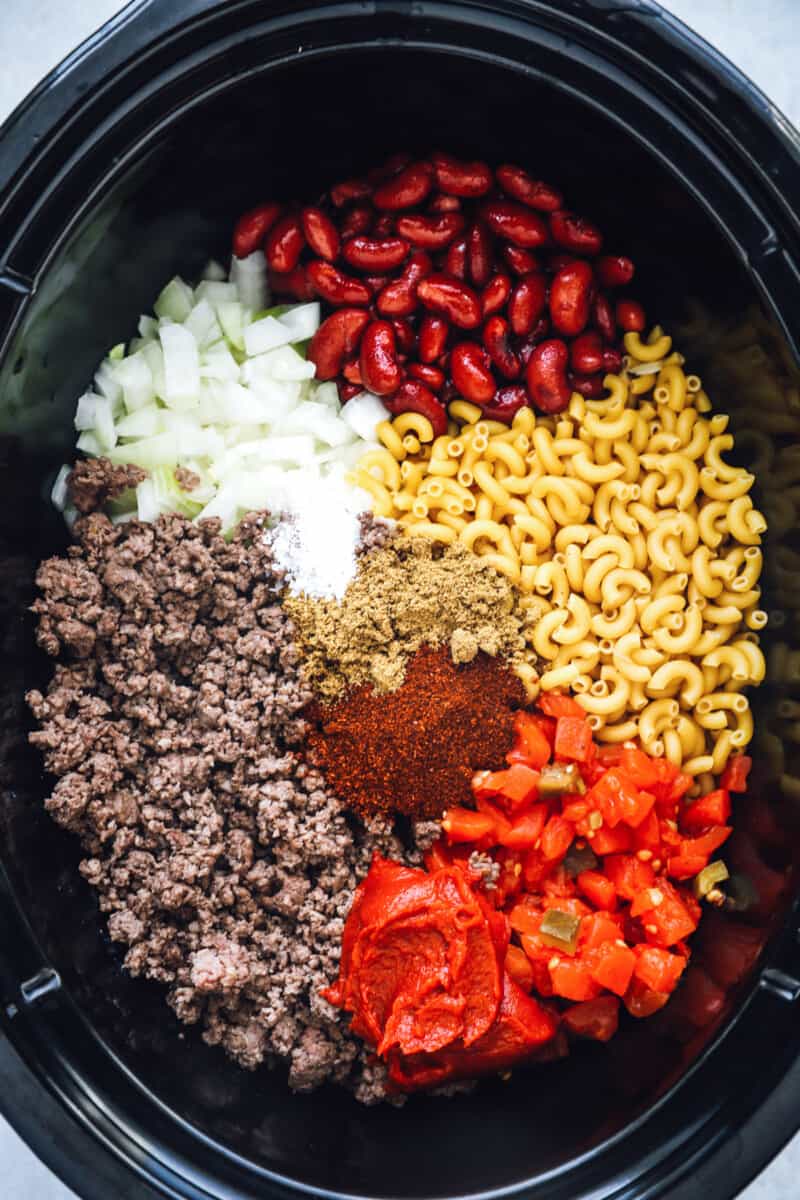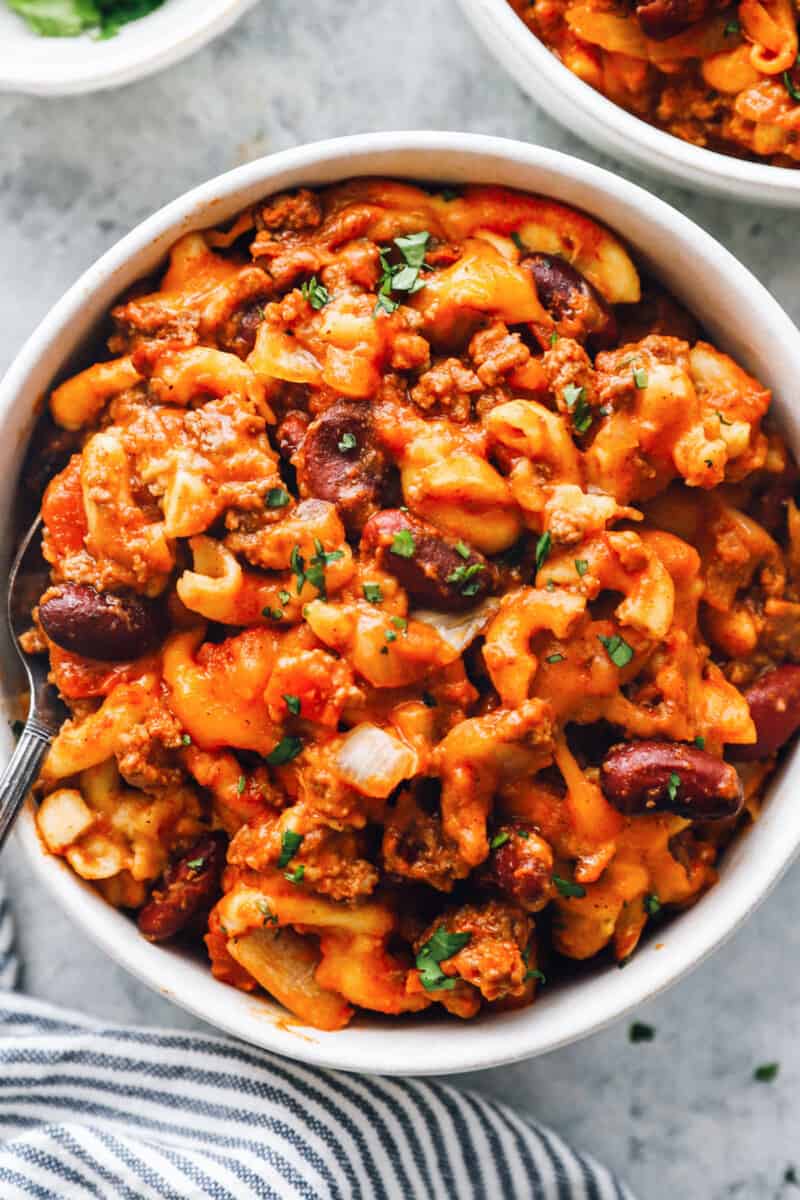 What is chili mac?
Chili mac is a dish that combines creamy mac and cheese with flavorful chili con carne.
What is the best pasta shape for chili mac?
The best pasta for chili mac is a short pasta shape, such as elbow macaroni, cavatappi, fusilli, or shells.
Do I have to cook the beef for chili mac before adding it to the crockpot?
No. You can add raw ground beef to the slow cooker, but you'll get more flavor if you sear it first. If added raw, the beef will cook in 4-5 hours on low or 2-3 hours on high. I recommend waiting to add the pasta until the last 1-2 hours of cooking to prevent it from getting mushy.
How can I make crockpot chili mac spicier?
Add 1 tablespoon of red cayenne pepper for a lot of spice or 1 teaspoon for just a little spice.
Can I make chili mac on the stovetop instead of in the crockpot?
Yes. Cook the pasta separately, then add everything but the cheese to a Dutch oven and simmer over medium-low heat for 25-30 minutes. Add the cheese before serving.
Serving Suggestions
Feel free to enjoy this Chili Mac all by itself! Or, if you're craving a little something on the side, here are some of my favorite recipes that pair perfectly with this Crockpot dinner.
This is so good, you'll be craving a second serving, even though you'll likely be super full from the first!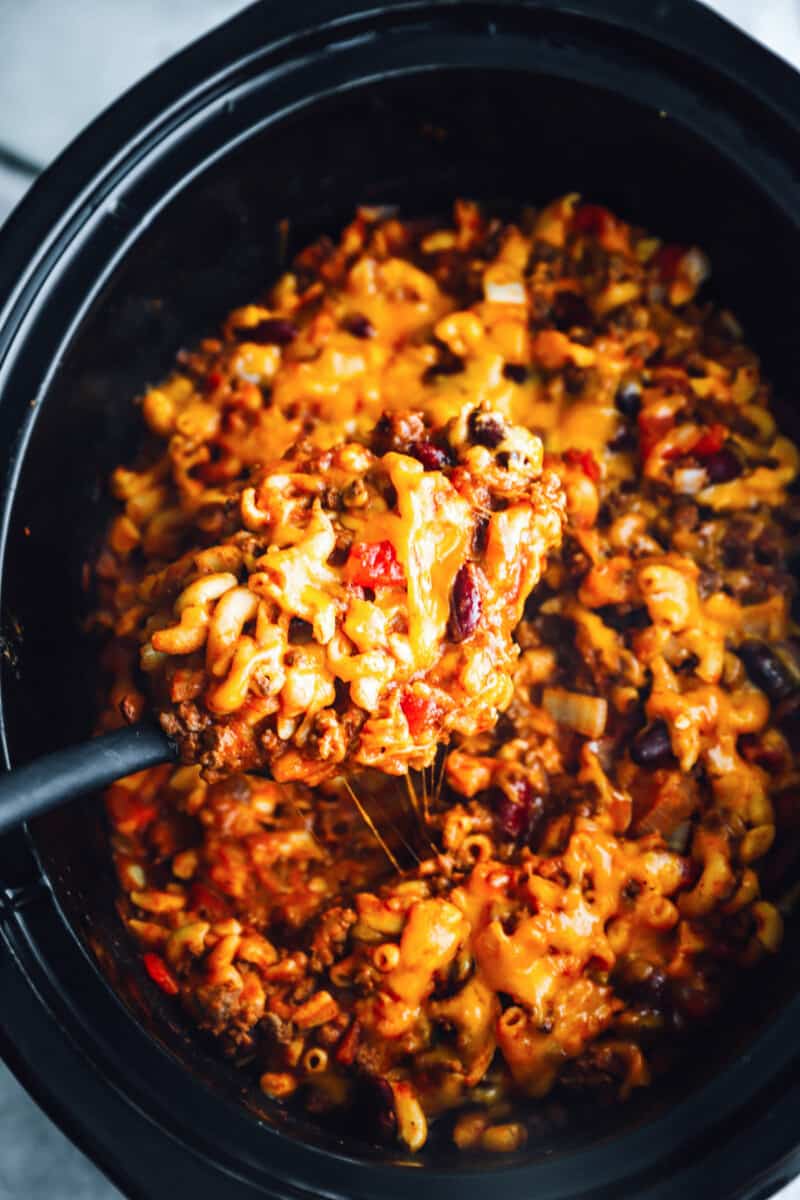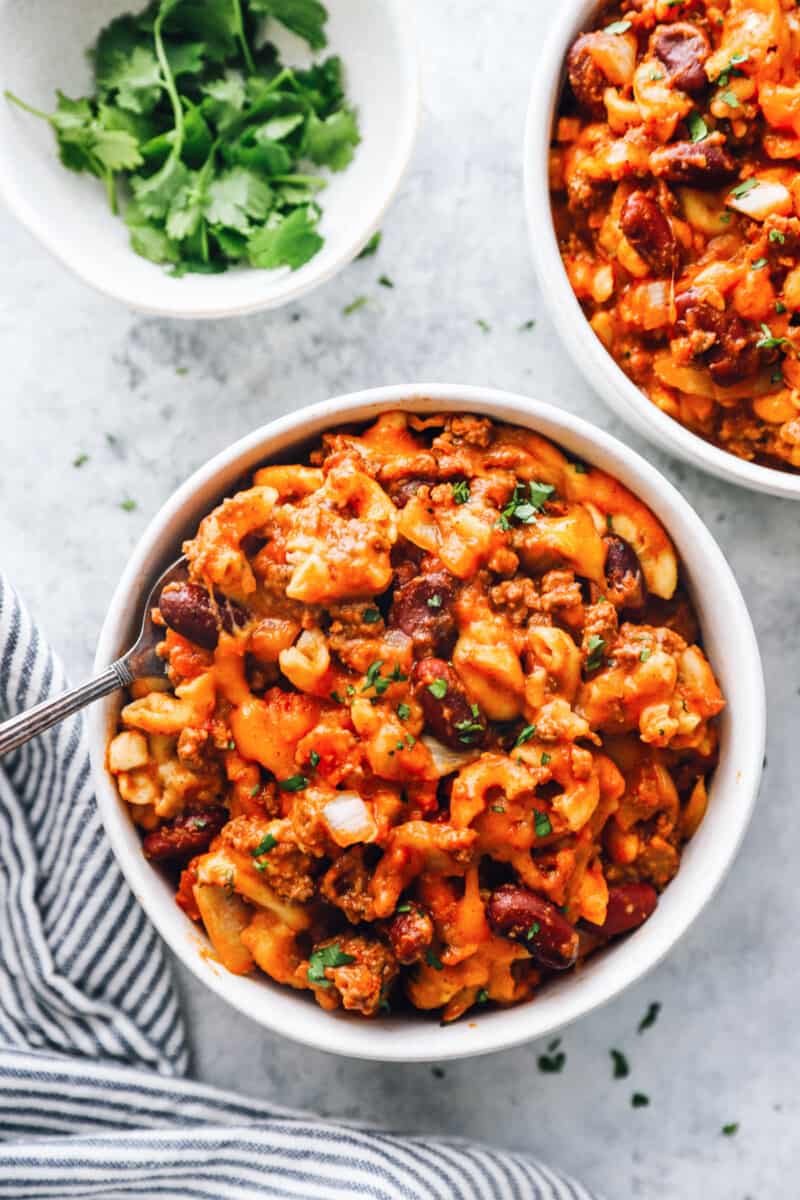 Make Ahead Instructions
Crockpot chili mac can be made up to 1 day in advance of when you plan to serve it and stored in an airtight container in the refrigerator until ready to reheat and serve.
Storage Instructions
Store leftover crockpot chili mac in an airtight container in the refrigerator for up to 3 days. Reheat gently in the microwave or on the stovetop.
Freezing Instructions
Freeze crockpot chili mac whole or in individual portions in airtight containers or Ziplock bags for up to 3 months. Let thaw overnight in the refrigerator before reheating.
Substitutions
Feel free to substitute ground chicken or turkey in place of the beef for a leaner take.
You can use any beans you like, such as pinto or black beans, instead of kidney beans.
You can use chicken or vegetable broth in place of the beef broth.
Use your favorite short pasta shape, such as fusilli, cavatappi, or shells!
You can use Monterey Jack, American, Colby, or mozzarella cheese instead of cheddar.
Feel free to omit the cilantro if you're not a fan, or use parsley instead.
Tips for the Best Crockpot Chili Mac
I like to use 80-85% lean ground beef in this recipe, but you can go leaner if you want!
Feel free to adjust the amount of chili powder and cumin to suit your tastes.
You can add more veggies if you like, such as bell peppers or corn!
Use block cheddar and shred it yourself if possible. It will melt more evenly than bagged.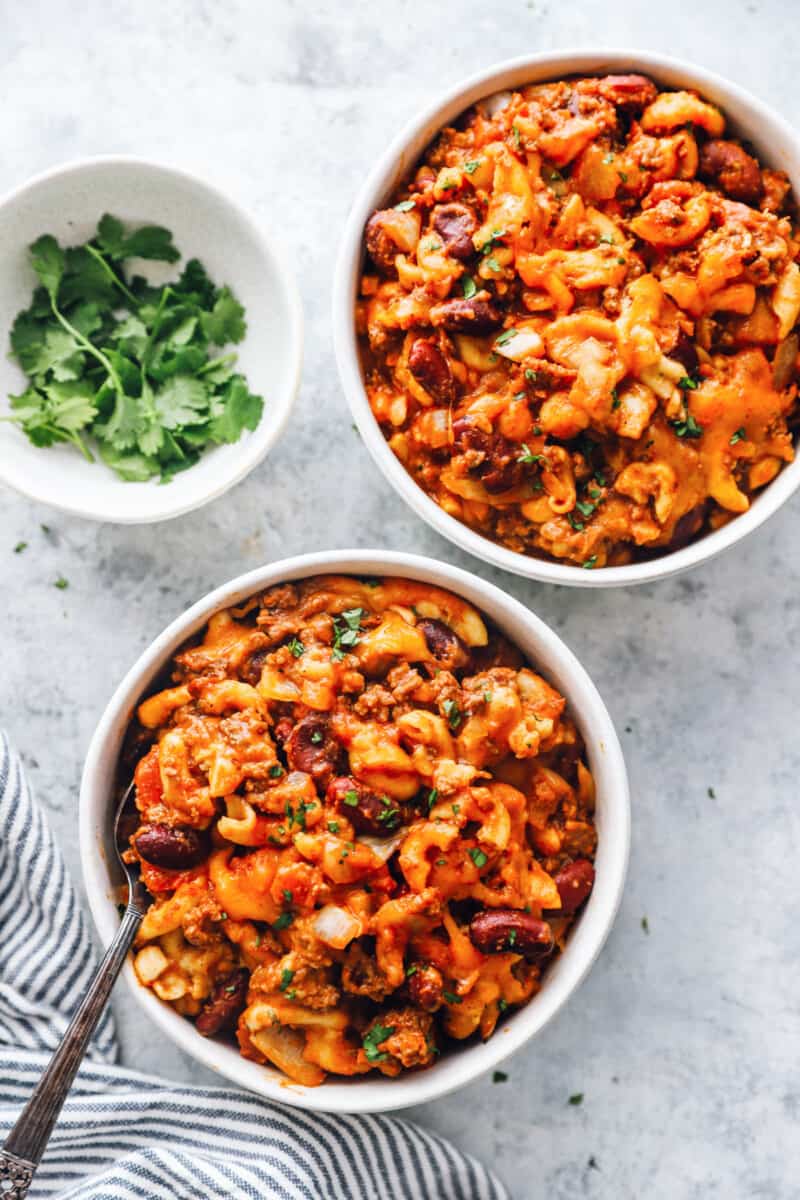 Don't feel like breaking a sweat over a hot pot? Want something easy and comforting on the dinner table that your kids will actually eat? Then this Crockpot Chili Mac is the recipe for you!
If you make this recipe be sure to upload a photo in the comment section below or leave a rating. Enjoy! You can also jump to recipe.