This TEQUILA SUNRISE is tailor made for tailgating! This Tequila Sunrise Drink Recipe is made with Orange Juice, Grenadine, Tequila, and Beer, this fun cocktail is loved by all and an awesome way to start the day cheering for your favorite team. The ultimate brunch or game day cocktail!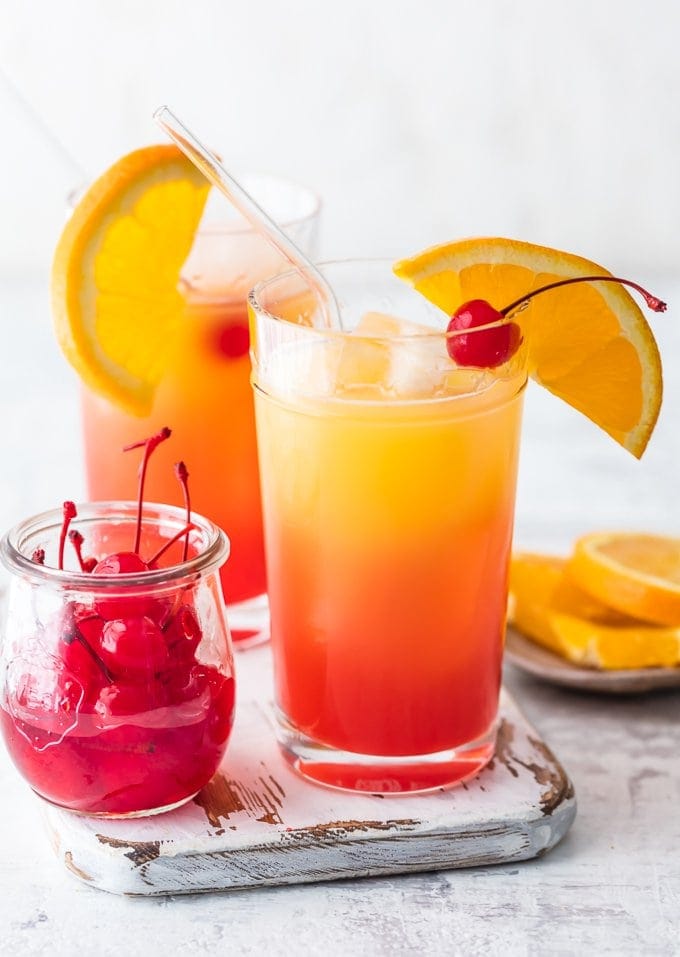 What's a Tequila Sunrise?!
This Tequila Sunrise Recipe is special because it's a Game Day (TAILGATING) Version! It consists of:
Orange Juice,
Grenadine
Tequila
I've added in some beer for a fun tailgating twist, making this the perfect cocktail for everyone at the party!
THE BIG GAME IS JUST WEEKS AWAY! As in…it's THE NEXT football game we feast our eyes on! Just a few more days to prepare the menus and get ready to watch Justin Timberlake. You guys know that's the main reason I'll be attending parties right? The food, drinks, music, and commercials! All kidding aside I'm actually a huge sports fan. My Chiefs may not have made it to the Super Bowl this year but I'm still planning to party in style with this easy and unique GAME DAY TEQUILA SUNRISE!
I was trying to think of the perfect morning cocktail to start the festivities off on the right foot and this Game Day Tequila Sunrise came to me. Beer for the football fans, Tequila because I LOVE IT, and Orange juice and grenadine because they're delicious. So much to love in this fun twist on a classic!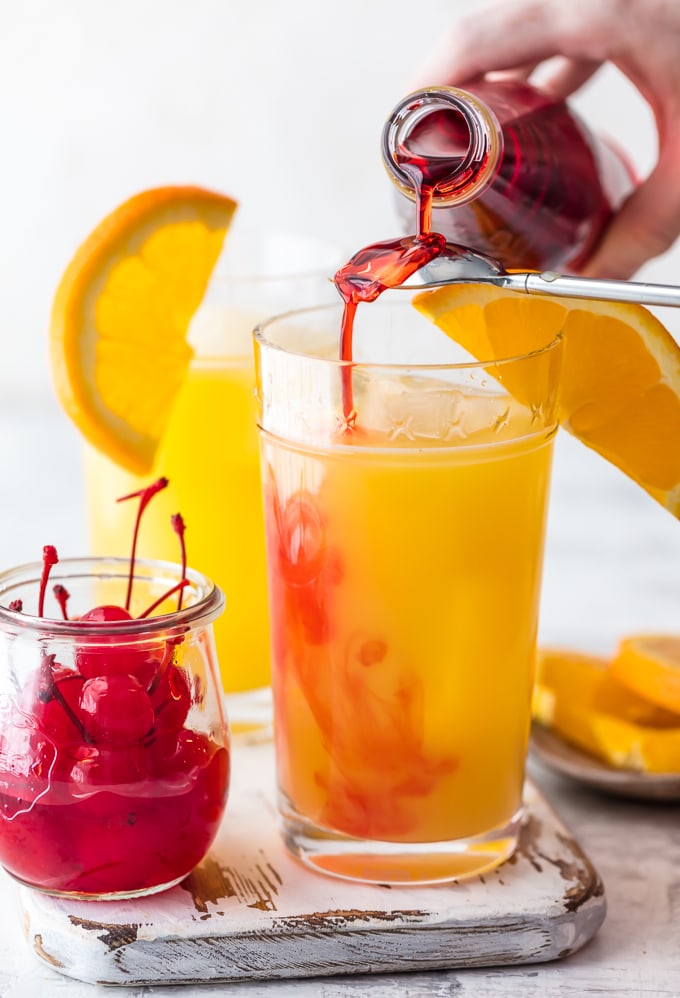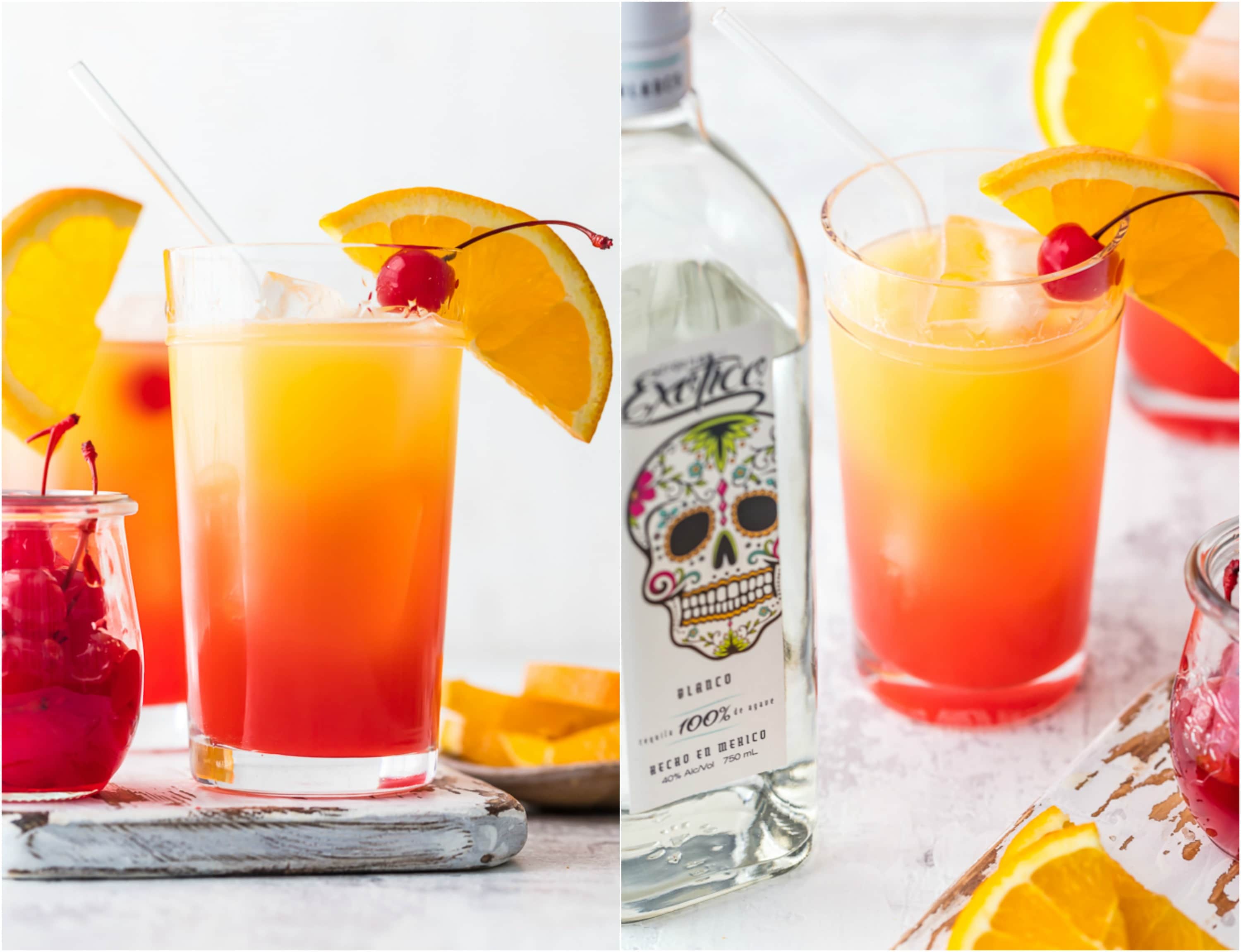 How to make Cocktails with layers of colors
This Tequila Sunrise is sure to make you feel like the best bartender on the block! If you're tailgating in the morning of a big game, orange juice is key. I typically think of a Tequila Sunrise as a tropical drink, but it doesn't need to be! The simple flavors are delicious and perfect for any time of year. Because I think beer is a must when cheering for football (and because I wanted Pat to give these a try), I added some limey cervesas and I wasn't disappointed.
I already knew I loved beer in cocktails from mixing drinks like Grapefruit Beer Sangria and Raspberry Beer-garitas, so I had a feeling beer would be right at home with the orange and cherry. SO DELICIOUS!
Where did the Tequila Sunrise come from?
The original Tequila Sunrise was invented in the In either the 1930s by Gene Sulit at the Arizona Biltmore Hotel. The original recipe included tequila, creme de cassis, lime juice and soda water. It looked like a sunrise, hence the name. I prefer these ingredients, but that one sounds pretty refreshing as well!
What are some other cocktails with Orange Juice?
Orange Juice is such a good mixer for cocktail recipes. Some famous drink recipes including Orange Juice include Screwdrivers (Orange Juice and Vodka), Mimosas (Orange Juice and Champagne), and of COURSE the Best Margaritas! We love our Margaritas with freshly squeezed orange juice. Oh, and Sangria. You guys know I lovvvvvve a great sangria recipe. There's just something about citrus juice in cocktails that just WORKS.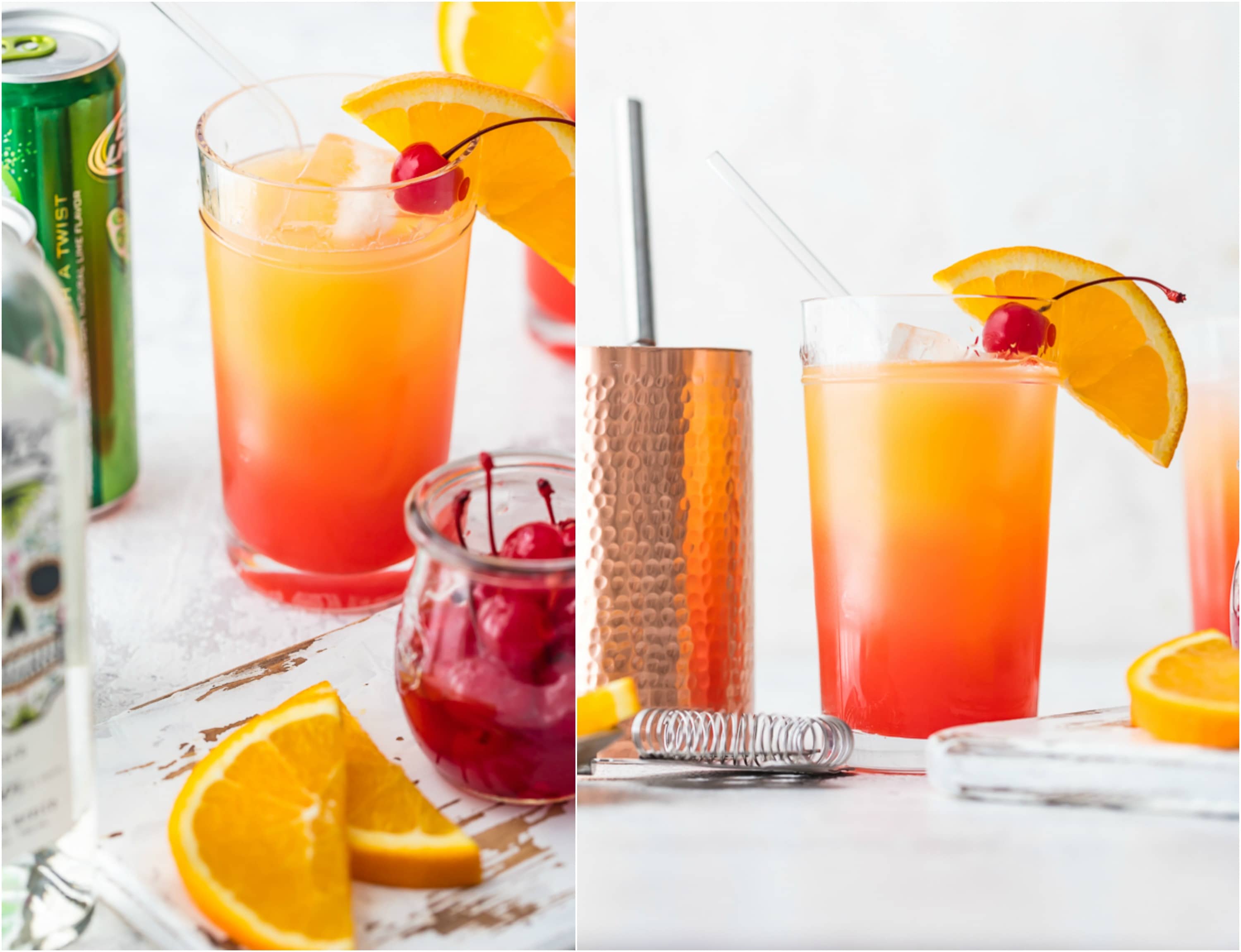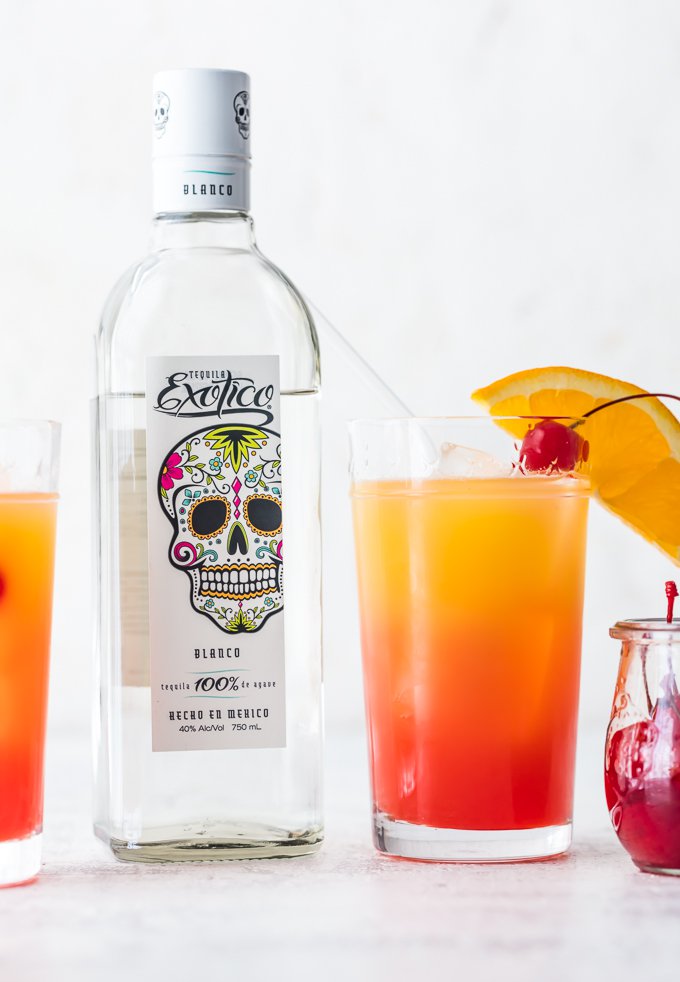 Tequila Sunrise with Beer
You guys might remember my Mulled Wine Margaritas, Blood Orange Palomas, and Sparkling Strawberry Margarita Punch from last month. I'm SO darn excited about my new partnership with Exotico Tequila. It's made by one of my favorite companies, Luxco, right here in Saint Louis. I'm so proud to be representing this award winning tequila as they're made with 100% blue agave, has a great price point that can't be beat for the quality, and look at those amazingly cool bottles.
I used their Blanco Tequila for today's Game Day Tequila Sunrise and it was absolutely perfect. Exotico Blanco Tequila won GOLD & BLANCO TEQUILA OF THE YEAR in the 2016 New York International Spirits Competition. I'm so proud! Click HERE to find out where to buy.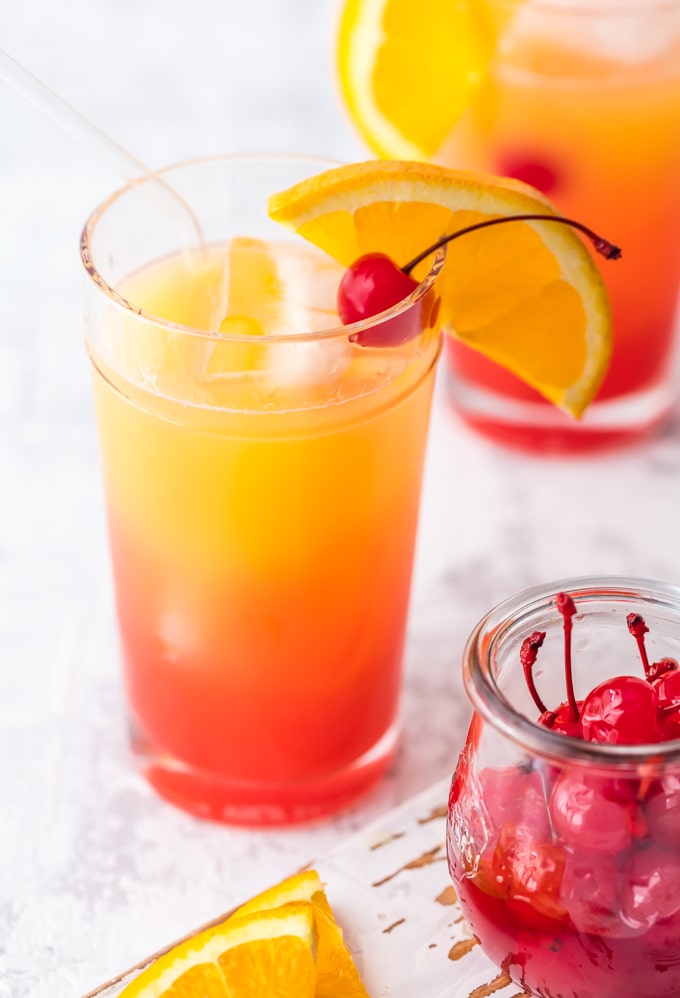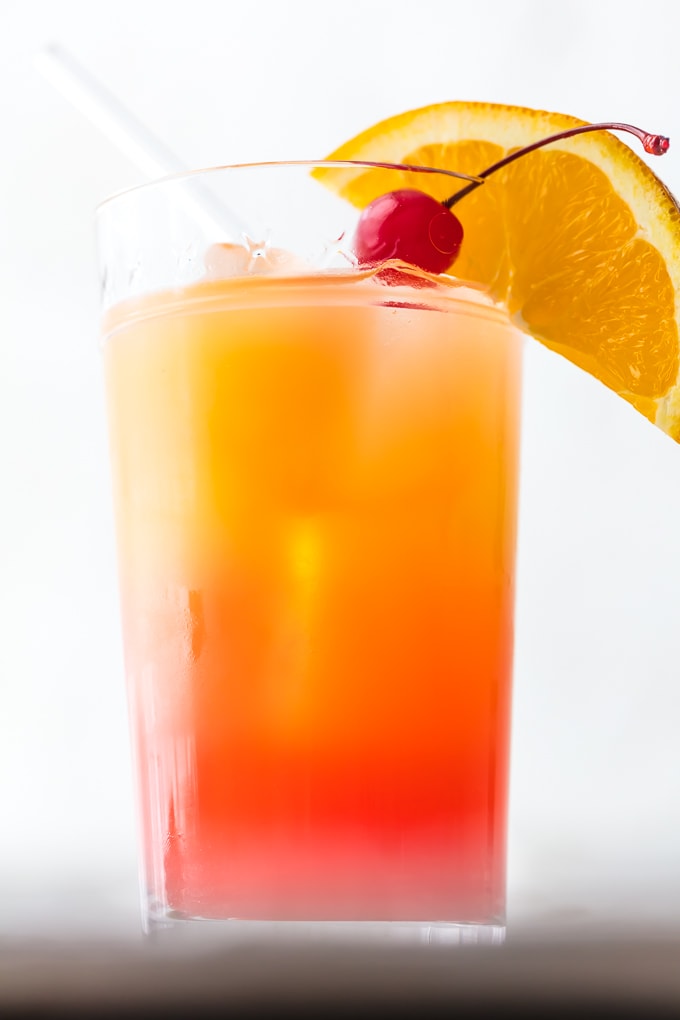 Top your Game Day Tequila Sunrise with a fresh orange slice and a maraschino cherry. Such beautiful and vibrant flavors in this creative sip. If you're waking up early and cheering on your team, this drink is for you. Don't feel bad for one second…it's just some orange juice with a splash of fun.
If it's cocktails you crave, we have SO many favorite drink recipes. Be sure to check out our famous Skinny Margarita, Summer Shandy, Hot Toddy Recipe, Sherbet Mimosas, and Apple Pie Sangria. Cheers, friends!
See the recipe card for How to Make a Tequila Sunrise. Cheers to the weekend. Enjoy!