This Chicago Deep Dish Pizza is perfect for sinking your teeth into! Thick homemade pizza dough serves as the signature base to a robust sauce made from scratch, gooey mozzarella cheese, and both pepperoni and hearty Italian sausage. One slice is sure to fill you up, but that won't stop you from coming back for more!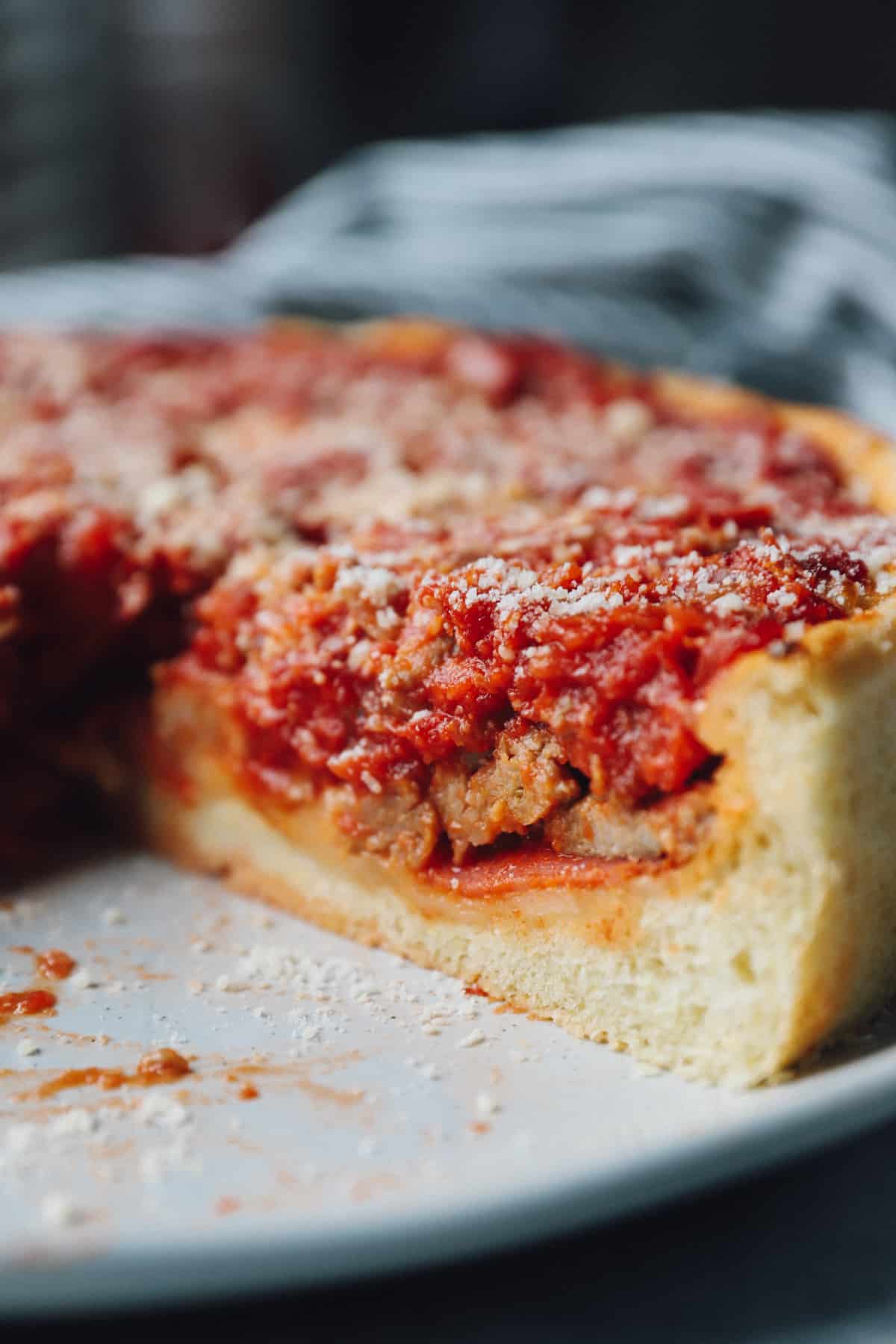 What's in the Best Chicago Deep Dish Pizza?
Pizza dough baked to thick, soft, chewy perfection under a bed of homemade sauce, gooey mozzarella cheese, and hearty meats create an undeniably delicious deep dish pizza. There's a reason it's only gotten more popular every year since its creation in 1943!
Water: Warm water hydrates the pizza dough and activates the yeast. You want the water to be about 105-110°F. Any cooler, and it won't activate; any hotter will kill the yeast.
Yeast: Active dry yeast helps the dough to rise. You can use instant yeast instead, but be sure to read instructions on how to use it properly.
Sugar: Granulated sugar feeds the yeast in the dough so that it can rise and cuts the acidity in the tomato sauce for a balanced flavor.
Flour: All-purpose flour forms the base of our pizza dough.
Cornmeal: Yellow cornmeal adds a bit of texture to the dough and helps to prevent it from sticking to the pan.
Salt: Kosher salt enhances the flavors of the dough and the sauce! If using a finer-grain salt, like sea salt or table salt, reduce the amount by half.
Oil: Olive oil adds moisture, fat, and flavor to the dough and the sauce.
Butter: Unsalted butter helps create flaky layers in the dough.
Onion and Garlic: Classic Italian flavors that create a base for the sauce.
Tomato Paste: Adds rich tomato flavor to the sauce without thinning it out too much. Watery sauce will weigh down the pizza, causing it to be raw in the middle.
Italian Seasoning: Adds delicious Italian flavor to the sauce.
Tomatoes: Crushed tomatoes form the base of the sauce.
Cheese: Freshly shredded mozzarella cheese is the classic choice for this pizza, while Parmesan adds a nice umami saltiness to the pie.
Pepperoni and Sausage: Sliced pepperoni and ground Italian sausage are a classic Chicago pizza pairing.
Pro Tip: For a chewier pizza crust, swap the all-purpose flour for bread flour!
Variations on Chicago Style Deep Dish Pizza
I love the classic combination of pepperoni and sausage, but you can really make up this pizza any way you like! Try your hand at some local classics, such as:
Chicago Fire: spicy sausage, fire roasted red peppers, and red onions.
Meat Lovers: bacon, Canadian bacon, sausage, and pepperoni.
Jalapeño Blue: bacon, blue cheese, and sausage, plus jalapeños stuffed with bacon and blue cheese.
Spinach Margherita: spinach, cherry tomatoes, fresh mozzarella, basil.
Chi-Talian Stallion: Italian beef, roasted sweet peppers, giardiniera.
Taco: ground beef, taco seasoning, Mexican cheese blend, beans, onions, and black olives.
Buffalo Chicken: Buffalo sauce, ranch, blue cheese crumbles, red onion, and Buffalo chicken.
Hawaiian: Canadian bacon and pineapple.
Vegetarian: mushroom, onion, and green pepper.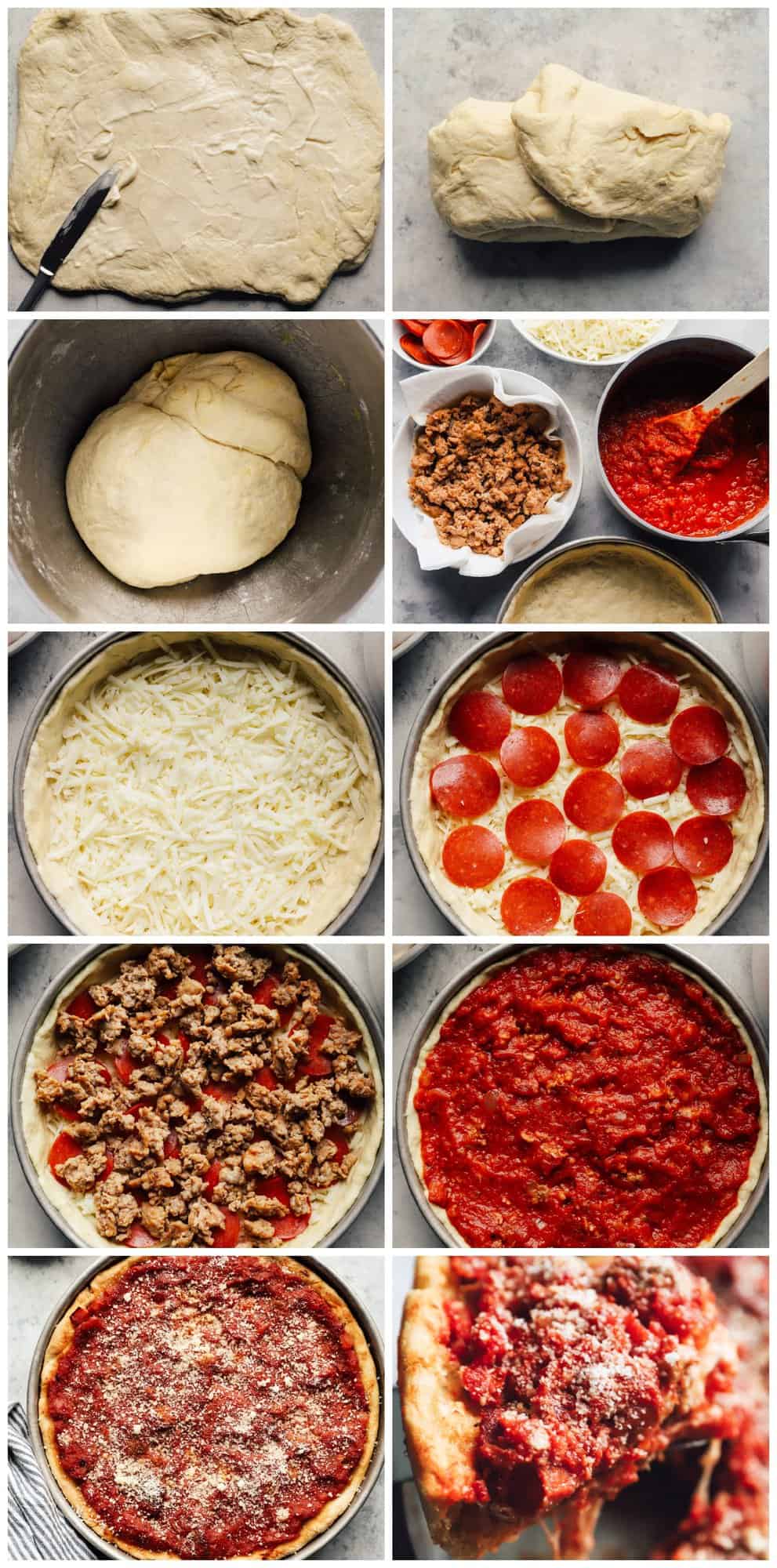 What makes a Chicago deep dish pizza?
Chicago deep dish pizza is instantly recognizable due to its incredibly deep crust, abundance of toppings, and saucy top. Chicago-style deep dish pizza is arranged differently than a typical pizza, with cheese on the bottom, followed by toppings, then sauce, and a sprinkle of Parmesan.
How is Chicago deep dish pizza different from regular pizza?
With a regular pizza, the dough is stretched into a wide circle and the dough is rolled in on itself to create a crust. With Chicago deep dish pizza, the crust is pressed into a tall baking pan (like a cake pan) to create a more pie-like appearance. This allows for more toppings, cheese, and sauce to be added to the pizza.
What kind of pan should I use for Chicago deep dish pizza?
I like to use a 9-inch round cake pan, but you could also use a cast-iron pan.
What does it mean to "bloom" yeast?
To bloom yeast means to dissolve it in warm liquid (often with a little bit of sugar) and leave it for a few minutes, or until foamy. Proofing yeast ensures that it is alive and vigorous enough to make your dough rise.
Why is my Chicago deep dish pizza dense?
Dense or heavy pizza is usually caused by not kneading the dough long enough. Be sure to knead the dough until it is smooth and elastic. If your dough is properly kneaded, it should slowly spring back when pressed with one finger. If it springs back too quickly, it is under-kneaded. If it does not spring back at all, it is over-kneaded. The same tips can be used to tell if the dough has been proofed enough. Too springy means under-proofed and not springy enough means over-proofed.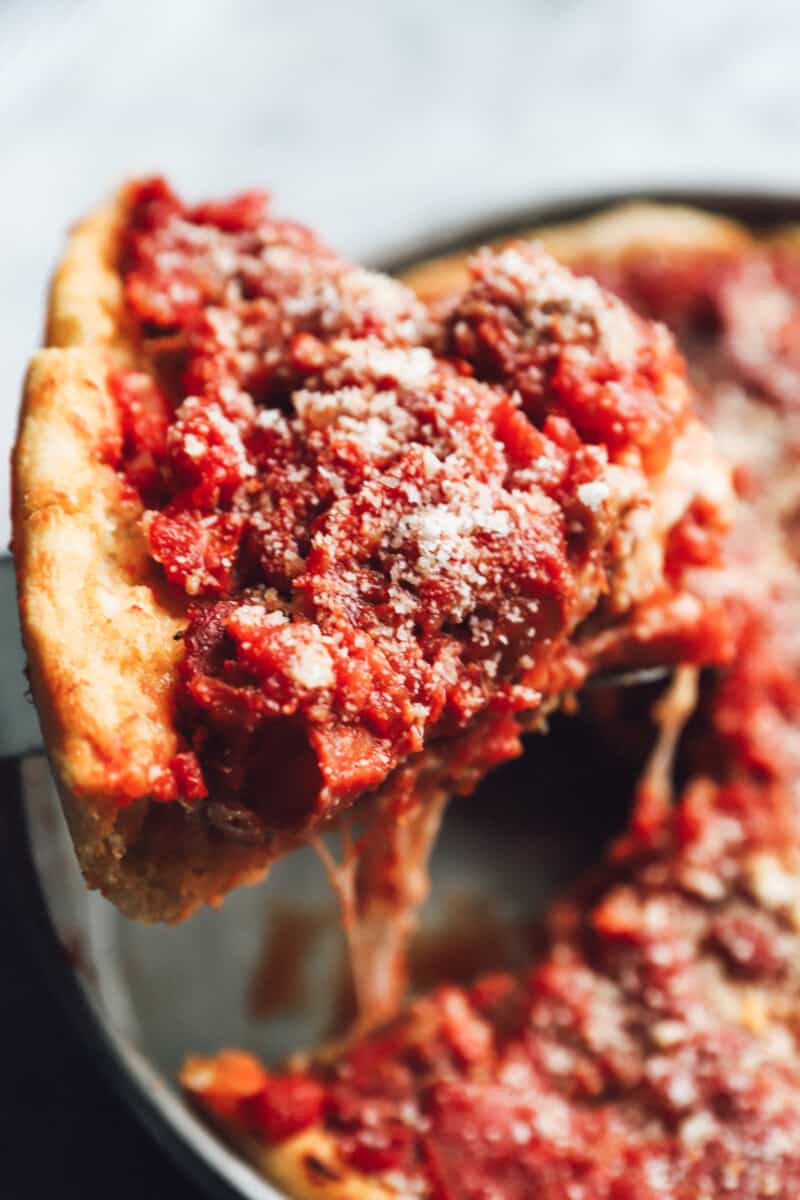 How to Make Ahead and Store Deep Dish Chicago Pizza
You can prepare the dough through step 4 and place it in the refrigerator for up to 24 hours to slowly rise rather than letting it rise on the countertop.
Store leftover Chicago deep dish pizza in an airtight container in the refrigerator for up to 3 days.
How to Freeze and Reheat Chicago's Best Deep Dish Pizza
Freeze Chicago deep dish pizza whole or cut into individual slices tightly wrapped in 2 layers of plastic wrap and 1 layer of aluminum foil for up to 2 months. Let thaw overnight in the refrigerator before reheating in a 350°F oven loosely covered with foil for 15-20 minutes, until warmed through.
What to Serve with Chicago Deep-Dish Pizza
There's no denying that this hearty pizza is a meal all by itself, but I love to serve a pizza shop spread when I make my pizzas. A fresh chopped salad helps to cut through the richness of the pizza for an easy weeknight meal. Or opt for a more classic Caesar salad. For a party or family gathering, sides like Buffalo wings, mozzarella sticks, and garlic bread muffins help fill up a large group.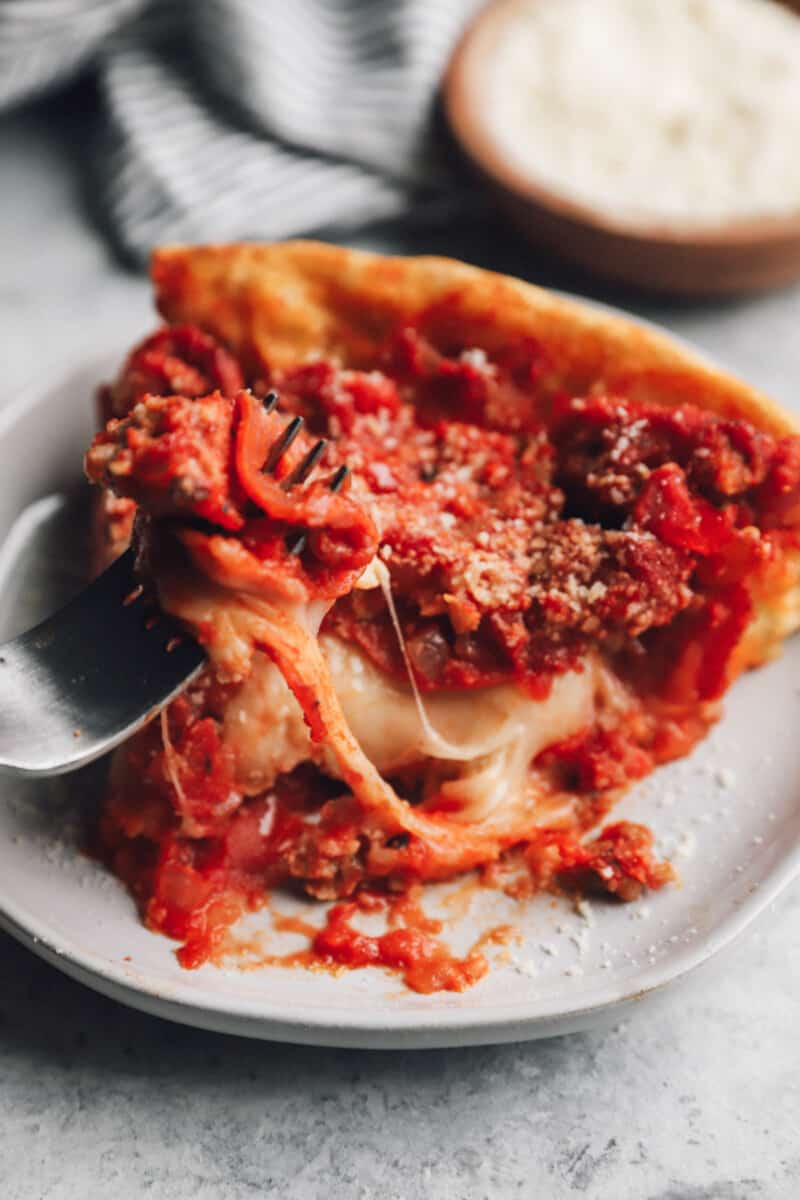 More Pizza Recipes We Love