Pumpkin Oatmeal is a healthy and delicious breakfast for fall. Delightfully warm and cozy, you'll look forward to this pumpkin pie oatmeal every morning! This microwave oatmeal recipe is so quick and easy to make too.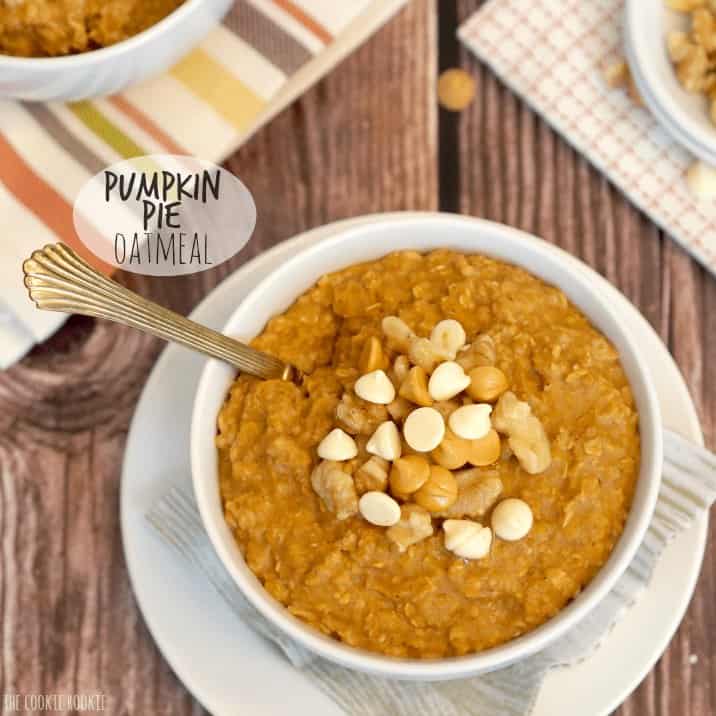 Pumpkin Oatmeal
Pumpkin Oatmeal is the best way to sneak in a variation of one of my favorite desserts in the a.m. hours without feeling any kinds of guilty. Mornings aren't for everyone, especially yours truly (ahem) but this spicy, warm Pumpkin Pie Oatmeal is worth getting up for!
The creamy pumpkin paired with hearty oats and pumpkin pie spice turns an ordinary bowl of oatmeal into a fall festival for your mouth. This microwave oatmeal recipe is super quick and easy for a great breakfast on weekday mornings.
Just two minutes in the microwave and you have a warm, nourishing autumn treat for breakfast that your taste buds will absolutely adore!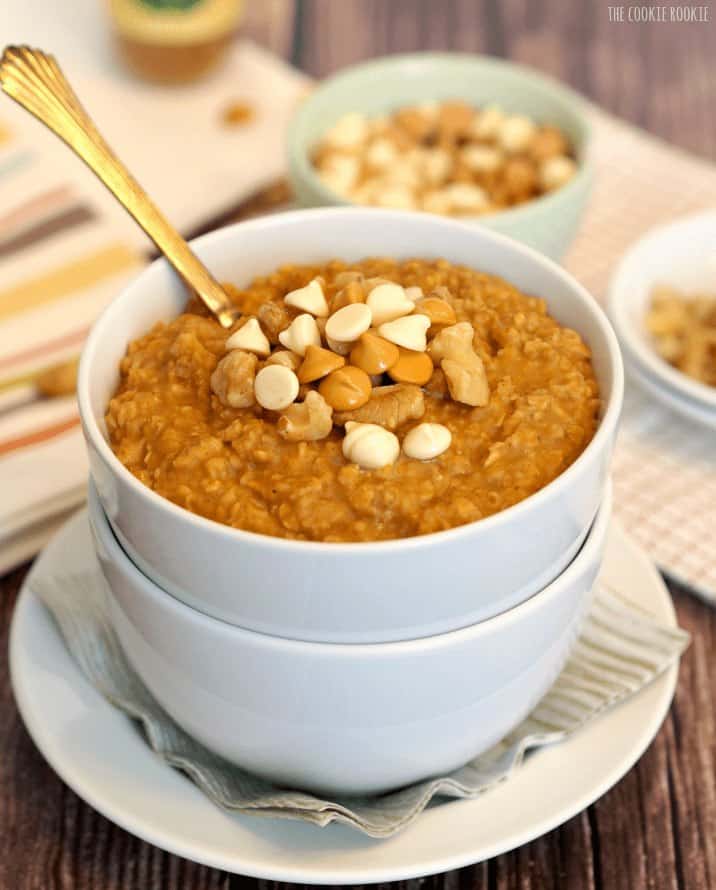 How To Make Pumpkin Oatmeal
When you love to sleep in as much as I do, there's very little time to lay out a gourmet breakfast. That's why I appreciate fast and easy recipes that are also hearty and good for the soul. This simple microwaveable pumpkin oatmeal will soon become one of your favorites!
Here's a quick step by step:
In a microwave safe bowl, whisk together all of the ingredients (except the optional toppings).

Microwave on high for approximately two minutes, or until oatmeal is desired consistency (for thinner oatmeal, add more milk, for thicker, less milk)

Allow to rest approximately one minute and serve hot.

Top with walnuts, extra butterscotch, and white chocolate chips, and cool whip for an extra tasty treat!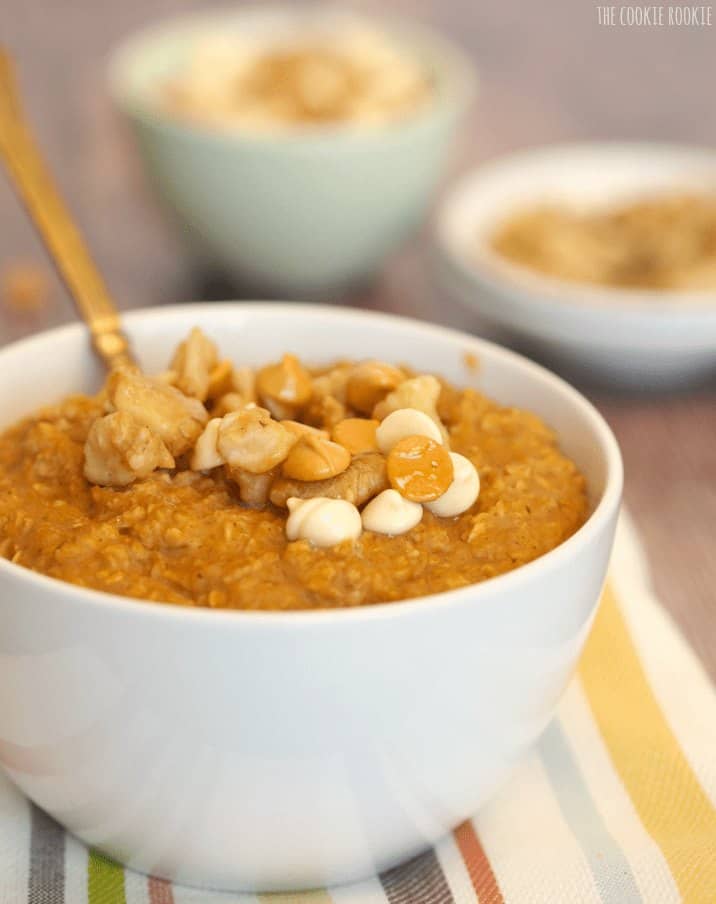 Microwave Oatmeal Recipe
One of my favorite things about oatmeal is how easy it is to make. You can make it on the stove, in the oven, or even in the microwave!
Making this pumpkin oatmeal in the microwave means you can have a healthy and tasty breakfast in just a couple of minutes. So busy mornings don't mean you can't have a nice filling meal to start the day.
If you want to make a more traditional oatmeal recipe, or other flavors, just remember the 1:2 ratio for cooking oats. For example, 1/2 cup of oats + 1 cup of liquid (water or milk), heat in the microwave for a couple of minutes, and you're good to go!
Can I use make this oatmeal in the oven instead?
If you're in a hurry, making this in the microwave is ideal. But if you have a little more time, you can certainly make pumpkin oatmeal in the oven instead.
Simply follow the directions above (or in the recipe card below), combining all the ingredients together in a baking dish.
Next, bake at 350°F for about 40 minutes, or until it's the consistency you like.
Then top with all your yummy toppings, like walnuts and whipped cream.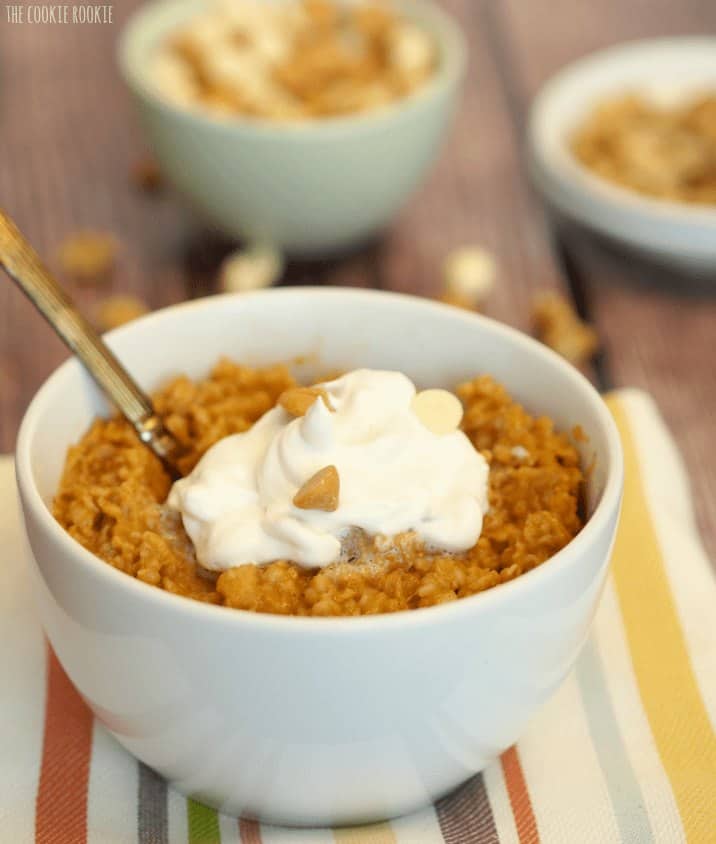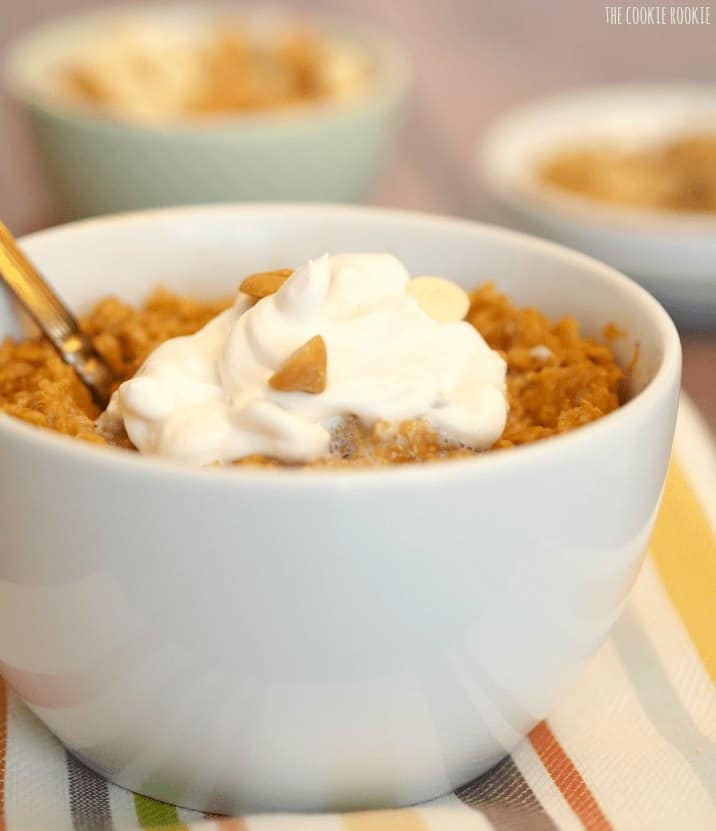 Easy Oatmeal Recipes
Breakfast is one of my favorite meals. After all, it is the most important meal of the day! And oatmeal is one of the most versatile, hearty and easy options for those busy, hectic mornings. If you like this pumpkin oatmeal, try some of these favorites too: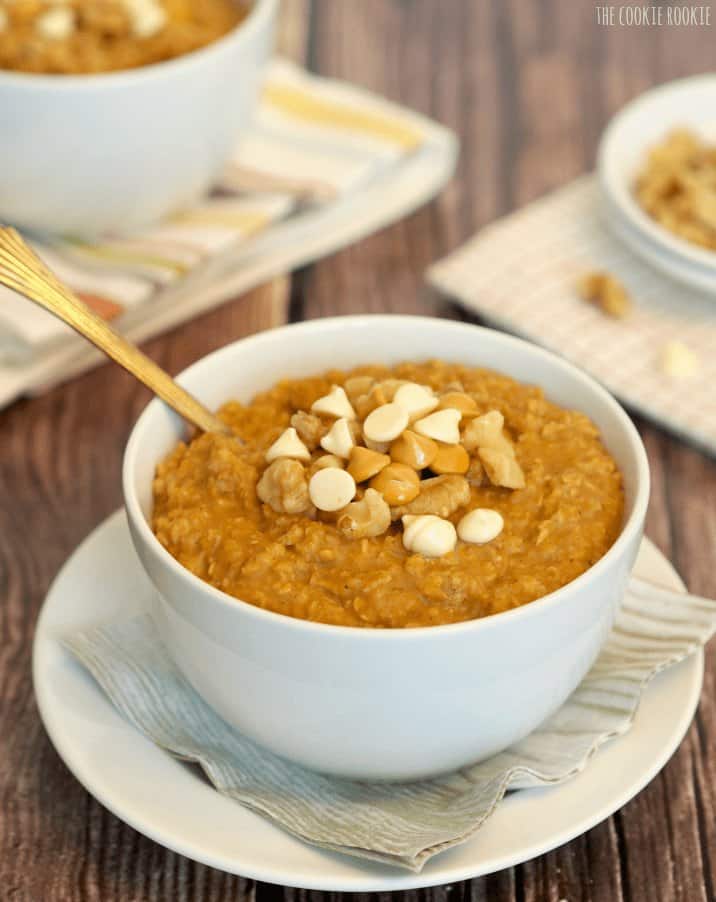 More Autumn Breakfast Recipes
After you top your decadent bowl of pumpkin pie oatmeal with a creamy dollop whipped topping, it really is like dessert in a bowl! And if you love sweet pumpkin treats, try some of these goodies for breakfast.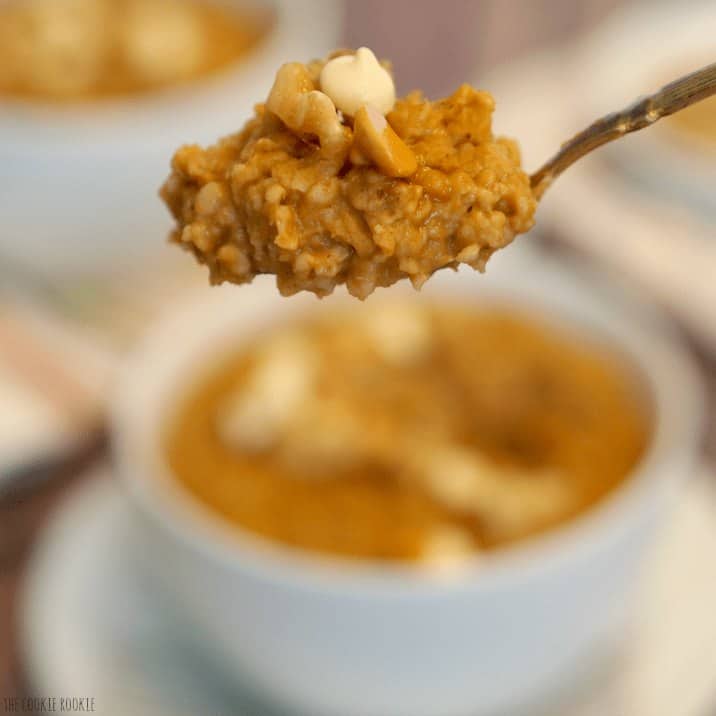 This is pumpkin oatmeal is such a delicious and cozy breakfast recipe for fall. You'll feel so good about sending your family out the door with a healthy, nourishing bowl of goodness that is EASY to prepare!
See the recipe card below for how to make Pumpkin Oatmeal. Enjoy!
Be sure to try our other best pumpkin recipes this fall: