This Smoked Chicken Breast recipe is so easy to make with just a few ingredients and minimal prep time. Season boneless, skinless chicken breasts, cook them in a smoker, and slather them with barbecue sauce to serve. Once you learn how to smoke chicken breasts, you'll really be grillin'!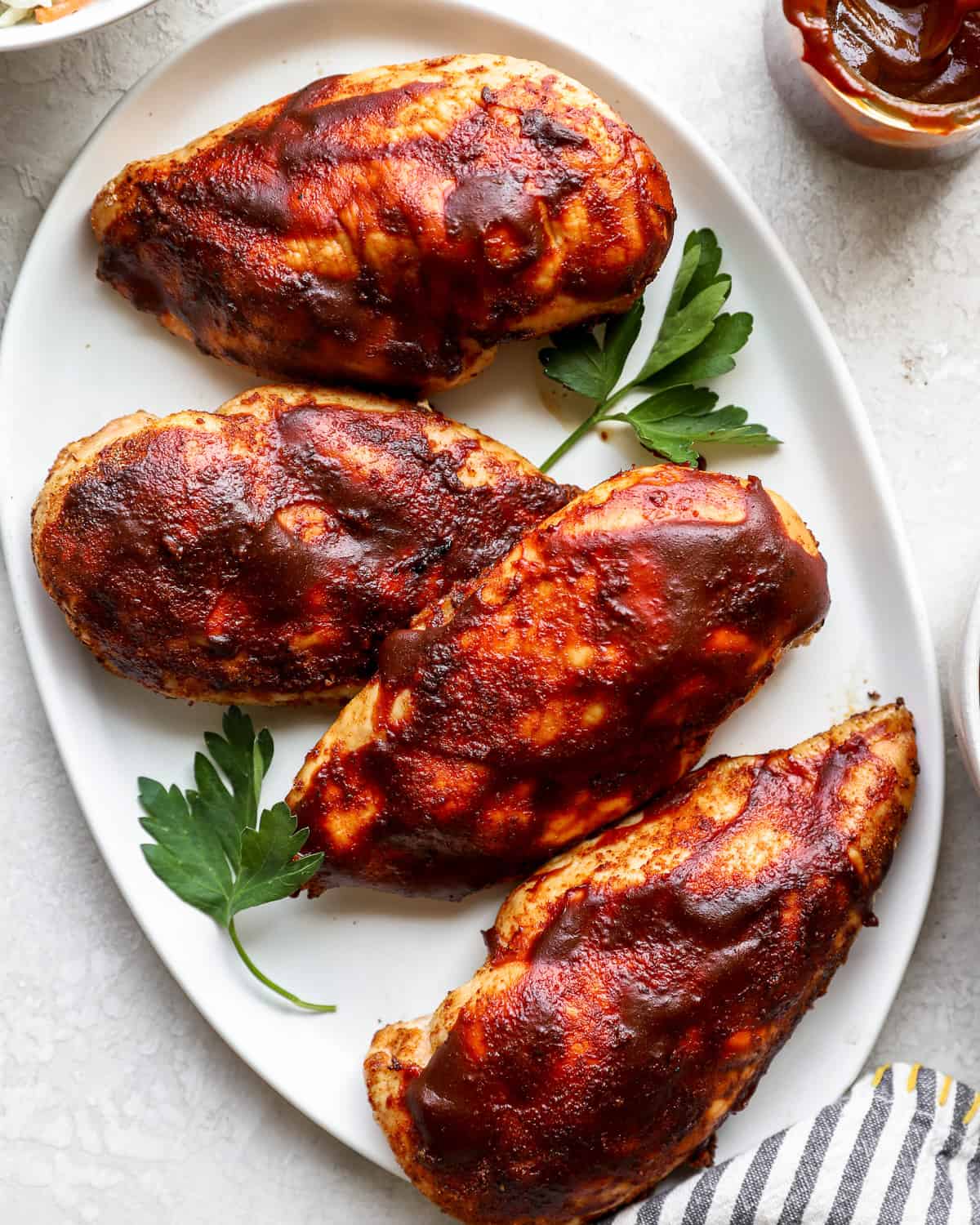 What's in this Smoked Chicken Breast Recipe?
This simple recipe is so flavorful and so easy! You're just a handful of ingredients and about an hour away from tender, juicy smoked chicken breasts.
Chicken Breasts: This recipe was designed for boneless, skinless chicken breasts. You could also use boneless, skinless chicken thighs, but they may take a bit longer to cook.
Spices: Kosher salt, smoked paprika, onion powder, and garlic powder add a savory and smoky flavor to the meat.
Olive Oil: Helps the spices adhere to the chicken, and prevents the chicken from sticking to the grill.
Pro Tip: Serve this chicken with some tangy BBQ sauce! Feel free to use your favorite kind to perfect the flavor.
Variations on Smoked Chicken Breasts
You can change up the seasonings on these smoked chicken breasts to suit your tastes. Try five spice, chili seasoning, Creole seasoning, adobo, or taco seasoning for a different flavor.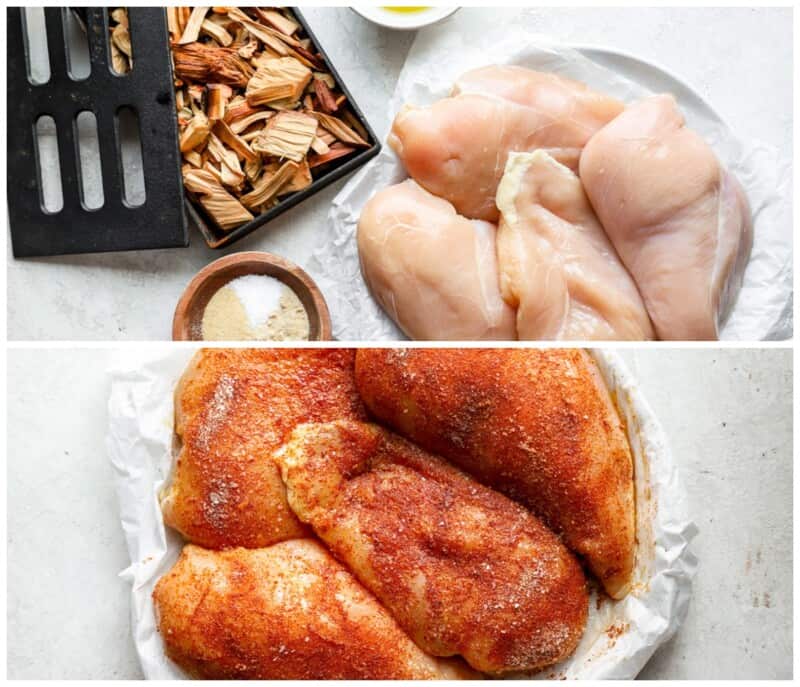 How long does it take to smoke chicken breast?
That depends on the size of the breasts. On average, at 225°F, it takes about 1½-2 hours per pound. At 250°F, it takes about 30-45 minutes per pound.
What are the best wood chips for smoking chicken breast?
I like hickory, oak, cherry, or applewood. All have a great flavor that compliments chicken.
Should I wrap my chicken when smoking?
No! Wrapping the chicken in foil will prevent the smoke flavor from entering the meat.
How do you keep chicken moist when smoking?
Smoking the meat at a low temperature (as close to 225°F as possible, but no higher than 250°F) helps lock in moisture. I also recommend checking the internal temperature of the meat often with a thermometer and removing the meat as soon as it reaches 165°F.
Do you flip chicken breast when smoking?
There's no need to flip chicken while smoking. However, you can flip them once if you'd like to get grill lines on both sides.
Why is my smoked chicken breast rubbery?
If your chicken breasts are rubbery, it is likely that they are overcooked. Make sure to test the chicken early and often with a thermometer and remove it as soon as it reaches 165°F.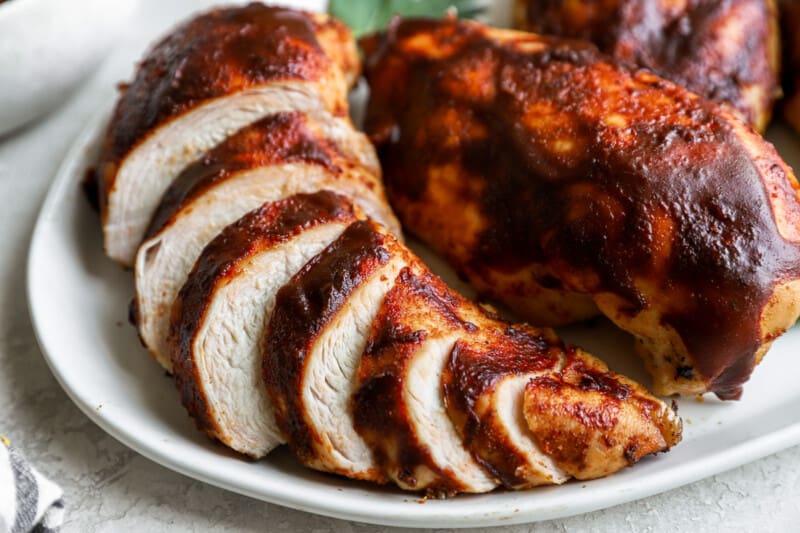 How to Store and Reheat
Store leftover smoked chicken breast in an airtight container in the refrigerator for up to 3 days. Reheat on the grill, or in a 300°F oven, for 8-10 minutes, until 165°F internally.
How to Freeze
Freeze leftover smoker chicken breast in an airtight container or Ziplock bag for up to 3 months. Let thaw overnight in the refrigerator before reheating.
Serving Suggestions
Serve these smoked chicken breasts with BBQ sauce, BBQ baked beans, creamy coleslaw, mashed potatoes, grilled vegetables, macaroni salad, or any of your favorite BBQ sides!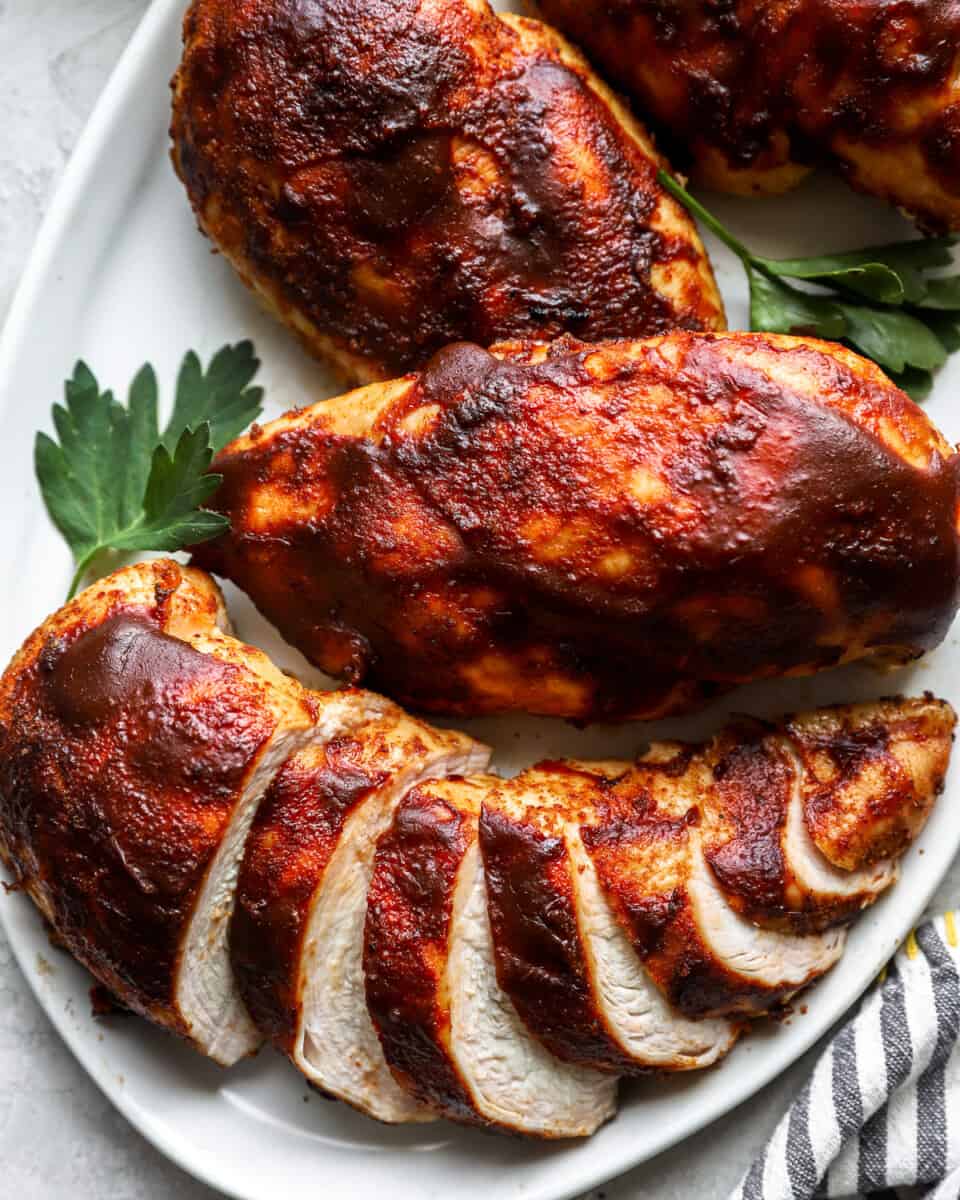 More Chicken Breast Recipes We Love