When it comes to comfort food, this bacon meatloaf recipe is a winner! Rich and full of flavor, this dish is a real crowd pleaser. Coated in a delicious BBQ topping, this recipe is a must try!
Meatloaf is such a classic dish, it's heart and comforting and the whole family loves it. My recipe is loaded with flavor thanks to…bacon! It's delicious, it's perfect, you have to try it!
How to Make This Bacon Meatloaf Recipe
Heat oven to 350°F and adjust oven rack to middle position. Line a rimmed baking sheet with foil. Spray a metal rack with non-stick cooking spray and set it over the baking sheet.
FOR THE TOPPING:
Whisk all topping ingredients together in a medium mixing bowl; set aside.
FOR THE MEATLOAF:
Par-cook the bacon in a large skillet set over medium heat just until the fat is rendered out, 5-7 minutes. The bacon should be pliable and not brown or crispy at all. Transfer bacon to a paper towel-lined plate for a few minutes, then place it in the bowl of a food processor fitted with the

chopping blade. Pulse the bacon until it is coarsely ground, 30-60 seconds; set aside.

Discard all except 2 tablespoon rendered bacon fat from the skillet and set the pan over medium-low heat. Add the diced onion to the bacon fat and cook, stirring often, until onion is translucent and has softened, about 4-6 minutes. Add minced garlic, stir and cook 30 seconds.

In a large bowl, mix together the cooked onion/garlic mixture, milk, ketchup, Worcestershire Sauce, Dijon mustard, oats, eggs and black pepper. Let mixture rest for 2 minutes.

In a different large bowl, combine the chopped bacon and ground chuck, mix just until combined.

Pour the liquid mixture over the meat mixture and mix just until ingredients are incorporated. Try not to over-work the mixture or the meatloaf will be a little tough.

Divide the mixture into two equal sections and shape each half into a loaf approximately 8x5x3-inches. Set the loaves on the prepared rack (set over the baking sheeand reshape, if needed.

Pour half the topping mixture over each meatloaf. Cook at 350°F for 50-65 minutes or until the internal temperature reads 160°F, on an instant-read meat thermometer, and the juices run clear. Note – If the topping is browning too quickly after 25 minutes, tent the loaves with foil (don't wrap tightlto prevent burning.

Transfer loaves to a cooling rack and let rest 10-15 minutes before slicing.

Enjoy!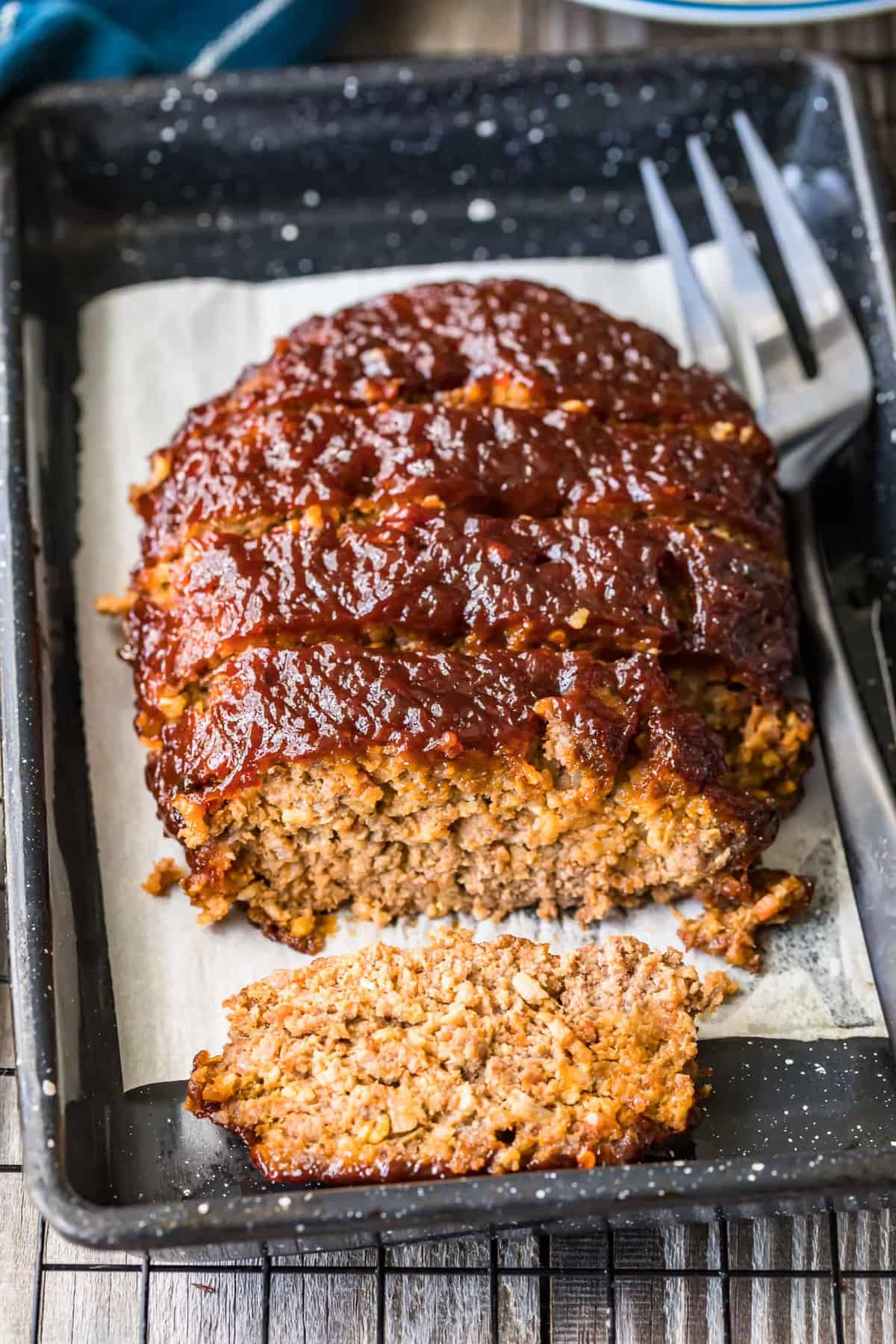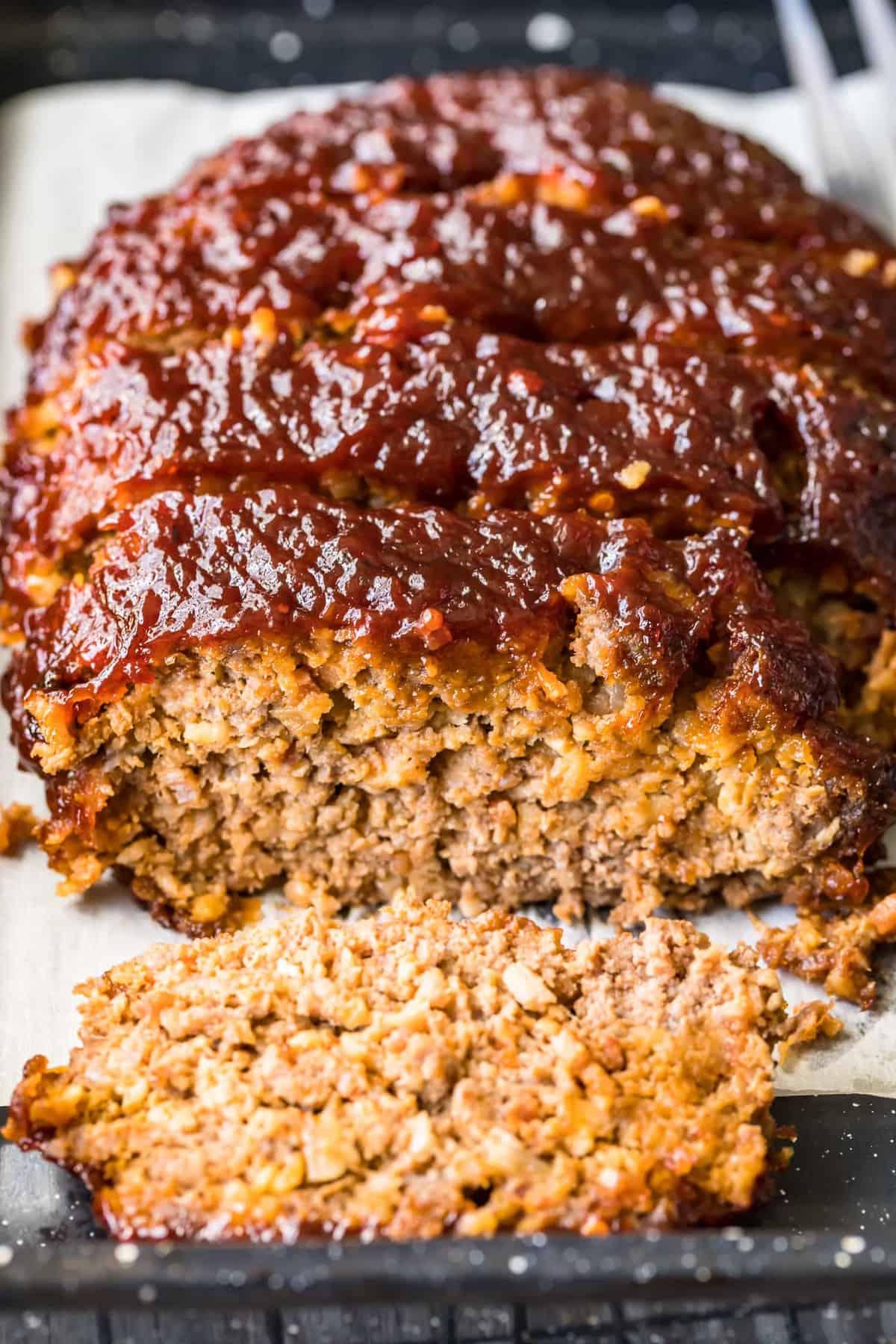 What do you serve with this bacon meatloaf recipe?
I always serve my meatloaf with a healthy side of creamy mashed potatoes and a steamed veggie side. Keep it simple and let the meatloaf speak for itself! This bacon meatloaf is perfect with:
Bacon meatloaf without breadcrumbs
So many recipes for meatloaf include breadcrumbs as this helps to keep everything together. I wanted to make mine gluten-free so I used quick oats in the place of these. They work amazingly well and it's perfect if you or any guests have a gluten intolerance.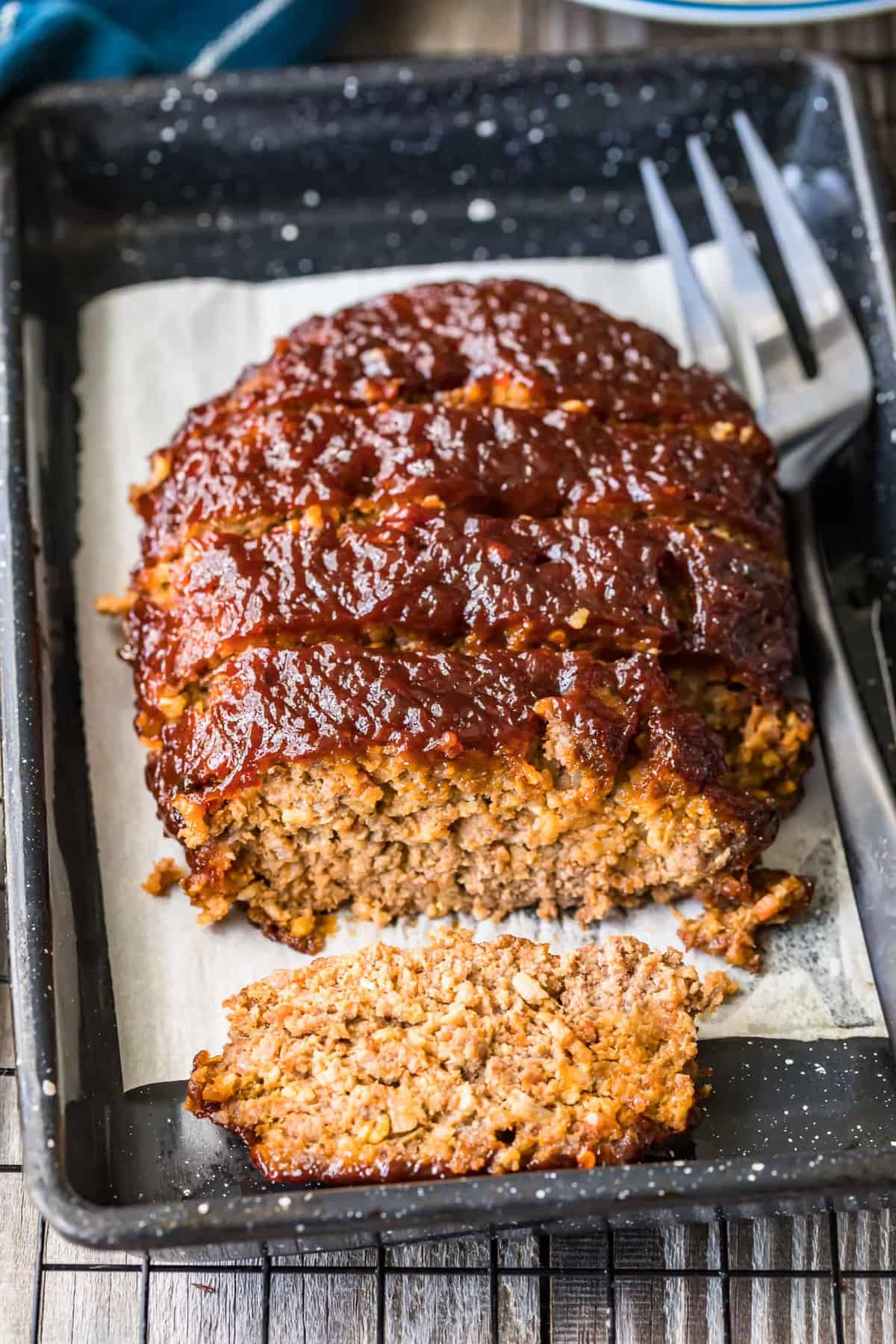 A delicious BBQ meatloaf topping
The topping on this bacon meatloaf recipe is so rich and delicious and it's so easy to make! It's made of:
ketchup
barbecue sauce
dark brown sugar
crushed red pepper
cider vinegar
The result is a beautifully tangy and sweet sauce and it works so well with the whole dish.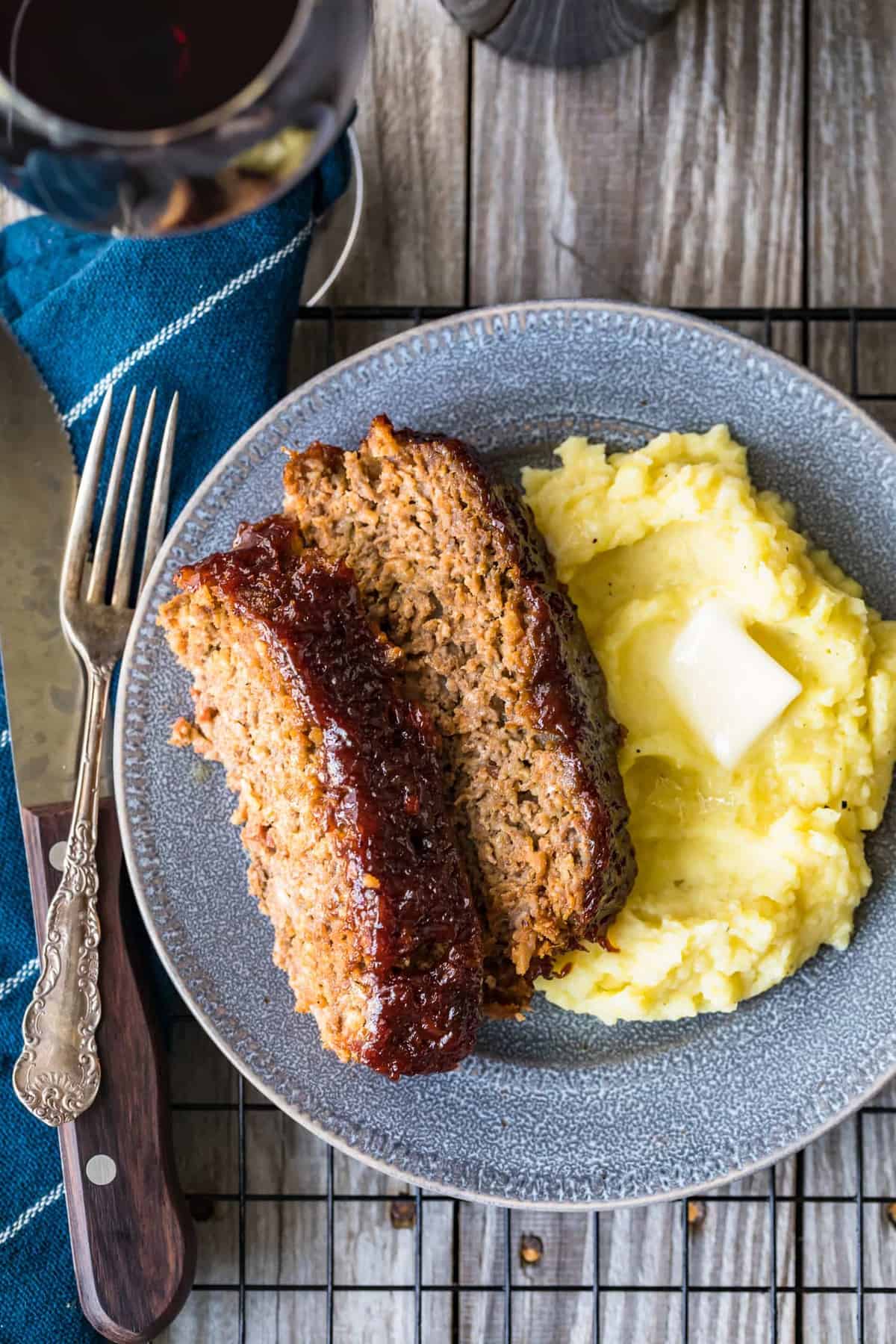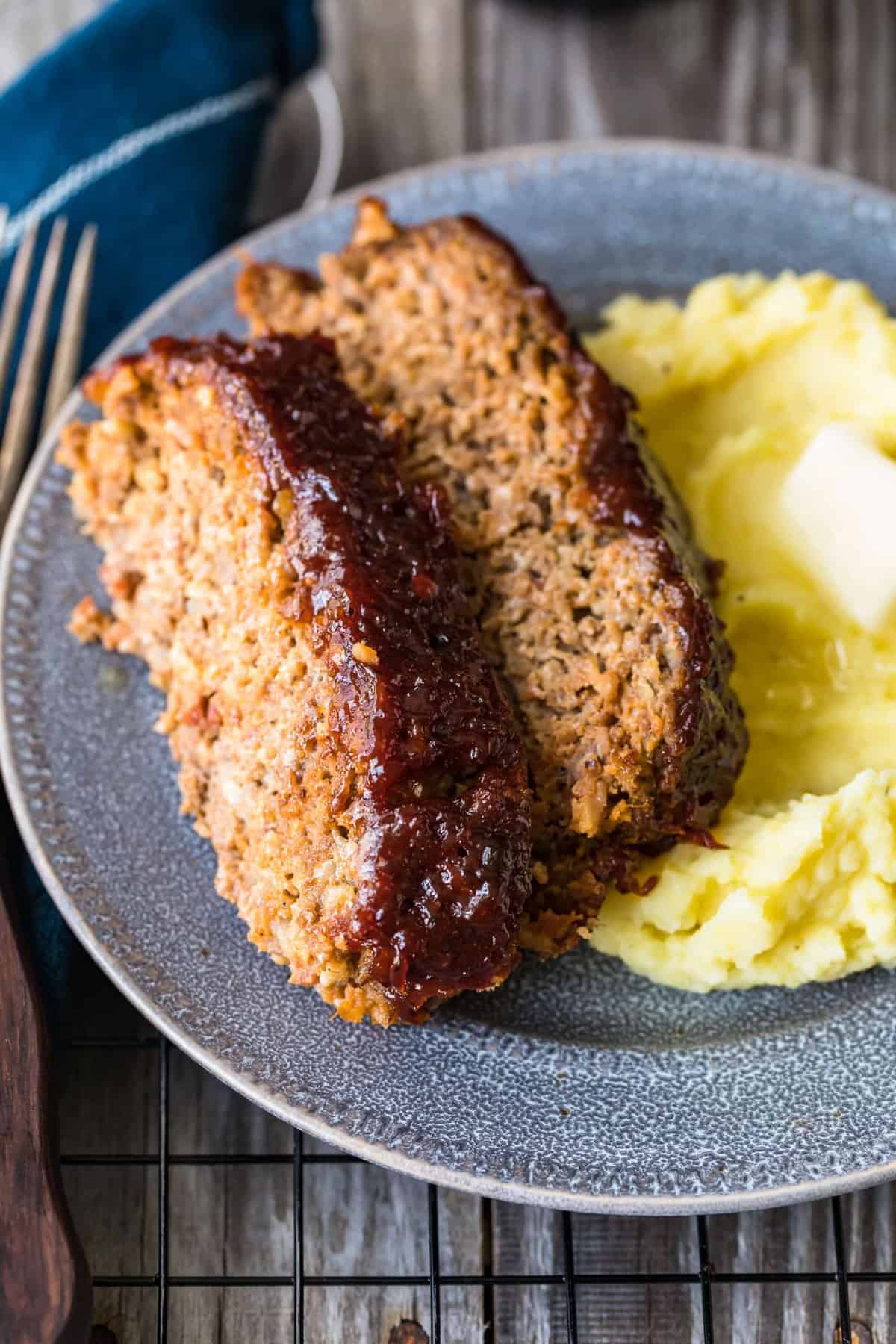 Top Tips to Make This Bacon Meatloaf Recipe
This recipe makes two meatloaves.
Leftovers can be kept in refrigerated, in an airtight container, for up to 3 days.
The shaped, uncooked meatloaf can be frozen, up to 3 months. Be sure NOT to make or add the topping until ready to cook. Wrap the meatloaf very well and place in a zipper-style freezer bag. Defrost the meatloaf overnight in the fridge before cooking. Right before cooking add the topping. An additional 5 minutes might be needed during cooking.
Be sure to try this Air Fryer meatloaf recipe, and this mozzarella stuffed meatloaf!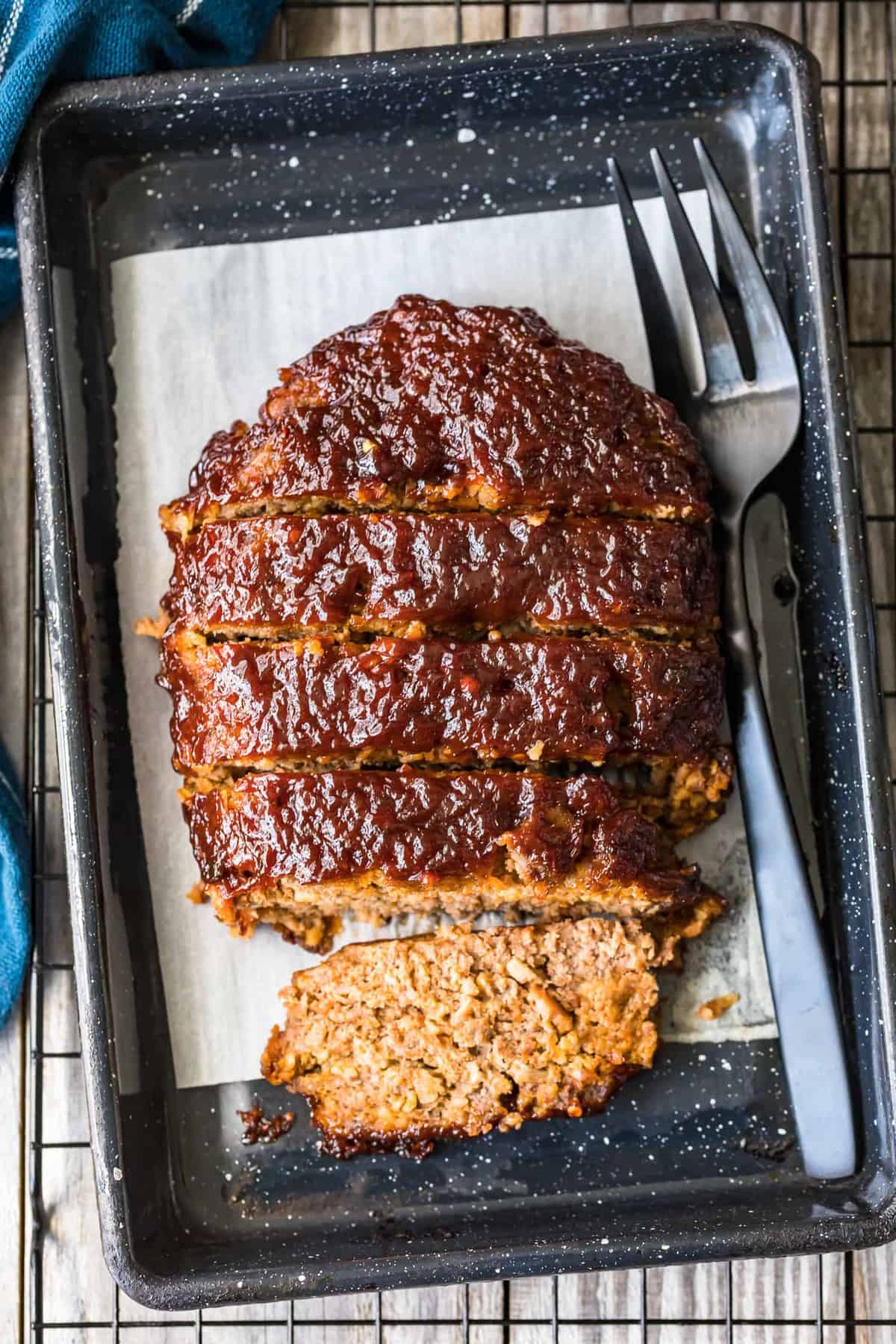 Be sure to check out these other beef main dishes