Tender chicken breasts are covered in a delicious cheesy coating and oven baked to perfection. This golden, crispy Parmesan Crusted Chicken is a total crowd-pleaser! It's easy to make for dinner any time!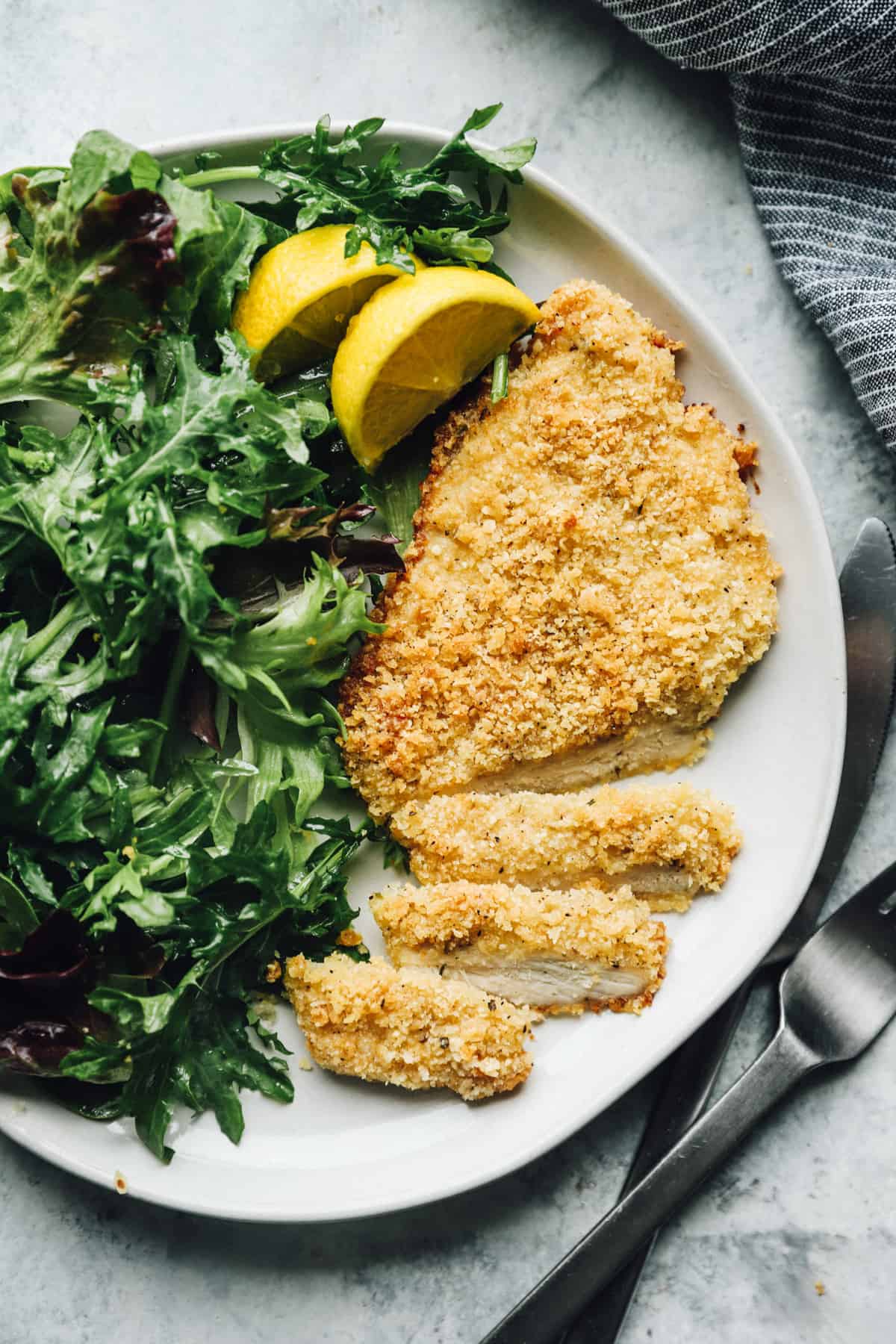 What's in Baked Parmesan Crusted Chicken?
Thin chicken breasts are coated with tangy Parmesan, deliciously breaded, and cooked until crispy. Here's a rundown of the ingredients:
Butter: Unsalted butter helps the breadcrumbs, cheese, and seasonings to adhere to the chicken breasts. You could use salted butter, but I would recommend reducing the amount of kosher salt used in the recipe.
Seasonings: Garlic powder, onion powder, Italian seasoning, salt, and pepper give these chicken breasts a classic Italian flavor. For a different flavor profile, you could use ranch seasoning, chicken seasoning, or creole seasoning!
Panko Breadcrumbs: Panko breadcrumbs are Japanese-style breadcrumbs that are extra crunchy and crispy. Unlike classic breadcrumbs, Panko breadcrumbs stay crunchy when used in coatings.
Parmesan Cheese: Parmesan cheese adds a great, tangy flavor to the chicken without adding too much moisture. Freshly-shredded cheese works best here. If you're not a Parmesan fan, try Asiago, Pecorino Romano, or Grana Padano.
Chicken: I love boneless, skinless chicken breasts, as they're easy to pound thin. If using chicken thighs, you will need to pound your fillets to half an inch thickness. Also, make sure the surface on both sides is flat. Chicken thighs will need longer to cook, whereas chicken breasts cook faster.
Pro Tip: To give this chicken a little kick, add a pinch of cayenne pepper or red pepper flakes to the breadcrumb mixture in step 3.
Making Parmesan Crusted Chicken Gluten-Free
To make baked Parmesan chicken gluten-free, replace the Panko breadcrumbs with gluten-free breadcrumbs. The coating might not be as crunchy, but it will still be delicious.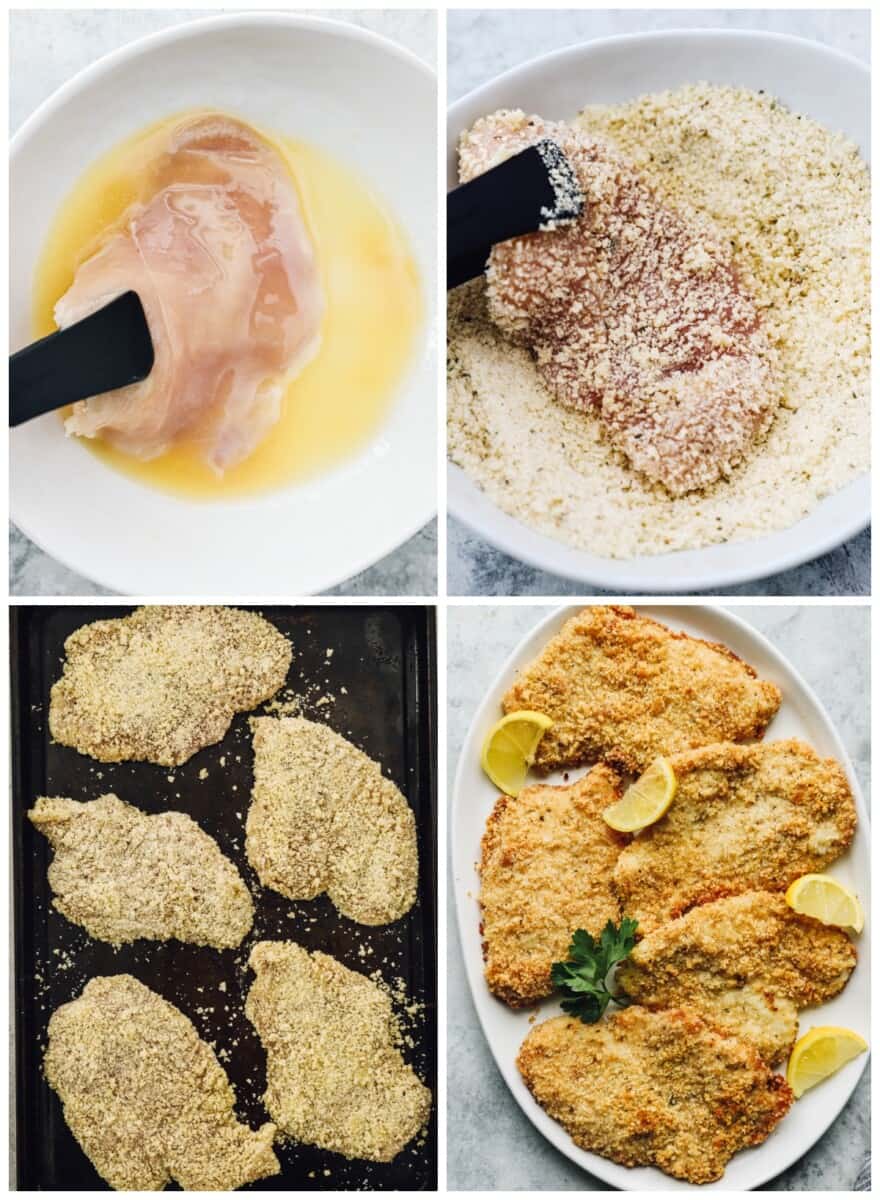 What kind of chicken should I use?
I recommend using boneless, skinless chicken breasts (or thighs) for this parmesan chicken recipe. Pound them thin before coating.
How do I pound chicken breasts?
Place the chicken breasts between 2 pieces of plastic wrap or into a Ziplock bag and use a meat mallet to pound the chicken until it becomes thin. If you don't have a meat mallet, use a rolling pin or a skillet.
Can I use frozen chicken?
If using frozen chicken breasts, let them thaw in the refrigerator before using in this recipe.
How do I know when the chicken is cooked through?
Parmesan crusted chicken takes about 20 minutes to bake at 400°F. Chicken is cooked through when the internal temperature reaches 165°F.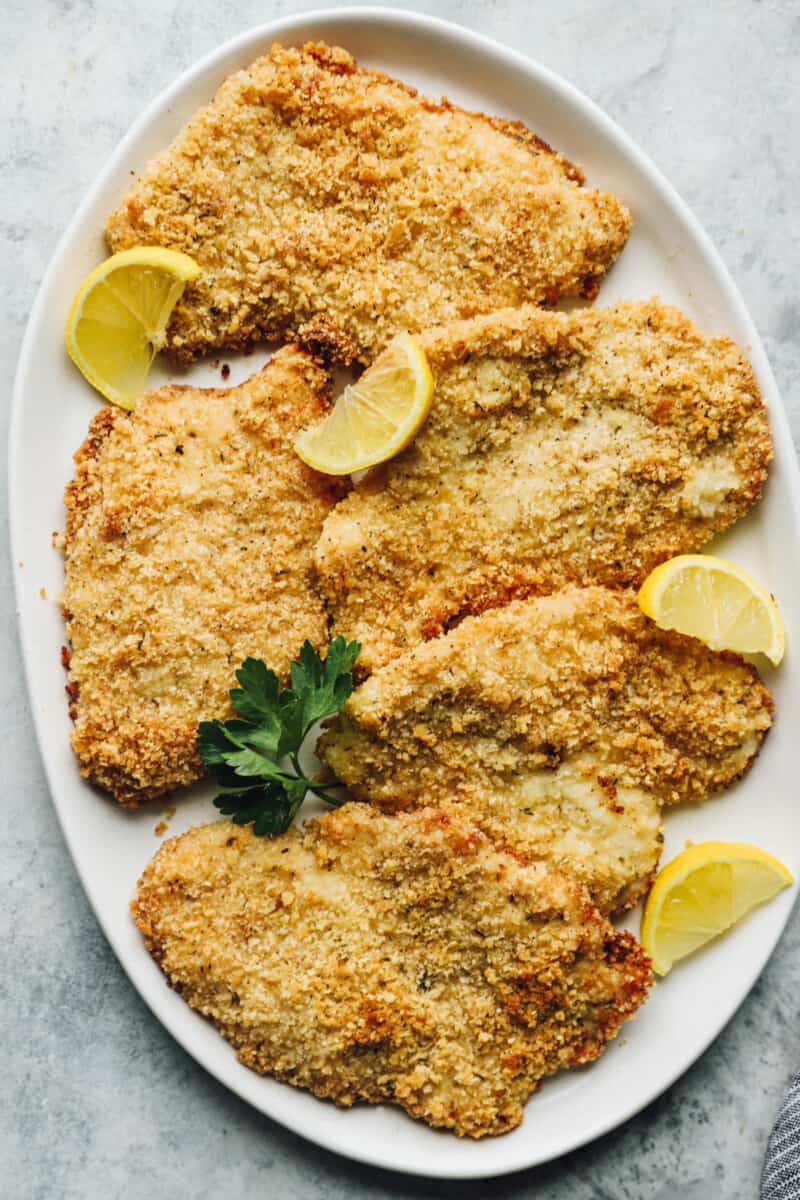 How to Store and Reheat Parmesan Chicken
Store Parmesan crusted chicken in an airtight container in the refrigerator for up to 3 days. Reheat in a 350°F oven for 10-15 minutes, until warmed through.
How to Freeze Parmesan Crusted Chicken
Freeze Parmesan crusted chicken in an airtight container for up to 3 months. Let thaw overnight in the refrigerator before reheating.
What to Serve with Parmesan Breaded Chicken
You can make this meal light or more substantial with a variety of tasty sides. For a rich, filling meal, try air fryer potato wedges, instant pot green bean casserole, fondant potatoes, or jalapeno popper pasta salad. For a lighter meal, use the chicken as a topper for a fresh green goddess salad or serve it with a side of roasted vegetables. This easy weeknight recipe will become an instant favorite in your house!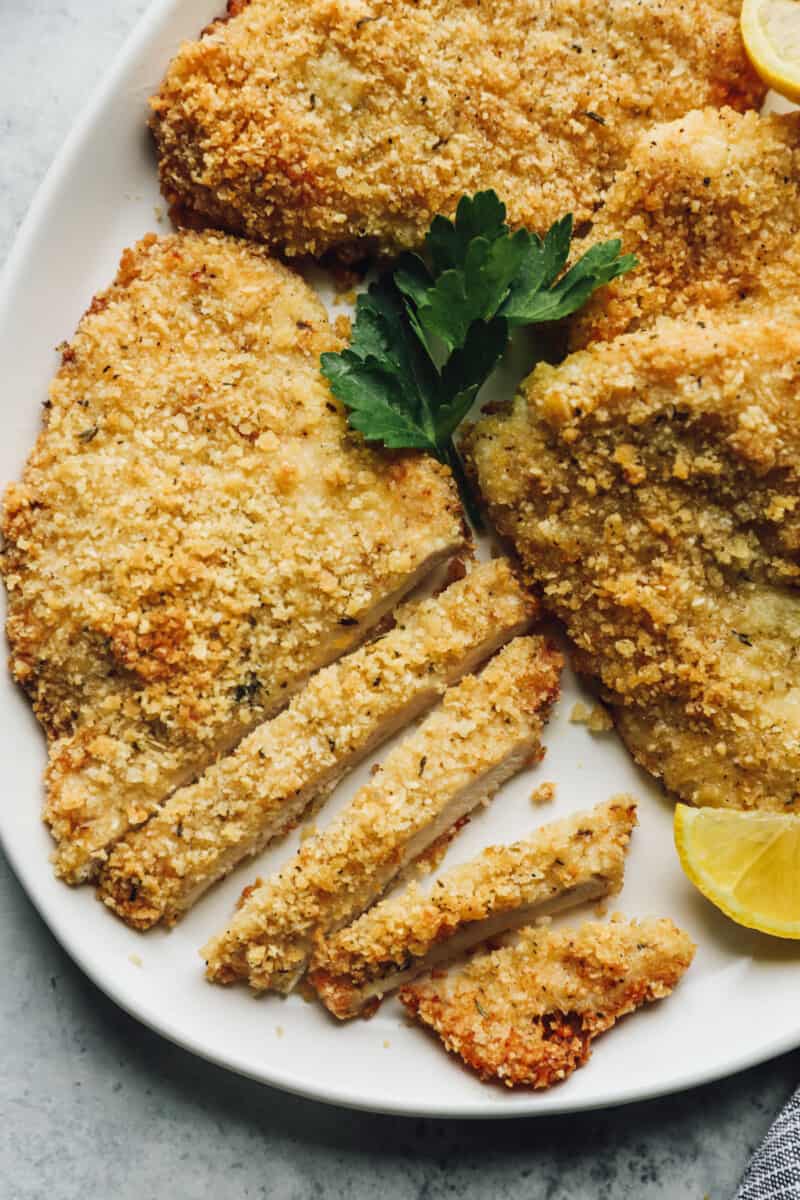 More Breaded and Baked Chicken Recipes We Love