Parmesan Risotto is an impressive dinner that's easier to make than you may think! Tender arborio rice is cooked to creamy perfection with notes of garlic and plenty of parmesan. Serve it as a side dish or as the star of the show by making it your entree!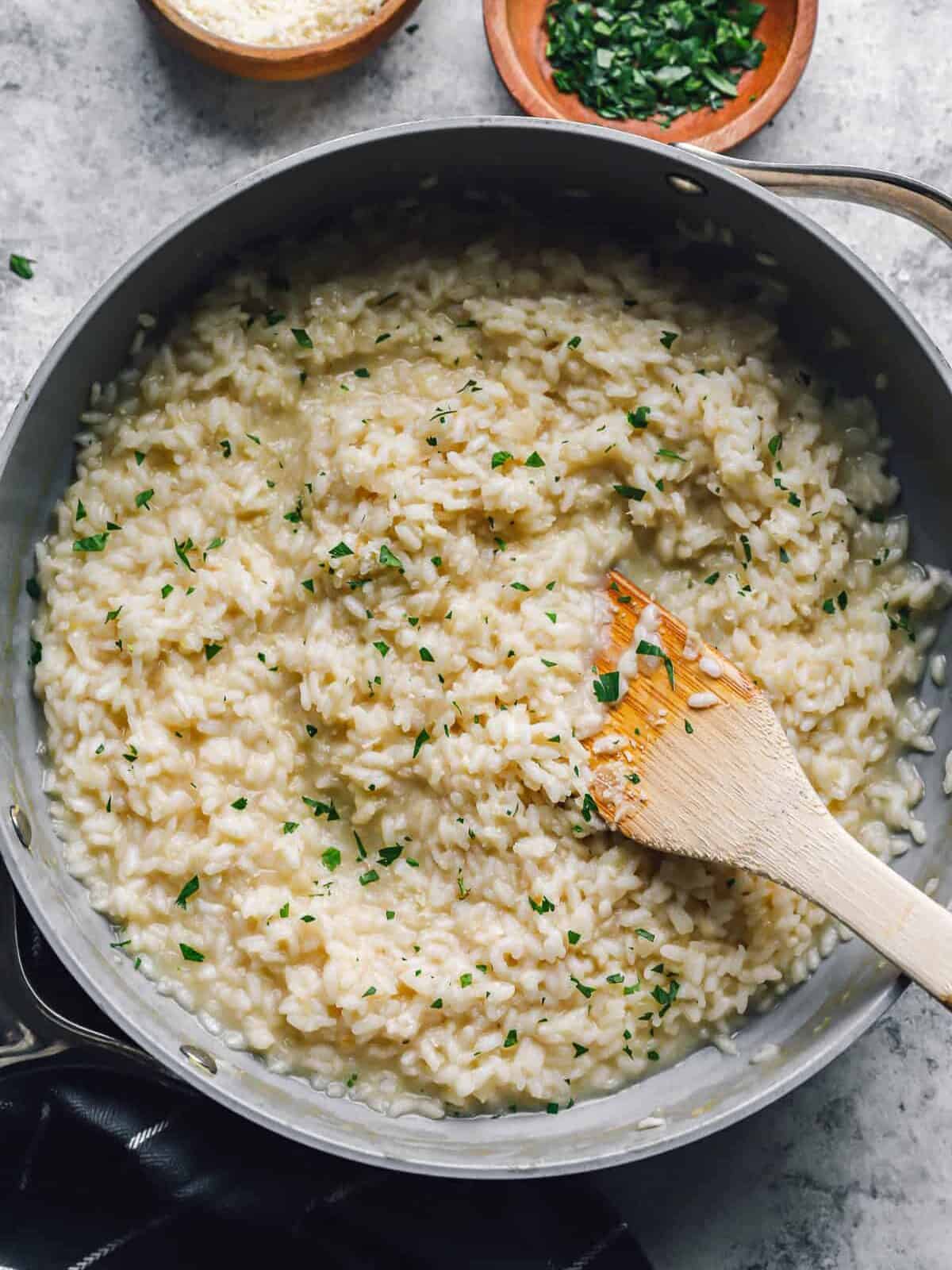 What's in this Parmesan Risotto Recipe?
Short-grain arborio rice, shallots, garlic, white wine, and parmesan cheese are simple yet powerful ingredients that simply belong together! With a dish as simple as this, you'll want to use quality ingredients for the best results.
Arborio Rice: Don't rinse the rice before using it. We want that starch to help create the right consistency.
Olive Oil: I recommend using a good quality olive oil for the best flavor.
Shallot: Shallots have the best delicate flavor and texture for risotto.
Kosher Salt: Just a tiny pinch will do the trick.
Garlic: Fresh garlic is best for the most flavor.
White Wine: I recommend using a dry, crisp white wine for risotto–Pinot Grigio or Sauvignon Blanc are good options. Avoid using super sweet wines like moscato or riesling.
Chicken Broth: You can use homemade or store-bought. Vegetable broth will also work.
Parmesan Cheese: Freshly shredded Parmesan cheese will melt better than pre-shredded.
Fresh Parsley: This garnish gives the best aromatic quality and pop of color!
Pro Tip: Keep the chicken broth warm over medium-low heat in a separate pan. Cold stock will slow the cooking, making the parmesan risotto take much longer to cook.
Ingredient Substitutions
You can use butter in place of olive oil, if you prefer.
If you can't find a shallot, a small yellow onion will also work.
In place of arborio rice, you can use carnaroli or sushi rice.
In place of the white wine, you can use white cooking wine, white wine vinegar, lemon juice, or more broth.
To make this recipe vegetarian, use vegetable broth instead of chicken broth.
Feel free to swap in a different cheese, such as Asiago, Pecorino Romano, Romano, or Grana Padano.
Take this garlic Parmesan risotto up a notch by stirring in some sautéed vegetables or roasted mushrooms.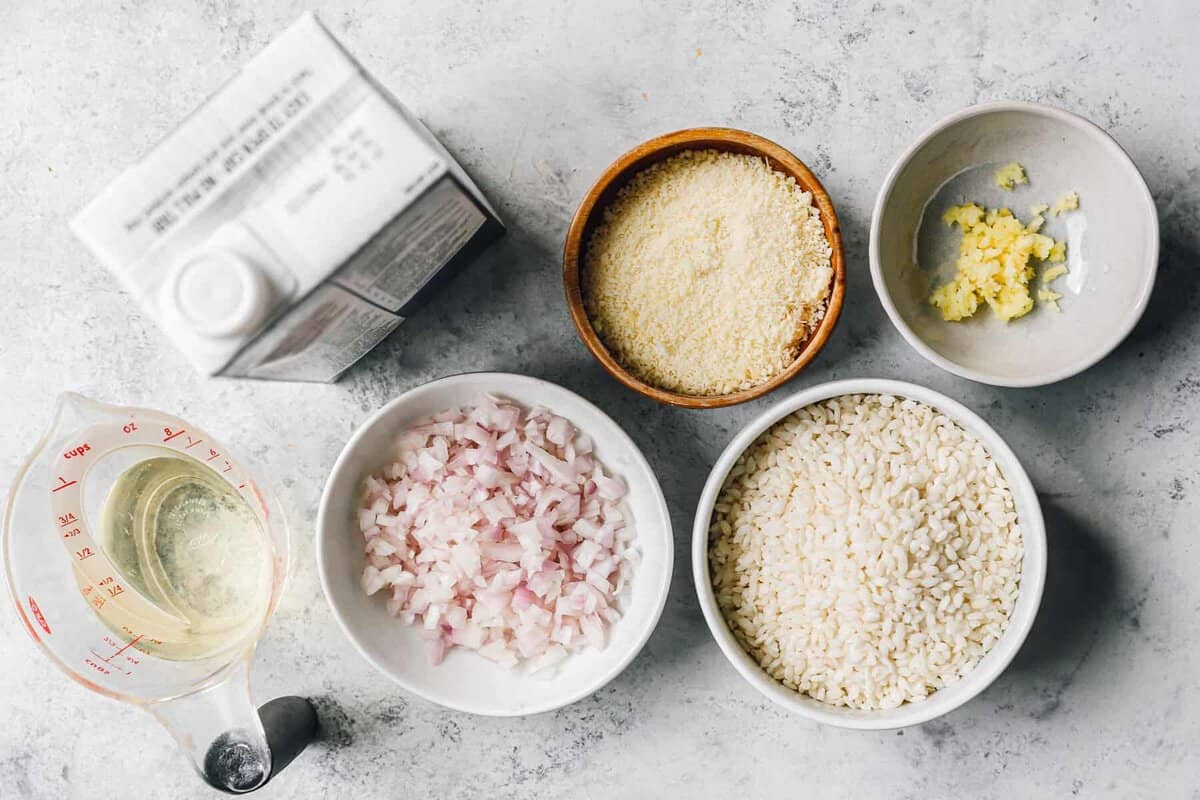 What is parmesan risotto?
Risotto is a northern Italian dish made from rice cooked in broth to a creamy consistency. This risotto has Parmesan cheese to increase the creaminess!
Is risotto a rice or pasta?
No, risotto is not pasta, though it often gets lumped into the same category. Risotto is a rice dish.
What is arborio rice?
Arborio rice is a high-starch short-grain rice from Italy that is known for its creaminess and chewiness, making it popular for risotto.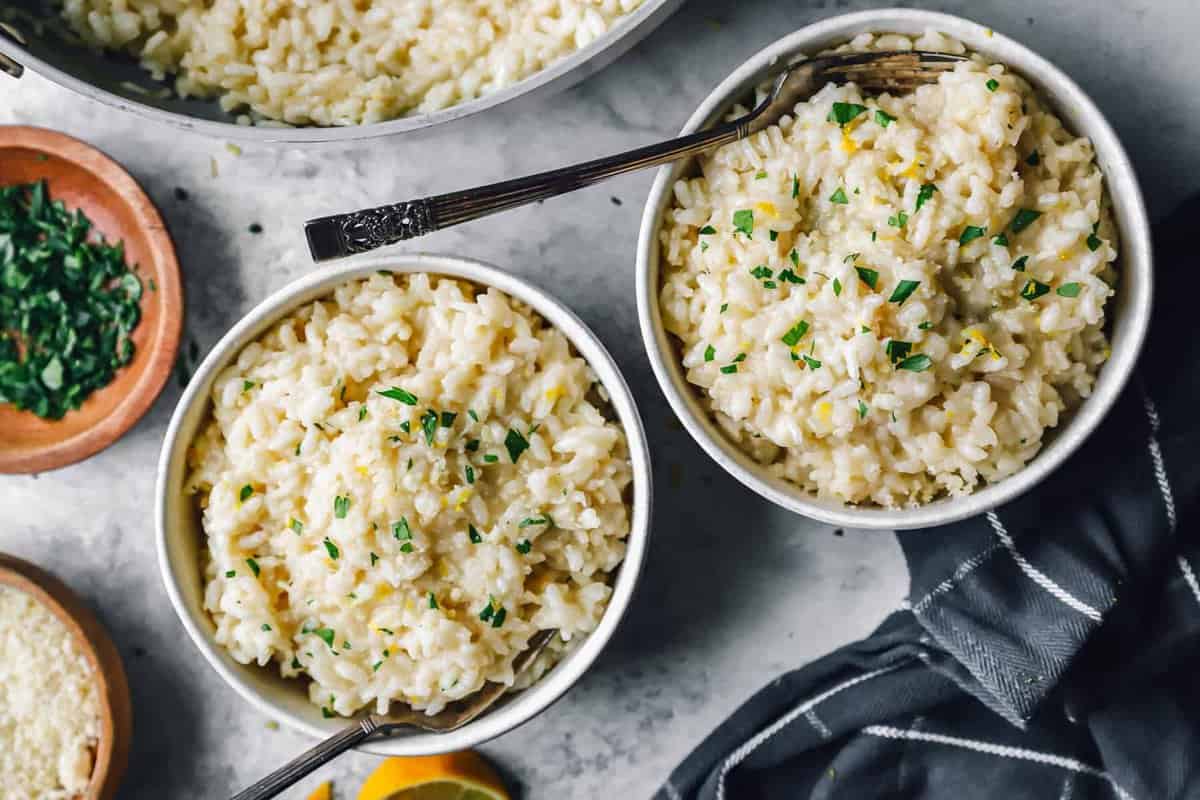 How to Store and Reheat
Store leftover Parmesan risotto in an airtight container in the refrigerator for up to 3 days. Reheat in a saucepan set over medium-low heat with a splash of broth added to loosen. I do not recommend freezing this dish.
What to Serve with Garlic Parmesan Risotto
This recipe doubles as an entree and side dish! Serve it alongside a main dish like chicken parmesan, seared scallops, or parmesan crusted chicken. Or serve it with side dishes like roasted Brussels sprouts or sautéed leeks. You could also finish off each bowl with a drizzle of homemade pesto!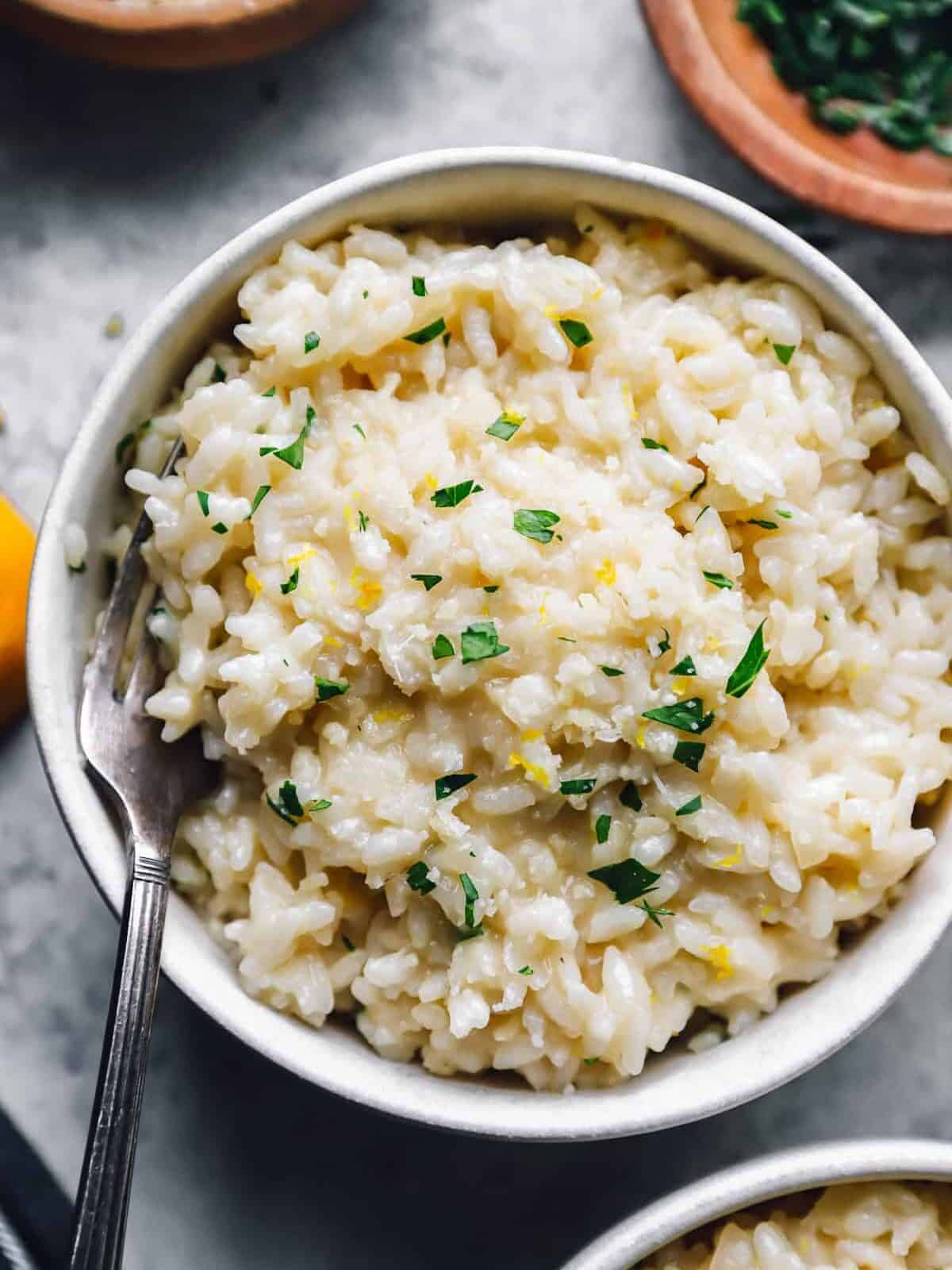 More Rice Dishes We Love