This Patty Melt recipe is the perfect marriage between a burger and a grilled cheese sandwich. A juicy hamburger patty with onions and melted cheese between crispy, griddled bread makes a deliriously delicious and easy weeknight dinner!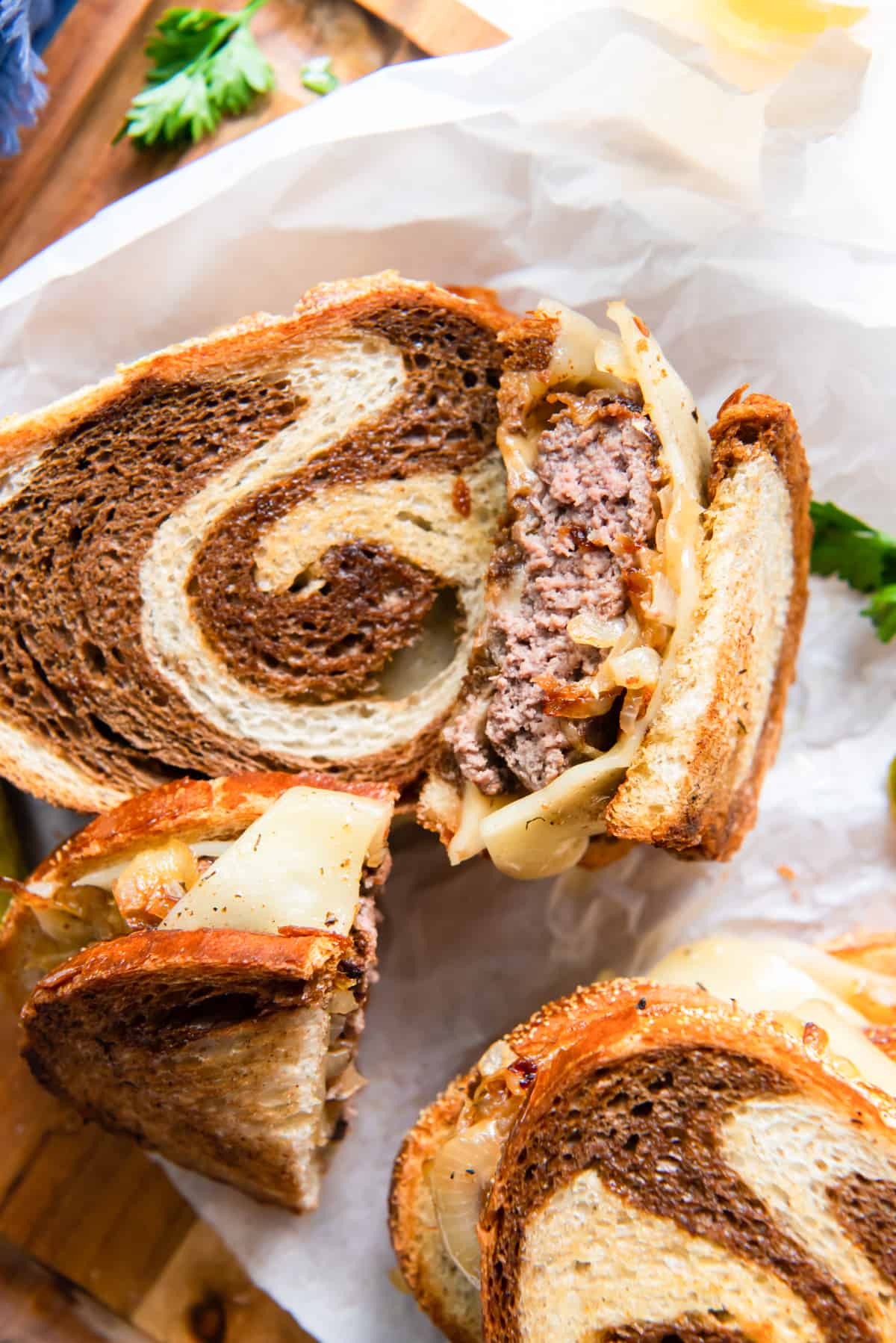 Patty Melt Sandwich
This patty melt sandwich is a pure, mouth-watering delight! Butter-basted sandwich bread houses a thin, crispy hamburger patty, topped with sweet caramelized onions and melty cheese – yes, yes, and yes! If you love grilled cheese and you love burgers you have to give these homemade patty melts a go!
Looking for other tasty burger recipes? Why not also try my Salmon Burgers and my Best Turkey Burger!
Why You'll Love this Patty Melt Recipe:
Cheesy: The patty is topped with creamy Swiss cheese, but of course, you can put in your faves!
Crispy: The patty is sandwiched between two buttery, griddled slices of bread for that super satisfying crunch!
Easy: A one-pan recipe made with pantry staples means it's easy and yummy!
This classic patty melt is a diner dish you can easily make at home. Both kids and adults will love it!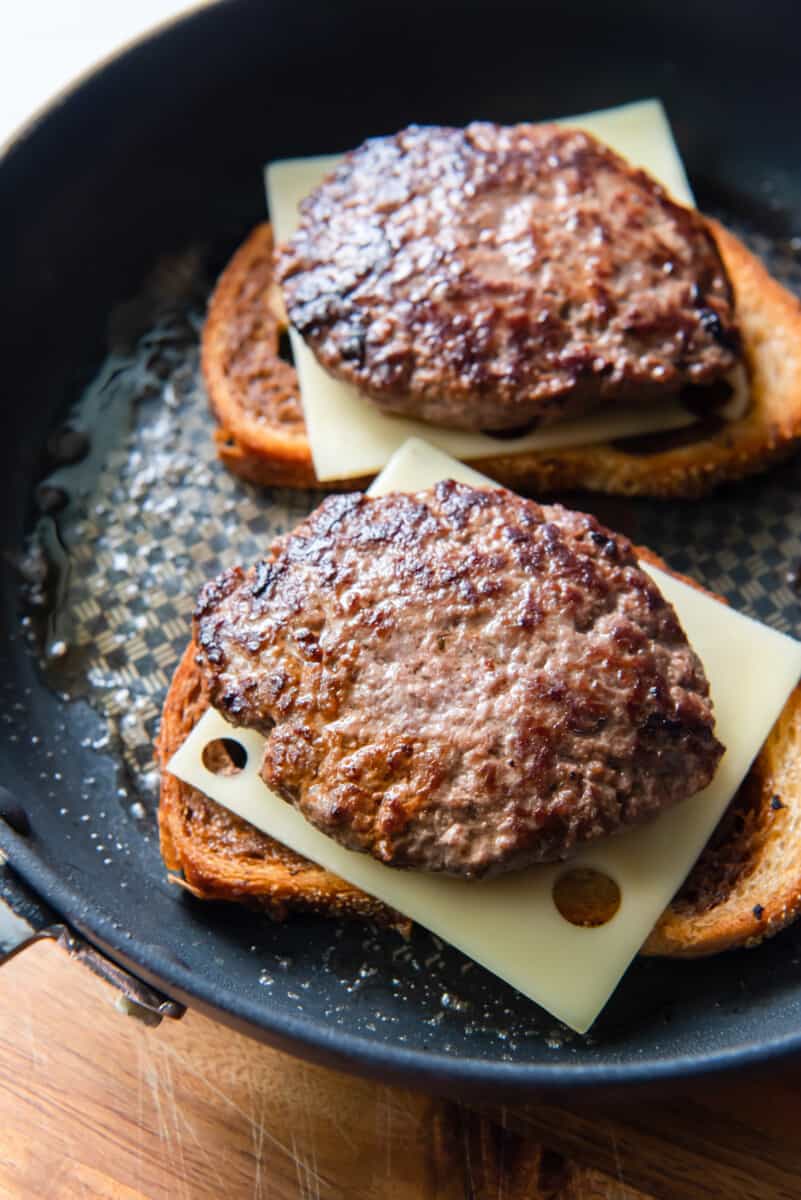 How to Make a Patty Melt
You can jump to the recipe card for full ingredients & instructions!
Cook your onions in a skillet with butter, then set aside.
Combine ground beef and seasoning and make 4 oblong patties.
Cook patties in the skillet with butter, set aside, and keep warm.
Toast the bread in the skillet with butter.
Assemble your patty melt, by layering the swiss cheese, patties, and onions on the bread.
Serve and enjoy!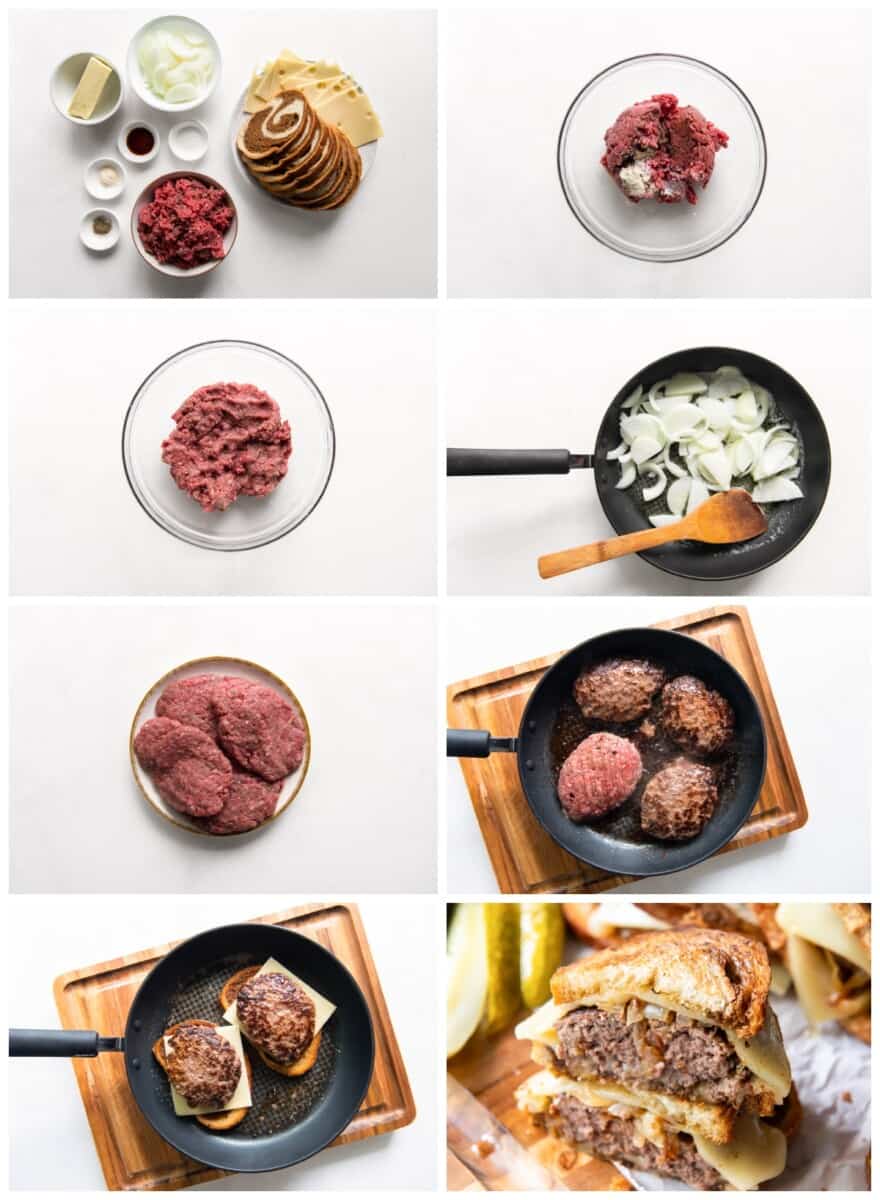 What is a patty melt?
A patty melt is a sandwich consisting of a ground beef patty with melted cheese and topped with caramelized onions between two slices of griddled bread. It's like a cross between a hamburger and a grilled cheese sandwich.
What's the difference between a cheeseburger and a patty melt?
A patty melt is a variation on a cheeseburger that is prepared on sandwich bread rather than a bun. The burger patty is thinner and oblong in shape to fit the larger bread, and the whole sandwich is basted in butter and pan-fried until crisp!
Which type of bread is best for a patty melt?
A hearty sandwich bread works best for a patty melt. I recommend sourdough, rye or marble rye, ciabatta, multigrain, whole wheat, or pumpernickel bread.
What are the best toppings for a patty melt?
A classic patty melt is topped with sautéed onions and Swiss cheese. If you're not a fan of Swiss, cheddar or American cheese also work well.
Serving Suggestions
You can serve these lip-smacking patty melts with all kinds of delicious sides, here are some faves:
Perfect as a satisfying lunch, dinner, or as part of a game day feast!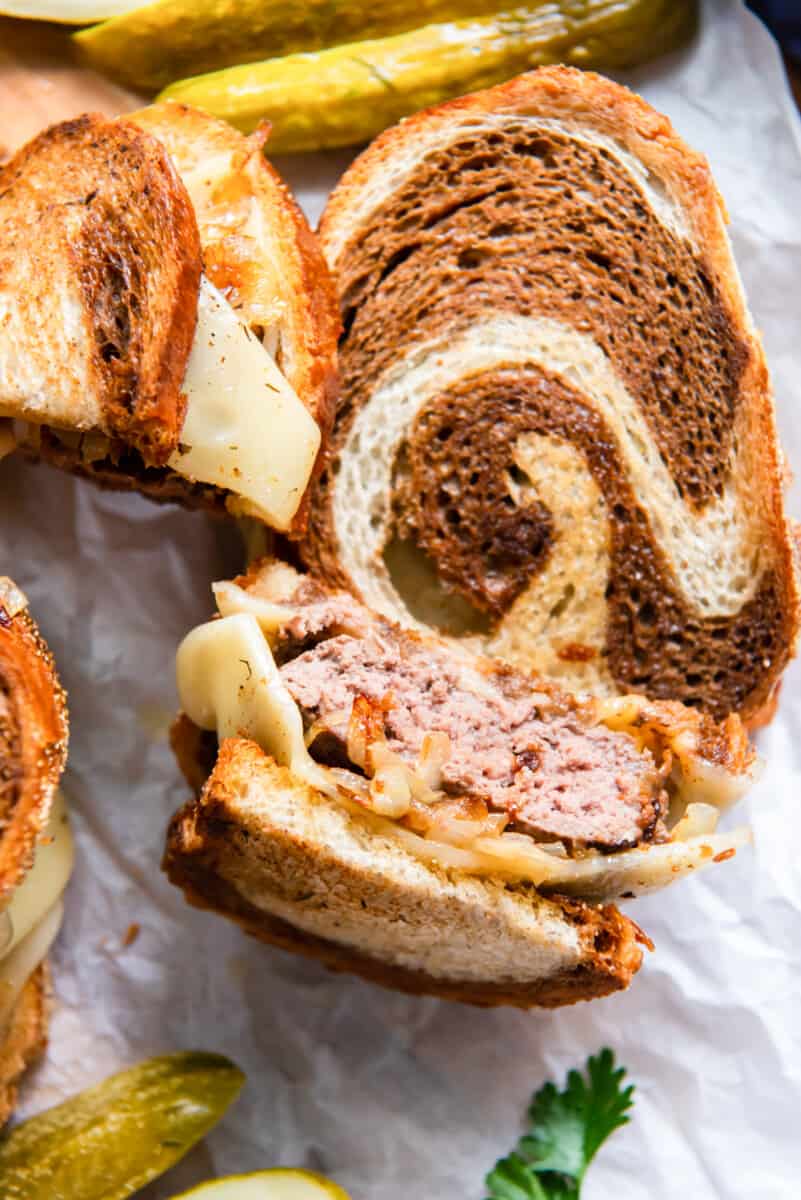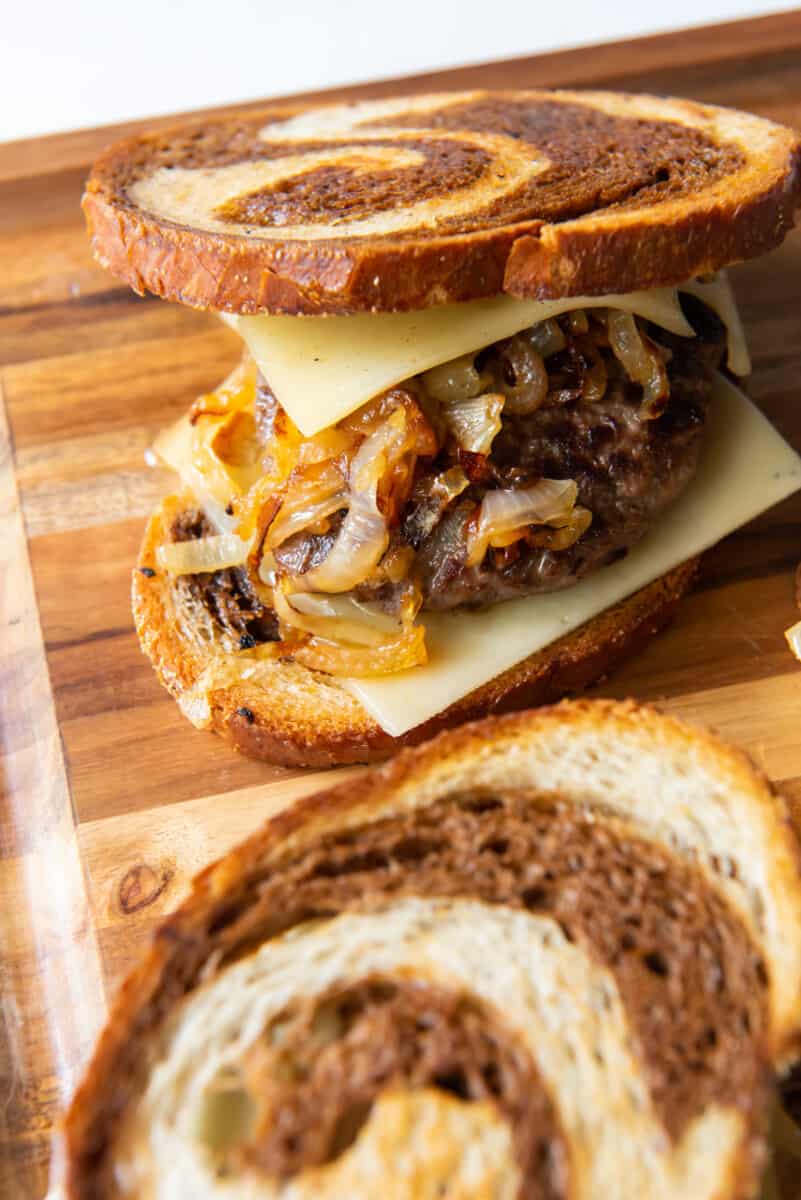 Make Ahead Instructions
The onions can be prepared up to 3 days in advance and stored in the refrigerator until ready to use.
The beef patties can be prepared up to 1 day in advance and stored in the refrigerator until ready to use.
Bring both to room temperature for 30-60 minutes before assembling and griddling the sandwiches.
Storage Instructions
Store leftover patty melts in an airtight container in the refrigerator for up to 3 days. Reheat in a 375°F oven wrapped in aluminum foil for 15-25 minutes, removing the foil in the last 5 minutes. Alternatively, reheat in a hot skillet coated with butter until warm.
Freezing Instructions
Freeze formed raw patties on a baking sheet until solid, about 1-2 hours. Then, transfer to an airtight container or Ziplock bag for up to 3 months. Cook from frozen, then assemble the patty melts.
Freeze cooked onions in an airtight container for up to 3 months. Let thaw overnight in the refrigerator before reheating.
Freeze fully assembled (but not buttered and griddled) patty melts in an airtight container or tightly wrapped in aluminum foil for up to 3 months. Reheat from frozen in a skillet or in the oven.
Substitutions
While I firmly believe that a traditional patty melt is perfect just the way it is, you can make some substitutions to suit your personal tastes or dietary needs.
Patty: You can make the patties out of ground chicken or turkey instead of beef.
Cheese: You can use cheddar or American cheese instead of Swiss.
Bread: While rye is the most traditional, you can use any kind of sturdy sandwich bread.
Butter: You can use mayonnaise instead of butter to cook the patty melts.
Make It A Meal
These patty melts taste great with a pickle spear on the side! Add some french fries or onion rings for a true diner meal, or go the healthy route and serve them with a side salad.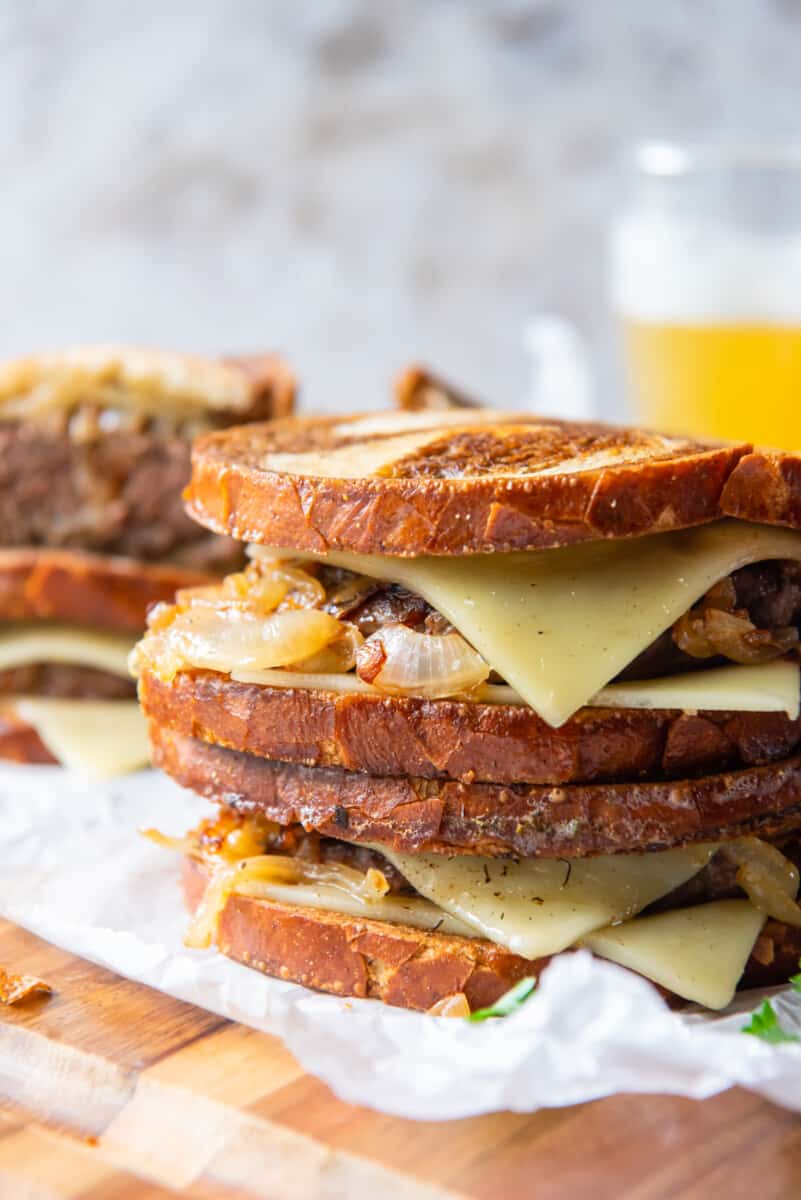 Cheesy, juicy, crispy, and loaded with flavor, these patty melts are pure joy! From the perfectly seasoned beef patty to the sweet onions and butter-basted bread, you'll want this delicious sandwich recipe in your kitchen arsenal! All whipped up in one pan, it's an easy dinner and a real treat for the taste buds!
If you make this recipe be sure to upload a photo in the comment section below or leave a rating. Enjoy! You can also jump to recipe.