Burgers in the oven are delicious and easy! Learn how to cook burgers in the oven for a juicy, delicious burger. When you broil hamburgers in the oven you get an easy and quick way to make them any time of year, without a grill. Add cheese, your favorite toppings, and enjoy!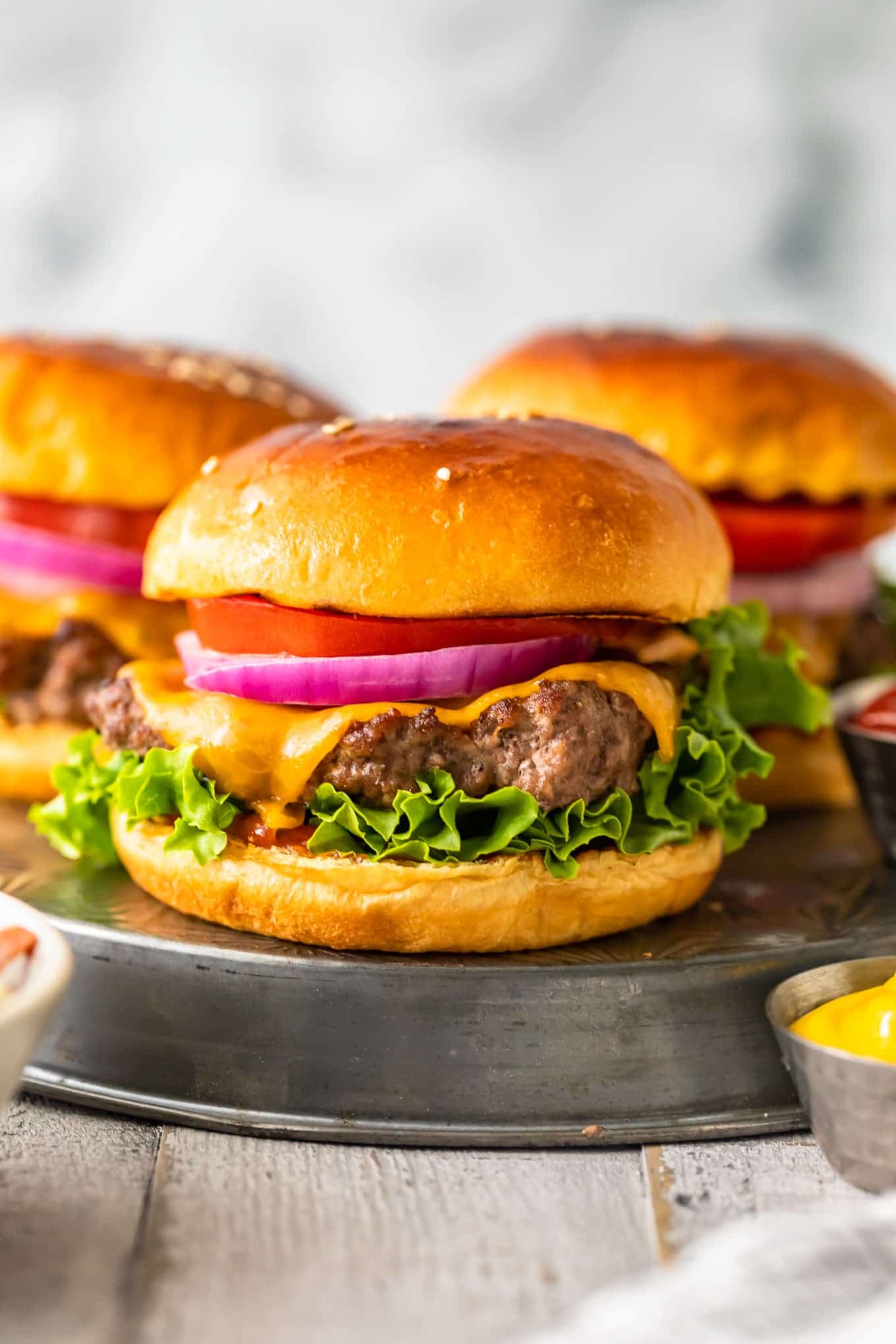 Burgers in the Oven
Skip the grill and follow this recipe to learn how to broil hamburgers to perfection!
Burgers are a favorite All-American recipe that I just can't live without during the summer. Nothing beats a fresh and hot homemade hamburger. Yum!
Sometimes grilling just isn't an option, but you can broil hamburgers in the oven instead. It's an easy method for cooking hamburgers, it's quick, and they come out nice and juicy.
Melt a slice of cheese onto the patties if you prefer cheeseburgers, then layer them up on toasted, buttered buns (my favorite way to do it), and add your favorite toppings (onions, lettuce, tomato, mustard, ketchup).
This is one of my favorite hamburger recipes because it's just so simple, but they come out perfect every time. Add a side of fries or chips and you've got the best summer meal!
Learn how to broil hamburgers for a simply delicious dinner!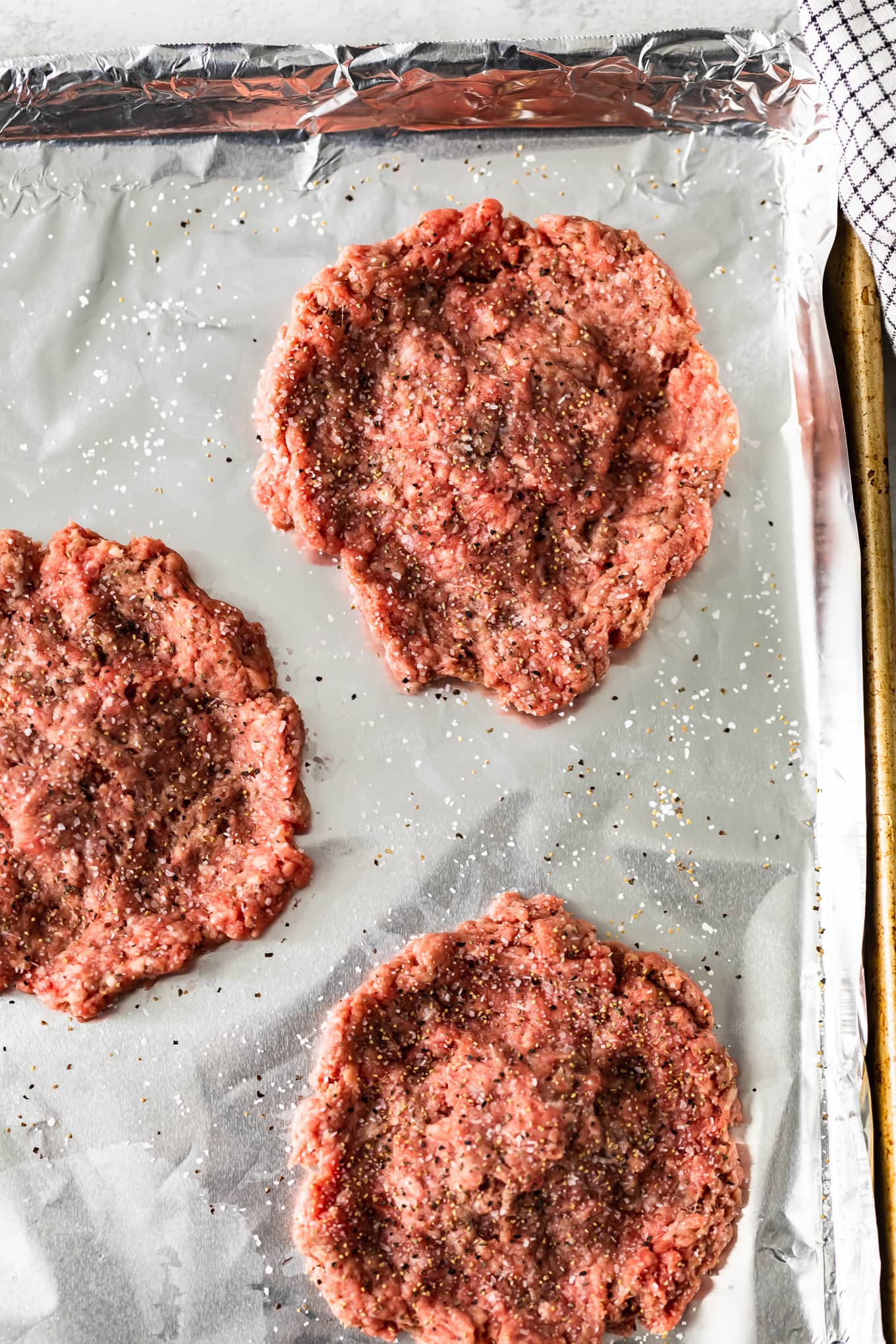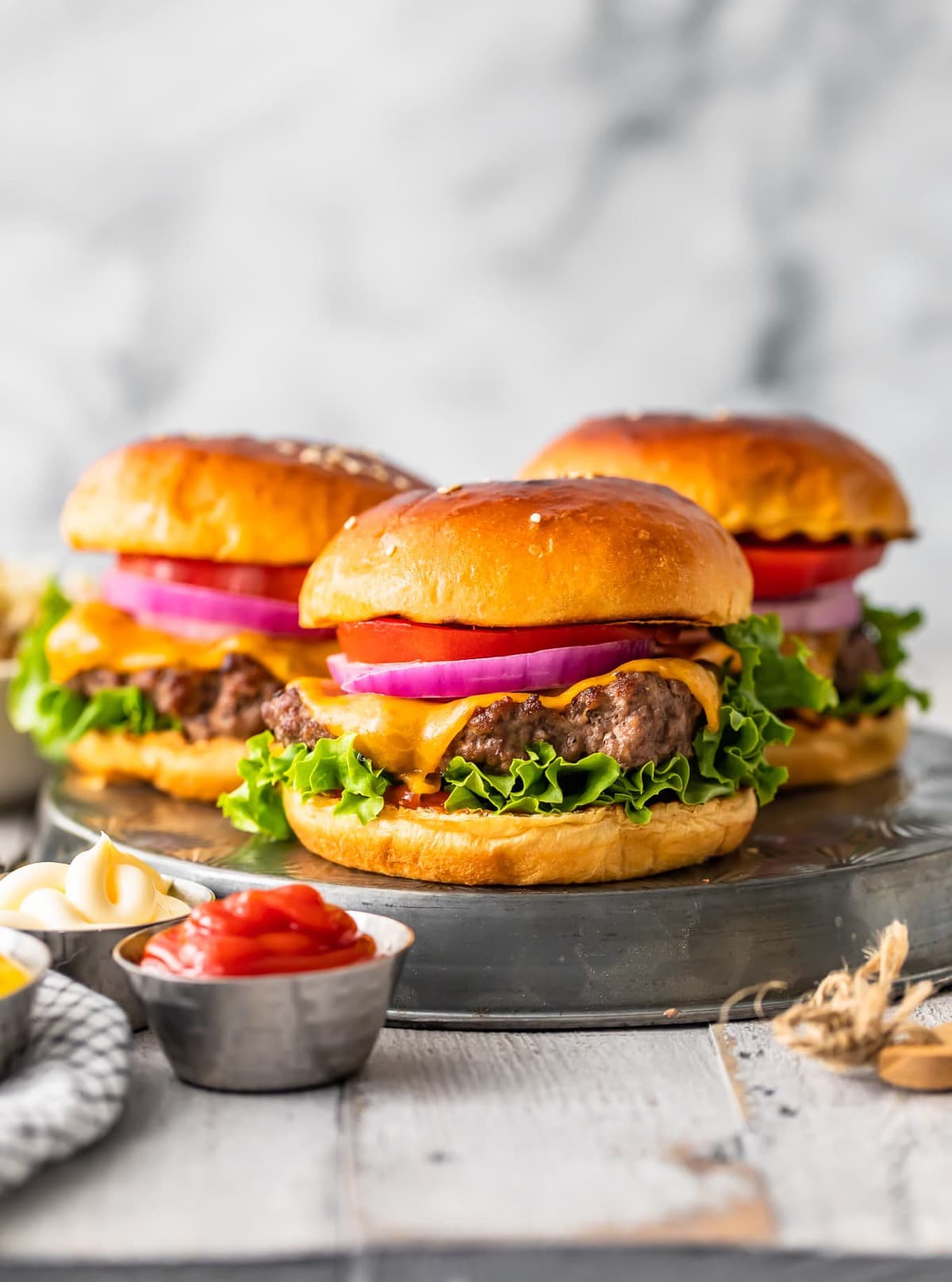 Broil Hamburgers
You probably immediately think of grilling when you think of burgers, but that's not the only way to cook them! Maybe you don't own a grill, or maybe the weather is just bad and you can't get outdoors to cook. This recipe is perfect for those occasions!
You can easily broil hamburgers in the oven and come up with a burger that is just as juicy and delicious as if it were grilled. It takes less than 10 minutes to cook!
How long does it take to broil hamburgers?
When broiling burgers in the oven, you'll need to cook the patties for about 3-4 minutes on each side (so a total of 8 minutes). Be sure to check the internal temperature of your burgers so you know when they are done.
Cooking Burgers in the Oven
Which is better, cooking burgers in the oven or on the stovetop? I wouldn't say either method is better than the other. I love to broil hamburgers, and I love to cook them on the stove too.
Both are easy to do, and both allow you to make burgers indoors, any time of year. Everyone will have their preference, but I recommend trying both methods to see what works best for you.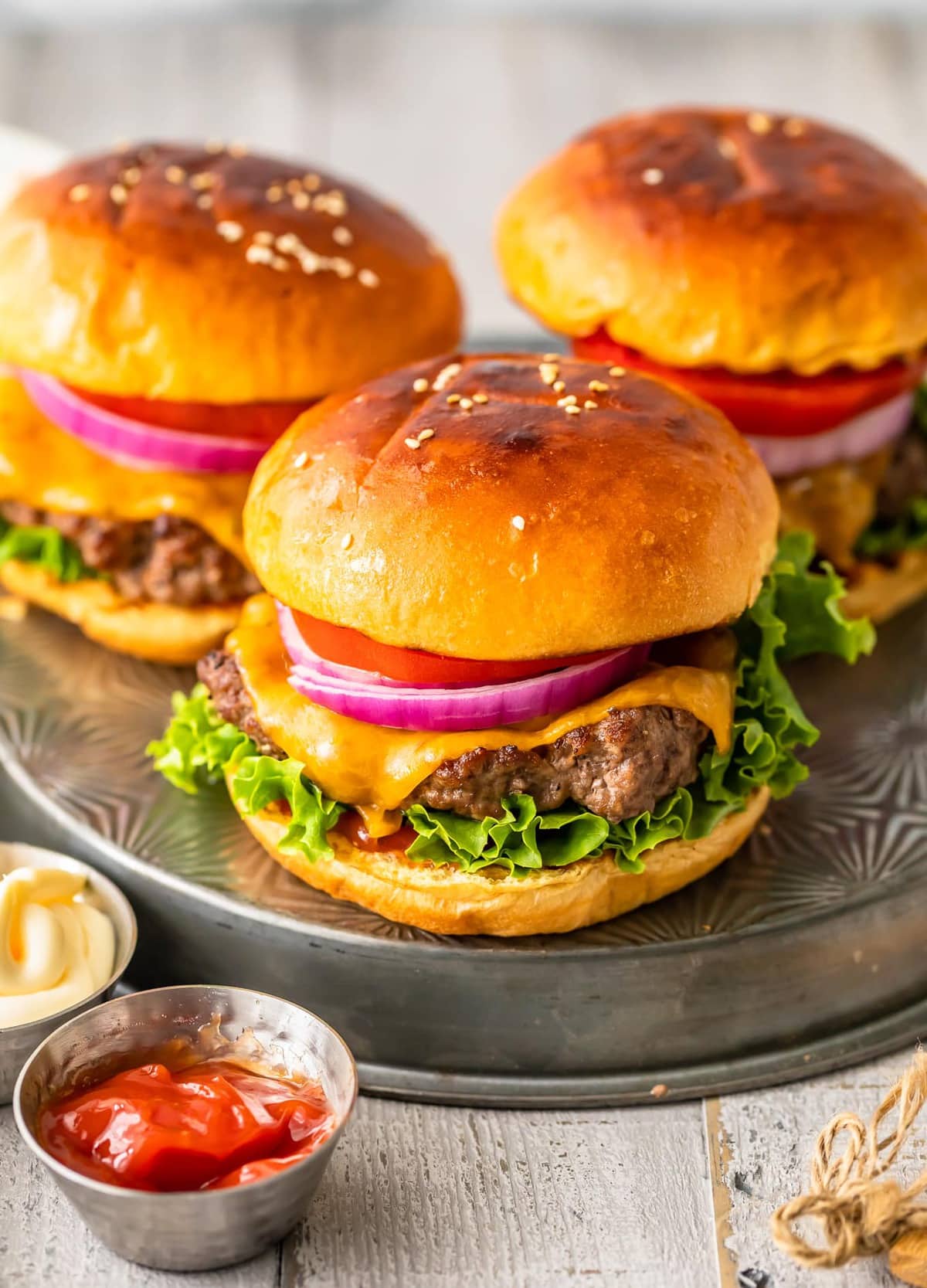 How to Cook Burgers in the Oven
Broiling hamburgers is simple. You don't need much time to do it, and not many ingredients. Just set your oven to broil, and less than half an hour later, you'll have burgers ready to eat!
You can jump to the recipe card for full ingredients & instructions!
Start by setting your oven to broil (with the oven rack in the upper-middle position), and line a sheet pan with foil.
Divide the meat, and form four flat discs that are 1/2 inch to 3/4 inch thick (whichever you prefer). Then place them on the sheet pan and season both sides with salt and pepper.
Broil burgers for 4 minutes, then flip and cook another 3-4 minutes (until internal temperature reads 160°F).
If you want to make cheeseburgers, add a slice of cheese on top of the patties, and let them broil just until the cheese starts to melt.
Removed the burgers from the oven and let them rest until they reach 160°F.
I like toasting the hamburger buns so that they're warm and just slightly crisp, instead of soft and cold. Then pile on your preferred toppings and condiments for the perfect burger!
Hamburger Temperature
Hamburger temperature is a very important factor when cooking hamburgers. Whether you broil burgers, grill them, or cook them on the stove, ground beef should be cooked to 160°F for safe consumption.
Useful fact to understand about ground beef: bacteria sits on the surface of meat, so when you have a solid cut of beef, you only need to worry about cooking the surface (which is why you can eat some cuts quite rare on the inside).
Ground meat, however, gets chopped and ground up, mixing that surface area (where bacteria might live) throughout all of it, inside and out. So everything needs to be cooked well to make sure no part is left too rare.
Making your own ground chuck at home (instead of buying ground beef at the store) gives you more freedom with the internal temperature. This would make it safer to eat burgers at medium-rare, versus cooking to medium-well/well-done at 160°F.
Note: Remove your burgers from heat about 5 degrees before your desired temperature. They will continue cooking for a few minutes after being removed from heat, so this is the best way to make sure they're not overdone.
Learn more about internal temperatures for different meats plus get a FREE printable Meat Temperature Chart.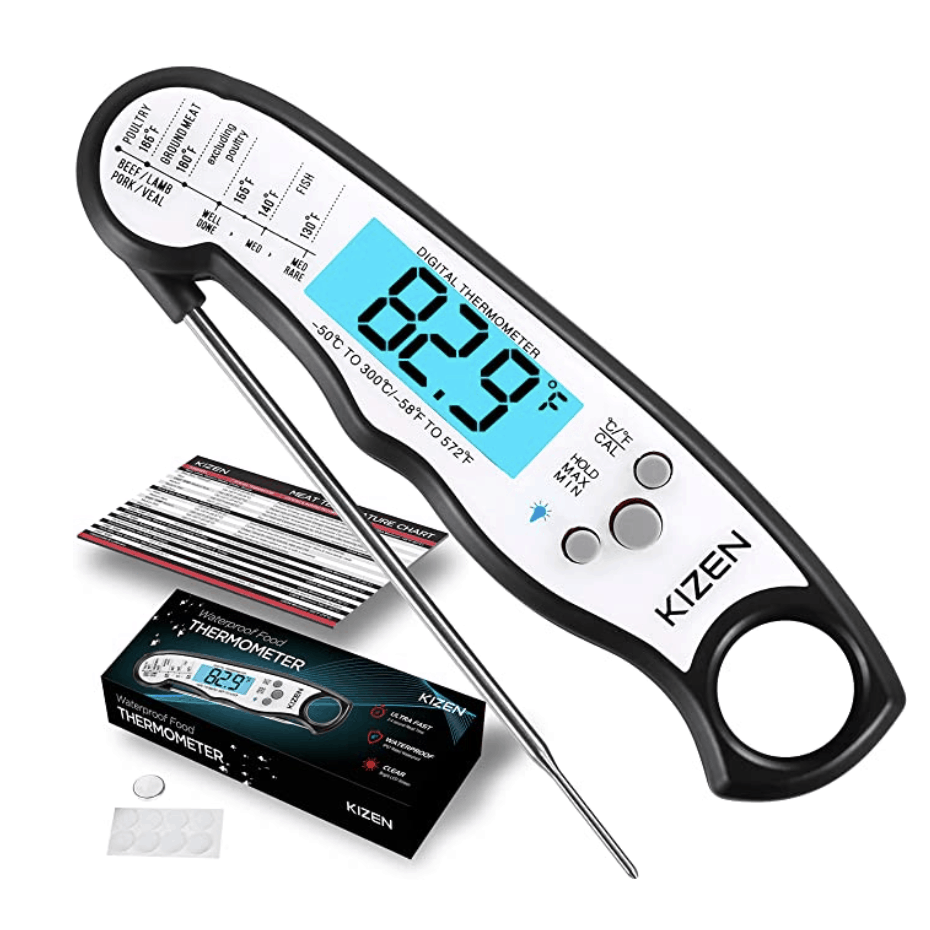 The Best meat thermometer!
I love using this meat thermometer for making sure the meat is at 165 degrees! Easy for beginners & totally worth the $10 cost!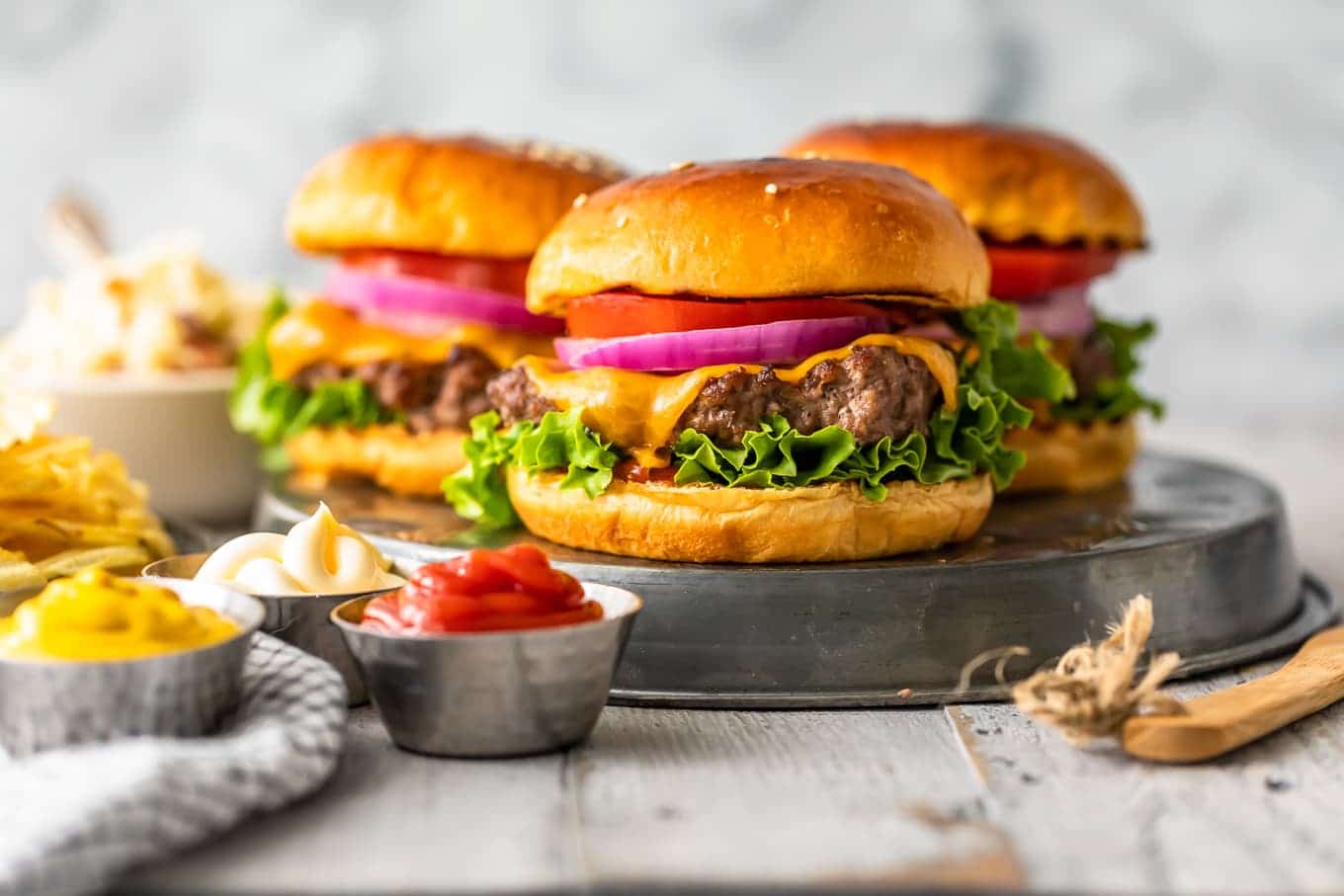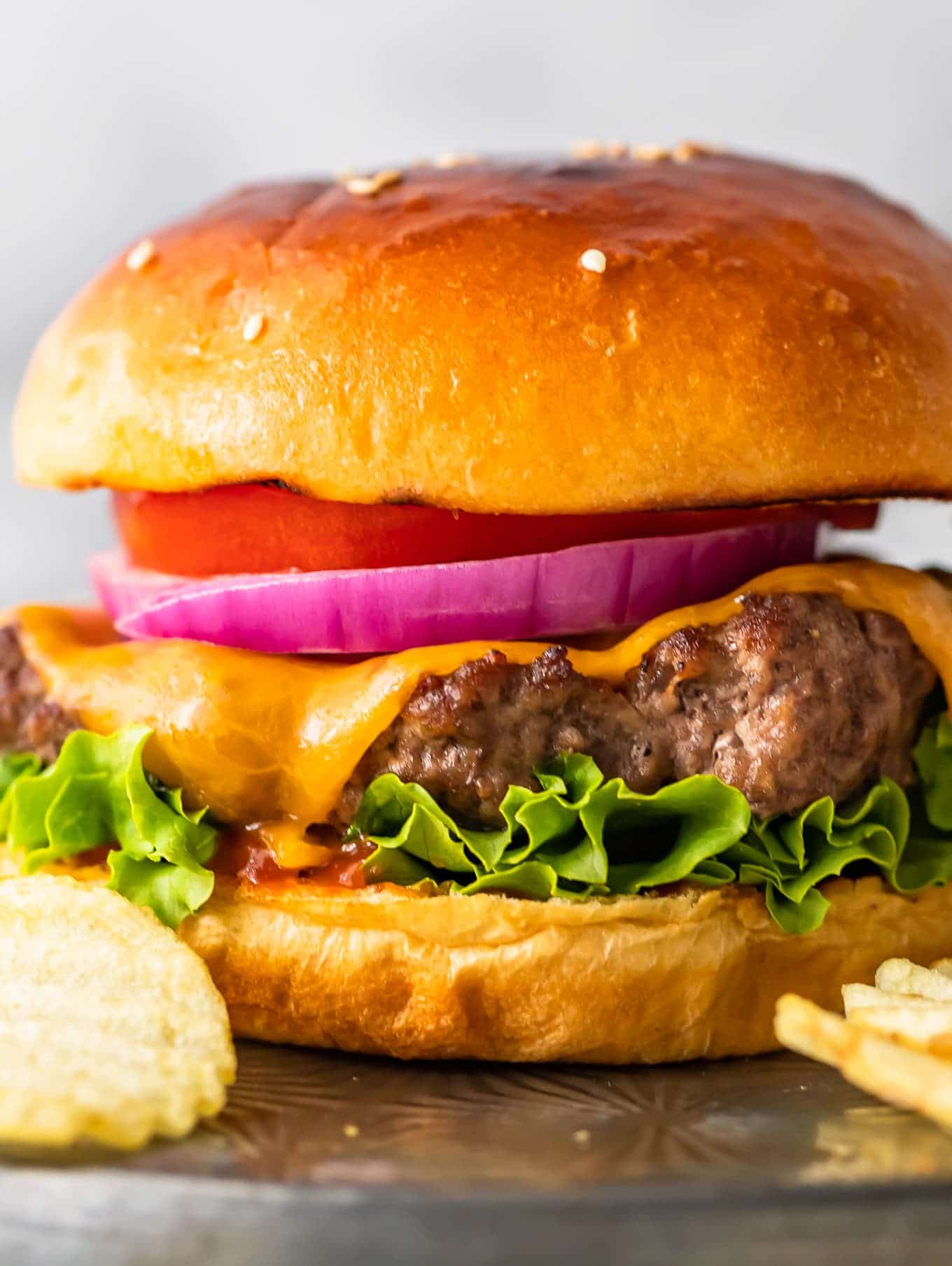 Burger Side Dishes
Once you figure out how to broil hamburgers, it's time to move on to the sides. The meal isn't complete without the classic sides: fries, chips, coleslaw, the works! Here are my favorite side dishes for burgers!
More Burger Recipes
Burgers in the oven is one of the best ways to make them, simply because you can make them in the oven, all year-round, without a grill. That being said, we've got lots of great burger recipes to share. Grill, broil, cook them on the stove; hamburgers, chicken burgers, turkey burgers…we've got them all! There's something for everyone.
See All Burgers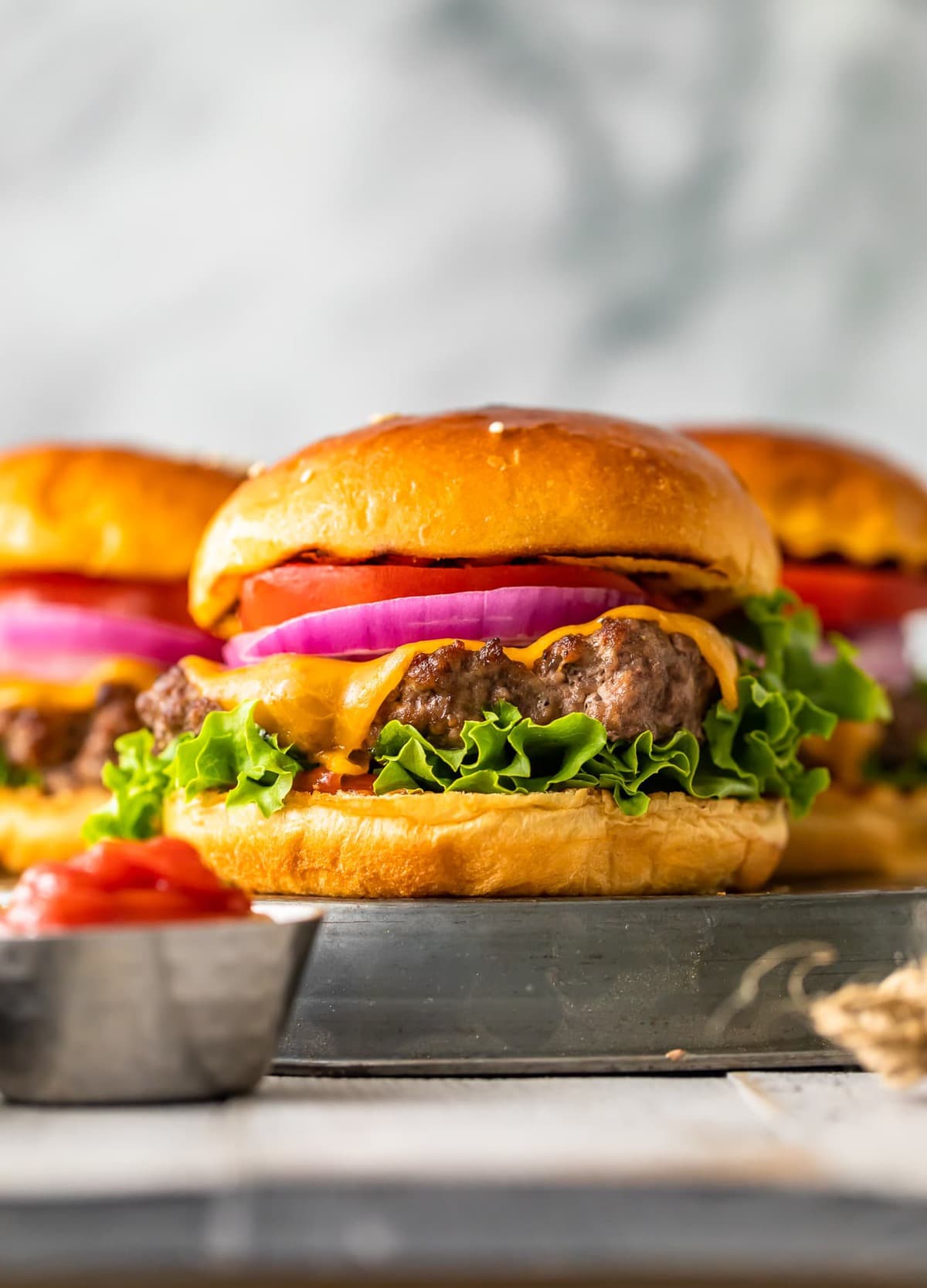 Start cooking those hamburgers! They're perfect for easy weeknight dinners, weekend lunches, or parties. There's never a bad time for a perfectly cooked burger, so make this one of your go-to recipes!