These Chicken Pita Sandwiches are so easy and deliciously healthy! Pita pockets are stuffed full of shredded chicken, avocado, tomatoes, cheese, and a creamy yogurt sauce. Make these for a quick lunch that everyone will love (even the kids), with just a few simple ingredients.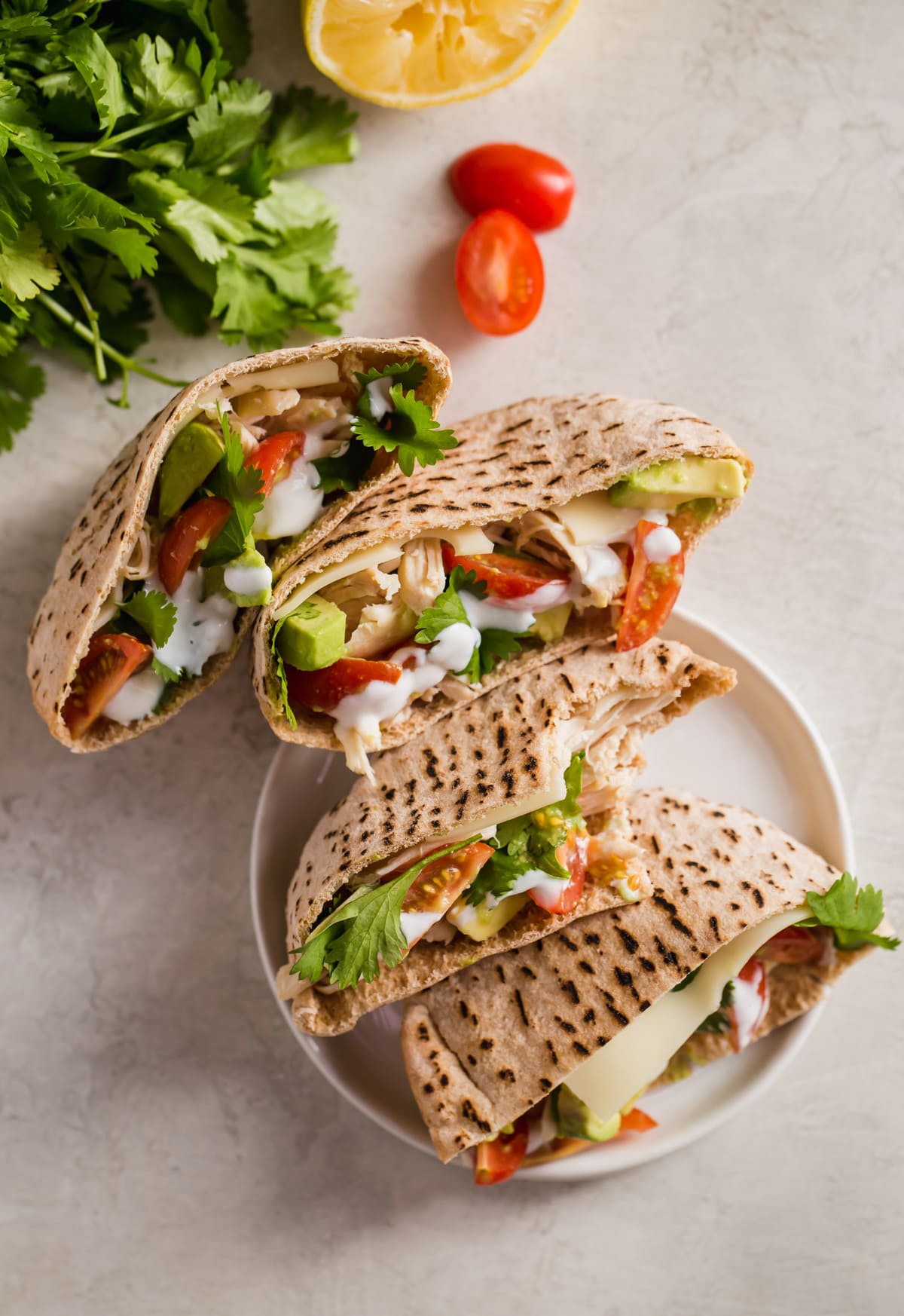 What's in these Chicken Pitas
These healthy pita bread sandwiches with chicken make a great lunch idea. The ingredients are simple, and it's so quick to throw these together.
Shredded Chicken: Start with fully cooked chicken. You can use rotisserie chicken from the store, or use any leftover chicken you have.
Pita Pockets: I recommend using the pita pocket sandwich bread you can find at most grocery stores. They're cut and ready to fill with ingredients!
Avocados: This adds a fresh flavor and creamy texture. Cut into bite-sized pieces, or mash into a guacamole.
Plain Greek Yogurt: This healthy ingredient works as a creamy sauce or dressing that makes the best final touch.
Tomatoes: Cherry tomatoes cut into quarters are the perfect size. But you can use any tomatoes you like.
Cheese: I like Swiss cheese on these sandwiches, but you can use whatever you have. Pepper jack would add some nice spice.
Garlic Salt: Mixing this into the yogurt adds a nice savoriness.
Lemon Juice: A bit of citrus adds acidity and bright flavor.
Instead of (or in addition to) the garlic salt, try adding some other spices or seasonings to the yogurt dressing. This ranch seasoning mix would be so tasty! You could also drizzle sweet chili sauce on your chicken pita sandwich for some heat.
More Pita Sandwich Filling Ideas
You can easily change or add different toppings and ingredients to your chicken avocado pita sandwiches. Fill it up with more veggies and greens, change the sauce, or use another type of cheese. Here are a few more ideas to take things up a notch.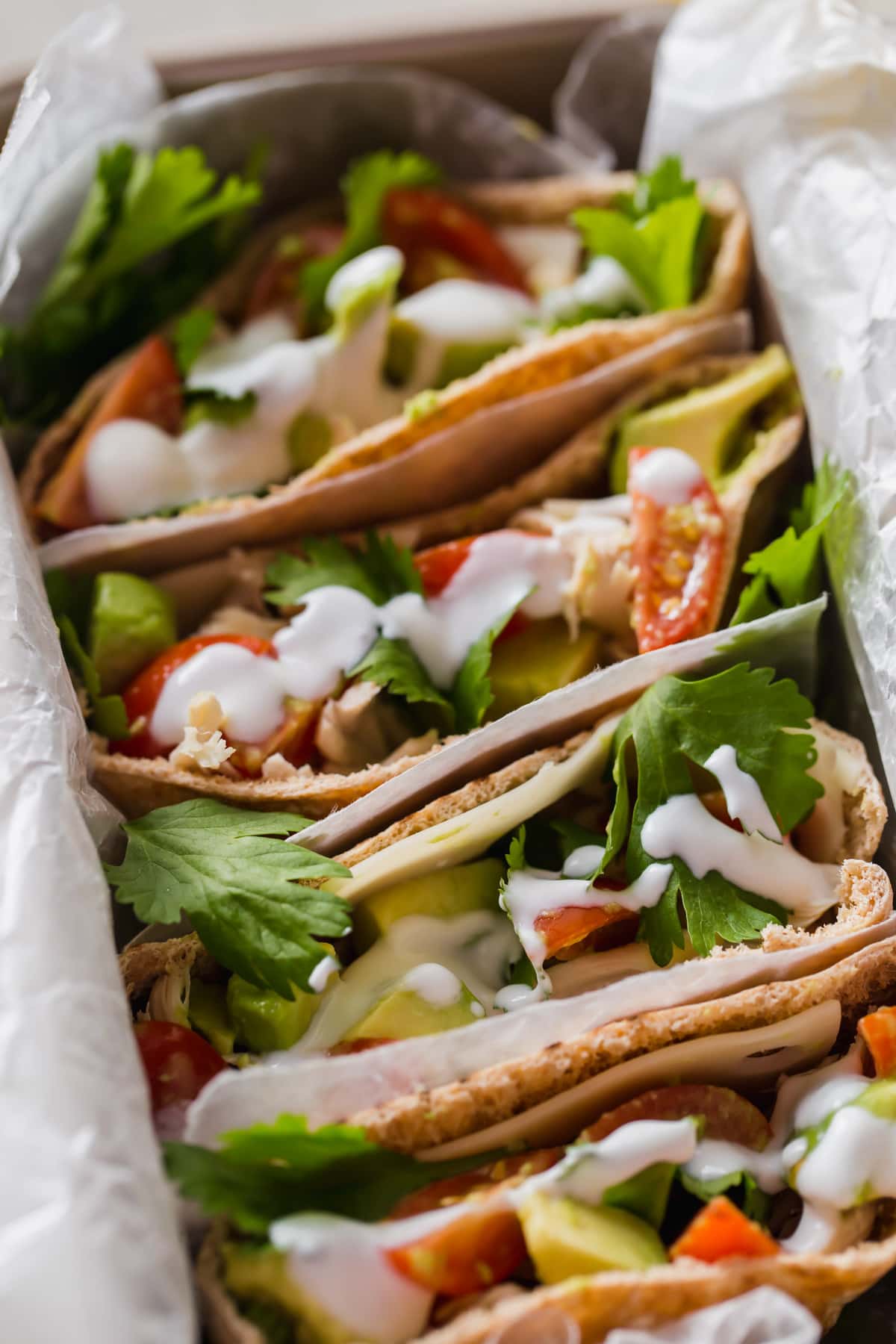 Can I serve chicken pita sandwiches warm?
These sandwiches tastes great served cold or warm. You can just warm the chicken briefly on a skillet, or warm the whole sandwich in a sandwich press or skillet.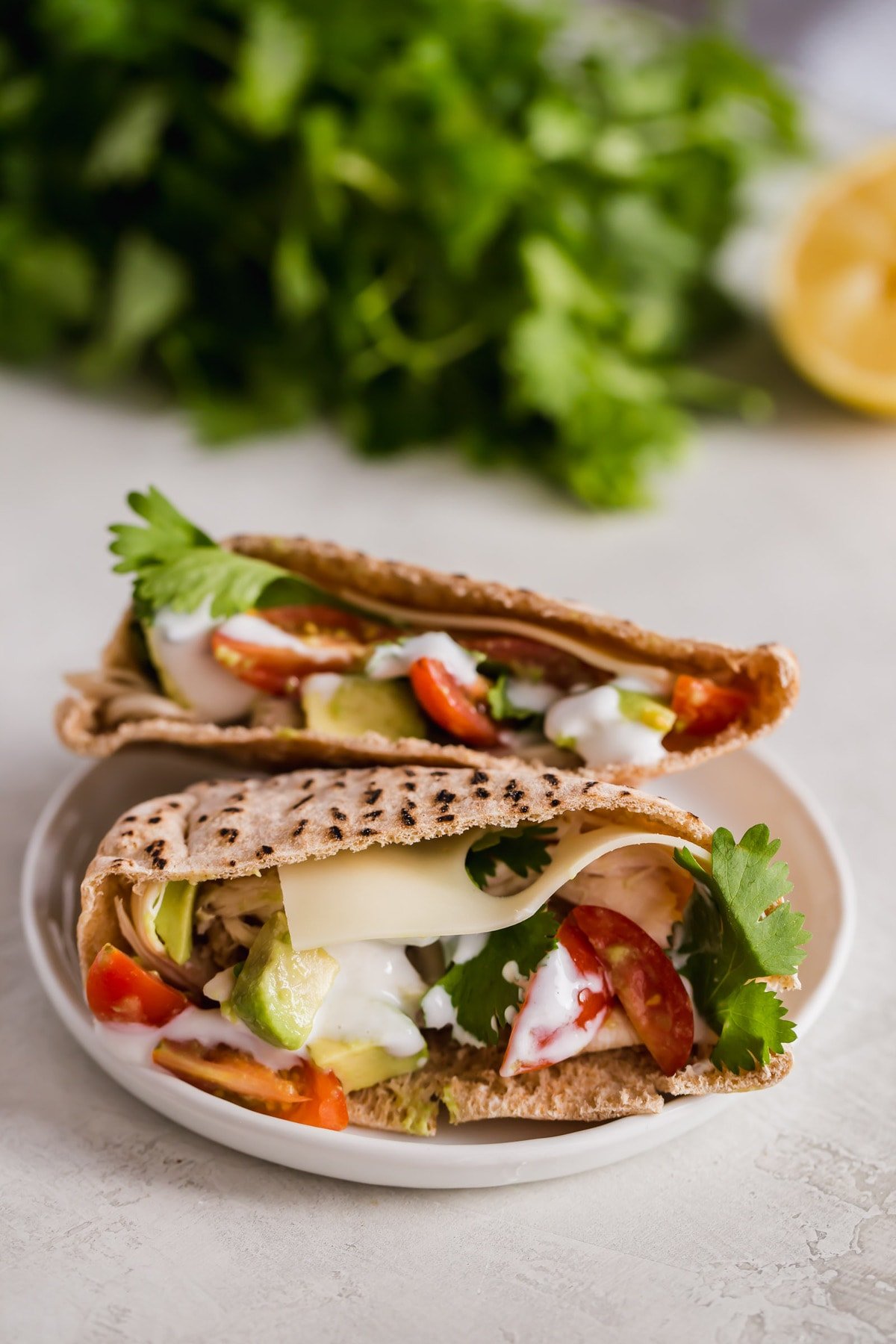 How to Store Chicken Pita Sandwiches
These pitas are best served directly after assembling, and ingredients should be stored separately when possible. If you try to refrigerate whole sandwiches, they will get soggy fast.
What to Serve with Healthy Chicken Avocado Pitas
These fresh and healthy pita pockets sandwiches have a nice mix of protein and veggies that will keep you pretty full at lunchtime. But I love to serve them along with fresh cut fruit or veggie sticks, tortilla chips, sweet potato chips, or garlic parmesan fries. For a fuller lunch, add a bowl of creamy tomato soup or a Cobb Salad.