This easy Tuna Salad recipe is made deliciously with simple ingredients like canned tuna, walnuts, apples, mayo, and onions. It's an easy, creamy lunch recipe you can use in lots of different ways–make tuna salad sandwiches, or serve it with rice, pasta, or lettuce. Pack this summertime favorite for your next family picnic, because the kids are going to love it too!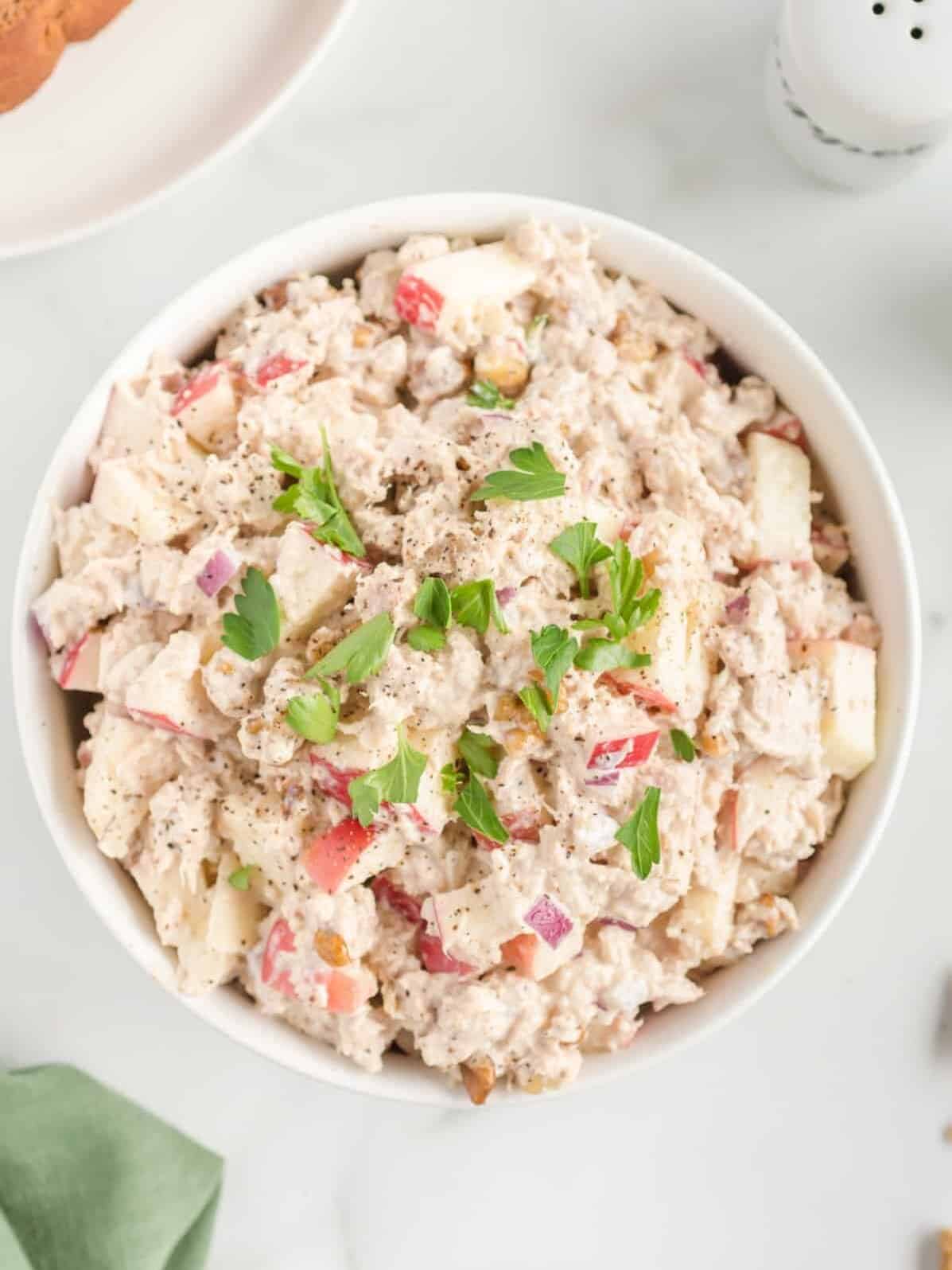 What's in this Easy Tuna Salad Recipe?
Flaky tuna fish mixed with crunchy walnuts, sweet apples, creamy mayonnaise, and zesty lemon juice means this lunchtime salad is loaded with amazing flavors!
Canned Tuna: I prefer tuna packed in water with a dolphin-safe label. You can buy cans or packets. I recommend light or skipjack tuna because they are both lower in mercury than albacore.
Apple: You can use any kind of apple you like. For a sweeter taste, use Fuji or Honeycrisp. For a tart taste, use Granny Smith.
Walnuts: These give the salad an added crunch that's so satisfying!
Mayonnaise: This binds all the ingredients and creates that deliciously creamy texture. To really send this classic salad over the top, consider serving it with homemade mayonnaise.
Red Onion: If red onion sounds too strong for you, soak them in ice water for 10 minutes. Green onions will create a milder taste.
Lemon Juice: Freshly squeezed is always best.
Seasonings: I like to season my tuna salad with a simple sprinkle of salt and freshly ground black pepper.
Herbs: Fresh cilantro or parsley both work well as garnishes.
Pro Tip: You can use oil-packed tuna, but I recommend draining it over a fine-mesh sieve and rinsing with cold water before using.
Tasty Variations
Here are just a few easy ways you can customize this easy tuna salad recipe:
Swap the tuna for canned chicken for an easy chicken salad.
Replace the mayonnaise with regular or Greek yogurt for a lighter, healthier option.
Swap the apples for diced grapes.
Add dried fruits, such as raisins, dried cranberries, or dried figs.
Use any nuts you like, such as pecans or almonds.
Make it extra crunchy by tossing in diced up cucumbers or shredded cabbage.
Add chopped pickles or sweet pickle relish for a tangy flavor.
Spice it up with some curry powder.
Squeeze fresh lemon juice over top for a brighter flavor.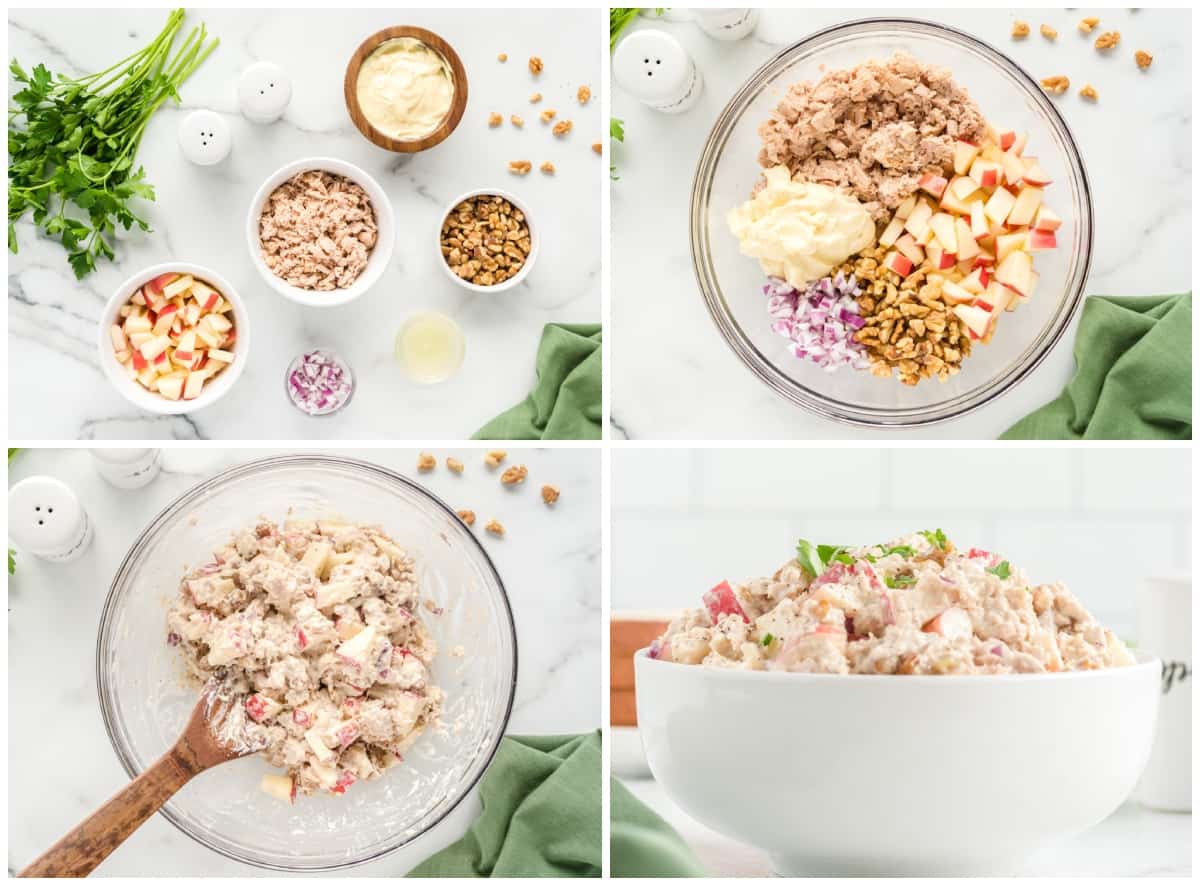 Is tuna salad healthy?
Tuna salad is a bit of a mixed bag healthwise. Canned tuna is rich in protein, vitamins, minerals, and omega-3 fatty acids. However, tuna also contains mercury, which can be dangerous when consumed in high levels. It's recommended that adults consume 12 ounces or less of light/skipjack tuna per week and less than 4 ounces of higher mercury albacore tuna per week. Tuna salad also contains other healthy ingredients, such as walnuts, apples, and onions. The main ingredient that brings down the healthfulness of tuna salad is mayonnaise, which is calorie-dense and high in fat.
Can pregnant women eat tuna salad?
Yes! Pregnant women can (and absolutely should!) continue to eat the recommended safe amounts of tuna throughout pregnancy. Omega-3s are great for both mom and baby!
Can I make tuna salad with fresh tuna?
Absolutely! Be sure to fully cook the tuna before adding it to tuna salad.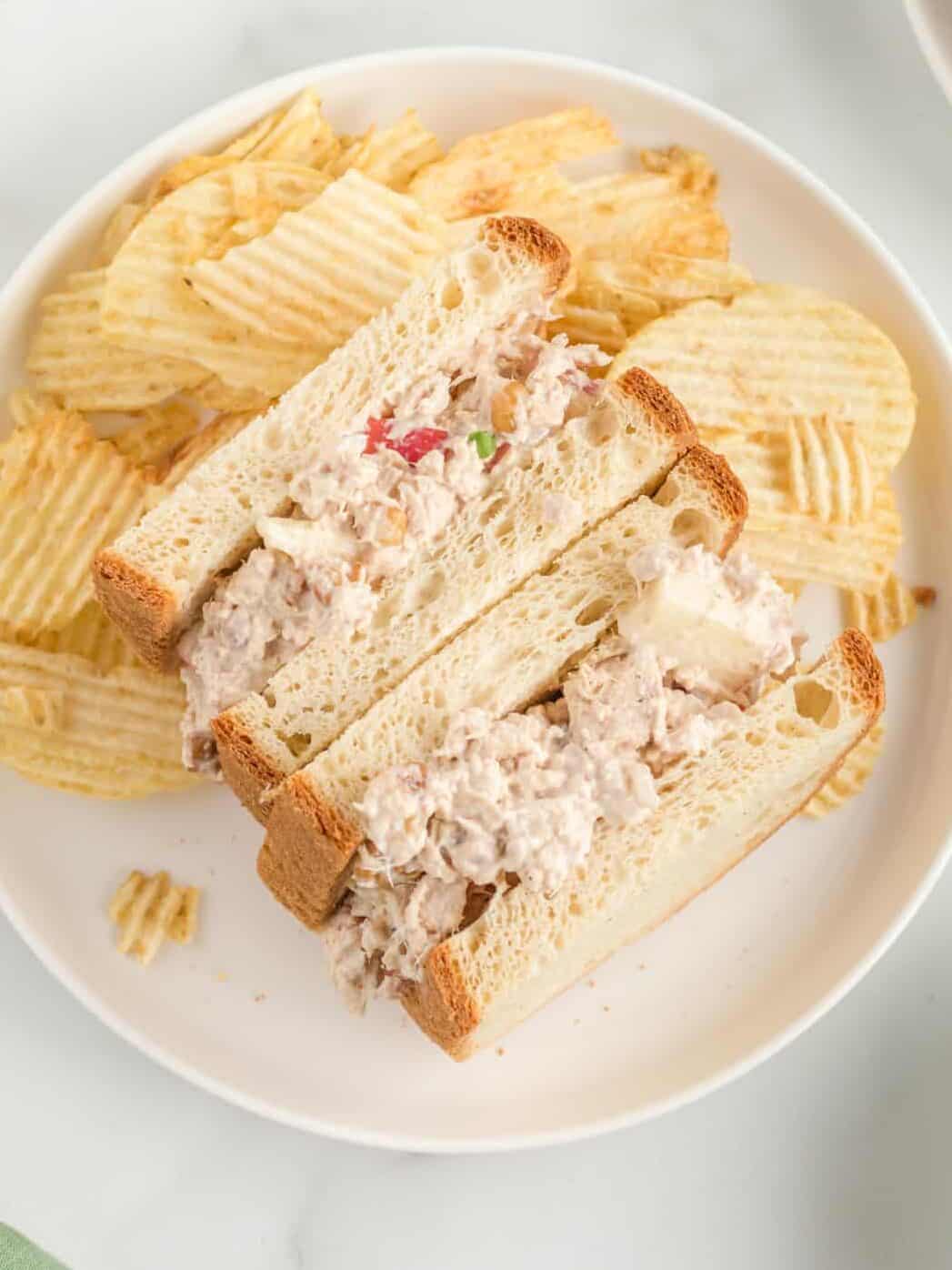 How to Store
Store leftover tuna fish salad in an airtight container in the refrigerator for up to 4 days. Enjoy cold or add to a tuna melt! I do not recommend freezing this recipe, as it ruins the texture.
How to Serve Tuna Salad
This easy tuna salad recipe is so versatile, you can have a different lunch every day of the week! That means it's a great recipe for meal prep, for you, the kids, and the whole family.
Serve it on sandwich bread, in a wrap, or make sliders with dinner rolls.
Pile it on a bed of green lettuce for a tasty salad, or use it to make lettuce wraps.
Use it like a dip and eat it with tortillas chips, wonton chips, pita chips, or naan.
Or just have a bowl of it with some simple sides, like sautéed vegetables, sweet potato chips, potato wedges, or refrigerator pickles.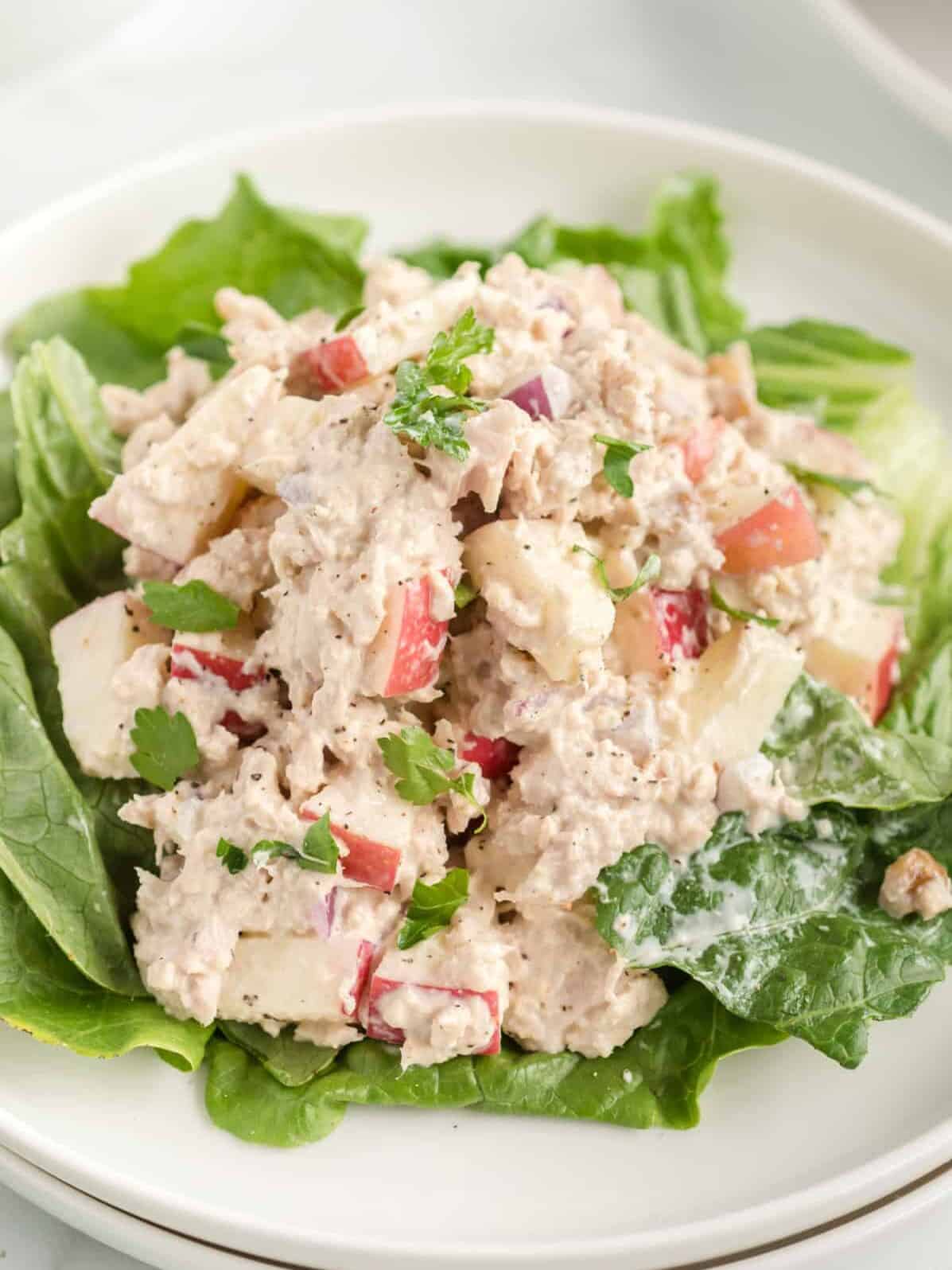 More Cold Salad Recipes We Love