These baked chicken chimichangas are so crispy and delicious! They're easy to make, so you can have a great Tex-Mex dinner any time. Everyone will love these homemade chimichangas, especially if you top them with cheese sauce!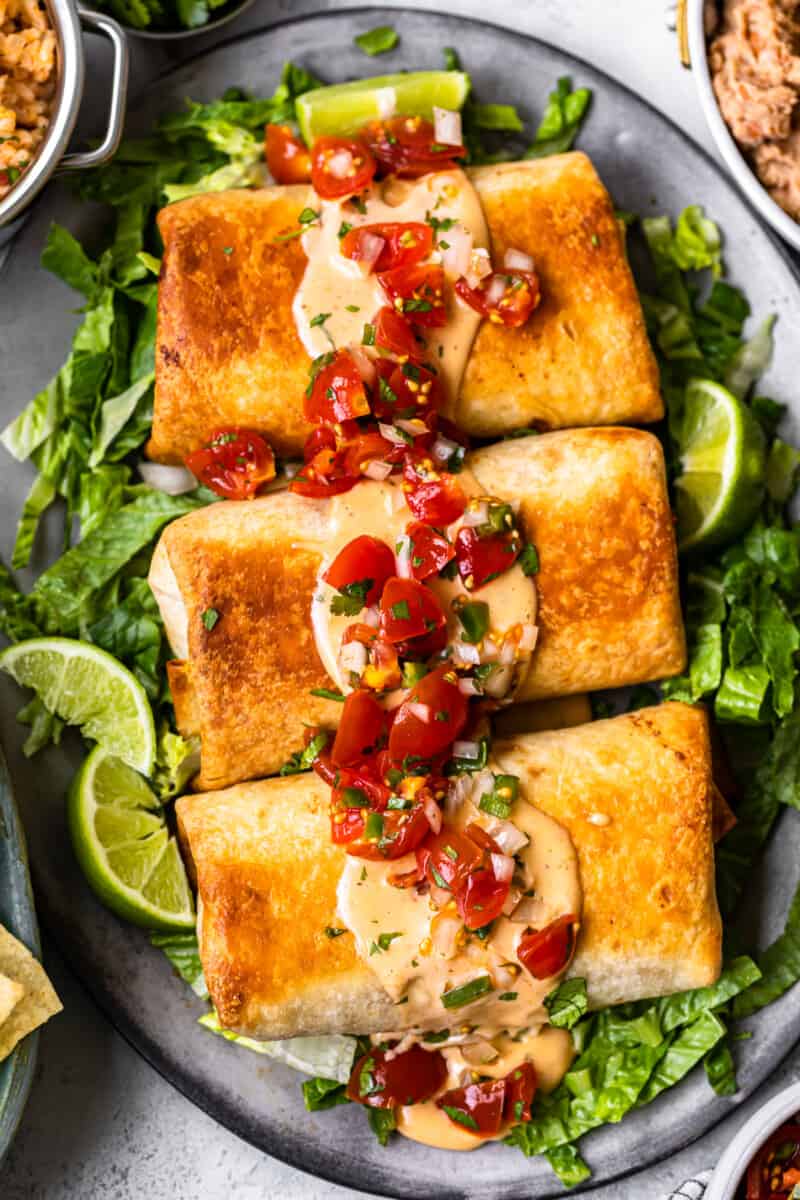 Cheesy Chicken Chimichangas Recipe
Baked chimichangas are a mouth-watering dinner that everyone will devour. Baking still gives you a super crispy tortilla without having to deep fry them.
These homemade chimichangas are filled with chicken, rice, beans, and so much cheese! That queso on top really makes them perfect.
Why you'll love this Queso Smothered Chimichanga recipe:
OVEN BAKED: You can bake these instead of frying and still get a perfectly crispy tortilla!
CHEESY: We're putting queso cheese sauce inside of AND on top of these chicken chimichangas. Yum!
EASY: These are surprisingly easy to make, and it will take you less than an hour!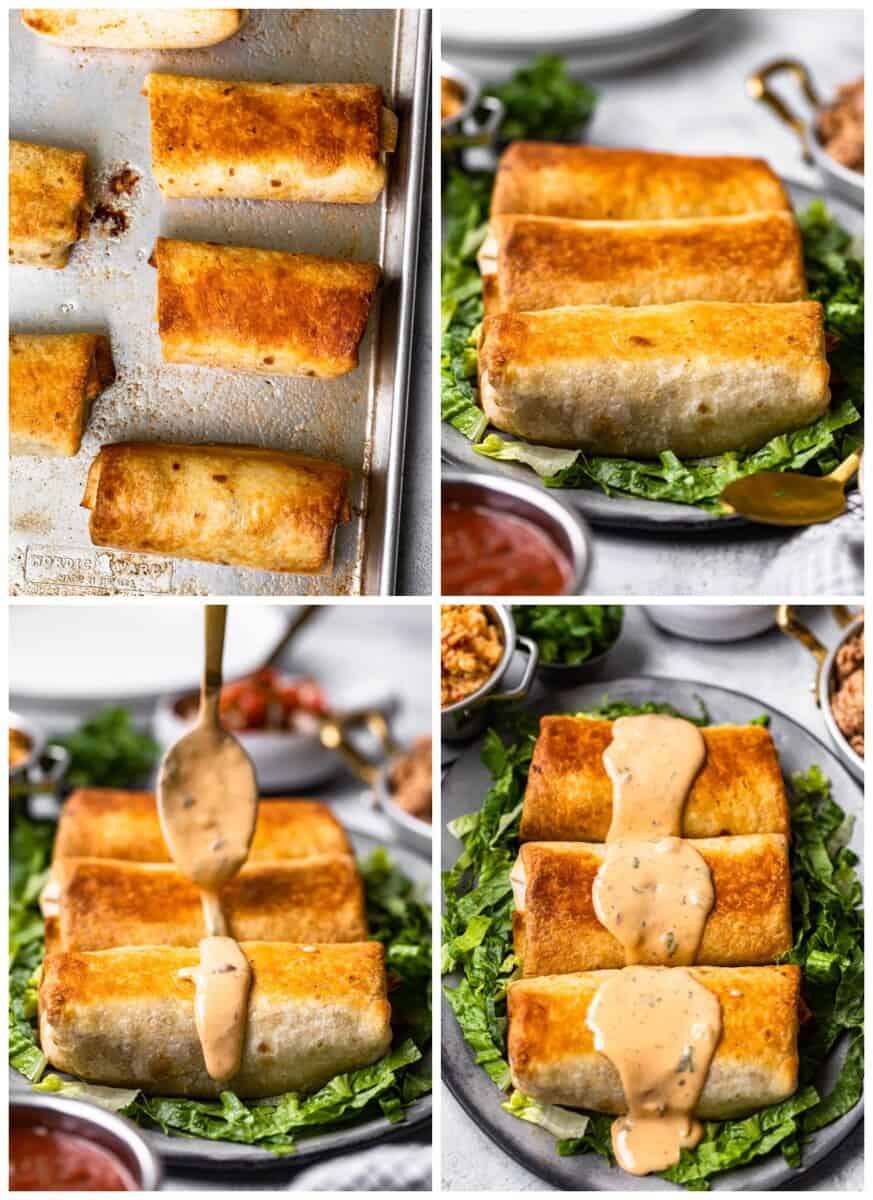 How to make Baked Chicken Chimichangas
You can jump to the recipe card for full ingredients & instructions!
Preheat oven to 450F.
To make the filling, saute onions with oil, butter, garlic, and other seasonings. Then stir in chicken, tomatoes, lime, and beans, and continue cooking.
Heat oil and butter together in the microwave. Then use that mixture to coat the baking sheet, and heat it for 2 minutes in the oven.
To assemble the chicken chimichangas, fill each tortilla with cheese, chicken filling, and rice. Then fold.
Place each one, seam side down, on the baking sheet. Then brush the tops with the hot butter/oil mixture.
Bake for 10 minutes at 450F.
Flip the chimichangas over, brush them again with the butter/oil, and bake another 8-10 minutes.
If you want, top them off with queso cheese sauce and put them back in the oven for a couple of minutes. Then serve with your preferred toppings and sides, and enjoy!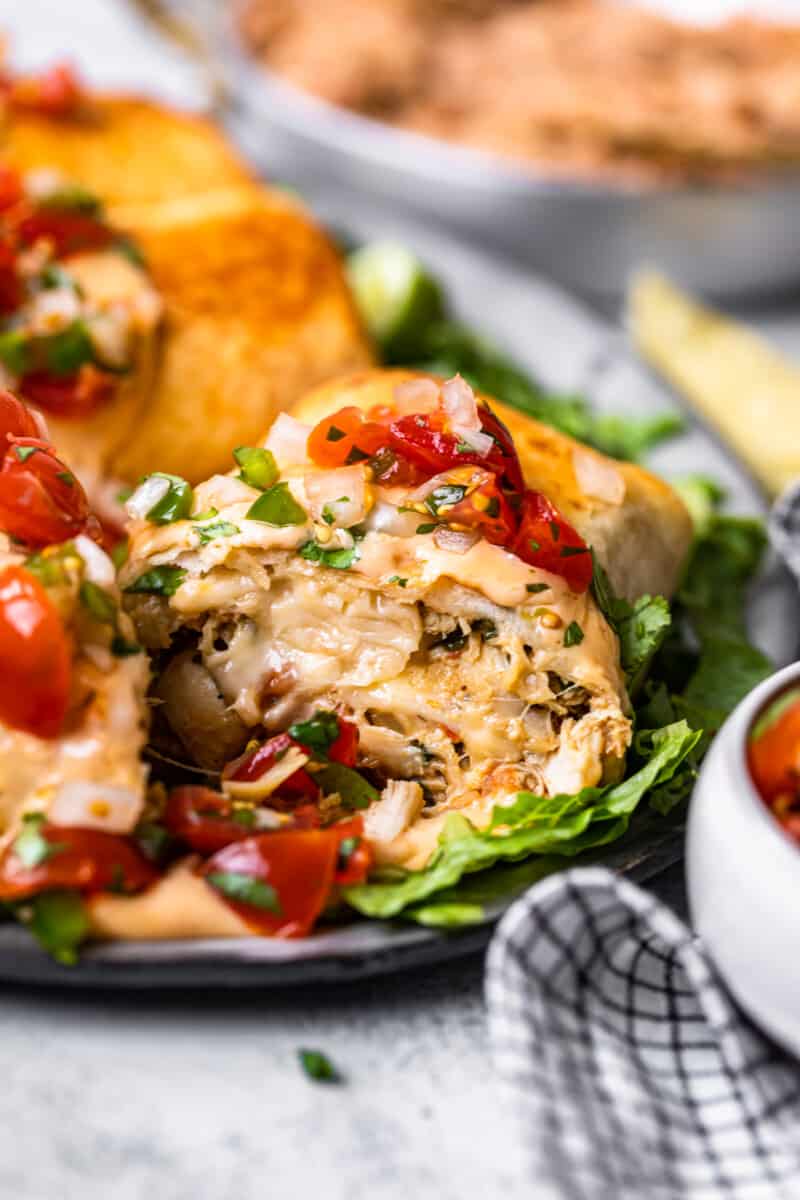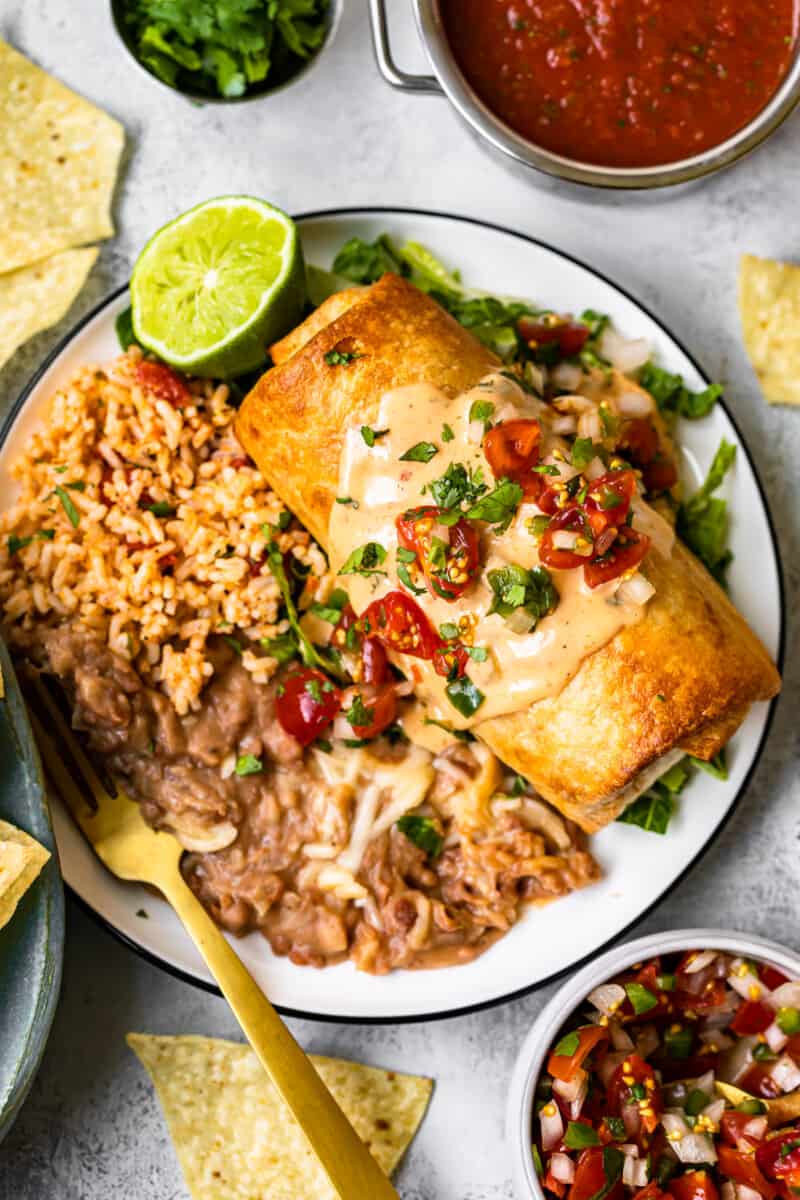 What's the difference between chimichangas, burritos, and enchiladas?
There are quite a few traditional differences between these 3 foods, but I'm going to focus on the main things that separate these delicious dishes.
Chimichangas and burritos are pretty similar (lots of ingredients wrapped in a tortilla), but traditionally, chimichangas are deep fried. The good news is we can get that same crispy tortilla by baking instead of frying!
So think of these as crispy burritos. And since they often have sauces or extra ingredients served as toppings, you'll want to eat them with a fork instead of your hands.
The process of making baked chimichangas and enchiladas is similar, but they're quite different as well. Chimichangas are going to have a crispier tortilla and usually a lot more filling.
Enchiladas, on the other hand, are usually a bit smaller with only a couple of main ingredients inside the tortilla. They're also slathered in sauce and/or cheese (although these can be topped with cheese sauce as well).
Try these Cheesy Chicken Enchiladas or Salsa Verde Chicken Enchiladas.
What to serve with these?
There's a lot of filling in these chicken chimichangas, but we're not done there. I like to add plenty of toppings as well as add extra ingredients on the side.
Top them off with queso, salsa, diced tomatoes, taco sauce, or guacamole. On the side, I love serving these with refried beans, Mexican rice, and chips and salsa.
And of course these taste even better with a margarita, if you need a refreshing drink.
How do you fold chimichangas?
When assembling these baked chimichangas, you'll be foliding them like a burrito.
Fill each tortilla, then fold two sides in over the filling.
Grab one end of the tortilla and fold that over the ingredients and sides.
Gently tuck it over the filling, and roll towards the other end.
The real trick is just getting those sides tucked in and making sure the ends fold over them. Don't overfill the tortillas. It also helps that you'll be placing the "seam" side down in the baking dish, so you shouldn't have filling falling out.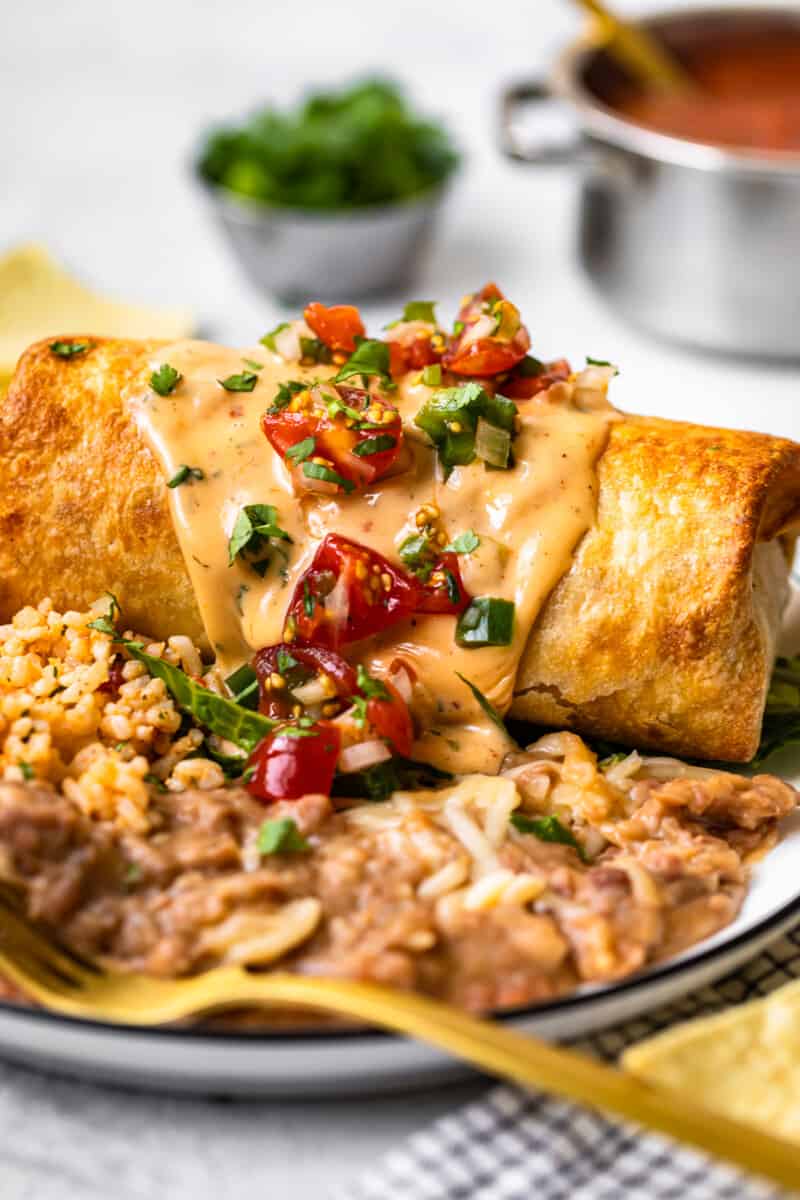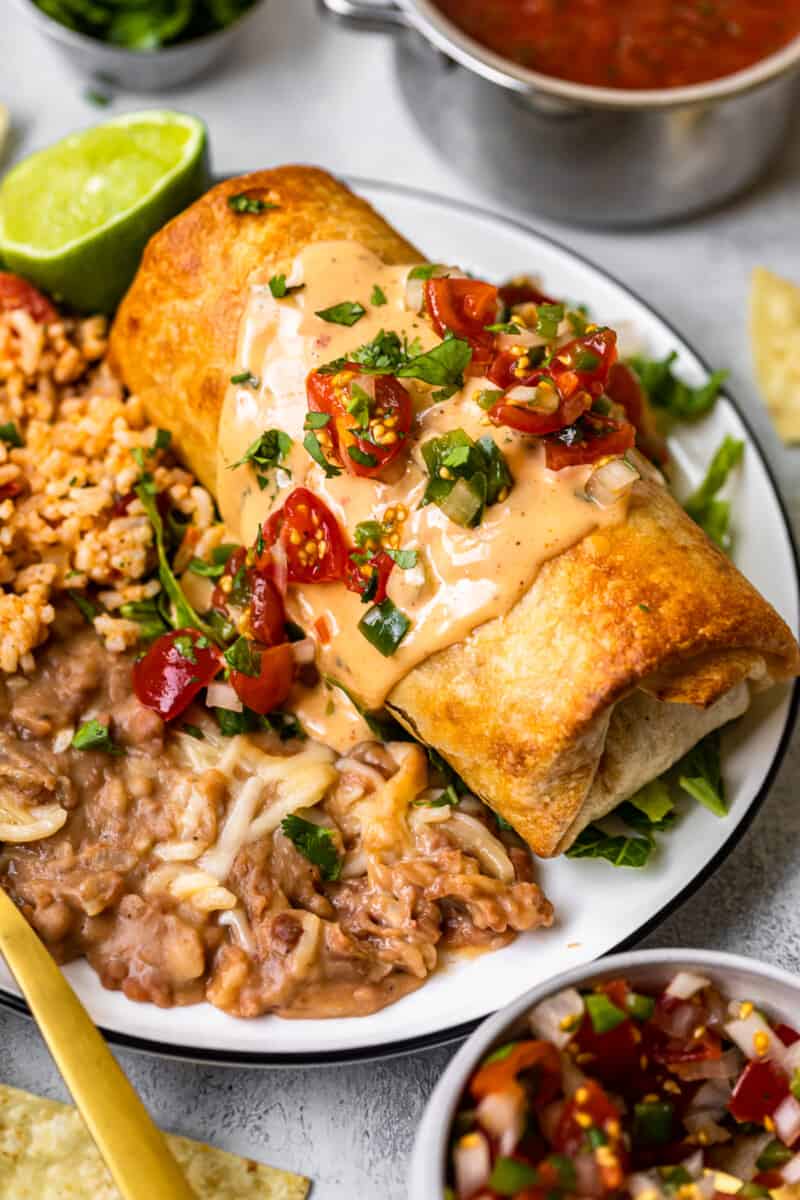 Tips!
Overfilling will make it tough to fold these. Using 10-inch tortillas and the ingredient measurements listed in the recipe card will help to avoid that!
Coat the baking sheet with butter/oil and heat it before placing the chimichangas on the pan.
The hot butter and oil mixture is also used top of the chimichangas, and that's what makes the tortillas super crispy.
Use pre-cooked chicken in the filling. You can use rotisserie chicken, or make your own cubed/shredded chicken ahead of time.
If you're using rice for the filling, cook that separately before adding it in.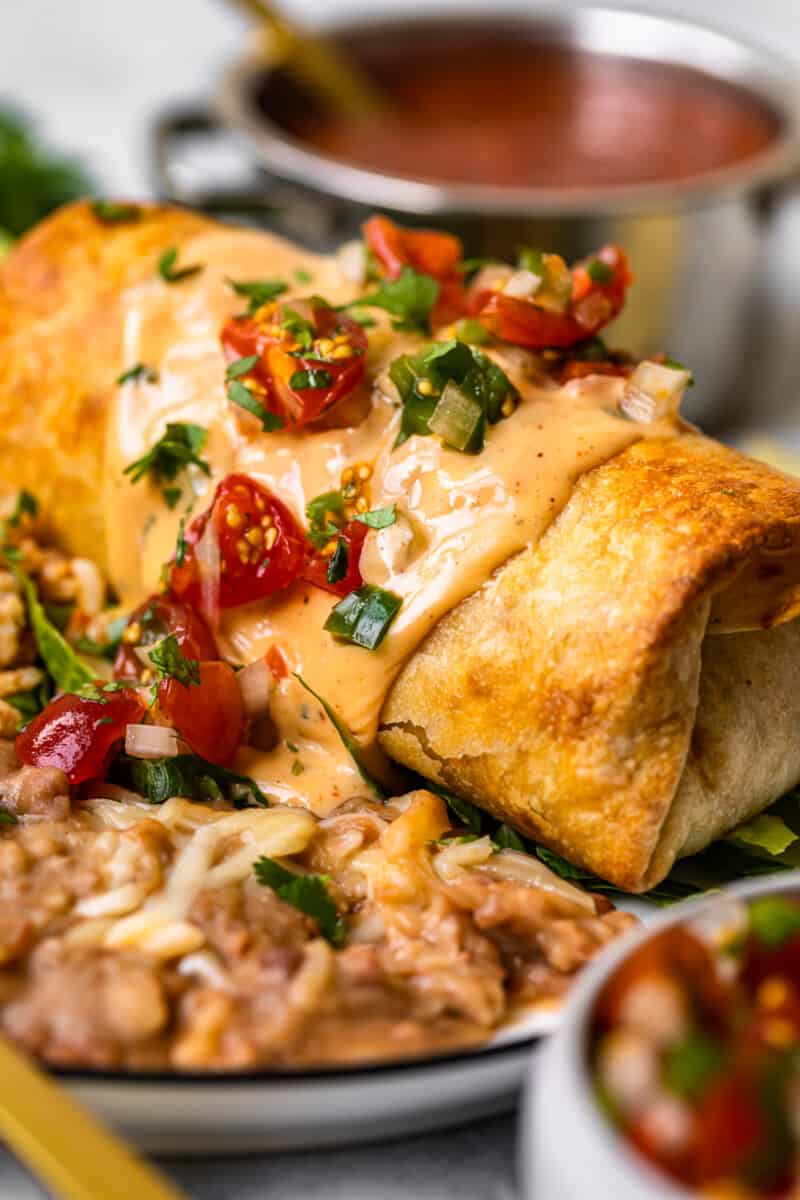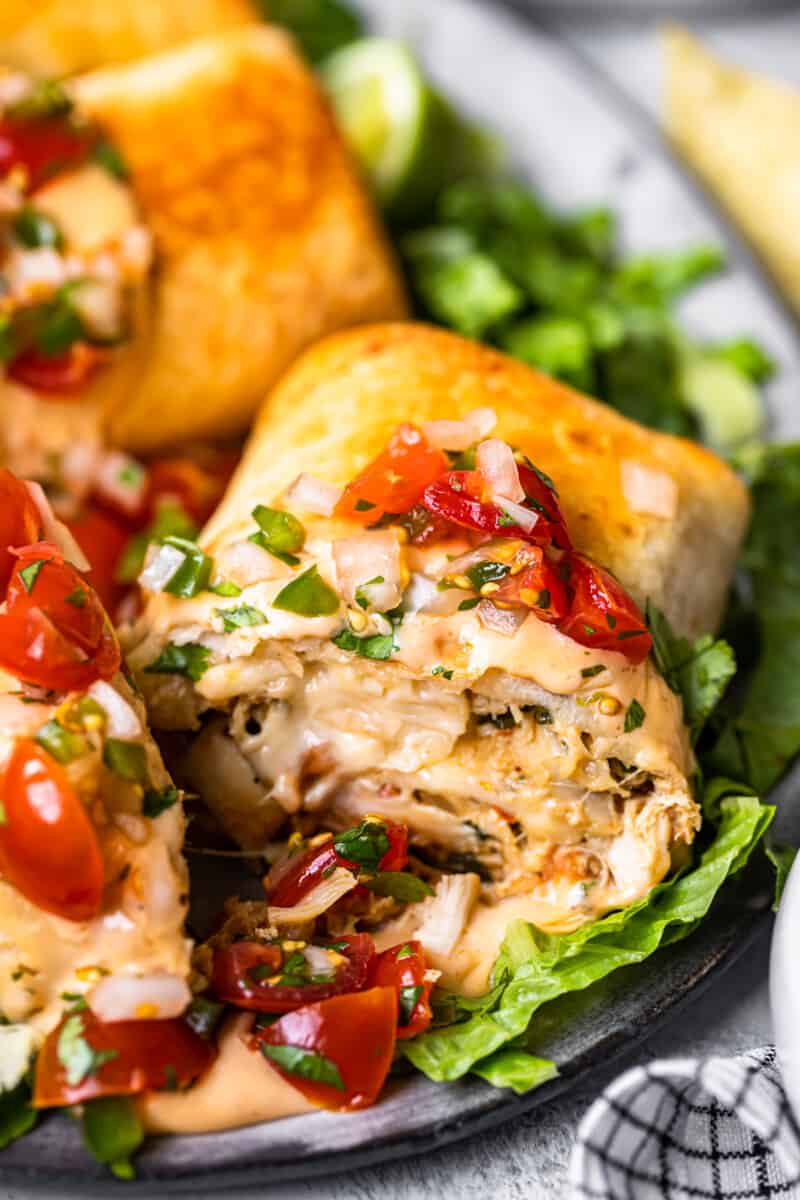 Serve these baked chicken chimichangas on Cinco de Mayo, or any night when you're craving a cheesy Mexican dish. And don't forget to add your favorite toppings and sides!
If you make this recipe be sure to upload a photo in the comment section below or leave a rating. Enjoy! You can also jump to recipe.