Taco Lettuce Wraps feature boldly seasoned ground turkey, black beans, and corn. They're loaded with Mexican flavors and perfect for a healthy dish on Cinco de Mayo! You'll love how light, filling, and flavorful this easy entree is.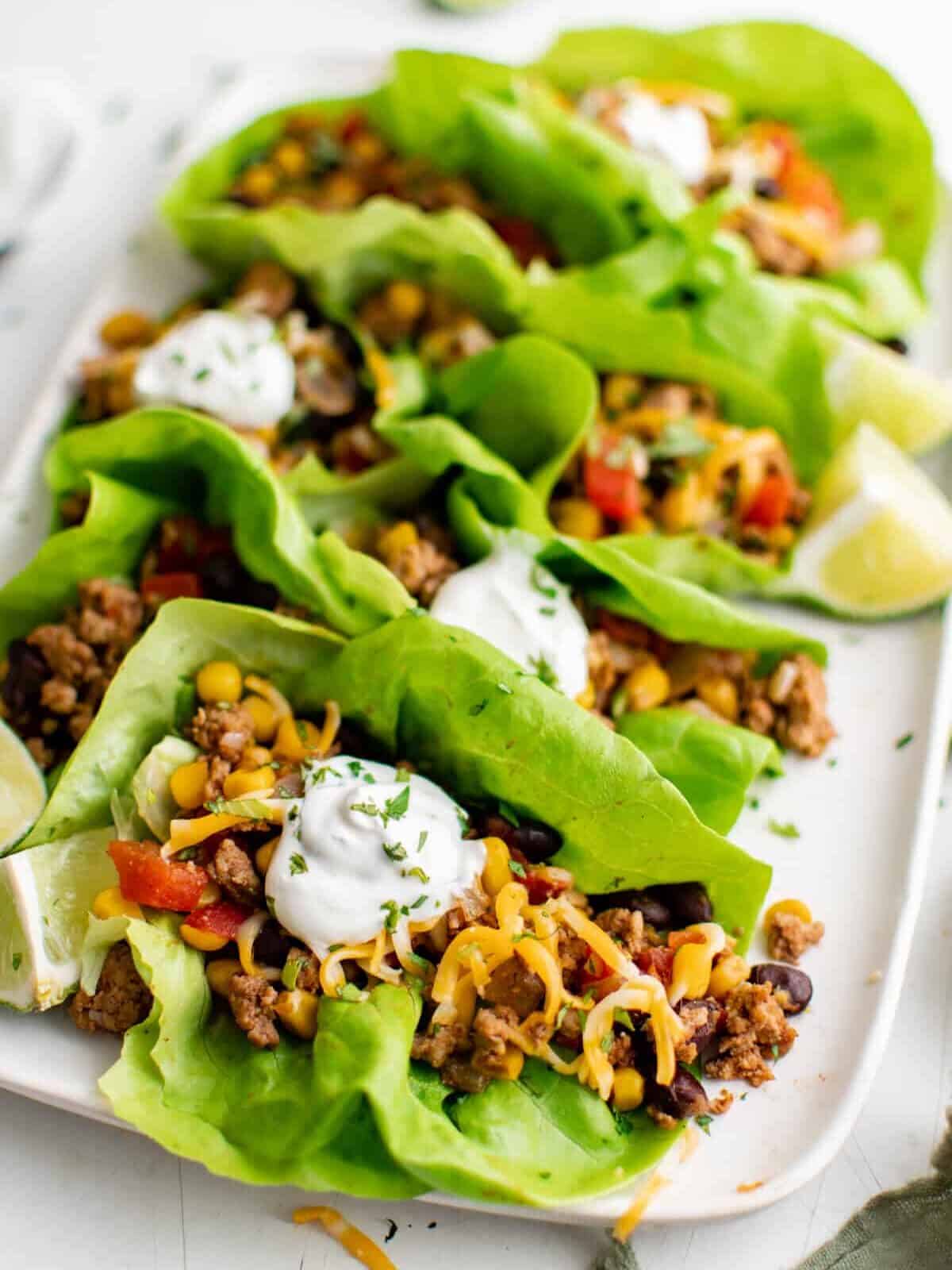 What's in Turkey Taco Lettuce Wraps?
Made with ground turkey, these turkey lettuce wraps are low in fat and high in protein. Plus there are lots of great ingredients that make the tastiest and healthiest tacos. These are especially great if you're looking for a keto-friendly recipe.
Ground Turkey: Ground turkey is healthy and delicious. You can swap in ground chicken or ground beef if you prefer.
Butter Lettuce: Rinse it well and gently pat it dry to prepare it for the wraps.
Onion: You can use either a white or yellow onion.
Garlic: Freshly minced garlic will provide more flavor than pre-minced.
Seasonings: You'll need a medley of cumin, chili powder, onion powder, garlic powder and kosher salt to give the ground turkey the best taco meat flavor.
Black Beans: Make sure to rinse and drain the beans from the can.
Sweet Corn: Keep things simple by using canned corn. Just be sure to drain it well.
Diced Tomatoes: I use canned tomatoes to keep it easy on myself and I always have delicious results! However, you can use freshly diced tomatoes if preferred.
Olive Oil: This can be swapped with avocado oil if preferred.
Pro Tip: Don't forget the taco toppings! Some of my favorites include shredded colby jack cheese, fresh cilantro, and sour cream (or Plain Greek yogurt).
How to Make Mexican Lettuce Wraps Spicy
If you're craving some heat in your taco lettuce wraps, just sprinkle in some cayenne pepper along with the other seasonings. You can also garnish your wraps with fresh jalapeños, hot sauce, or taco sauce to spice it up even more!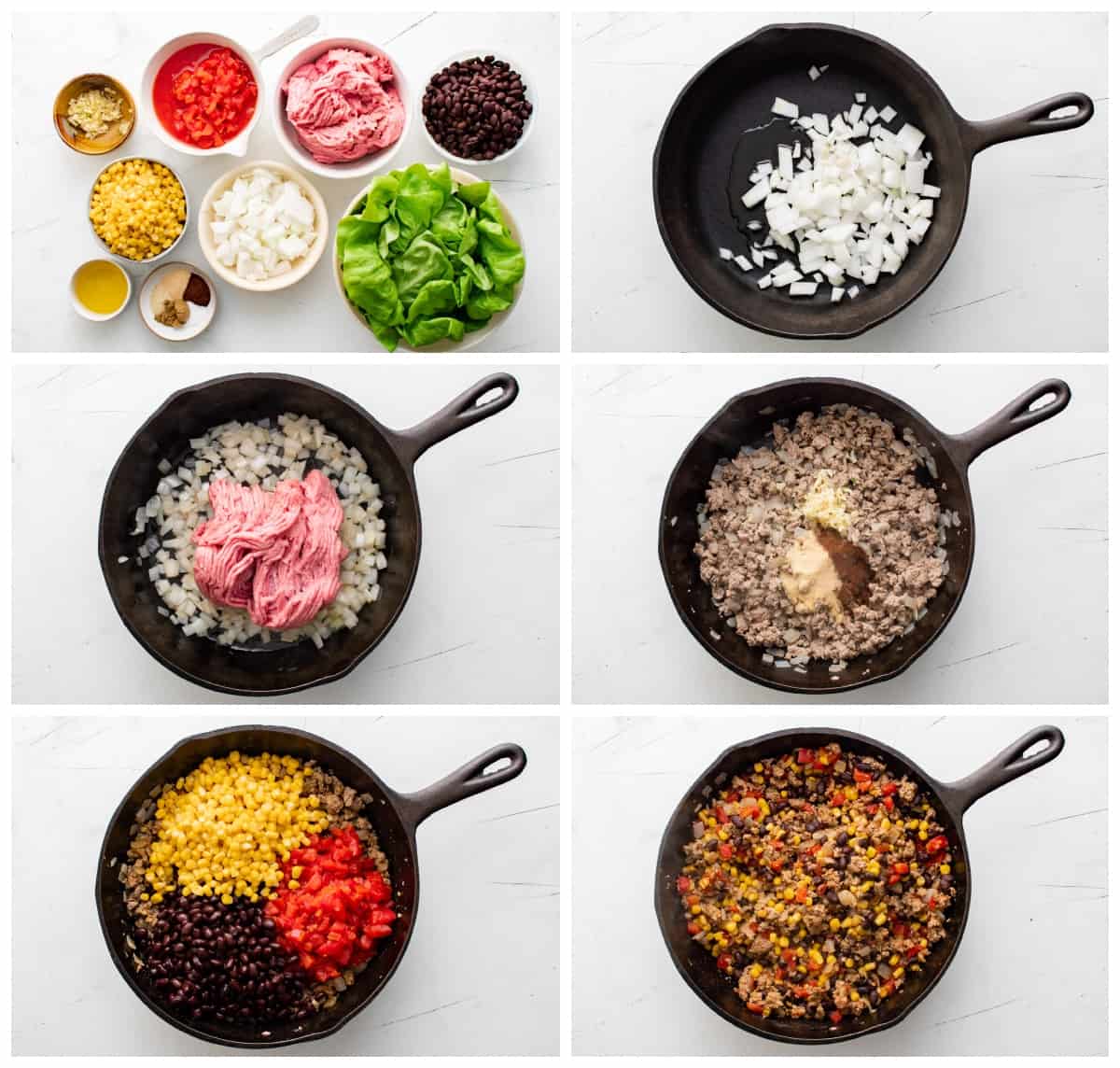 Can I use another kind of meat?
Yes! Instead of ground turkey, feel free to use ground beef or chicken.
Can I make these lettuce wraps ahead of time?
This is a great recipe to make ahead of time! Store the turkey taco filling in an airtight container in the refrigerator for up to 5 days. When ready to serve, heat, scoop onto lettuce wraps, and add your favorite toppings.
Can I use a different kind of lettuce?
Any large-leaf lettuce is ideal for lettuce wraps. I love using butter lettuce, but romaine hearts are another delicious option.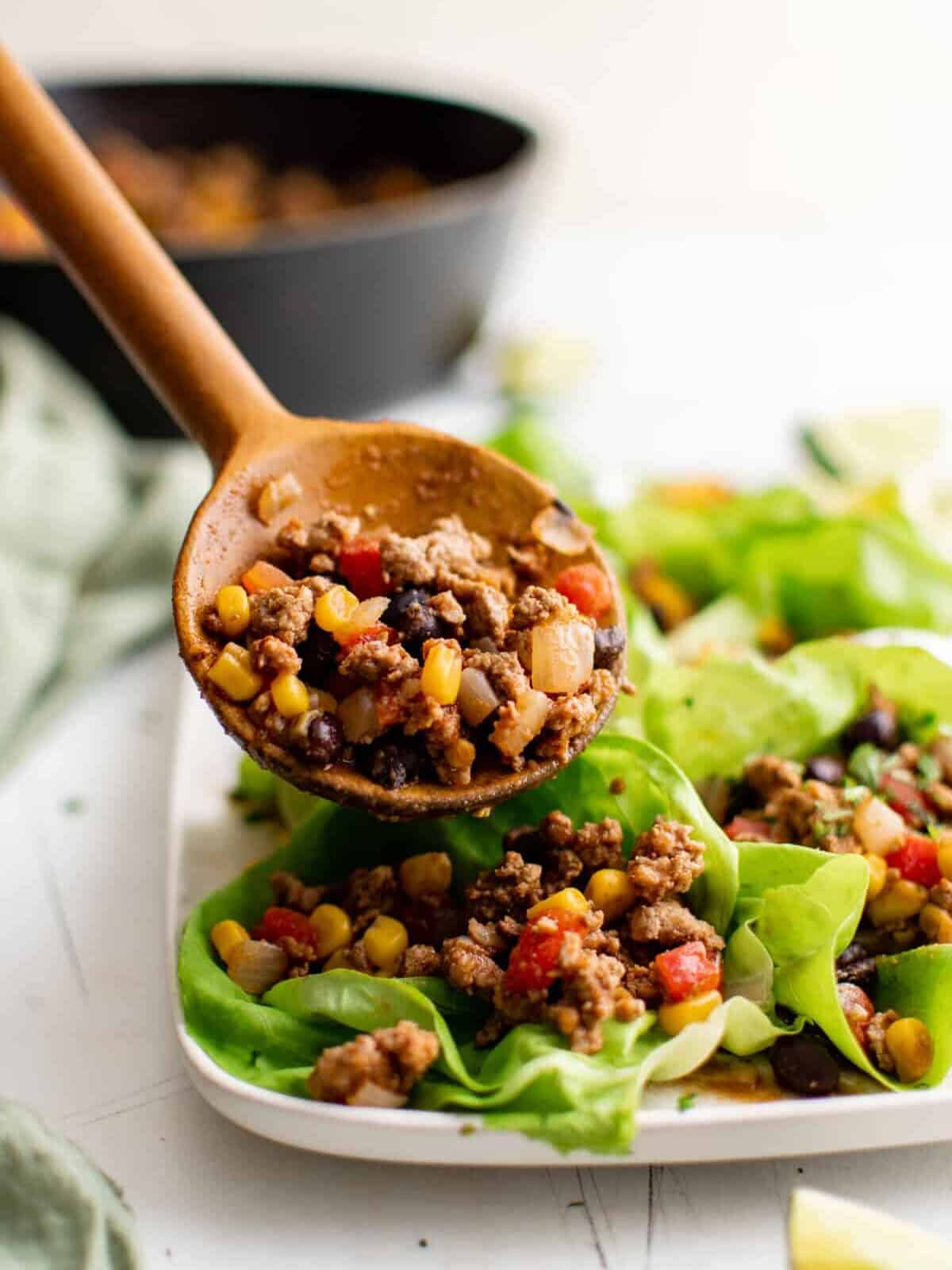 How to Store and Reheat Ground Turkey Lettuce Wraps
You can store your leftover ground turkey mixture in an airtight container in the fridge for up to 5 days. Reheat it in the microwave and scoop it on to lettuce when you're ready to serve.
What to Serve with Taco Lettuce Wraps
These bold taco-flavored lettuce wraps are delicious by themselves as an appetizer, or serve them up for dinner with some Mexican sides, like Mexican Rice or Esquites. Add some toppings or dips like guacamole or salsa verde.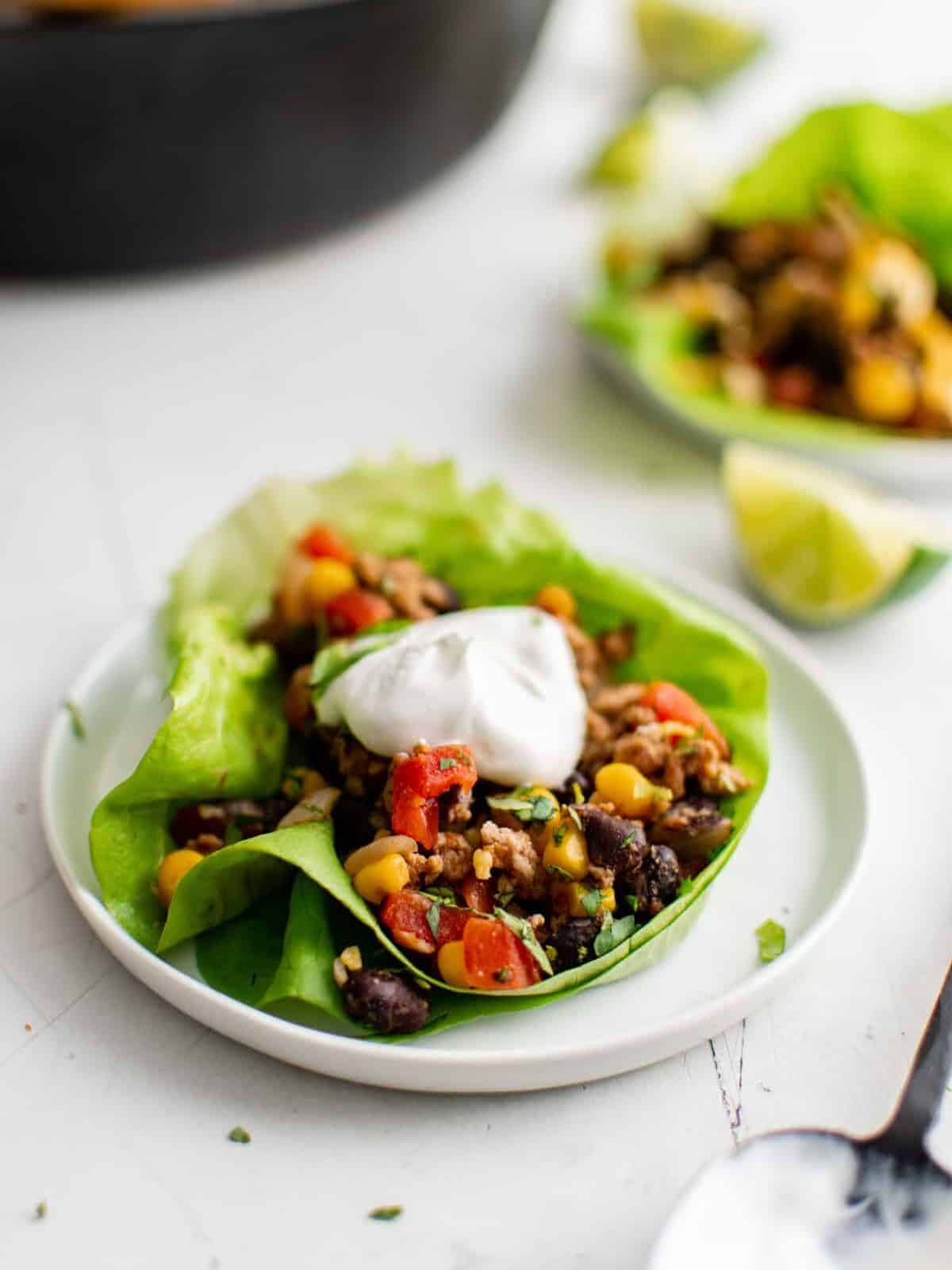 More Homemade Taco Recipes to Try: