This cheesy, crispy Chicken Quesadillas recipe is the perfect meal or appetizer for Cinco de Mayo and beyond. Tortillas are stuffed with seasoned chicken, cheese, and veggies, then cooked in butter for a super crispy shell. These classic Mexican quesadillas are quick, easy, and made with satisfying, easy-to-find ingredients. Bursting with flavor, this delicious appetizer is sure to be a crowd-pleaser whether you're hosting a festive party or just looking for a tasty snack.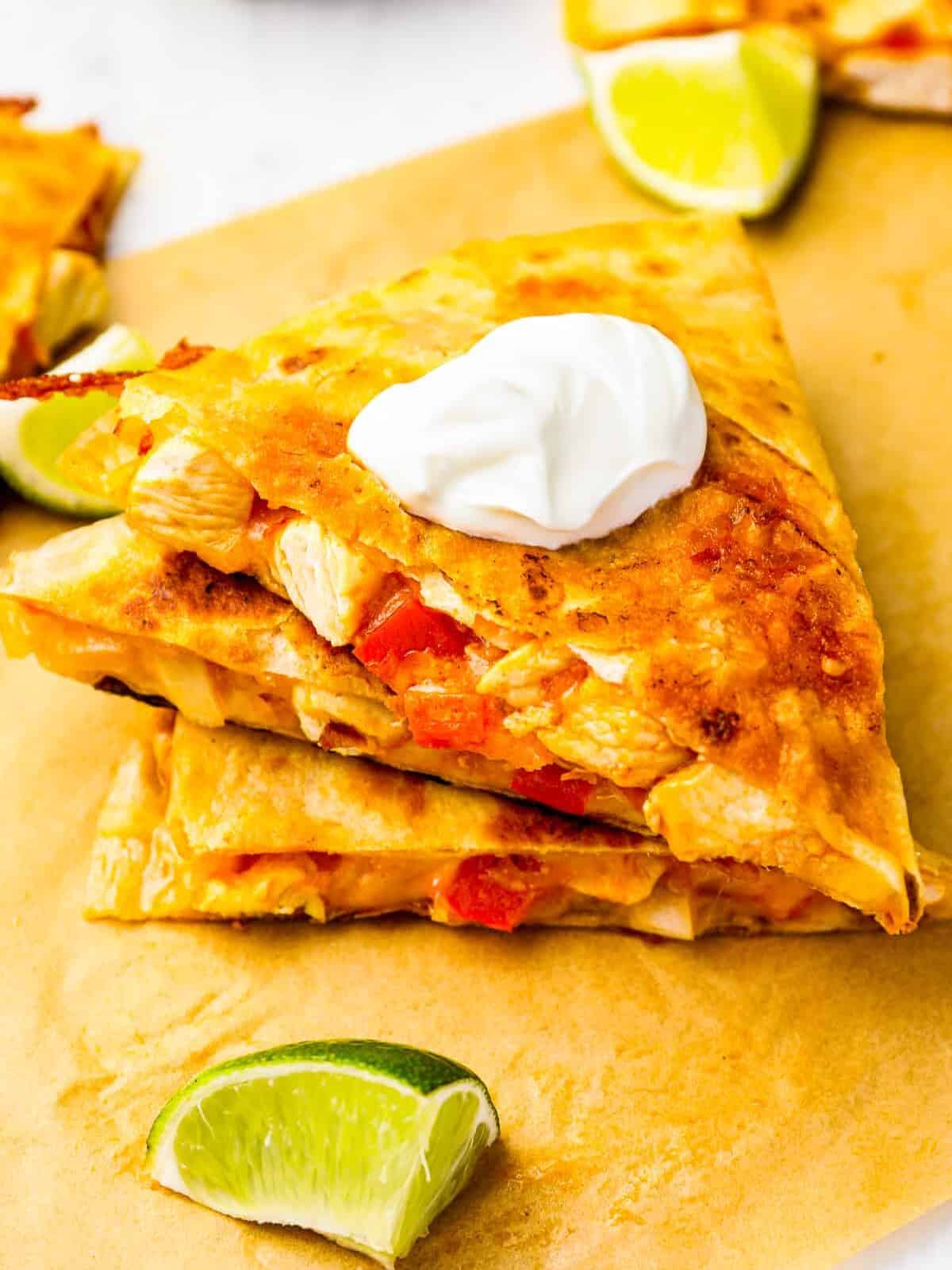 What's in Chicken Quesadillas?
When it comes to Mexican food recipes, there are few things more satisfying in life than a classic chicken quesadilla. Packed with great ingredients that are easy to assemble into one delicious dish, this showstopper of an appetizer won't last long at your party or dinner table!
Chicken Breasts: Boneless and skinless chicken breasts work great for quesadillas.
Onion: No Mexican dish tastes quite as complete without adding onions. I prefer yellow onions, but you can also use white or red.
Bell Pepper: This super nutritious ingredient adds lovely color, texture, and flavor to the quesadilla recipe.
Garlic: If you are not a fan of chopping fresh garlic, consider stocking your pantry with some minced garlic in water or olive oil.
Taco Seasoning: This blend of spices is perfect for any Mexican dish.
Taco Sauce: For the best taco sauce, try my homemade recipe by clicking on the link. It's easy, spiced just right, and so satisfying!
Butter: While you could cook the tortillas in olive oil, butter adds the perfect flavor and browning that gives them a flaky, crispy bite.
Flour Tortillas: These tortillas are soft, pliable, and just the right size to contain the delicious filling.
Mexican Cheese Blend: Prepared Mexican cheese blends save you the time of grating so many cheeses at once, and they melt perfectly and taste just as delicious!
Olive Oil: Never underestimate the importance and value of good olive oil for adding delicious flavor to any dish.
Pro Tip: Save some time by using leftover pre-cooked diced or shredded chicken. Simply add to the skillet after the vegetables have cooked down and before the seasonings.
Variations on Easy Chicken Quesadillas
There are so many fun ways to change up these quesadillas. You can swap out the chicken for beef, pork, turkey, or beans. Feel free to swap the onion and peppers for different veggies, like mushrooms, corn, or zucchini. You can also swap out the Mexican cheese blend for your favorite cheese, like Monterey jack, cheddar, or pepper jack. Some fun variations I've tried include bruschetta chicken quesadillas, bacon ranch chicken quesadillas, and Buffalo chicken quesadillas.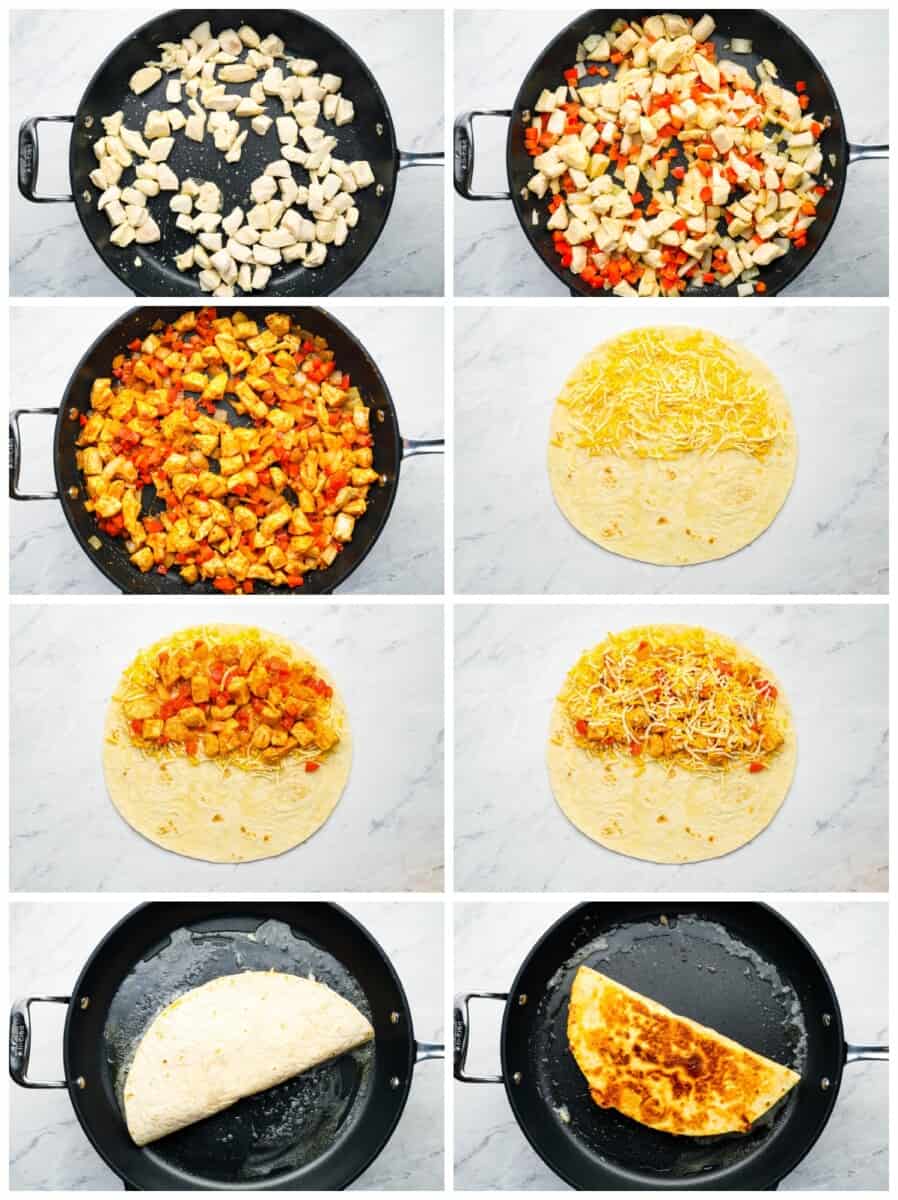 Are chicken quesadillas healthy?
Yes and no. As with most foods, there are good and bad qualities to these quesadillas. On the plus side, they are high in protein, vitamin C, vitamin A, calcium, potassium,, and iron. However, they are also high in calories, saturated fats, carbohydrates, cholesterol, and sodium. As with any food, enjoy chicken quesadillas in moderation.
What's the best cheese for chicken quesadillas?
The best cheese for chicken quesadillas is your favorite cheese! I love Mexican blend cheese, but you could also use Monterey jack, cheddar, mozzarella, pepper jack, Colby, Swiss, provolone, or any other melting cheese.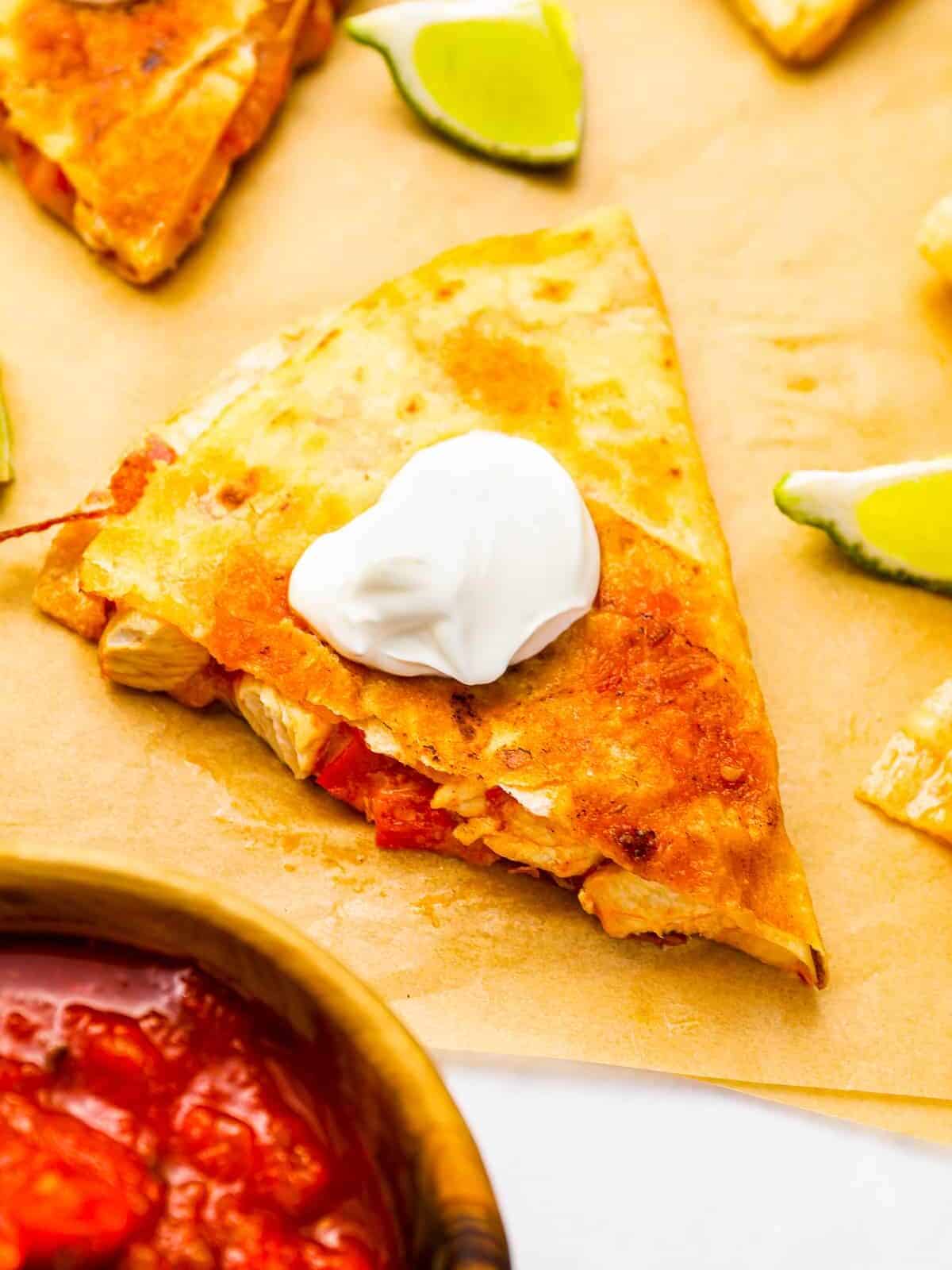 How to Store and Reheat Homemade Chicken Quesadillas
Store leftover chicken quesadillas in an airtight container in the refrigerator for up to 3 days. Reheat in a lightly oiled pan set over medium heat until crisp and warmed through, about 1-2 minutes per side.
How to Freeze Mexican Chicken Quesadillas
Freeze chicken quesadillas in a single layer on a lined baking sheet until solid, about 1-2 hours. Transfer to an airtight container or Ziplock bag to store for up to 2 months. Reheat directly from frozen in the microwave for 2 minutes, then transfer to a lightly oiled pan to crisp.
What to Serve with Chicken Quesadillas
When it comes to what to serve with quesadillas, the options are almost endless. Serve with cheesy Mexican rice, refried beans, tortilla chips and guacamole. And don't forget the frozen margaritas!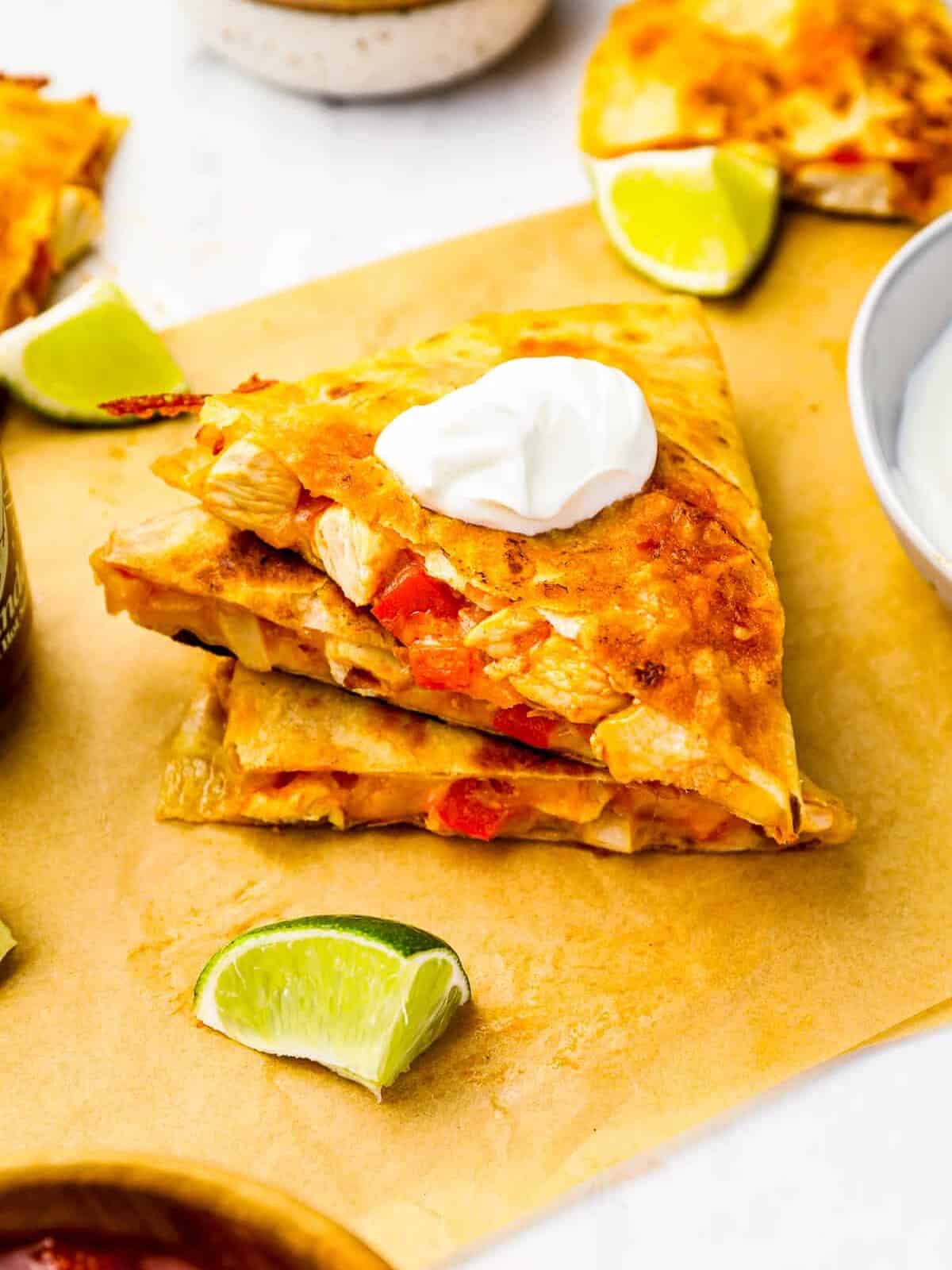 More Quesadilla Recipes We Love