Make the perfect Buttered Noodles with just a few ingredients and about 20 minutes! Butter, egg noodles, and garlic create a simple but delectable dish. Whether you're looking for a simple meal for the kids and picky eaters, or just want some pure comfort food, this recipe will work wonders!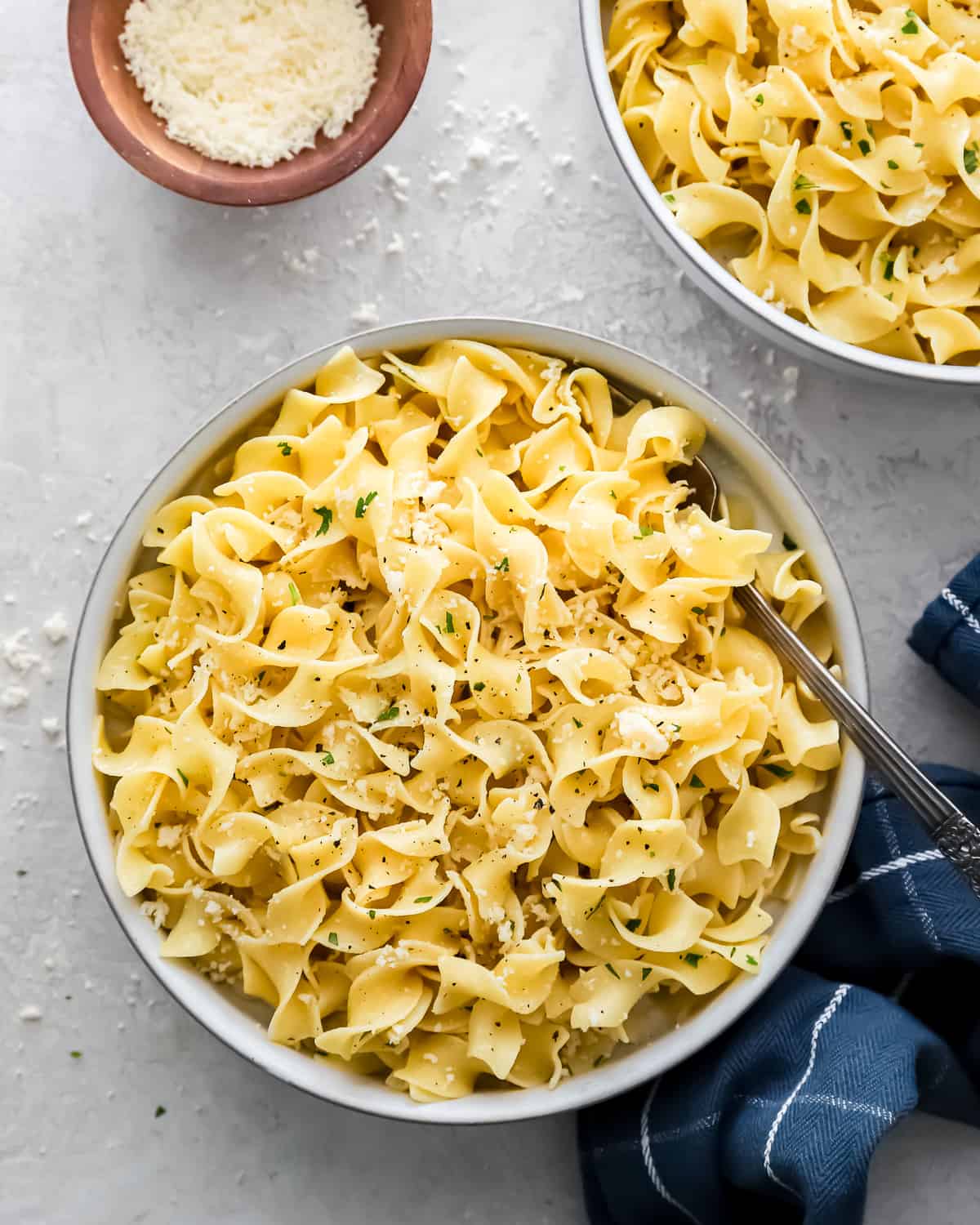 What's in this Buttered Noodles Recipe?
Sometimes, simple really is the best. These easy buttered noodles are comfort food at its finest, sure to please even the pickiest of eaters!
Noodles: Thick, hearty egg noodles work best for this recipe, but you can use any kind of pasta you like.
Unsalted Butter: Keeps the noodles from sticking to each other and adds richness.
Garlic: Adds a touch of earthy flavor.
Parsley: Adds a pop of color and freshness. Feel free to leave it out if you have picky littles.
Salt + Pepper: Enhances the natural flavor of the dish.
Pro Tip: Top your noodles with freshly grated Parmesan cheese for even more flavor!
Variations on Buttered Egg Noodles
This is a great basic dish for picky eaters, but if you're feeling adventurous, you can make it a little more interesting. Try adding some freshly squeezed lemon juice and zest, pesto, toasted breadcrumbs, caramelized onions, or pine nuts. You can also add whatever protein you like, such as pan seared chicken or grilled flank steak.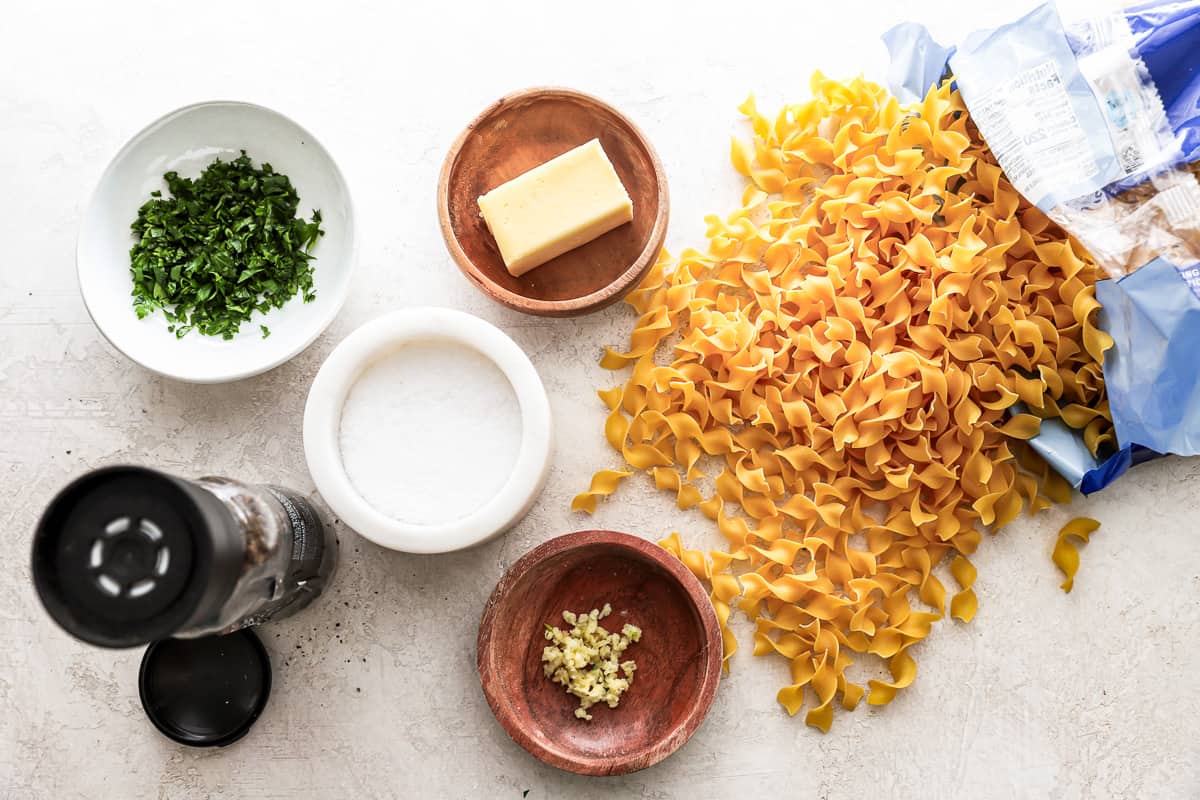 What is butter noodles made of?
Simple as can be, buttered noodles are just cooked noodles tossed in salted butter. We add a little garlic and parsley for extra flavor, but you can go as simple or as complex as you like.
Why do people eat buttered noodles?
These noodles are a classic comfort food that's easy to make and inexpensive. Kids and adults alike love it!
What is good with buttered noodles?
The great thing about this dish is that it's so versatile. You can serve it with just about anything, from meats to veggies and everything in between! Check out the serving suggestions for some inspiration.
What are the best noodles for this recipe?
I love egg noodles for this recipe because they have a nice texture, but you can make buttered noodles with any pasta you like–just be sure to cook it according to package instructions. It works great with penne, macaroni, and other short pasta shapes.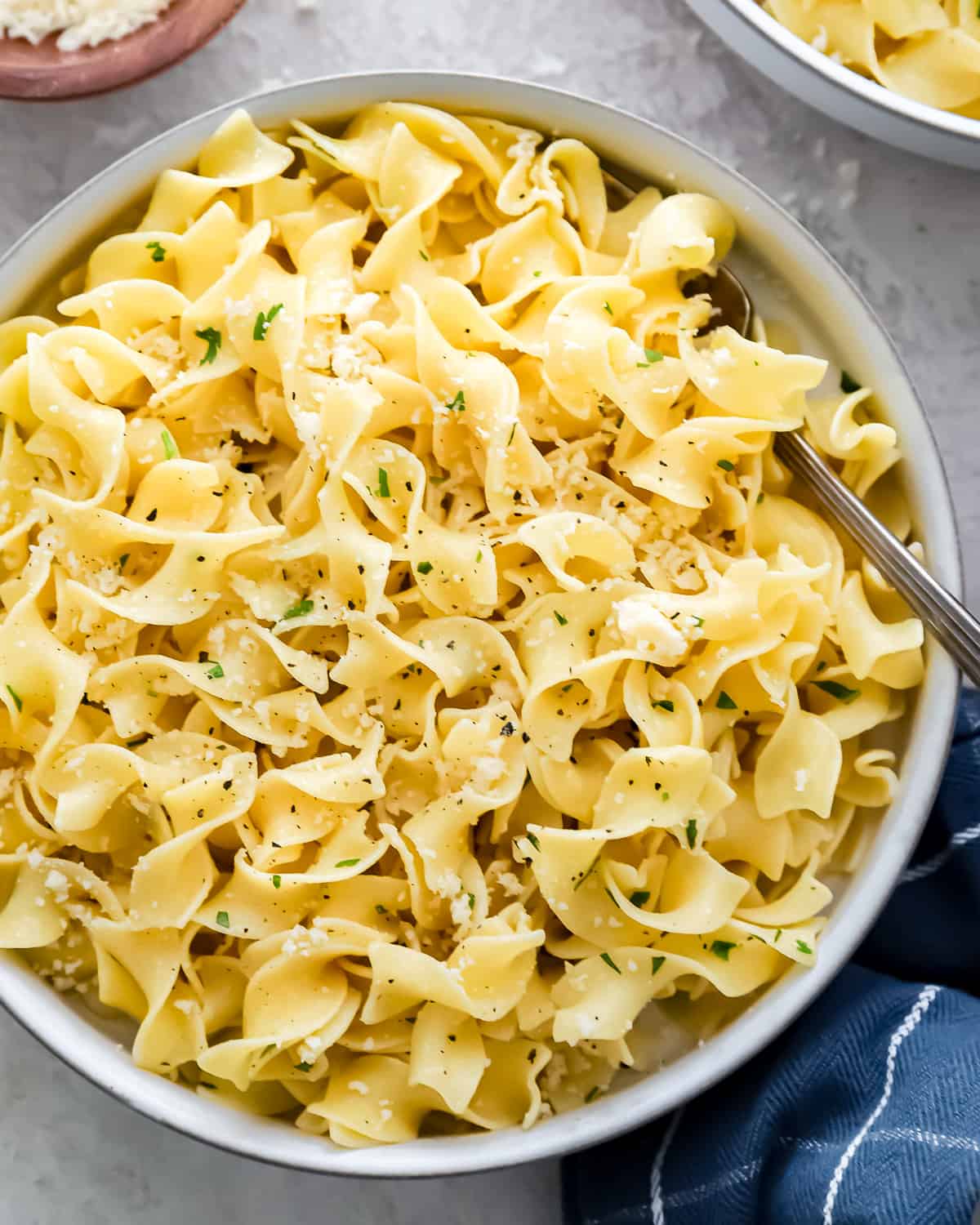 How to Store and Reheat
Store leftover buttered noodles in an airtight container in the refrigerator for up to 5 days. Reheat in a saucepan set over medium-low heat or in the microwave in 30-second increments until warmed through. You may wish to add a little extra butter to remoisten the noodles.
I do not recommend freezing this dish, as the noodles tend to turn mushy.
Serving Suggestions
Serve these egg noodles as a side dish to your favorite kid-friendly meals, like fish sticks, chicken nuggets, or hot dogs. For the more adventurous eaters, serve it with smoked pork chops, marry me chicken, grilled shrimp, or pan seared salmon.
It also makes a great meal served with roasted vegetables, grilled vegetables, or sautéed vegetables.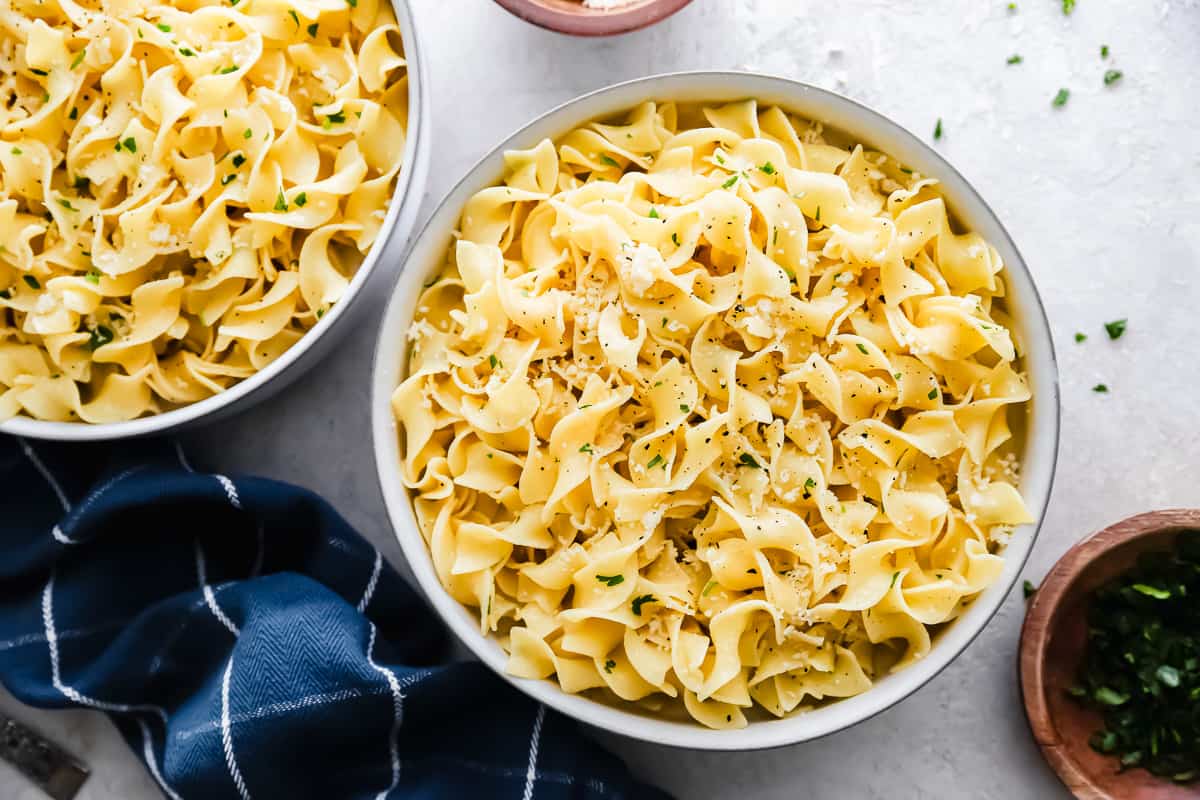 More Noodle Recipes We Love